D.Buzz Community Highlight: @torrey.blog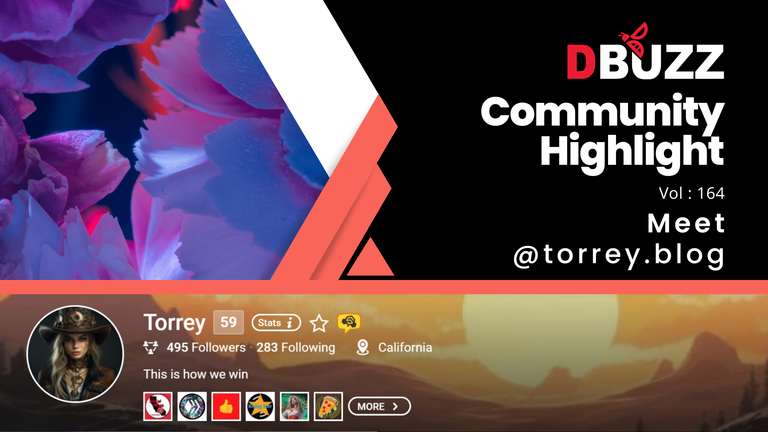 ---
Today, we would like to celebrate @torrey.blog!
---
Hey, friends and buzzers! Welcome back to another Thursday Community Spotlight.
This is our weekly segment where we shine the spotlight on a standout DBuzz member and showcase their awesomeness. If you haven't caught a spotlight yourself yet, we pick someone doing great stuff on DBuzz and give them some "this person is awesome" praise! Maybe you too will be our star any week. :)
This week, we're heading all the way to California to highlight our friend @torrey.blog! They have been rocking the blockchain scene since June 2018 and built an impressive following and reputation along the way. We love having this seasoned microblogging pro as part of the DBuzz crew.
When you scroll through @torrey.blog's page, you find a fun mix of science, tech, games, stories, and more. They have a knack for engaging topics and creative posts. We always discover something new reading through their content – whether it's a fascinating science explanation or a thrilling gaming adventure.
Here at DBuzz, we believe our community thrives and flourishes thanks to the rich tapestry of perspectives and ideas contributed by all our members. It's the coming together of many different people's stories, experiences, and passions that makes this such a unique and welcoming place for content creators. Folks like our highlighted user @torrey.blog help turn DBuzz into a haven for those who love to create, earn, and connect.
When talented authors like @torrey.blog share their knowledge on technology, or reviews of their latest video game binge (*cough, Diablo 3), musings on the wonders of science, or that diversity makes us all better. We get exposed to new worlds and expand our thinking. DBuzz needs contributors across all interests to continue that magical cross-pollination! Everyone brings value to the hive by being their authentic, buzzworthy selves.
So thank you to all who help make DBuzz special, especially stars like @torrey.blog. Keep sharing your gifts with us. Remember you have a home here!
If you also enjoy following authors with great variety and community spirit, we recommend giving @torrey.blog a follow. In their own words: "This is how we win" – by supporting each other.
@torrey.blog, thank you for your wonderful contributions and for being an integral part of the DBuzz hive! We are so grateful you share your knowledge and passions with us. Keep up the great work.
That wraps another spotlight, folks! Tune in next week as we shine the light on another star DBuzz community member. Until then, keep the inspiration and buzzes flowing!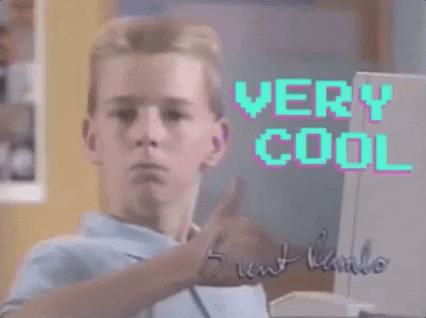 Thumbs up from us!
---
We like to believe that DBuzz is more than just a Dapp – it's a community. It is a community of people passionate about cryptocurrency, censorship-resistant content, engagement, and spreading their message.
—
We see you, and we love you all.
—
To give back and express our thanks, we highlight someone every Thursday from our community on a post across social media platforms. That person is listed as a 50% beneficiary of this post as a way to say thanks!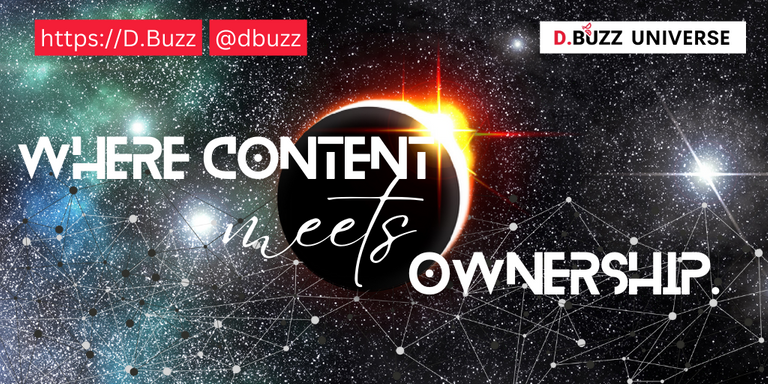 ---
We strive to have a fun and neutral stance on topics. If you have any concerns with the content, please get in touch with the @dbuzz team.
---
DBuzz online at:
Join us on Discord at https://discord.gg/BKg5Ptg9ss

---
---