D.BUZZ COLOR CONTEST : Round 39/13 : 2022 BEST COLORS EDITION
Hi friends of D.Buzz 😃.
It's already the penultimate Friday of the year; it's amazing how 2022 is going so fast. Your friend @lauramica greets you here, wishing you a great weekend and Merry Christmas. Thanks to all of you for joining us for most of the year, playing with us week after week. Everyone is invited to participate, don't miss it! ❤️
---
As a reminder to all D.Buzz friends, the objective of this challenge will be to upload a photo of something that is the proposed color each week. This something can be whatever you want: an object, an animal, a landscape, whatever comes to mind. The main condition will be that the color occupies more than 75% of the image, that is, that it prevails over all the others that may appear in the photo. Let's see what colorful things you can find 😃!
---
In this week of Photo Contest on Colors we had a special Christmas edition. Taking advantage of the fact that these days everything is dyed green, red, white and gold, we wanted to see some photos that reflect this celebration. We had many beautiful photos, most of them shared the photos of their Christmas trees. beautiful! I hope this weekend is filled with many gifts ❤️.
---
In the Christmas challenge week, our prize goes to our friend @shikika! As we all know, decorations abound these days, it is impossible not to notice that the end of the year is approaching. This was perfectly seen in the photo that this user shared with us, where we can see a large house decorated in Christmas colors. Even she was dressed in the colors of Christmas! Great way to celebrate this date, combining with the whole atmosphere 🎄❤️.
---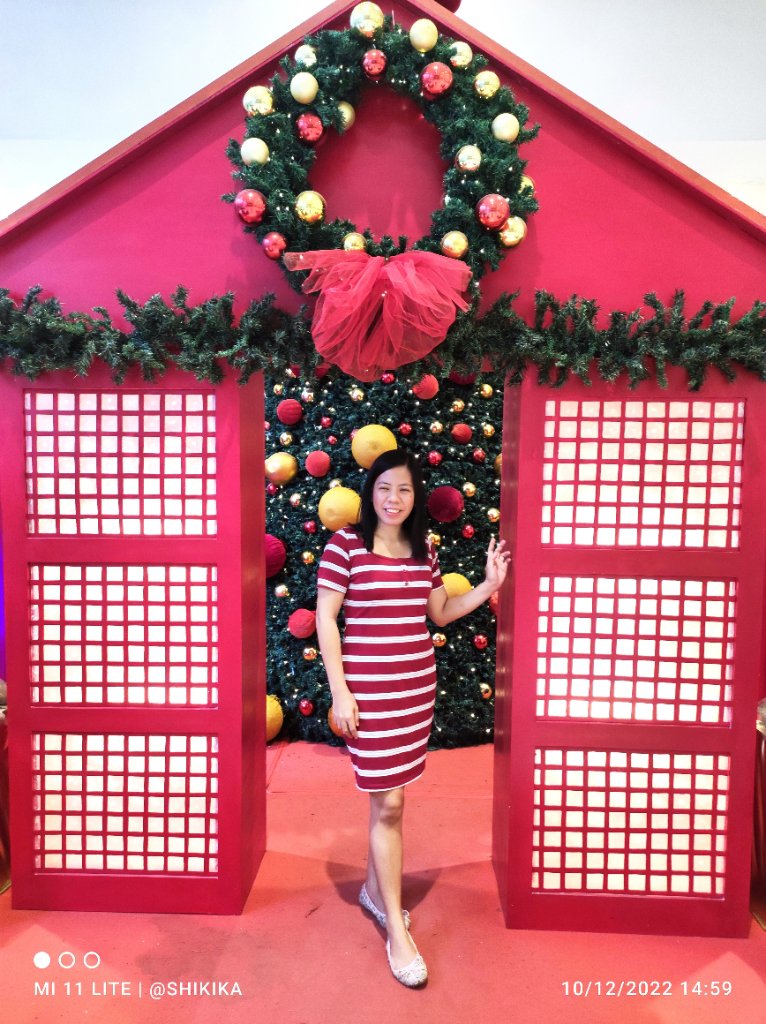 Photo Credit: @shikika
---
Congratulations @shikika for being the winner of CHRISTMAS COLORS week ❤️!
If you want to visit this post, you can do it here 😃.
https://d.buzz/#/@shikika/c/ubv7l25zwsa3zz6xobwkek

---
Now it's time to continue with a new round of our contest, and I bring you a new special challenge. The end of the year is approaching and that of the annual balance sheets, where we all reflect on how this year has been for us. No matter what happened, this time we want to know which were the best colors of your 2022 and why. Perhaps a color that reminds you of a special moment with your family, the color of the garment you wore on the coolest trip this year, the colors of a meaningful gift you got, or just whatever is important to you. Let's close the year by sharing a nice memory to start 2023 with the best energy ❤️.
I hope you have fun looking for your best colors of the year!
---
D.BUZZ COLOR CONTEST: 2022 BEST COLORS EDITION

---
Conditions of the challenge
In a post on D.Buzz (https://d.buzz/), share with us an image whose theme is THE BEST COLORS OF 2022. There is no limit to the number of colors, it just needs to be explained why you choose that or those colors and why they were important to you in this 2022. Put together your publication in the most attractive way possible, creativity will be valued!

Tag that post with #dbuzzcolorchallenge.

Post a D.Buzz link in a comment below.

Interact with at least two users who are also participating in this challenge.

You have 6 days to upload and share your entry.
Award
The prize is 10 HIVES for the best entry.
---
Contest friendly reminder: make sure you complete all conditions for your post to be eligible for this prize, all requirements will be verified when choosing the winner. The post must be published through the D.Buzz interface. Do not forget to leave the link of your participation in this post and if you participate very early in the game, come back a couple of days later to find more people who have also joined! 😃
---

The main objective of this challenge is that you have fun sharing the images you like and make new friends.
Let's see what things had the best colors of your 2022 🙂.


Thank you for being part of the Colors Photo Contest of @dbuzz ❤️!




I hope you have a great Christmas with your families, friends, loved ones or whoever you want, best wishes to you 😃!

With lots of love.
Lau.

---
It is a censorship-resistant short-form micro-blogging platform that empowers you to share your thoughts in 280 characters or fewer.
Censorship resistant and built for the community with love.
---
We strive to have fun and neutral stances on topics. If you have any concerns with the content, please contact @jacuzzi, who writes and generates the content for our articles, or the @dbuzz team for clarification.
---
D.Buzz Online At:
Join us on Discord at : https://discord.gg/BKg5Ptg9ss

---
---