D.BUZZ COLOR CONTEST : Round 1 : RED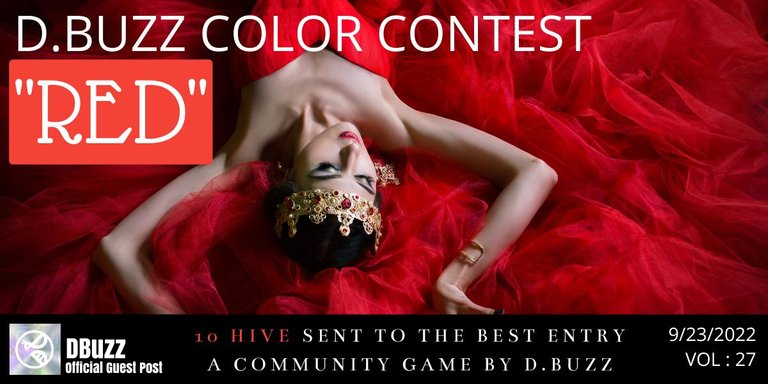 D.BUZZ COLOR CONTEST : Round 1 : RED
Hi friends of D.Buzz 😃.
Today is finally Friday but not just any Friday: it is the last Friday of our beloved Photo Contest! Here @lauramica greets you and informs you that we have already conquered all the letters of the alphabet: WO-HOOOO ❣️. From A to Z, we've been through each and every one of them, letting our imaginations run wild and making new friends along the way. Thanks to all of you for joining, a faithful few from the first day to the last 😀. You guys are awesome, I appreciate how much you committed to this contest.
As a reminder to all D.Buzz friends, the goal of this contest was week by week, to share at least two photos of things that start with the letters of the alphabet. These "things" could be anything: objects, places, or even something abstract. The idea was for it to start with the proposed lyrics that week, always in English. I hope you had fun in these almost seven months that we spent together ❣️!
---
In our last round of the Friday Photo Challenge, we gave place to the letter Z and various Z-things appeared, such as zipper, zebra, zuccini and zoom. The last letter of all made things a bit difficult, but that didn't stop there from being several entries 😀.
---
In the week of the letter Z, our last prize is for our friend @asterkame! This user shared with us some photos of the zigzags painted on paper using some colorful watercolors. Crafts and creativity were always welcome in this contest 😃.
Did you know that crafts improve our ability to concentrate and allow us to regulate our emotions? If you are looking for a relaxing and pleasant activity, this is a good option, since it allows you to develop creativity and why not, get out of the daily routine a bit by doing something different. Thank you @asterkame for inspiring us with your art ❣️.
---
Congratulations @asterkame for being the winner of letter Z week ❤️!
If you want to visit this post, you can do it here 😃.
https://blog.d.buzz/#/@asterkame/c/jyvotdc82c7o5fybxrdxtp

---
Thank you to everyone who has participated throughout these rounds of the contest and congratulations to all the winners ❤️. Before we go, I'll share with you some interesting facts about the alphabet so we can learn a little more 🤓.
✅ The English alphabet is based on the classic Latin alphabet, which gives rise to the various alphabets that exist with several letters in common.
✅ Until the year 1835, the English alphabet consisted of 27 letters: just after "Z", the 27th letter of the alphabet was the "ampersand" (&).
✅ Unlike the modern alphabet, the ancient alphabet did not contain the letters J, U, and W.
✅ Although the current letters are 26, there are more than 40 sounds with which the words we know can be pronounced.
You can find this information and more <a href="https://www.worldometers.info/languages/english-alphabet/%22%3Ehere😃.
---

I hope you had fun with us and this contest has come to an end for now. Let us know in the comments if you would be interested in a second edition of the Alphabet Photo Contest in the future 😁.




---
---
And... in case you're wondering NOW WHAT?
Guess what: WE HAVE NEW CHALLENGE FOR FRIDAYS!</h5 😁🙌✨

---
D.BUZZ COLOR CONTEST
---
That's how it is. Our organizing team noticed that you guys love to find things so we have a new proposal so we can keep playing a little longer. This time we will change things up a bit and go for COLORS ❤️💛💚💙💜.
The objective of this challenge will be to upload a photo of something that is the proposed color each week. This something can be whatever you want: an object, an animal, a landscape, whatever comes to mind. The main condition will be that the color occupies more than 75% of the image. This means it must prevails over all the others that may appear in the photo. As always, everyone is invited to participate 😃!
For this first new round, we will start with the color RED. Red is the color of love and passion, we can find it in the drawings of hearts, in apples, in strawberries, in London phone booths. Well, we'll see where you find it 😅.
Conditions of the challenge
In a post on D.Buzz, share with us an image showing us whatever you want to be RED. This color should occupy 75% of the image and stand out from the other colors. Put together your publication in the most attractive way possible!

Tag that post with #dbuzzcolorchallenge.

Post a D.Buzz link in a comment below.

Interact with at least two users who are also participating in this challenge.

You have 6 days to upload and share your entry.
Award
The prize is 10 HIVES for the best entry.
---
Contest friendly reminder: make sure you complete all conditions for your post to be eligible for this prize, all requirements will be verified when choosing the winner. The post must be published through the D.Buzz interface. Do not forget to leave the link of your participation in this post and if you participate very early in the game, come back a couple of days later to find more people who have also joined! 😃
---

The main objective of this challenge is that you have fun sharing the images you like and make new friends. Let's see what red things we find this week 🙂.


Thank you for joining the Friday Photo Contest and I look forward to seeing you in this new round of Color Contest ❤️!




I wish you all a good weekend 😃!

With love.
Lau

---
---
Is a censorship-resistant short form micro-blogging platform that empowers you to share your thoughts in 280 characters or fewer.
Censorship resistant and built for the community with love.
---
We strive to have fun and neutral stances on topics. If you have any concerns with the content, please contact @jacuzzi, who writes and generates the content for our articles, or the @dbuzz team for clarification.
---
D.Buzz Online At:
Join us on Discord at : https://discord.gg/BKg5Ptg9ss

---
---