Path to Nirvana ~ Religious Japan
Or the path to good luck at least. This lantern is popular for tying wishes to—that is all the papers you see tied around the lantern wires.
This lantern is from Osu Kannon in Nagoya. If that name isn't familiar to you, stick around after the photo to learn more about it.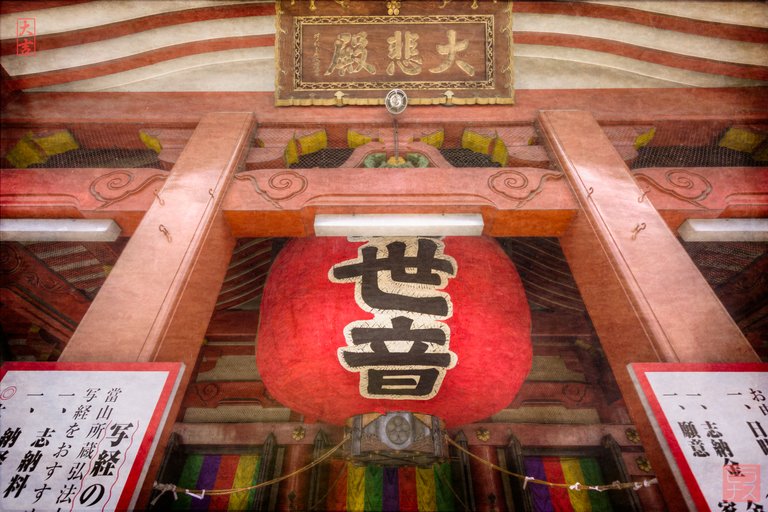 One of the things I love about Japan is running into buildings that are hundreds of years old. My mind goes crazy at this and I have a hard time imagining that a structure can possibly be around so long.[1]
The lantern in today's photo comes from Osu Kannon, which is one of these places. Osu Kannon has been around since 1333. Here, I'll do the math for you—that's 688 years old. Wow!
The official name is Kitanosan Shinpuku-ji Hōshō-in. The story goes that shortly after founding the temple, the head priest had a vision of Kannon, the goddess of mercy who is often depicted with dozens of arms.[2] Because of this, right from the beginning it took on the nickname Osu Kannon.
The temple was originally in a different place, but was moved to its present location in 1612. Parts of the temple were destroyed in a fire in the 1820s and finally rebuilt in the 1970s, but many parts of the temple still remain from the original structure built nearly 700 years ago. Doesn't that just blow your mind?
Another interesting fact about Osu Kannon is that it holds the oldest copy of the Kojiki in existence. The Kojiki is the oldest history of Japan, dating from the 8th century, containing myths about the origin of Japan as well as some historic records of past emperors. I believe the copy held at Osu Kannon dates from near the temple's founding.
❦
| | |
| --- | --- |
| | David LaSpina is an American photographer and translator lost in Japan, trying to capture the beauty of this country one photo at a time and searching for the perfect haiku. |
If this blog post has entertained or helped you, please follow/upvote/reblog. If you want to further support my writing and photography, donations are welcome.
BTC: 1Gvrie5FDBNBb6YpGBiaTvA5AyvsP814BN
ETH: 0x2Ce5c2b5F3f1a888b50A7bA9002E4F742784dF9c
LTC: LUVLvatsFqCubrJAVmCNQaoUdFAdnUCysU
BCH: qrzdazep5xfxax0ydppun89cxfts2vup9q4wnfn025
Dash: XoGzWrhdgbLKBG5kn4GjWfaJDJ6AWkDiqU
---
This is a distinctive American problem, I know. ↩
---
---