Celebrating my sister's birthday (Esp/Eng)
---
¡Feliz y bendecido día!
Happy and blessed day!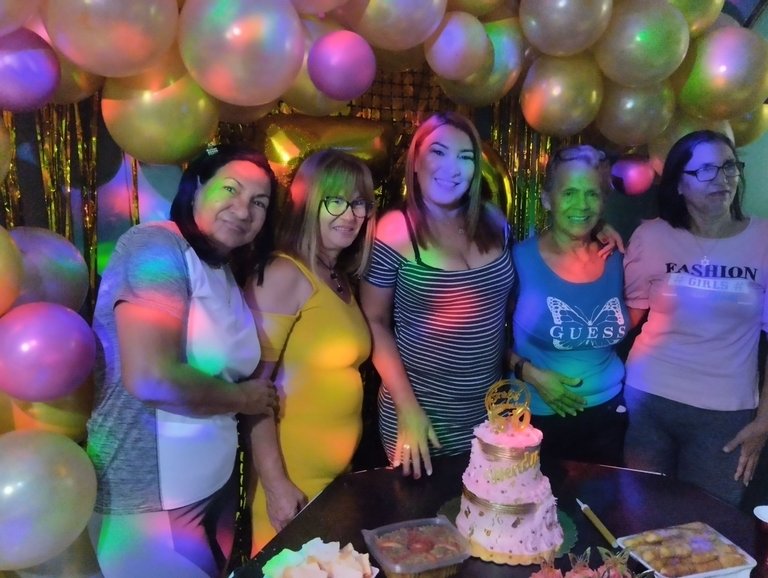 Hola amigos de esta hermosa comunidad, en esta ocasión les voy a contar como celebro con mi hermana su cumpleaños número 50, ya que para mí era difícil celebrar los cumpleaños por mi pena, pero gracias a Dios en los últimos dos años he podido acompañar a mi familia a celebrar tan gran evento que son los cumpleaños, es tan importante celebrar los cumpleaños de cada persona ya que esto significa celebrar la vida, les cuento que me me sentí feliz ver a mi hermana tan emocionada celebrando su cumpleaños como una niña ilusionada, creo que es bueno que ella se sienta tan jovial, a mí particularmente me emocionó verla tan feliz y llena de vida.
Hello friends of this beautiful community, this time I am going to tell you how I celebrate with my sister her 50th birthday, because for me it was difficult to celebrate birthdays because of my grief, but thank God in the last two years I have been able to accompany my family to celebrate such a great event that are the birthdays, It is so important to celebrate the birthday of each person because it means to celebrate life, I tell you that I felt happy to see my sister so excited celebrating her birthday as an excited girl, I think it is good that she feels so jovial, I was particularly excited to see her so happy and full of life.
---
Celebrar los cumpleaños se ha convertido en un ritual muy importante para las personas, ya que celebrar la vida es motivo de mucha alegría, triunfo y felicidad, por lo que este fin de semana mi hermana celebró su cumpleaños número 50 en compañía de familiares y amigos, Por experiencia propia les puedo decir que cumplir 50 años nos hace sentir que entramos en una nueva década, por eso hay que recordar que la vida es una sola y hay que disfrutarla al máximo, sin enojos, sin odios, sin amarguras, solo hay que vivirla y celebrarla, los 50 años nos invitan a reflexionar y vivir la vida con mucha plenitud y armonía.
Celebrating birthdays has become a very important ritual for people, since celebrating life is a reason for much joy, triumph and happiness, so this weekend my sister celebrated her 50th birthday in the company of family and friends, From my own experience I can tell you that turning 50 makes us feel that we are entering a new decade, that is why we must remember that life is only one and we must enjoy it to the fullest, without anger, without hatred, without bitterness, we just have to live it and celebrate it, 50 years invite us to reflect and live life with much fullness and harmony.
---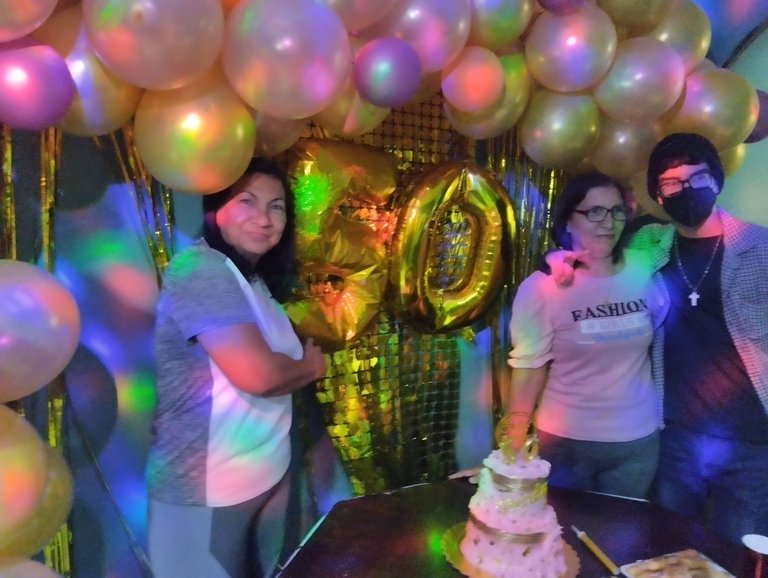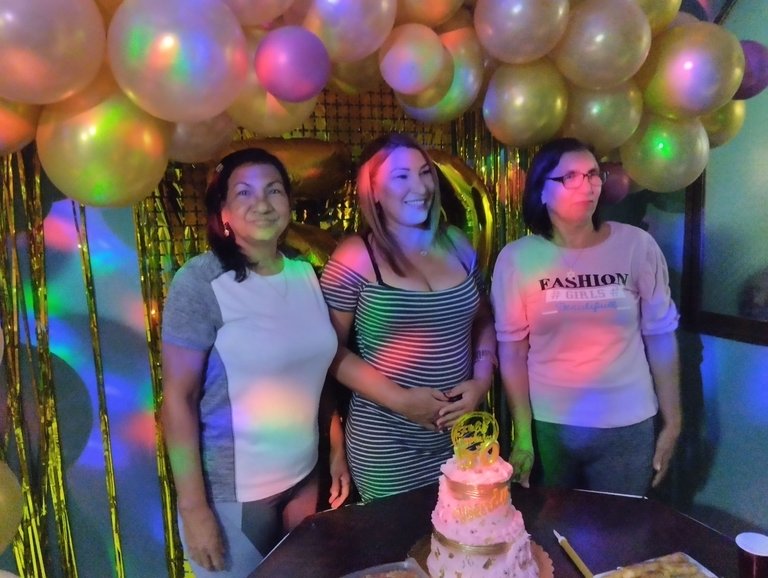 Todos los cumpleaños en mi familia los celebramos con mucha alegría y entusiasmo, con pastel, bocadillos, bebidas y sobre todo con buena música, mi hermana celebró su cumpleaños en casa de su pareja con una pequeña recepción y allí estuvimos presentes mi esposo y yo, mi hermana @theresa16 con su hijo, mi hermano, su esposa e hijos, también su pareja, suegra y amigas de #hive y compañeras de trabajo, tenía un hermoso y sencillo pastel hecho por una chica que vive cerca de la casa, había muchos pasapalos, crema de queso, berenjena y calabacín, estaban muy deliciosos, también había refrescos, vino y cervezas, todo estaba muy bien organizado hasta la decoración hecha por su pareja e hijas, mi hermana se veía muy feliz celebrando sus 50 años.
All birthdays in my family we celebrate them with much joy and enthusiasm, with cake, snacks, drinks and above all with good music, my sister celebrated her birthday at her partner's house with a small reception and there my husband and I were present, my sister @theresa16 with her son, my brother, his wife and children, also her partner, mother in law and #hive friends and coworkers, she had a beautiful and simple cake made by a girl who lives near the house, there were many pasapalos, cream cheese, eggplant and zucchini, they were very delicious, there were also soft drinks, wine and beers, everything was very well organized even the decoration made by her partner and daughters, my sister looked very happy celebrating her 50 years.
---
Mi hermana recibió muchas felicitaciones, algunos regalos, muchos abrazos y muestras de cariño por parte de su familia y amigos, así que la pasamos muy bien, pienso que fue una velada muy agradable con un ambiente muy acogedor, allí charlamos, nos reímos, bailamos, cantamos, comimos, algunos tomamos refrescos, otros vino y también cervezas frías que no faltan para esta ocasión especial y algo muy importante es que nos tomamos muchas fotos para dejar impregnados a través de estas capturas estos momentos tan especiales y felices de celebrar el cumpleaños y más estos 50 años porque llegar a esta edad es un privilegio.
My sister received many congratulations, some gifts, many hugs and tokens of affection from her family and friends, so we had a great time, I think it was a very nice evening with a very cozy atmosphere, there we chatted, laughed, danced, sang, ate, some of us drank soft drinks, others had wine and also cold beers that are not lacking for this special occasion and something very important is that we took many photos to leave impregnated through these captures these special moments and happy to celebrate the birthday and more these 50 years because to reach this age is a privilege.
---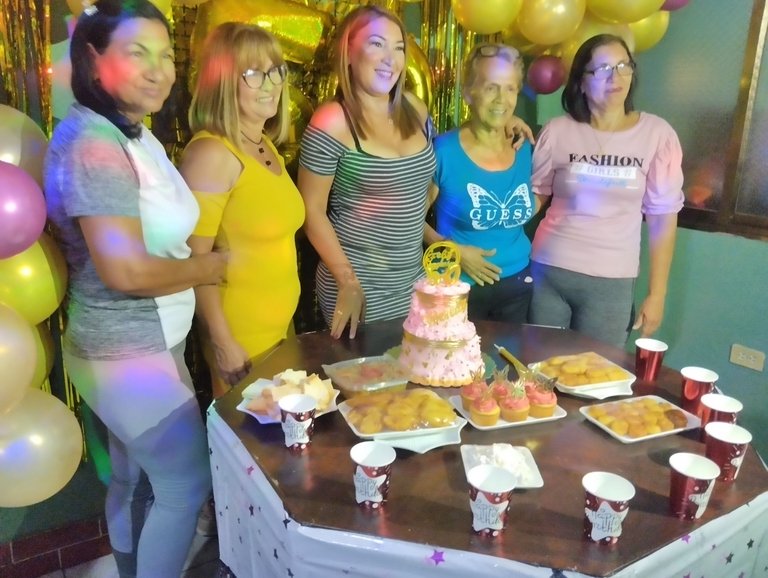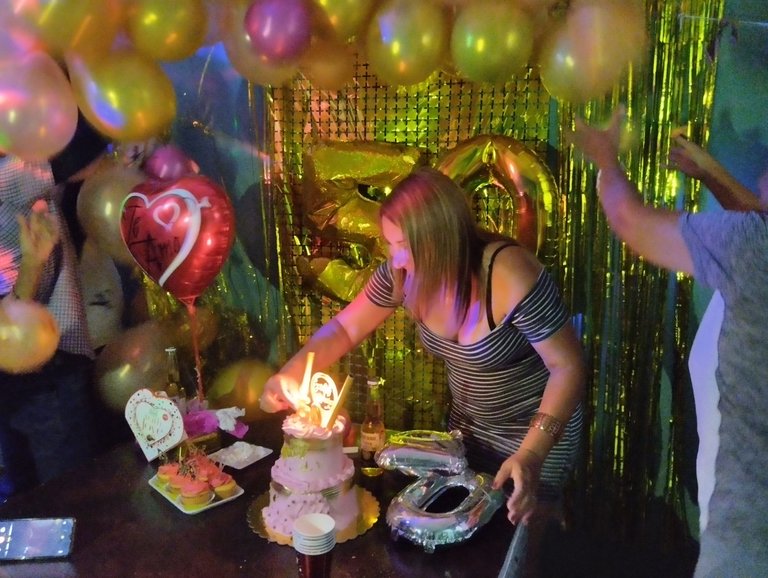 A las 11 de la noche cantamos el cumpleaños feliz y mientras cantábamos las bombas explotaban estábamos muy contentos, ella sopló la vela y pidió su deseo que es una costumbre que tenemos en la familia, al terminar este ritual del cumpleaños feliz empezamos a picar el pastel y a repartirlo entre los invitados, nos quedamos un rato hablando y luego cada uno se despidió para que la noche no nos agarrara tan tarde en el camino.
At 11 o'clock at night we sang happy birthday and while we sang the bombs exploded we were very happy, she blew out the candle and made her wish which is a custom we have in the family, at the end of this ritual of happy birthday we began to chop the cake and distribute it among the guests, we stayed a while talking and then each one of us said goodbye so that the night would not catch us so late on the road.
---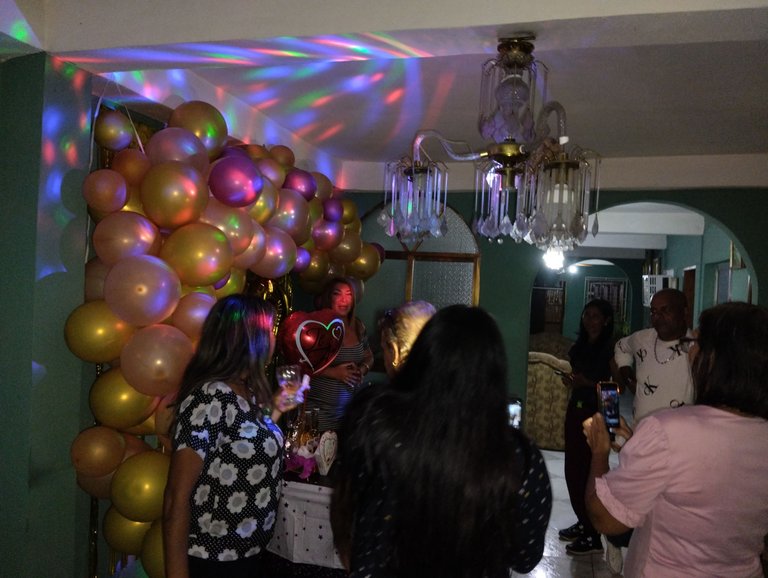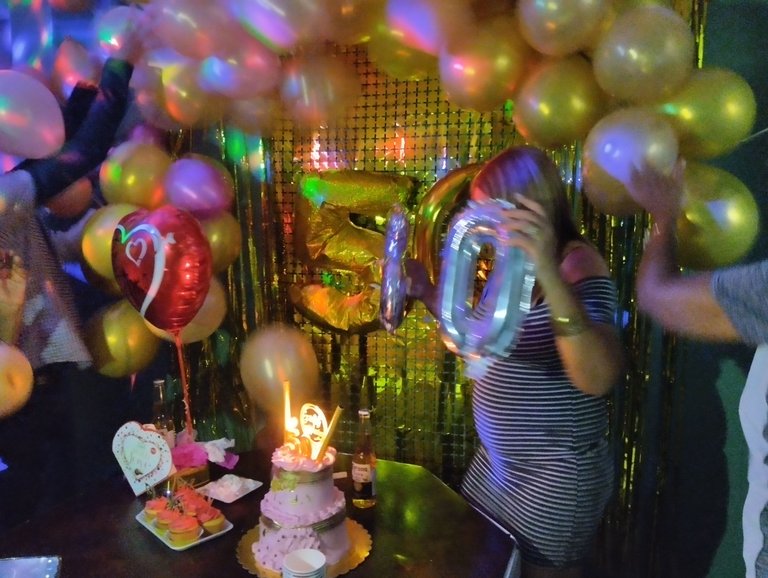 Estoy feliz de haber estado presente en este día tan especial para mi hermana, espero que Dios me de mucha salud para seguir acompañándola en estas celebraciones que nos hacen felices porque la familia en este tipo de reuniones se convierte en un pilar fundamental en estos momentos especiales. Celebrar los cumpleaños es algo que siempre recordaremos y dejará huella en nuestras vidas porque nadie olvidará esta fecha tan importante y especial, creo que cada uno de nosotros merece celebrar todos los grandes y pequeños momentos de nuestra vida y recordar siempre lo importante que es celebrar los cumpleaños al lado de la familia y con los amigos mas apreciados.
I am happy to have been present on this special day for my sister, I hope God gives me a lot of health to continue accompanying her in these celebrations that make us happy because the family in this type of meetings becomes a fundamental pillar in these special moments. Celebrating birthdays is something that we will always remember and will leave a mark in our lives because no one will forget this important and special date, I believe that each one of us deserves to celebrate all the big and small moments of our lives and always remember how important it is to celebrate birthdays with our family and our dearest friends.
---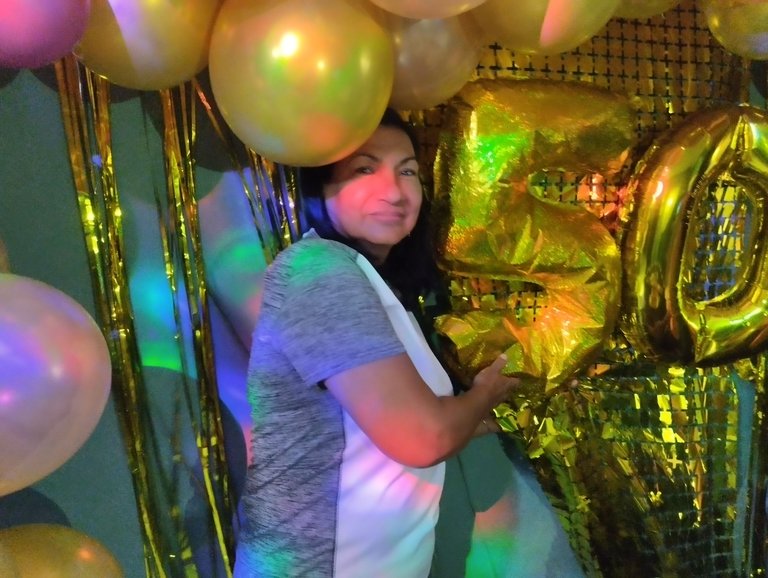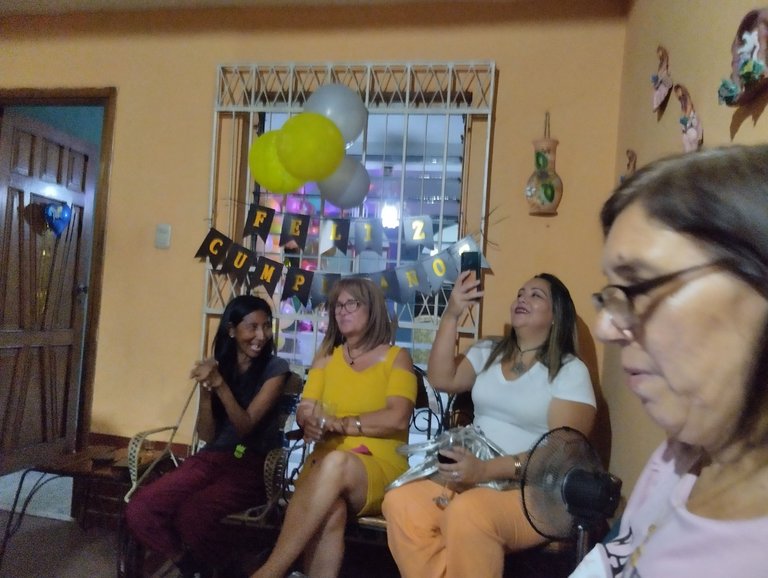 - The photos are taken by me with a Redmi 9 cell phone.
- The translation of the text is made with the application DeepL
- The content of the publication is original from @daysiselena
- Las fotos están tomadas por mí con un móvil Redmi 9.
- La traducción del texto está hecha con la aplicación DeepL
- El contenido de la publicación es original de @daysiselena
---

---
---