Adventure in the hills of Mount Geurute
Photo on the top of Mount Geurutee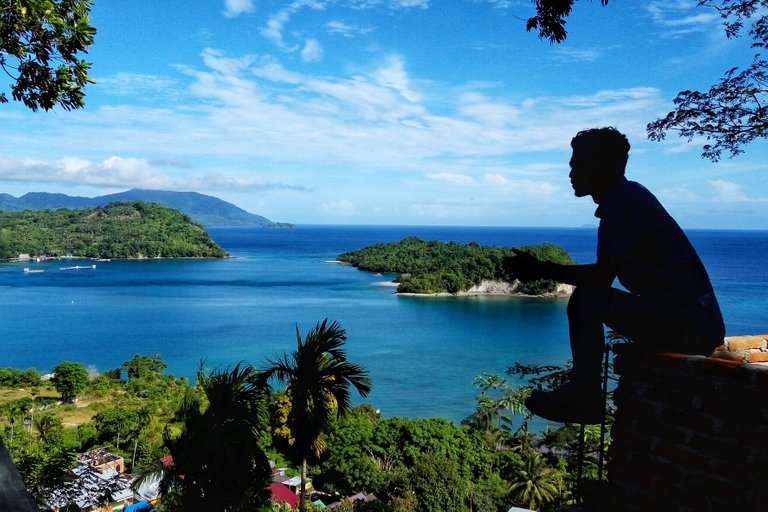 The view of klah island seen from the hill of Mount Geurute
---
Yesterday was a holiday for me, did not expect more with this opportunity, I was on vacation and set aside my time to enjoy the place I wanted to visit. The day and the weather are very favorable for me to travel, I think instead of having to sit at home it would be better if I spend my time enjoying nature in my area. At that time I was in Banda Aceh City - Indonesia. I want to go to a place I have visited before in Aceh Jaya district, this district is not far from Banda Aceh city, but from my village to Aceh Jaya district it is very far and I have to travel 7 hours by car. Precisely at this time I was out of town, so I will go to this Aceh district from Banda Aceh City it only takes 1 hour drive. My friends and I have been preparing for this trip since 3 days ago with various plans and debates for the readiness of camping on the hill of Mount Geurute.
---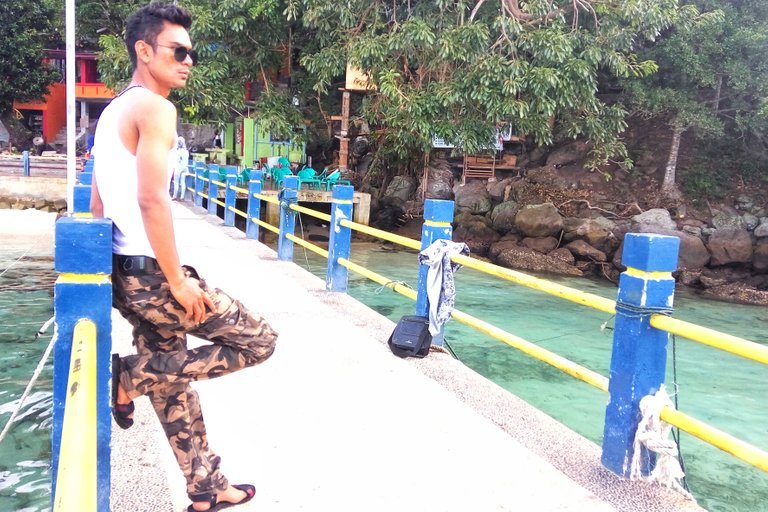 In the morning at 06.00 WIB (West Indonesia Time) I started to wake up to fulfill our wish that had been planned a few days ago, I immediately woke up those who were still fast asleep because they stayed up all night, I don't know what they did last night so I couldn't got up that morning. After waking them up I went around the harbor close to the beach to enjoy my morning vacation in Banda Aceh City. In the photo above I am still in the city of Banda Aceh right at the port, I wanted to come here to see the sunrise, but unfortunately I didn't get it here.
---
---
The foothills of Mount Geurute
The clock showed 07.00 am and my friends started to prepare for our trip to "Aceh Jaya" to be precise to the Peak of Mount Geurutee, we traveled by motorbike each with some provisions that we had provided such as food, drinks and other equipment needed. We also brought some raw fish and rice which we will cook and roast there, under the Geurute mountains, From planning we want to bathe and have fun there which he said there has waterfalls and rivers that are clear the water and the place is very pleasant then refreshing, yes for sure the place is still naturally beautiful.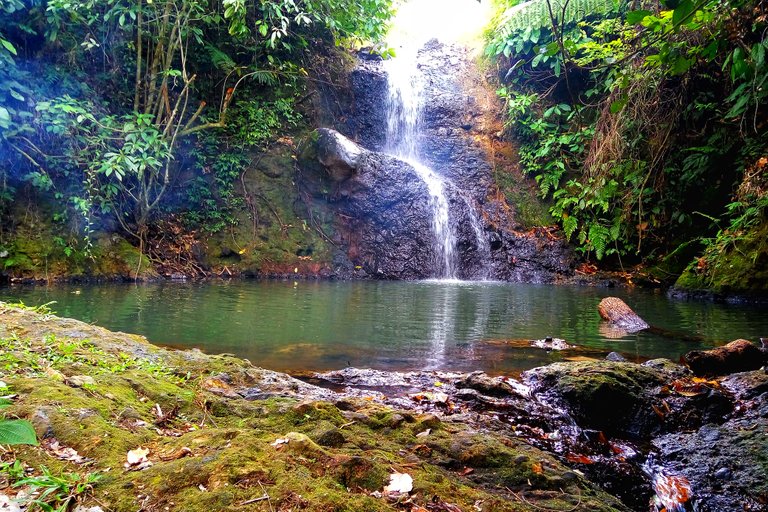 We arrived at the bottom of the Geureutee mountains, I took some photography shots that I captured using my smartphone camera, there was a view of a waterfall that was not so heavy but very attractive, clear green water from the original mountain springs. Plants and green moss and rocks Native to the Aceh forest.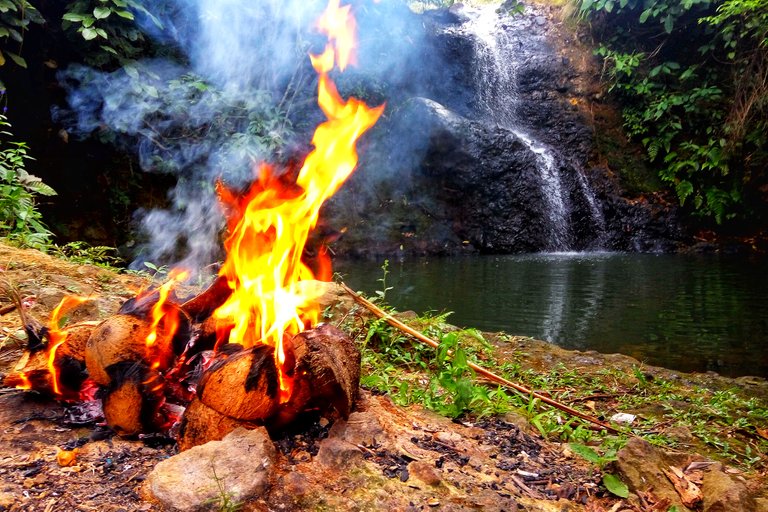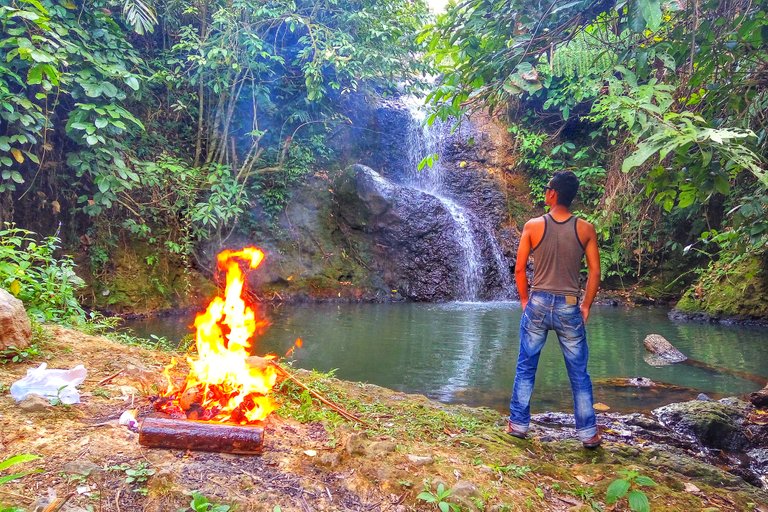 It didn't take long, my friends and I burned some dry wood and coconut shells that we provided, this we did to cook and burn some of the fish we brought before, we didn't catch this fish but we bought it at the traditional fish market located in Banda Aceh City. After the fish were cleaned by friends while waiting for the fire to burn dry wood and coconut shells into coals, we happily bathed in this waterfall river.
After turning into charcoal / coals, we immediately grilled the fish using banana leaves that we picked around the yard at the foot of the mountain that grew wild around it. The reason for using these leaves to add flavor to fish and fish is not quickly scorched by hot coals, maybe this is just our tradition so that the grilled fish cooks quickly.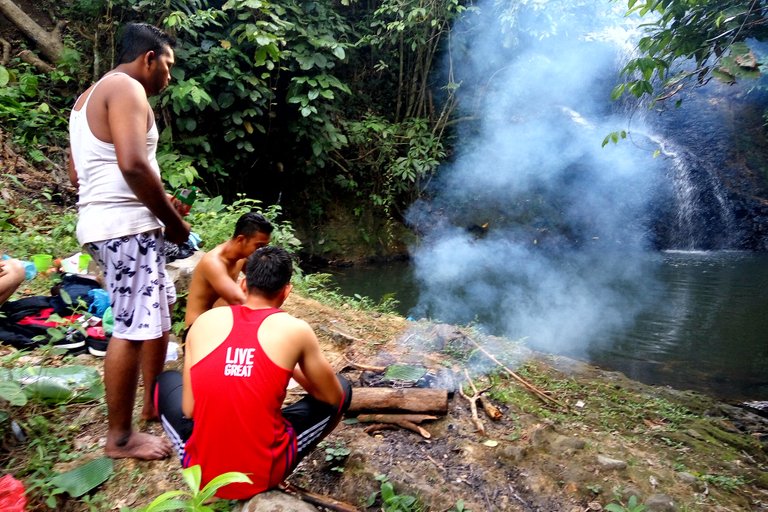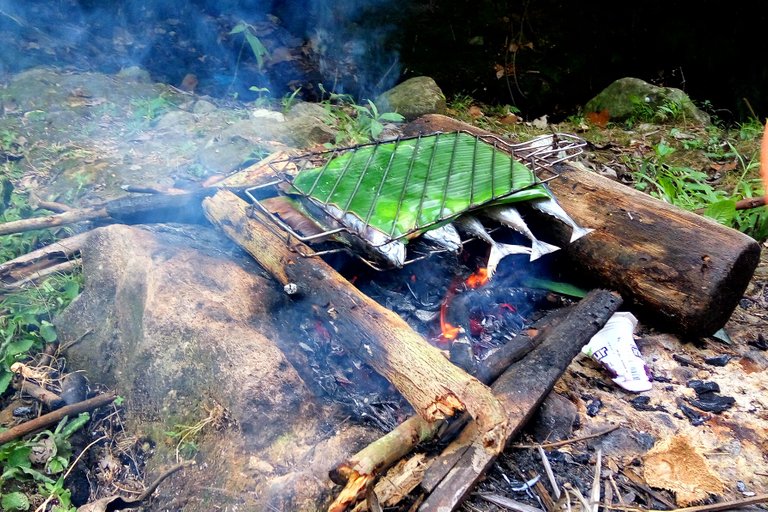 Seen some photos that I took during the process of grilling the fish, while waiting for the fish to be cooked and cooked, I made some seasonings for us to serve with a little soy sauce and seasonings such as chili, tomatoes, lime, and onions. And the taste is no doubt, it's certainly very tasty and delicious, especially with the natural atmosphere of the mountain forest like this, of course you can feel it too.
---
---
Spot Lhokseudu Beach
What is Lhokseudu beach ?
Lhokseudu Beach is a beach located under the foot of Mount Geurutee, this location is not far from the Geurutee mountains. The location of this beach is on the edge of the geurutee mountain causeway, many visitors here stop by to enjoy the scenery on this beach, for me this place is very mainstream, anyone can visit here to enjoy the atmosphere of this beach with a traditional atmosphere. aceh cottage decoration.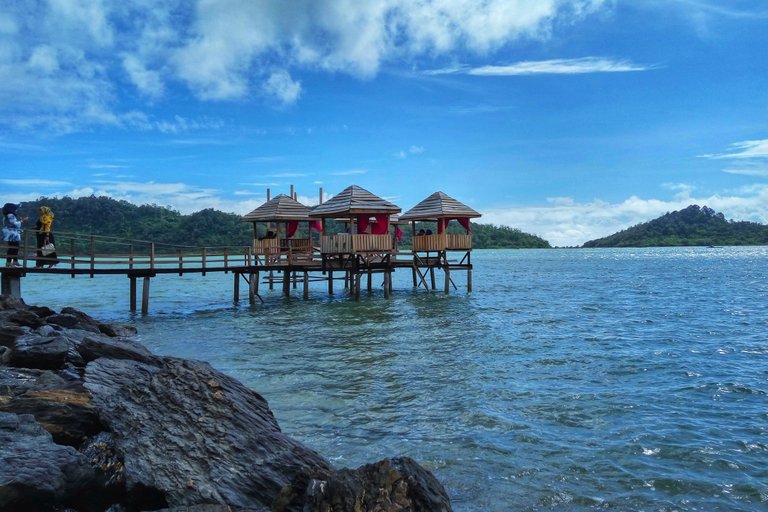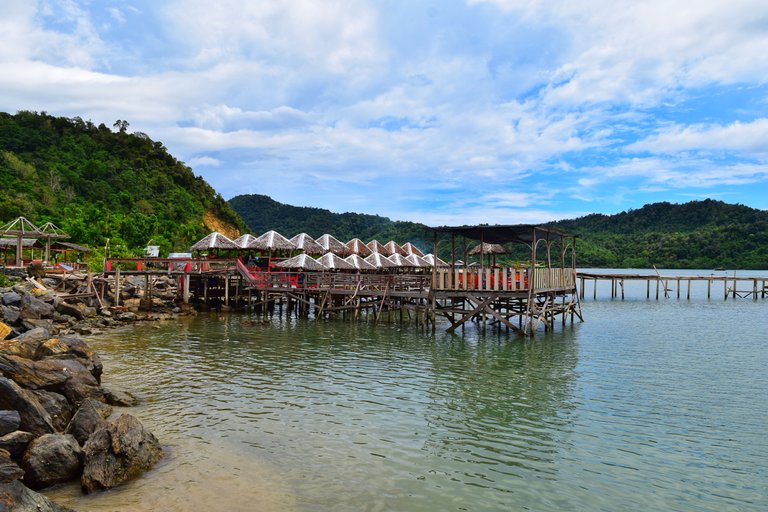 I photographed this scene just for my album, I didn't stop by this place but I showed it to hivers to be able to find out the location I shared and see some views of this lhokseudu beach atmosphere.
---
---
Geurutee Mountain Hill
At around 14.00, my friends and I arrived at the hills of the Geurutee mountains, we parked all our vehicles in residential areas near the mountains. Then we climbed the hill for an hour's journey, on the way we had many stories and had a break for 20 minutes. And finally we arrived at our destination.
We spent the most time in the hills of the Geurutee Mountains for 4 hours and enjoyed the scenery here, many islands scattered under the mountains surrounded by the Aceh Straits. I also took some photography that I shot from the top of the hill, it looks really amazing and the view is very beautiful.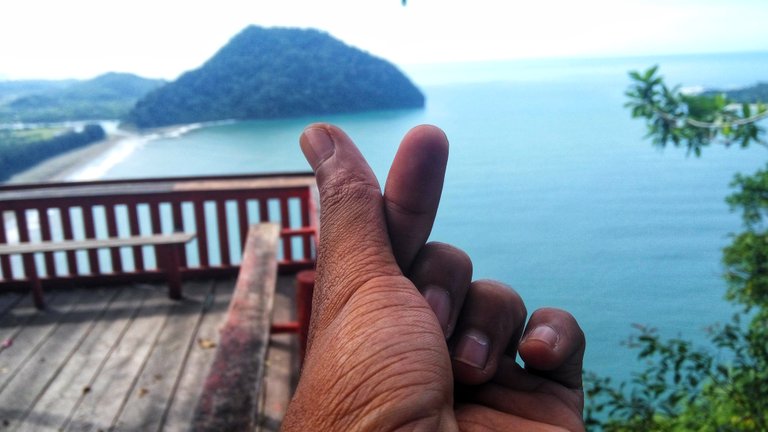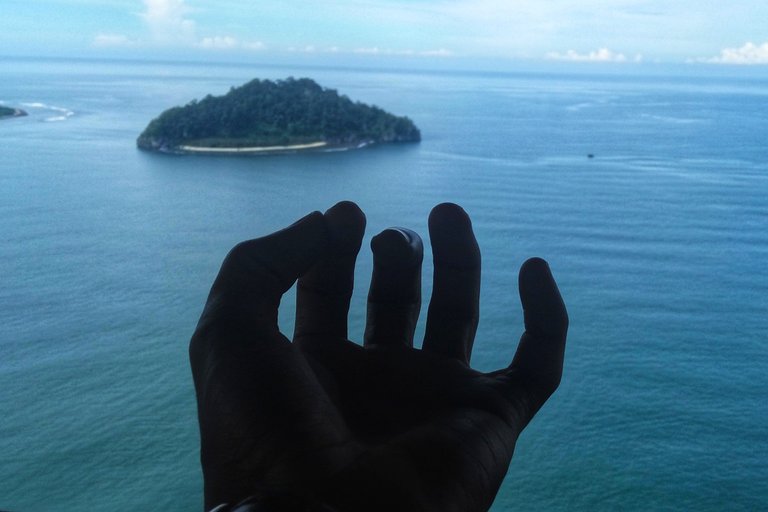 The clock shows 18.01. We always look forward to the arrival of Sunset. It's amazing if today is a sunny day, surely the sunset will appear here, my goal is none other than waiting for the sunset to arrive.
---
Exactly at 18.20 the sunset appeared, maybe it wasn't as perfect as I wanted, but the truth is that the most important thing is that the sunset arrived on time and these are the moments I've been waiting for. I captured some sunset photography that I shot at that time. And the result is not bad I think, this is amazing in my opinion, it is not in vain that I visited this place on my holiday.
Finally the sky began to darken, night fell and we immediately descended from this hill to immediately return to Banda Aceh City at night.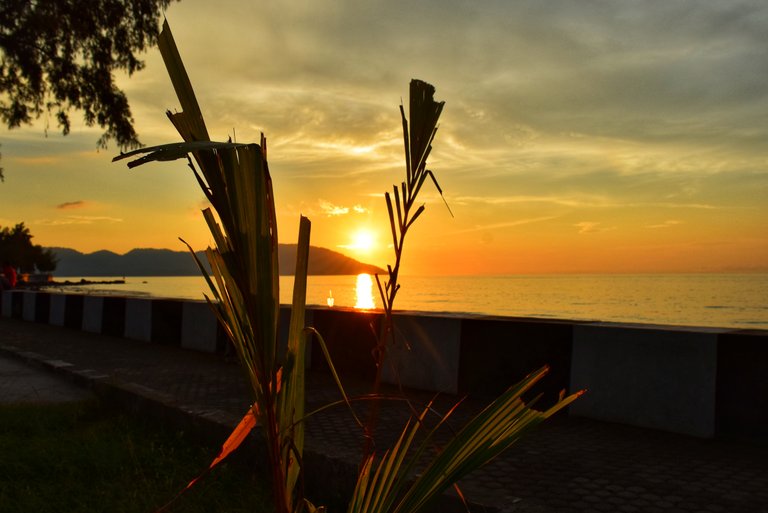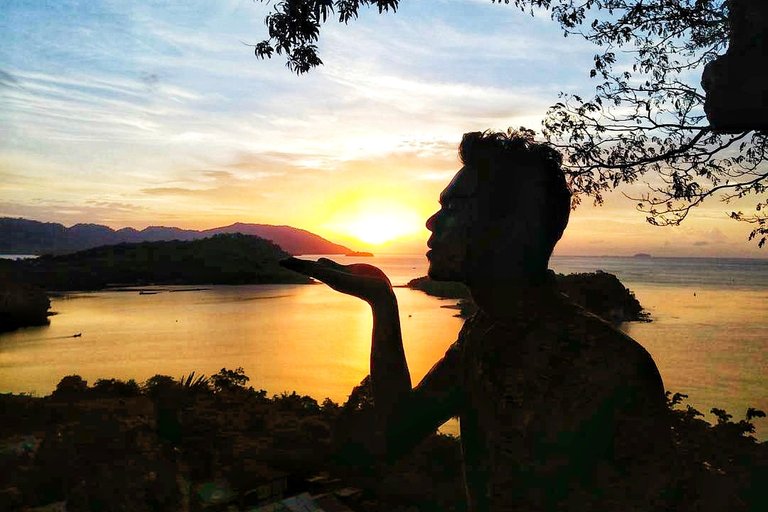 photography sunset on the hills of the Geurutee Mountains
---
Hi Hivers!!!

Thank you for reading and stopping at my post, please support friends in this post. Your support is my passion to keep writing about my experiences on this blockchain.
| Photographer | Camera | Editing | Location |
| --- | --- | --- | --- |
| @dayatsiaulia | Smartphone RMX 5 Pro | Snapseed App | Aceh Jaya |

---
---
---