Aceh Traditional House
Yesterday I visited a museum in the city of Lhokseumawe, I was interested in a traditional culture in ancient times, namely a traditional Acehnese-Indonesian house.
---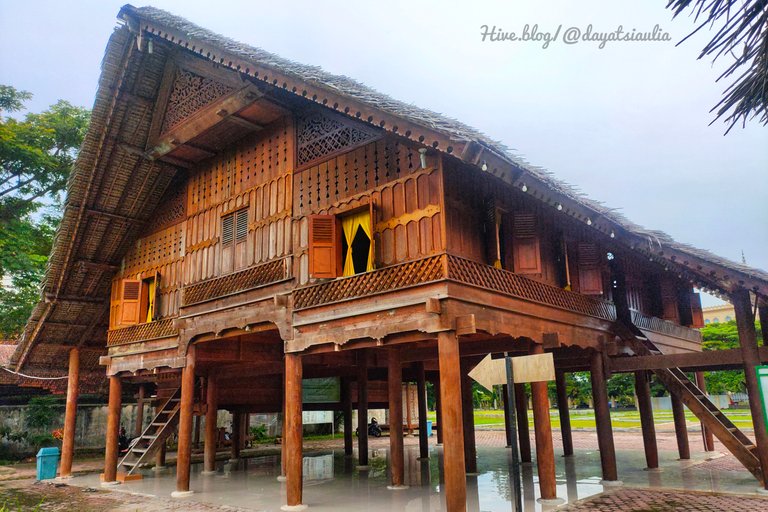 ---
Hi My Friends..
On this occasion I will share and discuss the architecture of an ancient house, the house that I photographed is the traditional house of Aceh in the past. I will share in detail about the architecture of this aceh house.
Home Architectural View
The front view of this traditional aceh house is structured with very sturdy aceh teak wood carvings, wood products produced from teak trees taken from the original aceh forest. The distinctive color of the wood that was polished manually by traditional carpenters at that time.
Seen from the front of the house, there are house windows that are positioned in front, beside and behind the house.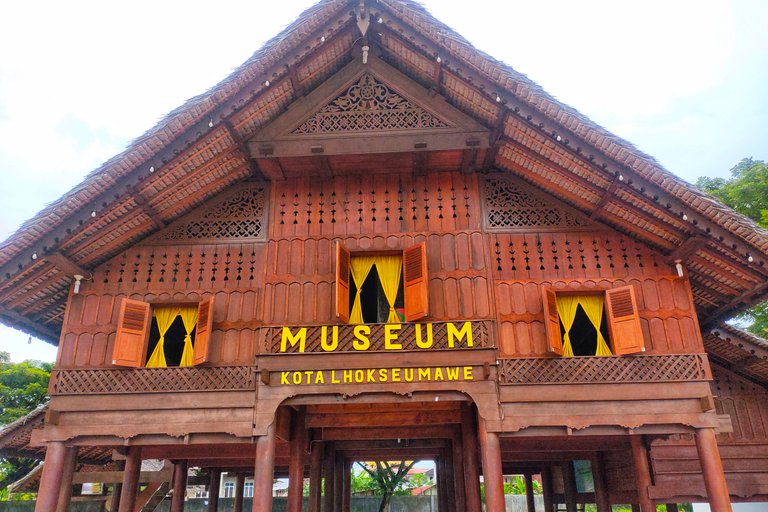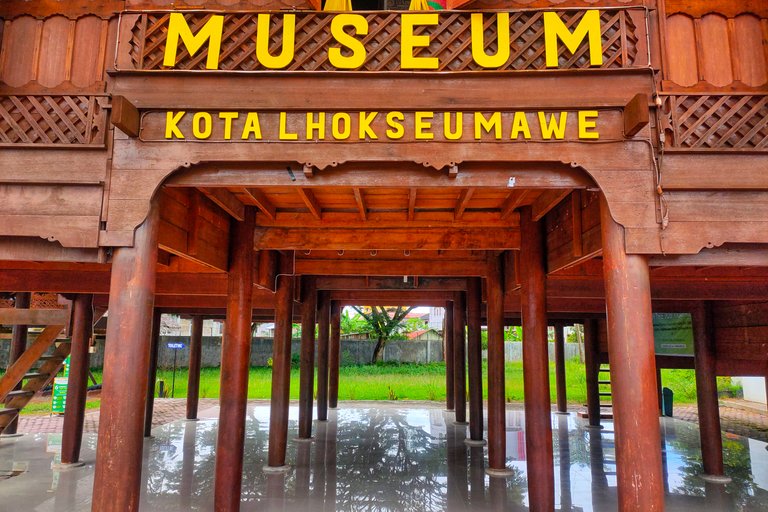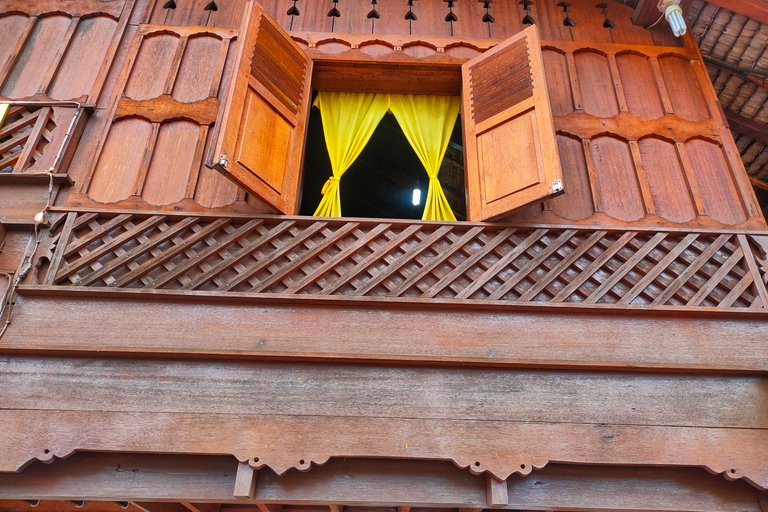 ---
The Roof, Walls and Stairs of an Aceh Traditional House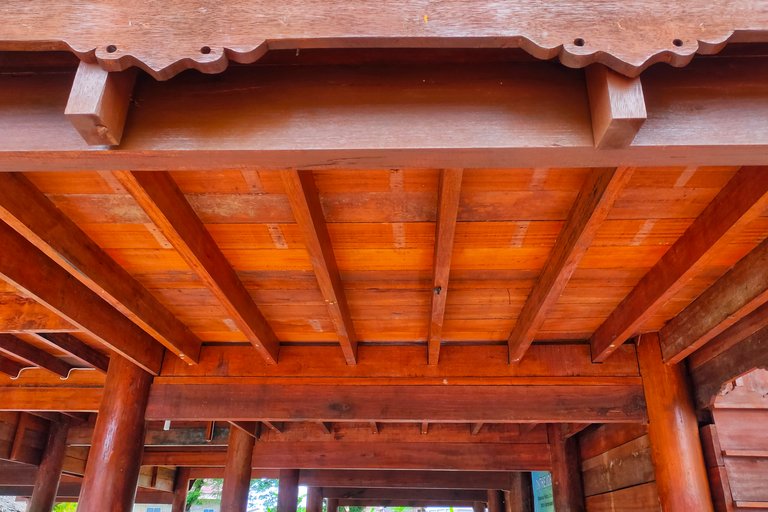 The floor of this traditional Acehnese house is made with wooden planks arranged in parallel which are tied using thick wooden beams without using nails, the height of this floor is 1.5 meters from the ground.
---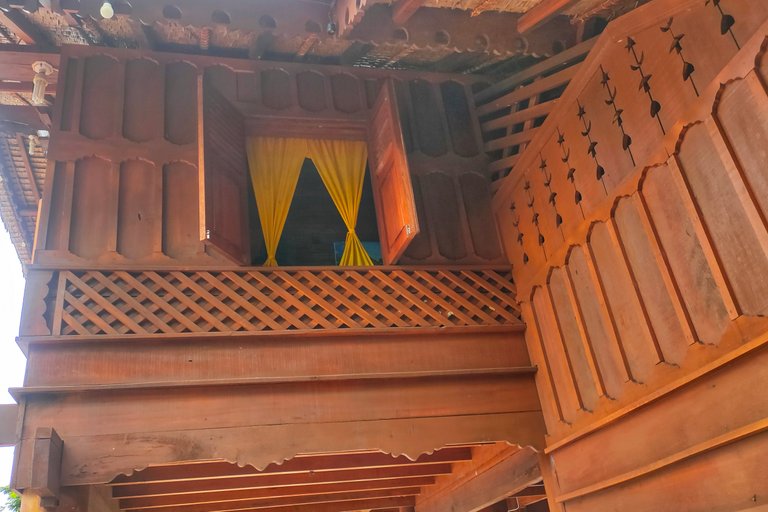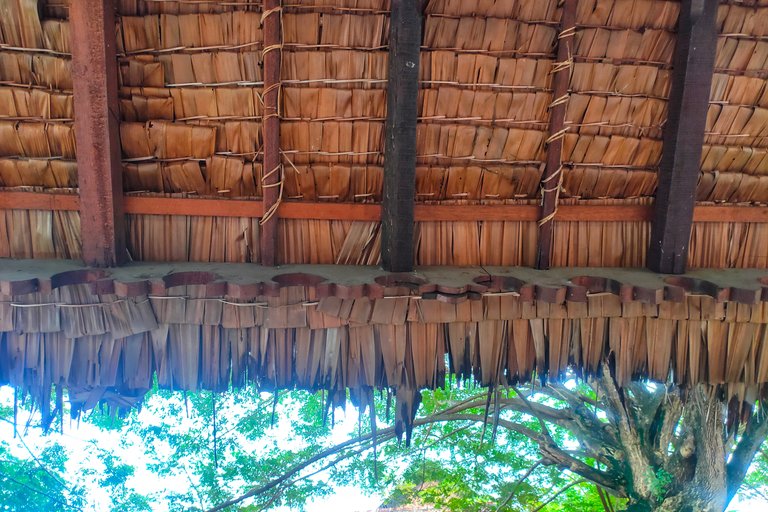 This aceh traditional house has a roof made of dried palm tree leaves and then neatly and tightly arranged to form a roof. After that it is tied to the supporting sections at the joints of the roof of the house as shown in the photo above.
---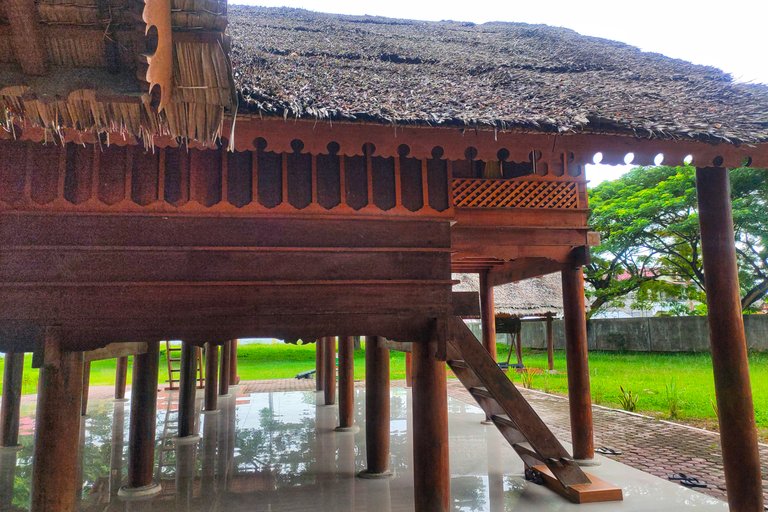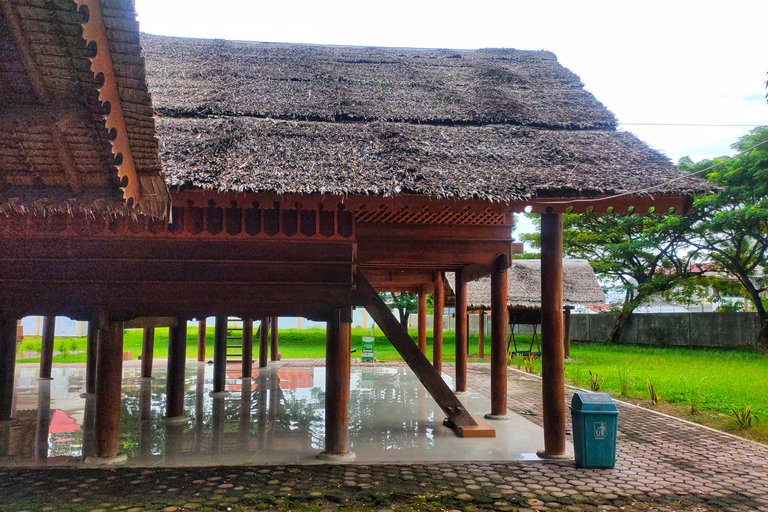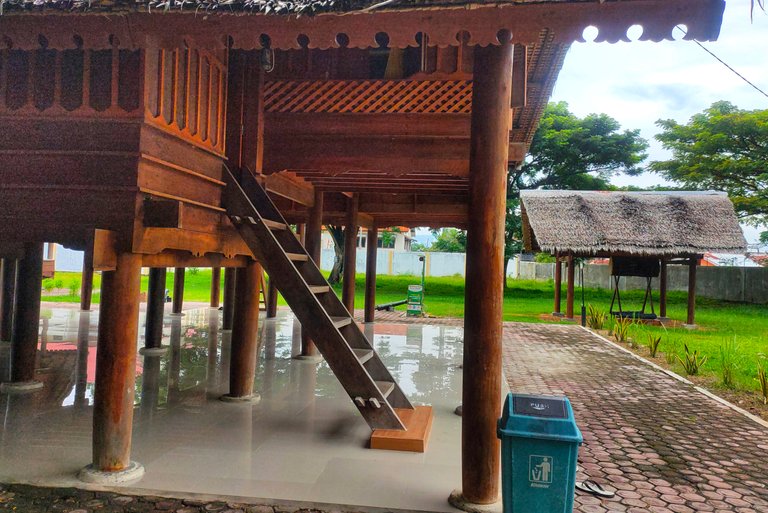 ---
And below is a display of some designs from this aceh traditional house which I captured through my smartphone camera, which I shot with visual photography.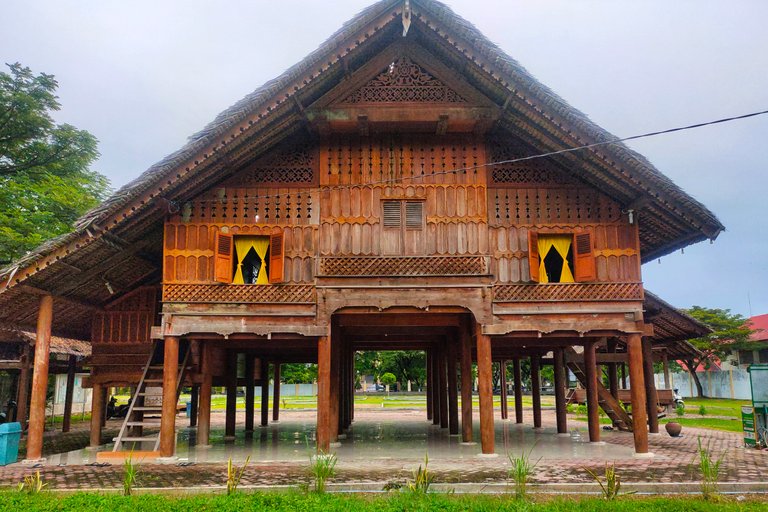 Back view of the house
---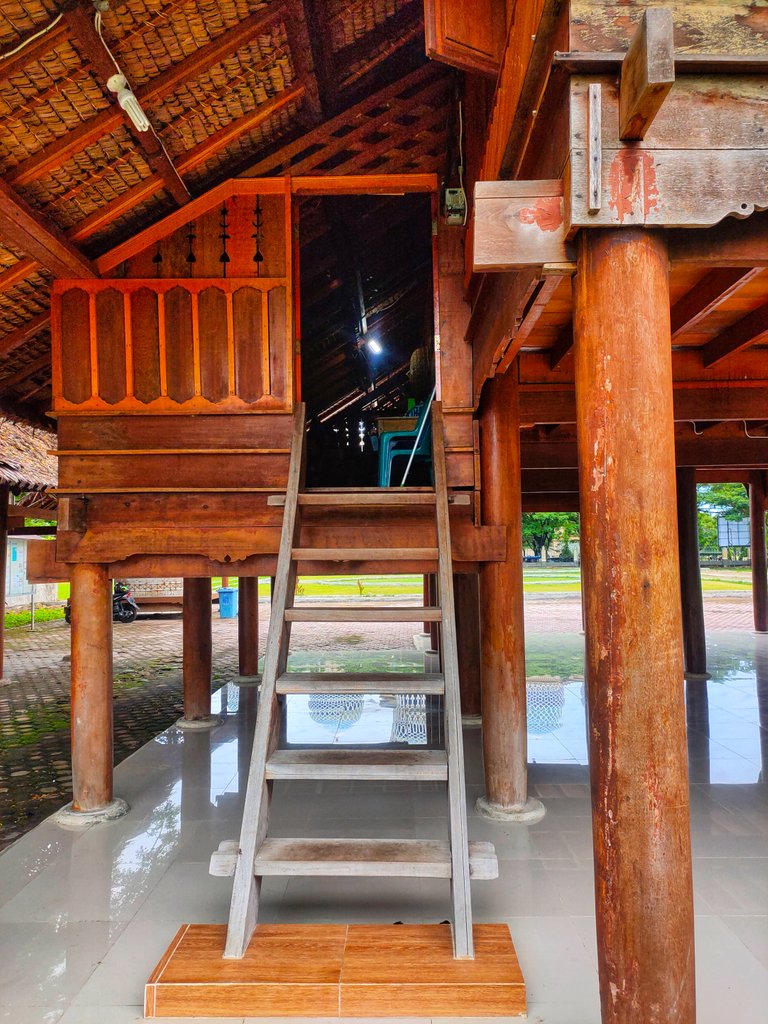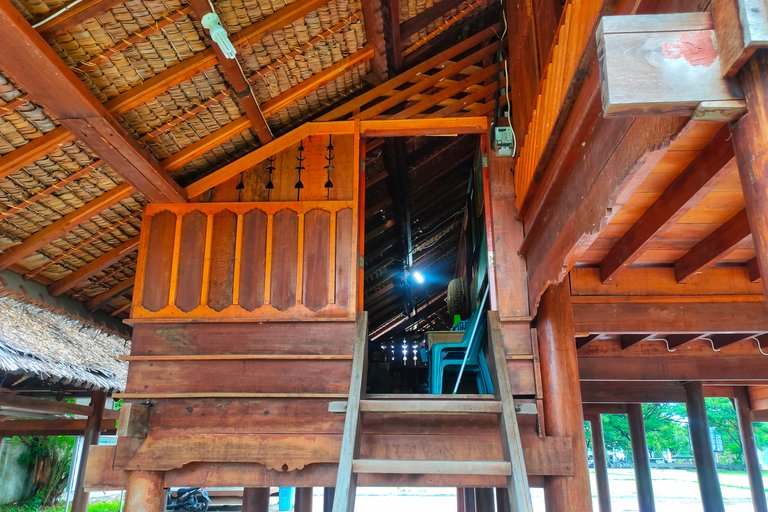 Stairs and entrance to the house
---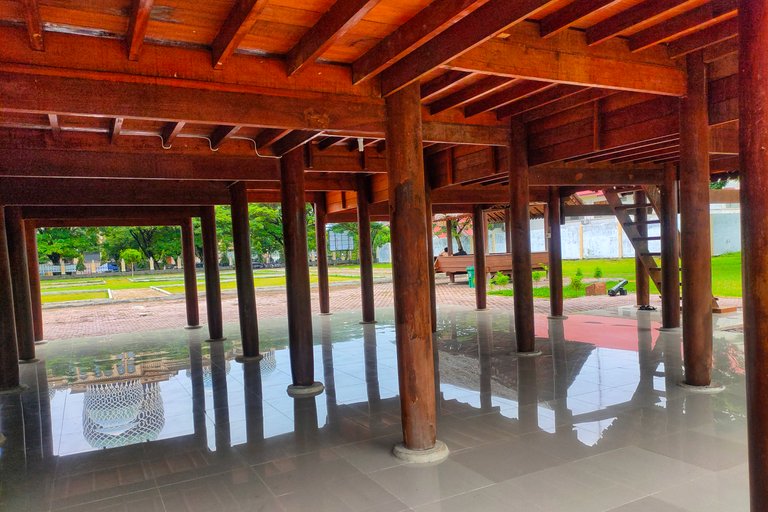 House Foundation
---
This is the view of the house that I photographed in detail so that friends can see the structure and position of this building clearly. Carved wood in the form of manually using traditional tools at that time.
This building was made in 1940, I think it was built a long time ago. The building looks solid. However, it has been renovated and repaired several times by museum guards.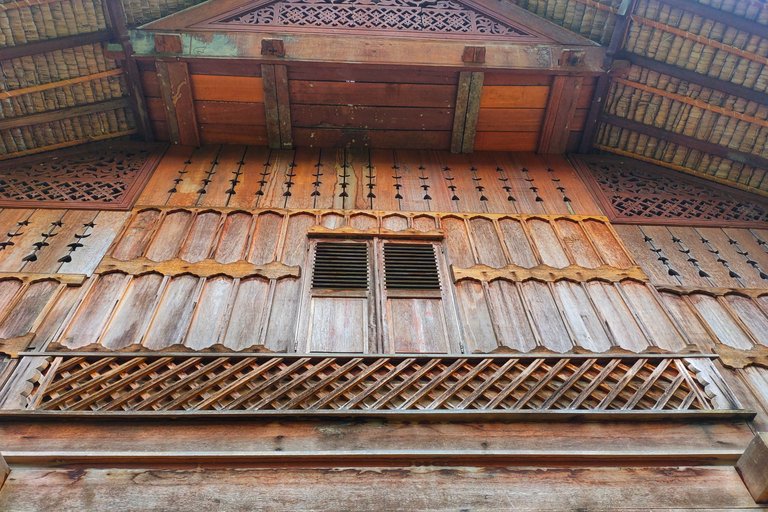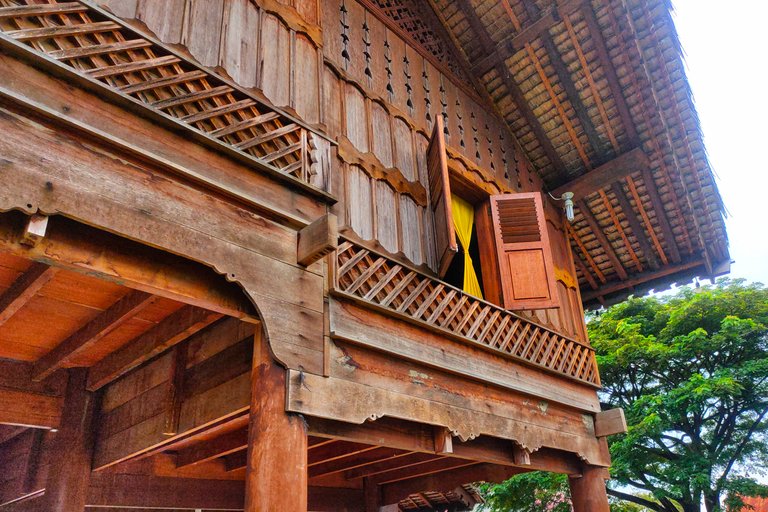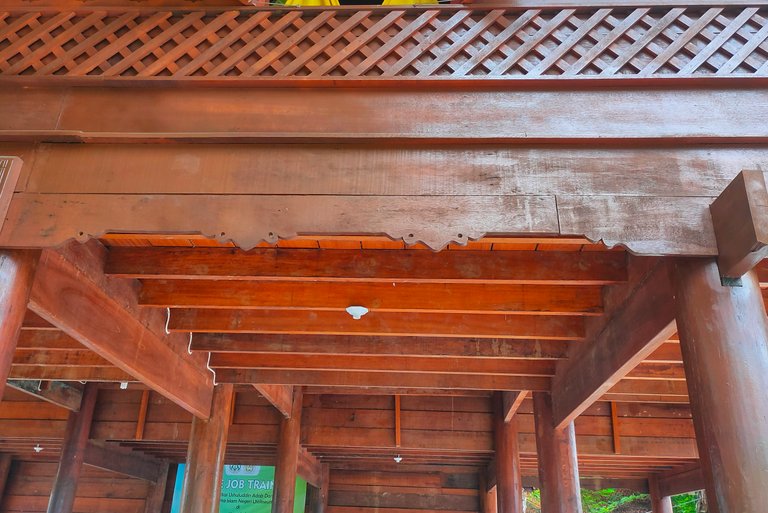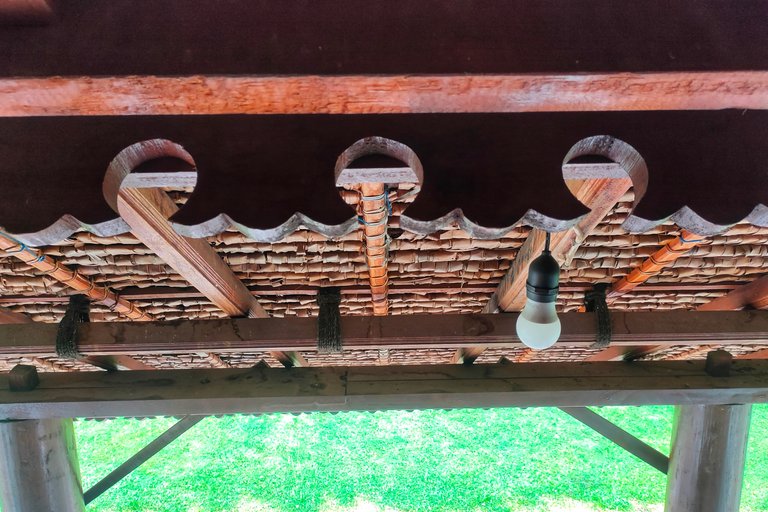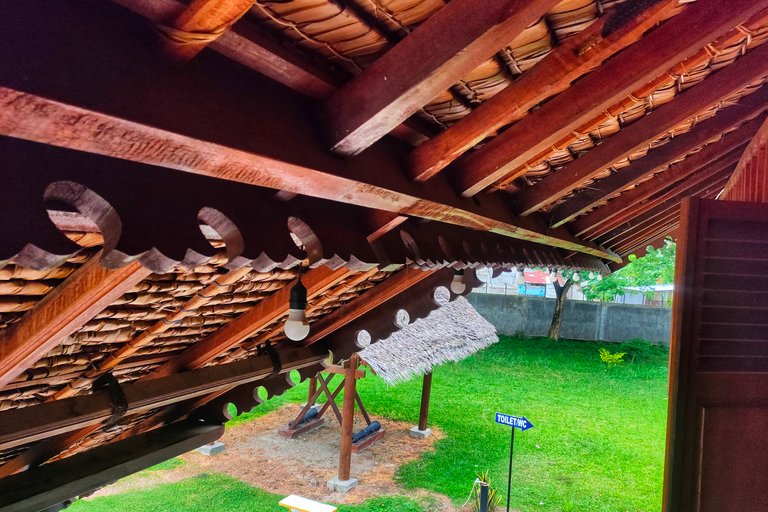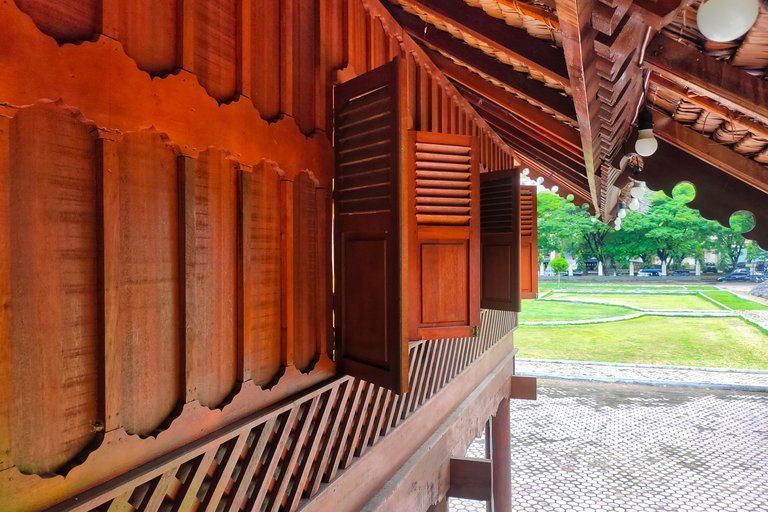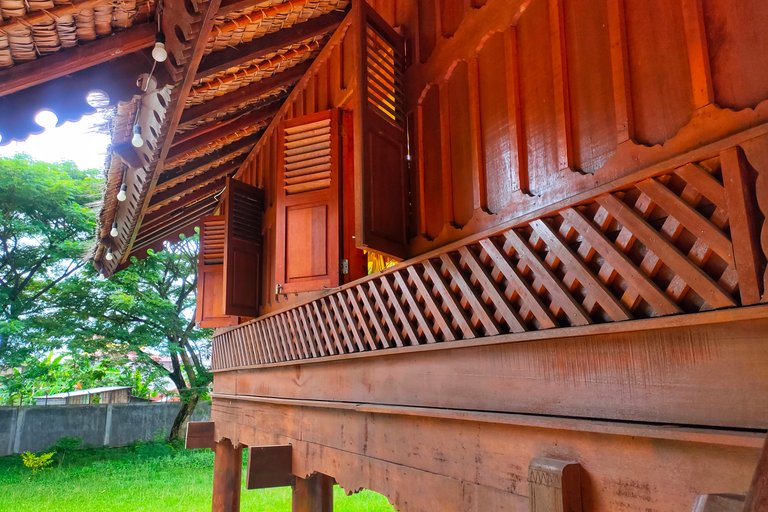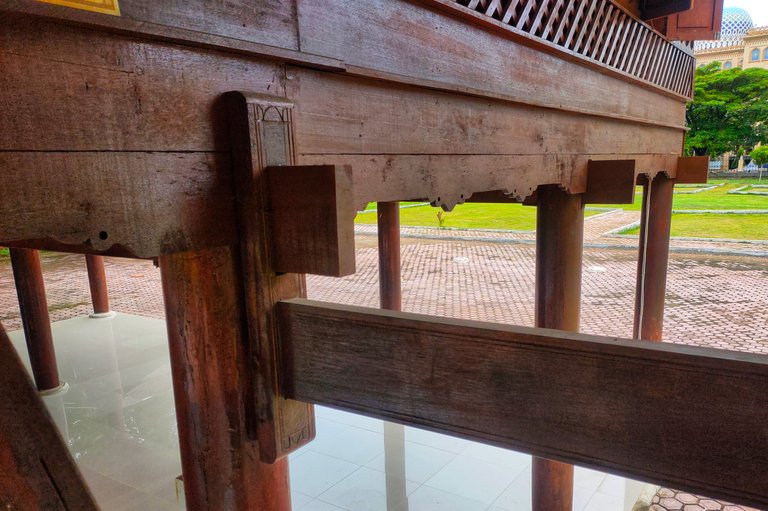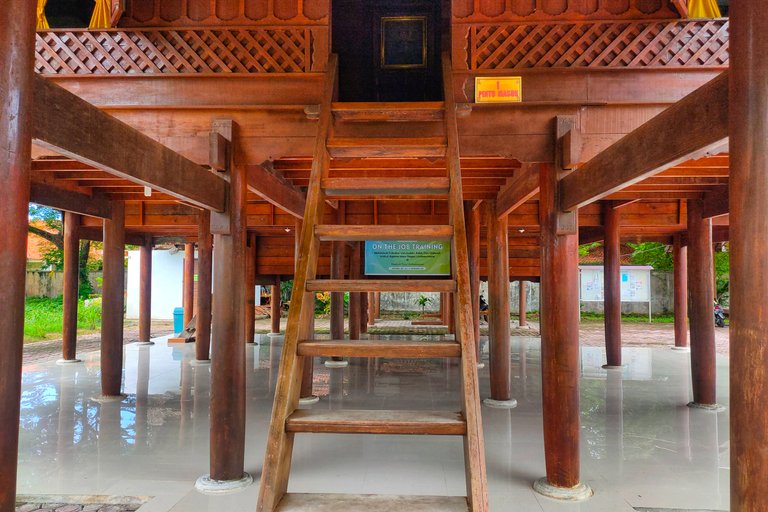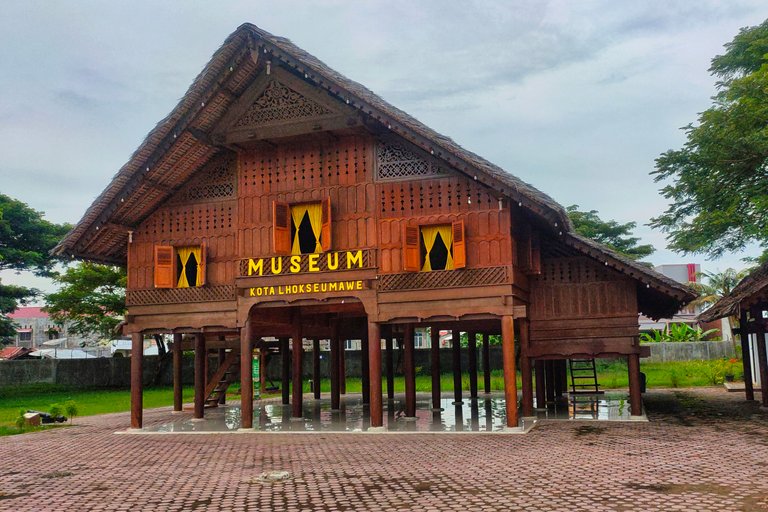 ---
house exterior
There are several exterior aceh traditional houses that I saw outside the house. places on the right and left of the Aceh traditional house building. Among other things:
Jeungki
Jeungki is a traditional tool in ancient times used by the people of Aceh to grind rice into flour. Jeungki was very useful at that time, every house that was built had this jeungki.
Maybe at this time the use of jeungki has been transferred to a rice grinding machine to make rice and flour, because according to the staple food we eat is rice. Not only rice, Jeungki can also be used to pound coconut, corn and others.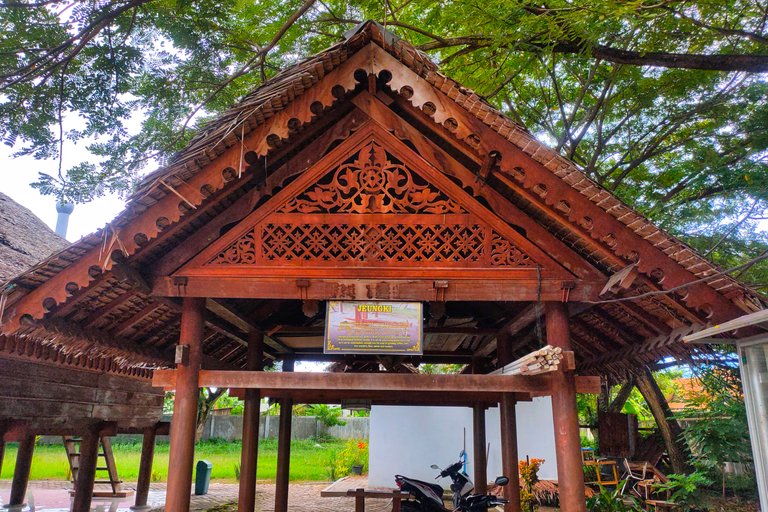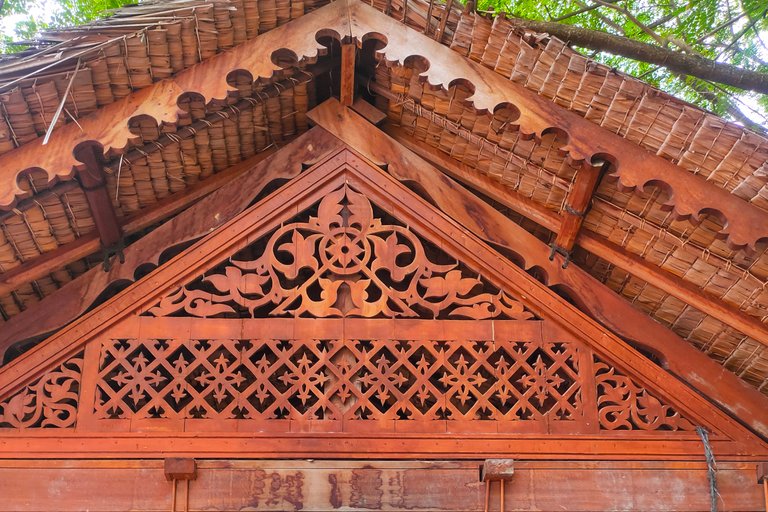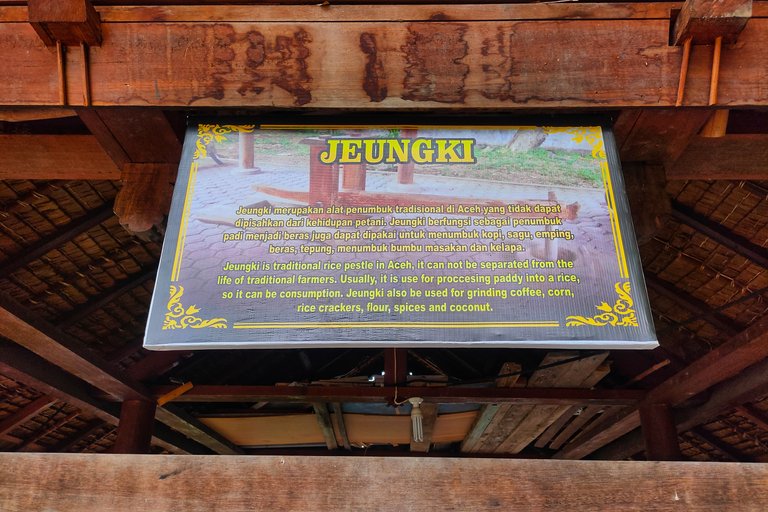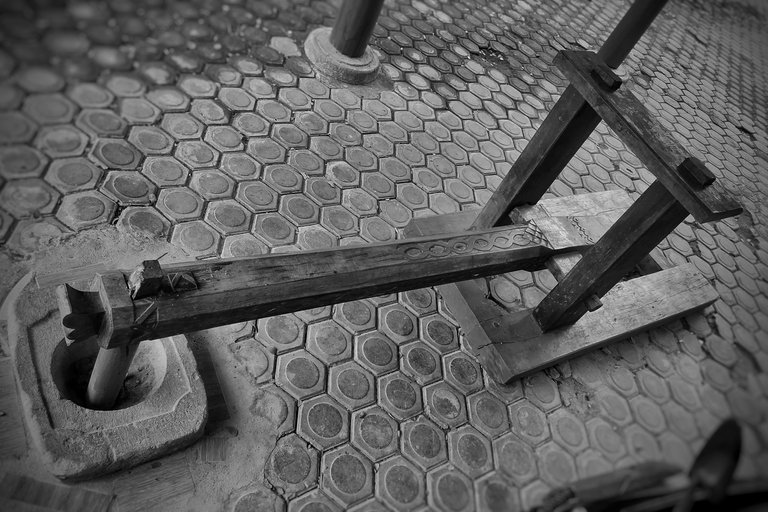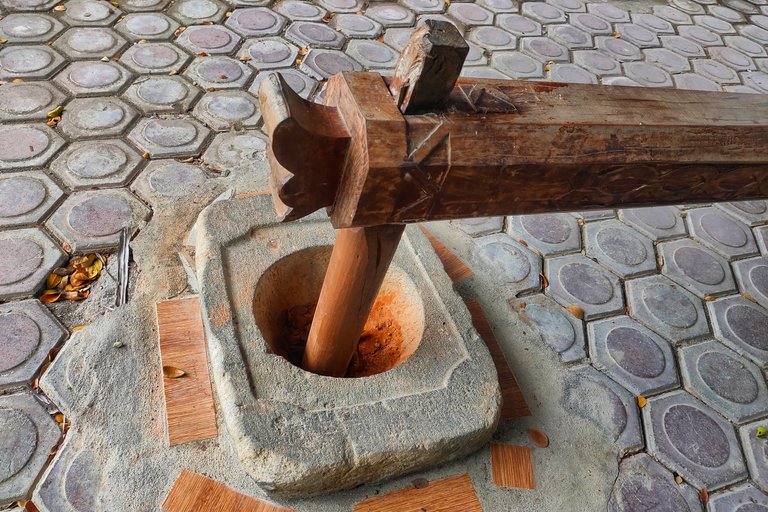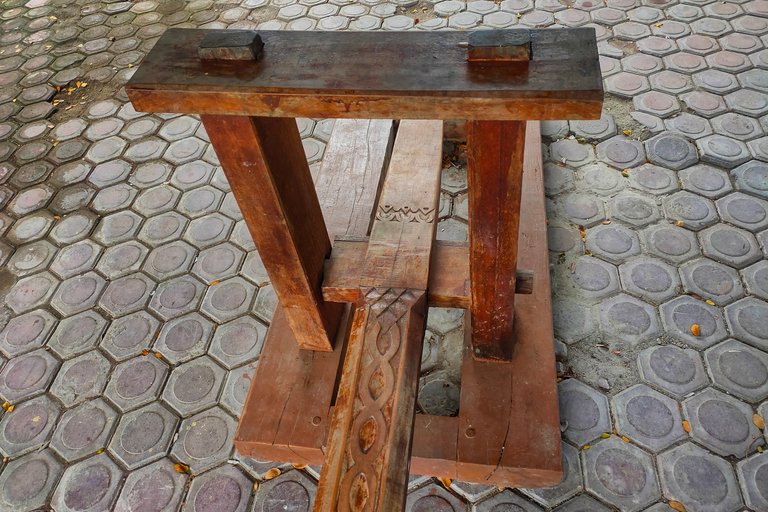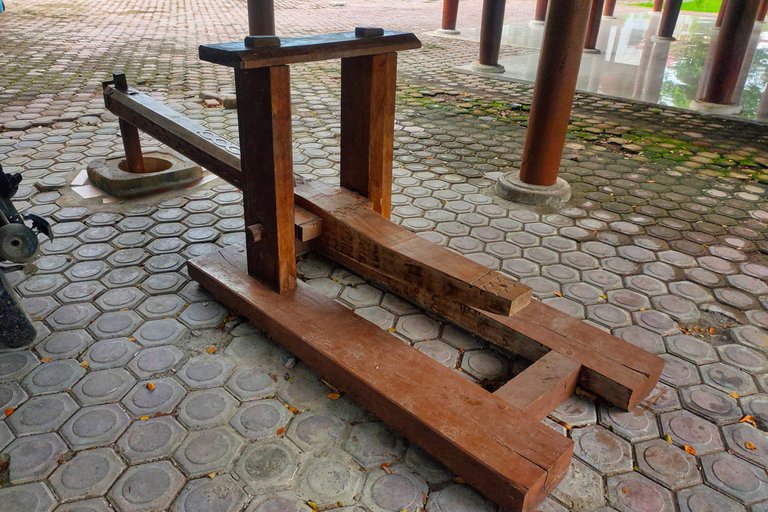 ---
Tambo
Tambo is a drum-like sound instrument that makes a sound when hit. This tool can also be called DRUM 🥁 in today's times, the use of this tool at that time is to indicate the time to start an activity, such as time to worship, time to go to the fields, time to pound rice, etc. There are other timing specifics with some of the punches on this TAMBO, such as the start of war at that time. I can not explain in detail about this, my knowledge is limited about these objects.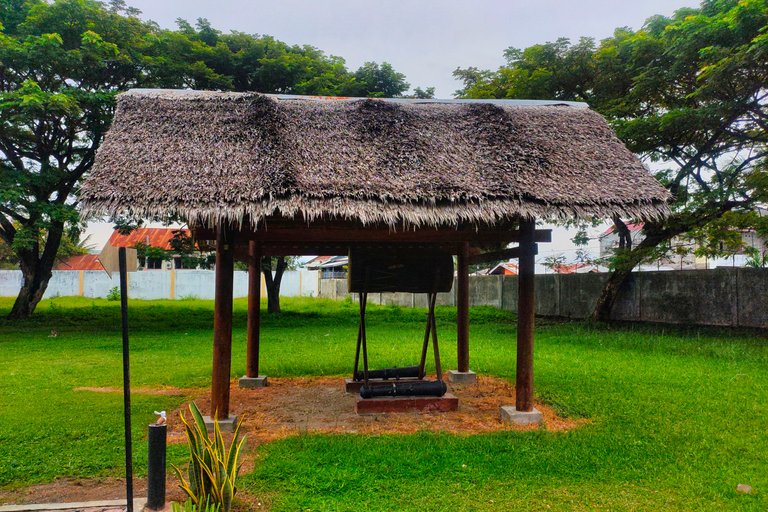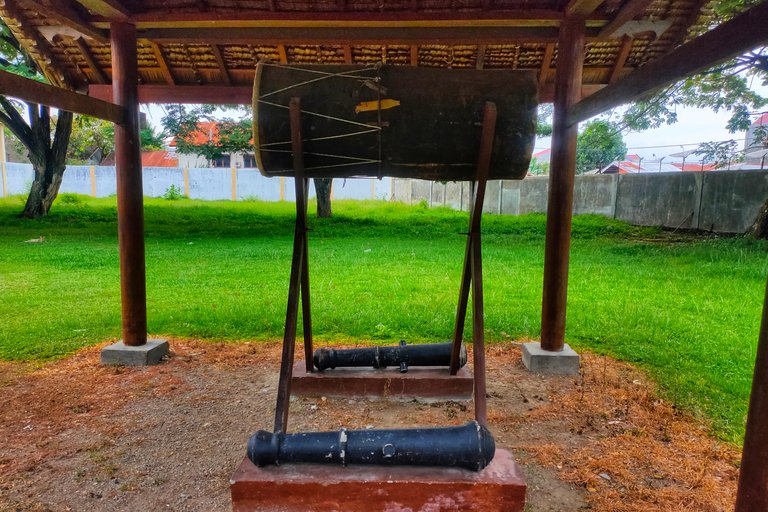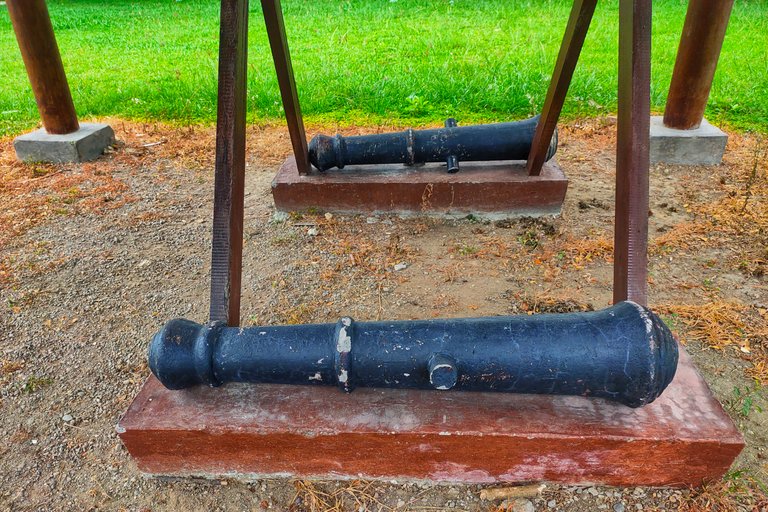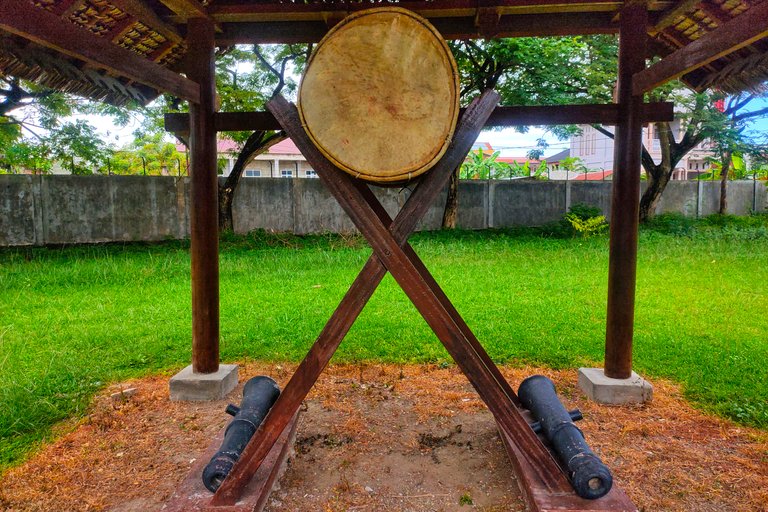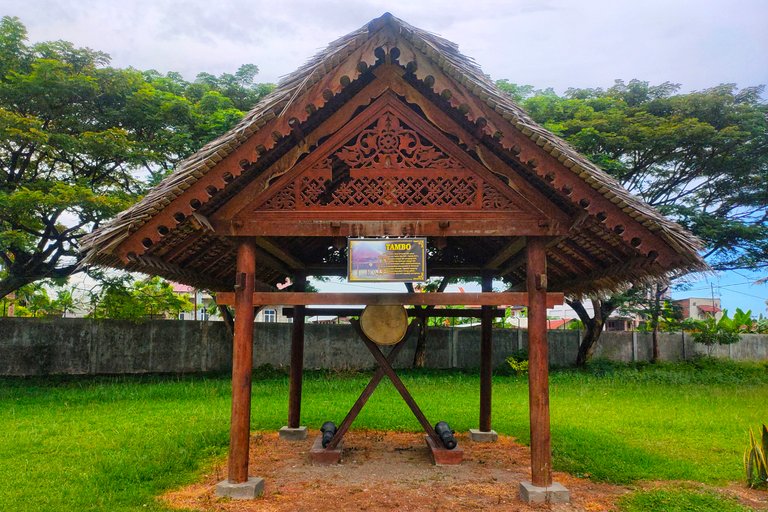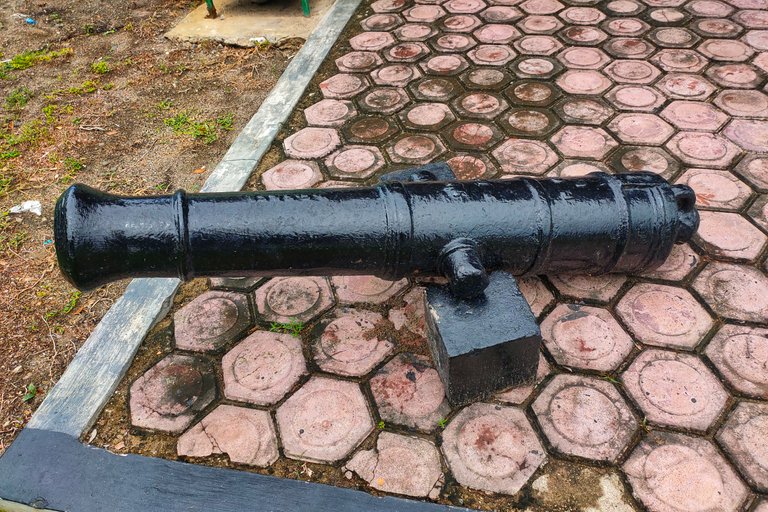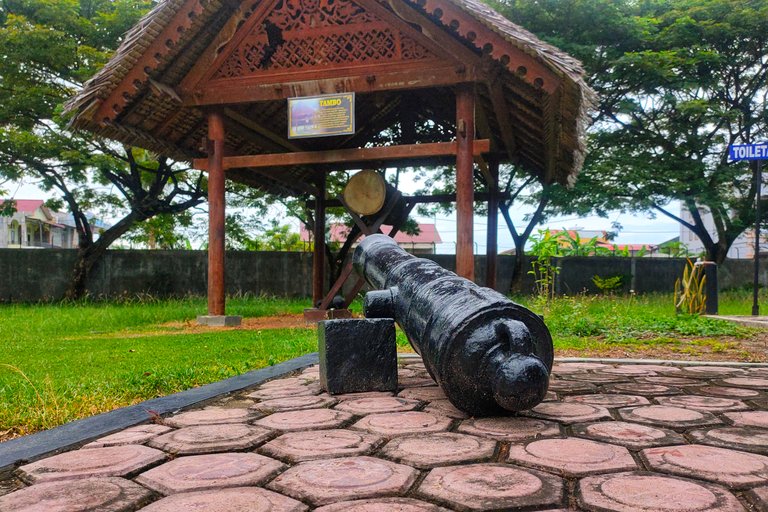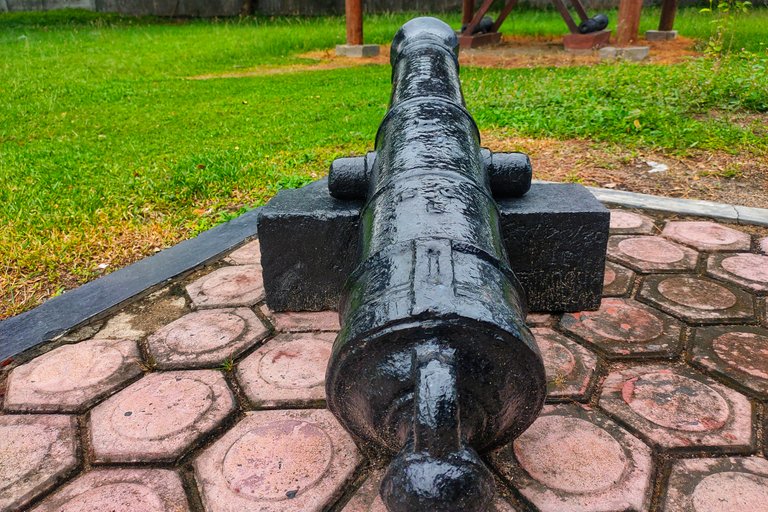 ---
Ie Guci
Ie Guci is a tool to hold water, if you want to enter the house, everyone is required to wash their feet using the water in this jar. This has become a tradition of the Acehnese people at that time, which I know in ancient times people did not use footwear, so tools like this were created.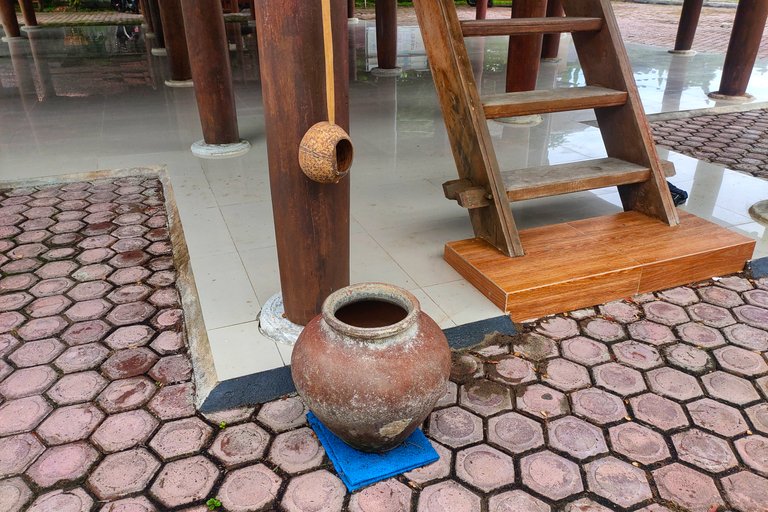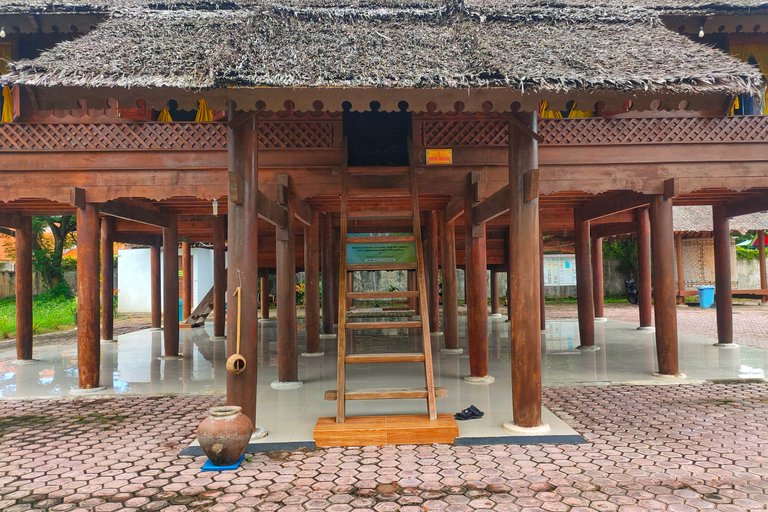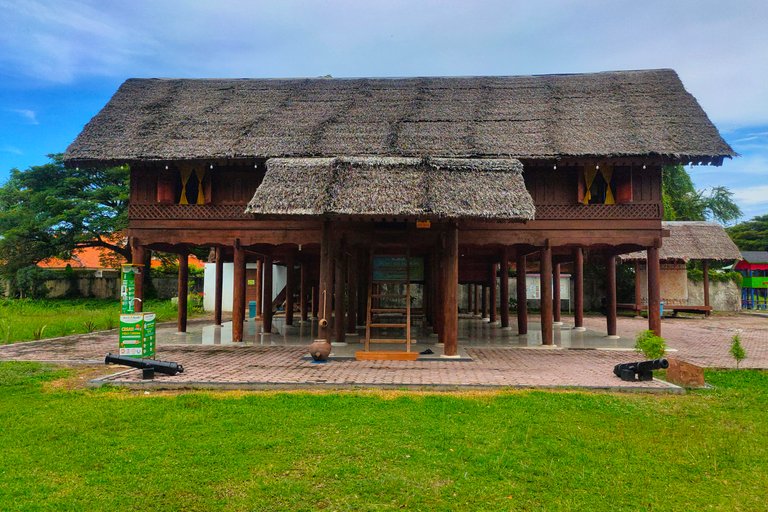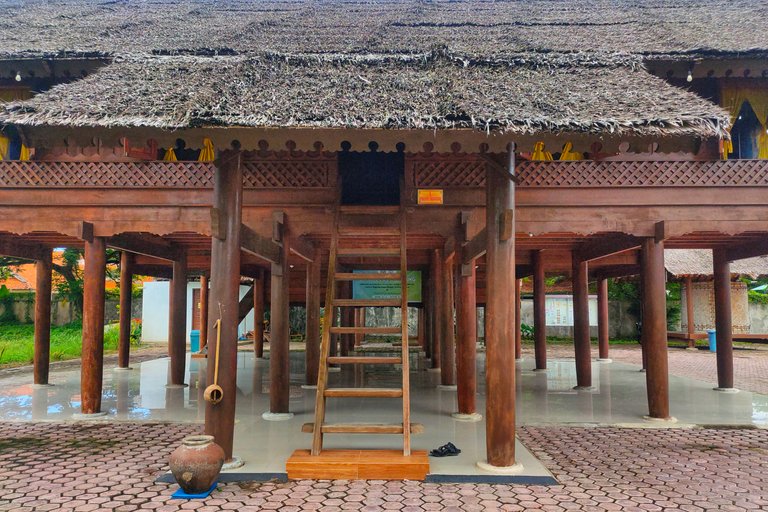 ---
Kroeng Padee
Kroeng pade is a tool to accommodate rice or rice after harvest, after the harvest season the people of Aceh usually store this rice in Kroeng Pade. The benefit of Kroeng Pade is to store the availability of food ingredients such as rice and paddy. When there is no time to plant rice and experience autumn or a famine season, the people of Aceh have a willingness to store rice in this Kroeng pade.
This object is made of bamboo which is shaped like a tube. Visually I photographed this object so that we could see it directly in the photography that I captured, the shape of this Kroeng pade.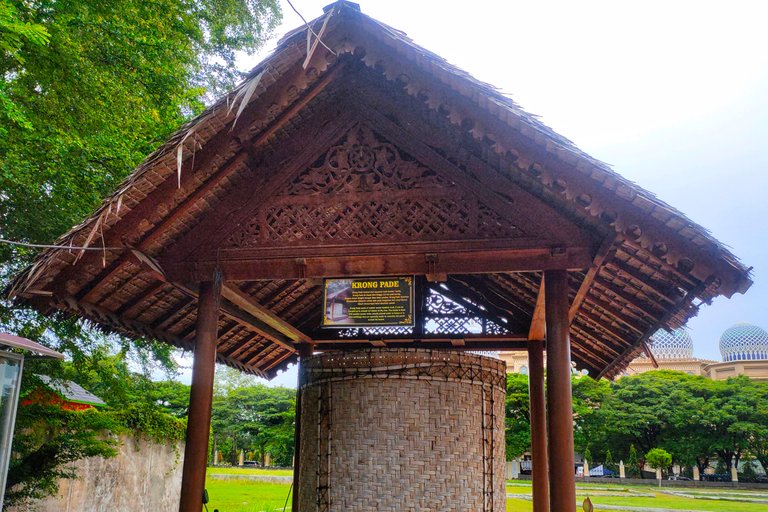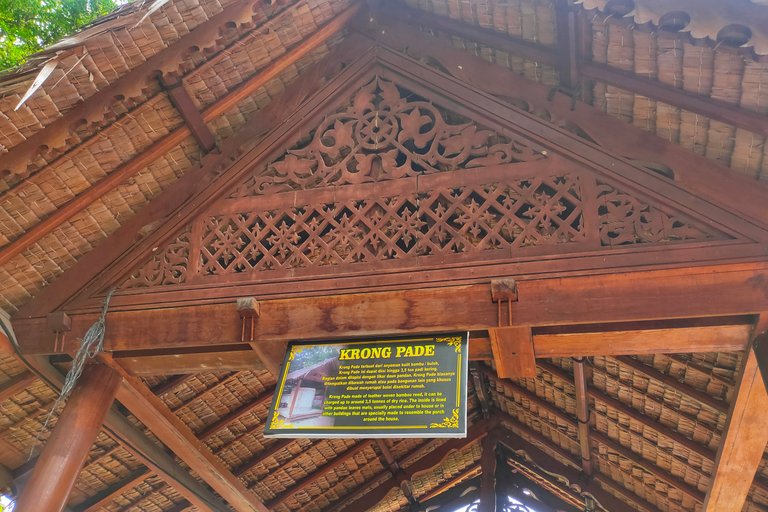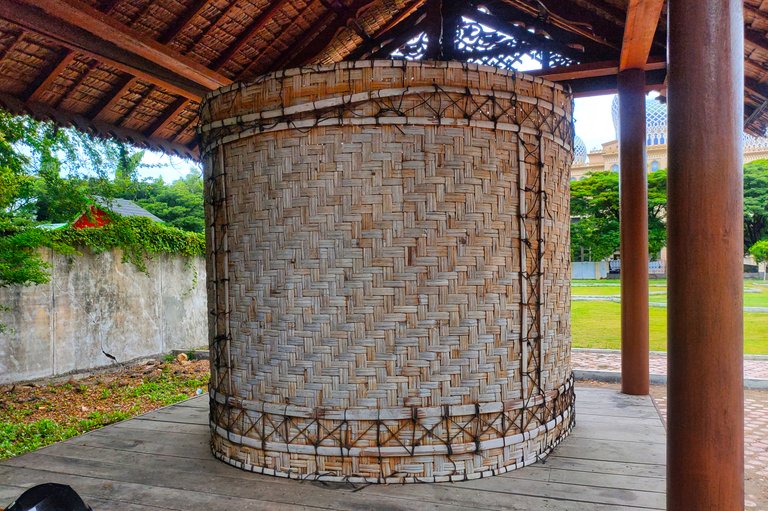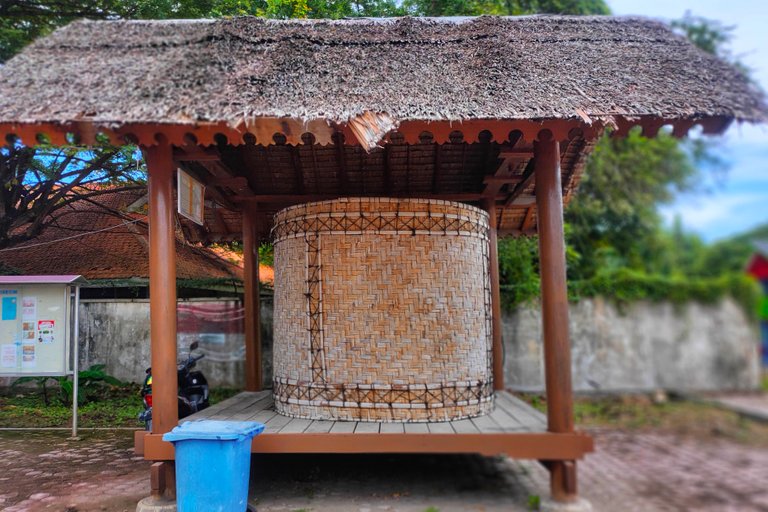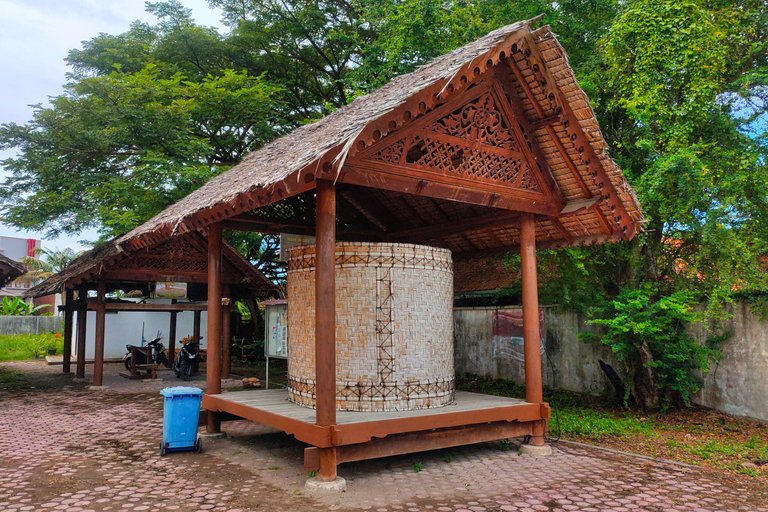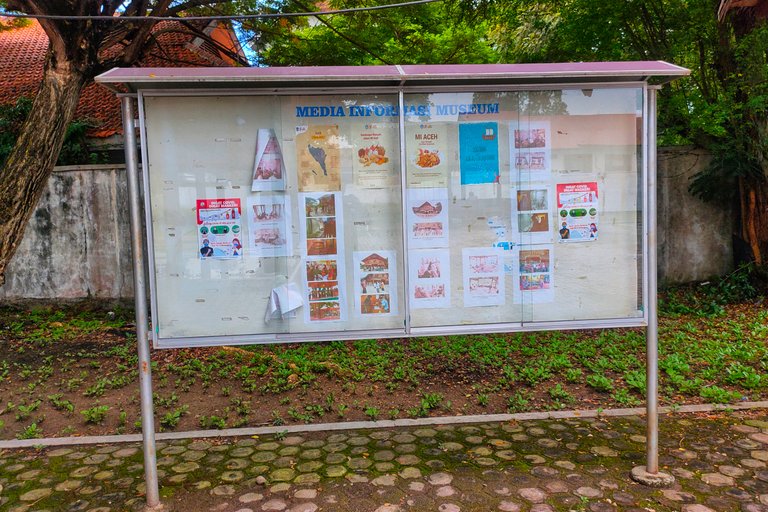 ---
Interior
Below are some of the interiors that I display in the photography that I shoot, these are some wall displays, instruments, and some other interiors that are on display in this Acehnese traditional house.
Seen there are several photos of aceh fighters, we call them Aceh heroes when they fought against colonialism at that time, then Indonesia became independent in 1945 AD.
And some of the photos displayed on the walls of this house are photos of the Mayor of Lhokseumawe from time to time in each office.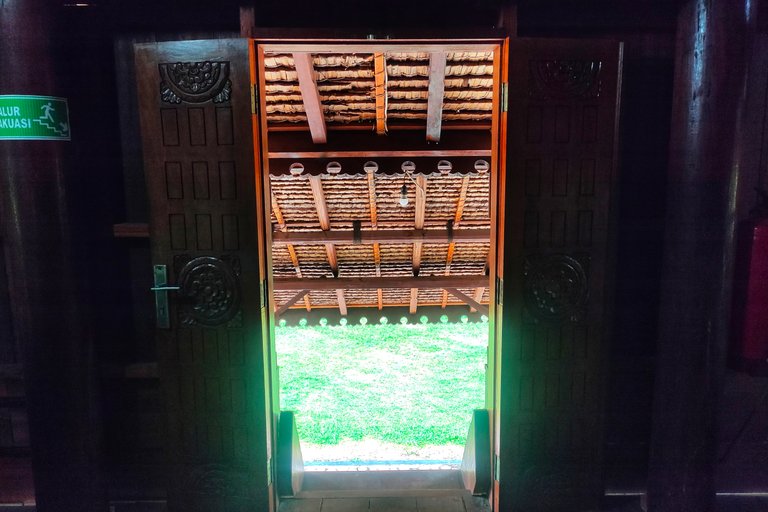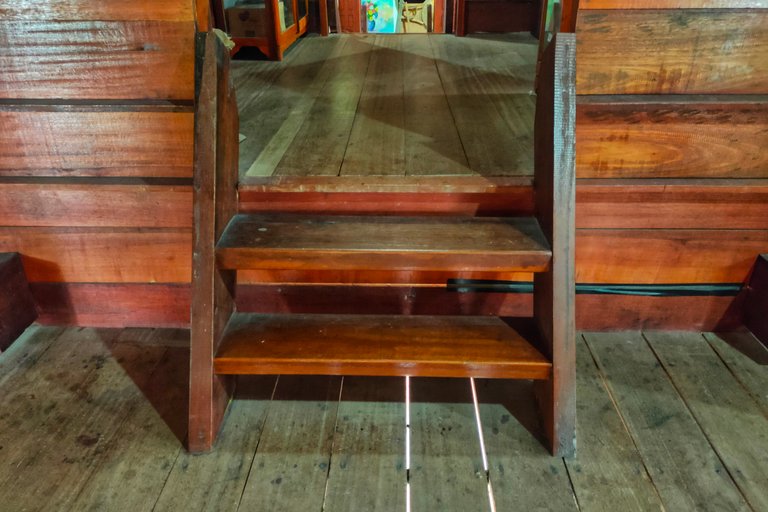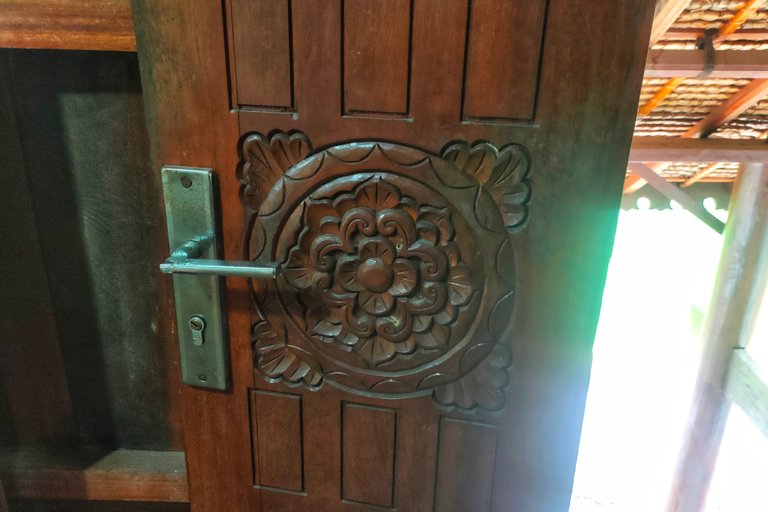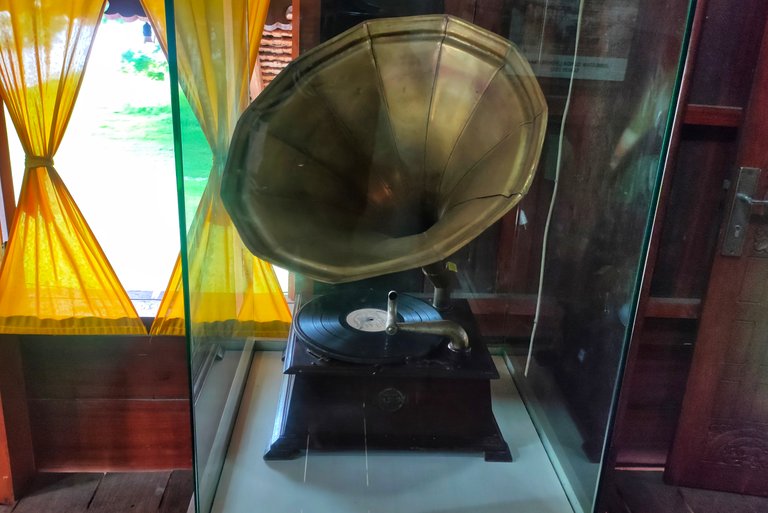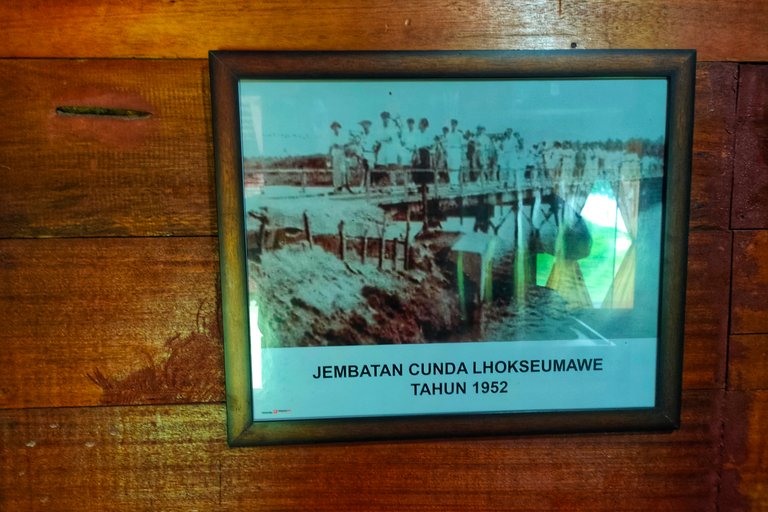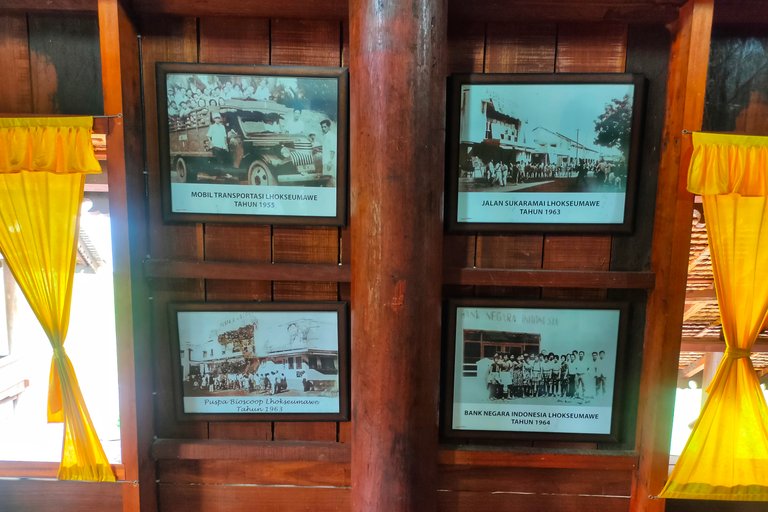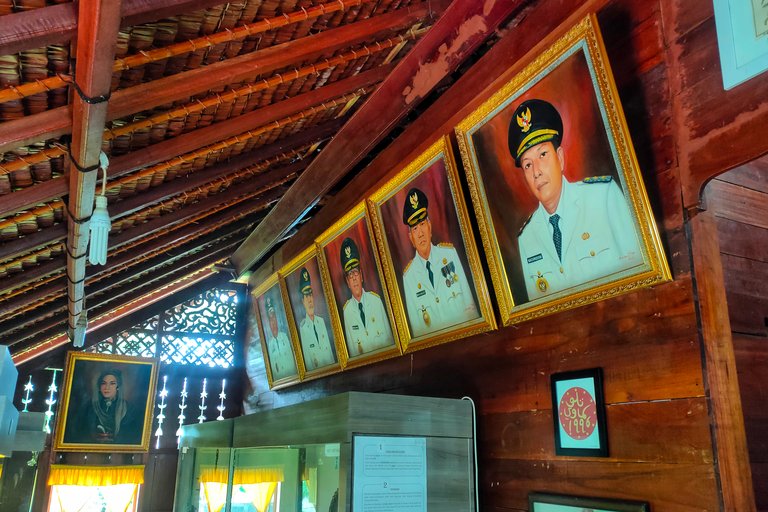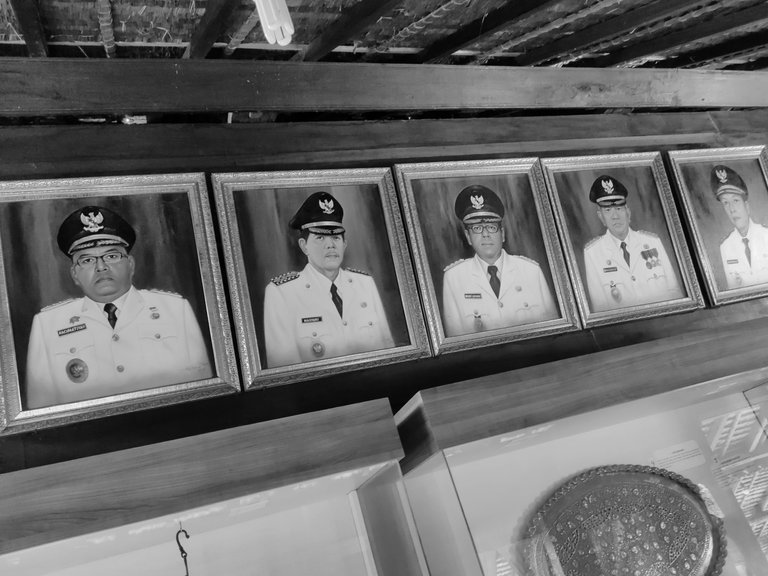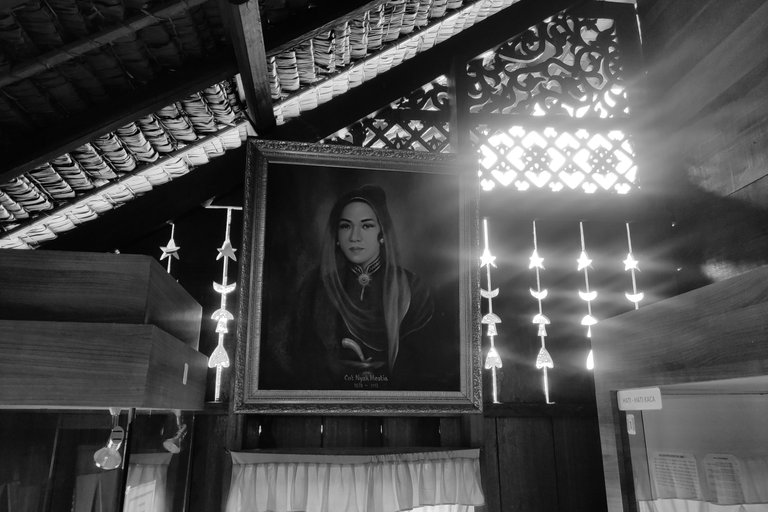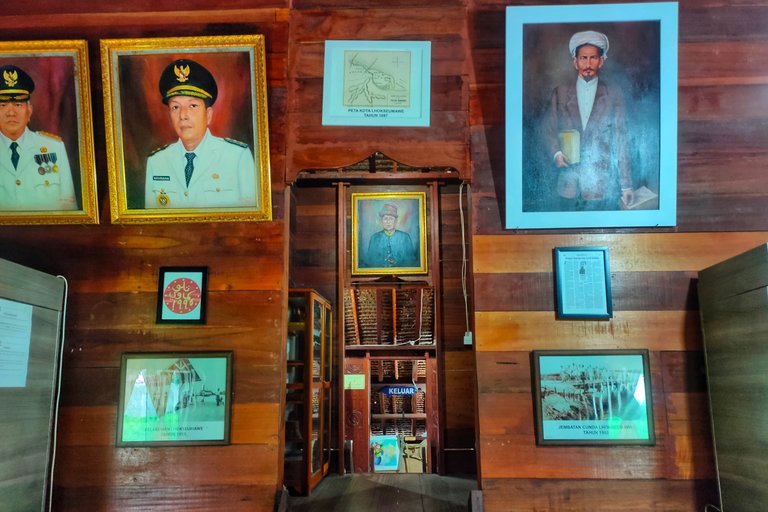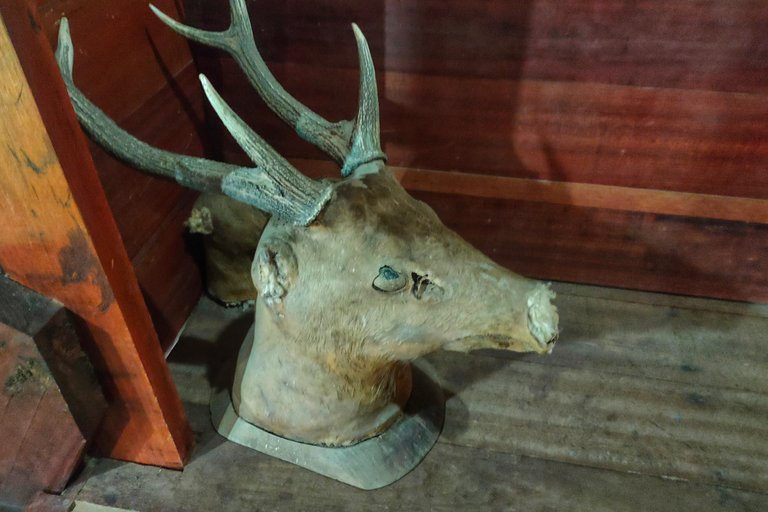 ---
This is the landscape view that I shot from a distance, the appearance of the Aceh Traditional House. Seen there are 3 buildings that stand parallel to look very natural and unique. I felt the era in the past when I visited this museum.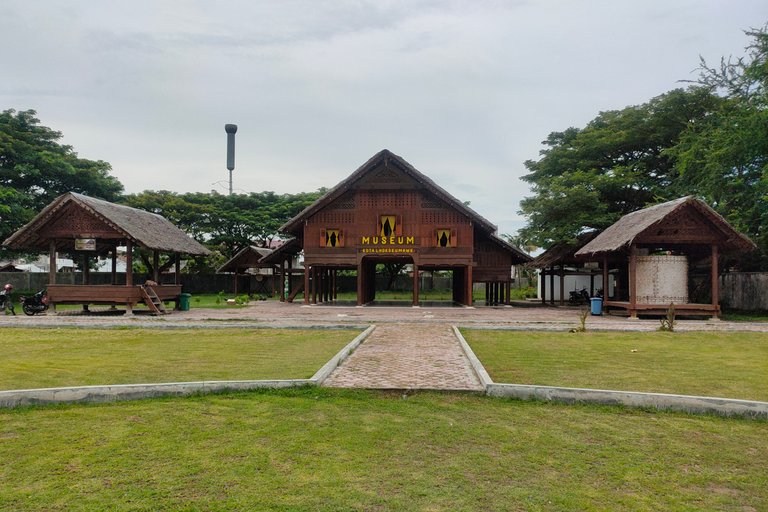 ---
That's all I can share in this post. I hope those of you who have the energy to support my blog and posts provide support so that I always consistently share my photography posts every day.
Thank you, and greetings @dayatsiaulia
---

---
| Photographer | Camera | Editing | Location |
| --- | --- | --- | --- |
| @dayatsiaulia | Smartphone RMX 5 Pro | Snapseed App | Lhokseumawe |

---
---
---