Restauración de un Rosario de Madera. Paso a paso. // Restoration of a Wooden Rosary. Step by step.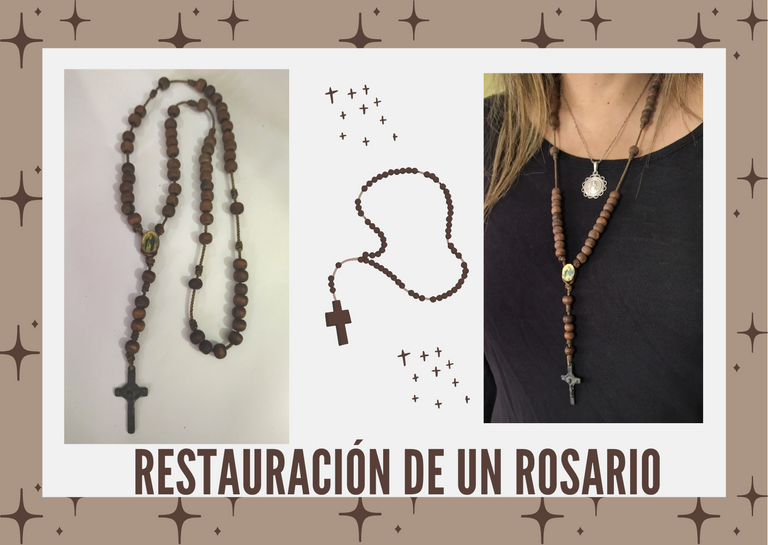 Hola a todos... 🐱🐾💕
Hola mi querido grupo de artistas de la comunidad de #HiveDiy , deseándole en este inicio de semana un mundo de bendiciones, una gran lluvia de ideas y creatividad, que sean días de mucha abundancia, y prosperidad para todos.
En esta oportunidad les traigo algo diferente a lo que suelen ver que habitualmente hago, pero quise compartirlo con ustedes. Tengo un rosario con perlas de madera que tiene un profundo valor sentimental para mí, ya que mi esposo me lo obsequio en un cumpleaños hace más de diez años.
Desde ese entonces siempre me acompaño día y noche, solo me lo quitaba para darme una ducha, y solo estuve separada de el 6 meses en los cuales en el año 2019 mi esposo por la situación país que teníamos en ese entonces, se vio obligado forzosamente a emigrar, el día 10 de mayo del 2019, cuando iba a partir se lo coloque en su cuello para que lo protegiera en su viaje para que me lo devolviera el día que regresara sano y salvo a casa, y así lo hizo el día 10 de noviembre del 2019, cuando Dios lo trajo de vuelta a su hogar con su familia, el rosario volvió nuevamente a mi cuello.
Pero hace unos días mi rosario de tanto uso se rompió en un extremo de la pieza final, y me dije tengo que hacer algo y repararlo para volver a usarlo, y aquí estoy después de buscar ideas de cómo hacerlo mostrando el procedimiento de cómo lo hare. Espero sea de su agrado.

Hello everyone... 🐱🐾💕
Hello my dear group of artists of the #HiveDiy community, wishing you in this beginning of the week a world of blessings, a great rain of ideas and creativity, may it be days of abundance and prosperity for all.

This time I bring you something different than what you usually see that I usually do, but I wanted to share it with you. I have a rosary with wooden pearls that has a deep sentimental value for me, since my husband gave it to me as a birthday gift more than ten years ago.

Since then it always accompanied me day and night, I only took it off to take a shower, and I was only separated from him 6 months in which in the year 2019 my husband by the country situation we had at that time, was forced to emigrate, on May 10, 2019, when he was about to leave I placed it around his neck to protect him on his trip so that he would return it to me the day he returned home safe and sound, and so he did on November 10, 2019, when God brought him back home to his family, the rosary returned again to my neck.

But a few days ago my rosary of so much use broke at one end of the end piece, and I said to myself I have to do something and repair it to use it again, and here I am after looking for ideas of how to do it showing the procedure of how I will do it. I hope you like it.

Comencemos:😃
Materiales:📏✏️✂️
• Rosario para para restaurar.
• Dremel con su punta para lijar, y punta de taladro de 2mm de circunferencia.
• Pieza de madera con una santito, en mi caso la tome de una pulsera rota, ustedes pueden comprar o hacer la pieza.
• Envejecedor cerezo.
• Pincel.
• Trozo de papel o de tela.
• Tijera.
• Yesquero.

Let's get started:😃
Materials:📏✏️✂️.

Rosary for to restore.
Dremel with its tip for sanding, and 2mm circumference drill tip.
Piece of wood with a saint, in my case I took it from a broken bracelet, you can buy or make the piece.
Cherry wood aging.
Paintbrush.
Piece of paper or cloth.
-Scissors.
Tinder.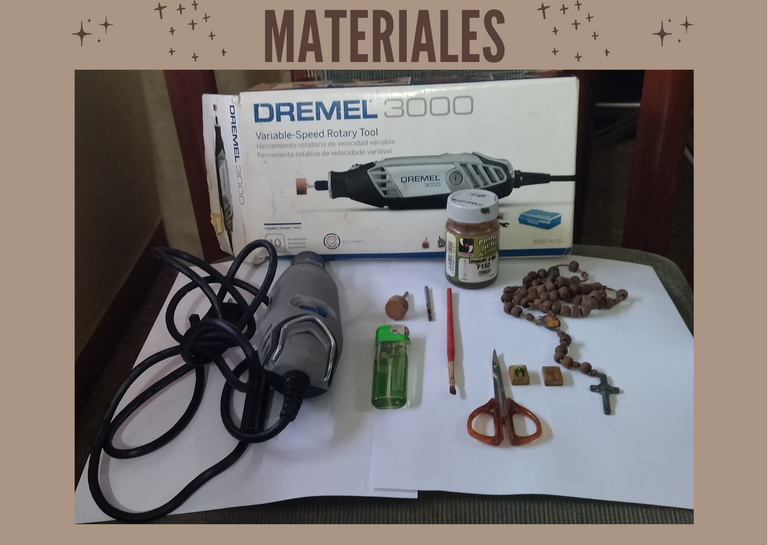 Paso a paso:💖
• Primero que nada les muestro por acá la pieza que se rompió de mi rosario.

Step by step:💖
First of all I show you over here the piece that broke from my rosary.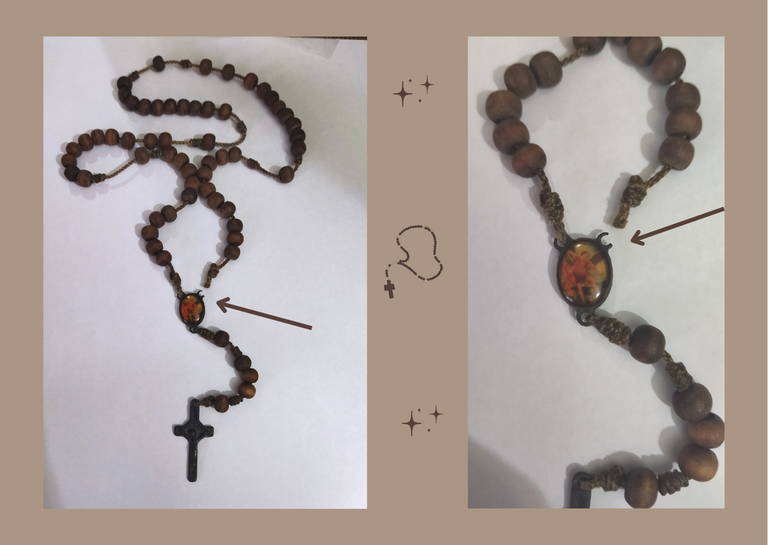 • Decidí restaurar manualmente esta pieza elaborándola con algún material de provecho que tuviera disponible en casa. Por esto tomé una piecita cuadrada de madera de una pulsera rota y sin uso y procedí a adecuarla a lo que necesitaba. Tome varias por si en el proceso las cosas no salían como lo tenía planificado.
• Tome la pieza y como es totalmente diferente a la que tenía mi rosario quería darle una forma redondeada por ello tome el dremel, y con la ayuda de la punta de lija, la moldee hasta que quedo con una linda forma redonda como la tenía la pieza anterior.

I decided to manually restore this piece by making it with some useful material that I had available at home. So I took a small square piece of wood from a broken and unused bracelet and proceeded to adapt it to what I needed. I took several in case in the process things didn't go as planned.

I took the piece and as it is totally different from the one my rosary had I wanted to give it a rounded shape so I took the dremel, and with the help of the sandpaper tip, I molded it until it had a nice round shape as the previous piece had.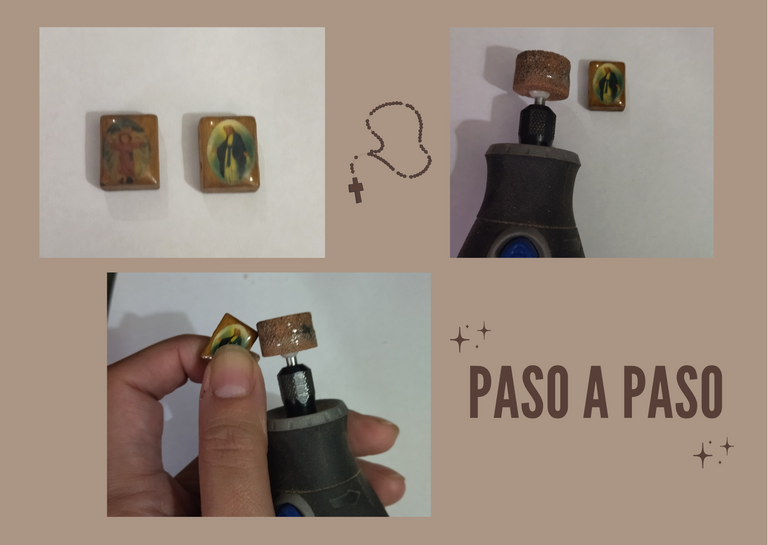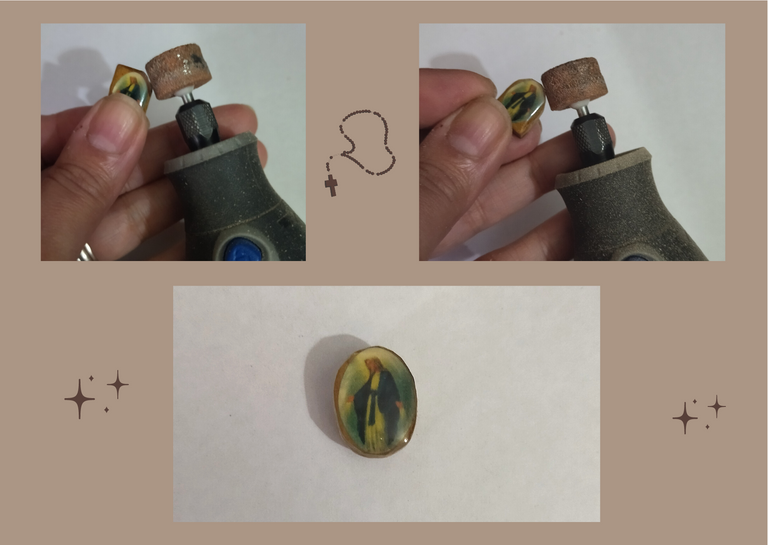 • Ya moldeada la pieza, procedí con el dremel y la punta de taladro de 2mm de circunferencia a pasar por los agujeros que tiene a los lados la misma para hacerlos más grandes, y así podre pasar el hilo del rosario por allí, los agujeros eran muy pequeños y si no los abro no podría pasar el hilo por allí.

Once the piece was molded, I proceeded with the dremel and the 2mm circumference drill tip to go through the holes on the sides of the piece to make them bigger, so I could pass the thread of the rosary through there, the holes were very small and if I do not open them I could not pass the thread through there.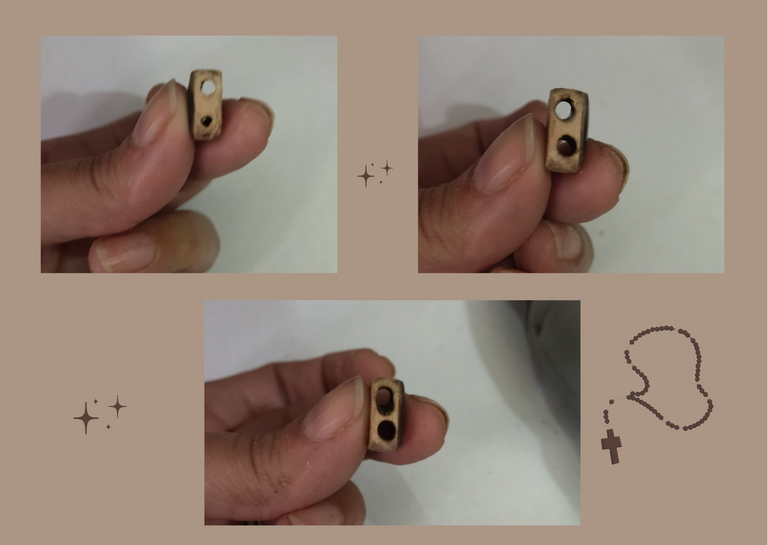 • Ya tenemos los agujeros suficientemente abiertos, coloquemos a la pieza un poco de envejecedor al agua color cerezo, y limpiemos con un trocito de papel o tela, esto para darle un color parecido a las perlas de madera de mi rosario, dejamos que termine de secar para seguir trabajando, si lo hubiese deseado también podía dejarla así cruda, ya que también luce linda de esa manera.

Once we have the holes open enough, let's put some cherry colored water antiquing agent on the piece, and clean it with a piece of paper or cloth, this to give it a color similar to the wooden beads of my rosary, let it finish drying to continue working, if I had wished I could also leave it raw, as it also looks nice that way.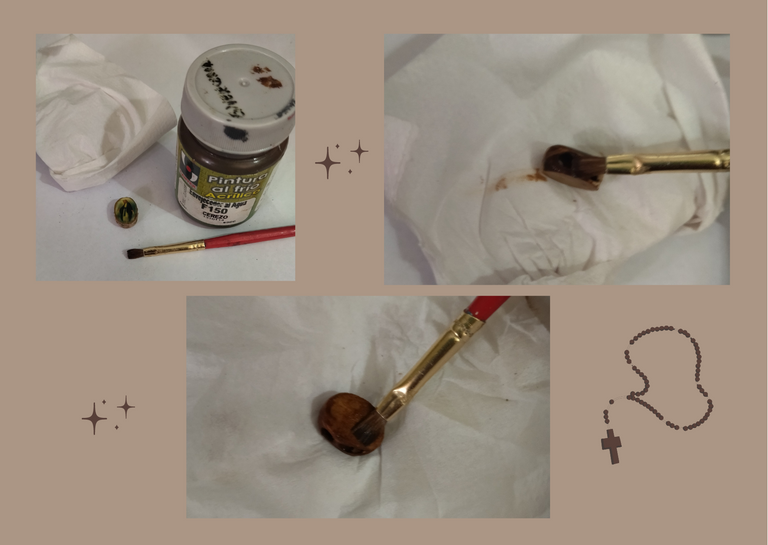 • Ahora voy con la parte que considero más delicada, esperando que me dé el resultado que deseo, todo el trabajo lo estoy haciendo sin pruebas, voy a intentar sacar el hilo de los extremos con un tijera punta fina, debo salvar la mayor cantidad de hilo y si es preciso todo para poderlo pasar por el dije que realice, si rompo el hilo en el sitio no adecuado no voy a poder hacer el trabajo final, y tendré que comprar un hilo adecuado para hacer el rosario nuevamente, y no es la idea, quiero dejarlo original en las medidas de mis posibilidades.
• Afortunadamente ya pude sacar mi primer hilo, sano y salvo, ahora voy con los otros dos 😆.

Now I am going with the part that I consider more delicate, hoping that it gives me the result I want, I am doing all the work without testing, I will try to remove the thread from the ends with a fine tip scissors, I must save as much thread and if necessary everything to be able to pass it through the I made, if I break the thread in the wrong place I will not be able to do the final work, and I will have to buy a suitable thread to make the rosary again, and it is not the idea, I want to leave it original in the measures of my possibilities.

Fortunately I was able to get my first thread out, safe and sound, now I'm going with the other two😆.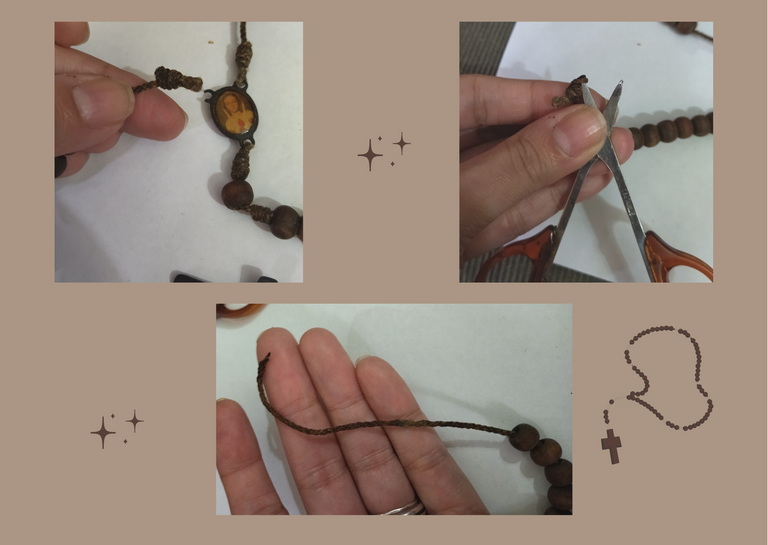 • Como observarán ya pude salvar mis tres hilos, ahora voy a colocarlos en la pieza para finalizar su restauración, voy a empezar con el de abajo, metemos el hilo en el agujero de abajo y en el centro del mismo haremos un nudo simple para sostener la pieza, sellamos con la llama del yesquero para que el nudo no se desate. Es bastante difícil hacer un nudo con un trozo de hilo tan corto, pero al tener las ganas, paciencia y mucho amor, todo se puede…

As you can see I was able to save my three threads, now I am going to place them on the piece to finish its restoration, I will start with the bottom one, we put the thread in the bottom hole and in the center of it we will make a simple knot to hold the piece, we seal it with the tinder flame so that the knot does not come undone. It is quite difficult to make a knot with such a short piece of thread, but if you have the desire, patience and a lot of love, anything is possible...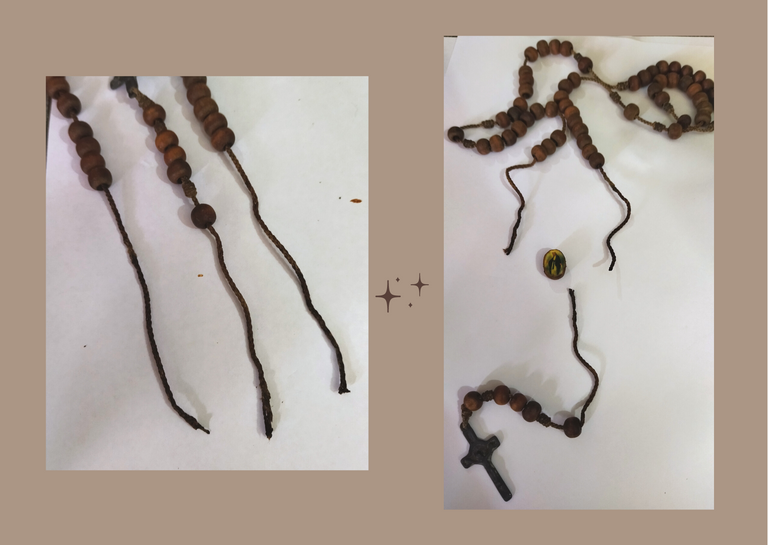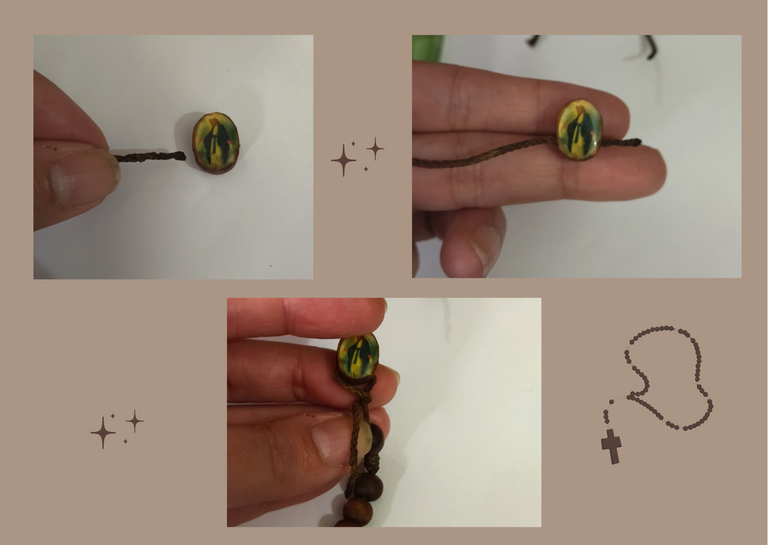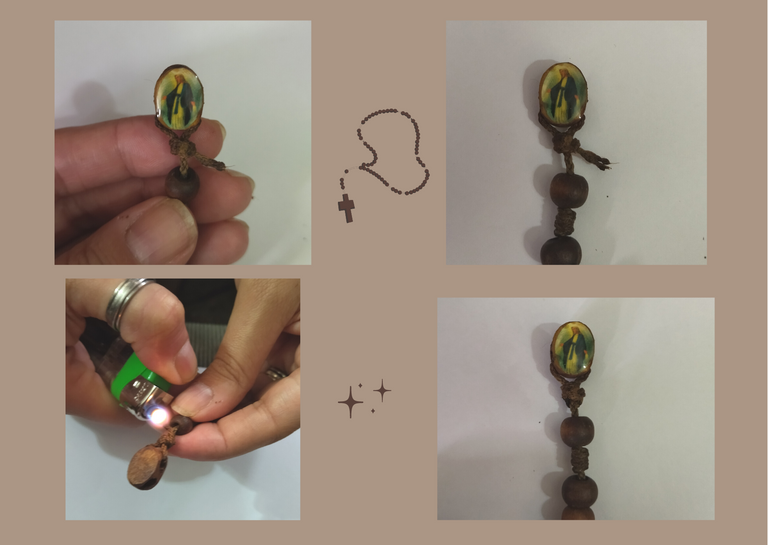 • Vamos con la parte final, colocaremos los hilos en los agujeros de la parte de arriba de la pieza, los meteremos en direcciones inversas, una vez dentro, procederemos a realizar un nudo de cada lado con mucha paciencia y de manera armónica para que queden derechos, sellaremos con la llama del yesquero.
De esta manera afortunadamente salió genial la restauración de mi rosario, espero mantenerlo en mi cuello por muchos años más, gracias por acompañarme en el proceso, lo hice con mucho amor 💖.

Let's go with the final part, we will place the threads in the holes at the top of the piece, we will put them in reverse directions, once inside, we will proceed to make a knot on each side with a lot of patience and in a harmonic way so that they are straight, we will seal them with the tinder flame.
In this way fortunately the restoration of my rosary turned out great, I hope to keep it on my neck for many more years, thank you for joining me in the process, I did it with much love 💖.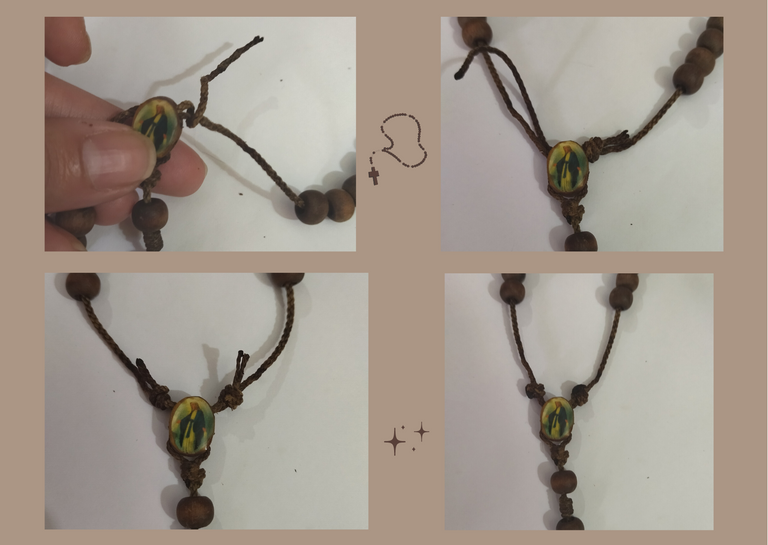 Resultado Final:💕

Final Result:💕
¿Que les pareció, les gustó?
Espero que sí, que les haya gustado mi explicación, procedimiento y fotos, los hice con mucho cariño por y para ustedes.
"Deja salir esa musa que te inspira, y deja volar tu imaginación".
Gracias a todos, nos vemos en la próxima. 🐾🐱💕

What did you think, did you like it?

I hope you did, I hope you liked my explanation, procedure and photos, I made them with love for you.
"Let out that muse that inspires you, and let your imagination fly".
Thank you all, see you next time. 🐾🐱💕

Todas las fotos usadas en este post son de mi autoría y han sido sacadas en mi celular personal un Redmi 9T y editadas Canva
Divisores y banner hechos por mí en Paint Tool Sai
Traducido con la ayuda de DeepL

All photos used in this post are of my authorship and have been taken on my personal cell phone a Redmi 9T and edited in Canva

Dividers and banner made by me in Paint Tool Sai

Translated with the help of DeepL


---
---