Everything I Do, I Do It For You // LOH Contest #91 [Eng/Esp]

Hello everyone... 🐱🐾💕
Hello to my dear Hivers and great family of this beloved community, a warm greeting and infinite blessings to all the beautiful people belonging to #Ladiesfhive. It's a pleasure for me to be here again after being a little retired, I'm glad to be able to come here to give my opinion, and talk about my life experiences, in this contest that we offer each week, thanks for the invitation friend @chacald.dcymt. I invite @kat-nee to participate.
Here is my participation in this "Ladies of La Colmena Contest #91", and I'm going for one of the questions of the week.

Hola a todos... 🐱🐾💕



Hola a mis queridos Hivers y gran familia de esta querida comunidad, un cordial saludo y bendiciones infinitas a todas las bellas personas pertenecientes a #Ladiesfhive. Un gusto para mi encontrarme por acá nuevamente después de estar un poco retirada, me alegra poder pasar por aquí para dar mi opinión, y hablar con respecto a mis experiencias de vida, en este concurso que nos ofrecen cada semana, gracias por la invitación amiga @chacald.dcymt. Aprovecho e invito a participar a @kat-nee.

Por acá les dejo mi participación en este "Concurso #91 de Damas de La Colmena", y me voy por una de las preguntas de la semana..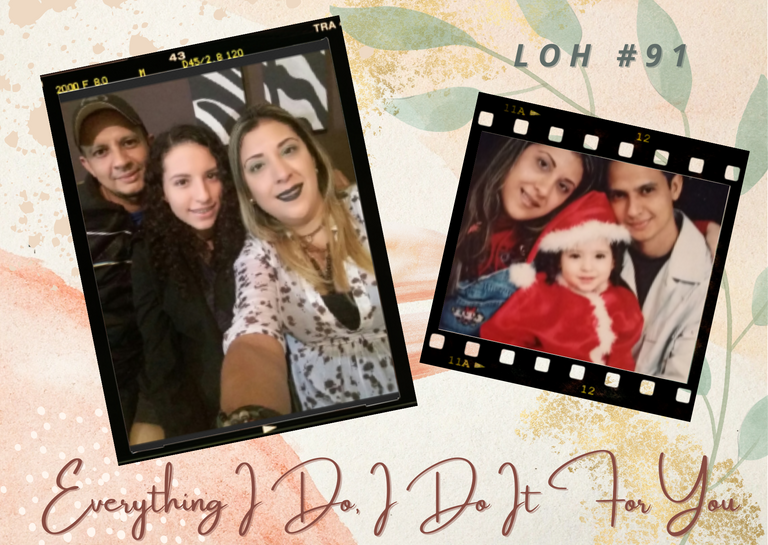 1️⃣ Name a song, any song, happy or sad, that moves your heart and soul every time you listen to it. What memories, feelings, emotions and images does the song bring to you? Is there a story that accompanies the song?


I can tell you that I have a wide repertoire of songs that cause me a lot of emotion, joy, sadness, mixed feelings, and also many songs that when I hear their lyrics I have immediately dedicated them to someone. My beloved husband and I since almost some time after we met have been in the habit of listening to a lyric in depth and dedicating it to each other or to someone very dear to us, between us there are many beautiful songs that according to the moment we have given each other to treasure them forever.
And for this moment I want to mention a very special one because from the moment we heard it for the first time many years ago, we both turned our eyes to the being we love the most in our lives which is our daughter, and we said this is for her.
The song we dedicate to our little girl is (Everything I do) I do it for you, which was written by Bryan Adams and Mutt Lange around a piece of film music by composer Michael Kamen, the movie it accompanied and was performed as part of, this beautiful piece of music was Robin Hood: Prince of Thieves.
This is a song whose lyrics are a sublime demonstration of love, that someone can be so important in your life and so loved, that you would be able to give everything, to do everything and give your life if necessary for that person who is so big in your heart, and for us our daughter is the biggest, purest and most beautiful love that life has given us. Whenever we have the opportunity or in any special moment when we are together we do not hesitate to play the song and sing it to her, and we will always do it with all the love in the world.
When we listen to it a great cumulus of beautiful feelings comes to us, and in my case it even makes my skin crawl, that song will always be part of our lives and a reminder of love for our daughter, of course every time I listen to it she always comes to my mind, soul, and heart.
Today our precious gift of life is 20 years old but she will always be our baby and undoubtedly much of what we do, the struggle to move forward despite any adversity, and to be happy we do it for her.
I love you daughter of my life @shinfxx.✨💖🌹

1️⃣ Nombra una canción, cualquiera, alegre o triste, que te remueva el corazón y el alma cada vez que la escuchas. ¿Qué recuerdos, sentimientos, emociones e imágenes te trae la canción? ¿Hay alguna historia que acompañe a la canción?



Les puedo decir que tengo un repertorio bastante amplio de canciones que me causan mucha emoción, alegrías, tristezas, sentimientos encontrados, y además muchísimas canciones que al escuchar sus letras de manera inmediata se las he dedicado a alguna persona. Mi amado esposo y yo desde casi un tiempo después de habernos conocido tomamos esa costumbre de escuchar en profundidad una letra y dedicárnosla mutuamente o a alguien muy querido por nosotros, entre ambos existen muchísimas hermosas canciones que según el momento nos hemos regalado para atesorarlas por siempre.

Y para este momento quiero mencionarles una muy especial ya que desde el momento en que la escuchamos por primera vez hace muchos años, ambos volteamos la mirada hacia el ser que más amamos en nuestras vidas que es nuestra hija, y dijimos esta es para ella.

La canción que dedicamos a nuestra niña es (Todo lo que hago) lo hago por ti, la cual fue escrita por Bryan Adams y Mutt Lange en torno a una pieza de música de cine del compositor Michael Kamen, la película que acompaño y en la cual fue interpretada como parte de ella, esta hermosa pieza musical fue Robin Hood: el príncipe de los ladrones.

Esta es una canción cuya letra es una sublime demostración de amor, de que alguien puede ser tan importante en tu vida y tan amado, que serias capaz de darlo todo, de hacerlo todo y entregar tu vida si es preciso por esa persona que es tan grande en tu corazón, y para nosotros nuestra hija es el amor más grande, puro y bonito que la vida nos ha regalado. Cuando tenemos oportunidad o en cualquier momento especial en el que estamos reunidos no dudamos en colocar la canción y cantársela, y siempre lo haremos con todo el amor del mundo.

Cuando la escuchamos se nos viene un gran cumulo de hermosos sentimientos, y en mi caso hasta me eriza la piel, esa canción siempre será parte de nuestras vidas y un recordatorio de amor por nuestra hija, por supuesto cada vez que la escucho ella siempre viene a mi mente, alma, y corazón.

Hoy día nuestro precioso regalo de vida tiene 20 añitos pero siempre será nuestra bebe e indudablemente mucho de lo que hagamos, la lucha por seguir adelante pese a cualquier adversidad, y para ser felices lo hacemos por ella.

Te Amo hija de mi vida @shinfxx.✨💖🌹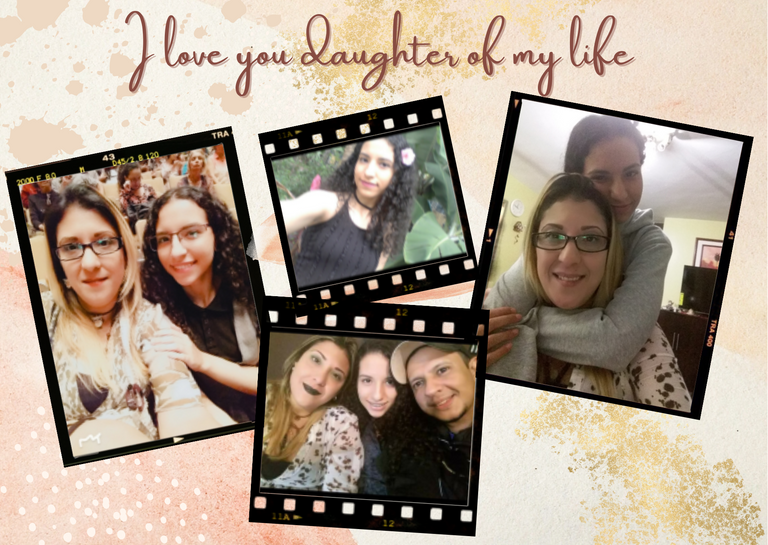 Here is the video and lyrics of the song, I hope you like it and enjoy it.
(Everything I do) I do it for you (Official music video)

Por acá les dejo el video y letra de la canción, espero les guste y la disfruten.
(Todo lo que hago) lo hago por ti (Vídeo musical oficial)
Lyrics:
Look into my eyes - you will see
What you mean to me
Search your heart - search your soul
And when you find me there you'll search no more
Don't tell me it's not worth tryin' for
You can't tell me it's not worth dyin' for
You know it's true
Everything I do - I do it for you
Look into my heart - you will FIND
There's nothin' there to hide
Take me as I am - take my life
I would give it ALL I would sacrifice
Don't tell me it's not worth fightin' for
I can't help it there's nothin' I want more
Ya know it's true
Everything I do - I do it for you
There's no love - like your love
And no other - could give more love
There's nowhere - unless you're there
All the time - all the way
Don't tell me it's not worth tryin' for
I can't help it there's nothin' I want more
I would fight for you – I'd lie for you
Walk the wire for you - Ya I'd die for you
Ya know it's true
Everything I do - I do it for you.


Thanks for reading, see you next time.✨
Letra:
Mira mis ojos y veras
que siento por ti.
Explora en tu ser
me hallaras no buscaras más.
Dime que sientes mi calor
y que correspondras mi amor.
Sabes que si
Todo lo que hago, lo hago por ti.
Mira mis ojos y sabrás
que nada te ocultan
Se acabó tu vez, tómame
quisiera poder, poderte lograr
Dime que sientes mi calor
nada quiero más que tu amor.
Sabes que si
Todo lo que hago, lo hago por ti
No hay amor como tu
Y otro que te amé así
No hay lugar si tu no estas
donde quisiera estar.
Dime que tu sientes mi calor
nada quiero más que tu amor.
Luchar por ti, sufrir por ti
Morir así, morir por ti.
Sabes que si
Todo lo que hago, lo hago por ti.


Gracias por leerme, nos vemos en la próxima.✨
---
---
---
All photos used in this post are of my authorship and have been taken on my personal cell phone a Redmi 9T and edited in Canva
Banner and separator made by me in Canva
Translated with the help of DeepL

Todas las fotos usadas en este post son de mi autoría y han sido sacadas en mi celular personal un Redmi 9T y editadas Canva

Banner hecho por mí en Paint Tool Sai

Traducido con la ayuda de DeepL

---
---