Ukraine: Russian forces steal wheat and other agricultural products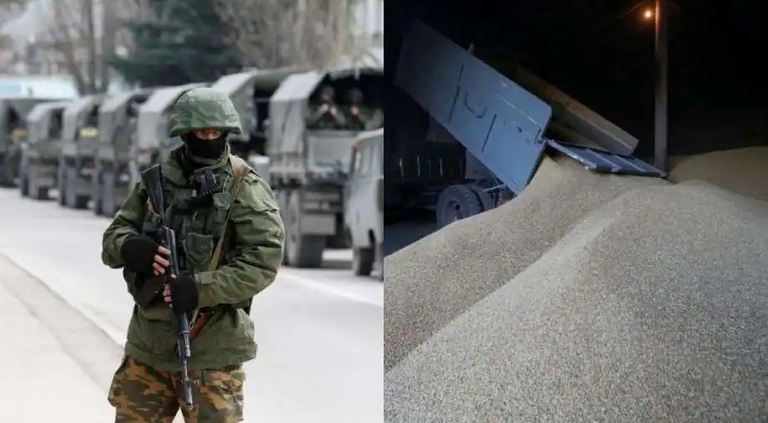 Source image
Just under half a million tons of Ukrainian wheat had already been stolen by the Russian occupation forces. Ukrainian defense ministry said that grain stolen by Russian troops in occupied areas is being sent abroad.
A significant part of the grain stolen from Ukraine is found on Russian-flagged cargo ships in the Mediterranean. The most likely destination is Syria. Wheat could be smuggled from there to other Middle Eastern countries.
But the Russians don't just steal wheat:
The Russians continue to export stolen food to Ukraine on the territory of the Russian Federation and occupied Crimea.
In addition to wheat, also agricultural machinery, wheat and sunflower seeds, and much more. According to industry analysts, Middle Eastern countries are happy to buy wheat from Russia, because they get it at a 20% discount. Ukrainian President Volodymyr Zelensky denounced that some countries have entered into agreements with Russia to buy stolen grain from Ukraine. From Germany, the Minister of Agriculture said that Russia is exploiting the situation to alter the market, eliminate the competitor Ukraine from the markets for a long time.
In one of the main wheat production areas, around Polohy in the Zaporizhzhia region, wheat and sunflower seeds are shipped to Russia and the Crimea under Russian military surveillance.
'CNN' reported a theft of agricultural equipment, including seeders and reapers, from a Melitopol dealership. It was not an isolated episode, agricultural equipment is regularly stolen, starting from tractors up to the most sophisticated equipment. Nor is fertilizer spared. The stolen goods were shipped to Chechnya. The machinery, equipped with GPS, made it possible to follow the path of the stolen goods, which was last tracked in the village of Zakhan Yurt in Chechnya.
The theft not only of the wheat but also of the seed in fact in some cases makes sowing impossible, and the block would involve a very high final quantity of product. In Kherson, the Russians told farmers they would only allow them to sow if they agreed to give 70 percent of the crop for free. Most of the farmers refused.
The non-stolen grain is blocked in the silos of the port of Odessa, unable to set sail for the intended destinations. Some silos containing wheat or sunflower seeds were bombed and destroyed. Not only port warehouses were targeted, but individual farms as well.
It is a real looting that reminds Ukrainians of the seizure of food by Stalin in the 1930s, causing the death of millions of people, known as Holodomor.
References:
https://www.cnn.com/2022/05/05/europe/russia-ukraine-grain-theft-cmd-intl/index.html
https://edition.cnn.com/2022/05/12/europe/russia-ship-stolen-ukraine-grain-intl-cmd/index.html
https://www.wsj.com/livecoverage/russia-ukraine-latest-news-2022-05-10/card/russia-flagged-ships-transport-stolen-grain-to-syria-ukraine-says-XldruHiMyqmJMUYskuRU
---
---