Mi entrada al concurso TopFiveFamily Observa Piensa Escribe / My entry to the TopFiveFamily contest Watch Think Write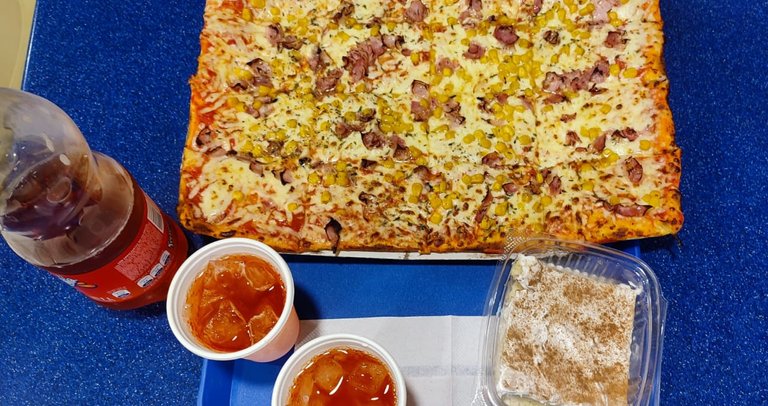 Fuente / Source --> Imagen del concurso top five family
---
Hola amigos bienvenidos. / Hello friends welcome.

La pizza es querida en todo el mundo, está preparación es muy conocida y una de las favoritas de las personas, desde mi punto de vista una pizza es sinónimo de reunión y compartir en familia, esto me trae recuerdos de cuando salía con mis padres a nuestra pizzería favorita, en ese tiempo me encantaba la pizza sin tantos ingredientes, es decir solo con lo básico.
Pizza is loved all over the world, this preparation is very well known and one of the favorites of people, from my point of view a pizza is synonymous of meeting and sharing with family, this brings back memories of when I used to go out with my parents to our favorite pizzeria, at that time I loved the pizza without so many ingredients, that is to say only with the basics.
---
Actualmente, me encanta preparar la pizza en casa, esto es por diversión y porque la realizamos según nuestros gustos, la última vez que compre una pizza me lleve una decepción, ya que no me gustó mucho el sabor, aunque está bien preparada, pero la salsa de tomate ni siquiera resaltaba o sobresalía su sabor, por este motivo es ideal conocer el sitio antes de comprar una pizza.
Currently, I love to prepare pizza at home, this is for fun and because we make it according to our tastes, the last time I bought a pizza I was disappointed, because I did not like the taste, although it is well prepared, but the tomato sauce did not even highlight or stand out its flavor, for this reason it is ideal to know the site before buying a pizza.
---
Hoy día podemos conseguir buenos precios, desde 5 dólares hay locales que venden pizza, hasta por metro, también hay ofertas de 10 dólares por 2 pizzas, más bebidas y si deseamos prepararla en casa también es una buena opción, podemos hacerla con pocos ingredientes y gastar menos de 10 dólares por una pizza grande o 2 de tamaño mediano.
Nowadays we can get good prices, from 5 dollars there are places that sell pizza, even by the meter, there are also offers of 10 dollars for 2 pizzas, plus drinks and if we want to prepare it at home it is also a good option, we can make it with few ingredients and spend less than 10 dollars for a large pizza or 2 medium sized ones.
---
Sin duda alguna la pizza es una de esas preparaciones o comidas universales, es casi algo tradicional sin importar el país y gusta a casi todos, además existen varios tipos de pizzas, lo cual la hace muy variada y personalizable según lo que desee la persona, entre algunas las tantas está la de pepperoni, la de doble queso, margarita,hawaiana y hasta de piña.
Undoubtedly pizza is one of those universal preparations or meals, it is almost something traditional regardless of the country and almost everyone likes it, there are also several types of pizzas, which makes it very varied and customizable according to what the person wants, among some of the many is the pepperoni, double cheese, margarita, Hawaiian and even pineapple.
---

---
---