Hablemos de la liga de España y el clásico - Jornada 29. / Let's talk about La Liga and El Clasico - Matchday 29.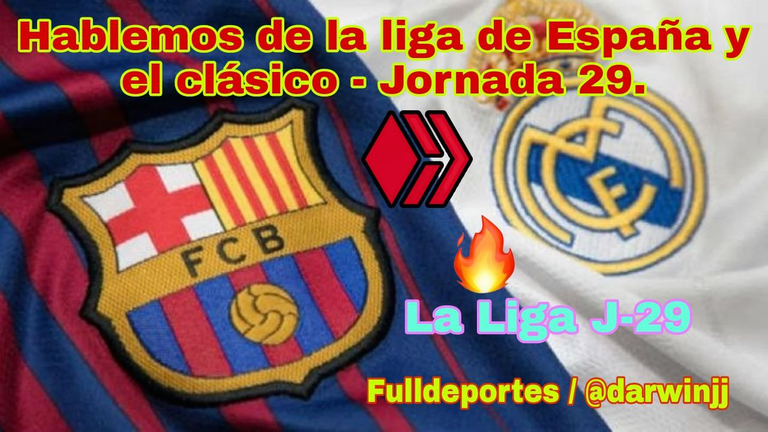 Las imágenes, los diseños y las letras han sido creados en PicsArt / Images, designs and lettering were created in PicsArt. Imagen de fondo/ Background image --> Fuente/Source: IMG1

---
Hola amigos bienvenidos. / Hello friends welcome.
---
En esta oportunidad quiero hacer un análisis y dar punto de vista de la jornada 29 de la Liga de España, sin duda esta jornada ha sido interesante y al mismo tiempo ha dejado algunos marcadores inesperados; específicamente nos enfocaremos en el Clásico de España y los demás partidos de los clubes de las primeras posiciones de la tabla, como lo son el Atlético de Madrid, Sevilla, Real Sociedad, Villarreal y Betis.
This time I want to make an analysis and give a point of view of the 29th round of the Spanish League, no doubt this day has been interesting and at the same time has left some unexpected scores; specifically we will focus on the Clasico of Spain and the other matches of the clubs in the top positions of the table, such as Atletico Madrid, Sevilla, Real Sociedad, Villarreal and Betis.
---
Desde mi perspectiva considero que algo le ha pasado factura a los clubes de España, principalmente a los que están en torneos continentales como la Liga de Campeones y la Europa League; partiendo de que 6 clubes de los primeros 7 puestos vienen de participar en los torneos antes mencionados, además de que en algunos de los partidos el rendimiento no fue el esperado o los resultados y estadísticas no fueron tan favorables. Ahora veamos con más claridad como se desenvolvieron cada uno es esta jornada 29.
From my perspective I consider that something has happened to the clubs in Spain, mainly to those who are in continental tournaments such as the Champions League and Europa League; starting from the fact that 6 clubs from the first 7 positions come from participating in the aforementioned tournaments, in addition to the fact that in some of the matches the performance was not as expected or the results and statistics were not so favourable. Now let's take a closer look at how each of them performed on matchday 29.
---

Rayo Vallecano vs Atlético de Madrid.
---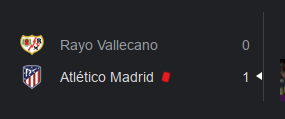 Fuente/Source: Google. Edited in Gimp.
Aunque el Atlético de Madrid jugaba de visitante y a pesar de que en la liga no presenta un nivel tan alto, pero aun así era favorito, después de esa victoria ante el Manchester United en la liga de Campeones era probable ver un mejor estado anímico, más confianza y recuperación, además de más dominio del balón, pero la realidad es que el Atlético no tiene tanta posesión de balón, tan solo al ver las estadísticas de sus últimos partidos su posesión ha llegado a estar por debajo del 40% - 45%, y este partido no fue la excepción, pero el Atlético de Madrid cumplió con el objetivo que era ganar, aunque fue por la mínima, con gol de Koke al minuto 49.
Although Atletico Madrid were playing away and although in the league they are not at such a high level, but they were still favourites, after that win against Manchester United in the Champions League it was likely to see a better mood, more confidence and recovery, as well as more dominance of the ball, but the reality is that Atletico don't have that much possession, just looking at the statistics of their last few games their possession has been below 40% - 45%, and this game was no exception, but Atletico Madrid fulfilled their objective which was to win, although it was by the minimum, with a goal from Koke in the 49th minute.
---
En sus últimos partido en la liga había marcado 2 o más goles, quizás por el estilo de juego que practica el Atlético no sorprenden tanto las estadísticas, pero con otros equipos españoles que vienen de jugar torneos internacionales parece haber un poco de desgaste físico.
In their last league games they had scored 2 or more goals, perhaps because of Atletico's style of play the stats are not so surprising, but with other Spanish teams coming from international tournaments there seems to be a bit of physical wear and tear.

---
Cádiz vs Villarreal.
---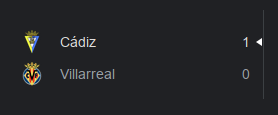 Fuente/Source: Google. Edited in Gimp.
El Villarreal después de su gran victoria ante la Juventus visitaría al Cádiz, este último es un club que marcha en los últimos lugares en España, por lógica era una victoria decantada para el Villarreal, pero en el futbol todo puede pasar y en este caso salió derrotado 1 a 0, a pesar de tener más control de balón y una mayor cantidad de pases, pero no genero tantos disparos al arco, pero su rival si lo hizo y de esta forma perdió con Cádiz, en este compromiso creo que en la parte física si pudo haber afectado, más aun por la falta de finalización de jugadas en la delantera.
Villarreal after their great win against Juventus would visit Cadiz, the latter is a club that is in the last places in Spain, by logic it was a victory for Villarreal, but in football anything can happen and in this case came out defeated 1 to 0, despite having more ball control and a greater amount of passes, but did not generate as many shots on goal, but his opponent did and thus lost to Cadiz, in this commitment I think that in the physical part if it could have affected, even more by the lack of completion of plays in the front.

---
Sevilla vs Real Sociedad.
---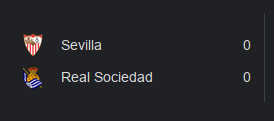 Fuente/Source: Google. Edited in Gimp.
En este partido ambos clubes iban para continuar luchando y mantenerse en los lugares de torneos Europeos, la Real Sociedad en el sexto puesto y el Sevilla en el segundo lugar, pero este último tiene al Atlético y al Barcelona acechándolo, es un poco decepcionante ver que el Sevilla no haya transcendido en Champions League debido a que su grupo no era tan complicado, además de que se fue a la Europa League, pero esta misma semana se despidió, ya que fue eliminado por el West Ham, además de la serie de empates su temporada se veía muy positiva, pero ahora no tanto, de continuar con ese mal ritmo pone en riesgo su segundo puesto de la liga, donde antes tenía una ventaja.
In this match both clubs were going to continue to fight and stay in the European tournament places, Real Sociedad in sixth place and Sevilla in second place, but the latter has Atletico and Barcelona stalking him, it is a bit disappointing to see that Sevilla has not transcended in the Champions League because their group was not so complicated, It is a bit disappointing to see that Sevilla did not make it to the Champions League because their group was not that complicated, they also went to the Europa League, but this week they were eliminated by West Ham, and after the series of draws their season looked very positive, but now it is not so positive, if they continue with this bad rhythm they risk their second place in the league, where before they had an advantage.
---
En este caso durante el partido ocurrieron oportunidades para ambos, pero no concretaron, específicamente en los últimos minutos del segundo tiempo llego mucho el Sevilla, pero el no concreto ningún disparo al arco de manera exitosa, se vio que necesito de un delantero que finalizara las jugadas y la suerte tampoco estuvo de su lado, en este caso es difícil decir si el problema es físico, ya que su serie de empates las viene arrastrado desde hace mucho y aunque tiene algunos partidos ganados, los empates le han hecho perder su cómoda ventaja de puntos.
In this case during the match there were chances for both, but they did not score, specifically in the last minutes of the second half Sevilla came a lot, but they did not score any successful shots, it was seen that they needed a striker to finish the plays and luck was not on their side either, in this case it is difficult to say if the problem is physical, as their series of draws has been dragging them for a long time and although they have won some games, the draws have made them lose their comfortable points lead.

---
Celta de vigo vs Betis.
---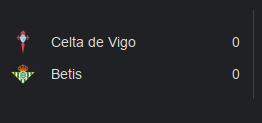 Fuente/Source: Google. Edited in Gimp.
De este partido no tengo mucho que decir, pero sin duda fue más cerrado y de un nivel más parejo, el cual termino empatado 0 a 0, aun así el Betis es un club que también entra en mi lista de clubes que vienen jugar en torneos del continente Europeo, en este caso la Europa League, donde fue eliminado por el Frankfurt, al principio de la liga vimos a un Betis más fuerte o más efectivo, pero actualmente ha perdido esa efectividad, aun así creo que se mantiene en buena ubicación en un quinto lugar, que seguro que para este club sería positivo finalizar la temporada en esa posición.
I don't have much to say about this match, but it was certainly closer and of a more even level, which ended tied 0-0, even so Betis is a club that also enters my list of clubs that come to play in tournaments on the European continent, in this case the Europa League, where they were eliminated by Frankfurt, at the beginning of the league we saw a stronger or more effective Betis, but currently they have lost that effectiveness, even so I think they remain in a good position in fifth place, which surely for this club would be positive to end the season in that position.

---
Real Madrid vs Barcelona.
---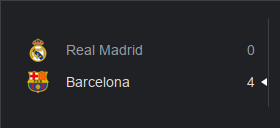 Fuente/Source: Google. Edited in Gimp.
Este era el partido más esperado de la jornada, donde el Barcelona viene de menos a más; considero que su participación en Europa League le ha dado ánimos, esto tambien le ha servido para probar piezas y mejorar el juego, superando a rivales como el Napoli y recientemente al Galatasaray, por otro lado, el Real Madrid si había tenido partidos más exigentes, como lo fue ante el PSG, según algunas encuestas el Madrid al jugar en casa y por estar en el primer lugar venía como favorito.
This was the most anticipated match of the day, where Barcelona is coming from less to more; I believe that their participation in the Europa League has given them encouragement, this has helped them to test pieces and improve their game, beating rivals like Napoli and recently Galatasaray, on the other hand, Real Madrid had had more demanding matches, as it was against PSG, according to some polls Madrid playing at home and in first place came as a favorite.
---
Una de las desventajas para el Real Madrid era la lesión de Benzema, en los primeros 15 minutos el partido fue estuvo parejo, ambos creaban oportunidades y era posible presagiar un fantástico encuentro, pero después del minuto 20 el juego se fue inclinando hacia el Barcelona, vimos a un Real Madrid más inseguro, Militao no estuvo muy fino en su juego, además de que los delanteros como Vinicius y sus acompañantes no pudieron marcar las veces que estuvieron frente al arco, el primer tiempo cerro con un 2 a 0; el comienzo del segundo tiempo no cambio mucho el Barcelona antes de los primeros 15 minutos marco 2 goles y culmino el marcador 4 a 0.
One of the disadvantages for Real Madrid was the injury to Benzema, in the first 15 minutes the game was even, both created chances and it was possible to foresee a fantastic match, but after 20 minutes the game was leaning towards Barcelona, we saw a more insecure Real Madrid, Militao was not very fine in his game, in addition to the forwards like Vinicius and his companions could not score the times they were in front of goal, the first half closed with a 2 to 0; The beginning of the second half did not change much, Barcelona scored 2 goals before the first 15 minutes and the score was 4-0.
---
Además de esto, el árbitro tampoco estuvo al nivel deseado en algunas jugadas, aunque esto no influyo en el marcador final, pero la realidad es que el Real Madrid no mostró su mejor cara, es posible que la alta exigencia de las últimas semanas le haya pasado factura y la falta de un delantero acertado como Benzema.
In addition to this, the referee was not at the desired level in some plays, although this did not influence the final score, but the reality is that Real Madrid did not show their best side, it is possible that the high demand of recent weeks has taken its toll and the lack of a successful striker like Benzema.

---
Mi conclusión. / My conclusion.
---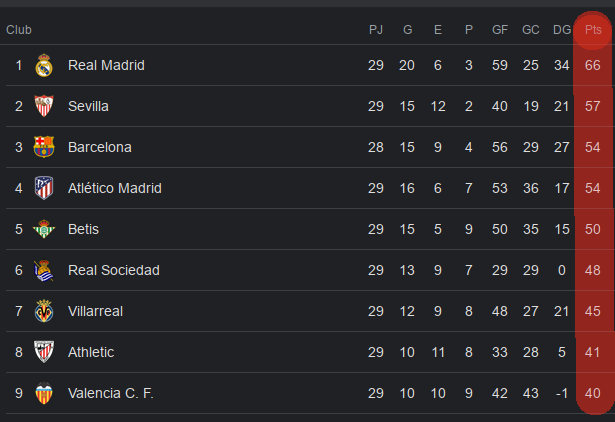 Fuente/Source: Google. Edited in Gimp.
Aún quedan 9 fechas más en la liga y todos los equipos de arriba quieren mantener sus posiciones o ascender más, el Real Madrid y el Barcelona están separados por una diferencia de 12 puntos, la cual el Barcelona puede acortar después del partido faltante ante el Rayo Vallecano, aunque no sería lo más lógico que el Barcelona busque la primera posición, pero no deja de ser una posibilidad que el Barcelona pueda bajar o acortar una pequeña diferencia, debido a que pasa por un buen momento.
There are still 9 more games left in the league and all the top teams want to maintain their positions or move up further, Real Madrid and Barcelona are separated by a difference of 12 points, which Barcelona can shorten after the missing game against Rayo Vallecano, although it would not be the most logical for Barcelona to seek the first position, but it is still a possibility that Barcelona seeks to lower the difference, because it is going through a good moment.
---
Si el Barcelona estuviese en una mejor ubicación, seguro que este partido habría tenía repercusiones en la lucha directa por la liga, aun así en el futuro próximo el Real Madrid tendrá un gran desgaste ante el Chelsea, por lo que puede dejar puntos en el camino y el Barcelona en la Europa League ira ante un club como el Frankfurt, ya veremos que nos depara la liga en las próximas jornadas.
If Barcelona were in a better position, surely this match would have had repercussions in the direct fight for the league, even so in the near future Real Madrid will have a great attrition against Chelsea, so they can leave points on the way and Barcelona in the Europa League will go against a club like Frankfurt, we will see what the league has in store for us in the next few days.
---

---
De esta manera me despido, espero cumplir con las expectativas y ser del agrado de quienes leen esta publicación.
In this way I say goodbye, I hope to meet the expectations and be to the liking of those who read this publication.
---
---
Written in Spanish and translated with www.DeepL.com/Translator (free version)
Las imágenes, los diseños y las letras han sido creados en PicsArt / Images, designs and lettering were created in PicsArt.
Imagen de fondo/ Background image --> Fuente/Source: IMG1

---
---