Analizando los partidos y las posibles selecciones clasificadas en las eliminatorias UEFA y CONMEBOL. / Analysing the matches and possible qualifiers in the UEFA and CONMEBOL qualifiers.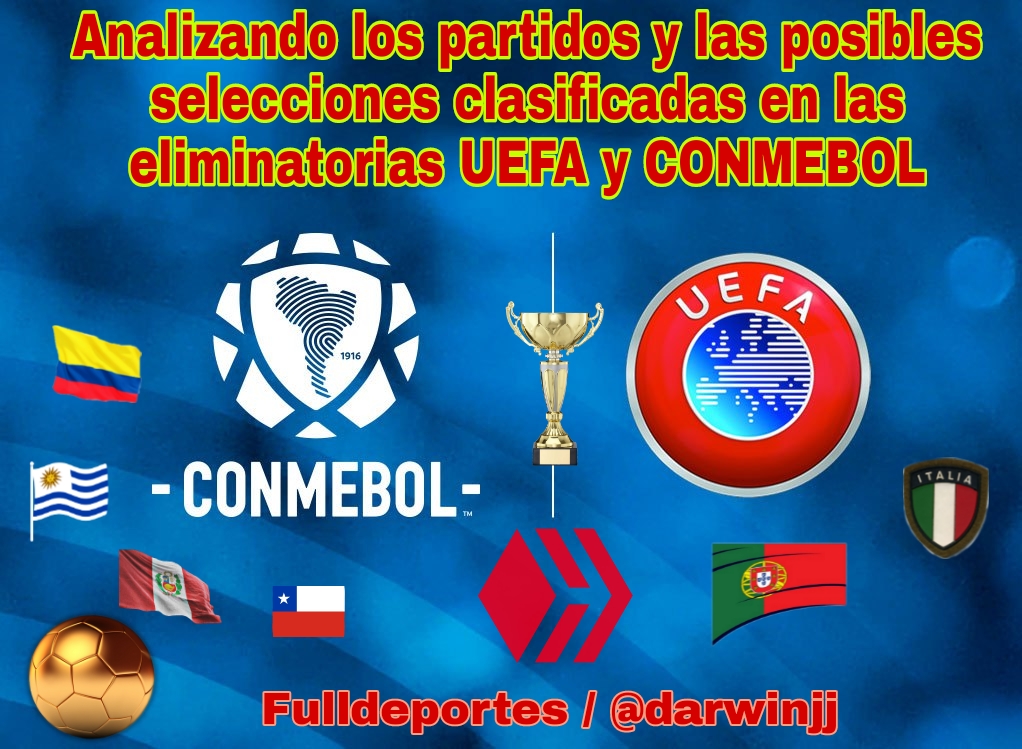 Las imágenes, los diseños y las letras han sido creados en PicsArt / Images, designs and lettering were created in PicsArt. Imagen de fondo/ Background image --> Fuente/Source: IMG1

---
Hola amigos bienvenidos. / Hello friends welcome.
---
Esta semana comienzan los partidos de las eliminatorias, principalmente analizaremos los partidos más destacados, además de la situación actual de algunas selecciones de CONMEBOL y UEFA, donde las cosas están muy emocionantes, ya que varias selecciones jugaran su última oportunidad de clasificar a un torneo tan importante, como lo es el mundial, algunas de las selecciones más importantes que quieren obtener el pase al mundial de Qatar del 2022 son: Italia y Portugal, mientras tanto en CONMEBOL: Chile, Uruguay, Colombia y Perú están entre los puestos 4 y 7, donde el quinto lugar es la última posición al repechaje.
This week the qualifying matches begin, mainly we will analyze the most important matches, in addition to the current situation of some CONMEBOL and UEFA teams, where things are very exciting, as several teams will play their last chance to qualify for a tournament as important as the World Cup, some of the most important teams that want to get the pass to the World Cup in Qatar in 2022 are: Italy and Portugal, while in CONMEBOL: Chile, Uruguay, Colombia and Peru are between places 4 and 7, where the fifth place is the last position to the playoff.
---
Hay que aclarar que las eliminatorias Europeas y la de Sudamérica se juegan de maneras diferentes, es decir bajo diferentes formatos, en UEFA ya termino la fase de grupos, donde los primeros obtenían el pase directo y los segundos de grupos irían por el repechaje, este último se basa en una eliminatoria donde de 12 selecciones solo 3 ganaran el pase al mundial.
It should be clarified that the European and South American qualifiers are played in different ways, i.e. under different formats, in UEFA and finished the group stage, where the first obtained direct passage and the second group would go for the playoff, the latter is based on a playoff where only 3 of 12 selections will win the pass to the World Cup.
---

---
Eliminatorias Europeas. / European Qualifiers.
---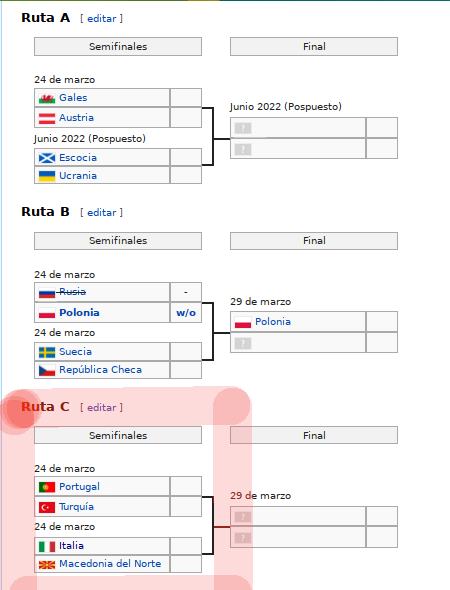 Fuente/Source: Wikipedia. Edited in Gimp.
Entre lo más destacado está el partido entre Turquía vs Portugal y en esa misma semifinal o llave están Italia que jugaran contra Macedonia, los ganadores se verán las caras en una final que le dará el pase definitivo, esta semifinal mencionada es la C, mientras en la semifinal B hay únicamente un clasificado a la final, el cual es la selección de Polonia debido a la eliminación de Rusia, Polonia jugara ante Suecia o República Checa; en la semifinal A están Gales vs Austria y Escocia vs Ucrania. De esta manera se definirán los Clasificados en Europa.
Among the highlights is the match between Turkey vs Portugal and in the same semi-final or key are Italy who will play against Macedonia, the winners will face each other in a final that will give the final pass, this semi-final mentioned is the C, while in the B semi-final there is only one qualified for the final, which is the selection of Poland due to the elimination of Russia, Poland will play against Sweden or Czech Republic; in the A semi-final are Wales vs Austria and Scotland vs Ukraine. In this way the Qualifiers in Europe will be defined.
---
Sin duda alguna lo más seguro es que Italia le gane a Macedonia y desde mi punto de vista Portugal es favorito ante Turquía, a pesar de que no está en su mejor momento, algo que si está claro es que este partido tiene un nivel más parejo, así que cualquier cosa es posible, además de esto ambas selecciones tienen jugadores de gran calidad y experimentados goleadores, como Cristiano Ronaldo de Portugal y Burak Yılmaz por parte de Turquía.
Without any doubt the most certain thing is that Italy will beat Macedonia and from my point of view Portugal is favourite against Turkey, even though they are not in their best moment, something that is clear is that this match has a more even level, so anything is possible, besides this both teams have players of great quality and experienced strikers, like Cristiano Ronaldo of Portugal and Burak Yılmaz on the part of Turkey.
---
Algo que está claro es que una de estas grandes selecciones se quedara fuera, en este caso me refiero a Portugal e Italia, en los últimos años hemos estado acostumbrados a ver su participación en el mundial, pero la selección que se quede fuera será considerado un fracaso por sus seguidores, ya estas son selecciones que tienen mucha presión y expectativas a su alrededor. En las semifinales A y B creo que todo está más parejo y no sería extraño que cualquiera de estas se quede fuera o logre entrar, por esto considero que la semifinal C será se llevara las miradas del mundo.
One thing that is clear is that one of these great teams will be left out, in this case I am referring to Portugal and Italy, in recent years we have been used to seeing their participation in the World Cup, but the team that is left out will be considered a failure by their fans, as these are teams that have a lot of pressure and expectations around them. In the A and B semi-finals I think everything is more even and it would not be strange for any of them to stay out or get in, so I think the C semi-final will be the one to watch around the world.

---
Eliminatorias Conmebol. / Conmebol Qualifiers.
---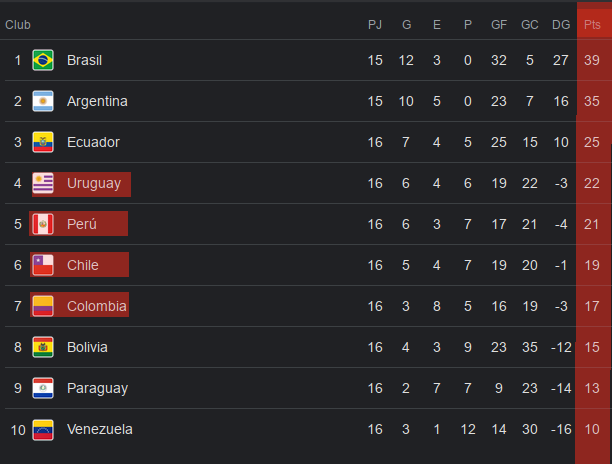 Fuente/Source: Google. Edited in Gimp
En las eliminatorias CONMEBOL todo está muy complicado con las selecciones que están rozando la mitad de la tabla, evaluando a Uruguay, Chile, Perú y Colombia, pienso que entre todos estos Chile la tiene más difícil, por el hecho de que debe enfrentar a Brasil y luego a Uruguay, así que no será una jornada fácil para los Chilenos.
In the CONMEBOL qualifiers everything is very complicated with the teams that are near the middle of the table, evaluating Uruguay, Chile, Peru and Colombia, I think that among all these Chile has it more difficult, by the fact that they must face Brazil and then Uruguay, so it will not be an easy day for the Chileans.
---
Por otro lado, Uruguay enfrentará a sus rivales directos, primero Perú y luego a Chile, obteniendo un buen rendimiento o específicamente ganando en estos partidos, puede asegurar el cuarto puesto y hasta e incluso subir al tercer lugar, en el caso de que Ecuador falle ante Paraguay o Argentina, pero esta selección Ecuatoriana prácticamente tiene su clasificación asegurada y Uruguay tiene una diferencia que no le favorece para que sea el tercer lugar, aunque no es imposible.
On the other hand, Uruguay will face their direct rivals, first Peru and then Chile, getting a good performance or specifically winning in these matches, can ensure the fourth place and even and even climb to third place, in the event that Ecuador fails against Paraguay or Argentina, but this Ecuadorian team practically has its classification assured and Uruguay has a difference that does not favour them to be the third place, although it is not impossible.
---
Como ya mencione, Perú enfrentara a Uruguay, pero su última fecha es ante una Paraguay sin posibilidades, es de decir su última jornada es ante un rival que debería ser accesible, aunque hay que recordar que en ocasiones la última jornada funciona como una jornada para ir por la honra; otra selección que la tiene difícil es Colombia con 17 puntos, pero debe enfrentar a Bolivia y Venezuela, para la Vinotinto este es un partido que siempre desea ganar y más aún en casa en el CTE Cachamay donde ha llegado a obtener buenos resultados ante Colombia.
As already mentioned, Peru will face Uruguay, but their last matchday is against a Paraguay without chances, that is to say their last matchday is against an opponent that should be accessible, although it must be remembered that sometimes the last matchday works as a matchday to go for the honour; another team that has it difficult is Colombia with 17 points, but must face Bolivia and Venezuela, for the Vinotinto this is a game they always want to win and even more at home in the CTE Cachamay where they have come to get good results against Colombia.
---
Aunque Bolivia parece que no tiene posibilidades, matemáticamente es posible, pero para que esto suceda Perú y Chile deben perder sus 2 partidos, por lo tanto, ganarle a Colombia lo dejaría con posibilidades y en la última jornada ganarle en la Paz a una difícil Brasil, la desventaja es que tiene -12 en diferencia de goles.
Although Bolivia seems to have no chance, mathematically it is possible, but for this to happen Peru and Chile must lose their 2 matches, therefore, beating Colombia would leave them with a chance and on the last matchday beating a difficult Brazil in La Paz, the disadvantage is that they are -12 on goal difference.
---
Pero como dije en un principio Uruguay, Chile, Perú y Colombia son las que lucharan por el pase al mundial, lo de Bolivia es una tarea casi imposible y sería muy difícil que Ecuador en el tercer lugar se quede sin mundial, lo más probable es que Ecuador asegure su pase ante Paraguay, ya que su segundo partido de esta fecha FIFA es contra Argentina, las selecciones ya eliminadas son Venezuela y Paraguay, mientras que Brasil y Argentina ya están clasificadas.
But as I said at the beginning Uruguay, Chile, Peru and Colombia are the ones that will fight for a place in the World Cup, Bolivia is an almost impossible task and it would be very difficult for Ecuador in third place to miss out on the World Cup, the most likely scenario is that Ecuador will secure their place against Paraguay, as their second match of this FIFA date is against Argentina, the teams already eliminated are Venezuela and Paraguay, while Brazil and Argentina are already qualified.

---
Conmebol: partidos de la jornada 17 y 18. / Conmebol: Matchday 17 and 18 fixtures.
---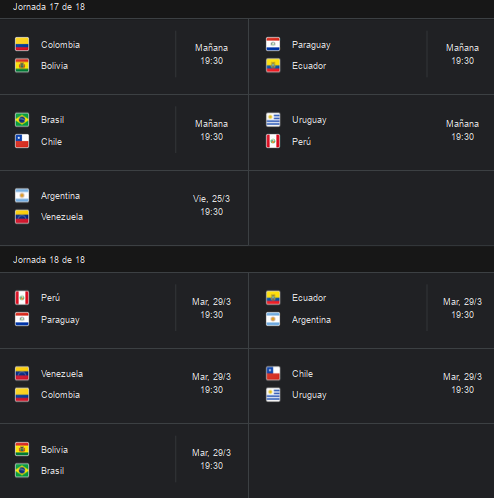 Fuente/Source: Google. Edited in Gimp
Así que el primer partido de esta eliminatoria nos darán una idea de quien entrara y quien se quedara fuera, podemos suponer que nos deparan muchas emociones, también hay que recordar la posibilidad de que se juegue el partido entre Argentina vs Brasil, el cual había sido suspendido anteriormente y aún no tiene una fecha exacta.
So the first match of this qualifier will give us an idea of who will get in and who will stay out, so there are many emotions in store, also remember the possibility of the match between Argentina vs Brazil, which had been suspended previously, which still does not have an exact date
---

---
De esta manera me despido, espero cumplir con las expectativas y ser del agrado de quienes leen esta publicación.
In this way I say goodbye, I hope to meet the expectations and be to the liking of those who read this publication.
---
---
Written in Spanish and translated with www.DeepL.com/Translator (free version)
Las imágenes, los diseños y las letras han sido creados en PicsArt / Images, designs and lettering were created in PicsArt.
Imagen de fondo/ Background image --> Fuente/Source: IMG1

---
---