Analizando la liga de España - Jornada #30. / Analyzing the Spanish league - Matchday #30.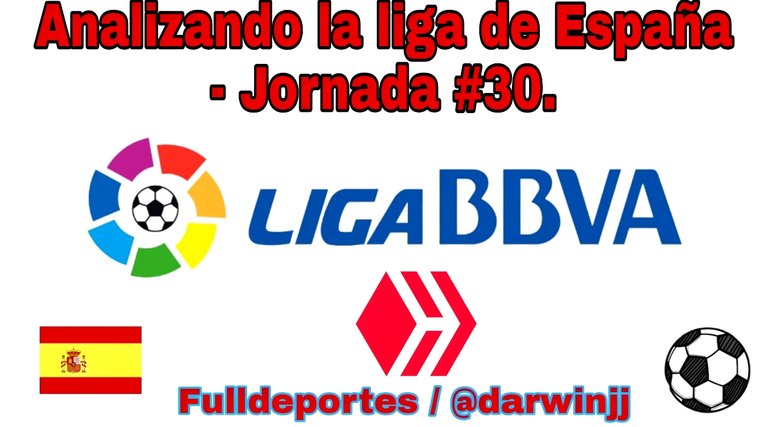 Las imágenes, los diseños y las letras han sido creados en PicsArt / Images, designs and lettering were created in PicsArt. Imagen de fondo/ Background image --> Fuente/Source: IMG1

---
Hola amigos bienvenidos. / Hello friends welcome.
---
En esta oportunidad les quiero hablar de mi liga favorita La liga de España.
This time I want to talk about my favorite league, the Spanish league.
---
Anteriormente, habíamos analizado a liga después del clásico y también las estadísticas de los clubes Españoles e Ingleses en torneos del continente, pero en esta ocasión analizaremos el estado actual de la liga después de haber culminado la jornada 30, tan solo falta el partido entre Espanyol vs Real Sociedad que forma parte de esta jornada y se jugara mañana, donde la Real Sociedad puede ampliar su ventaja sobre el Villarreal, ya que la Real Sociedad está de sexta con 3 puntos por encima, exactamente tiene 48 puntos, de ganar la diferencia seria de 6 puntos y dividiría la liga entre los equipos con posibilidades a puestos Europeos y los que ya se van quedando atrás, debido a que desde el séptimo puesto hacia abajo no hay oportunidades de ir a la Champions o Europa League.
Previously we had analyzed the league after the classic and also the statistics of the Spanish and English clubs in the tournaments of the continent, but this time we will analyze the current state of the league after having completed the 30th day, only missing the match between Espanyol vs Real Sociedad which is part of this day and will be played tomorrow, where Real Sociedad can extend its lead over Villarreal, as Real Sociedad is in sixth place with 3 points above, exactly 48 points, if it wins the difference would be 6 points and would divide the league between the teams with a chance of reaching European places and those who are already lagging behind, since from seventh place down there is no chance of going to the Champions League or Europa League.

Real Sociedad. Fuente/Source: Google. Edited in Gimp.

---
Los 2 grandes de España son líderes actualmente. / The 2 large Spanish clubs are leaders.
---


·Fuente/Source: Google. Edited in Gimp.
Sin más preámbulos les comento que los 2 clubes más importantes de España han ganado sus respectivos partidos, donde el Madrid es líder absoluto y el Barcelona ha logrado colocarse en el segundo puesto, esto después de pasar por un duro momento, aunque la diferencia es de 12 puntos, pero el Barcelona tiene un partido menos y puede acortar la diferencia a 9 puntos, esto es un avance para el club catalán, que jornadas atrás parecía que era un club que luchaba en la liga por estar en los puestos de Europa League y para cumplir el objetivo apostaba por ganar esa misma copa para lograr el cupo a la Champions, pero gracias Xavi el panorama ha cambiado y lo más probable es que obtenga el pase directo a la Champions League, sin duda es una gran recuperación.
Without further ado, the 2 most important clubs in Spain have won their respective matches, where Madrid is the absolute leader and Barcelona has managed to place itself in second place, this after going through a difficult time, although the difference is 12 points, but Barcelona has a game less and can shorten the difference to 9 points, This is a breakthrough for the Catalan club, which days ago seemed a club that struggled in the league to be in the Europa League and also to meet the goal of winning the same cup to achieve the Champions League quota, but thanks to Xavi the picture has changed and most likely will get the direct pass to the Champions League, it is certainly a great recovery.
---
Real Madrid.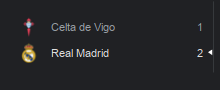 ·Fuente/Source: Google. Edited in Gimp.
Recordemos que la jornada pasada sé jugo el clásico, el Real Madrid venía muy dolido por perder de manera aplastante, pero en esta jornada gano, es decir, cumplió el objetivo, pero no como todos esperábamos, por el hecho de que no marco por medio de jugadas, los goles llegaron desde el punto penal, donde de 3 penales el club blanco marco solo 2, pero no dejan de ser 3 puntos que lo mantienen como líder, además de tener un buen margen de puntos.
Let's remember that last day they played the classic, Real Madrid was very hurt for losing in a crushing way, but this day they won, that is, they achieved the goal, but not as we all expected, because they did not score through plays, the goals came from the penalty spot, where out of 3 penalties the white club scored only 2, but they are still 3 points that keep them as leaders, besides having a good margin of points.
---
Barcelona.


·Fuente/Source: Google. Edited in Gimp.
Mientras tanto el Barcelona gano por la mínima al Sevilla, a pesar de que el Barcelona presento varias oportunidades, no marco, pero una increíble jugada de Pedri le permitió ganar el partido, de esta manera continua su paso ascendente en la liga, la cara que muestra este club es positiva, donde vemos jugadores que tiene mejores movimientos, que suben más, con un juego más fluido y principalmente jugadores que están sacando a flote todo su potencial.
Meanwhile Barcelona won by the minimum against Sevilla, although Barcelona presented several opportunities, they did not score, but an incredible play by Pedri allowed them to win the game, thus continuing their upward step in the league, the face that this club shows is positive, where we see players who have better movements, who go up more, with a more fluid game and above all players who are bringing out their full potential.
---

Atlético de Madrid y Betis ganan por goleada. / Atletico Madrid and Betis win by a landslide.
---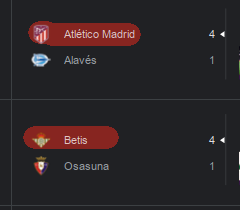 ·Fuente/Source: Google. Edited in Gimp.
Un poco más abajo en la tabla tenemos al Atlético de Madrid, que después de un bajón futbolístico ha sido más acertado a la hora de ganar partidos, en su última presentación gano por goleada al Alavés, lo mismo hizo el Betis que gano con un marcador similar de 4 a 1 al Osasuna, mientras tanto el Sevilla continúa bajando en la tabla llegando al cuarto puesto, esto después de una serie de empates y la última derrota ante el Barcelona.
A little further down the table we have Atletico Madrid, which after a footballing slump has been more successful in winning games, in his last presentation won by a landslide against Alaves, so did Betis who won with a similar score of 4 to 1 to Osasuna, while Sevilla continues to fall in the table reaching fourth place, this after a series of draws and the last loss to Barcelona.
---

Mi conclusión de la liga de España. / My conclusion of the Spanish league.
---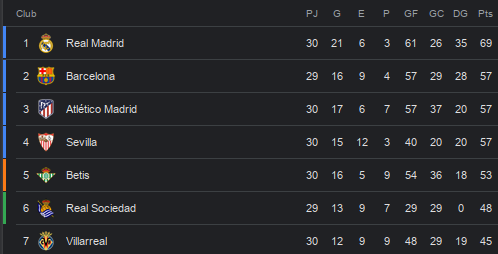 ·Fuente/Source: Google. Edited in Gimp.
Aunque para algunos la liga parezca que no está tan emocionante, pues si lo está, ya que tenemos a 3 equipos con 57 puntos, como lo son el Atlético, Sevilla y Barcelona, recordando que este último tiene un partido menos, además de que el líder Real Madrid debe enfrentar al Sevilla, Atlético y Betis, que son rivales que pueden plantarse muy bien en el campo y de jugar como hemos visto en los últimos partidos pude dejar puntos en el camino y estoy seguro de que la diferencia se acortara, pero aun así el Real Madrid tiene todo para salir campeón.
Although for some the league seems that it is not so exciting, it is, because we have 3 teams with 57 points, such as Atletico, Sevilla and Barcelona, remembering that the latter has a game less, also the leader Real Madrid must face Sevilla, Atletico and Betis, which are rivals that can stand very well in the field and playing as we have seen in recent games could leave points on the road and I am sure that the difference will be shortened, but still Real Madrid has everything to be champion.
---

---
De esta manera me despido, espero cumplir con las expectativas y ser del agrado de quienes leen esta publicación.
In this way I say goodbye, I hope to meet the expectations and be to the liking of those who read this publication.
---
---
Written in Spanish and translated with www.DeepL.com/Translator (free version)
Las imágenes, los diseños y las letras han sido creados en PicsArt / Images, designs and lettering were created in PicsArt.
Imagen de fondo/ Background image --> Fuente/Source: IMG1

---
---