Analizando el empate de Mineros de Guayana y su estilo de juego. / Analyzing Mineros de Guayana's draw and their style of play.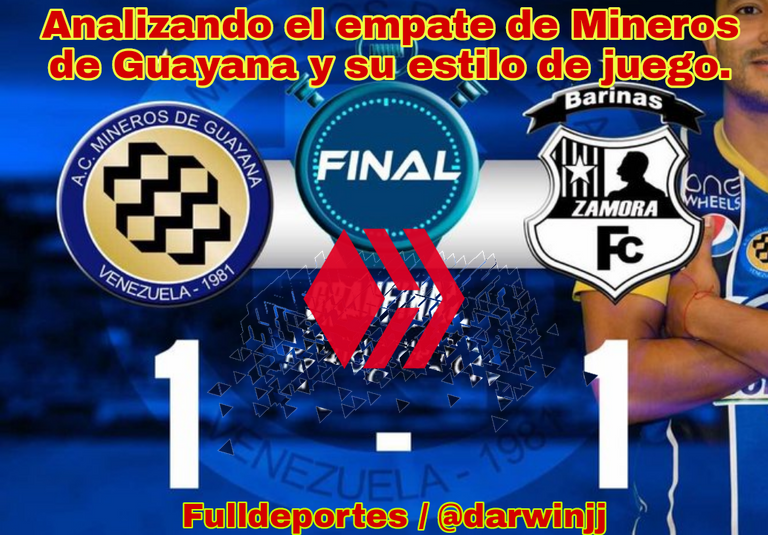 Las imágenes, los diseños y las letras han sido creados en PicsArt / Images, designs and lettering were created in PicsArt. Imagen de fondo/ Background image --> Fuente/Source: IMG1

---
Hola amigos bienvenidos. / Hello friends welcome.
---
La liga de futbol Venezolana no se detiene, desde el fin de semana pasado y a mitad semana se han jugado 2 jornadas, el día de ayer Táchira le gano 2 por 0 al deportivo Lara, por otro lado, Caracas empato con Puerto Cabello y aún el conjunto rojo continúa alejado de los primeros puestos.
The Venezuelan soccer league does not stop, since last weekend and in the middle of the week 2 rounds have been played, yesterday Táchira won 2-0 to Deportivo Lara, on the other hand, Caracas tied with Puerto Cabello and the red team is still far away from the top positions.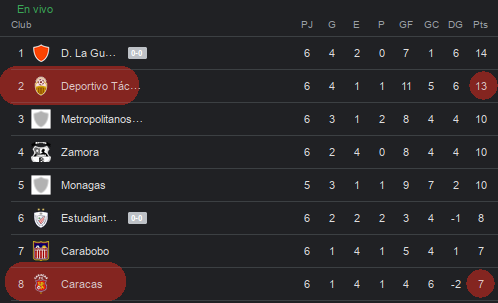 Fuente/Source: Google. Edited in Gimp.
---
Es decir, hay una gran diferencia de puntos entre estos 2 grandes del futbol Venezolano, específicamente de 6 puntos, pero de quien realmente les quiero hablar es de Mineros de Guayana y la forma en que jugo contra el Zamora, anteriormente les había comentado acerca de la mala defensa de Mineros, pero en esta ocasión en el primer tiempo se pudo percibir cierta corrección en esa línea defensiva, aunque en algunos momentos también se vio un poco de fragilidad, aun así no cometieron errores graves.
That is to say, there is a big difference of points between these 2 big teams of Venezuelan soccer, specifically 6 points, but the one I really want to talk about is Mineros de Guayana and the way they played against Zamora, previously I had commented about the bad defense of Mineros, but this time in the first half we could perceive some correction in that defensive line, although in some moments we could also see a little fragility, even so they did not make serious mistakes.

---
El estilo de juego y jugadores destacados. / Style of play and outstanding players.
Al momento de defender se formaba un bloque donde los mediocampistas ayudaban a los defensas, esto sirvió para evitar que se notara la flaqueza en esa línea, la mayor debilidad se vio cuando Zamora atacaba con balones largos o aéreos, aun así el primer tiempo fue bueno para Mineros de Guayana; principalmente lo mejor de Mineros fue por el buen juego de Carabalí en el ataque, quien fue constante y desequilibrante; en el mediocampo Arnold López fue también muy consistentes.
At the moment of defending a block was formed where the midfielders helped the defenders, this served to avoid the weakness in that line, the biggest weakness was seen when Zamora attacked with long or aerial balls, even so the first half was good for Mineros de Guayana; mainly the best of Mineros was the good play of Carabalí in the attack, who was constant and unbalanced; in the midfield Arnold López was also very consistent.
---
En ese primer tiempo puede ver algo que me causo curiosidad y que después de una falta cometida, fue Richard Blanco quien se paró detrás del balón para cobrar la falta, pero lo que considero raro es que no había tantos jugadores de Mineros en el área para esperar el rebote o centro; al parecer ya estaba decantado que Richard dispararía directo y justamente marco el gol en ese tiro libre.
In that first half you can see something that made me curious and that after a foul was committed, it was Richard Blanco who stood behind the ball to collect the foul, but what I find strange is that there were not so many Mineros players in the area to wait for the rebound or cross; apparently it was already decided that Richard would shoot directly and justly scored the goal on that free kick.

---
Richard Blanco hizo un buen partido. / Richard Blanco played a good game.
---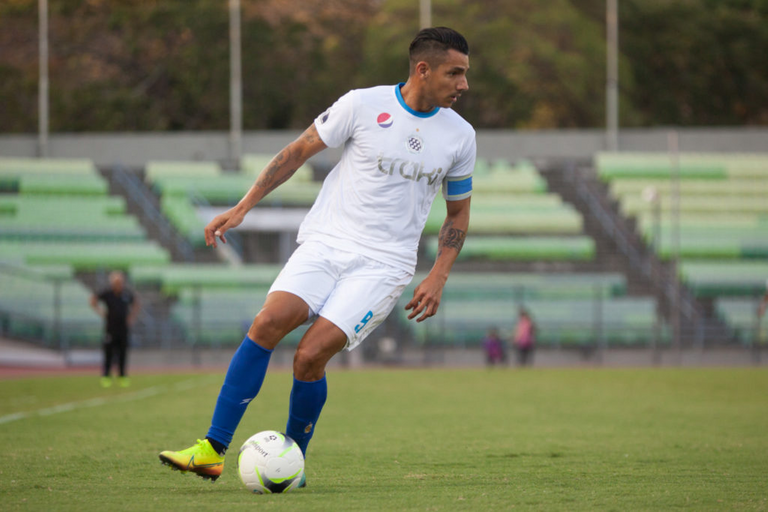 Fuente/Source: liderendeportes
En el post anterior dije que debía ocurrir un recambio, una transición y darle la oportunidad a un delantero joven, esto no quiere decir que los veteranos no son importantes, al contrario, son importantes por su experiencia, pero no se puede depender de ellos y tampoco esperar mucho de un jugador de 40 años en partidos de alta intensidad, me refiero a Richard Blanco, pero esta vez muy bien por el delantero veterano que no solo marco, también impuso su jerarquía, experiencia y fue inteligente.
In the previous post I said that there should be a change, a transition and give the opportunity to a young striker, this does not mean that veterans are not important, on the contrary, they are important for their experience, but you can not depend on them and do not expect much from a 40 year old player in high intensity matches, I mean Richard Blanco, but this time very good for the veteran striker who not only scored, he also imposed his hierarchy, experience and was intelligent.

---
Que necesita Mineros de Guayana para mejorar. / What Mineros de Guayana needs in order to improve.
---
Fue interesante ver a uno de los defensas que Mineros contrato esta temporada, como los es el Argentino Nicolás Aguirre, a pesar de las cosas positivas aún hay mucho que corregir, pero el juego de Mineros de Guayana ha mejorado, en lo táctico y tiene un poco más de control de balón del mediocampo hacia arriba, así que únicamente hay 2 opciones para tener un equipo más fuerte y estable, la primera es que el técnico continué trabajando y mejorando la línea defensiva o que se contraten nuevos refuerzos en siguiente mercado de traspasos.
It was interesting to see one of the defenders that Mineros signed this season, such as the Argentine Nicolas Aguirre, despite the positive things there is still much to correct, but the game of Mineros de Guayana has improved tactically and has a little more ball control from midfield to the top, so there are only 2 options to have a stronger and more stable team, the first is that the coach continues to work and improve the defensive line or that new reinforcements are hired in the next transfer market.
---
Aunque hay jugadores con calidad, todavía falta más fluidez en el juego, con un jugador de medio campo que distribuya y suelte el balón más rápido, con esto sería posible ver un cambio o mejoría, es decir, con un par de jugadores rápidos que acompañen a los que ya están, debido a que hay jugadores con esas características, pero también hay otros que practican un juego más lento y con retraso, pero por ahora la prioridad es la defensa.
Although there are players with quality, there is still a lack of fluency in the game, with a midfield player who distributes and releases the ball faster, with this it would be possible to see a change or improvement, that is, with a couple of fast players to accompany those who are already there, because there are players with these characteristics, but there are also others who play a slower and delayed game, but for now the priority is the defense.

---
Mineros de Guayana empato con Zamora. / Mineros de Guayana tied the game with Zamora.
---


Fuente/Source: Google. Edited in Gimp.
De esta forma el negriazul debe espera hasta el siguiente partido contra Puerto Cabello, en este último juego empato con Zamora por un penal a favor del equipo de Barinas, donde Mineros no pudo volver a ponerse arriba a pesar de las oportunidades y de tener 1 jugador más en el final del partido, así que por ahora marcha noveno con 7 puntos a tan solo 3 puntos del tercer lugar.
Now the "Negriazul" must wait until the next game against Puerto Cabello, in this last game they tied with Zamora by a penalty in favor of the team from Barinas, where Mineros could not get back on top despite the opportunities and having 1 more player at the end of the game, so for now they are in ninth place with 7 points, only 3 points away from the third place.
Mineros marcha noveno en la tabla. / Mineros ranks ninth in the table.
---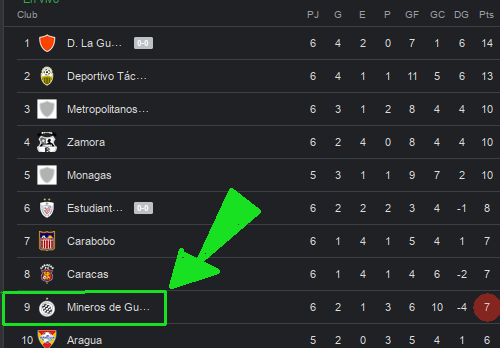 Fuente/Source: Google. Edited in Gimp.

---
De esta manera me despido, espero cumplir con las expectativas y ser del agrado de quienes leen esta publicación.
In this way I say goodbye, I hope to meet the expectations and be to the liking of those who read this publication.
---
---
Written in Spanish and translated with www.DeepL.com/Translator (free version)
Las imágenes, los diseños y las letras han sido creados en PicsArt / Images, designs and lettering were created in PicsArt.
Imagen de fondo/ Background image --> Fuente/Source: IMG1

---
---