Análisis y opinión de los cuartos de final de la Liga de Campeones. / Analysis and opinion on the Champions League quarter-finals.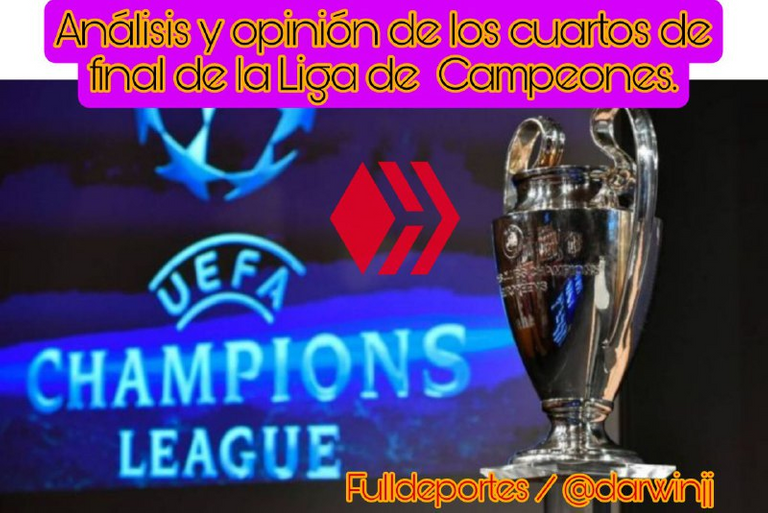 Las imágenes, los diseños y las letras han sido creados en PicsArt / Images, designs and lettering were created in PicsArt. Imagen de fondo/ Background image --> Fuente/Source: IMG1

---
Hola amigos bienvenidos. / Hello friends welcome.
---
El de hoy viernes se realizó el sorteo de los cuartos de final de la Champions League, sin duda alguna el azar hizo que ocurrieran cruces interesantes, pero también creo que las llaves están accesibles en uno de los caminos a la semifinal, por lo menos en los cruces del Benfica vs Liverpool y Villarreal vs Bayern Munich, por otro lado, los duelos entre el Manchester City vs Atlético de Madrid y Real Madrid vs Chelsea están un poco más cerrados o parejos, esto según mi punto de vista, aunque en un campeonato tan importante y de mucho nivel nunca hay que confiarse.
The draw for the quarter finals of the Champions League took place today Friday, without a doubt chance made some interesting crossings happen, but I also think that the keys are accessible in one of the paths to the semifinal, at least in the crossings of Benfica vs Liverpool and Villarreal vs Bayern Munich, on the other hand, the duels between Manchester City vs Atletico Madrid and Real Madrid vs Chelsea are a little more closed or even, this according to my point of view, although in such an important and high level championship you should never be confident.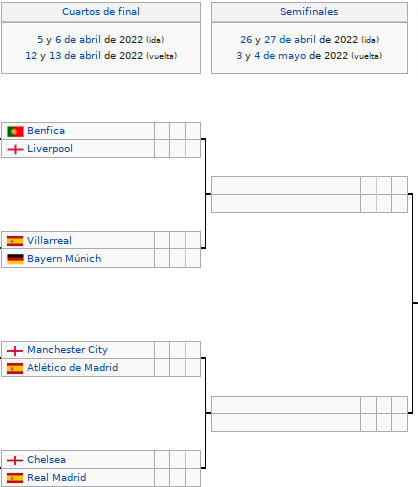 Fuente/Source: Wikipedia. Edited in Gimp.
---
Ahora analicemos un poco más cada uno de estos enfrentamientos, los cuales se jugaran el día 5 y 6 de abril y la vuelta la siguiente semana el día 12 y 13; existe una gran probabilidad de que en la semifinal, se midan el Liverpool vs el Bayern debido a que estos 2 tiene la balanza a su favor, esto basándonos en el nivel de los equipos que enfrentaran, los clubes antes mencionados están un nivel más arriba que sus adversarios Benfica y Villarreal.
Now let's analyse a little more each of these matches, which will be played on the 5th and 6th of April and the second leg the following week on the 12th and 13th; there is a high probability that in the semi-final, Liverpool vs Bayern will meet because these 2 have the balance in their favour, this based on the level of the teams they will face, the aforementioned clubs are one level higher than their opponents Benfica and Villarreal.
---
Mientras que el Manchester City pude ser el favorito, pero ante el Atlético de Madrid y su técnico el Cholo tampoco es sencillo y por último el Real Madrid desea continuar su buen andar, pero tiene a un club como el Chelsea que esta en racha en la Premier League, pero este último tiene problemas debido a las relaciones de su dueño con el gobierno Ruso, lo cual limita a club en la parte administrativa y esto podría afectar futbolísticamente al club.
While Manchester City could be the favourite, but against Atletico Madrid and their coach El Cholo it is not easy either, and finally Real Madrid want to continue their good run, but they have a club like Chelsea who is on a roll in the Premier League, but the latter has problems due to the relations of its owner with the Russian government, which limits the club in the administrative part and this could affect the club's football.

Benfica vs Liverpool.
---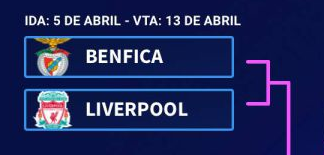 Fuente/Source: as.com. Edited in Gimp.
El Benfica se encuentra de tercero en la liga de Portugal y siendo realistas las probabilidades de que llegue al primer lugar son bajas, ya que debe acortar una diferencia de 12 puntos Y de sus últimos partidos ha ganado 3 y empatado 2, a pesar de su victoria antes el Ajax, la cual sorprendió, por el hecho de que el club de Holanda podía ser el favorito o el destinado a avanzar, pero aun así el Benfica le gano de visitante 1 a 0 y obtuvo el pase a los octavos de final.
Benfica are third in the Portuguese league and realistically the chances of them getting to the top of the table are low, as they need to close the gap to 12 points and of their last games they have won 3 and drawn 2, despite their win over Ajax, which came as a surprise, as the Dutch club could be favourites or destined to advance, but Benfica still beat them 1-0 away and booked their place in the last 16.
---
El Liverpool en la Premier League viene en mejor forma, a pesar de que iniciara la llave de visitante la Champions League, pero su nivel ha de ser superior, actualmente es segundo con 69 puntos a tanto 1 de Manchester City; ademas en sus últimos 12 partidos en la liga, los ha ganado todos solo el empate en copa contra el Chelsea donde gano por penales y la derrota 1-0 ante el Inter en la vuelta, pero aun así clasifico, ya que había ganado 2 a 0 en la ida; creo el Benfica no tiene oportunidades ante el Club Ingles y su goleador Salah, que actualmente tiene 8 goles en la Champions League, los ingleses tiene un abanico de jugadores muy buenos tanto en la banca como de titulares.
Liverpool in the Premier League are in better form, despite starting the away leg of the Champions League, but their level has to be higher, they are currently second with 69 points, just 1 behind Manchester City; also in their last 12 league games, they have won them all, only the cup tie against Chelsea where they won on penalties and the 1-0 defeat against Inter in the second leg, but they still qualified, as they had won 2-0 in the first leg; I think Benfica has no chance against the English club and its striker Salah, who currently has 8 goals in the Champions League, the English have a range of very good players both on the bench and in the starting line-up.

---
Villarreal vs Bayern.
---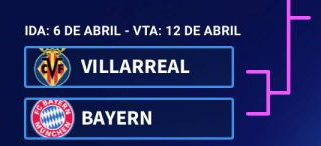 Fuente/Source: as.com. Edited in Gimp.
El Villarreal para llegar a los cuartos de final supero a la Juventus ganándole 3 a 0 en la vuelta, pero en la liga marcha séptimo con 45 puntos, mientras el Bayern siempre en un equipo difícil e incluso cuando no está en buena forma, es el líder en Alemania y tienen al máximo goleador de la Champions League, como lo es Lewandowski, así que debido a la gran cantidad de buenos jugadores y el nivel del Bayern lo más seguro es que selle su pase a la semifinal; considero que el Bayern goleara al Villarreal en el marcador acumulado, el equipo Alemán tiene un juego envolvente y que puede arropar a los clubes que enfrenta, tan solo hay que ver la ronda anterior ante el Salzburgo, esto guardando las diferencias.
Villarreal to reach the quarterfinals overcame Juventus winning 3-0 in the second leg, but in the league is seventh with 45 points, while Bayern is always a difficult team and even when not in good form, is the leader in Germany and have the top scorer of the Champions League, as it is Lewandowski, so due to the large number of good players and the level of Bayern is most likely to seal his pass to the semifinal; I think Bayern will beat Villarreal on aggregate, the German team has an all-round game and can overwhelm the clubs they face, just look at the previous round against Salzburg, keeping in mind the differences.

---
Manchester City vs Atlético de Madrid.
---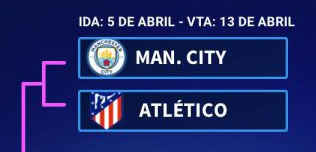 Fuente/Source: as.com. Edited in Gimp.
El Manchester City es un club que está entre los 4 favoritos para ganar la Champions League esta temporada, el equipo tiene buenos jugadores y el trabajo de Guardiola nunca pasa desapercibido, básicamente será un partido donde ambos técnicos tanto el Cholo como Pep traten de que sus formas de juego den frutos, a pesar de que el Manchester City tiene pinta de favorito, además de que tiene más jugadores que hacen que sea un equipo más completo y compacto, pero el Atlético en más de una ocasión ha sabido crecerse y dar sorpresas en la liga de campeones, su juego puede concentrarse más en esperar y subir contraatacando, sin duda la estrategia y el aguante del Atlético será una clave, esto en conjunto con la estrategia de su técnico.
Manchester City is a club that is among the 4 favorites to win the Champions League this season, the team has good players and Guardiola's work never goes unnoticed, basically it will be a match where both coaches both Cholo and Pep try to make their ways of play bear fruit, although Manchester City looks like a favorite, They also have more players that make them a more complete and compact team, but Atletico on more than one occasion has been able to grow and give surprises in the Champions League, their game can focus more on waiting and counterattacking, no doubt the strategy and endurance of Atletico will be a key, this in conjunction with the strategy of his coach.

Chelsea vs Real Madrid.
---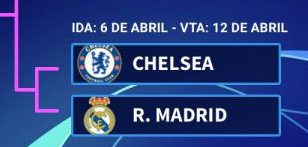 Fuente/Source: as.com. Edited in Gimp.
El Chelsea en los últimos años se ha presentado en el papel de ser un club que no va bien y ha logrado ganar la Champions League, lo curioso es que en aquellos años llego a presentar un estilo de juego más defensivo, por esto creo que no hay que subestimarlo, pero este Chelsea es diferente por ser más ofensivo, por algo es el tercer club con más goles en Inglaterra y el segundo que menos goles ha recibido en la liga, algo que amarga al club es el intento de venta y la dificultad para venderlo, esto porque su dueño es Ruso y estaba relacionado con el gobierno de dicho país, donde también afecta a los fichajes y toda la parte económica o de negocios del club, actualmente tiene solo el tiempo dirá que tanto malo será esta limitación y como se resolverá la posible venta del Chelsea.
Chelsea in recent years has been presented in the role of a club that is not doing well and has managed to win the Champions League, the funny thing is that in those years came to present a more defensive style of play, so I think we should not underestimate it, but this Chelsea is different because it is more offensive, something is the third club with more goals in England and the second fewest goals conceded in the league, Something that embitters the club is the attempted sale and the difficulty to sell it, this because its owner is Russian and was related to the government of that country, which also affects the transfers and all the economic or business part of the club, currently has only time will tell how bad this limitation will be and how the possible sale of Chelsea will be resolved.
---
El Real Madrid en la ultima decada ha estado más fino en la liga de campeones donde ha llegado a dar muchas sorpresas, solamente hay que recordar los octavos de final y su remontada al PSG, esta competición es una que para este club se les da bien, creo que el partido será más cerrado que todos los demás cruces y esto servirá como una revancha de la Liga de campeones anterior, pero estoy seguro que el Madrid esta vez será más fuerte.
Real Madrid in the last decade has been finer in the Champions League where it has come to give many surprises, just remember the round of 16 and his comeback to PSG, this competition is one that for this club is given to them well, I think the game will be closer than all other crossings and this will serve as a rematch of the previous Champions League, but I'm sure that Madrid this time will be stronger.

---
Mi conclusión. / My conclusion.
Para realizar un mejor análisis debemos ser pacientes, ya que hay que ver el estado actual de los jugadores antes del partido y para eso faltan poco más de 2 semanas, así que cualquier cosa puede pasar, algunos clubes tendrán la oportunidad de recuperar jugadores y en el peor de los casos después de la fecha FIFA y los restantes partidos de liga es posible que veamos lesiones, aunque sinceramente no deseo que ningún club tenga ese inconveniente, ya que lo ideal es que todos puedan contar con sus piezas claves.
To make a better analysis we must be patient, as we have to see the current state of the players before the match and for that there are just over 2 weeks left, so anything can happen, some clubs will have the opportunity to recover players and in the worst case scenario after the FIFA date and the remaining league matches it is possible that we will see injuries, although I sincerely do not want any club to have that inconvenience, as the ideal is that everyone can count on their key players.
---

---
De esta manera me despido, espero cumplir con las expectativas y ser del agrado de quienes leen esta publicación.
In this way I say goodbye, I hope to meet the expectations and be to the liking of those who read this publication.
---
---
Written in Spanish and translated with www.DeepL.com/Translator (free version)
Las imágenes, los diseños y las letras han sido creados en PicsArt / Images, designs and lettering were created in PicsArt.
Imagen de fondo/ Background image --> Fuente/Source: IMG1

---
---