The Games Machine (November 1988)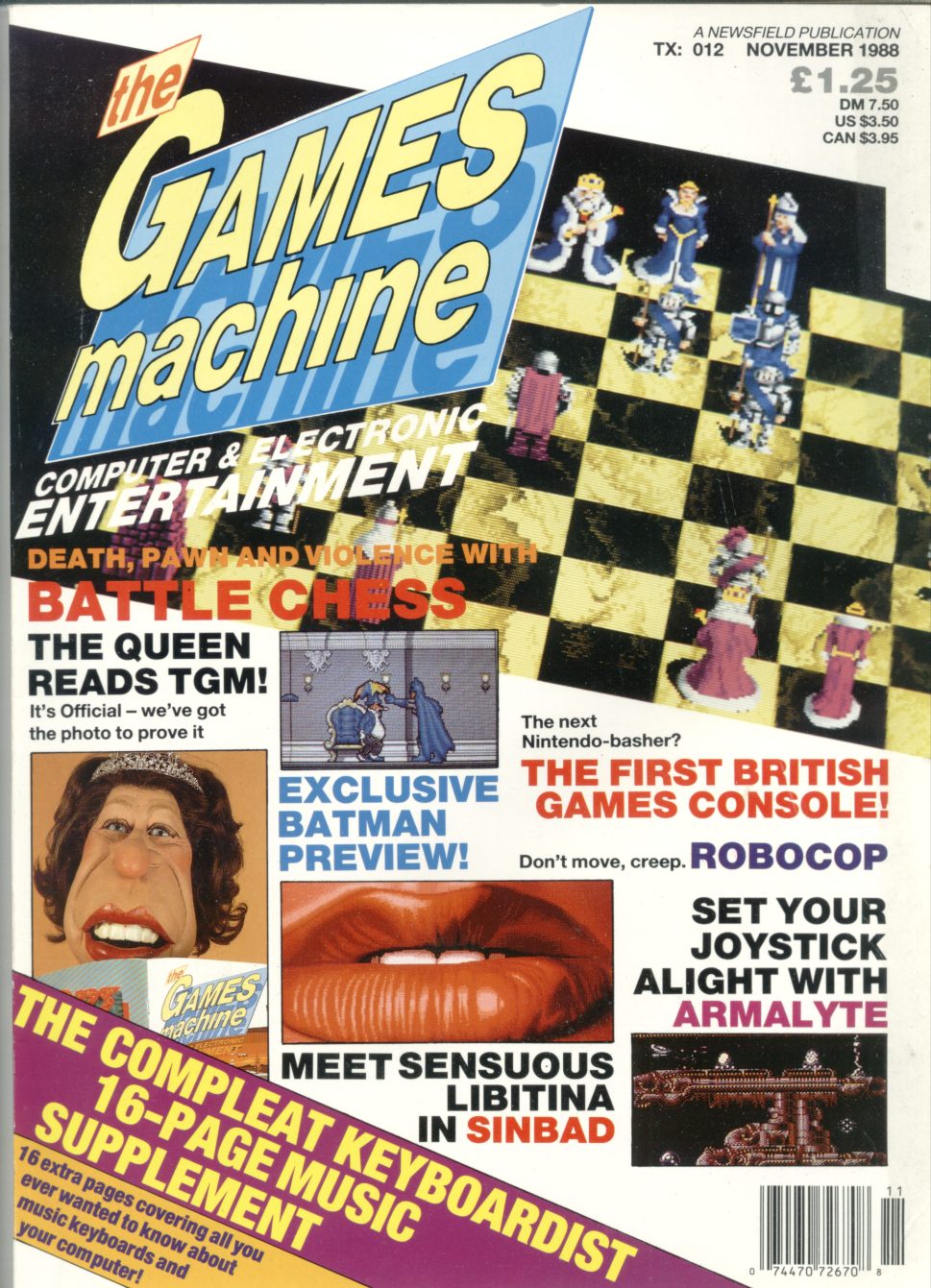 The Games Machine, subtitled 'Computer & Electronic Entertainment', seems to have been popular in the U.K. though for a short period of time. It only lasted about three years before morphing on to something else. It covered both computer and console games in the late 1980s but seemed to lean heavily towards the computer side of things. The November 1988 issue includes:
Regulars
TGM Report - What's going down in the world of computers? TGM is on the case to bring you the day after tomorrow news yesterday.


Previews - Exclusive previews to whet your appetite - look right!


Confrontation: Coin-Op - Our authoritative arcade adventurer examines the very latest in coin-guzzling machines.


Getting Adventurous - Rob Steel opens a new school of thought with Fish! and tackes The Beast.


TGM's Review Catalog - Page after page crammed with comprehensive reviews of 8-bit, 16-bit and MSX software.


Fantasy Games - John Woods takes a journey through King Arthur's Britain...and makes a Knight of it.


Poste Haste - Play By Mail on computer? It had to happen - TGM investigates.


Music Matters - The Abominable Dr. Vibes - Jon Bates - gets his digits round teh fantabulous Notator program for the Atari ST.


Readerpage - Computer gaming is a cover for drug abuse! Readerpage reveals all.
Features
The First British Console? - Could this be the machine to push the Sega and Nintendo aside? Find out in TGM REPORT.


The Dark Sprite Returns - TGM goes overseas again to report on Spain's leading software house, Dinamic. And to make it a Dynamic duo we also enter the bat-cave to access the bat-computer and bring you exclusive news on Oceans forthcoming release.


The Real Cybernauts - Mel Croucher looks at how technology can help the disabled.


Stos - TGM looks in depth at the Mandarin utility that can help you create your own games.


Cyberpunk - Stuart Wayne strips Robocop down to the microchip and looks at the film, book and game.


The Mouse That Roared - From little apples a newspaper - The Post - is born. TGM investigates the power and versatility of Desk Top Publishing.


Walk This Way - Mel Croucher reports on the state of the art in Walkman technology. Did you know that one in ten users suffer from hearing problems? (pardon?)
Read more: https://www.megalextoria.com/wordpress/index.php/2021/09/24/the-games-machine-november-1988/
---
---