MacLife (March 2010)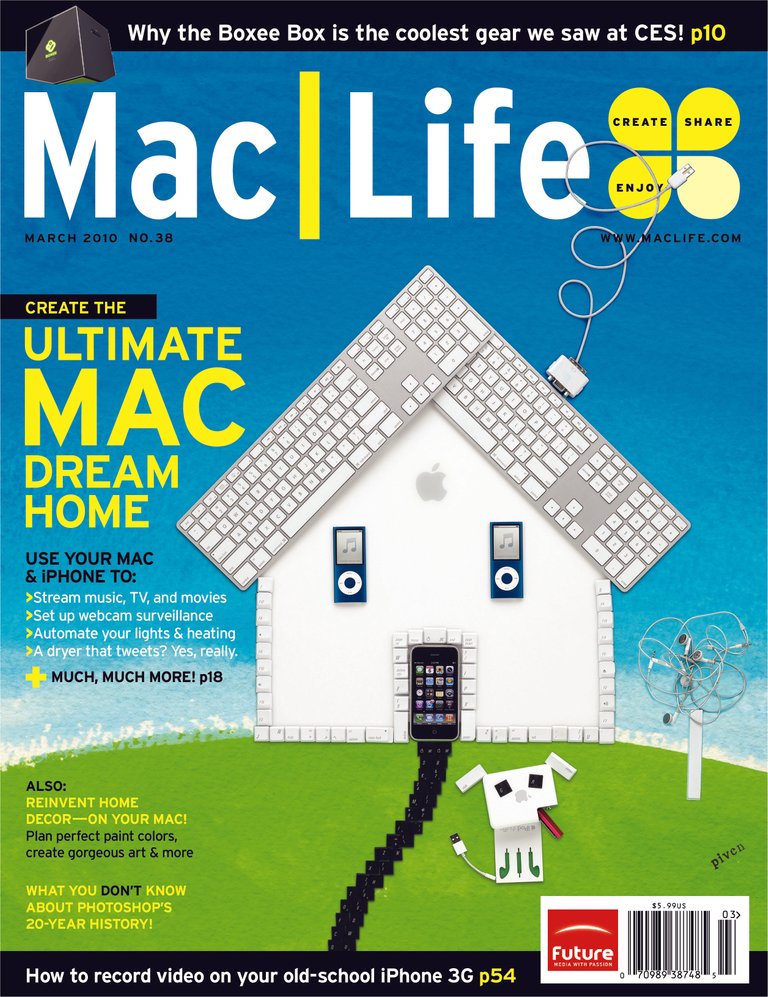 Cover of the March 2010 issue of MacLife
MacLife was the successor to MacAddict but in my opinion, MacAddict was the much better magazine. It was like Maximum PC but for Macs. MacLife on the other hand is just kind of...boring. But then that is really what Macs have become. From their switch to Power PC through their switch to Intel they kept things pretty interesting with design changes, operating system upgrades, etc. Since then, it seems very little has changed and the things that are changing are questionable. Is ever thinner and lighter really worth it if you have to have a dongle for everything you connect? Is the switch to the M1 over Intel really going to make things better? Is a computer shaped like a beer can really the best approach? In recent years has Mac OS really been getting better or does it just seem more bloated? And so on...
This issue of MacLife comes 5 years after the last PowerPC Mac was made and all new Macs were Intel based. PowerPC was still supported. OS Support had recently been dropped as the latest OS out at the time (Snow Leopard) had dropped support for the Power PC. I still think Leopard and Snow Leopard were the peak of OS X.
Anyway, this issue of MacLife from March 2010 includes: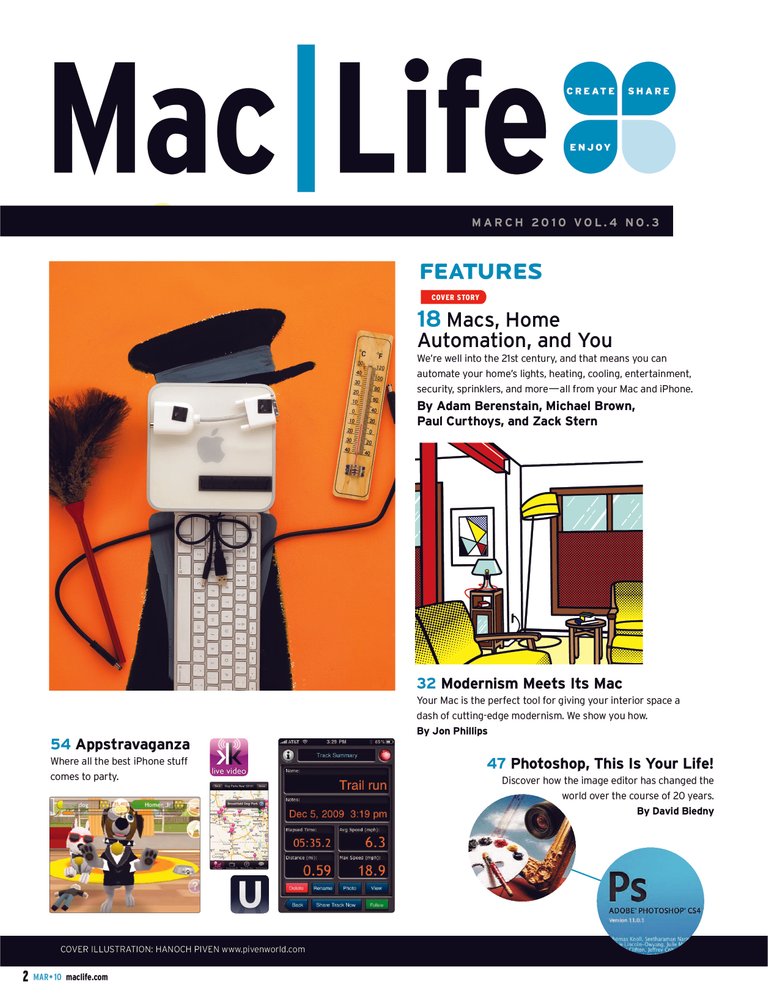 Table of Contents from the March 2010 issue of MacLife
Features
Macs, Home Automation and You - An article about automating your home with your Mac and/or other apple devices. It seems that Amazon and Google have really taken over this space.


Modernism Meets Its Mac - Using your Mac or iPhone for interior decorating using, for example, Photoshop or Photoshop Elements.
Departments
Online At MacLife.com - An overview of the latest articles on MacLife's home on the web, including tips and tricks for Snow Leopard, the 100 greatest iPhone apps of 2009 and more.


Consider - MacLife's editorial section, this month with an overview of changes to their review ratings scale.


Share - Letters from readers, this month featuring comments on Internet ownership and Snow Leopard incompatibilities among other topics.
Create
Ask - Questions answered about how to watermark images, how to keep bookmarks in sync between different web browsers, parental controls on an iPod Touch, batch renaming image files and more.


Sync Your Android Phone to Your Mac - How to sync your android phone with your Mac. A Motorola Droid was the phone used in their example.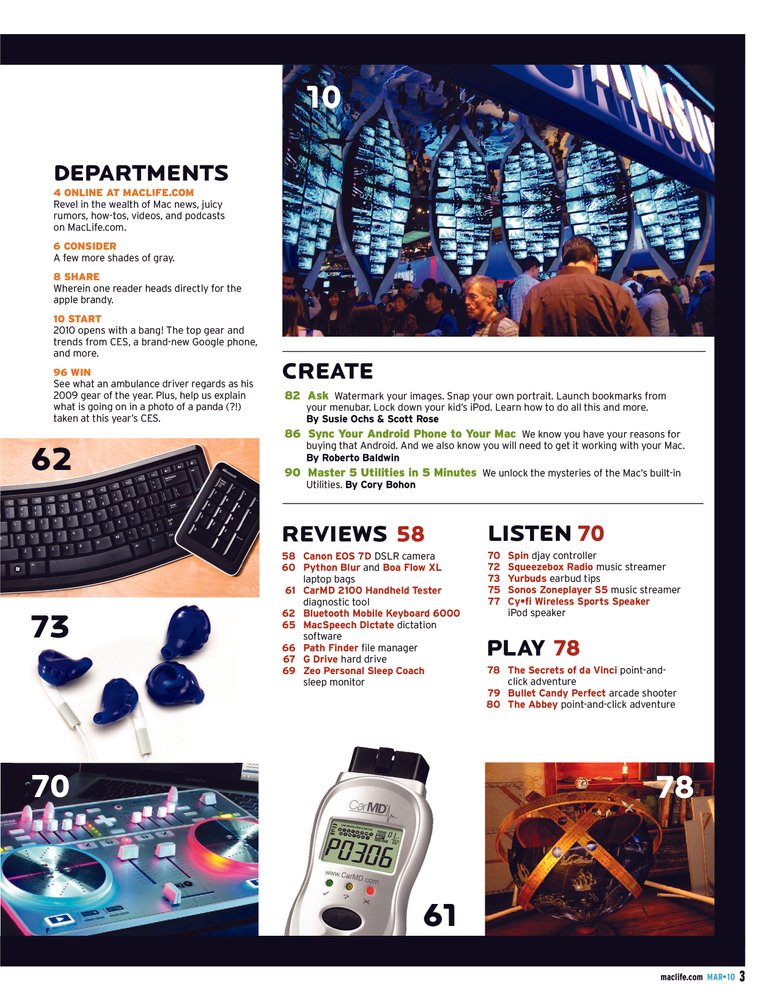 Table of Contents from the March 2010 issue of MacLife (continued)
Reviews
Canon EOS 7D - A review of Canon's latest mid-range DSLR, featuring 18MP images at a $1,699 price tag...plus the cost of lenses.


Python Blur and Boa Flow XL - Reviews of two different laptop backpacks by Booq.


CarMD 2100 Handheld Tester - A diagnostic tool for your car that works with your Mac. Oddly, it includes a subscription based service that limits the number of cars you can test and the number of tests you can do per month.
Bluetooth Mobile Keyboard 6000 - A bluetooth keyboard from Microsoft that works with Macs (but is not designed specifically for them). i guess its better than the Bluetoot Mobile Keyboard 5000?


MacSpeech Dictate - $199 dictation software for your Mac. Speech recognition is something that seems to have continued to progress rapidly since then.


Path Finder - An alternative file manager for your Mac. It offers not available at the time on Mac's Finder including multiple tabs, batch operations and more.
Listen
Spin - A DJ controller featuring two "turntables" that are really jog wheels for accomplishing the same thing digitally.


Squeezebox Radio - A radio streaming device from Logitech that can stream music from your Mac or the Internet.


Yurbuds - Silicon covers for your earbuds that supposedly improve comfort and sound quality.


Sonos Zoneplayer S5 - Another streaming device for streaming music locally or from the Internet. It can be controlled with your iPhone.
Play
The Secrets of da Vinci - A point and click puzzle/adventure game for your Mac.


Bullet Candy Perfect - An arcade shooter reminiscent of Geometry Wars. It had a "pay what you like" price where you could pay whatever you felt the game was worth (with a $1 minimum).
Read more: https://www.megalextoria.com/wordpress/index.php/2021/12/15/maclife-march-2010/
---
---