MacAddict (April 1997)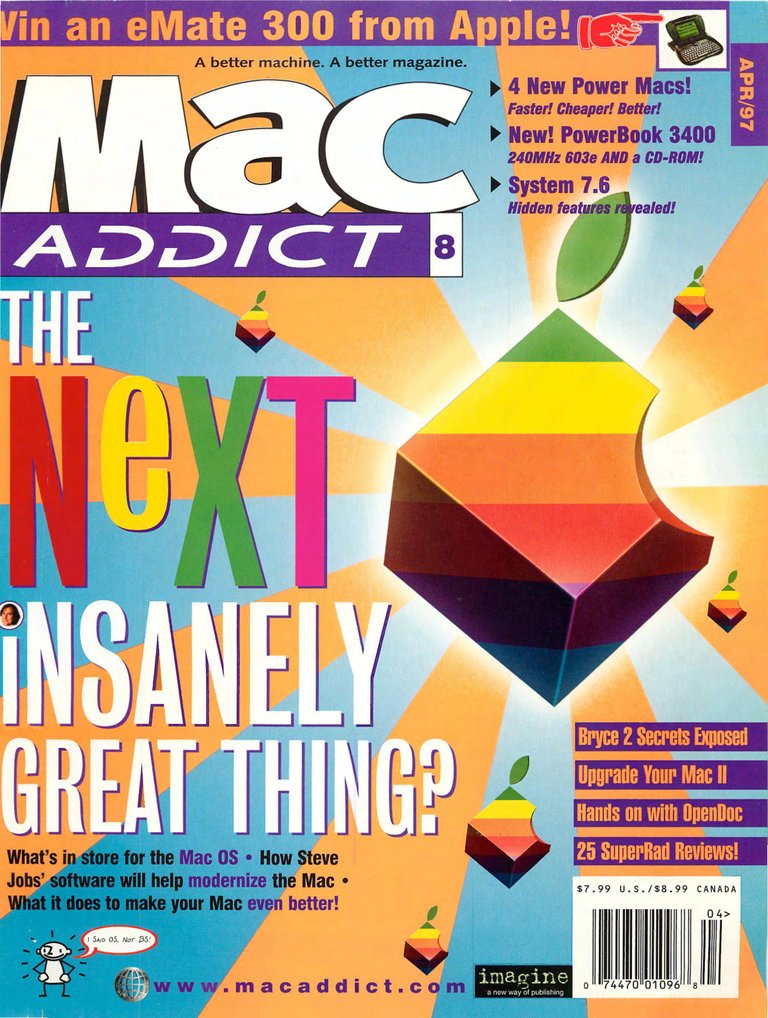 Cover of the April 1997 issue of MacAddict
The mid 1990s were a pretty bad time for Apple. Their market share was dropping and for the most part their systems were not price or performance competitive with PCs of the time. In addition, they couldn't compete on price with the clones they were licensing. The PowerBooks were terrific but you had to sell a kidney to be able to afford one. For instance, the PowerBook 1400cs was $2500 and there were others that were much more expensive (see below).
MacAddict was a magazine for Mac enthusiasts and by the time this issue came out in February 1997, things were beginning to look up for Apple. They had just bought NeXT and Steve Jobs was back. A much better and more modern OS along with newer and better hardware designs were on the way. MacAddict was the predecessor to MacLife which was not nearly as good of a magazine, at least in my opinion.
The contents of this issue include:
Highlights
Rhapsody: The Soul of the Machine - Rhapsody was the code name for what would eventually become OS X and also the start of developing an OS that would run on x86 hardware. This article gives an overview of the expected features of "Rhapsody".


Unlock Bryce's Hidden Secrets - Bryce is a 3D modeling, rendering and animation tool. This article details five techniques to help you out.


Power Lunch - An overview of Apple's new high-end Powerbook the Powerbook 2400 featuring models with 180MHz, 200MHz or 240MHz 603e PowerPC processors, 16MB RAM, and 1.3GB to 3GB hard drive among other features. Prices ranged from a mere $4,500 to an only slightly less mere $5,500.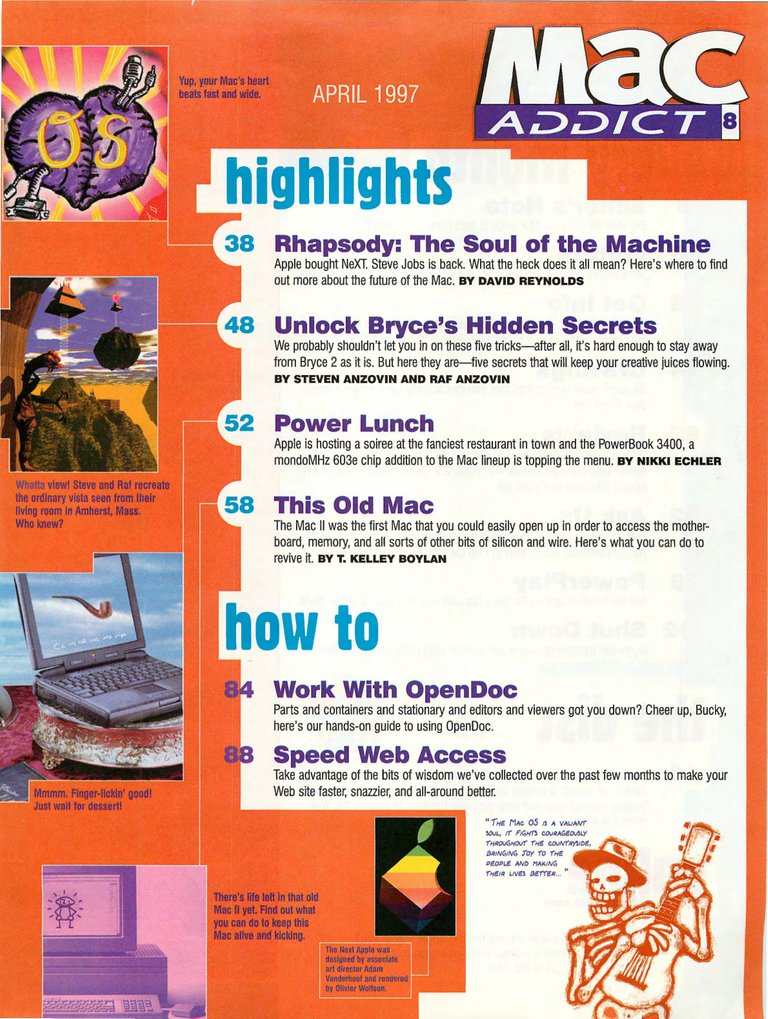 Table of Contents for the April 1997 issue of MacAddict
How To
Work With OpenDoc - OpenDoc was meant as a competitor to Microsoft's OLE but ultimately was not successful. A guide is provided here for this then new technology.


Speed Web Access - Tips on how to make your web site more efficient and load faster.
Every Month
Editor's Note - A tongue in cheek April Fool's joke about Microsoft buying the magazine.


Letters - Humorous letters from readers.


Get Info - The news section featuring the latest simplified Macintosh line including the Power Mac 4400, Power Mac 7300, Power Mac 8600, and Power Mac 9600. The top of the line 9600 features a 200MHz PowerPC 604e processor, 32MB RAM and a 4GB hard drive for about $4,000. Also mentioned is the pending arrival of DVD on Apple computers.




Table of Contents for the April 1997 issue of MacAddict (continued)





Reviews

PageMaker 6.5 - The latest version of Adobe's desktop publishing software for $895 ($99 upgrade) requiring a 68030 and at least 6MB of RAM.
Extreme 3D 2.0 - 3D modeling software from Macromedia.
Claris Home Page 2.0 - Software for designing and publishing web pages.
Adobe Type Manager Deluxe 4.0 - Adobe software for managing fonts.
Poser 2.0 - Graphics and animation software that specializes in the human form.
Command & Conquer - Westwood's popular real-time strategy game comes to the Macintosh.



Ask Us - How to boot from CD-ROM on the Powerbook, how to remove "Alias" from aliases (shortcuts), why files are taking up more space on a larger hard drive, how to convert AVI to Quicktime and more.
Read more: https://www.megalextoria.com/wordpress/index.php/2017/02/20/macaddict-issue-number-8-april-1997/
---
---