Honeysuckle, holly, euonymus (mixed media painting)

Hi friends!
It was an attempt to create a botanical illustration with acrylic.
But in fact, just a selection of different plants with berries.
After all, berries are be not only edible, did you know?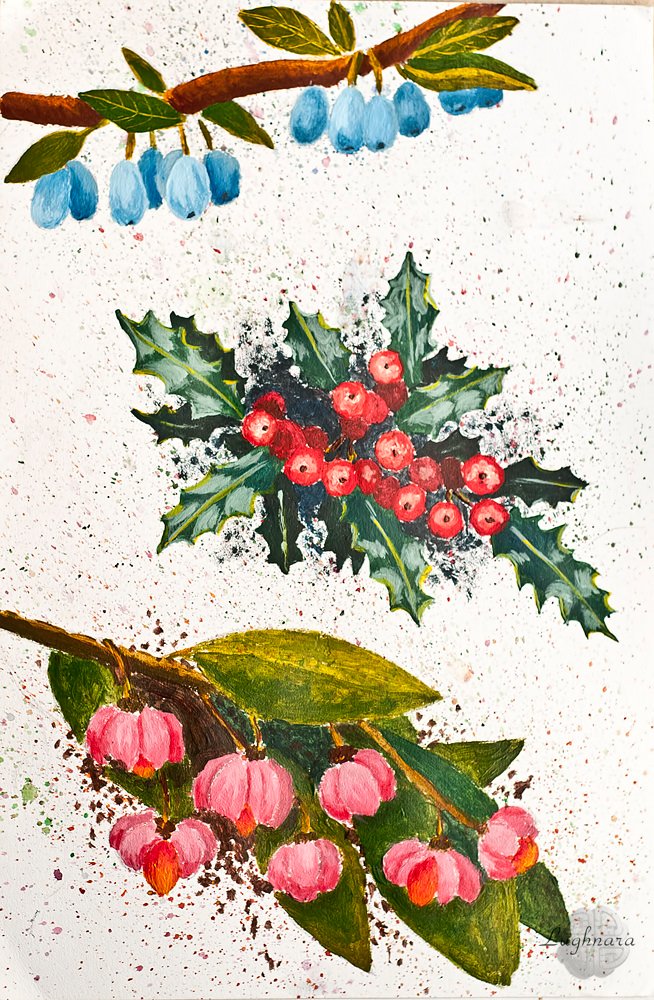 This time I decided to try to paint in a new technique - apply a splash with watercolors.
Therefore, to my usual materials for painting - acrylic paints and synthetic brushes - I added a set of watercolor paints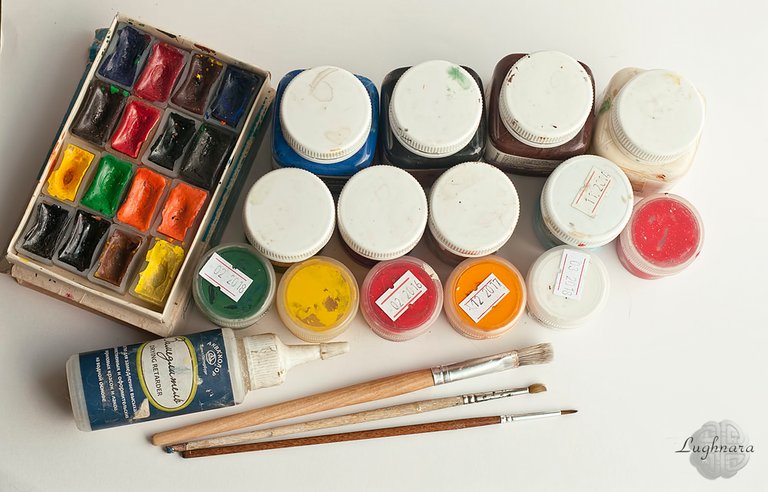 Sketch (mix of internet photos)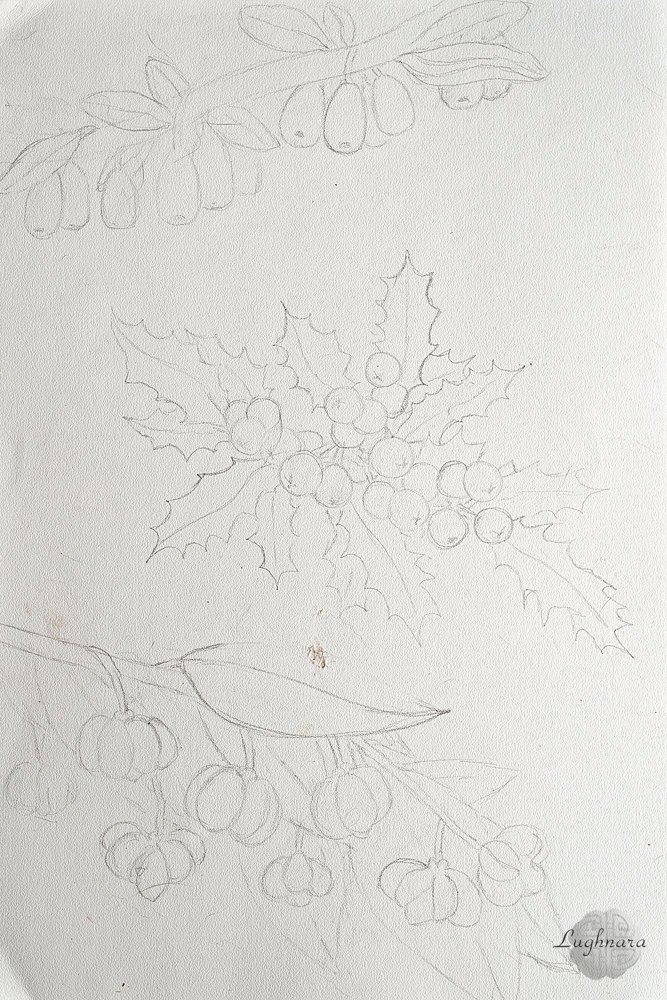 I dilute watercolors with water and spray them with paints that roughly correspond to the general color scheme of each berry composition.
Let the spray dry.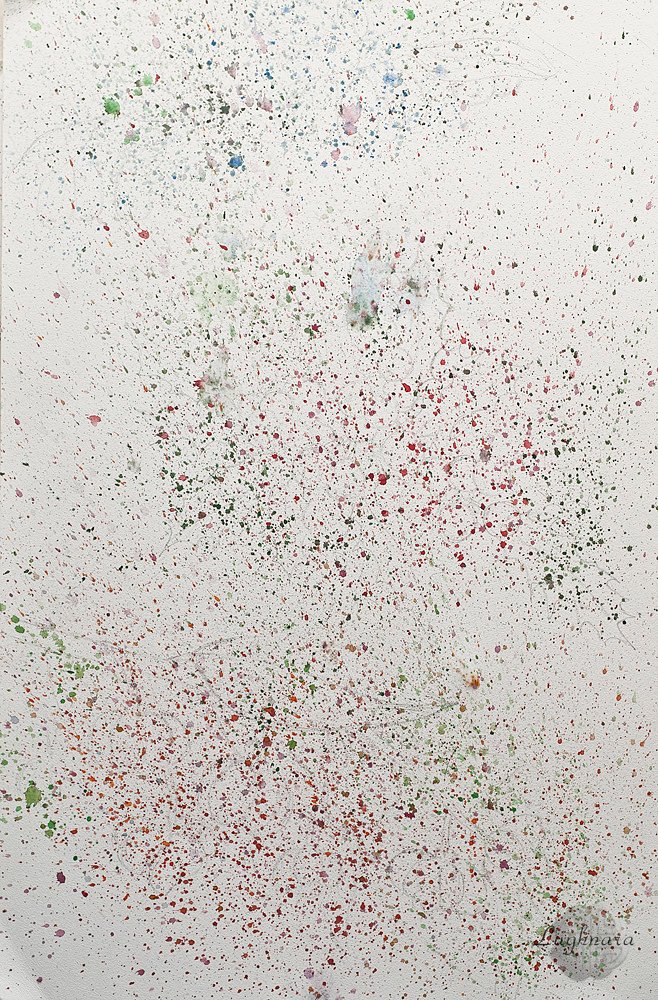 I begin to introduce color into the drawing.
Honeysuckle first.
It has unusual berries, with a bluish bloom, like blueberries, and leaves with clear light veins.
I decided to paint the latter in two layers - first I put a light base with a mix of yellow and grassy green paint.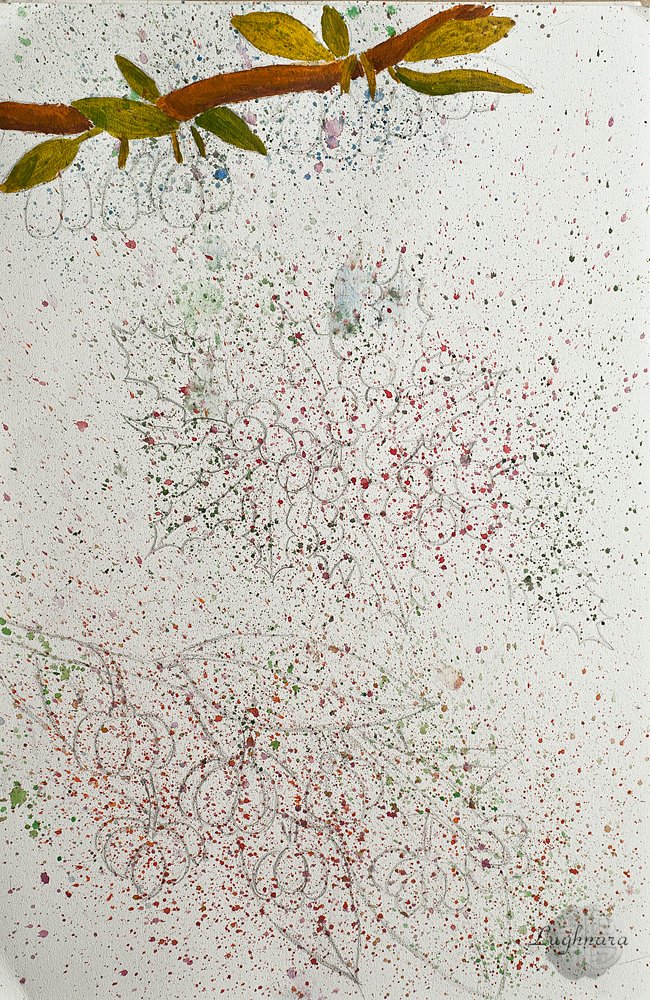 Then, when the first layer was dry, I added a darker color on top - grassy green with blue-green, and then scratched the veins on the fresh paint with a toothpick.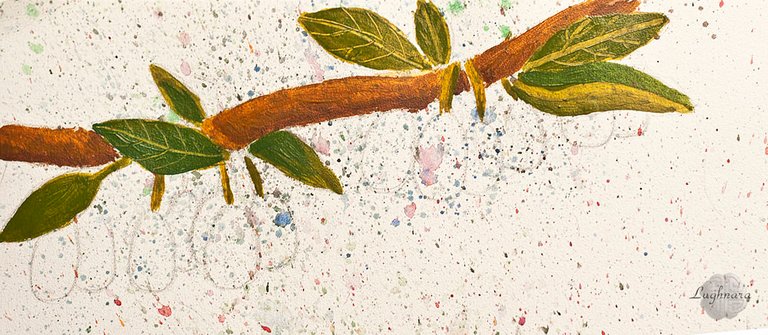 The berries themselves are painted with a mix of blue, gray and ultramarine paints.
The branch is yellow-brown.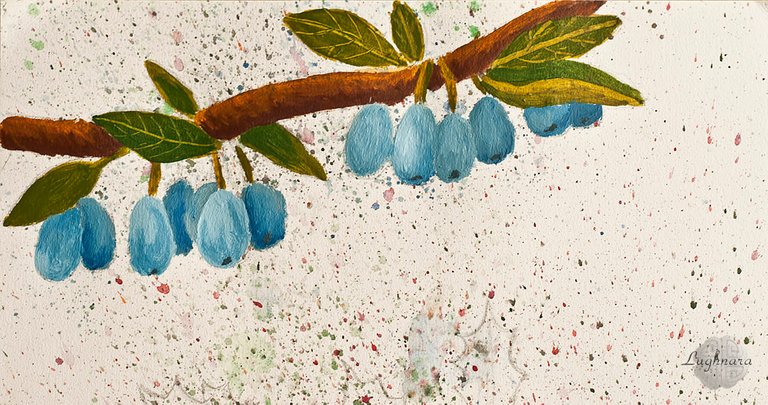 Next comes the holly.
His berries, of course, are inedible, but how beautiful they look together with carved leaves in Christmas wreaths!
Its leaves are of an unusual shape, with many sharp tips, and also shiny, as if glossy.
I make the basis for them with a mix of blue-green and ultramarine, plus a little black (the farthest leaves).
And for the gloss, I add ivory to the blue-green.
In some places I paint the middle veins and edges in bright yellow.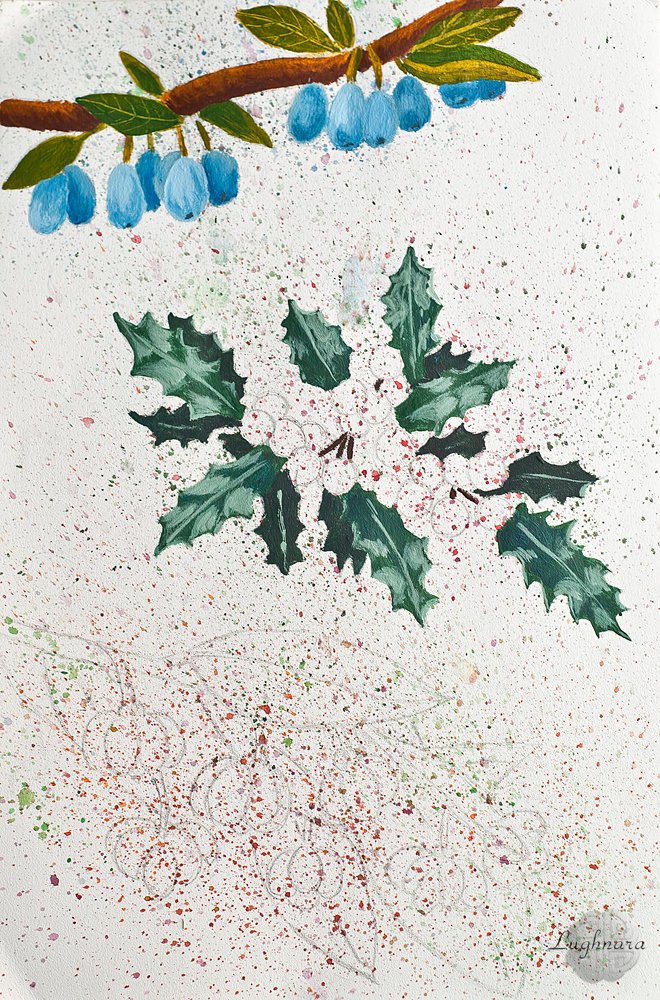 For the berries, I take a mix of carmine and brown (background) and bright red for those in the foreground.
Holly berries are matte, so I apply highlights on them with a mix of bright red with a drop of ivory.
And tint the middle a little with a dark color (a mix of blue black and brown) to further emphasize the brightness of the red berries.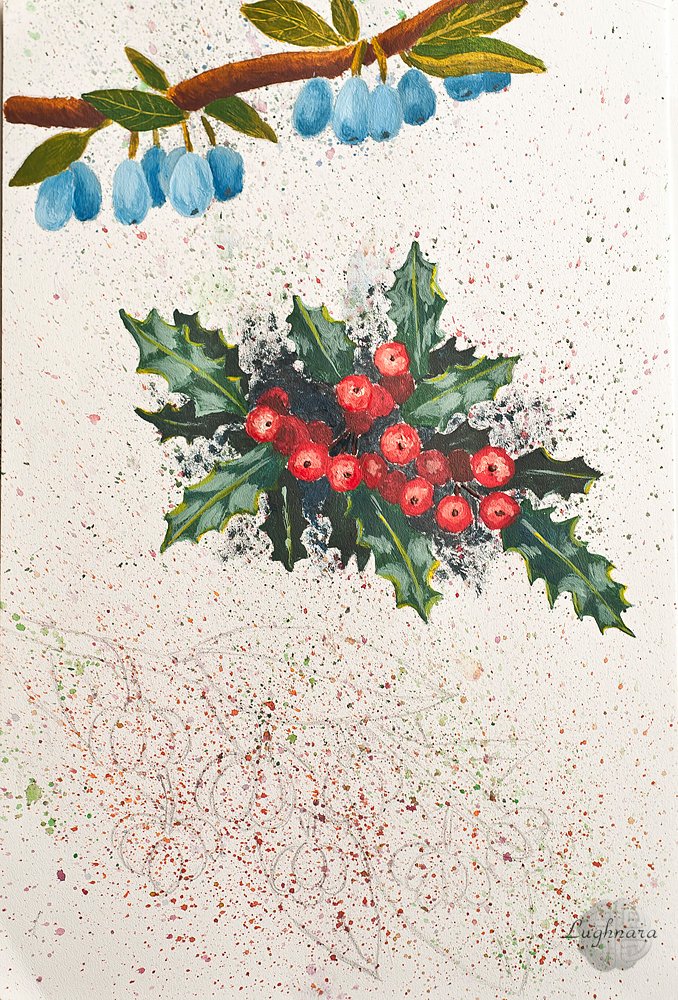 And finally, the most unusual berry from my set is euonymus.
Also inedible (even poisonous), but nevertheless fantastically beautiful!
Imagine that decorative lanterns are growing on the branches - pink-red opening four-leaf boxes on branches with a bright orange core.
And with huge leaves, which in themselves serve as a great background for berries.
For the leaves and branches I take almost the same colors as for the honeysuckle.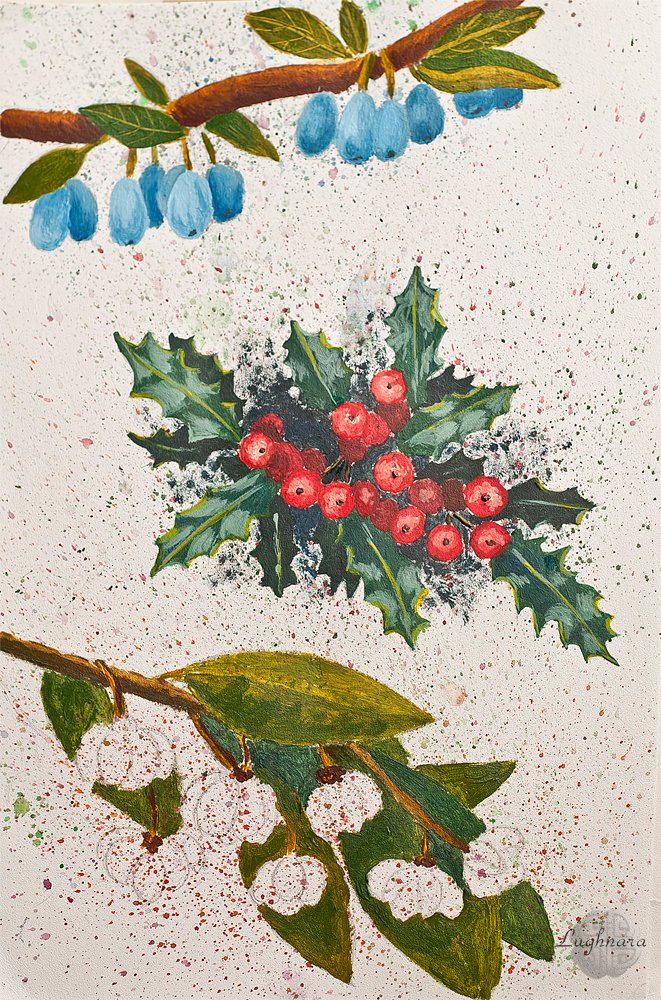 And for lantern berries - burgundy, carmine, brown, bright red, white and canary yellow.
In some places I darken the background behind the berries with a mixture of blue-green and burgundy.
And here is such a botanical illustration turned out.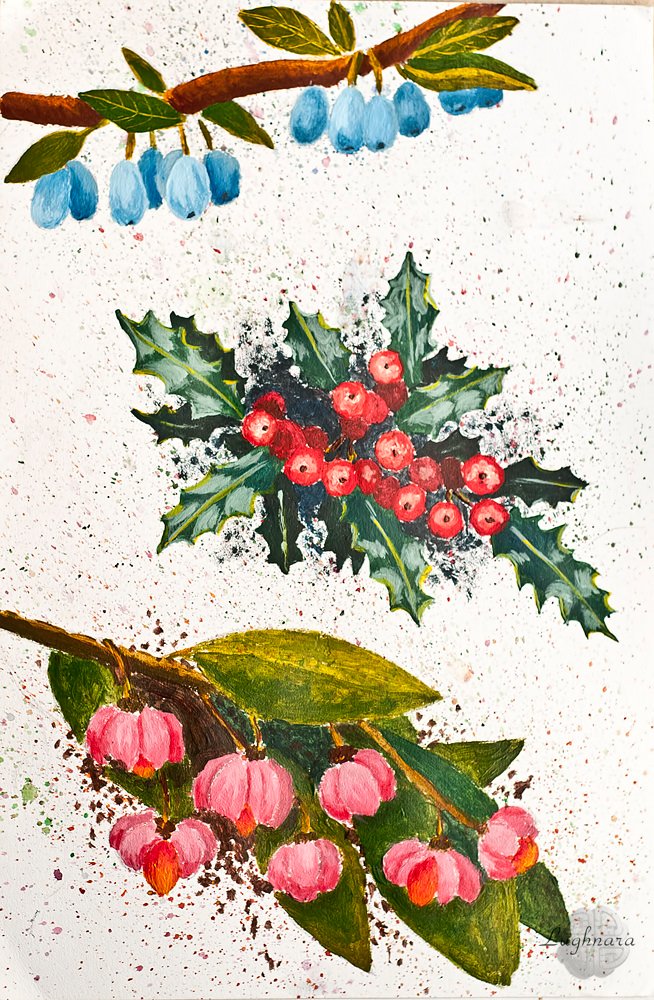 in the same style, I made another illustration - with rowan and olive, only with tempera paints on tinted paper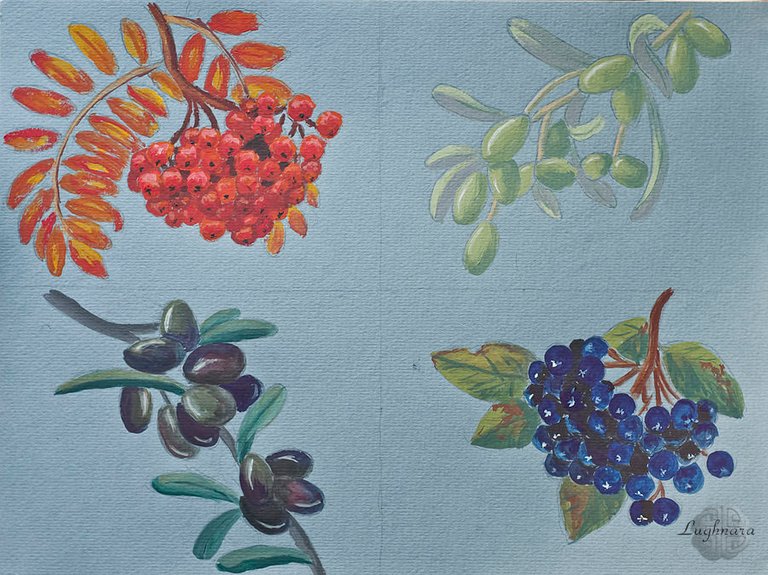 Have a nice and creative day!
Regards
Gera
---
---