Nuevo Diseño de Banner para @EnmyMente [ESP-ENG] New Banner Design for @EnmyMente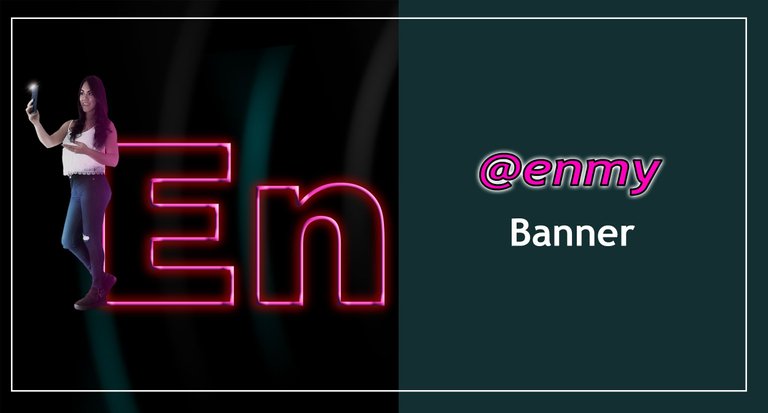 Hola amigos, @enmy me pidió que le renovara su banner para su cuenta de @enmymente, el cual está "pasado de moda" XD. Lo cierto es que era un banner celebrando su aniversario en 3speak y se quedó más de un año ahí 😅.
Ahora diseñé uno general sin motivo perecedero. El diseño fue elegido por @enmy quien me pidió que siguiera la línea que usé para el Logo de Loving HIVE ❤️.
Usé la misma foto que se tomó para aquella ocación. Quería el efecto neón, con los colores que ha adoptado como marca.
Hi friends, @enmy asked me to renew her banner for her @enmymente account, which is "out of fashion" XD. The truth is that it was a banner celebrating her anniversary on 3speak and it stayed there for more than a year 😅.
Now I designed a general one with no perishable motif. The design was chosen by @enmy who asked me to follow the line I used for the Loving HIVE Logo ❤️
I used the same photo that was taken for that occasion. I wanted the neon effect, with the colors she has adopted as a brand.
---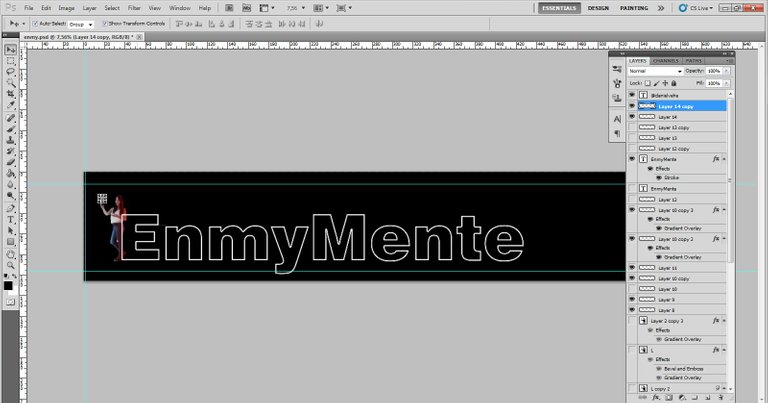 El primer paso fue escribir su nombre, que es uno compuesto. Para los que leen este post en inglés sería: "Enmy" (Diminutivo de Enmary su nombre real) pero que se escucha "En mi". Mente para expresar todo lo que existe en la mente creativa de @enmy.
En inglés su usuario sería algo como: inmymind
The first step was to write her name, which is a compound one. For those who read this post in English it would be: "Enmy" (short for Enmary her real name) but which is heard "En mi" (In my). Mind to express all that exists in @enmy's creative mind.
In English her user would be something like: inmymind
---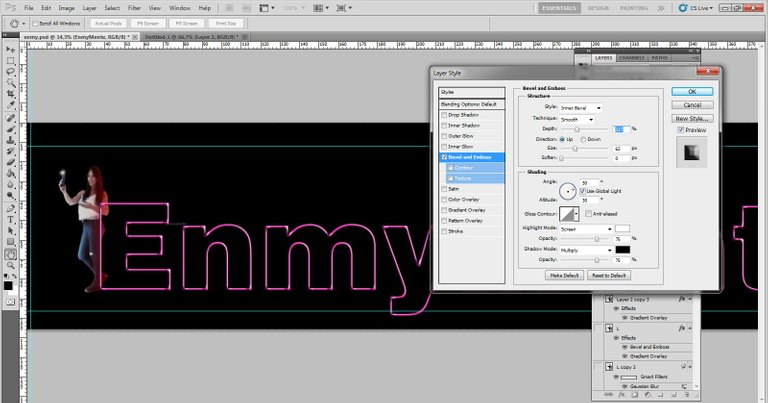 ---
El texto le quité el relleno y le puse un borde fuscia, al que le apliqué un filtro de bisel. En la imagen pueden ver la configuración.
The text I removed the fill and put a fuscia border, to which I applied a bevel filter. In the image you can see the configuration.
---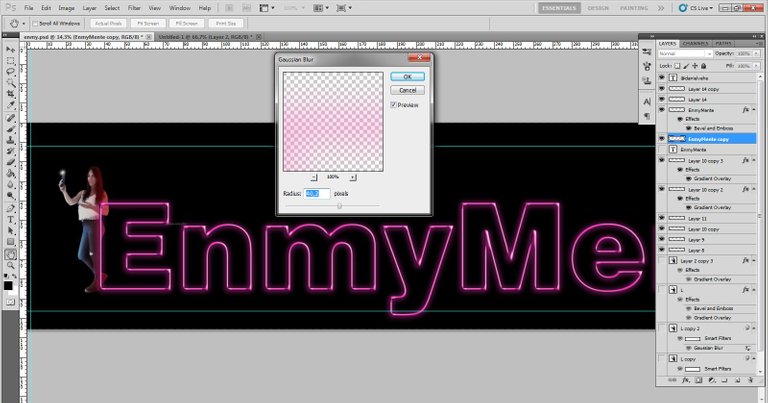 ---
Luego vino el momento de crear el resplandor, para lo cual apliqué, efecto gausiano.
Then it was time to create the glow, for which I applied the Gaussian effect.
---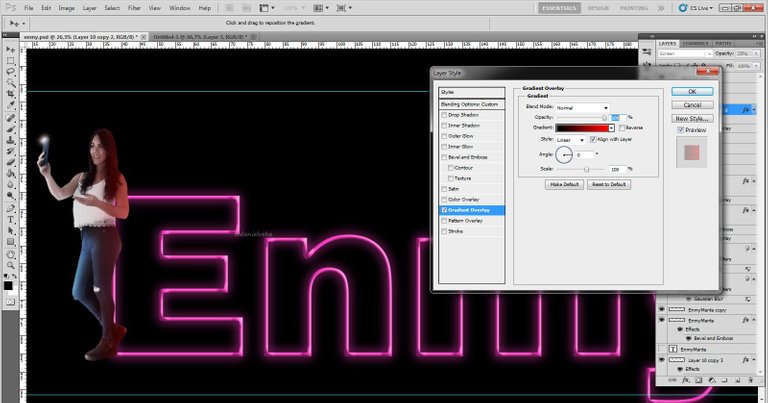 ---
El nombre con un solo color se veía muy simple así que decidí incluir el otro que le gusta. Para eso tuve que crear nuevas capas y borras esa parte en la capa fuscia, para poder hacer el proceso separado.
The name with only one color looked very simple so I decided to include the other one that he likes. For that I had to create new layers and delete that part in the fuscia layer, so I could do the separate process.
---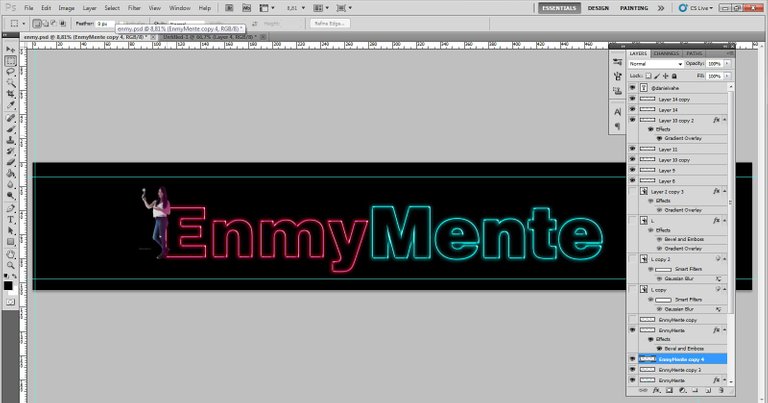 ---
Llegó el momento del fondo. Para eso realicé tres puntos de cada color y les apliqué a su capa, desenfoque radial. El color azul del lado del texto fuscia, igual que el otro color, hacia el otro lado para que haya mayor contraste.
It was time for the background. For that I made three points of each color and applied to its layer, radial blur. The blue color on the side of the text merges, like the other color, to the other side so that there is more contrast.
---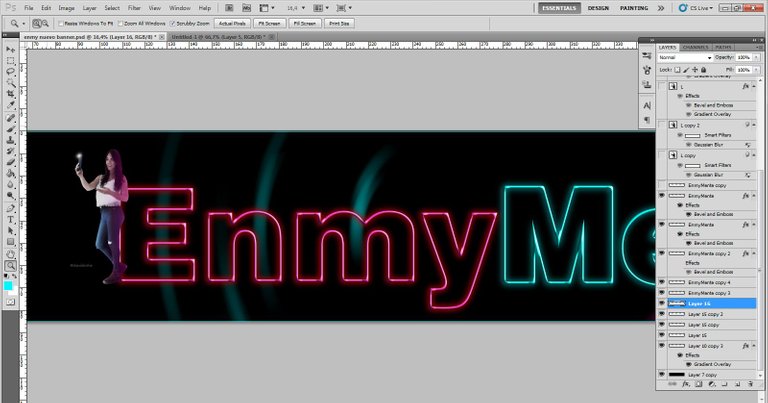 ---
Enmy me pidió reducir las letras con respecto al fondo, para que el banner se aprecie mejor. Como las letras son huecas, se veía la parte que había borrado del fondo, así que tuve que repetirla.
Enmy asked me to reduce the letters with respect to the background, so that the banner would look better. As the letters are hollow, the part I had erased from the background was visible, so I had to repeat it.
---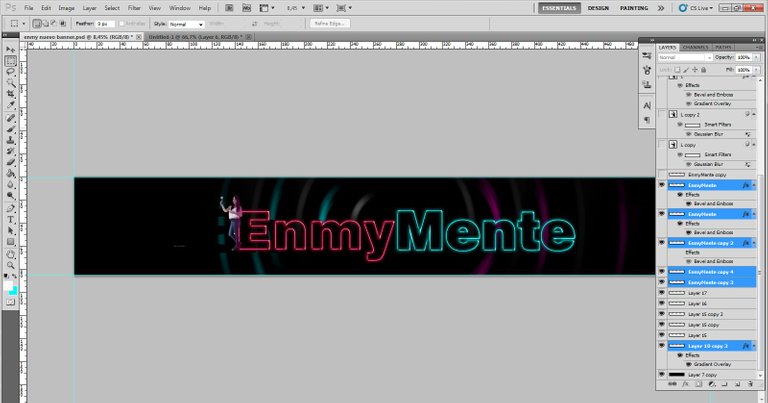 ---
El resultado final es este, espero que les guste. A ella le encantó
The final result is this, I hope you like it. She loved it

Translated with www.DeepL.com/Translator (free version)

---
---