HIVE Crea Millonarios [ENG-ESP] HIVE Makes Millionaires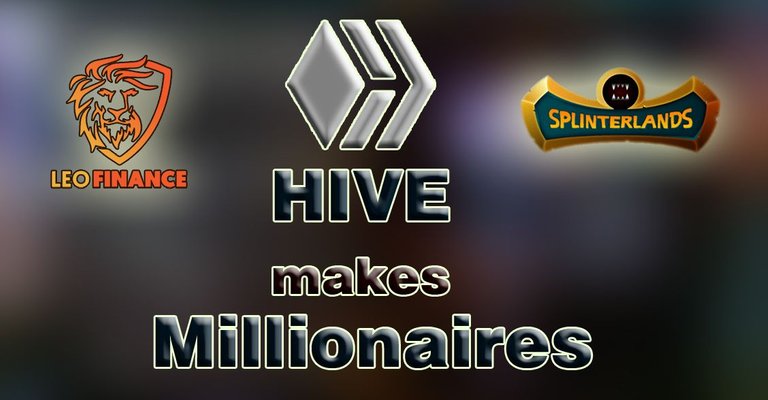 Wow, I had a while without posting here and didn't think that would be possible. I don't have that much of a conscience as I've been very active on the blockchain, mostly playing Splinterlands. I also opened a new account to dedicate just to video gaming on 3speak.
In the last few weeks I have been reflecting a lot on the potential of HIVE. We often make the mistake of staying in our ghetto. Those of us who start creating content on the blog, don't see the potential that exists with other dapps. Sometimes we see it and soon forget it.
I never imagined Splinterlands would be such an incredible success. I sold all my cards in 2019 because I had stopped playing. It was stupid; however, rectification is always good.
In HIVE when we start, we see the whales unkillable. Certainly to be so with HP you have to invest a lot of money. Most of us came looking for an income opportunity, not one to invest hundreds of thousands of dollars.
A while ago the HIVE surpassed the dollar. So becoming a whale would cost you $500k. However, HIVE is an open source blockchain where amazing projects are being built and we are surely still far from seeing the great potential with projects that will revolutionize the planet, in the style of social networks 2.0.
Success can not only happen on the blog. You can fall in love with a project from the moment it is born and with a lot of focus reach the height of the whales. Yes, although it may seem impossible, you can achieve it with a lot of vision.
Cases like this have happened in Leofinance and Splinterlands. For many @onealfa was an unknown until he became a whale in Leofinance. He did so thanks to believing in a project when few others did, getting many 0.01 tokens to later see them at over $1 at their best.
Another amazing case is @clove71 who in recent days posted that the value of his Splinterlands account had reached $1 million. An ordinary person who fell in love with a project very early on.
These two millionaires in HIVE are a great example for the whole community. We're not talking about dapps developers, who of course are going to have a great return; we're talking about ordinary users. The moment can come to you and it doesn't have to be in layer 1 of HIVE. Most likely we will see more and more and more people like Onealfa and Clove on our blockchain. Every project that is born has the potential to make you a millionaire; as long as it is solid in development and community.
Constancy
The most important thing I see here is perseverance. If we cultivate it, it will reward us. Today we are seeing beautiful fruits with our coin on the moon. Hive is barely 1 year old, even less than Splinterlands and Leofinance. Imagine all that can happen. Most of us came early to Hive. Many of us came from the past blockchain and went through tough times, but here we are, persisting for the love of the project.
Of course, perseverance must be coupled with savings. There is no point in insisting on a project while selling all our assets. Clove today has more than a million dollars in assets because she did not sell. I have a thousand dollar account because I sold.
The same happens with HP and power down; also with the other tokens that we find in Hive Engine. I see people going, as if it were a piñata and we have to take out as much as possible. We don't know which of those projects might be the new Leofinance or Splinterlands and make you rich.
Certainly most projects go nowhere and that's why it takes a good nose, because we will invest our energy in that project. That's why it's best to have an emotional connection; to love it madly because you'll have to be there through thick and thin. It will be more the bad times and you will have to be strong to resist the temptation of abandonment. This has happened to a lot in HIVE. It happened to me with Splinterlands. It takes a lot of love not to abandon a project at the beginning, when everything looks unsure.
Community
It is always said that the main thing to succeed in Hive is to make community. Most of the time, this advice focuses on receiving more votes. However, it omits one of the most powerful reasons: The transmission of information. Thanks to being well connected on Hive, you can get insider information, before others. You can learn about new opportunities and decide whether to embark on them.
On the contrary; if you only come to post a post to be voted, without reading others or interacting with them; you will miss the most valuable thing in HIVE for a few coins. I'm talking about the opportunity to become the new millionaire...
Translated with www.DeepL.com/Translator (free version)
---

---
Español
Vaya, tenía tiempo sin publicar aquí y no pensé que eso sería posible. No tengo tanto cargo de conciencia, ya que me he mantenido muy activo en la blockchain, sobre todo jugando Splinterlands. También abrí una nueva cuenta para dedicarla solo al juego con video en 3speak.
En las últimas semanas he reflexionado mucho sobre el potencial de HIVE. Cometemos muchas veces el error de quedarnos en nuestro gueto. Los que iniciamos creando contenido en el blog, no vemos el potencial que existe con otras dapps. A veces lo veos y pronto se nos olvida.
Jamás imaginé que Splinterlands tendría un éxito tan increíble. Vendí todas mis cartas en 2019 porque había dejado de jugar. Fue una estupidez; sin embargo siempre es bueno la rectificación.
En HIVE cuando iniciamos, vemos a las ballenas inalcansables. Ciertamenten para serlo con HP hay que invertir mucho dinero. La mayoría de nosotros vino buscando una oportunidad de ingresos, no una para invertir cientos de miles de dólares.
Hace un rato el HIVE superó el dolár. Por lo que convertirse en ballena te costaría 500 mil dólares. Sin embargo HIVE es una blockchain de código abierno donde se construyen proyectos asombrosos y seguramente todavías estamos lejos de ver el gran potencial con proyectos que revolucionen el planeta, al estilo de las redes sociales 2.0
El éxito no solo se puede dar en el blog. Puedes enamorarte de un proyecto desde que nace y con mucho enfoque llegar a la altura de las ballenas. Sí, aunque te parezca un imposible lo puedes lograr con mucha visión.
Casos de estos se han dado en Leofinance y Splinterlands. Para muchos @onealfa era un desconocido hasta que se conviertió en ballena en Leofinance. Lo hizo gracias a creer en un proyecto cuando pocos lo hacían, obteniendo muchos tokens de 0,01 para luego verlos a más de $1 en sus mejores momentos.
Otro caso asombroso es el de @clove71 quien en días pasados publicó que el valor de su cuenta en Splinterlands había llegado a 1 millón de dólares. Una persona común que se enamoró de un proyecto desde muy temprano.
Estos dos millonarios en HIVE son un gran ejemplo para toda la comunidad. No hablamos de los desarrolladores de las dapps, que por supuesto van a tener un gran rendimiento; hablamos de usuario comunes. El momento te puede llegar y no tiene que ser en la capa 1 de HIVE. Lo más seguro es que veamos cada vez más y más personas como Onealfa y Clove en nuestra blockchain. Cada proyecto que nazca tiene el potencial de convertirte en millonario; siempre que sea sólido en desarrollo y comunidad.
Constancia
Lo más importante que veo aquí es la constancia. Si la cultivamos nos premierá. Hoy estamos viendo frutos bellísimos con nuestra moneda en la luna. Hive a penas tiene 1 año, incluso menos que Splinterlands y Leofinance. Imagina todo lo que puede ocurrir. La mayoría llegó temprano a HIVE. Muchos venimos de la blockchain pasada y pasamos por momentos difíciles, pero aquí estamos, persistiendo por amor al proyecto.
Por supuesto que a la perseverancia debe sumarse el ahorro. De nada vale insistir en un proyecto mientras vendemos todos nuestros activos. Clove hoy tiene más de un millón de dólares en activos porque no vendió. Yo tengo una cuenta de mil dólares porque vendí.
Igual pasa con el HP y los power down; también con los demás tokens que nos encontramos en Hive Engine. Veo gente que va, como si fuera una piñata y hay que sacar lo más posible. No sabemos cuál de esos proyectos pueda ser el nuevo Leofinance o Splinterlands y te haga rico.
Ciertamente la mayoría de los proyectos no llegan a ningún lado y por eso hace falta un buen olfato, porque invertiremos nuestra energía en ese proyecto. Por eso lo mejor es tener una conexión emocional; amarlo con locura porque tendrás que estar ahí en las buenas y en las malas. Serán más las malas y deberás ser fuerte para resistir la tentación del abandono. Esto le ha pasado a mucho en HIVE. A mí me sucedió con Splinterlands. Se necesita mucho amor para no abandonar un proyecto en sus inicios, cuando todo se ve inseguro.
Comunidad
Siempre se dice que lo principal para tener éxito en Hive es hacer comunidad. La mayoría de las veces, este consejo se enfoca en recibir más votos. Sin embargo se omite una de las razones más poderosas: La transmisión de información. Gracias a estar bien relacionado en Hive, podrás obtener información privilegiada, antes que otros. Podrás conocer de nuevas oportunidades y decidir si te embarcas en ellas.
Por el contrario; si solo vienes a depositar un post para que te voten, sin leer a los demás ni interactuar con ellos; te perderás lo más valioso de HIVE por una pocas monedas. Hablo de la oportunidad de convertirte en el nuevo millonario...

---
---