Controversies at HIVE Demonstrate Decentralization [ENG-ESP] Las Polémicas en HIVE Demuestran su Descentralización
Translated with www.DeepL.com/Translator (free version)
In HIVE we can find many novels. They come in all colors, but especially in all sizes. In the larger ones, the minnows avoid appearing so as not to be splashed by a large jet of water, caused by an annoying whale. In the novels of the small ones, the big ones rarely appear, perhaps just to bring some "order".
Most people don't like controversies on this platform, as it can make you lose money; contrary to other networks that the benefit of getting involved in controversies and fights is very high, because they gain attention.
Sometimes there is a feeling that surfaces from time to time in HIVE. It is that of dissatisfaction and discomfort with some controversies that are framed as: "Injustices". However it must be recognized that HIVE is one of the quietest social networks, I would say, after Pinterest XD. The novels spice up this network and make the monotonous not last so long. It also makes us remember that this is about human relationships and that differences is the most natural thing in the world.
I don't see HIVE as a toxic network. The number of heaters is microscopic. I see it more as a family with siblings and cousins fighting over passing things; not to belittle the motives of those who have felt attacked.
The most recent plot in the heights, stars @ura-soul; a witness in Hive who has had his rewards reduced with downvotes, in some cases to zero. My intention in this post, is not to summarize this, nor to decide who is right; for that go straight to the source
HIVE, decentralization and censorship
These issues, novels or controversies; whatever you want to call them, are important. They leave an open debate in an uncensored community. Although many times the topic is precisely that some people complain about censorship, we see how in practice these arguments fade away, as the same publications go viral, being among the most viewed and commented on the platform.
The publication of ura-soul seems to me something beautiful; not for what it criticizes or for the opposition to that, but for the great example it gives to the whole community, that we are indeed in a decentralized and uncensored network.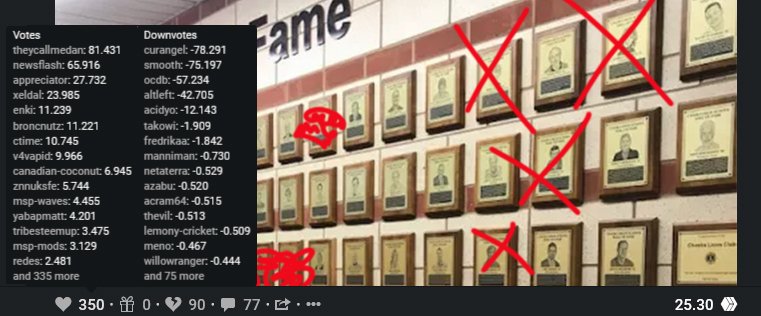 I have heard from people upset about downvotes, that there is censorship on HIVE for this reason. Also that a group of few, rule and command over the whole blockchain, insinuating that it is not decentralized. Nothing could be further from the truth. We always stress that demonetizing publications is not censorship. That post proves it. It also demonstrates how great whales can have different points of view.
In both boxes are whales that I respect very much for their work and care for Hive. Everyone can see that @theycallmedan wants the best for Hive. That @acidyo takes care of the bounty pool or that @appreciator and @curangel are great curation projects. Yet here you see them, with different opinions in this post. you know what? That's perfect and when I saw that, it led me to write this post.
These whales you see them on two different sides today, but the next minute, working for the good of Hive. This is the best example of free speech. A post from a witness strongly criticizing a whale and it got support and opposition. This proves that there is no such conspiracy in high places to have absolute control of Hive.
You see, the post is not only readable, but has over 70 comments, 350 upvotes and 90 downvotes. That can't be censorship....
I recommend reading the post by @trostparadox who refers to layer 2 as a solution to demonetization. For me it's a great thing, because you can have an account for each tribe you want to participate in, with your respective token in stake and the right content for each one. Many people do this so they don't mix up their curation or even their content.
Let's always remember that when we publish content, we invite viewers to react to that content. Everyone is free to react as they wish. Part of the freedom is in posting what you want, but also giving freedom to your audience to react as they want. This is also part of seeing Hive as your company and not as a job where curators are forced to pay for your work. If you are a partner, act like one.
Things they can't do to you on Hive:
Delete your account
Remove your followers
Remove money from your wallet
Hide you from your followers' feed
Remove your content from the blockchain
Stop you from creating a tribe
I congratulate @ura-soul , the voters and downvoters who demonstrated freedom and decentralization in Hive....
I don't agree with what you say, but I will defend with my life your right to say it.

En HIVE podemos encontrarnos con muchas novelas. Las hay de todos los colores, pero sobre todo de todos los tamaños. En las más grandes, los minnows evitan aparecer para que no les salpique un gran chorro de agua, provocado por alguna ballena molesta. En las novelas de los pequeños, rara vez aparecen los grandes, quizás solo para poner un poco de "orden".
A la mayoría de las personas no les gustan las polémicas en esta plataforma, ya que te puede hacer perder dinero; al contrario de otras redes que el beneficio de involucrarse en polémicas y peleas es muy alto, porque ganan atención.
A veces hay un sentimiento que aflora de vez en cuando en HIVE. Es el de insatisfacción e incomodidad por algunas polémicas que se quieren enmarcar en las: "Injusticias". Sin embargo hay que reconocer que HIVE es una de las redes sociales más tranquilas, diría yo, después de Pinterest XD. Las novelas le dan sabor a esta red y hacen que lo monótono no dure tanto tiempo. También nos hace recordar que esto se trata de relaciones humanas y que las diferencias es lo más natural del mundo.
No veo a HIVE como una red tóxica. La cantidad de heaters es microscópica. Lo veo más como una familia con hermanos y primos que se pelean por cosas pasajeras; sin querer menospreciar los motivos de los que se han sentido atacados.
La más reciente trama en las alturas, la protagoniza @ura-soul; un witness en Hive a quien le han reducido sus recompensas con downvotes, en algunos casos a cero. Mi intención en este post, no es hacer un resumen de esto, ni decidir quién tiene la razón; para eso ve directo a la fuente
HIVE, la descentralización y la censura
Estos temas, novelas o polémicas; como los quieras llamar, son importantes. Dejan un debate abierto en una comunidad sin censura. Aunque muchas veces el tema sea precísamente, que algunos que quejan de censura, vemos como en la misma práctica estos argumentos se desvanecen, ya que las mismas publicaciones se hacen virales, siendo de las más vistas y comentadas en la plataforma.
La publicación de ura-soul me parece algo hermoso; no por lo que critica o por la oposición a eso, sino por el gran ejemplo que da a toda la comunidad, de que efectivamente estamos en una red descentralizada y sin censura.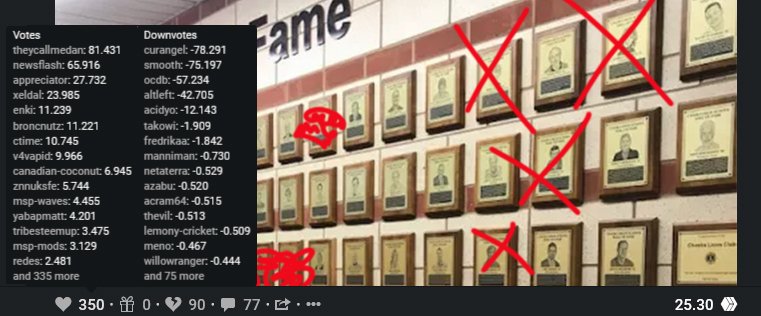 He oído de personas molestas por los downvotes, que en HIVE hay censura por este motivo. También que un grupo de pocos, gobierna y manda sobre toda la blockchain, insinuendo que no es descentralizada. Nada más lejos de la realidad. Siempre recalcamos que desmonetizar las publicaciones no es censura. Ese post lo demuestra. También demuestra como grandes ballenas pueden tener diferentes puntos de vista.
En ambos recuadros hay ballenas que respeto mucho por su trabajo y su cuidado de Hive. Todos pueden observar que @theycallmedan quiere lo mejor para Hive. Que @acidyo cuida la piscina de recompensas o que @appreciator y @curangel son grandiosos proyectos de curación. Sin embargo aquí los ves, con diferentes opiniones en esta publicación. ¿Sabes qué? Eso es perfecto y cuando lo vi, me llevó a escribir este post.
Estas ballenas las ves en dos lados diferentes hoy, pero al siguiente minuto, trabajando por el bien de Hive. Esto es el mejor ejemplo de la libertad de expresión. Un post de un witness que critica con fuerza a una ballena y que consiguió apoyo y oposición. Esto demuestra que no existe esa conspiración en las altas esferas para tener el control absoluto de Hive.
Como ves, el post no solo se puede leer, sino que tiene más de 70 comentarios, 350 upvotes y 90 downvotes. Eso no puede ser censura...
Recomiendo la lectura del post de @trostparadox quien hace referencia a la capa 2 como solución a la desmonetización. Para mi es algo genial, porque puedes tener una cuenta para cada tribu en la que quieras participar, con tu respectivo token en stake y el contenido adecuado para cada una. Muchas personas lo hacen para no mezclar su curación o incluso su contenido.
Recordemos siempre que cuando publicamos contenido, invitamos a los espectadores a reaccionar a ese contenido. Cada quien es libre de reaccionar como quiere. Parte de la libertad está en publicar lo que quieras, pero también dar libertad a tu público de reaccionar como quiera. Esto también es parte de ver a Hive como tu empresa y no como un empleo donde los curadores están obligados a pagar por tu trabajo. Si eres socio, actúa como tal.
Cosas que no te pueden hacer en Hive:
Eliminar tu cuenta
Quitarte seguidores
Quitar dinero de tu wallet
Ocultarte del feed de tus seguidores
Eliminar tu contenido de la blockchain
Impedir que crees una tribu
Felicito a @ura-soul , a los votantes y a los downvotantes que demostraron la libertad y descentralización en Hive...
No estoy de acuerdo con lo que dices, pero defenderé con mi vida tu derecho a decirlo

---
---