Someone tried to steal my car | Repair of external car handles [ENG/SPA]

Hi everyone, it is a pleasure to share with you a new experience in this world that we are so passionate about, although what I want to tell you today was not entirely positive, something that for a moment discouraged me, because almost all the small details in my car were corrected, and the car was not generating any cost for repair.
Saludos amantes de los motores y mecánica es un gusto compartir con ustedes una nueva experiencia en este mundo que tanto nos apasiona, aunque lo que hoy deseo contarles no fue del todo positivo, algo que por unos instantes me desanimo, porque ya casi todos los pequeños detalles estaban corregidos, y el carro no estaba generando ningún gasto por reparación.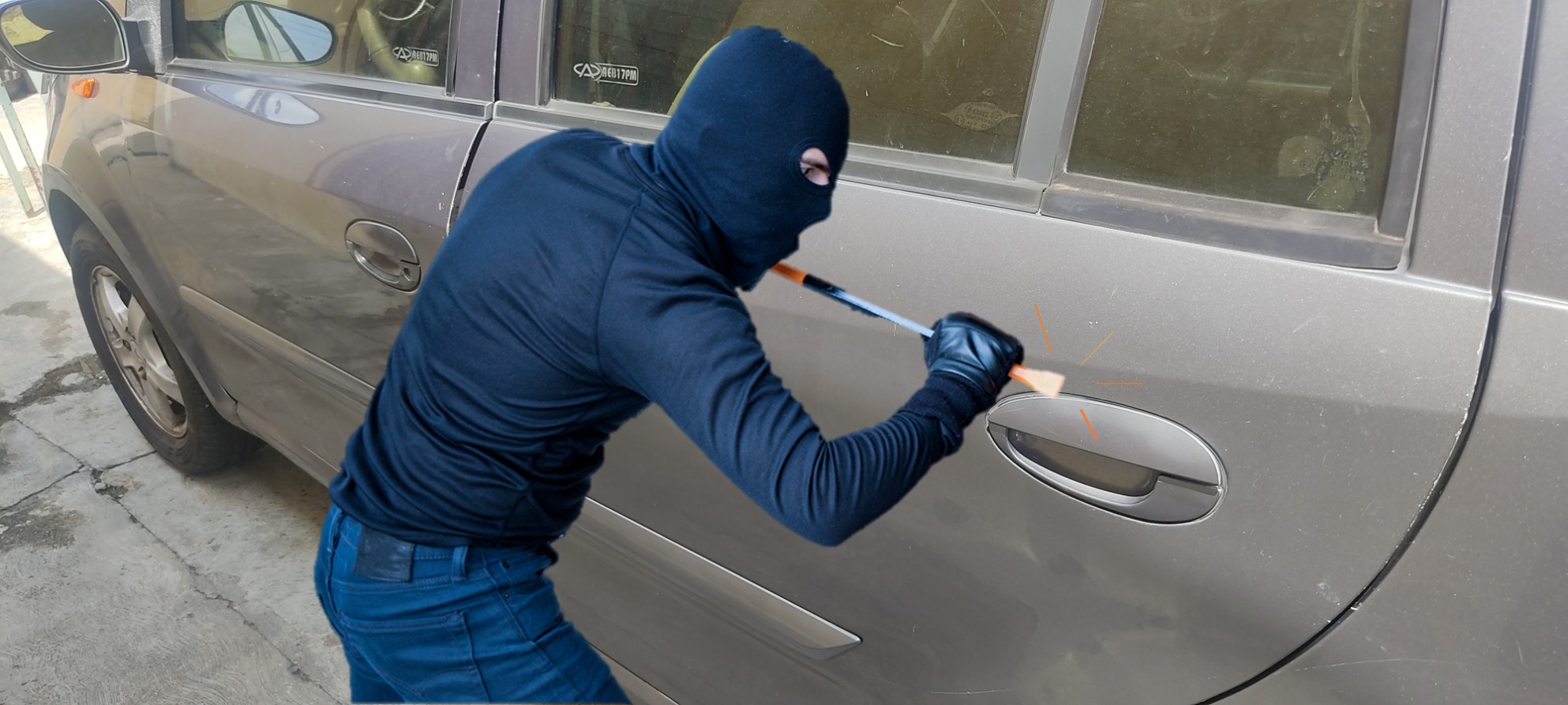 It happens that every week, I visit a place in the city where I live, in the middle of the commercial area. It is a place where many people pass, and where I park the car, it is in front of the building that I visit, however, at times I do not have my eyes on the car. At some point during the day, someone tried to get into the vehicle to take it away, but they were unable to do so, but as a consequence, the external handle of the driver's door and the one on the rear door on the same side were damaged.
Resulta que todas las semanas, visito un sitio en la ciudad donde vivo, en medio de la zona comercial. Es un lugar por donde transita mucha gente, y donde estaciono el carro, queda en frente del edificio que visito, sin embargo, en algunos momentos no tengo la vista puesta en el carro. En algún momento del día, intentaron ingresar en el vehículo, o lo hicieron, pero no les fue posible llevárselo, pero como consecuencia, la manilla externa de la puerta del conductor y la de la puerta trasera del mismo lado quedaron dañadas.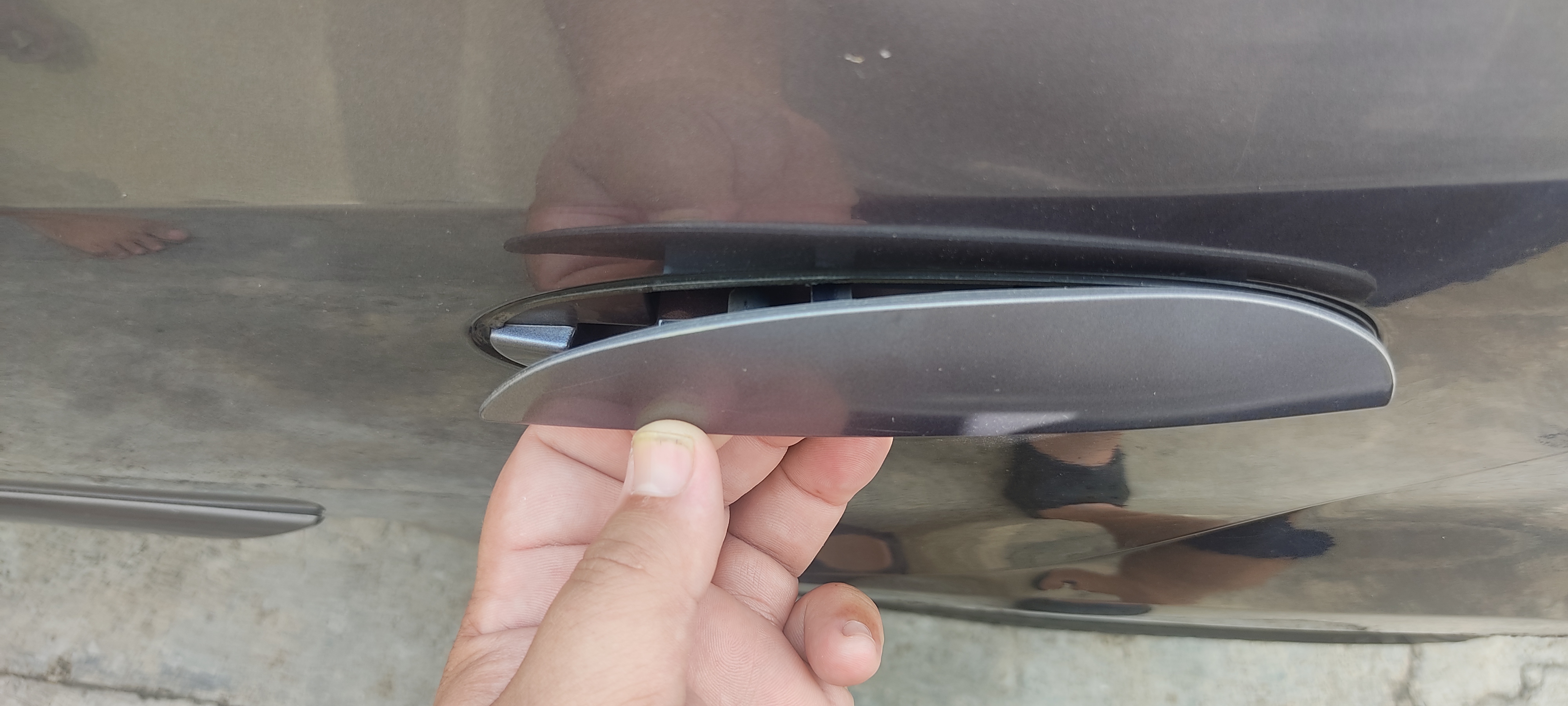 Despite the fact that the place is busy, crime always looks for the means to commit its misdeeds, so it is never too much to take security measures to protect the vehicle, the car has an insurance that blocks the gear lever, in addition to a short current that I hide myself and prevents starting the vehicle.
A pesar que el lugar es concurrido, la delincuencia siempre busca los medios para cometer sus fechorías, por eso nunca esta demás tomar medidas de seguridad para proteger el vehículo, el carro cuenta con un seguro que bloquea la palanca de cambios, además de una corta corriente que yo mismo oculte e impide encender el vehículo.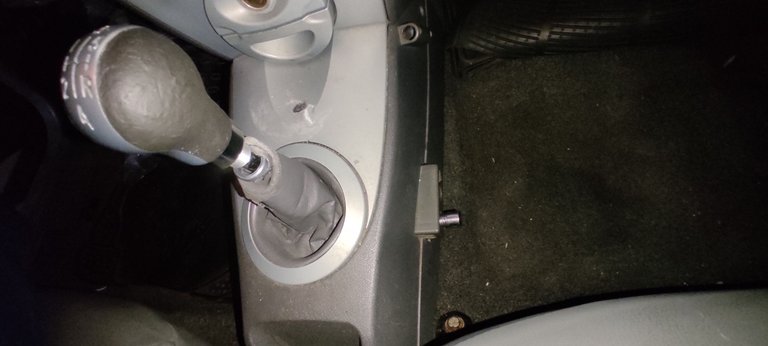 Thank God they were not able to take the car, and they did not take anything with them either, since by law I never leave anything inside that could attract the attention of a criminal, the only damage was that the driver's front door handle when getting up it did not actuate the mechanism that opens it. When opening the rear door to be able to open the driver's door from the inside, I noticed that perhaps due to excessive force, one of the internal hinges was broken.
Gracias a Dios no les fue posible llevarse el carro, y tampoco se llevaron nada consigo, ya que por ley nunca dejo nada dentro que pueda llamar la atención de algún delincuente, los únicos daños fueron que la manilla de la puerta delantera del conductor al levantarse no accionaba el mecanismo que la abre. Al abrir la puerta trasera para poder abrir por dentro la del conductor, note que quizás por medio de la fuerza excesiva que se le hizo, se quebró en una de sus bisagras internas.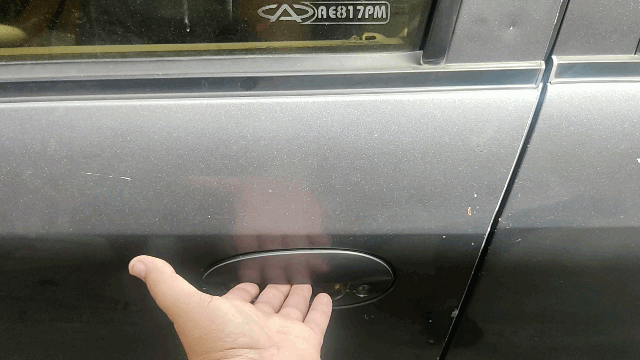 Front External Handle Repair
In the past I had to do an external passenger door handle repair, so I felt a bit confident to do these repairs. The first thing was to determine why when lifting the handle the door did not open, and since it was the first time that I had to work with the door lock mechanism, I preferred to consult the service manual.
En el pasado tuve que hacer una reparación de la manilla externa de la puerta del copiloto, así que me sentía un poco confiado para hacer estas reparaciones. Lo primero era determinar porque al levantar la manilla la puerta no se abría, y como era la primera vez que debía trabajar con el mecanismo de la cerradura de la puerta, preferí consultar el manual de servicio.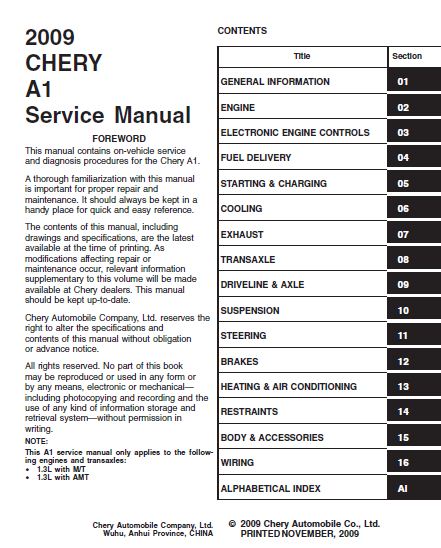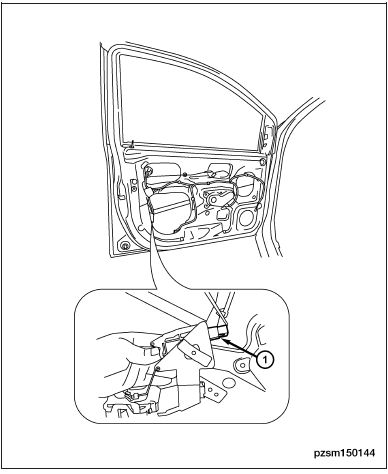 Now more confident, I proceeded to disassemble the internal cover of the door, taking special care with the electrical connections of the window control, the stereo speaker and the electrical control of the rear view mirrors.
Ahora mas confiado, procedí a desmontar el cobertor interno de la puerta, teniendo especial cuidado con las conexiones eléctricas del control de las ventanas, la speaker del estéreo y el control eléctrico de los espejos retrovisores.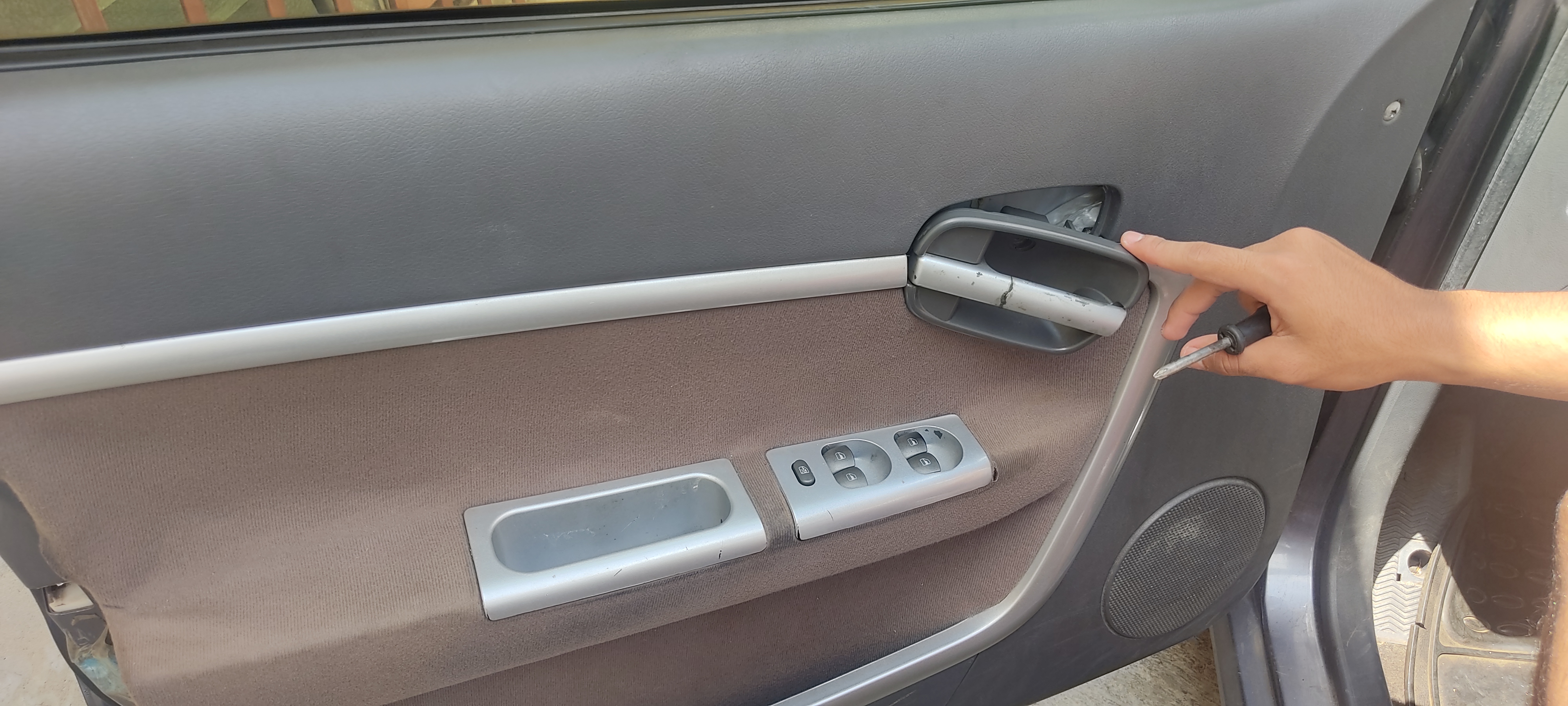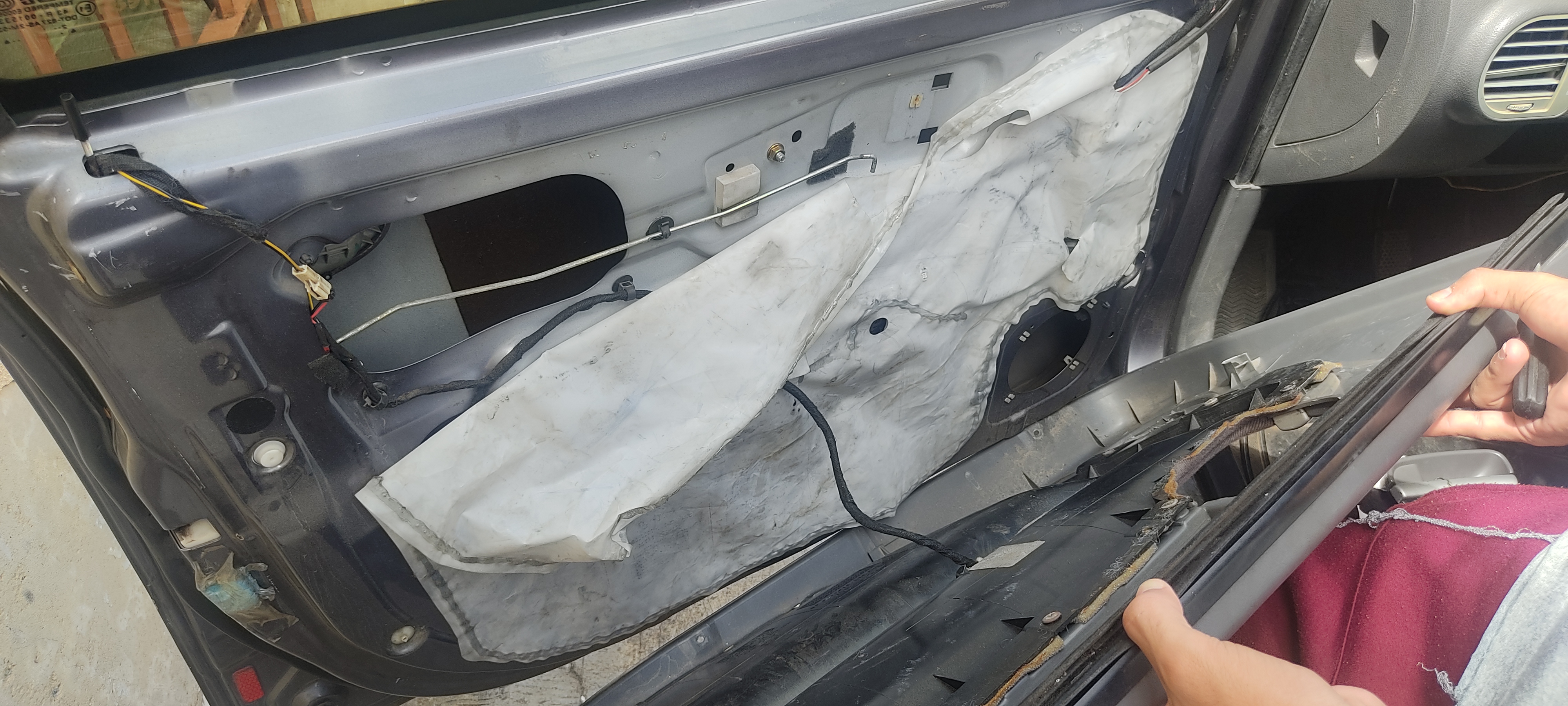 To get a better view of the lock mechanism, remove the external handle with the help of a slot and a 10 mm socket. I immediately realized that the plastic clamp that holds the handle rod to the lock mechanism was open, probably the product of the excessive force to which it was subjected.
Para tener mejor vista del mecanismo de la cerradura, quite la manilla externa con la ayuda de un rache y un dado 10 mm. Inmediatamente me di cuenta que la abrazadera plastical que sujeta la varilla de la manilla al mecanismo de la cerradura estaba abierta, seguramente producto de la fuerza en exceso a la que fue sometido.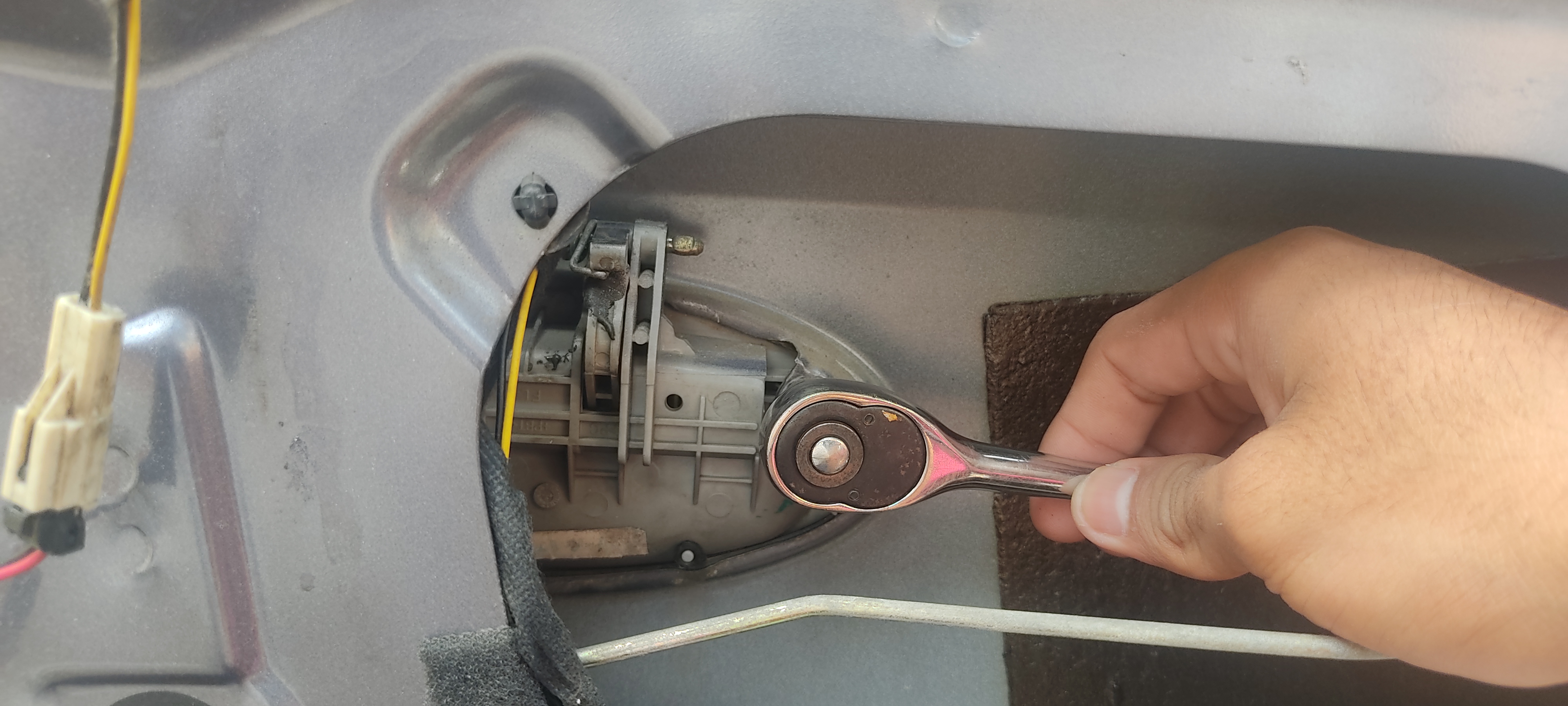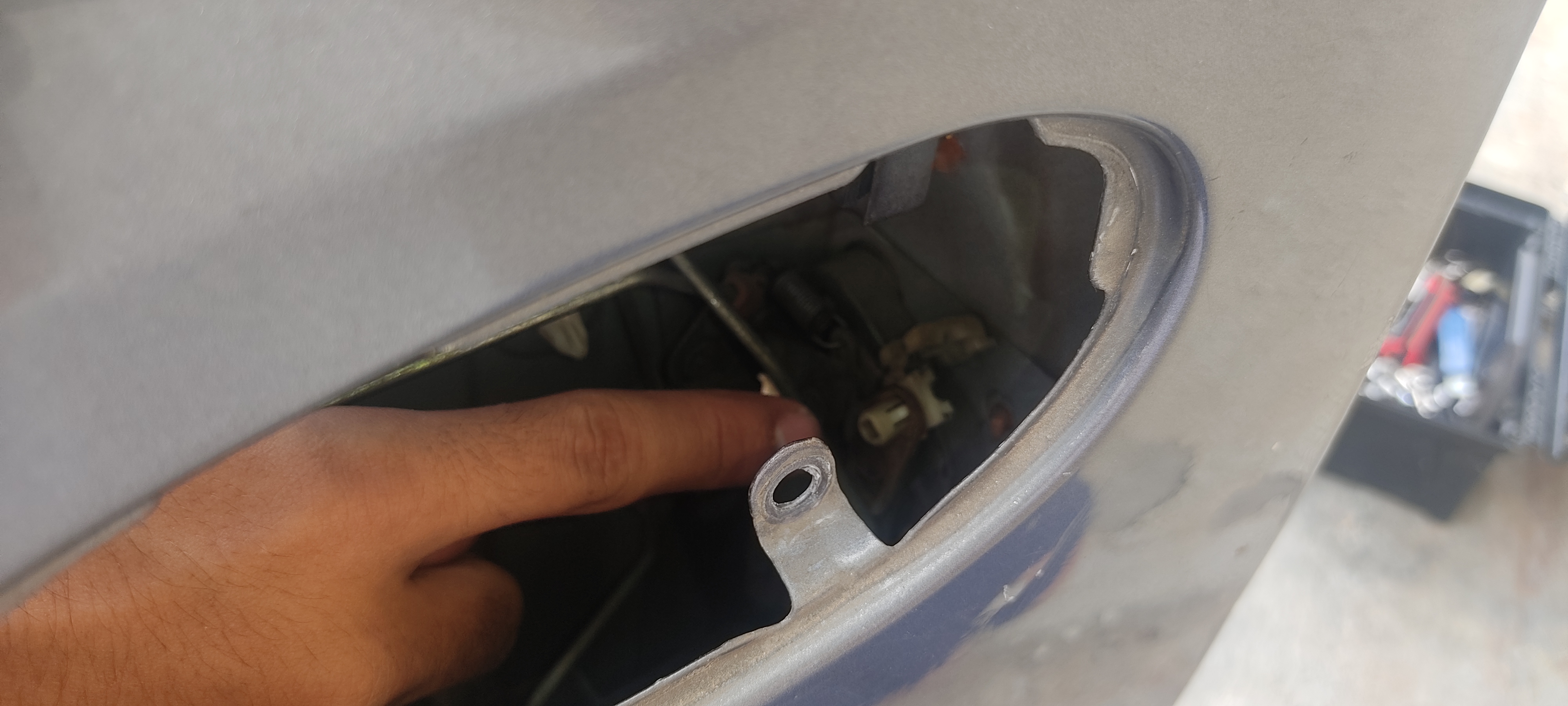 Take the handle, and remove the plastic clamp from the mechanism, to check well that it had no other part damaged or broken.
Tome la manilla, y retire la abrazadera plástica del mecanismo, para revisar bien que no tuviera otra parte dañada o rota.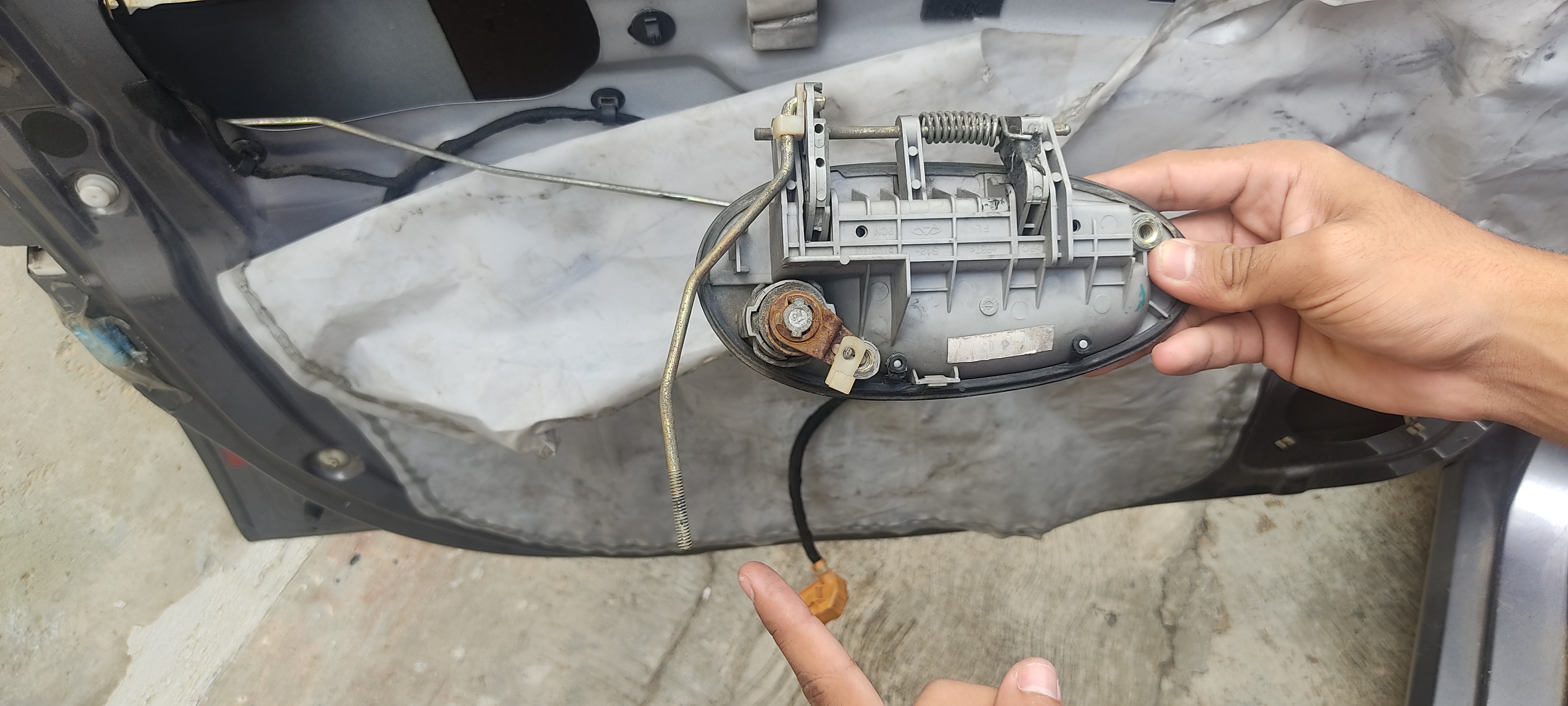 Then I closed the clamp and to secure it I tightened it a little with a thin but resistant cable, so that it does not come loose so quickly, after being installed again. Assemble the door and stay operational, opening without any problem.
Luego cerré la abrazadera y para asegurarla la ajusté un poco con un cable delgado pero resistente, con el fin de que no se suelte tan rápido, luego de ser instalado nuevamente. Arme la puerta y quedo operativa, abriendo sin ningún problema.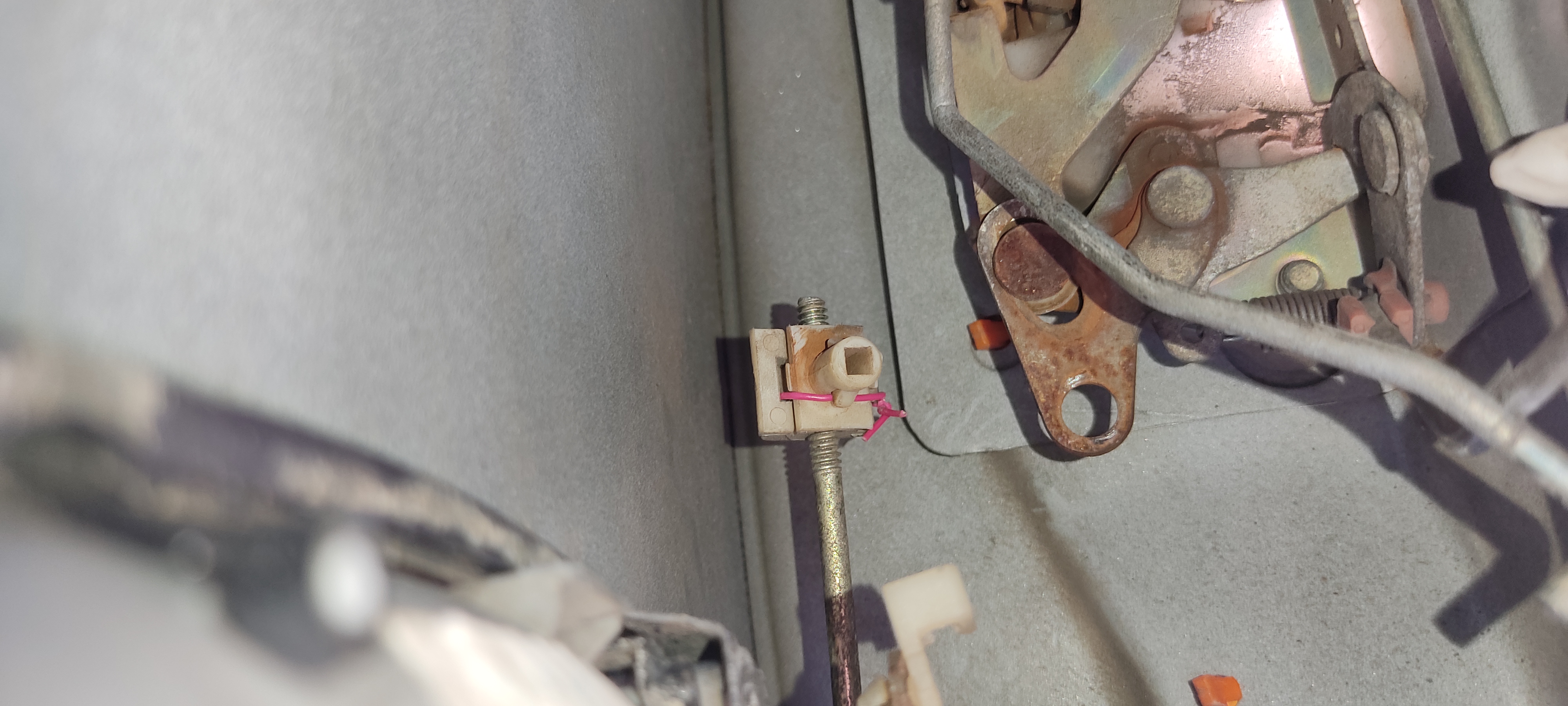 Rear External Handle Repair
Unlike the front handle, in this one it was evident that something had broken, so as in the previous one, first remove the internal cover of the door, this being simpler because it does not have any electrical control.
A diferencia de la manilla delantera, en esta era evidente que algo se había quebrado, así que como en la anterior, desmonte primero la cobertura interna de la puerta, siendo esta mas sencilla porque no tiene ningún controle eléctrico.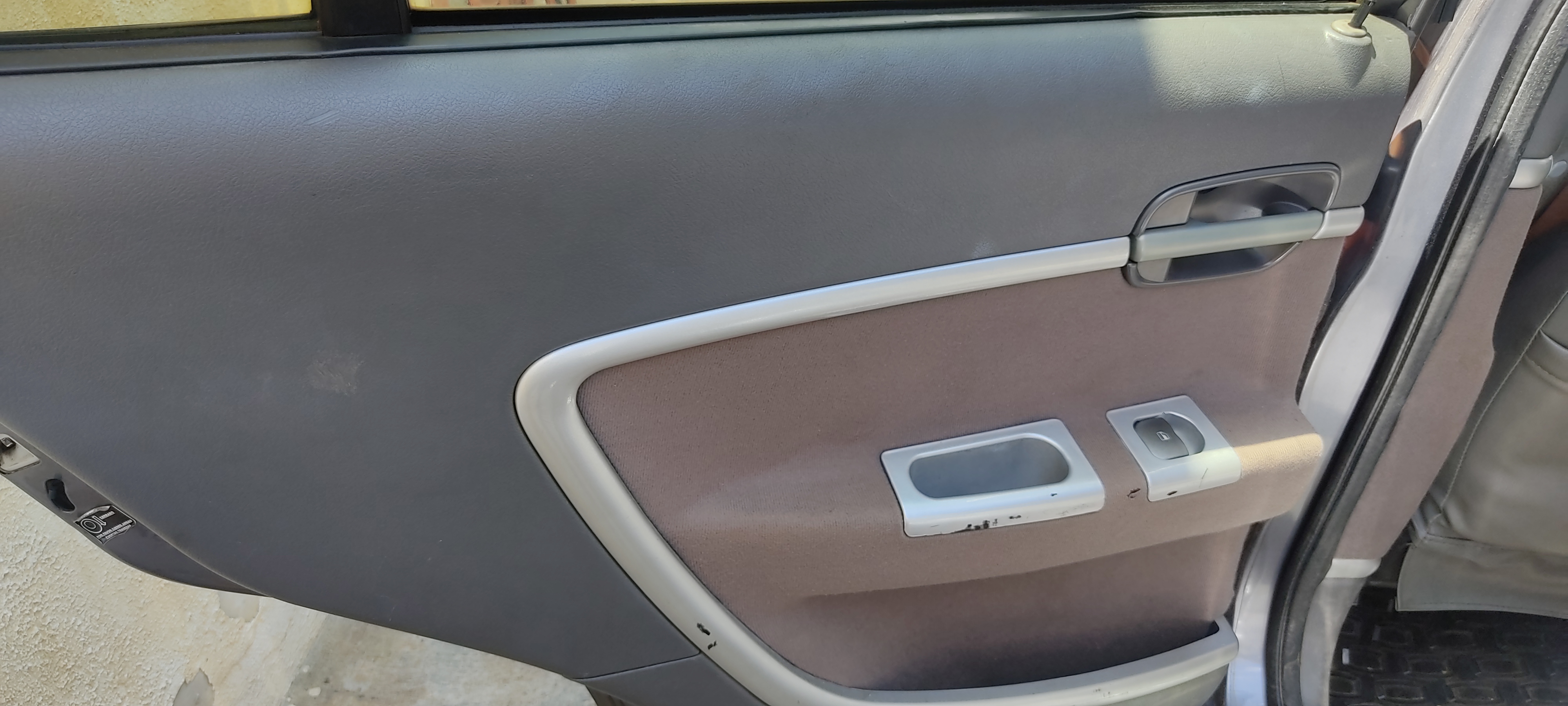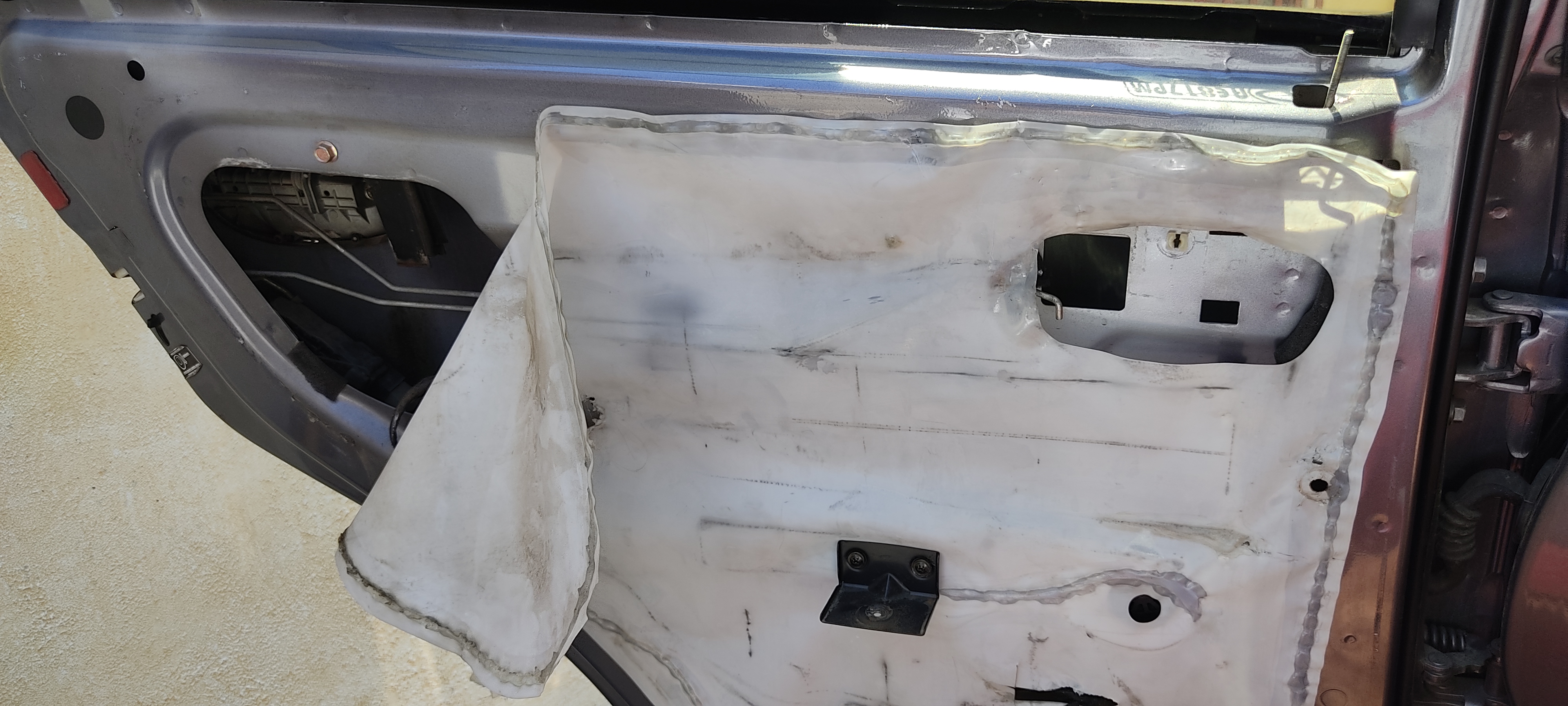 Immediately I could see that one of the hinges of the handle had broken, probably due to the excessive force to which it was subjected.
De inmediato pude observar que una de las bisagras de la manilla se había quebrado, seguramente debido a la fuerza en exceso a la que fue sometida.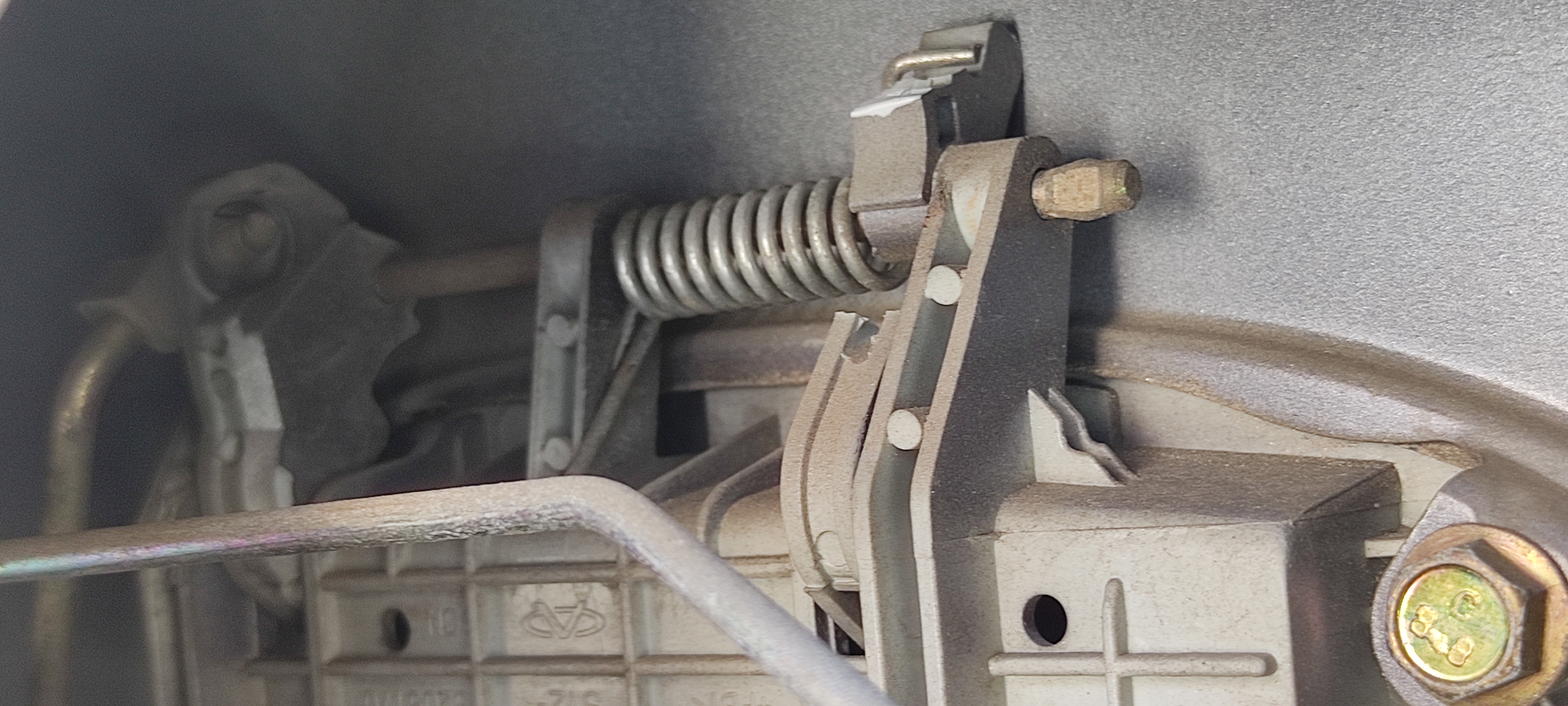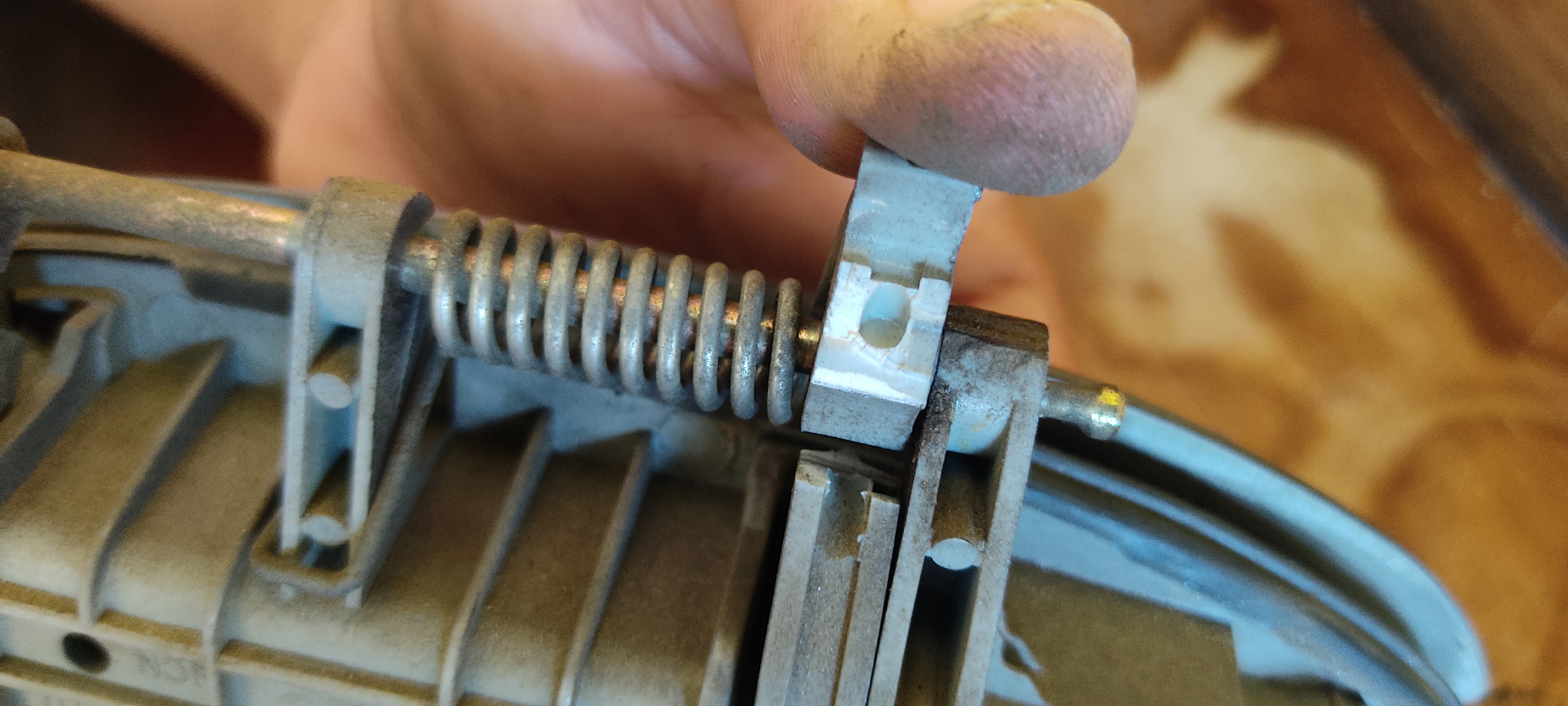 I decided to reinforce the hinge, and with the help of a hot awl I carefully pierced the hinge in the middle, in order to place a piece of steel wire inside, before placing the glue.
Decidí reforzar la bisagra, y con la ayuda de un punzón caliente perforé con cuidado la bisagra por el medio, con el fin de colocar dentro un trozo de alambre acerado, antes de colocar el pegamento.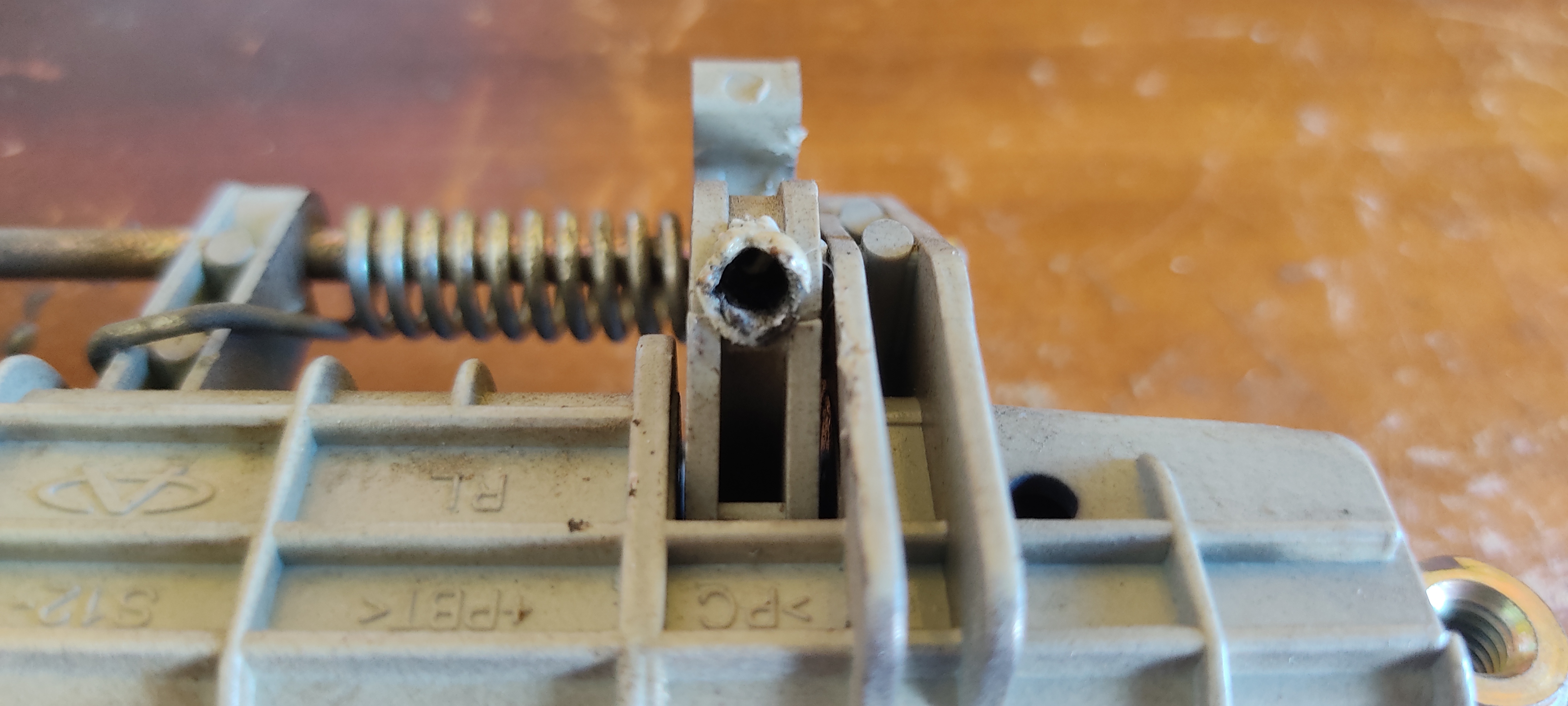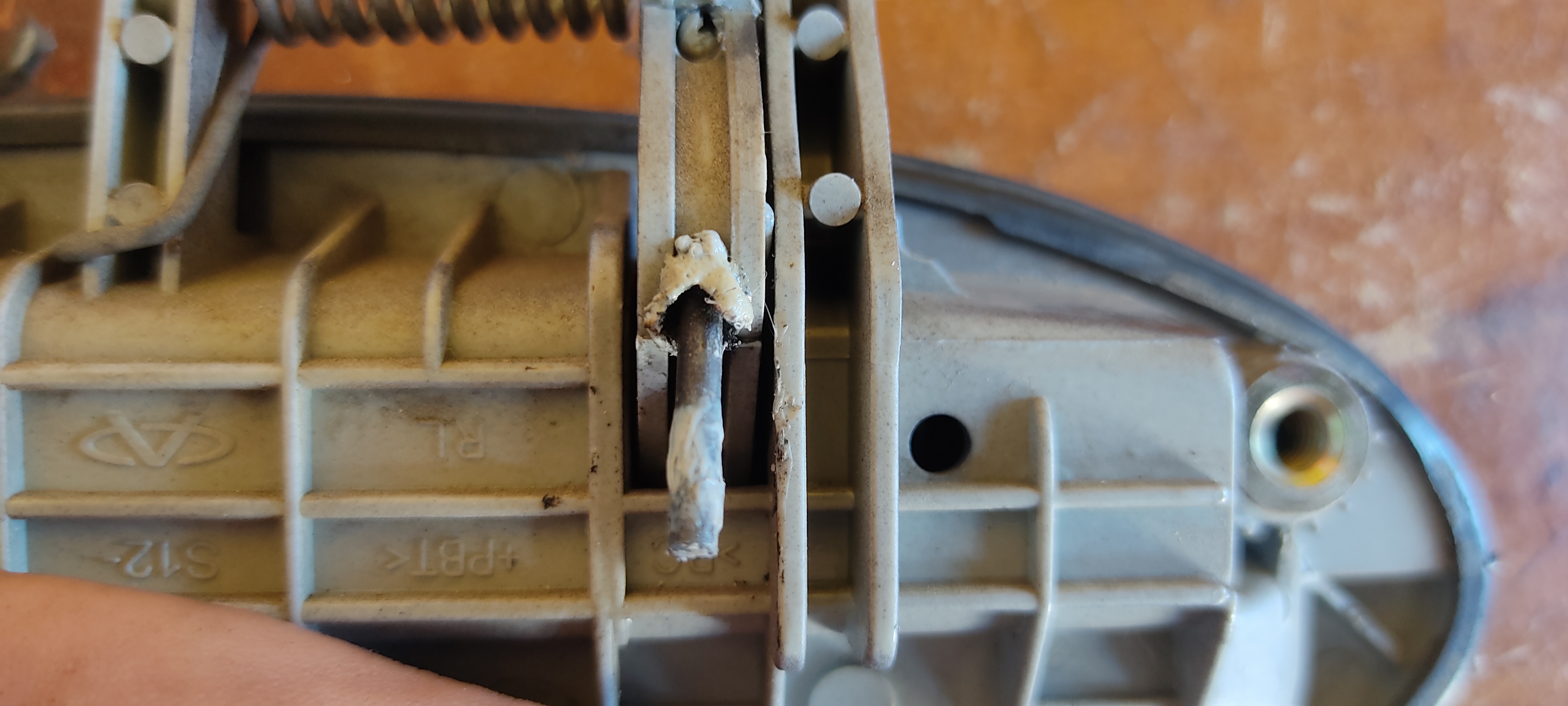 Then apply epoxy glue or cold solder, which must dry in the sun for 35 minutes to have a hardening sensation, but needs 24 hours to fully harden.
Luego coloque pegamento epóxico o soldadura al frio, que debe secarse al sol por 35 minutos para tener sensación de endurecimiento, pero necesita de 24 horas para endurecimiento total.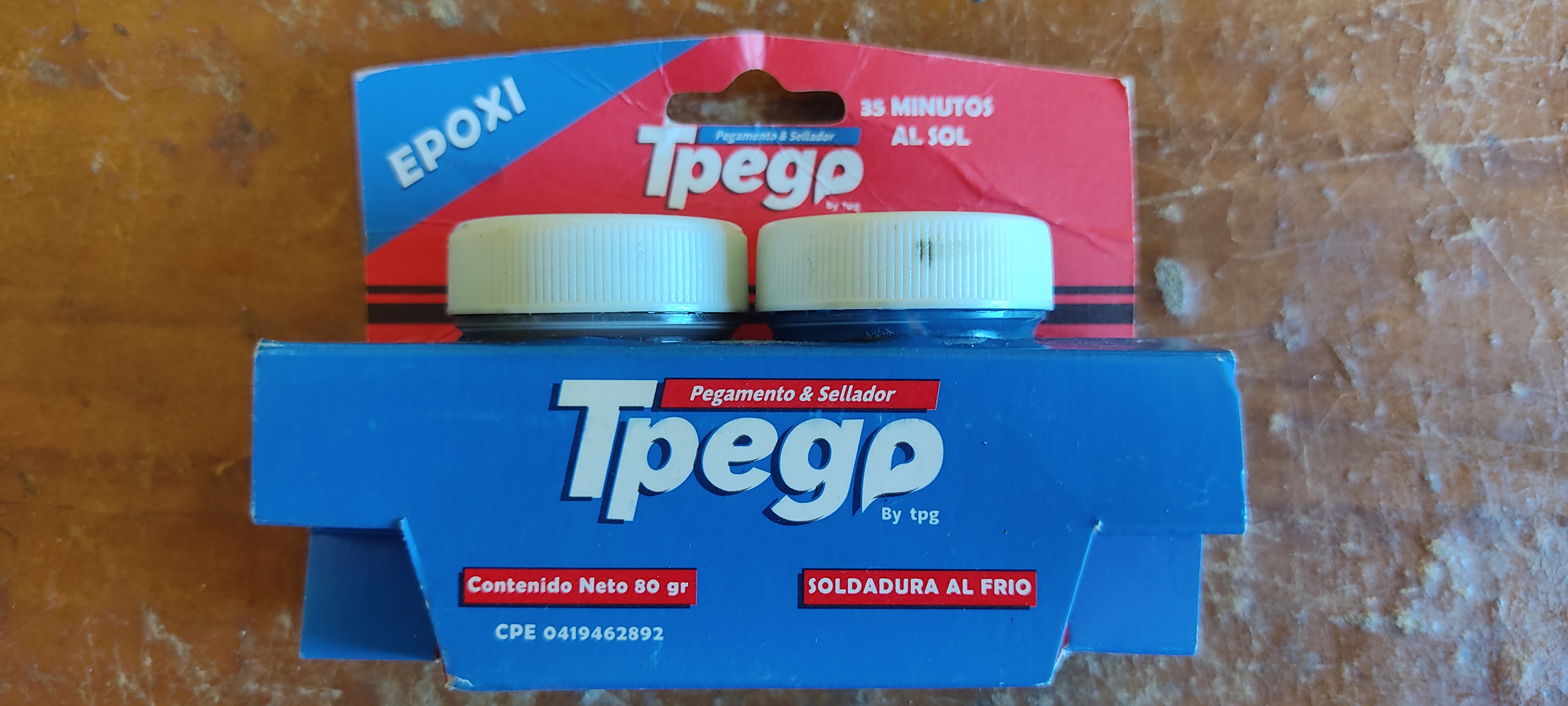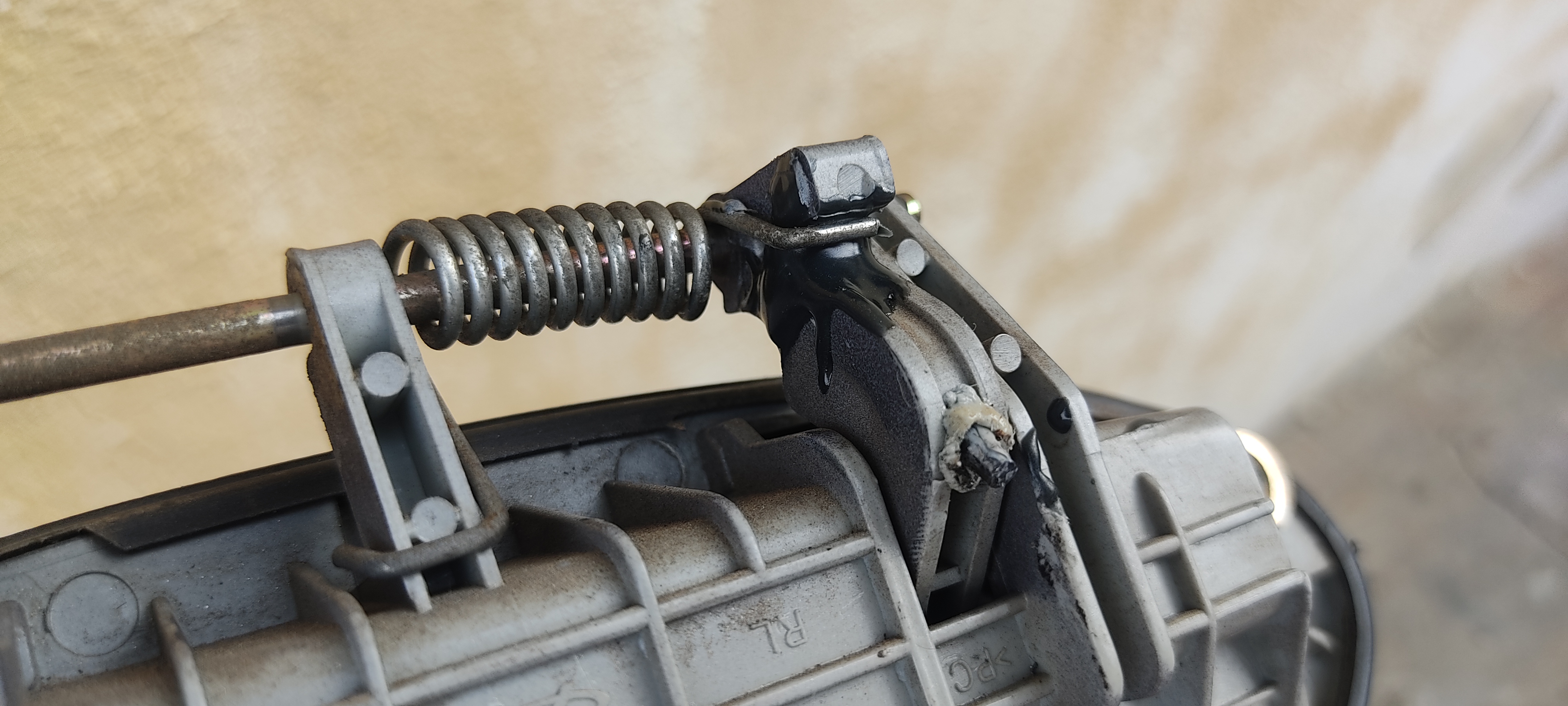 Approximately one hour later, place the spring that serves for the return of the handle, after it rises to open, and later install it on the door so that it will finish drying completely.
Aproximadamente una hora despuesta coloque el resorte que sirve para el retorno de la manilla, luego que se levanta para abrir, y posteriormente la instale en la puerta para que se terminara de secar por completo.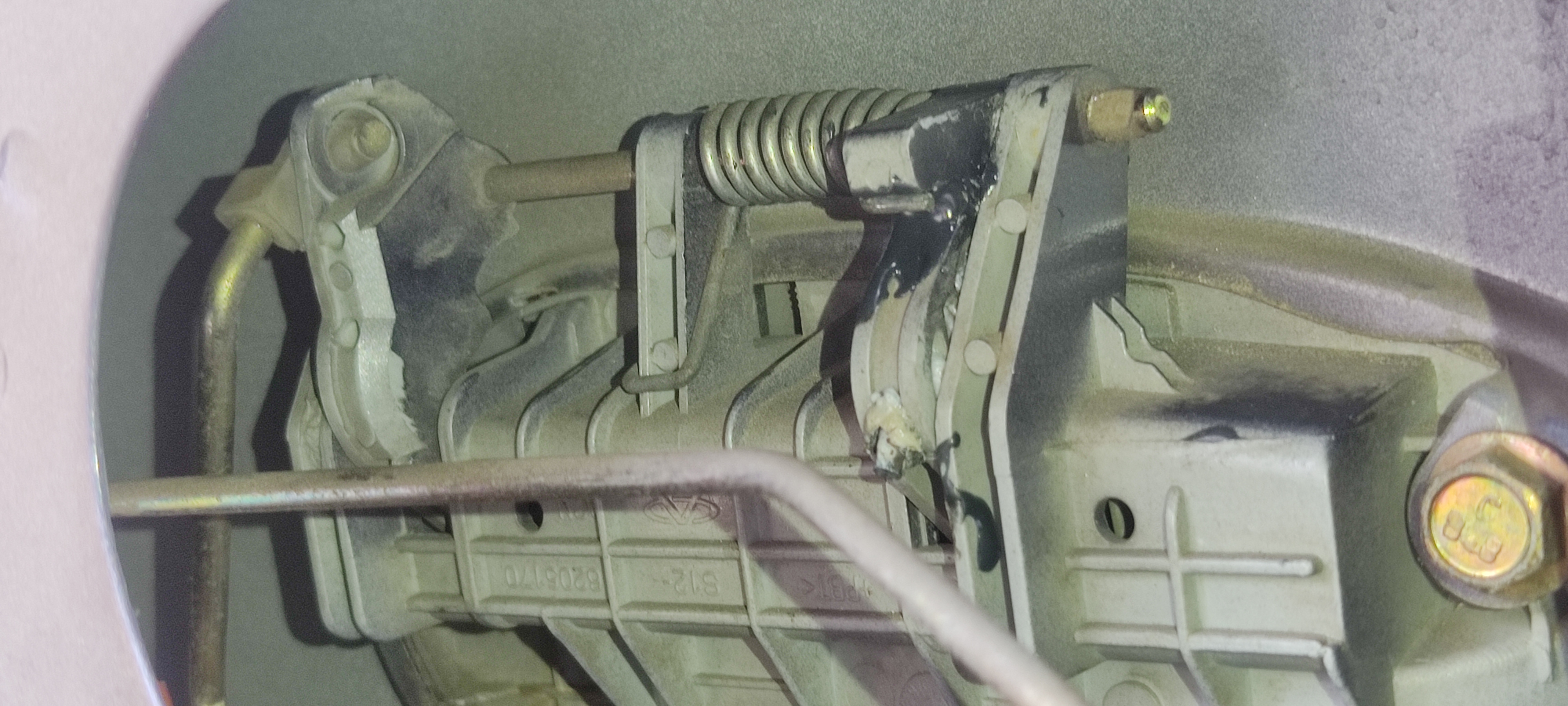 The next day both doors were tested and were operational again. I was very pleased with the result, but now I must take special care where to protect the vehicle, since I still have to continue visiting the same place where the doors were damaged.
Al día siguiente se probaron ambas puertas y quedaron operativas nuevamente. Quede muy complacido con el resultado, pero ahora debo tener especial cuidado donde resguardar el vehículo, ya que aun debo seguir visitando el mismo lugar donde fueron violentadas las puertas.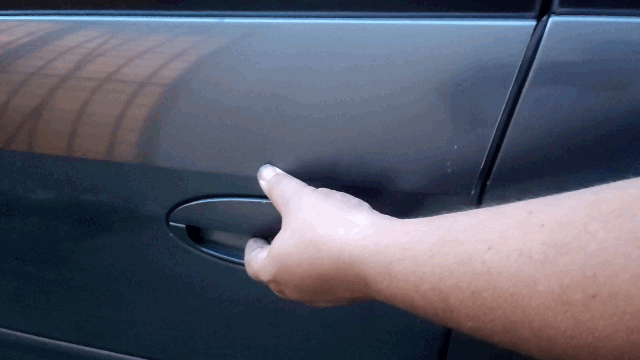 ---
Images and video taken with my Xiaomi redmi note 9s
Gif made with wondershare Filmora
---
---