SAVE THE BEES🌻🐝!!SALVA A LAS ABEJAS !! By Danhyelita24

🌻🐝🦋🍃☀️🌺🌻🐝🦋🍃☀️🌺🌻🐝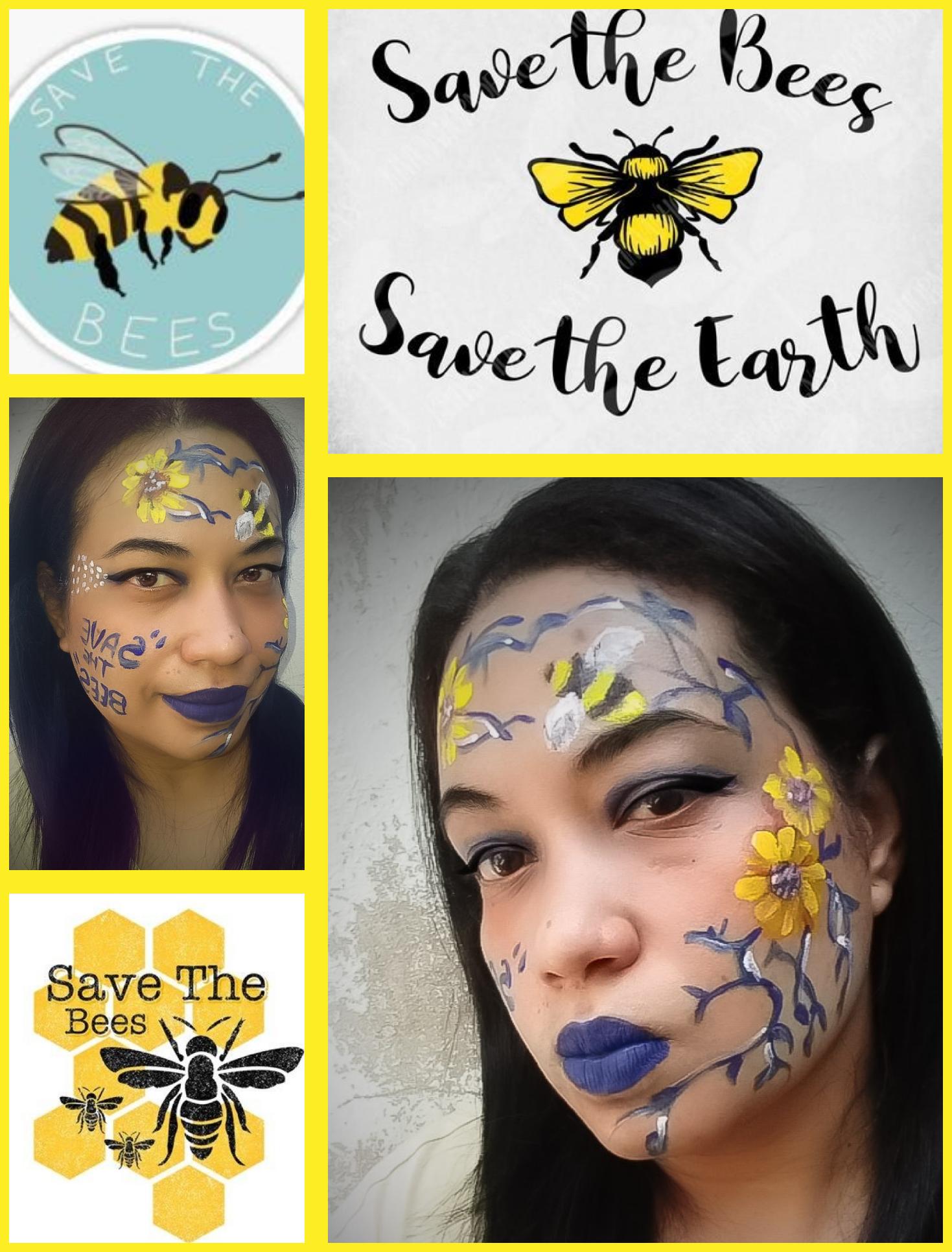 🌻🐝🦋🍃☀️🌺🌻🐝🦋🍃☀️🌺🌻🐝

Hello, how are you friends, today I want to use this wonderful medium to make a call for reflection to conscience for the protection of bees, these wonderful animals are essential for the preservation of life on the planet, because thanks to them pollination is possible , which contributes to the nutrition of almost 70% of the food we consume and makes possible a better balance in the natural ecosystem. Bees in recent years have been victims of bad practices in order to collect their honey, which have directly affected their proliferation and healthy development in the world. This is why we must create awareness and preserve these wonderful beings since taking care of them we take care of ourselves.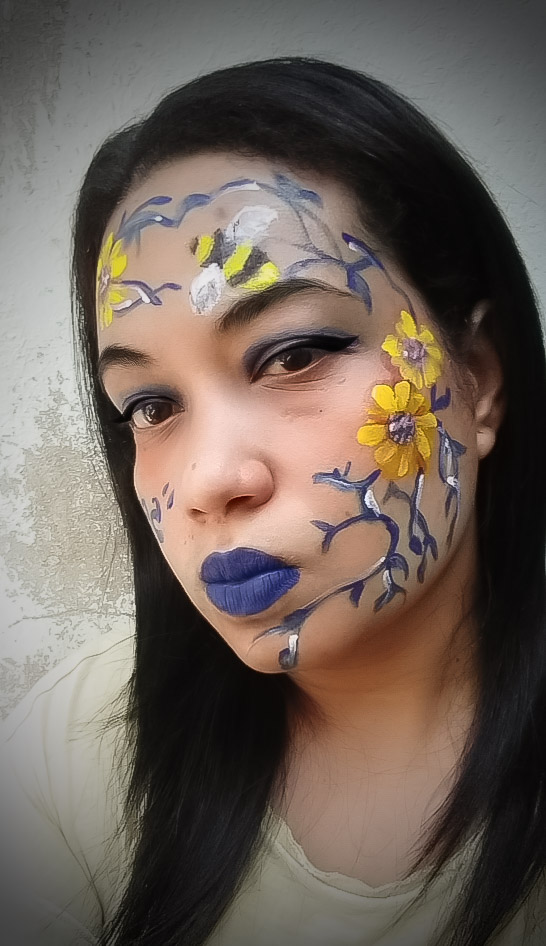 Hola qué tal amigos hoy quiero utilizar este maravilloso medio para hacer un llamado a la reflexión a la conciencia por la protección a las abejas, estos maravillosos animalitos son indispensables para la preservación de la vida en el planeta, pues gracias a ellas es posible la polinización, que contribuye a la alimentación de casi el 70 % de los alimentos que consumimos y hacen posible un mejor equilibrio en el ecosistema natural.
Las abejas en los últimos años han sido víctimas de malas prácticas con el fin de recolectar su miel, que han afectado directamente su proliferación y sano desarrollo en el mundo. Es por esto que debemos crear conciencia y preservar estos seres maravillosos ya que cuidandolos a ellos nos cuidamos a nosotros.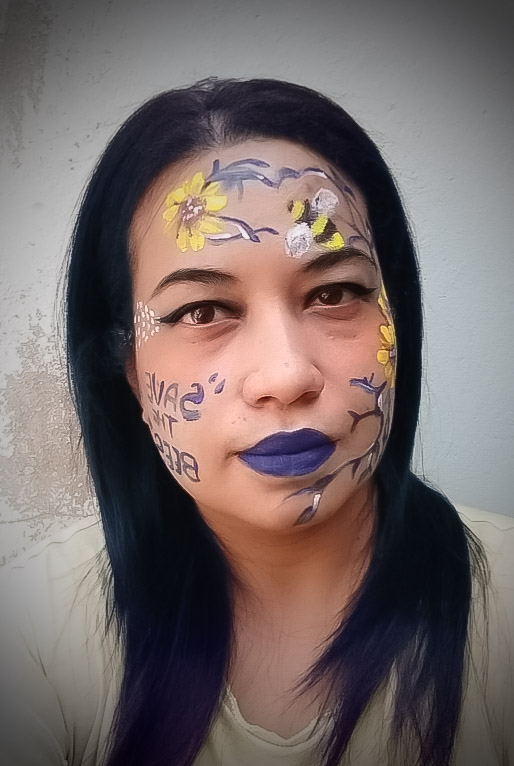 👣STEP BY STEP👣
👣PASO A PASO👣
1. Clean and hydrated face.📌
1. Carita limpia e hidratada.
2. We begin by outlining and outlining the eyebrows and applying a dark blue shadow.📌
2. Comenzamos delineando y perfilando las cejas y aplicando una sombra azul oscura.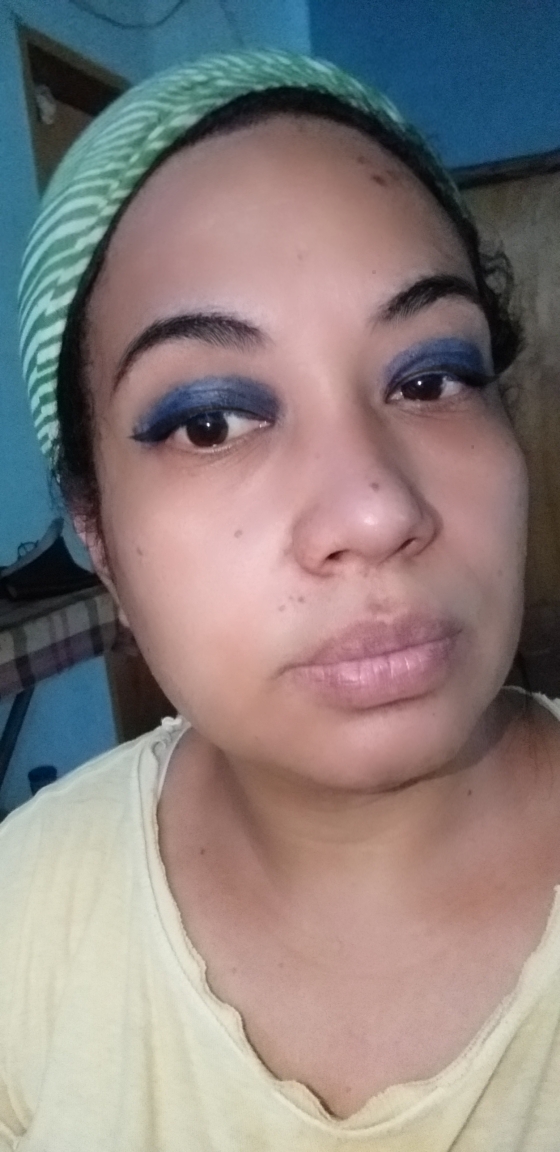 3. I painted some yellow sunflowers on the forehead and the left side of the face and cheekbones.📌
3. Pinté unos girasoles amarillos en la frente y la parte lateral izquierda del rostro y pómulos.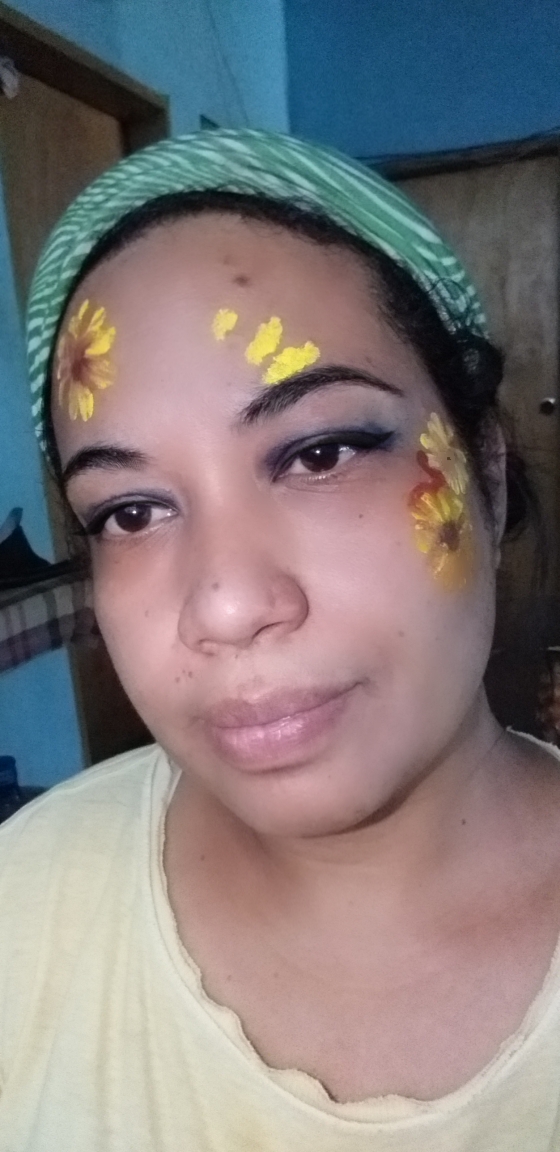 4. I drew a bee on the forehead near a sunflower to recreate the act of pollination, and applied a very dark matte blue lipstick.📌
4. Dibujé una abeja en la frente cerca de un girasol para recrear el acto de la polinización, y apliqué un labial en tono azul mate muy oscuro.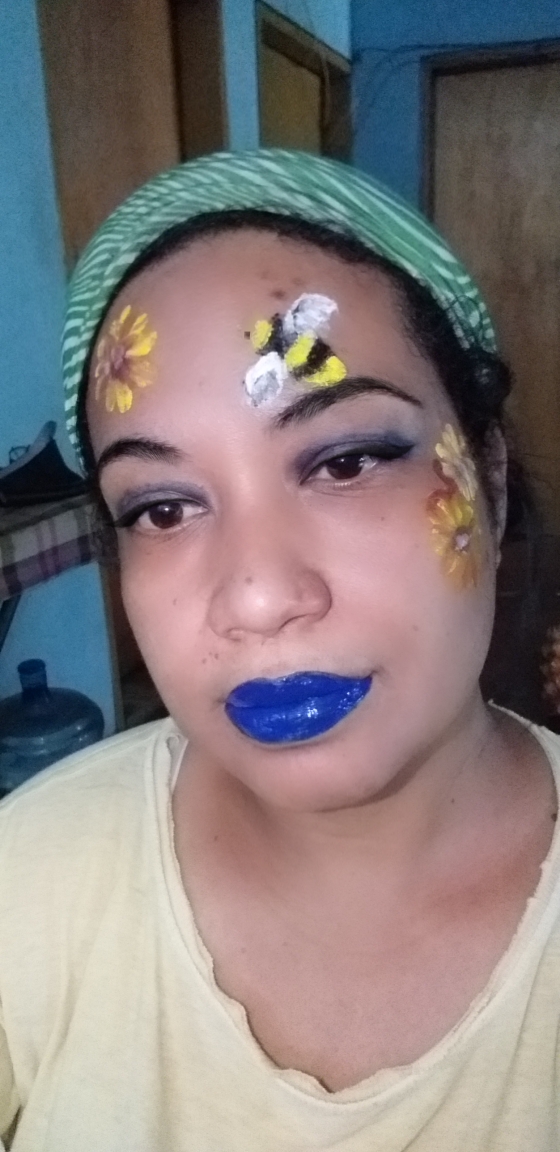 5. I outlined blue lines throughout the drawing to connect them to each other.📌
5. Delineé líneas azules por todo el dibujo para conectarlo entre sí.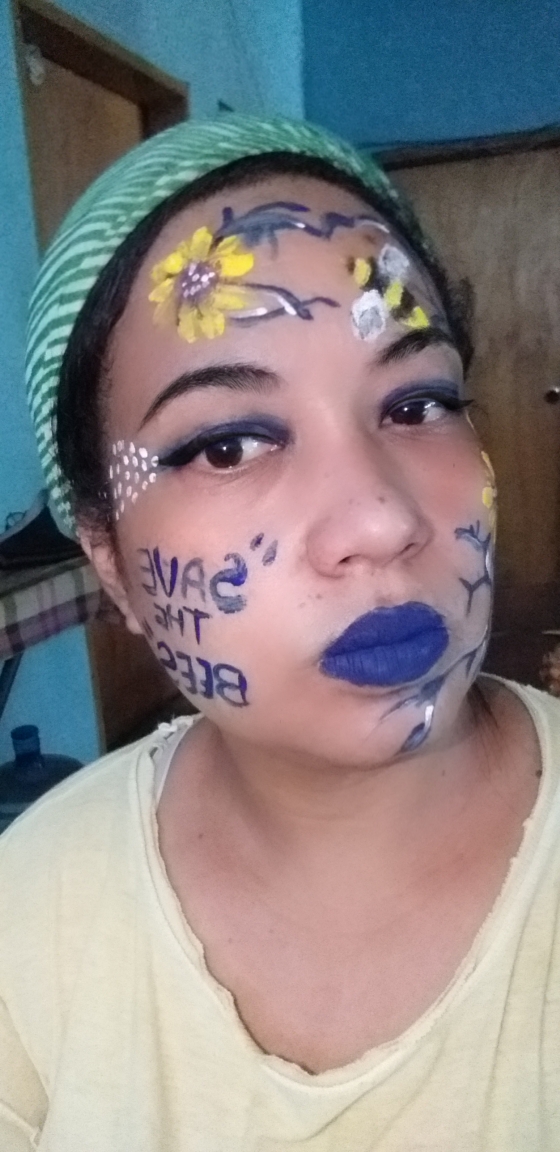 6. On the right side of the face I wrote the motto save the bees.📌
6. En el lateral derecho del rostro escribí el lema save the bees.
7. As a final detail I placed small white lines throughout the design to give it clarity.📌
7. Como detalle final coloqué pequeñas líneas en blanco por todo el diseño para darle claridad.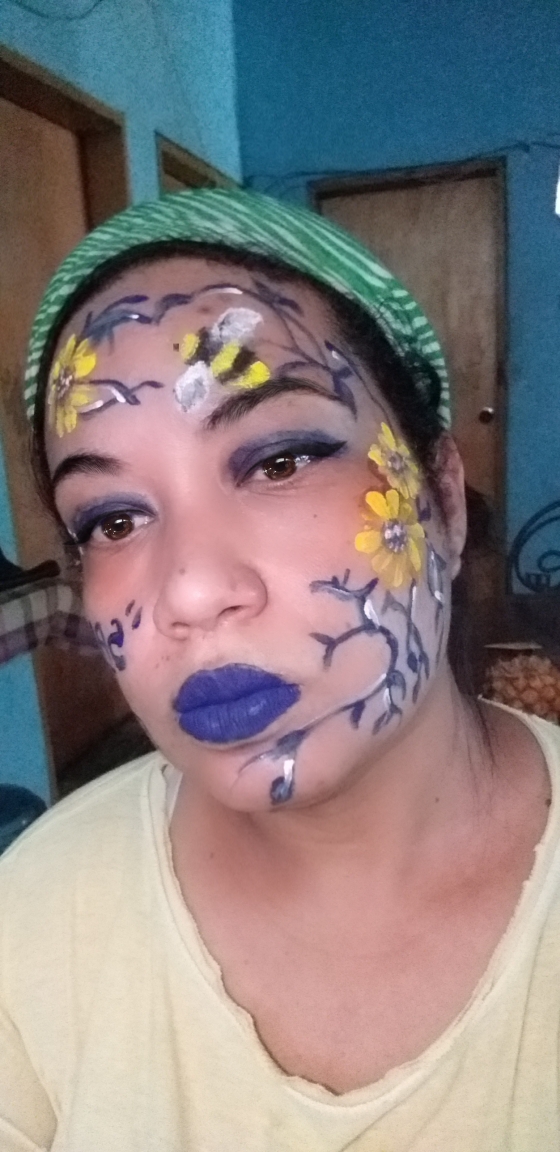 And ready we have our makeup ready, I wish with all my heart it has been to your liking I say goodbye until a new opportunity thanking your attention and support, greetings!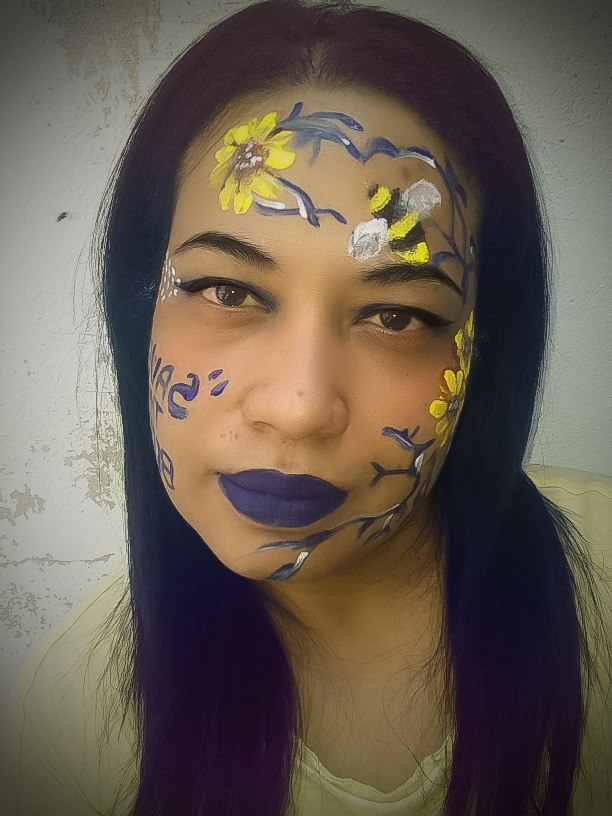 Y listo ya tenemos nuestro maquillaje listo, deseo de todo corazón haya sido de su agrado me despido hasta una nueva oportunidad agradeciendo su atención y apoyo saludos!!
🌻🐝🦋🍃☀️🌺🌻🐝🦋🍃☀️🌺🌻🐝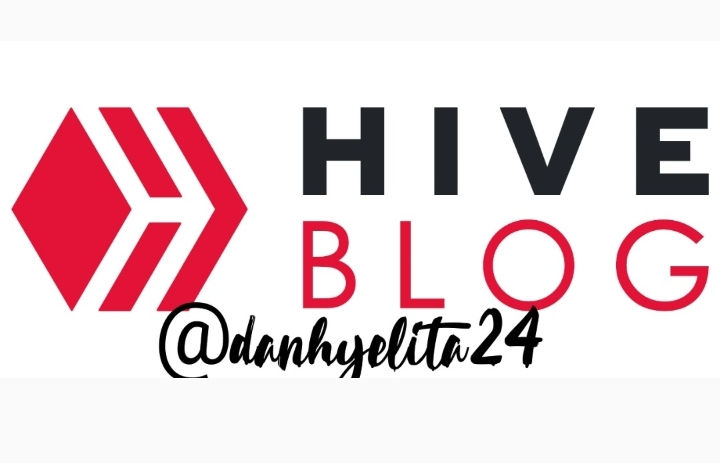 🌻🐝🦋🍃☀️🌺🌻🐝🦋🍃☀️🌺🌻🐝
---
---