Romantic Floral Makeup🌺🍃!Maquillaje Romántico Floral! By Danhyelita24

🌸🌺🌷🥀🍃🌿🌱🌸🌺🌷🥀🍃🌿🌱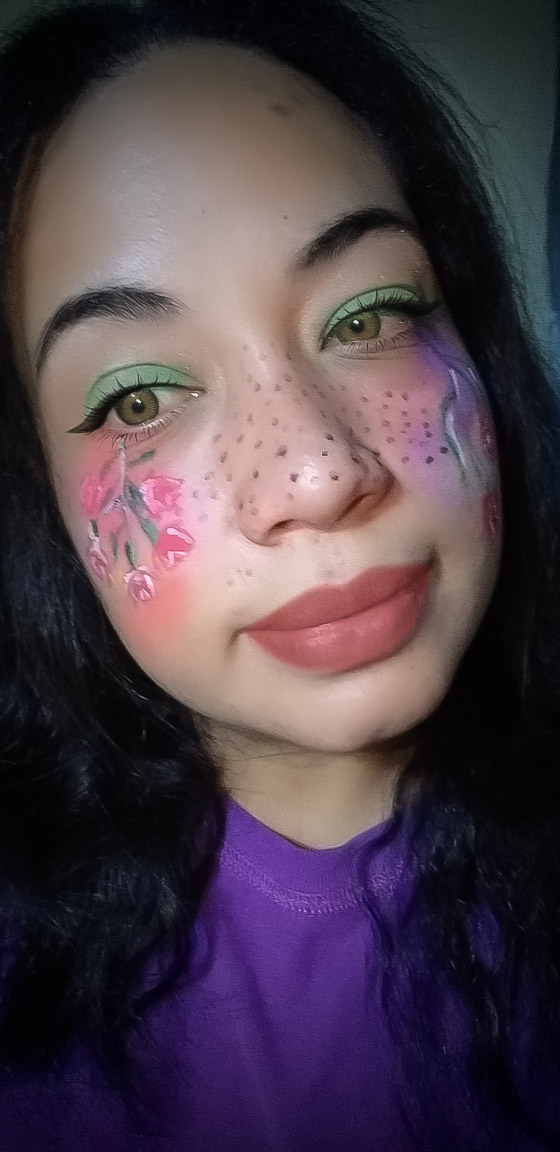 🌸🌺🌷🥀🍃🌿🌱🌸🌺🌷🥀🍃🌿🌱

Hello hello, how are you my dear and appreciated colleagues and users of this wonderful creative platform such as #Hive and #makeuppower, today I am very romantic and sentimental and that is why I wanted to translate it into a very tender makeup with pink tones and floral inspiration. I loved this makeup despite how simple it is due to its subtlety, delicacy and how romantic it expresses, join me and I will explain the step by step for its elaboration.*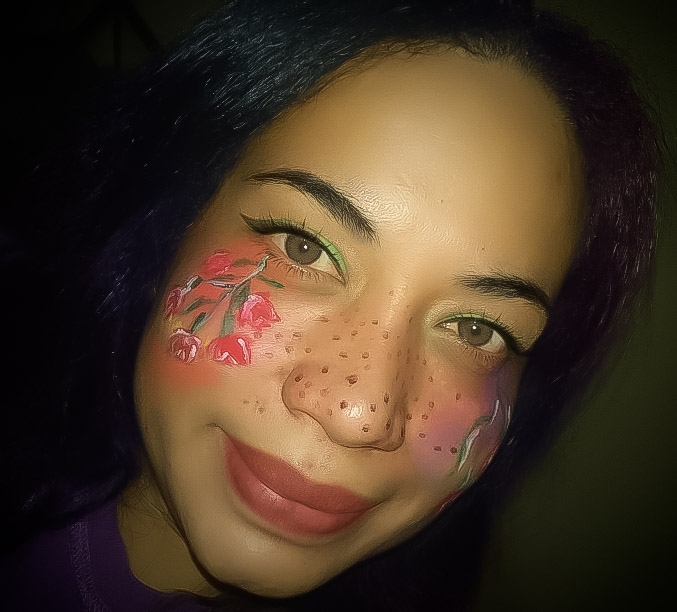 Hola hola qué tal mis queridos y apreciados compañeros y usuarios de esta maravillosa plataforma creativa como lo es #Hive y #makeuppower, hoy día estoy muy romántica y sentimental y por eso quise plasmarlo en un maquillaje muy tierno con tonos rosas y de inspiración floral.
Este maquillaje me encantó a pesar de lo sencillo que es por la sutileza, la delicadeza y lo romántico que él expresa,acompáñame y te explico el paso a paso para su elaboración.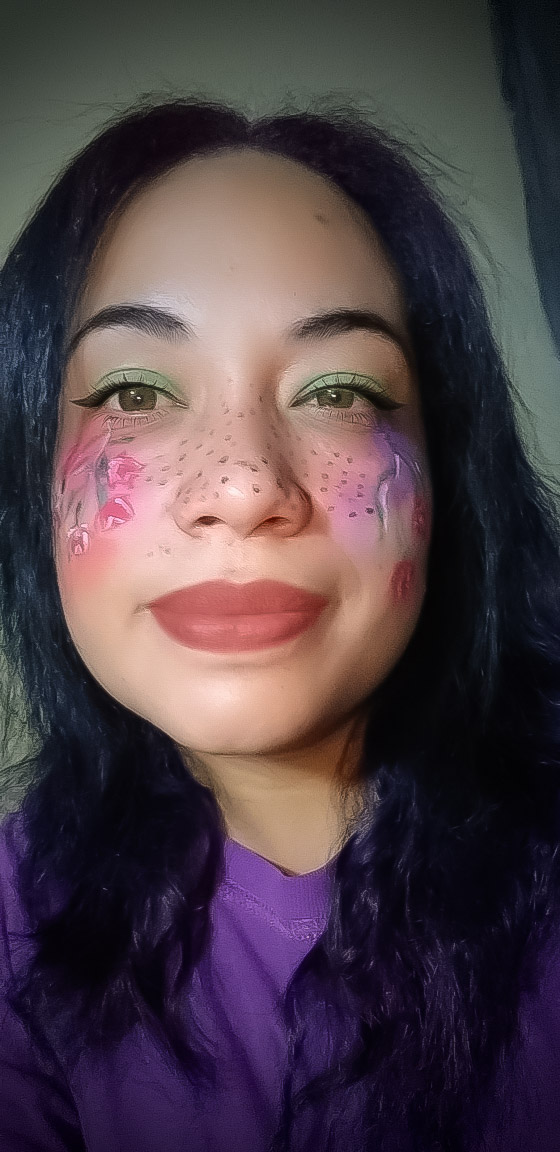 👣STEP BY STEP👣
👣PASO A PASO👣
1. We clean the face very well with neutral soap.📌
1. Limpiamos muy bien el rostro con jabón neutro.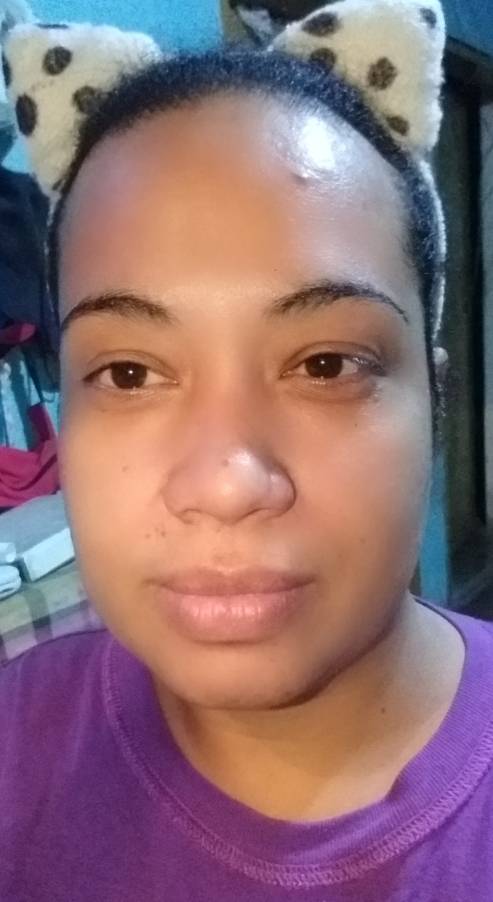 2. We start by applying a shade in jade green tones.📌
2. Comenzamos aplicando una sombra en tonos verde jade.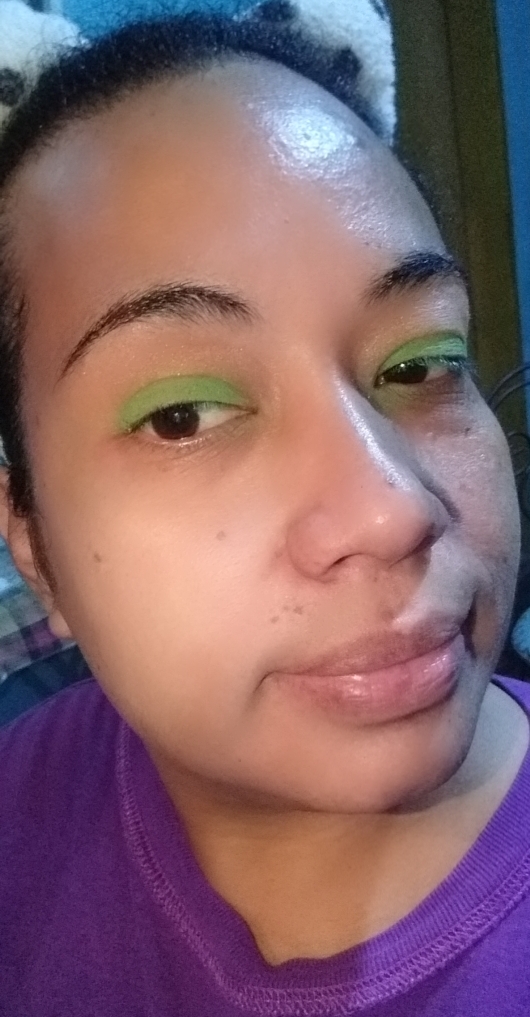 3. We place a matte yellow shadow, blurring it very well until it is united with the green one. We outline the eye in black.📌
3. Colocamos sombra amarilla mate difuminando muy bien hasta lograr unirla con el verde. Delíneamos el ojo en color negro.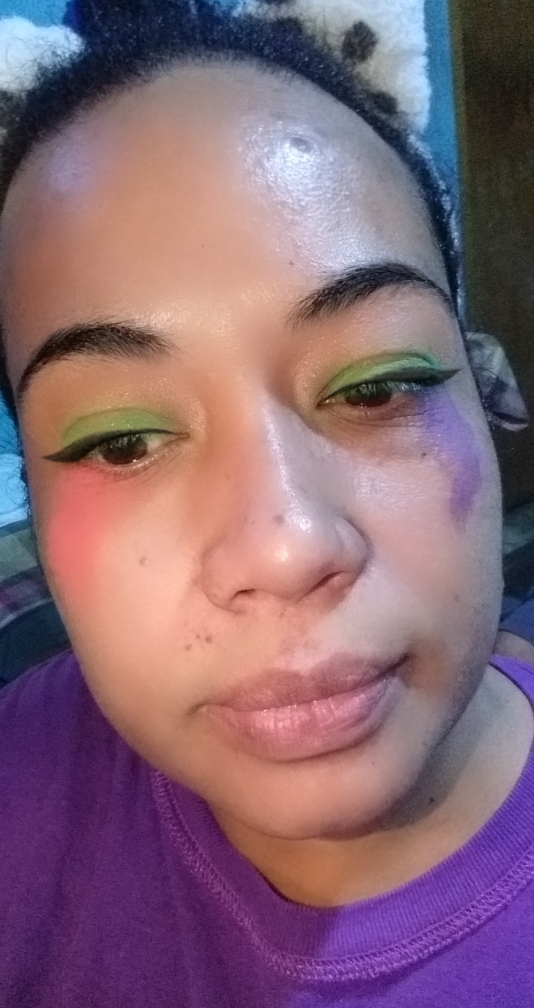 4. On the lower edges of the eyes we apply a little paint in orange and purple tone respectively in each eye.📌
4. En los bordes inferiores de los ojos aplicamos un poco de pintura en tono naranja y morado respectivamente en cada ojo.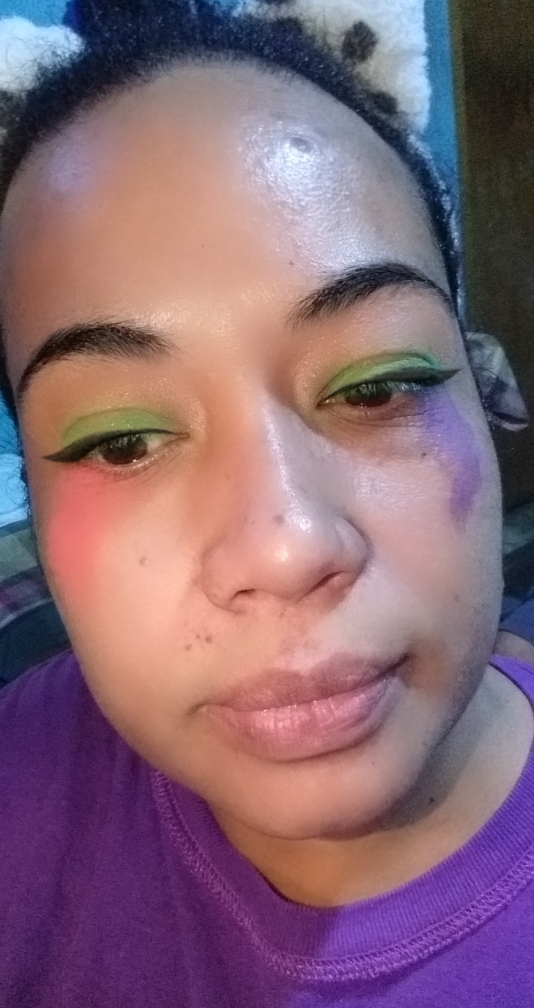 5. We draw lines in green that simulate the stems and leaves of the flowers.📌
5. Dibujamos líneas en color verde que simulen los tallos y hojas de las flores.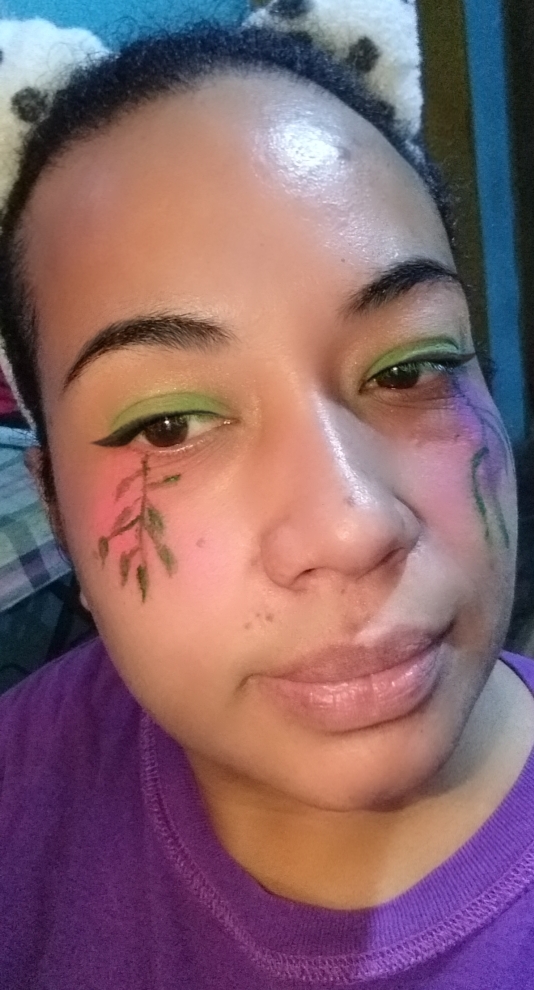 6. We draw the flowers in red tones, in different models on each side.📌
6. Dibujamos las flores en tonos rojos, en diferentes modelos de cada lado.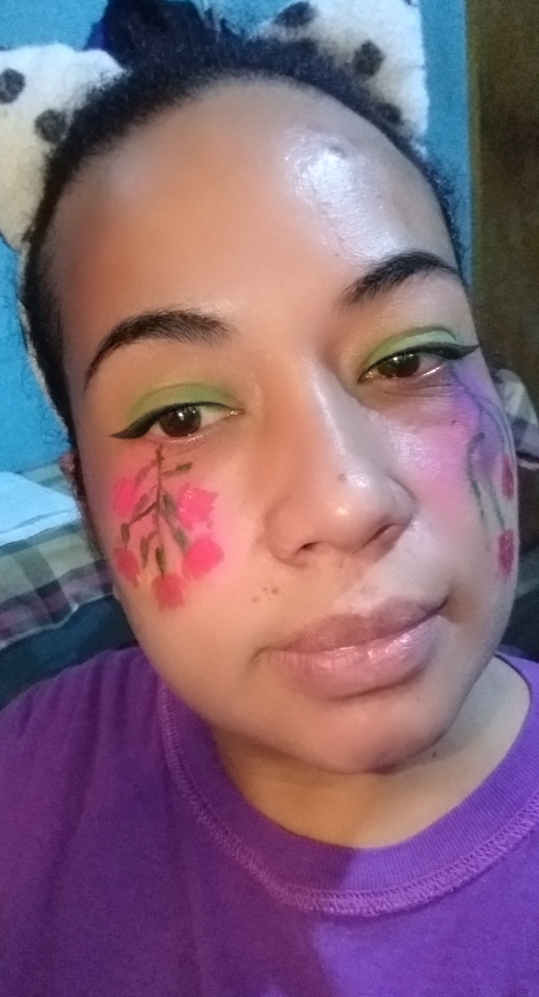 7. We draw small brown dots in the center of the face above the nose as small decorative freckles, and with white paint we outline the edges of flowers and stems to give it clarity and voila.📌
7. Dibujamos pequeños puntos en color marrón en el centro del rostro por encima de la nariz como pequeñas pecas decorativas, y con pintura blanca delineamos los bordes de flores y tallos para darle claridad y listo.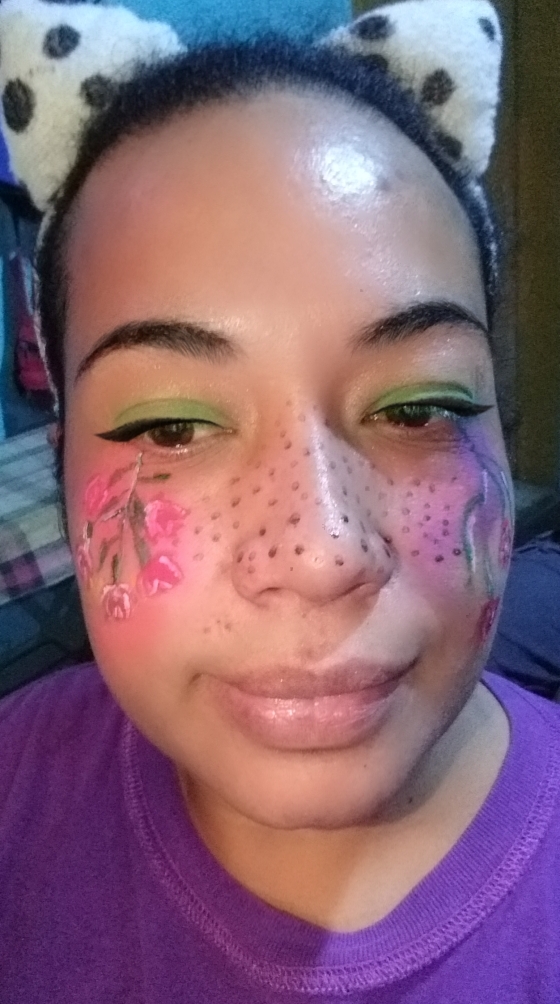 This is how this romantic floral makeup in pastel tones was left, I wish with all my heart it was to your liking, and I say goodbye until a new opportunity wishing you many successes and blessings, greetings!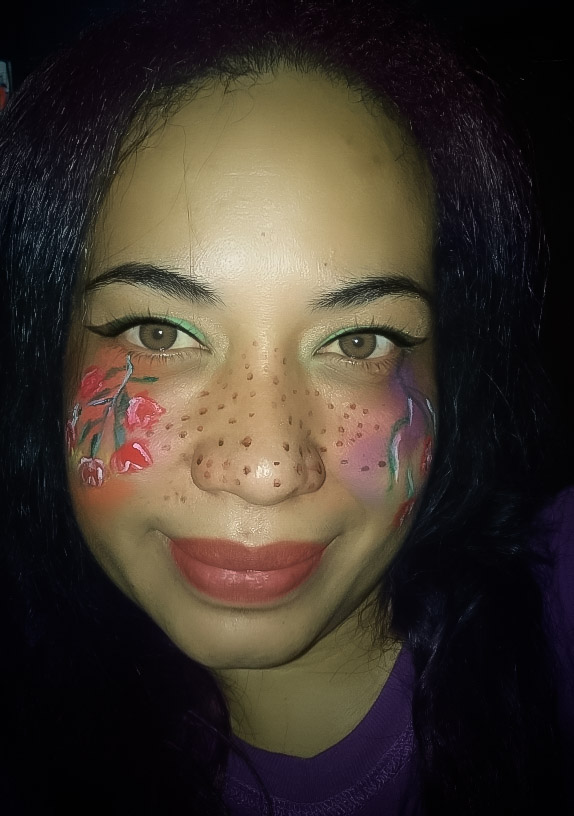 Así quedó este romántico maquillaje floral en tonos pasteles deseo de todo corazón haya sido de su agrado, y me despido hasta una nueva oportunidad deseándoles muchos éxitos y bendiciones saludos!!
🌸🌺🌷🥀🍃🌿🌱🌸🌺🌷🥀🍃🌿🌱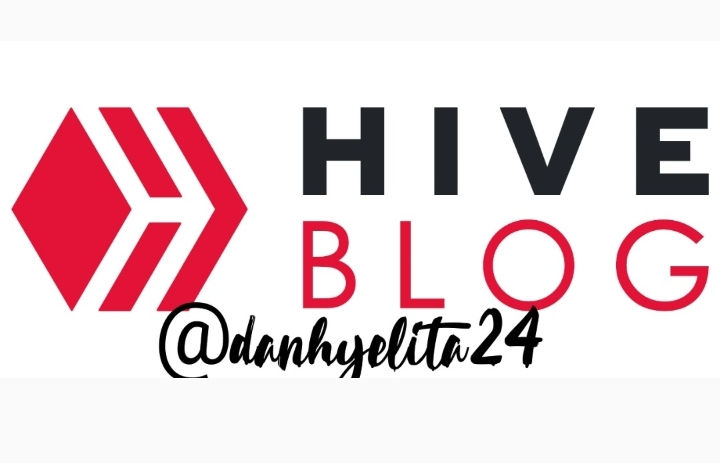 🌸🌺🌷🥀🍃🌿🌱🌸🌺🌷🥀🍃🌿🌱
---
---