Eng Esp: My Little Crochet Tulips! 🌷🌷🌷 Mis Pequeños Tulipanes A Crochet!! By Danhyelita24

🌷🌷🌷🌷🌷🌷🌷🌷🌷🌷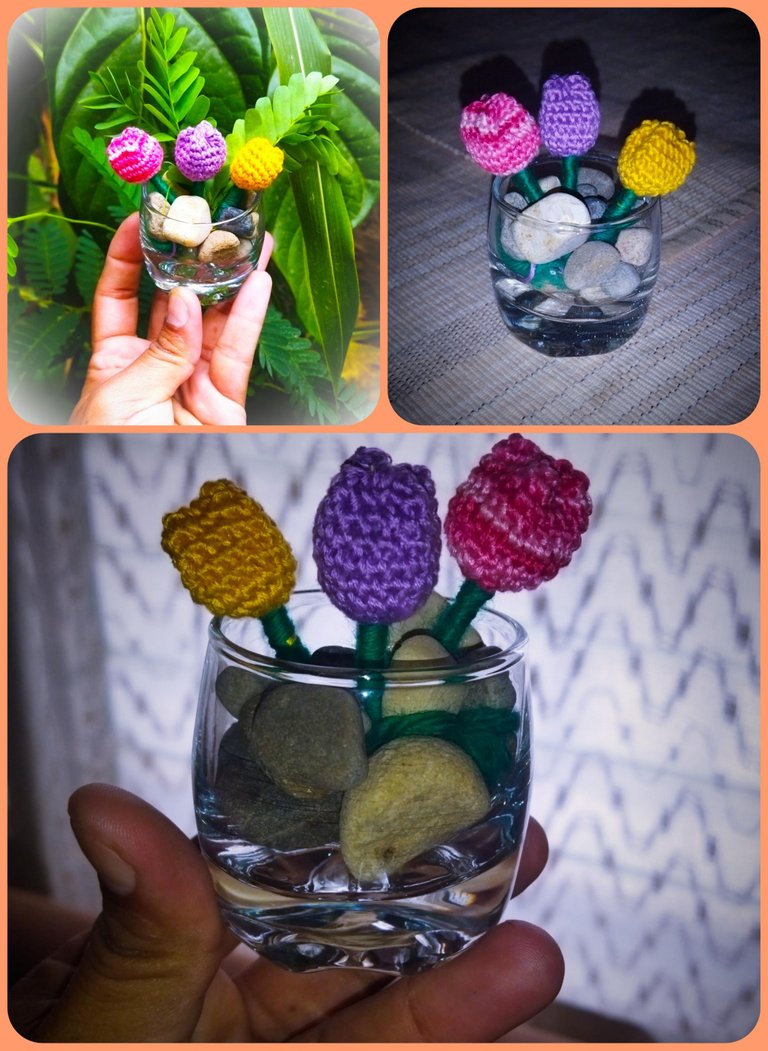 🌷🌷🌷🌷🌷🌷🌷🌷🌷🌷
Who doesn't like flowers? I personally love them and I have a nice garden, but I have always wanted a particular flower, tulips, but the climate of my country and especially the city where I live is very hot and is not suitable for this beautiful flower, and to decorate my home with this beautiful flower, without the fear of not being able to gestate, having to water, care or fertilize them, what better than crochet them! Thanks to the amigurumi technique we can make our own flowers, like this beautiful crocheted tulip.
A quien no le gustan las flores? A mi en lo personal me encantan y cuento con un bonito jardín, pero siempre he querido una flor en particular unos tulipanes, pero por el clima de mi país y en especial la ciudad donde resido es muy caluroso y no es apto para que se pueda dar este bella flor, y para a decorar mi hogar con esta bonita flor, sin el temor de no poder gestarse, tener la que regarlas, cuidarlas o abonarlas, ¡qué mejor que tejerlas con crochet! Gracias a la técnica del amigurumi podemos hacer nuestras propias flores, como este bonito tulipán de ganchillo.
🌷🌷🌷🌷🌷🌷🌷🌷🌷🌷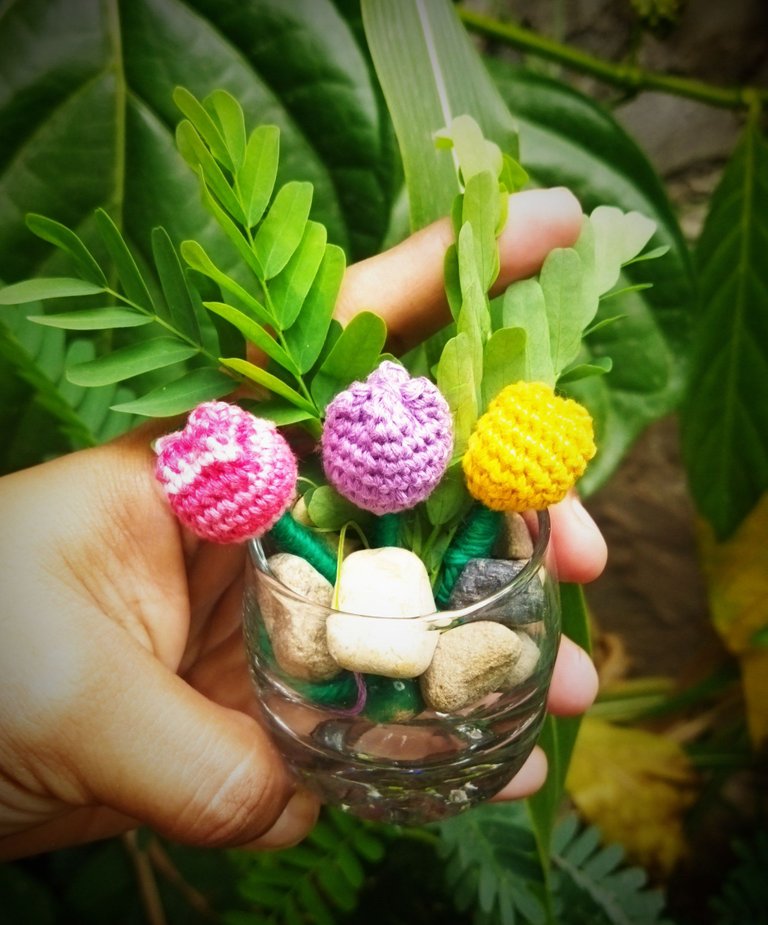 🌷🌷🌷🌷🌷🌷🌷🌷🌷🌷
To make this craft you don't need to have much experience with crochet and amigurumi, just a little patience and a lot of creativity, plus we can repeat the pattern as many times as we want, until we get a whole bouquet of beautiful crochet tulips that will last forever!
Para realizar esta manualidad no hace falta tener mucha experiencia con el crochet y el amigurumi, solo un poco de paciencia y mucha creatividad, además que podemos repetir el patrón todas las veces que queramos, hasta conseguir todo un ramo de preciosos tulipanes de crochet, ¡que nos durarán para siempre!
🌷🌷🌷🌷🌷🌷🌷🌷🌷🌷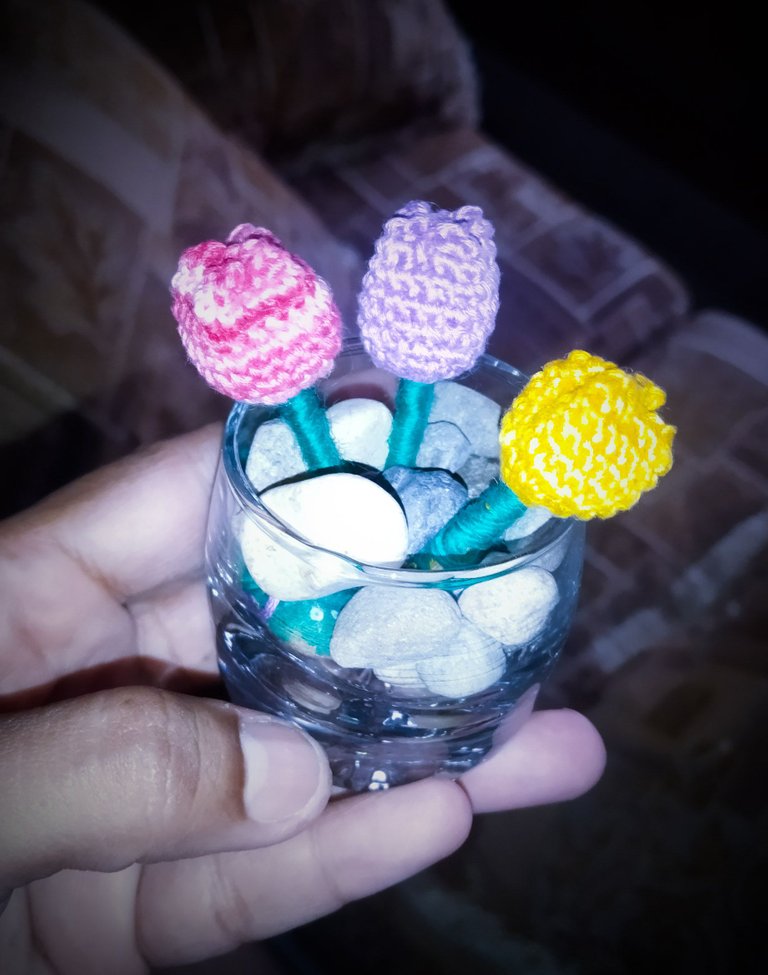 🌷🌷🌷🌷🌷🌷🌷🌷🌷🌷
This time I made a mini floral arrangement of tulips, which was very tender and flirty, perfect to give that decorative touch to those little corners of the house that lack personality and charm.
En esta oportunidad realice un mini arreglo floral de tulipanes, que quedo muy tierno y coqueto, perfecto para dar ese toque decorativo a esos rinconcitos de la casa que carecen de personalidad y encanto.
Materials:
Green wool
Orange, pink gradient and blue wool
Crochet needle
Sewing needle
Hypoallergenic stuffing.
Scissors
Materiales:

Lana de color verde
Lana de color naranja, rosa degradado y azul
Aguja de ganchillo
Aguja de coser
Relleno hipoalergénico.
Tijeras

🌷🌷🌷🌷🌷🌷🌷🌷🌷🌷

🌷🌷🌷🌷🌷🌷🌷🌷🌷🌷

Step by step:




We start by making the flower. To do this we will use the desired color wool or the one we like the most: white, pink, yellow, red ... the color you prefer for a tulip.

🌷🌷🌷🌷🌷🌷🌷🌷🌷🌷

Paso a paso:

Comenzamos haciendo la flor. Para ello usaremos la lana de color deseado o el que más nos guste: blanco, rosa, amarillo, rojo... el color que prefieras para un tulipán.

Abbreviations


AM = Magic ringn Anillo mágico
CAD = chain stitch cadenetas
PB = Single crochet punto simple
PA = High stitch Punto alto
PAD = Double high stitch doble punto
PAT = Triple high stitch triple punto
PMA = Half double crochet
PD = Slipped stitch (or garter stitch or dwarf stitch)
AUM = Increase aumento(always with the stitch we are knitting)
V = Round

TULIP

We are going to knit the tulip with the amigurumi technique, that is, in spiral (you don't have to close the loops).

TULIPÁN

Vamos a tejer el tulipán con la técnica amigurumi, es decir, en espiral (no tienes que cerrar las vueltas).

V1: am 6pb (Don't close the ring completely and then put the stem)

V2: 6aum = 12pb




V3: (1pb + 1aumt)6 = 18pb




V4: (2pb + 1aumt)6 = 24pb

V5: (3bp + 1aumt)6 = 30bp

V6-V16: 30bp (one stitch in each stitch for 11 rows) + 1pd

V1:am 6pb (No cierres el anillo por completo para después poner el tallo) V2: 6aum = 12pb V3: (1pb + 1aumt)*6 = 18pb V4: (2pb + 1aumt)*6 = 24pb V5: (3pb + 1aumt)*6 = 30pb V6-V16: 30pb (un punto en cada punto durante 11 vueltas)1pd

🌷🌷🌷🌷🌷🌷🌷🌷🌷🌷

🌷🌷🌷🌷🌷🌷🌷🌷🌷🌷

Leave a long strand of yarn for later sewing to give the shape of the tulip.
Now all that's left for you to do is to make the assembly. To do this:

Deja hebra larga para después coser dándole la forma al tulipán. Ahora sólo te queda hacer el montaje

Enter the stem through the tulip.
Secure the stick to the inside of the tulip with hot silicone.
Stuff the tulip a little (not much stuffing is needed).
Sew the top of the tulip in a cross shape.
And now you have your crochet tulip ready.

Entra el tallo por el tulipán. Asegura el palito al tulipán por el interior con la silicona caliente. Rellena un poco el tulipán (no hace falta mucho relleno). Cose la parte superior del tulipán en cruz. Y ya tienes listo tu Tulipán de crochet.

🌷🌷🌷🌷🌷🌷🌷🌷🌷🌷

🌷🌷🌷🌷🌷🌷🌷🌷🌷🌷

🌷🌷🌷🌷🌷🌷🌷🌷🌷🌷

🌷🌷🌷🌷🌷🌷🌷🌷🌷🌷

The result of your tulips will be as beautiful as these you see,
I hope you liked this mini pattern.

El resultado de tus tulipanes será tan bonito como estos que ves, Espero que te haya gustado mucho este minipatrón.

🌷🌷🌷🌷🌷🌷🌷🌷🌷🌷

🌷🌷🌷🌷🌷🌷🌷🌷🌷🌷

I say goodbye thanking you for your attention and support, I wish you many blessings and success!

Me despido agradeciendo su atención y todo el apoyo, les deseo muchas bendiciones y éxitos!! saludos!!

🌷🌷🌷🌷🌷🌷🌷🌷🌷🌷

🌷🌷🌷🌷🌷🌷🌷🌷🌷🌷

All images are my own, taken with Redmi 9T and edited with the Photoshop Express app for Android.

Todas las imágenes son de mi propiedad, tomadas con Redmi 9T y editadas con la aplicación Photoshop Express para Android.

Translated with www.DeepL.com/Translator (free version)

🌷🌷🌷🌷🌷🌷🌷🌷🌷🌷

🌷🌷🌷🌷🌷🌷🌷🌷🌷🌷
---
---