Artistic Makeup Inspired By Limbo🎭💥 !!Maquillaje Artístico Inspirado En El Limbo!! By Danhyelita24
💢👁️🍂👾🎭🖌️🎨💢👁️🍂👾🎭🖌️🎨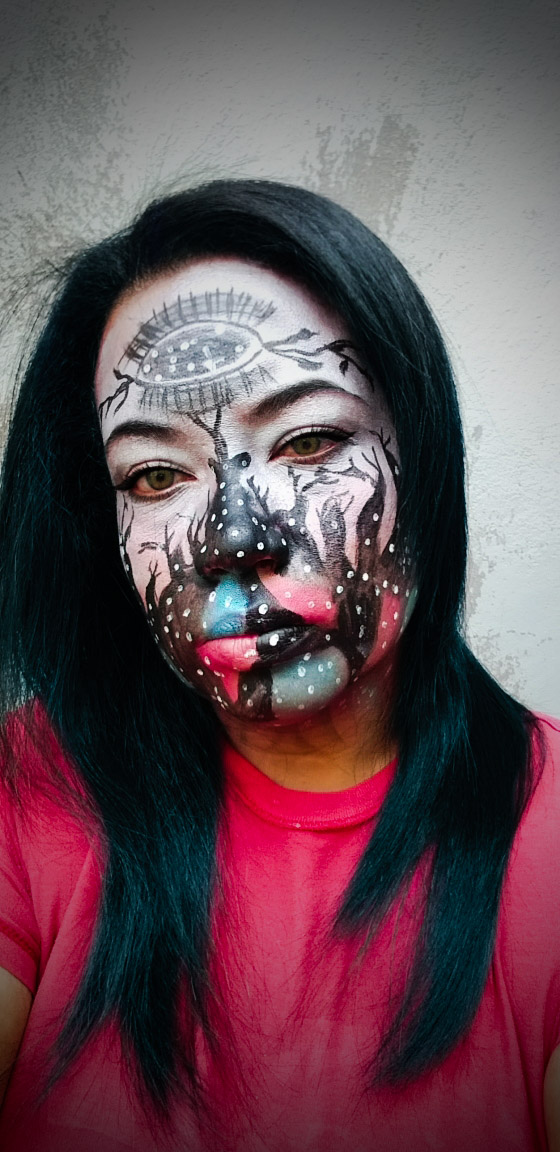 💢👁️🍂👾🎭🖌️🎨💢👁️🍂👾🎭🖌️🎨

Hello Hello, how are you my beautiful people of this wonderful platform #makeuppower today I want to share with you a makeup with a surreal touch, inspired by that place where, according to Christian belief, unbaptized souls go to stop, a place between heaven and earth , which they call as: "El Limbo"
Hola Hola que tal mi gente bella de esta maravillosa plataforma #makeuppower hoy día quiero compartir con ustedes un maquillaje con toque surrealista, inspirado en ese lugar donde según la creencia cristiana van a parar las almas sin bautizar, un lugar entre el cielo y la tierra, el cual denominan como: "El Limbo"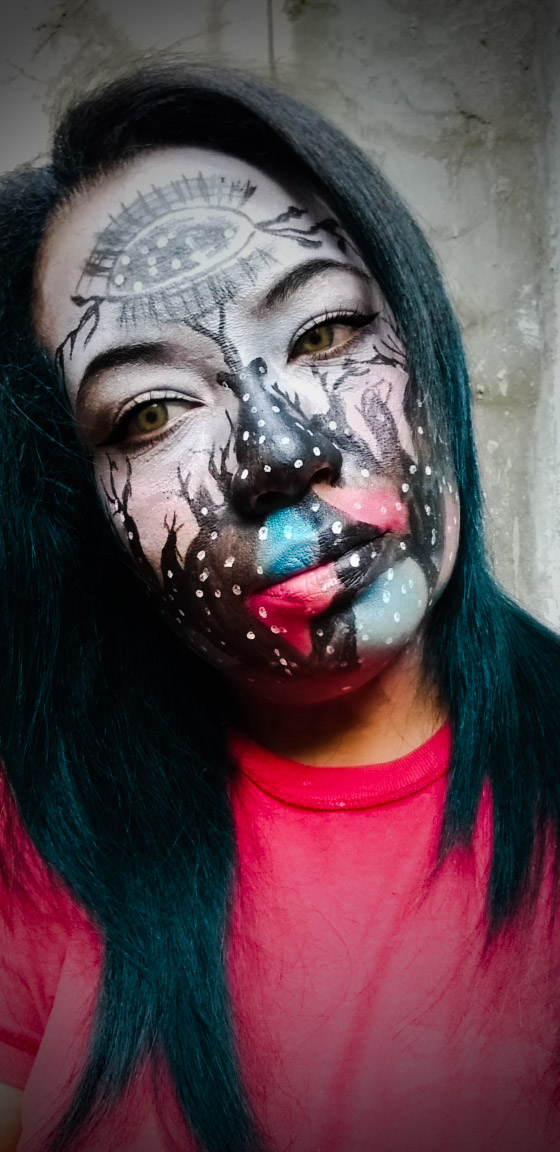 This makeup depicts the sky in light colors on top that culminates in an omnipotence with the all-seeing eye. And in the lower part, hell characterized with roots that tie to the earth and the colors red, blue and black that represent sins, to culminate with small white dots like souls.
Este maquillaje representa el cielo en colores claros en la parte superior que culmina en una omnipotencia con el ojo que todo lo ve. Y en la parte inferior el infierno caracterizado con raices que atan a la tierra y los colores rojo, azul y negro que representan los pecados, para culminar con pequeños puntos blancos como las almas.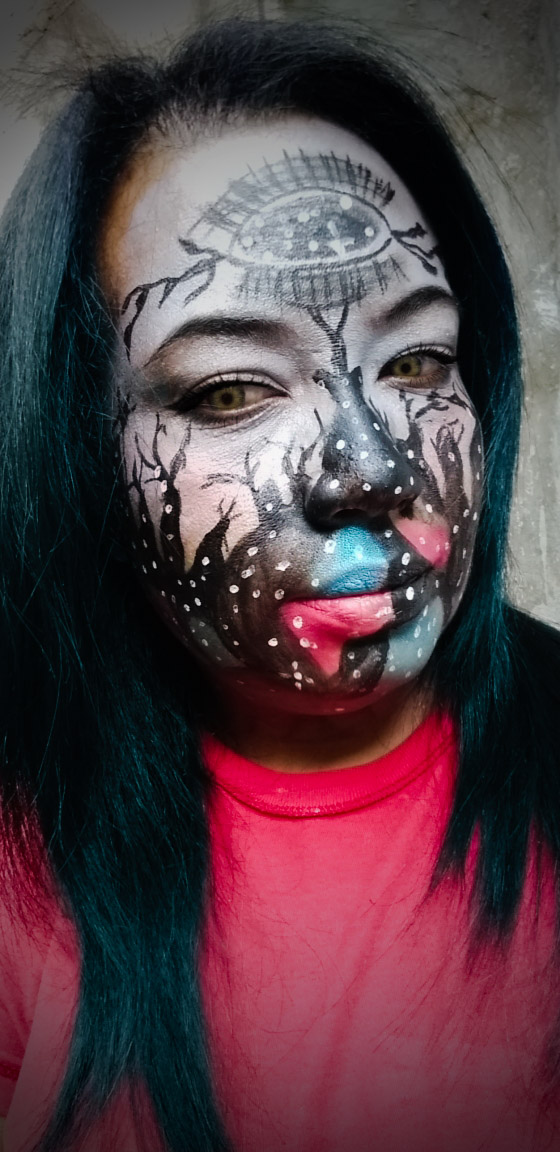 📝STEP BY STEP📝
📝PASO A PASO📝
1. Clean and hydrated face.📌
1. Carita limpia e hidratada.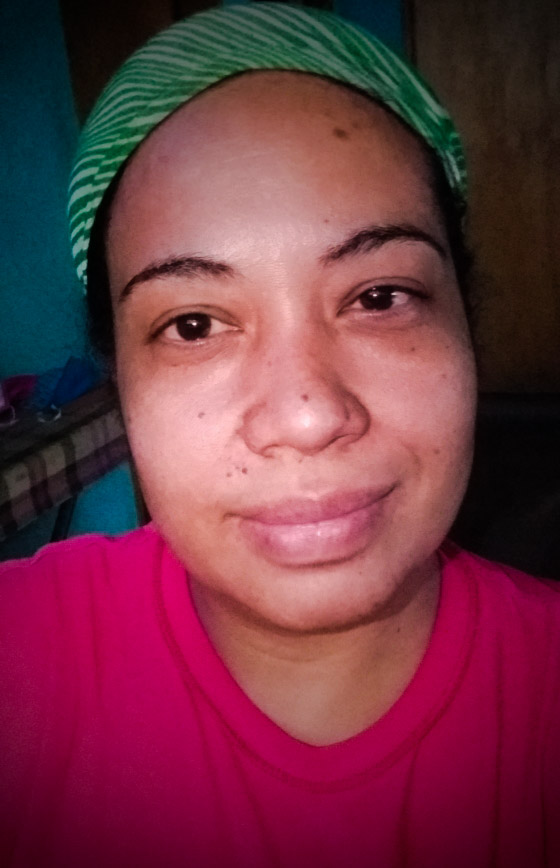 2. We begin by applying white shadow on the upper part of the face, we outline the eyebrows and apply a black eyeliner.📌
2. Comenzamos aplicando sombra blanca en la parte superior del rostro, perfilamos las cejas y aplicamos un delineador negro.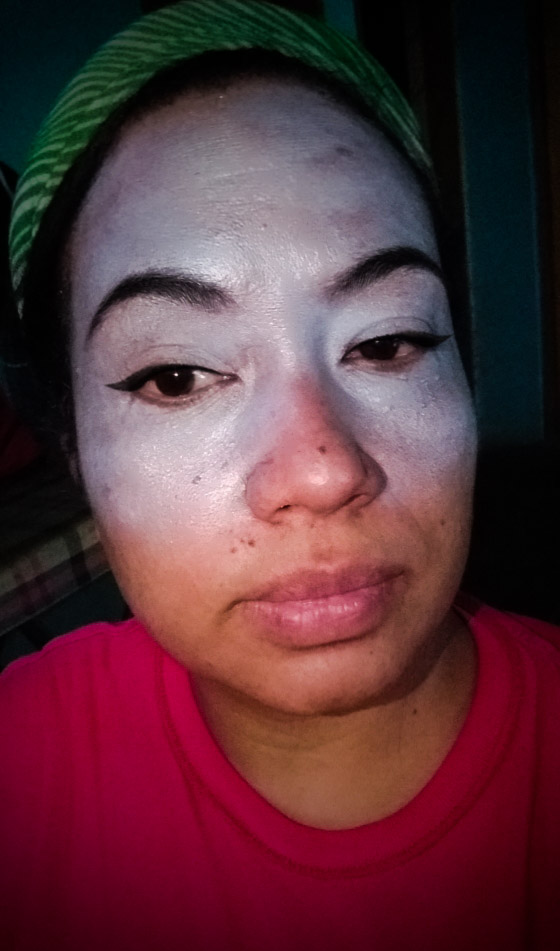 3. With black paint we delimit the edges with lines and curves.📌
3. Con pintura negra delimitamos los bordes con líneas y curvas.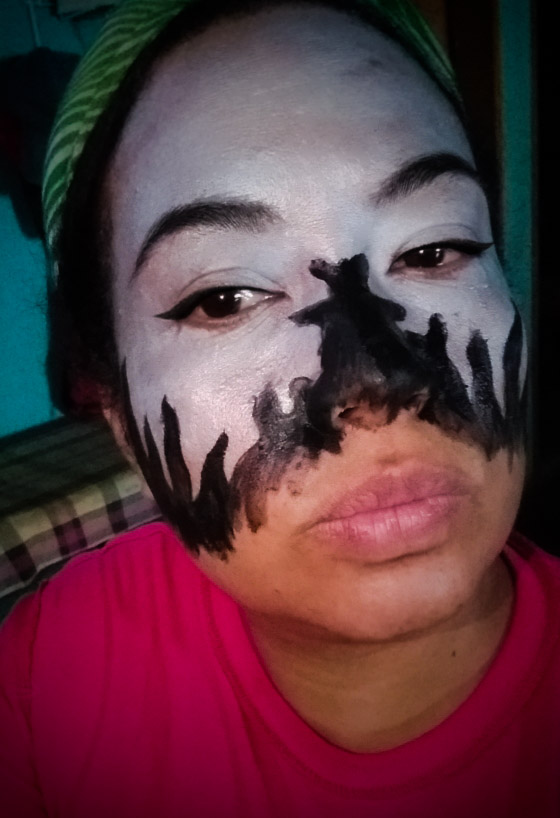 4. We mark and paint lines as roots and begin to create the eye at the top.📌
4. Marcamos y pintamos líneas como raíces y comenzamos a crear el ojo en la parte superior.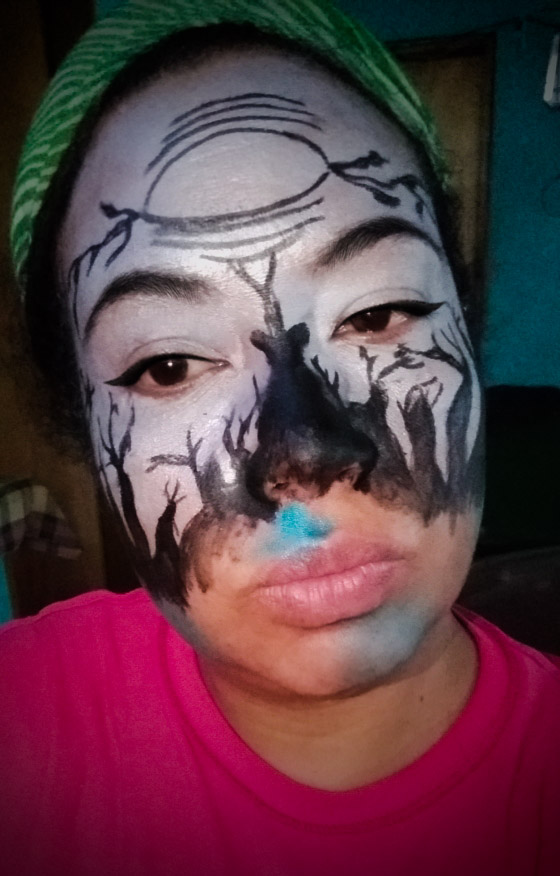 5. We apply red and blue shadows in the lower part, alternating with the black color.📌
5. Aplicamos sombras roja y azul en la parte inferior, alternando con el color negro.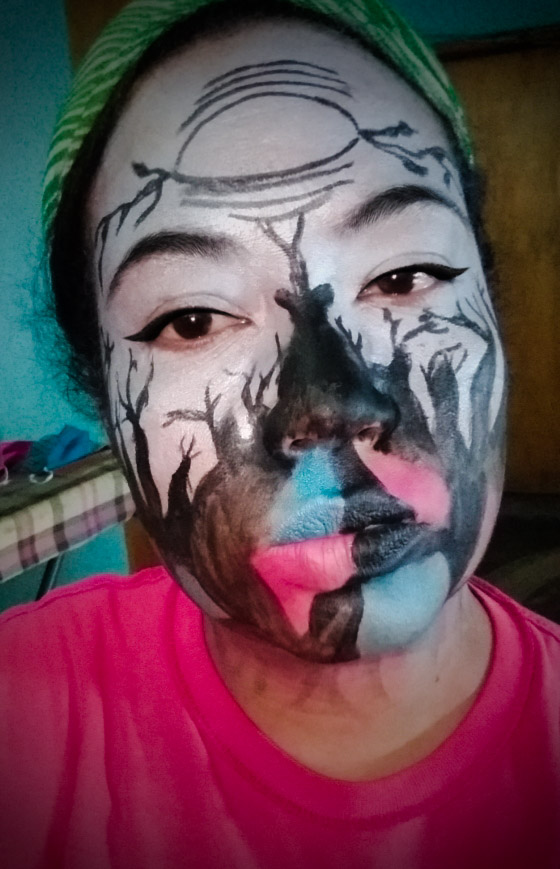 6. As a final touch we apply small white dots throughout the design. And you're done with this surreal makeup inspired by El Limbo.📌
6. Como toque final aplicamos pequeños puntos blancos por todo el diseño.
Y listo ya te mis este surreal maquillaje inspirado en El Limbo.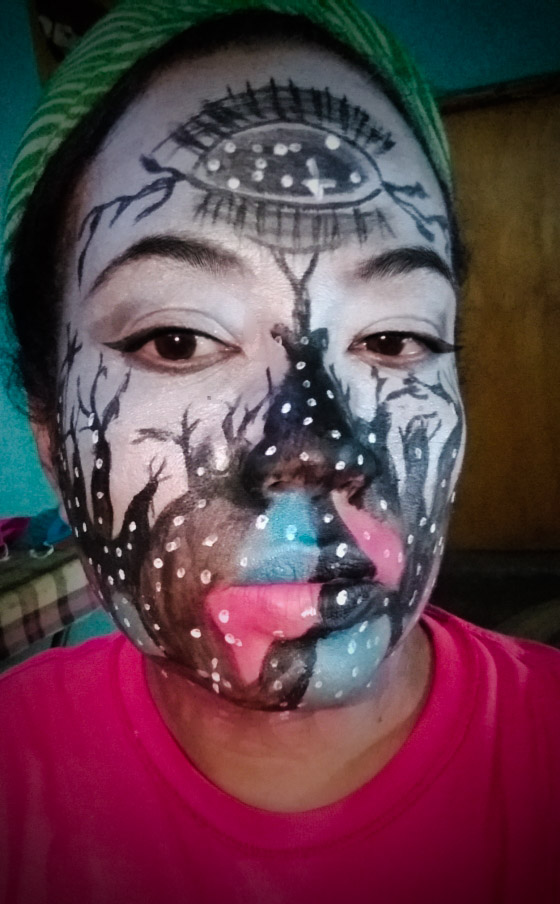 Immense greetings and infinite thanks for all your support and collaboration, I say goodbye until a new opportunity, wishing you many blessings and success greetings!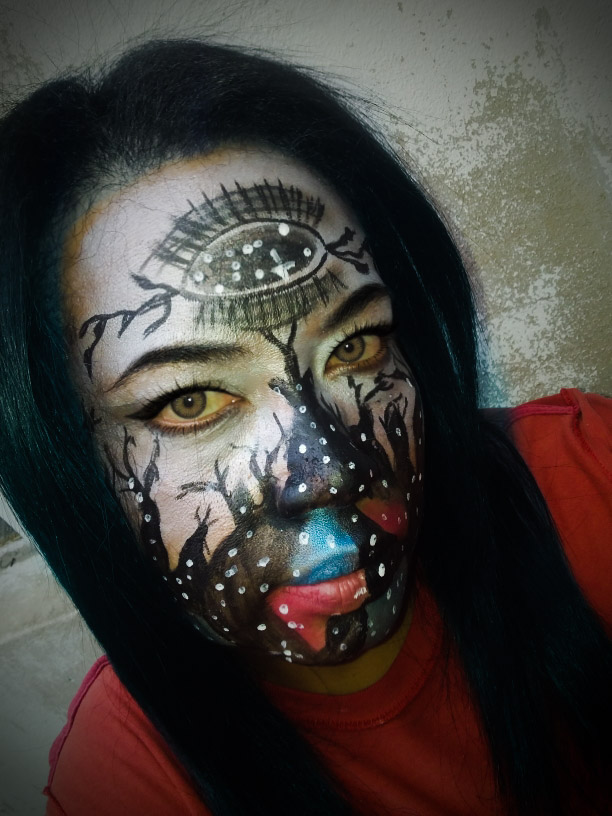 Saludos inmensos y gracias infinitas por todo su apoyo y colaboración prestada, me despido hasta una nueva oportunidad, deseándoles muchas bendiciones y éxitos saludos!!
💢👁️🍂👾🎭🖌️🎨💢👁️🍂👾🎭🖌️🎨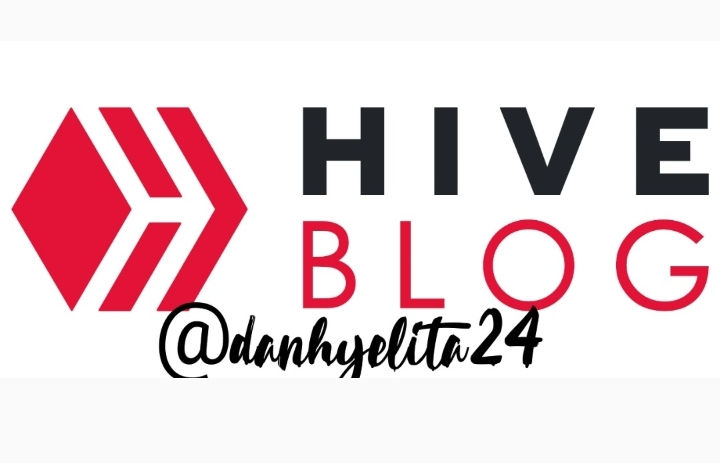 💢👁️🍂👾🎭🖌️🎨💢👁️🍂👾🎭🖌️🎨
---
---