La magia de un parque/The magic of a park [ESP-ING]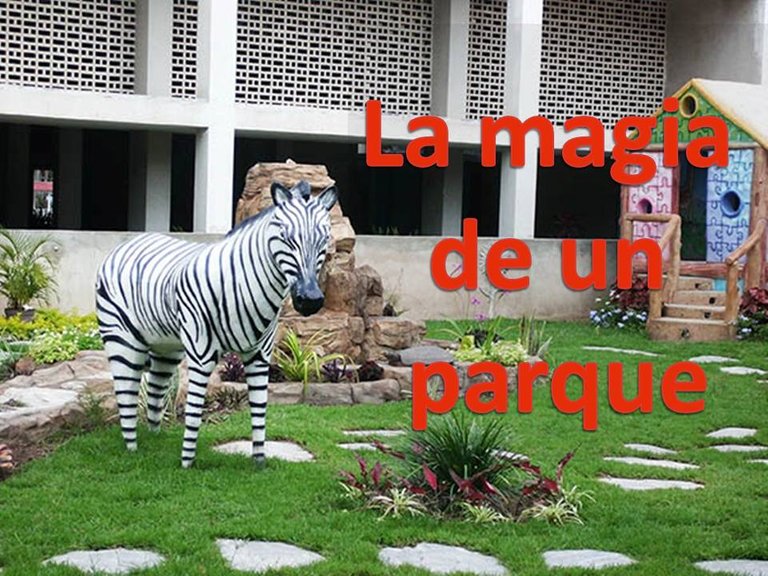 Cuando nos disponemos a visitar un parque nuestra mente enseguida se pone en modo diversión, son espacios de naturaleza recreativa que independientemente del tipo que sea: natural, temático, infantil nos ofrece un lugar de esparcimiento tanto a niños como a adultos.

A lo largo de este año, en la ciudad donde vivo, Maracay- Venezuela, se ha notado una reactivación de la actividad económica en el área comercial con frecuencia vemos la apertura de nuevos locales donde hay un alto predominio del sector comida. Son muchas y variadas las ofertas existentes y en construcción, la mayoría apuntando hacia un concepto familiar por lo que los parques infantiles ocupan un espacio importante en sus instalaciones.

Uno de los que ha llamado más mi atención, se encuentra ubicado, en un conocido centro de la ciudad que se ha ido caracterizando por la variedad gastronómica que ofrece, allí está en construcción un restauran que aún no sé cuál será su especialidad, sin embargo, ya se encuentra bastante adelantado, he seguido parte de su construcción y su parque promete ser un espacio para despertar la creatividad infantil veamos cómo va.

En el mes de abril tomé estas primeras fotografías, dos inmensos dinosaurios darán la bienvenida a los niños.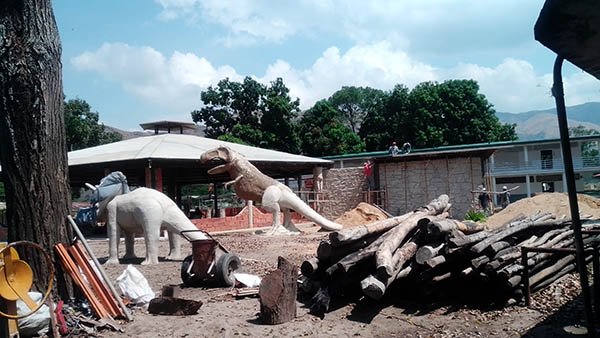 Ya para este mes de octubre los trabajos se han adelantado, el parque va definiendo su concepto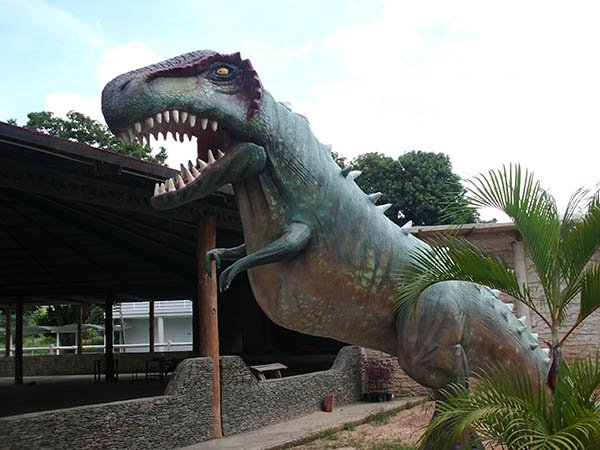 Los parques temáticos cumplen una función que va más allá del entretenimiento, al focalizarse en un tema, ayudan a despertar curiosidad ampliando su finalidad hacia el aspecto cultural y educativo.

La mayoría de los niños sienten gran atracción por los dinosaurios, para otros, incluso, se convierte en una pasión donde quieren saber cuáles son sus características, profundizar en el mundo jurásico o sobre su extinción de estas especies.

Algunos estudios demuestran que estimular el interés del niño hacia temas concretos y de amplio contenido fortalece habilidades y actitudes que lo benefician no solo en la adquisición del conocimiento sino que le proporciona una mayor amplitud para la comprensión. VER

Este pequeño parque temático también nos acerca a la fauna actual, poner a los niños en contacto con ambos mundos, es una excelente oportunidad para estimular el aprendizaje y la creatividad.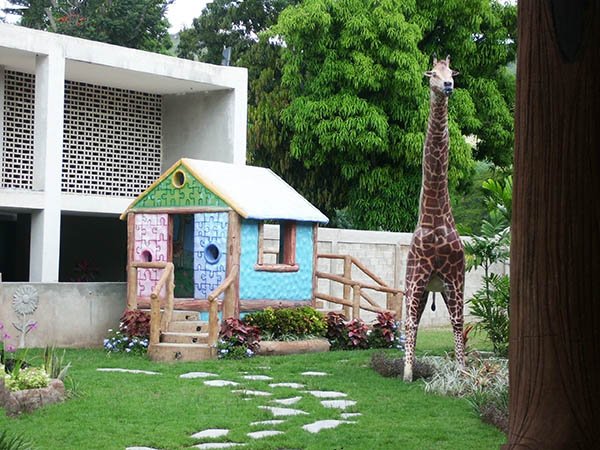 El tema "reino animal" permite que los pequeños, conozcan y exploren diversas áreas del conocimiento tales como la naturaleza, el ambiente, los ecosistemas, la reproducción, la conservación, entre otros. Aún cuando el momento no es el indicado para "dar una clase" el niño, después de la experiencia, se lleva sus impresiones y ya en la tranquilidad del hogar encontraremos el momento indicado para utilizar lo vivido, en ese día tan agradable, en un aprendizaje concreto.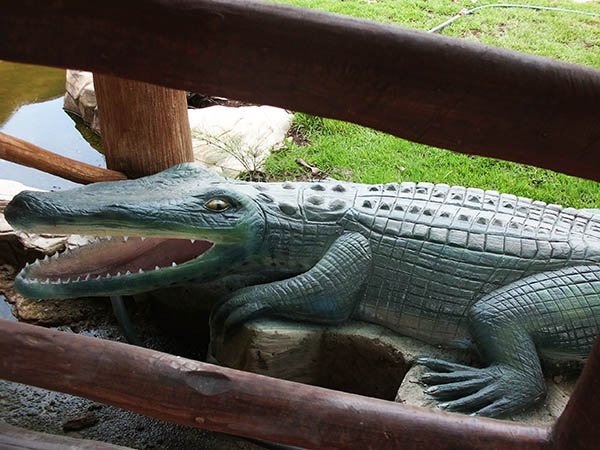 Por lo pronto, cada vez que ando cerca del lugar me imagino a los niños inventando cuentos, aventuras, dramatizando historias, tiernas y no tan tiernas, en un mundo de fantasías dentro de un contexto "real" y palpable.


In English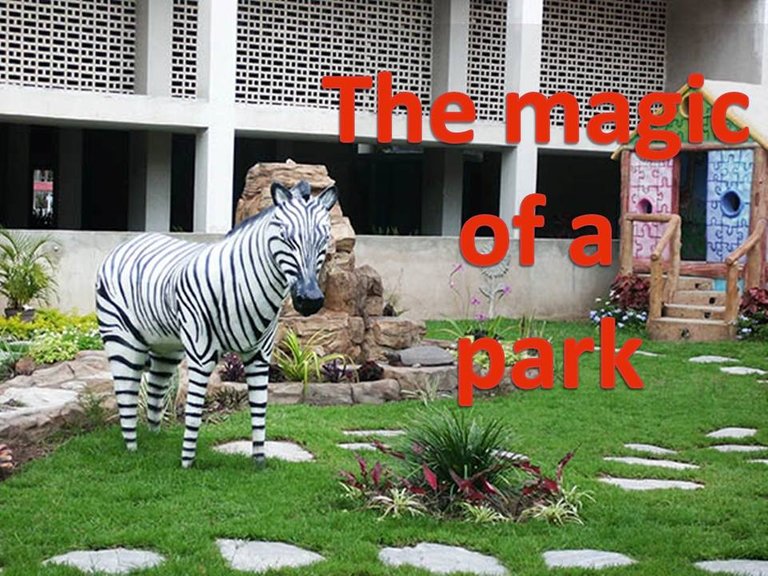 When we get ready to visit a park our mind immediately goes into fun mode, they are spaces of recreational nature that regardless of the type: natural, thematic, children's, offers a place of recreation for both children and adults.

Throughout this year, in the city where I live, Maracay, Venezuela, we have noticed a reactivation of the economic activity in the commercial area, we often see the opening of new stores where there is a high predominance of the food sector. There are many and varied existing and under construction offers, most of them aiming at a family concept, so playgrounds occupy an important space in their facilities.

One of those that has caught my attention, is located in a well-known center of the city that has been characterized by the gastronomic variety it offers, there is under construction a restaurant that still do not know what their specialty will be, however, is already well advanced, I have followed part of its construction and its park promises to be a space to awaken children's creativity, let's see how it goes.

In April I took these first pictures, two huge dinosaurs will welcome the children.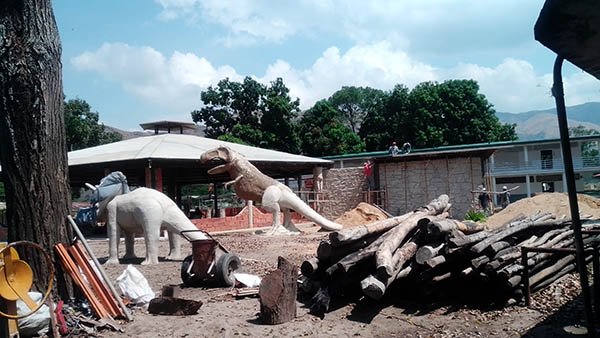 Already for this month of October the work has advanced, the park is defining its concept.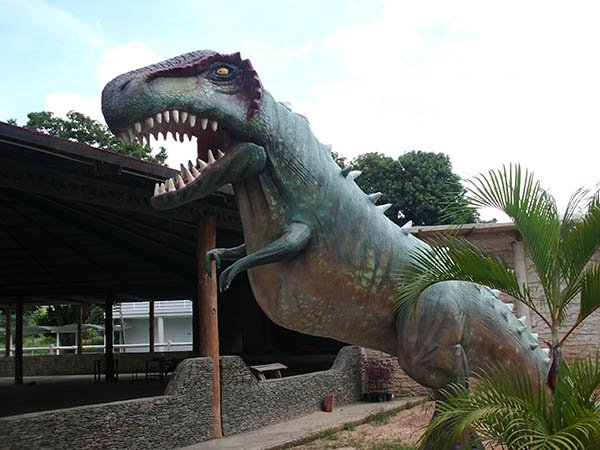 Theme parks fulfill a function that goes beyond entertainment; by focusing on a theme, they help to awaken curiosity, broadening their purpose to the cultural and educational aspect.

Most children feel great attraction for dinosaurs, for others, it even becomes a passion where they want to know what their characteristics are, delve into the Jurassic world or about the extinction of these species. Some studies show that stimulating children's interest in specific topics and broad content strengthens skills and attitudes that benefit them not only in the acquisition of knowledge but also provides them with a greater breadth of understanding. SEE

This small theme park also brings us closer to the actual fauna, putting children in contact with both worlds is an excellent opportunity to stimulate learning and creativity.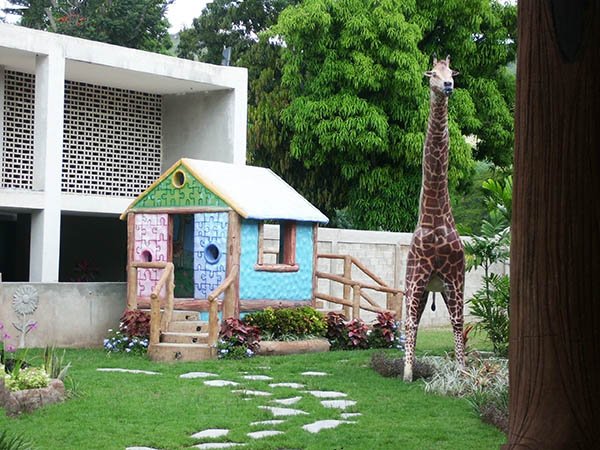 The "animal kingdom" theme allows children to learn about and explore different areas of knowledge such as nature, the environment, ecosystems, reproduction, conservation, among others. Even when the time is not the right moment to "give a class", the child, after the experience, will take his impressions with him and when he is at home, we will find the right moment to use what he has experienced in that pleasant day in a concrete learning process.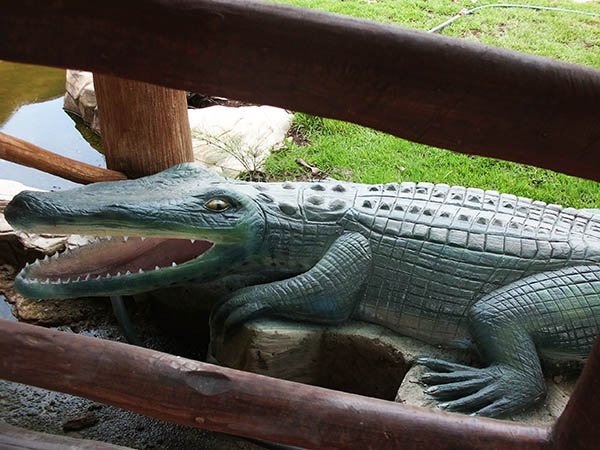 For the time being, every time I go near the place I imagine the children inventing stories, adventures, dramatizing stories, tender and not so tender, in a world of fantasies within a "real" and palpable context.


Translated with www.DeepL.com/Translator (free version)
Fuente de imágenes: Archivo personal






MIS REDES SOCIALES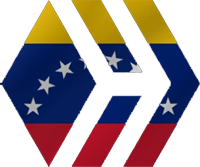 No te olvides de votar @cervantes como witness en esta página:
https:/wallet.hive.blog/~witnesses

Te invito a apoyar este proyecto como witnes y a formar parte de esta gran comunidad uniéndote a su Discord en el siguiente enlace:

---
---