Pegaxy Weekly 1UP Cartel Operator Report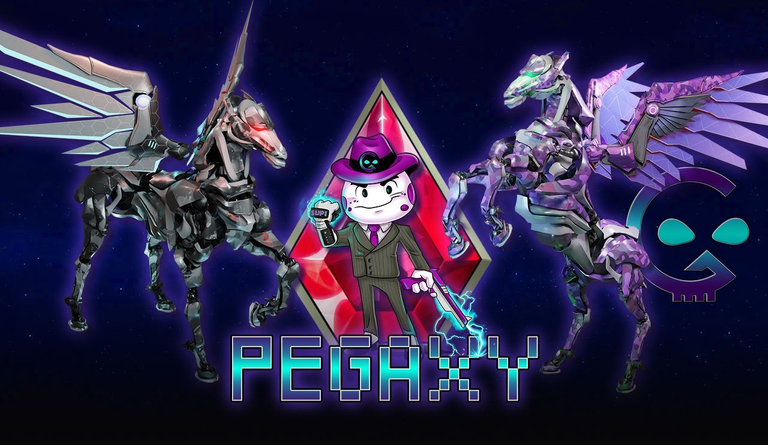 The meteoric rise of racing blockchain games has blasted Pegaxy at the forefront of a peculiar niche in NFT gaming. We are looking closer at the robotic mythological mares and stallions and what the hype is all about.
To know all the details about Pegaxy check @oneup-cartel Pegaxy apresentation post.
This post is written on behalf of the @oneup-cartel.

Pega Stats
On 30th March, it was made changes that make the Pegas stats relevant for the races.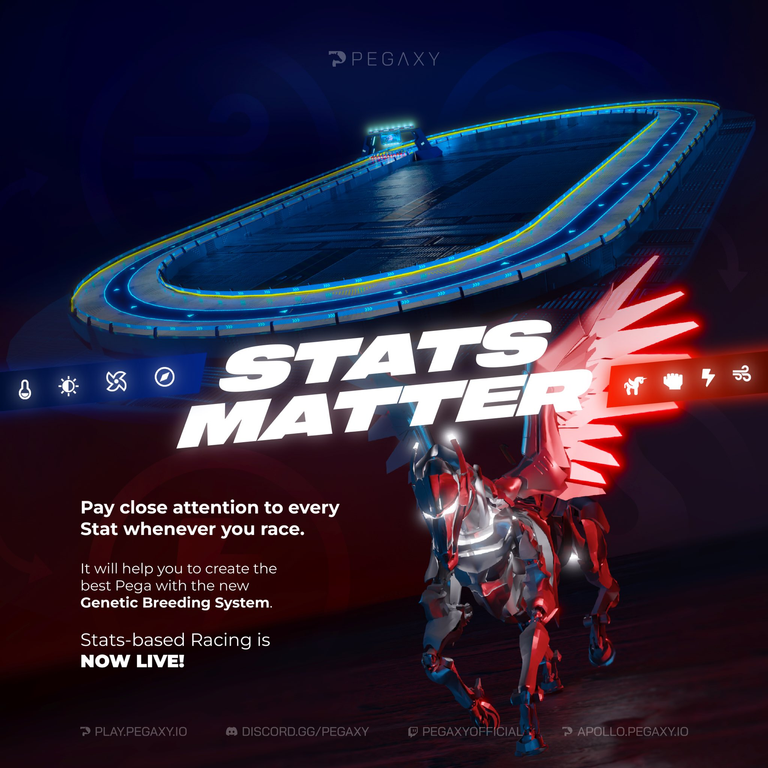 Currently, the stadiums where the race occurs also have stats that change every race.
The worst part was the team not give some explanation about how the stats affects the race and now the community are trying to find it.
This change reseted all the Pegas win rate to 0.
Now, the users are trying to do the most possible races to see what is the real Pega win rate and see if they can have already a meta Pega.

Breeding Event
Today starts a Breeding Event that will remove all the breeding cooldowns until 10th April (1 week).
The breeding cooldowns during the event will be
| Adult | 0 days |
| --- | --- |
| NewBorn | 2 days (48 hours) |
After the NewBorn be able to do the first breed, he will have 0 days of cooldown for the next breeds.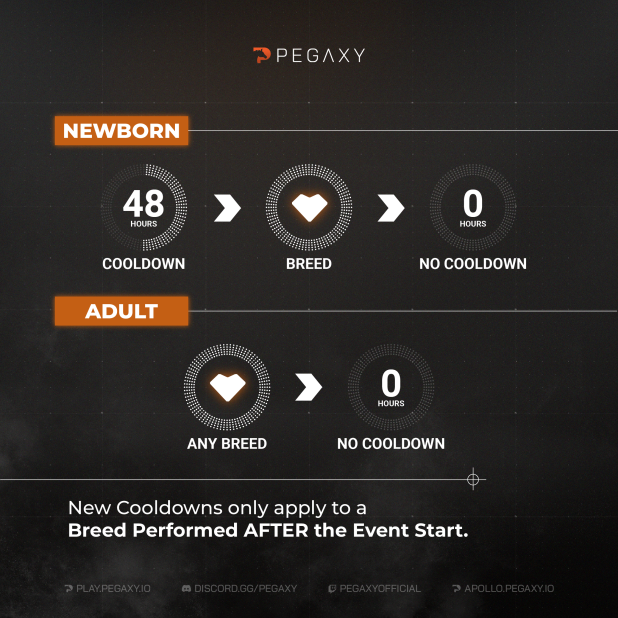 This event it being taken because since the stats matters, someone that were able to find what are the meta stats can breed more Pegas.

Pega Burning Mechanics and Pega Level UP
The next event will be an event called Pega Burning Mechanics + Pega Level UP that will occur on 14th April.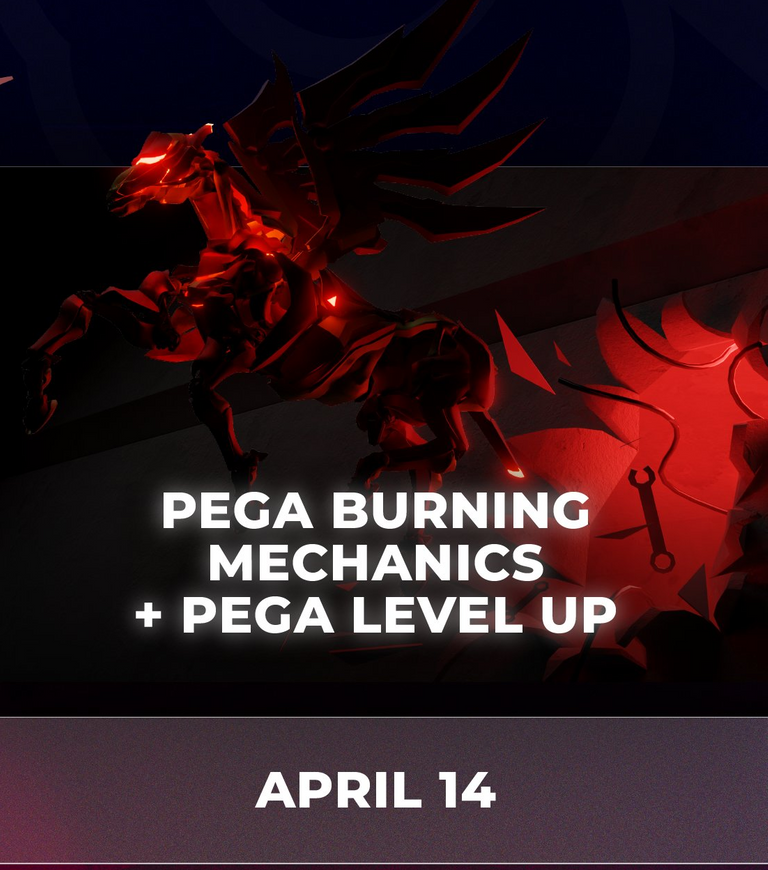 The team will introduce Pegas Tiers that will be able to race on different types of races that will have different rewards (higher rarity races will have higher rewards).
People will be able to burn two Pegas with the same rarity to receive a Pega from the above rarity level.
This Level Up will also require VIS.
Examples:
| Pega 1 | Pega 2 | New Pega |
| --- | --- | --- |
| Pacer | Pacer | Rare |
| Rare | Rare | Epic |
| Epic | Epic | Legendary |
It will not be possible to get a Founding Pega.
We also shall take in consideration the new Pegas will not have 0 breed count.
The below table will show how many each rarity will have
| Rarity | Breed Count |
| --- | --- |
| Rare | 4 |
| Epic | 5 |
| Legendary | 6 |

Marketplace Filter Upgraded
Since the Pegas stats now are relevant to the race, the users have the need to find a Pega with a set of stats.
Until now, it was impossible to do a quick filter in the marketplace to find this Pegas.
Today, the time launched a new filter in the marketplace where users will be able to set the stats that they want.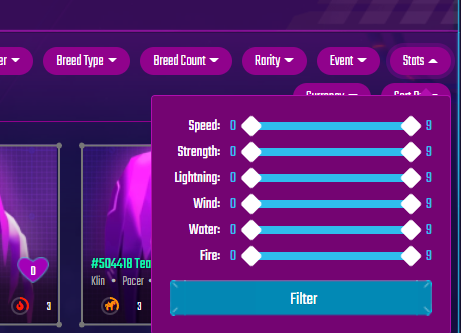 Accounting...
| | Farmed VIS | Earned USDT | Pega Win Rate |
| --- | --- | --- | --- |
| 1 Pega sharing profit 66% | 595.98 | 144.43802 | 11.94% |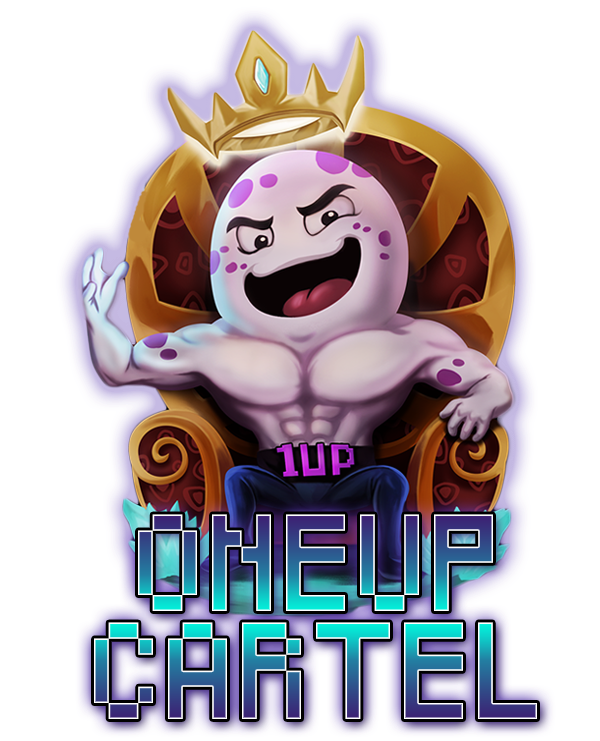 ---
---