FOMC Today: Inflation vs Interest rate comparing 3 regions [EN/DE]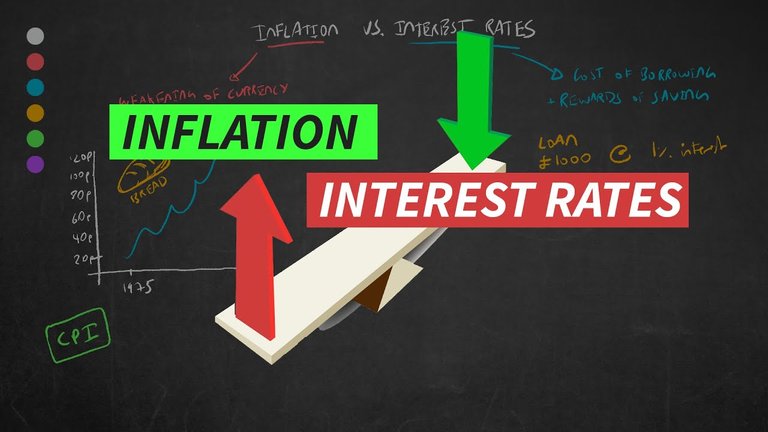 Interest rates decided by central banks controls how strong or weak is the currency of a country.
Last months we have seen a interest rate hikes by Federal Reserve System (FED), European Central Bank (ECB), and Reserve Bank of India (RBI). The following charts from TradingView show how far behind the interest rates are in comparison to inflation.
Die von den Zentralbanken festgelegten Zinssätze bestimmen, wie stark oder schwach die Währung eines Landes ist. In den letzten Monaten haben die Federal Reserve System (FED), die Europäische Zentralbank (EZB) und die Reserve Bank of India (RBI) die Zinssätze erhöht. Die folgenden Grafiken von TradingView zeigen, wie weit die Zinssätze im Vergleich zur Inflation zurückliegen.
FED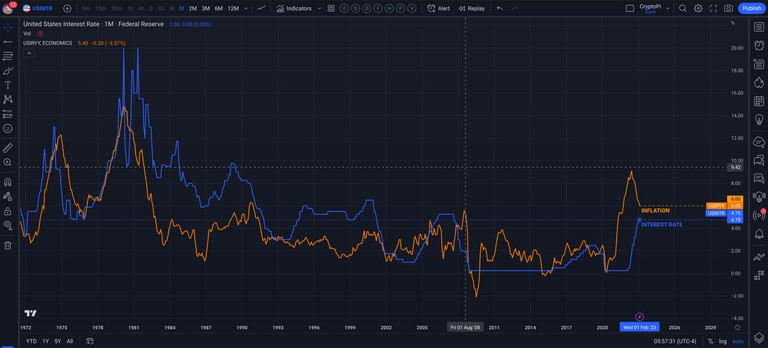 ECB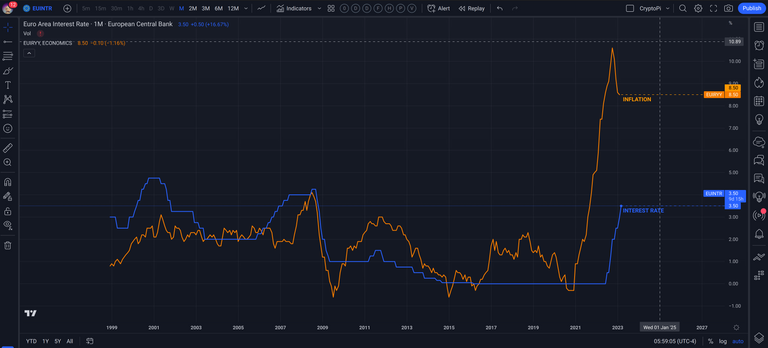 RBI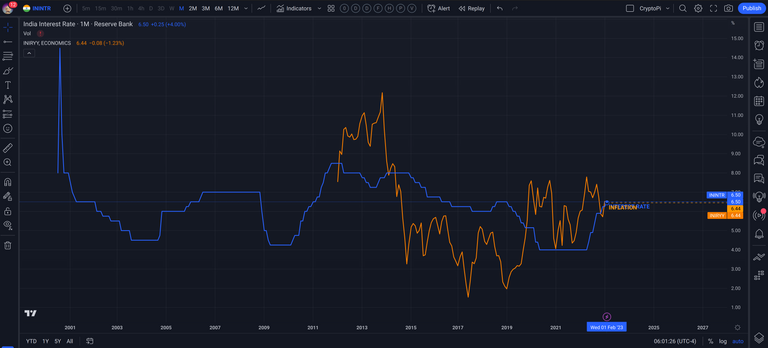 Inflation was not a issue for FED and ECB since 2008. Therefore, the interest rates has been relatively low in the past as compared to today. Whereas for RBI inflation was a huge challenge, thereby maintaining the interest rates high. In a way, the cost of high interest rate kept the inflation below 8% and enabled country's development to continue.
Inflation is far from FED and ECB's 2% goal. If they want to maintain strength of their respective currency, it is unlikely we see rate cuts. And if the rate cut happens before inflation is under control, the inflation could drastically rise again.
FOMC decides today on interest rate. Market forecasts 25bps, which might not be sufficient to fight the sticky inflation.
Die Inflation war für die FED und die EZB seit 2008 kein Thema mehr. Daher waren die Zinssätze in der Vergangenheit relativ niedrig im Vergleich zu heute. Für die RBI hingegen war die Inflation eine große Herausforderung, weshalb sie die Zinssätze hoch hielt. In gewisser Weise hielten die hohen Zinsen die Inflation unter 8 % und ermöglichten so die weitere Entwicklung des Landes.
Die Inflation ist weit von dem 2%-Ziel der FED und der EZB entfernt. Wenn sie die Stärke ihrer jeweiligen Währung aufrechterhalten wollen, ist es unwahrscheinlich, dass wir Zinssenkungen sehen werden. Und wenn die Zinssenkung erfolgt, bevor die Inflation unter Kontrolle ist, könnte die Inflation wieder drastisch ansteigen.
Der FOMC entscheidet heute über den Zinssatz. Der Markt rechnet mit 25 Basispunkten, was möglicherweise nicht ausreicht, um die hartnäckige Inflation zu bekämpfen.
Übersetzt mit www.DeepL.com/Translator (kostenlose Version)
---
The above content is for educational purposes only. It is not a financial advice.
Der obige Inhalt ist nur für Bildungszwecke. Es handelt sich nicht um eine Finanzberatung.
Source: Post Image
Additional reference:
If you find the content useful, kindly consider to follow and re-blog! It is a great motivation 🤗
Wenn Sie den Inhalt nützlich finden, denken Sie bitte daran, zu folgen und zu rebloggen! Es ist eine große Motivation 🤗.
---
---