NeedleWorkMonday - Crochet Pumpkin Fall Decor
The entrance of the cool Autumn breeze flows over your face and through your hair. The smell of pumpkin seeds and spice greets your nose tantalizing your tastebuds for something sweet. Bees make their last appearance as they stock for their colonies and prepare for the Winter ahead.
Boots and sweaters push out Summer wear as they make way to the fronts of the stores. The thought of egg nog crosses your mind delivering a dose of elation at the thought of the new season. You patiently await for the painted leaves to reveal themselves so they can mesmerize you with their glorious beauty.
What does all this mean?
It's Time to Crochet!
There's something about the start of Fall season that gets me in the mood every time. I haven't been motivated to crochet for awhile now. As soon as I walked outside last week and felt the cool breeze and smelled the brisk air I immediately had a desire to get out my yarn and hooks.
It's like this automatic switch turns on and I get going. My mind starts working and I'm looking for a project to complete. Give me a same day start to finish project so I can feel accomplished lol. 😅
Last week's NeedleWorkMonday challenge also played a part in my motivation. The relaxing entries helped get me in the mood to make this post.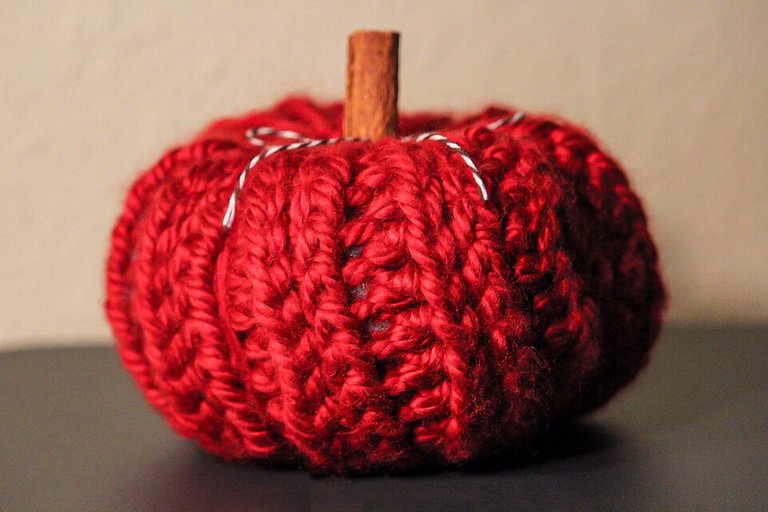 Our homeschool co-op just took a field trip to an apple orchard and next week we'll be going to a pumpkin patch. I think it's because I've been having pumpkins on my mind that I decided to make these little decor ones. I am making them as a gift to our co-op to use on our sign in tables as well as our teacher's lounge tables.
Normally I don't care too much about getting festive for the Fall but joining this co-op has really changed that. Being around other creative adults and kids and delving into more projects and activities is a sure way to motivate me (so I'm learning). I've had this urge to use my skills to share and gift others with it (I'm already working on another project for our teacher appreciation day 🤩).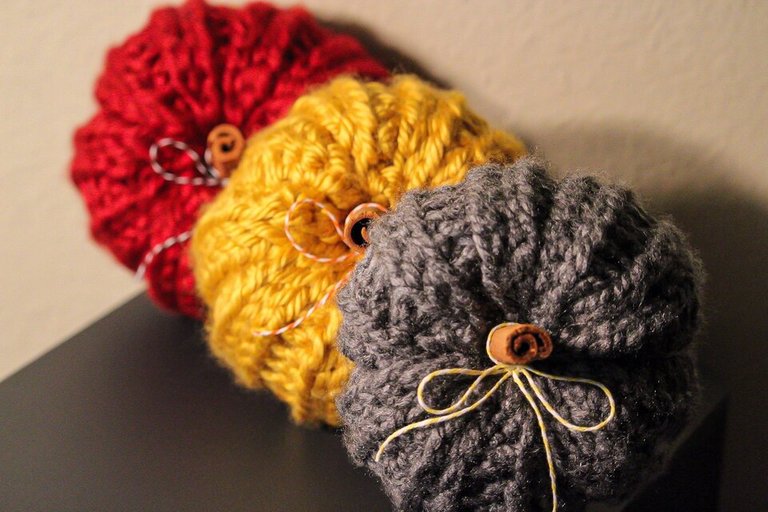 I needed to make something that would be easy to pack up and store safely. Since we rent out a church building we have to make sure we put everything back like it was and put all of the co-op supplies in our supply closet. We could easily place the pumpkins back in a bag and store them on a shelf until the next week.
I thought it would be nice to spruce up the tables a bit with these pumpkins. I haven't payed that close attention to the tables after setup to see if any decor is already placed on them. I will be taking a look at that this week to make sure there would be a good spot for them.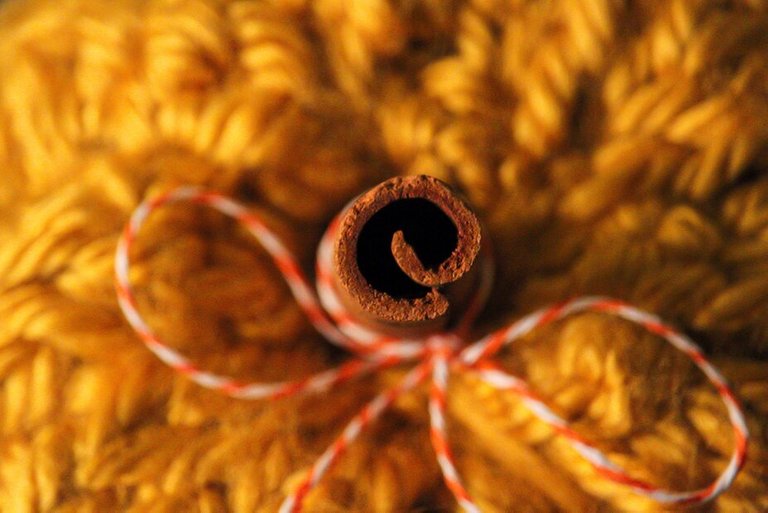 I have to give a shout-out to @nineclaws for putting the thought and image of cinnamon sticks in my head. When I read her latest post and saw her beautiful photos it made me want to go out and buy cinnamon sticks to put in my coffee. Ironically right after reading her post I figured out I wanted to make these pumpkins which used cinnamon sticks for the stem.
Oh yea! I suddenly had two purposes for these sticks.
Thanks @nineclaws! Oh and my cup of coffee was so AMAZING all Cinnamonized!! 😄
I always go to the Dollar Store first before going anywhere else to buy supplies. It's amazing how you can find almost everything you need there. They had some regular brown twine but I decided to also get this striped twine to add a little more color.
I found three striped colors that went great with the yarn I already had…brown,orange and yellow.
These pumpkins whip up pretty fast. You make a long rectangle using a series of half double crochet stitches, fold and sew together, close up one end then add stuffing, then close up the other end. After that you insert your cinnamon stick, add some definition to your pumpkin and finally add your twine.
I worked on these for two days while watching some family shows. I had my little lamp by me along with my cinnamon stick infused coffee and enjoyed myself.
I ended up with four total so far but plan on making two more colors; orange and dark blue.
This ivory colored one didn't make the group photo since I started on it right after taking the outside shots. I made this one two toned since I only had a little bit of each color. Both colors are ivory but one of the yarns has flecks of color.
Can you tell the difference and see the contrast on the backside?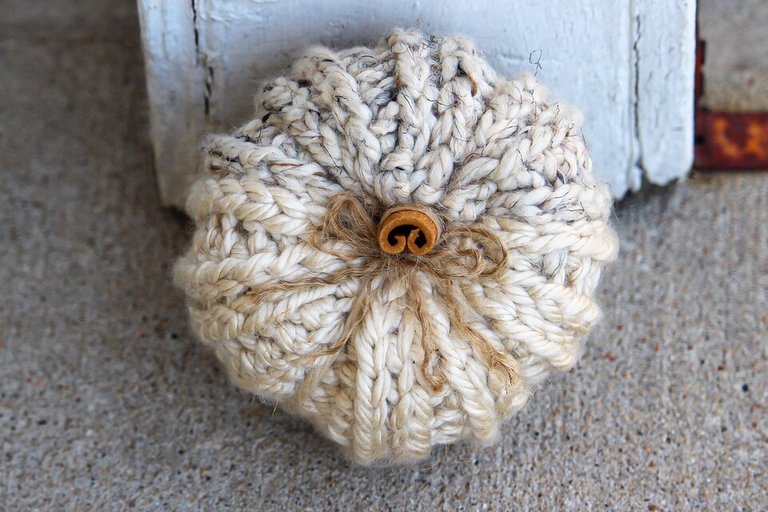 I thought the brown twine really went well with this color.
I was tickled with how much my kiddos loved the pumpkins. I think they were surprised to see me crocheting again. They kept asking
What are doing? Who are you making those for? What color are you doing next? 😁
My youngest kept asking me if she could have them. As soon as I finished one she would take it around to show everyone the finished product making sure they smelled the stick. Both my daughters want one of their own.
My oldest wants to decorate her dresser and the youngest of course wants one to play with. Not sure how well it would hold up as a toy. 😂
Here are my two youngest holding them outside while I snapped a photo…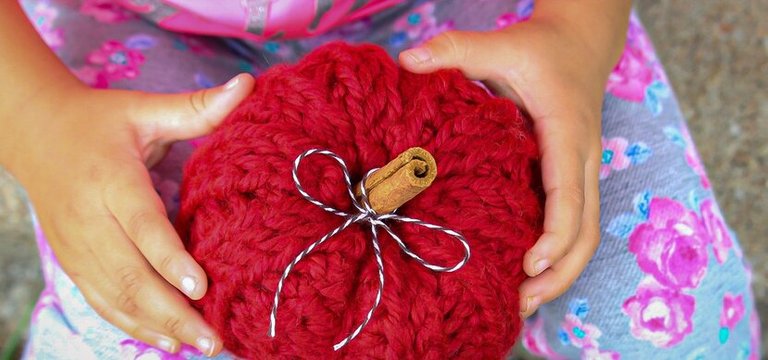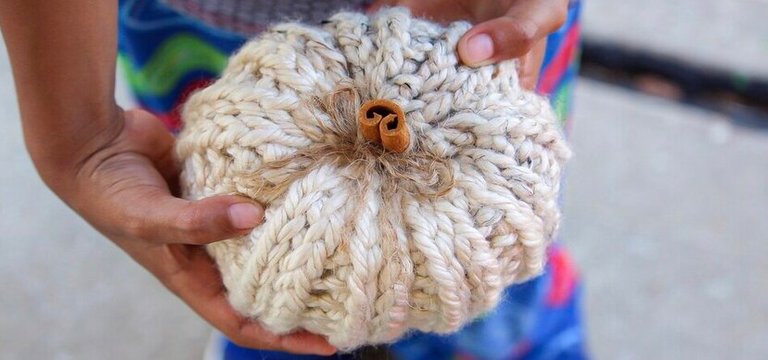 This outside photography venture was short lived. As I stated above during my attempt at poeticness the bees were busy. There were two constantly flying above my head and buzzing in my ear while trying to take these photos.
I grabbed my husband out with me as a mental support to get through all the noise. He was my informer…letting me know when they were by me so I'd bee aware. I know they aren't out to sting me but it really gets uncomfortable with how they keep following me and how close they get. 😞
Okay enough of the apiphobia (still a lot to work on there) back to the needlework.
I'm glad I took time out for this project. It felt good getting back to doing what I love. The best part was being able to finish most of them all in just one weekend. Yay!! 😃


For those of you entering the Fall season, what are you in the mood for making?
All photos are my own and were taken with our Cannon EOS Rebel T6.
pattern source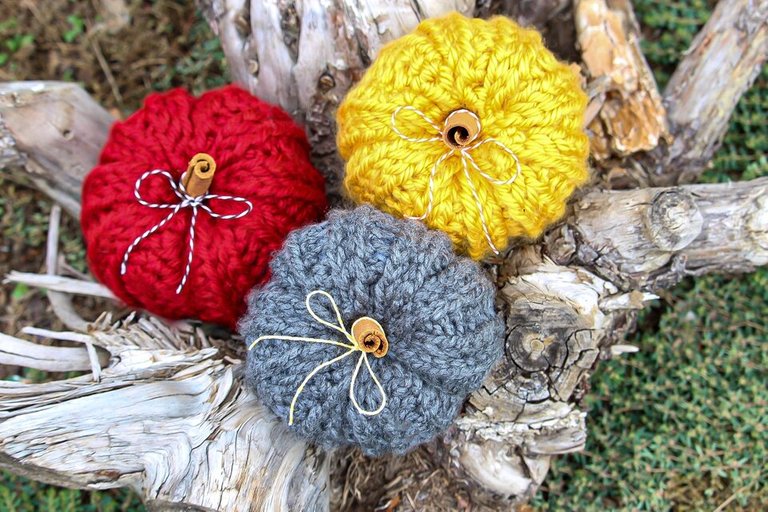 Happy Autumn! 🍁
---
---