Hello Forty!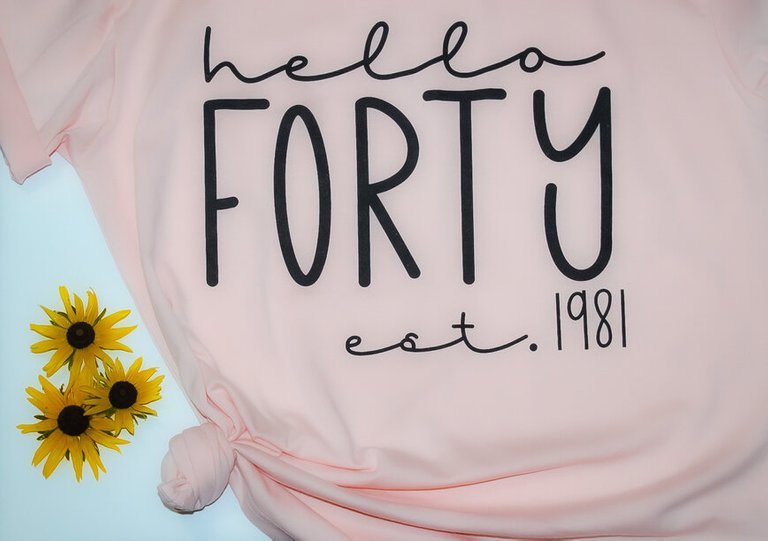 Well it's here folks! The time has come and there's no turning back. The moment of truth has arrived and it's now out of my hands. A time in my life that has come way sooner than expected. Those special two numbers that officially makes me a middle aged woman.


𝐻𝑒𝓁𝓁𝑜 𝐹𝑜𝓇𝓉𝓎!
Wow! I have been accepted into the 40's Union even though I still feel 30ish 😅.
I have never been ashamed to age and I'm sure not shy about sharing it either (as you can clearly see). I think aging is a beautiful thing. It marks more experience and growth and symbolizes how much life you've lived.
I am thankful to see another year. I remember losing classmates as young as 11 years old. It taught me a long time ago never to take life for granted.
I love shouting out my age because it's truly a blessing that I still have life. I thank the Lord for allowing me to be here, witnessing my family grow and being able to enjoy these moments even in the midst of tragic life changes.


𝒲𝒽𝒶𝓉 𝒜𝓇𝑒 𝒯𝑜𝒹𝒶𝓎'𝓈 𝒫𝓁𝒶𝓃𝓈?
Awwww you really do care. Thanks so much for asking about my plans.
☺️🤗😘
I'd love to share what I plan on doing for my Big 40th!
I'll be staying at home taking care of my family who has been battling a Summer cold all week 🥳🎉.
Yes, there is still a such thing as the common cold.
We were wanting to plan a backyard birthday bash with an outdoor movie screen and the whole works but time and monies weren't on our side. On top of that some of our other family members have colds and I'm just not in the mood to celebrate like I was before.
Don't get me wrong, once everyone is well we will do something to celebrate but it will be small and simple. It's funny when you envision something for so long then it actually gets here and it's Nothing like you imagined it would be. I'm just grateful to be well enough to take care of my babies who need me more than I need to celebrate me turning forty.
It was so special this morning. I woke up to my sweet runny nose children singing happy birthday to me 🥺. Even though they weren't feeling the greatest they took the time to make me feel special in their own way. 🥰❤️ That type of love is all I need.
Well I'm off to go make some teas and soup to help us get over this mess. Thankfully my husband and I are pretty much in the clear so we can now just focus on our little sweethearts.
I hope you all have a Wonderful Friday and enjoy your weekend. I will as much as I can ~


Yours Truly,
The Newest Member of the Forties Union!
I ordered the shirt in the photo to wear over the weekend. I figured since I'm not going anywhere I would make some good use of it as a cover photo hahaha!


Thanks for Reading ~ ❤️
---
---