A Gift from Across the Globe - Hive Connections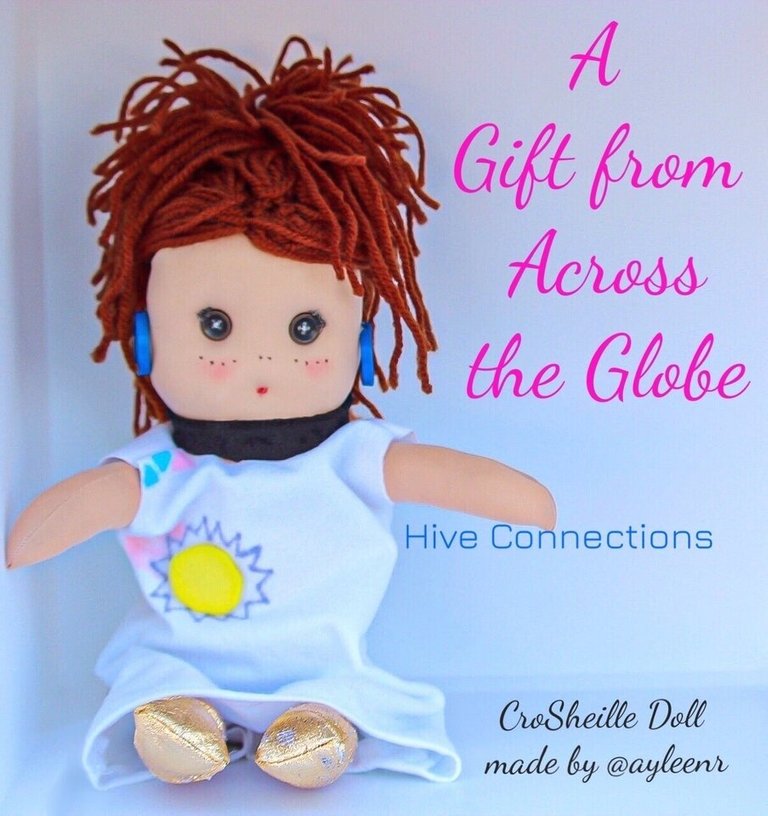 If you've been on Hive long enough you have seen the term connection quite often. We are always talking about how wonderful Hive is in how it opens up opportunities to connect with so many people from around the world. I've conversed and interacted with folks I probably never would have if it weren't for this platform.
It has been a learning experience reading about different countries, their culture and traditions from the many authors who share here. Sometimes I wish I could actually touch, taste and smell the things I see and read about. Wouldn't that be awesome?
Well, in my case this actually did happen!
We ran a two week Tease Us challenge in the NeedleWorkMonday Community. The first week we shared sneak peeks of our projects and gave hints and clues of what it could be. Some revealed what their projects were but only shared a little of the process and showed how far they progressed for the first week.
It was hard to guess what many of them were going to be.
There was one Hivizen in particular, @ayleenr, that shared she was making a character (in the form of a doll) but we were to try to guess what character it could be. My guess was that it must be a character on television…but of course I was wrong.
When the reveal week came I remember opening up her post and seeing the doll. It didn't hit me until she mentioned this character had freckles which I didn't notice at first.
I have freckles! 😃


Further down the post she mentions her character has light eyes.
I have light eyes! 🤩


Then she shows photos of her stitching on the hair.
I have reddish brown hair like that! 🧑🏼‍🦰


These were my out loud thoughts rushing through my brain as I read her post.
Wait could this be me 😳? Lol, no way. 😅


Then I read this part:
I must tell you that I have much appreciation to @crosheille I had her support since I started my needlework, she is a very charismatic person, I am grateful for the amount of quality publications that she offers in HIVE, thank you for your support, I know that many of us are happy with the motivation we receive from the founder @crosheille.
First,
😲😲😲😲😲😲😲😲😲😲😲😲😲😲😲😲
I was in shock. I couldn't believe that someone thought that much of me to make a doll of me. That's Epic for real!
Next,
🥺🥺🥺🥺🥺🥺🥺🥺🥺🥺🥺🥺🥺🥺🥺🥺
I was overcome with many emotions like how kind and sweet that was to show her appreciation in such a creative way. I was emotional in a sense of feeling very special, loved and appreciated.
Then,
😆😆😆😆😆😆😆😆😆😆😆😆😆😆😆😆
The thrill of it all came. Like dude, I have a CroSheille doll! How many people can say they have their own personal Me doll?!! It was exciting and so much fun seeing all this.
Finally,
🤗🤗🤗🤗🤗🤗🤗🤗🤗🤗🤗🤗🤗🤗🤗🤗
I wanted to hug her for all the work she had put into making this beautiful doll that represents my presence on Hive. She could have made any character but chose to make me. I am forever grateful of that.


I immediately responded to her post without any hesitation "I WANT THIS DOLL!" 😄
Even though I knew it would most likely not happen since she lives in Venezuela, I still wanted her to know how much I loved the doll and would love to have her here with me.
Then she responds with "I'm glad you liked the doll, if you are in USA I can send it to you with a friend who is about to travel!!! I would love for you to have it as a souvenir!!!!🙂❤️"
I was not expecting that response but was overjoyed to hear it! There was a chance I could actually have the doll here with me.
We continued discussing it on Discord and the final plan was that her relative was going to mail it to me while she was staying in Miami. I was prepared to help with shipping costs but @ayleenr wanted to gift the doll to me so she took care of everything 🥰. How sweet that was of her.

The doll wasn't the only thing I received. She also sent some yummy chocolate candies that were individually wrapped as well as a
fashionable and adorable Christian Dior bracelet.
I wanted to share with @ayleenr and with you how much my CroSheille doll is enjoying her new home. She wanted to share with you some of the recent plants that have been growing around the house. Every plant you see today was planted before we moved in.
Here she is showing you the sunflowers. She really loves the color of these. Like me, she loves bright and bold colors.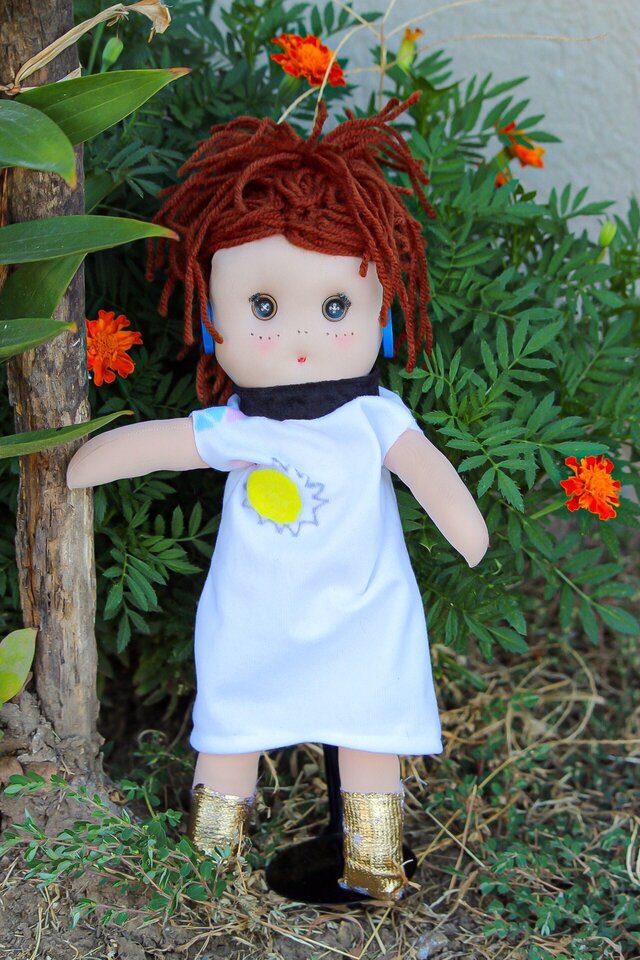 Another bold color in these pretty marigolds. I learned this Summer that they couple well with tomatoes and help them thrive.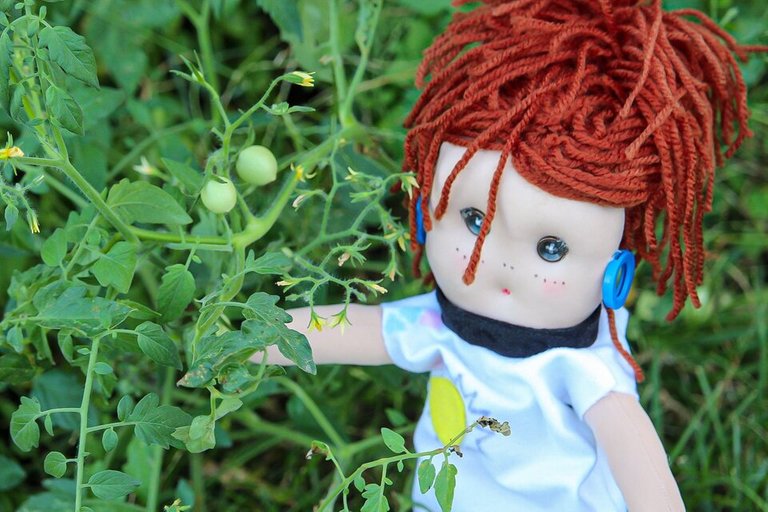 Finally, our grape tomatoes that have been growing like crazy. My kids love picking these as soon as they turn red and ripen. They have such a sweet flavor and are great for a healthy snack. I love adding them to my salad.

I am really happy to have my doll here with me. I had to immediately put her up high to keep out of my three year old daughter's reach. She was enticed to get her hands on her but in order to preserve her I can't let that happen.
Hive Connections
It's so surreal that I received such a beautiful gift all the way from Venezuela. The avenues that Hive has opened for us to connect with friends from across the globe is incredibly amazing. It is a gift I will cherish forever.
Thank you again to @ayleenr for her loving kindness and for taking the time to show appreciation through this beautiful work of art ❤️.
She has been added on as a 50% beneficiary of this post.


All photos are my own and were taken with our Cannon EOS Rebel T6.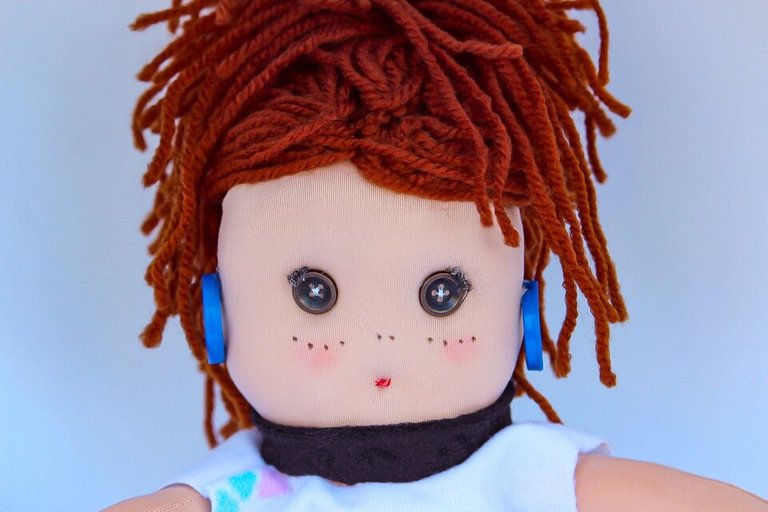 Stay tuned this week to learn about my Hive handle: the pronunciation and how it was born.
Thank You ~
---
---