Ven a Conocer el Restaurant City Day / Come and visit the City Day Restaurant [Esp - Eng]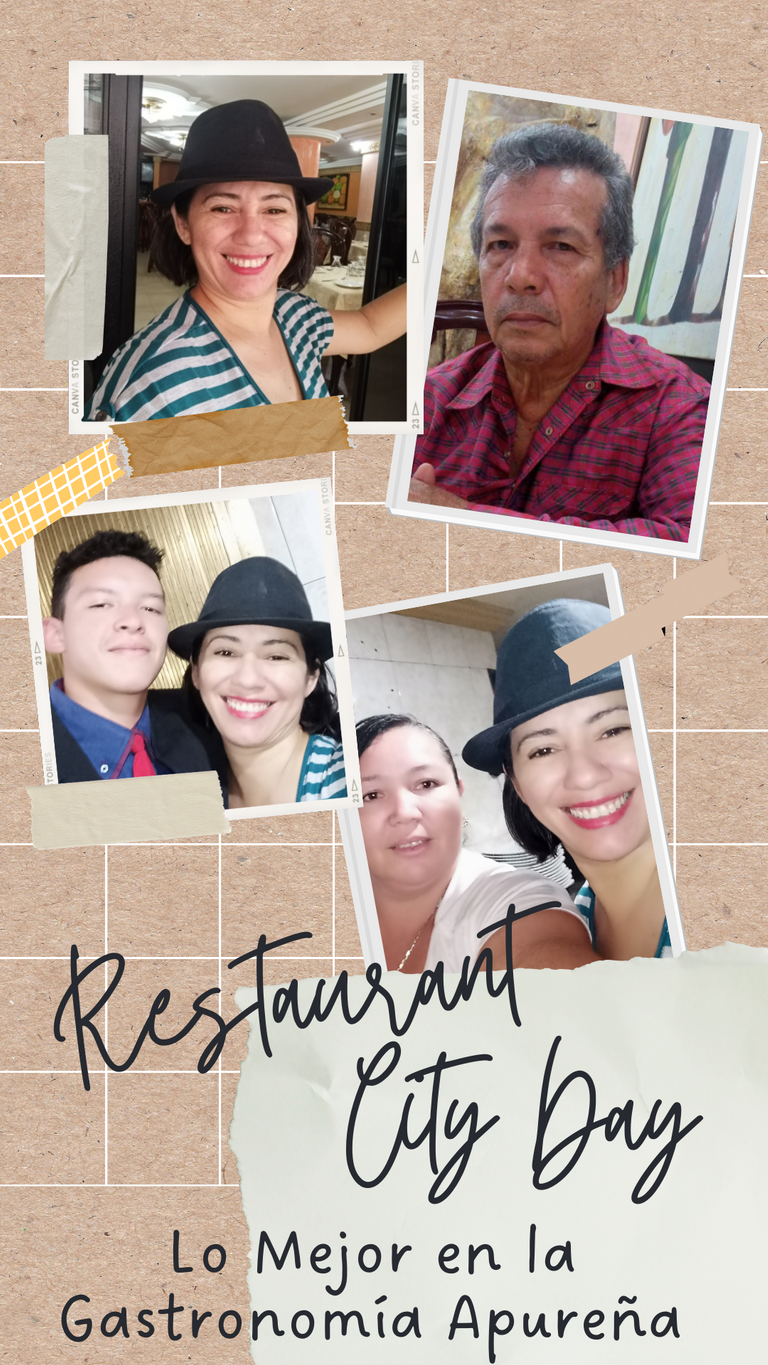 Don Pedro Sánchez Mirabal, un hombre que en San Fernando de Apure lo relacionan con un buen comer, es la representación de nuestra gastronomía, es un hombre de trabajo, tiene un nombre que lo ha forjado en el fuego de la cocina, del cual salen las mejores comidas, con su perseverancia se ha sabido mantener en el medio, su familia es el verdadero secreto del triunfo, de la mano con la constancia, la elegancia y el buen sazón.
Don Pedro Sánchez Mirabal, a man that in San Fernando de Apure is related to good eating, is the representation of our gastronomy, he is a man of work, he has a name that has forged him in the fire of the kitchen, from which the best meals come out, with his perseverance he has been able to maintain in the middle, his family is the true secret of the triumph, hand in hand with constancy, elegance and good seasoning.


El City Day restaurant que recientemente abrió sus puertas nuevamente, te invito a degustar una gran variedad de comidas, queda ubicado en San Fernando de Apure, muy cerca del Boulevard, en la calle Bolívar, entre Calle Ricaurter y Arévalo González, justo al lado del Hotel, venir a este lugar es verdaderamente un placer.
The City Day restaurant that recently opened its doors again, I invite you to taste a great variety of food, it is located in San Fernando de Apure, very close to the Boulevard, on Bolivar Street, between Ricaurter and Arevalo Gonzalez Street, right next to the Hotel, coming to this place is truly a pleasure.
 


Mi regreso a la cocina definitivamente será nuevamente de la mano de esta mi familia, nunca olvidaré la confianza y el apoyo que me dieron mientras estuve aprendiendo a manejarme en esta área, porque de verdad no sabía hacer ni una pasta, aunque prefiero sentarme a disfrutar de una buena preparación en el Restaurant City Day que cocinar, no dejaré de aprovechar la oportunidad de ver la elaboración de estas comidas, así que te invito a verla conmigo.
I will never forget the trust and support they gave me while I was learning to manage in this area, because I really did not know how to make pasta, although I prefer to sit and enjoy a good preparation in the Restaurant City Day than to cook, I will not miss the opportunity to see the preparation of these meals, so I invite you to watch it with me.


ESPAÑOL
Ahora iniciaremos con Un Churrasco de Dorado, solo con papas fritas.
1.- Tomo un bueno trozo de Dorado, se limpia, le colocas la sal, los condimentos y lo pones harina de trigo.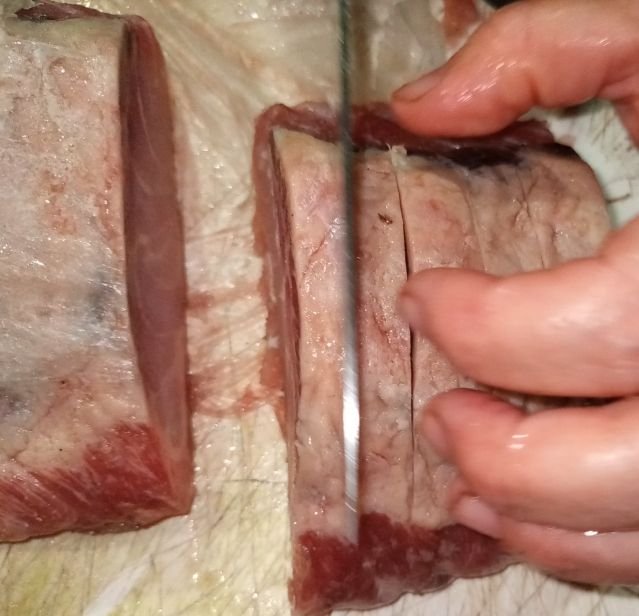 ENGLISH
Now we will start with a Churrasco de Dorado, only with french fries.
1.- Take a good piece of Dorado, clean it, add salt, seasoning and wheat flour.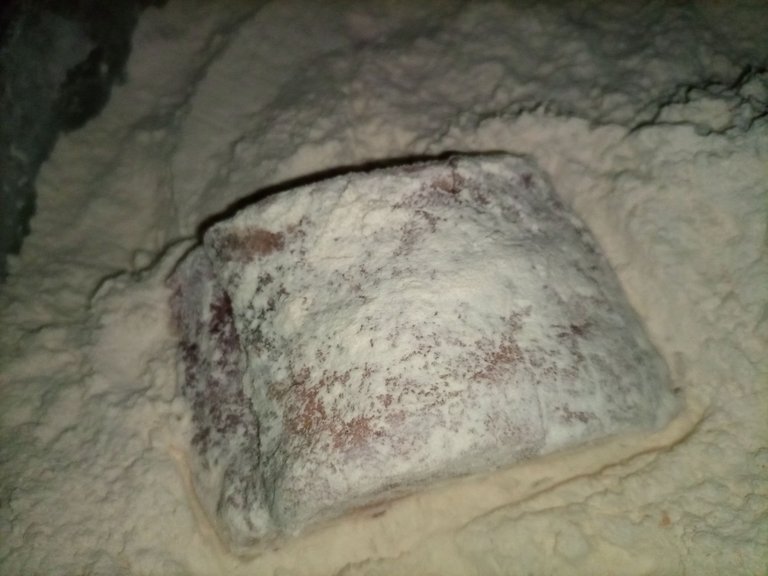 ---
2.- Ahora lo pondremos en la plancha y para aprovechar su mismo vapor lo taparemos, y así se continuará con su coción de manera excelente por dentro y nos mostrará un lindo dorado en la parte exterior.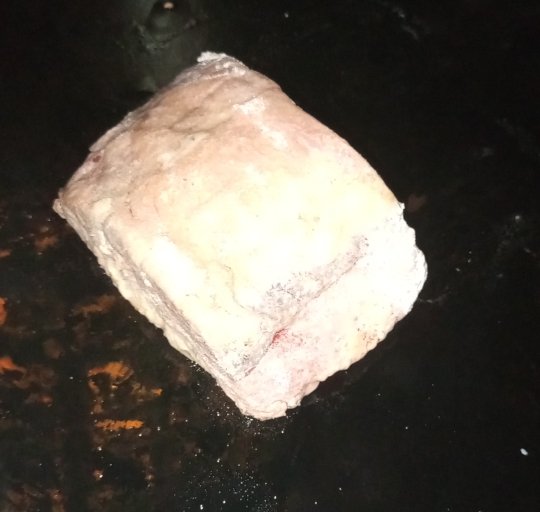 2.- Now it will be put on the griddle and to take advantage of its steam we will cover it, and so it will continue to cook excellently on the inside and it will show us a nice golden brown on the outside.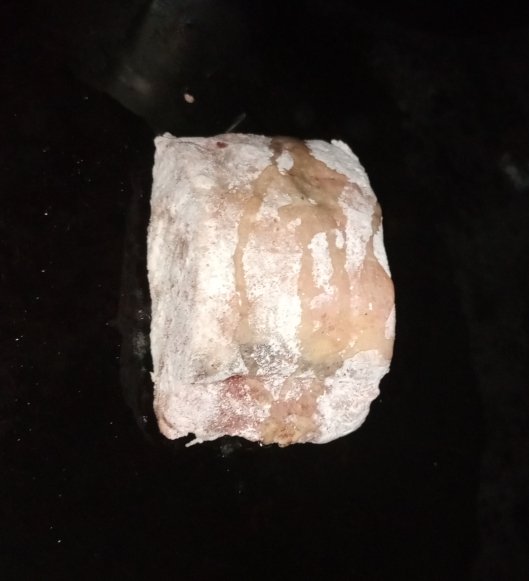 ---


3.- Este espectacular churrasco solo será acompañado por papas fritas, según la preferencia del cliente que lo solicito, y como estamos aquí para ello, así lo haremos.
Se pelan las papas, se lavan y se fríen en abundante aceite.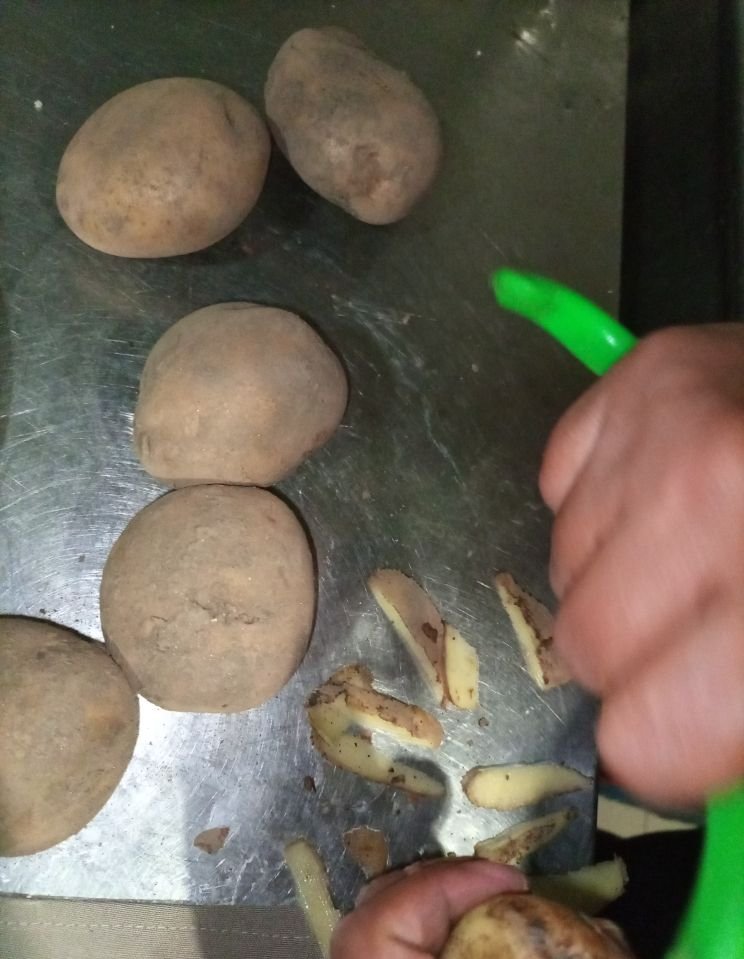 3.- This spectacular churrasco will only be accompanied by french fries, according to the preference of the client who requested it, and as we are here for it, we will do so.
Peel the potatoes, wash them and fry them in abundant oil.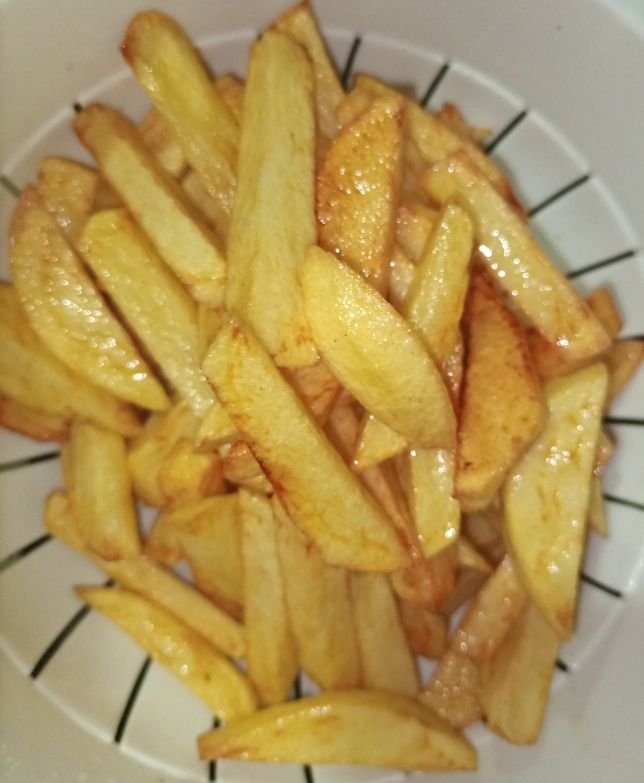 ---
Es hora de emplatar, así que Colocamos el gran churrasco de Dorado, las papitas y se adorna en una esquina con unas pequeña porción de puré y una hoja para darle color.


It's time to plate, so we place the big Dorado steak, the chips and garnish in one corner with a small portion of mashed potatoes and a leaf to give it color.


Ahora iniciamos con la preparación del churrasco de lomito a Caballo, con ensalada mixta y puré de papas.
Se corta el trozo del lomito, se corta a la mitad para extenderlo, se sazona, y se le hacen unos cortes en la parte superior con el cuchillo para lograr un lindo rayado.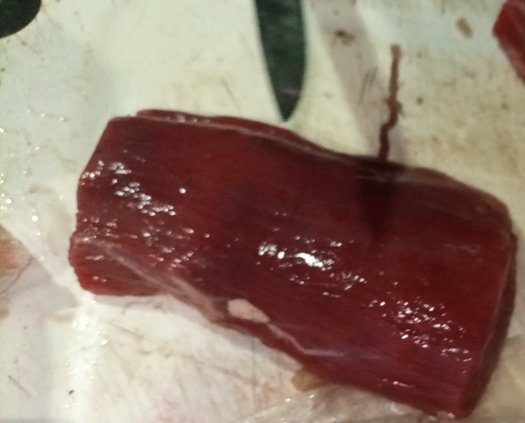 Now we start with the preparation of the churrasco de lomito a Caballo, with mixed salad and mashed potatoes.
Cut the piece of tenderloin, cut it in half to extend it, season it, and make some cuts in the upper part with a knife to achieve a nice striping.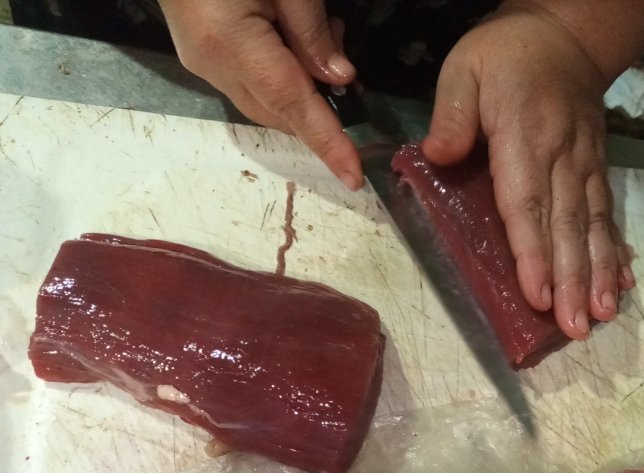 ---


Mientras el churrasco de lomito está en la plancha, preparemos la ensalada mixta, la cual lleva lechuga, tomate, cebolla, remolacha, aguacate y zanahoria.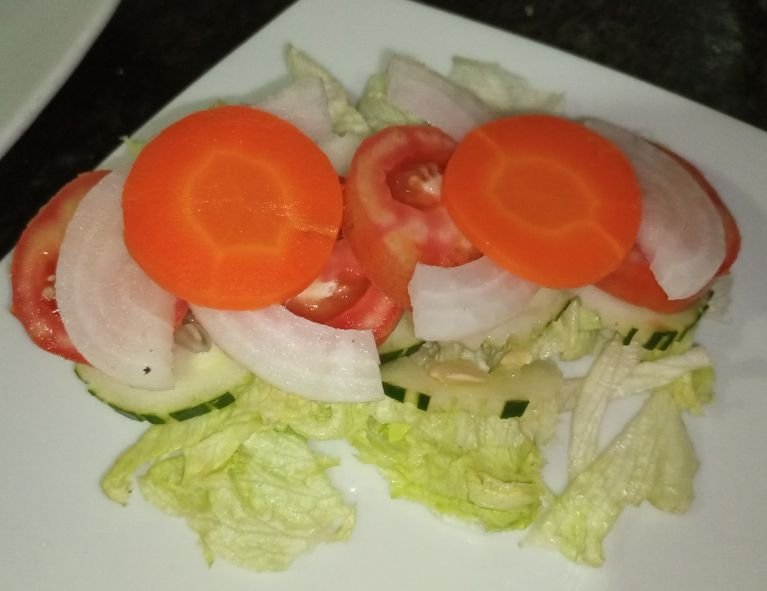 While the sirloin steak is on the grill, let's prepare the mixed salad, which includes lettuce, tomato, onion, beet, avocado and carrot.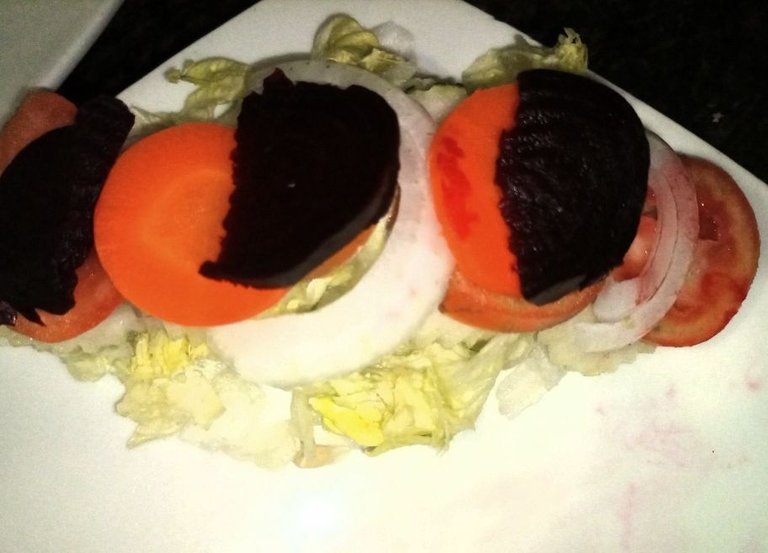 ---


Ya el churrasco de lomito en la plancha, dorandosé, y pongo el huevo en la parte superior, recuerden saque el churrasco es a caballo.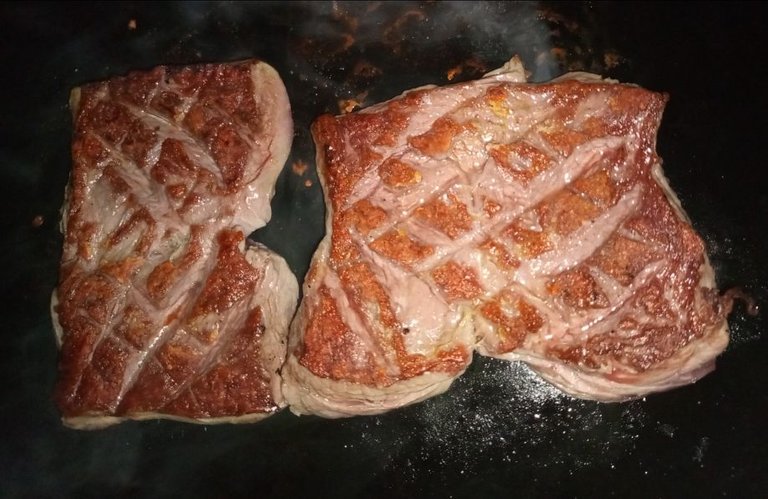 Already the churrasco de lomito on the grill, browning, and put the egg on top, remember to remove the churrasco is on horseback.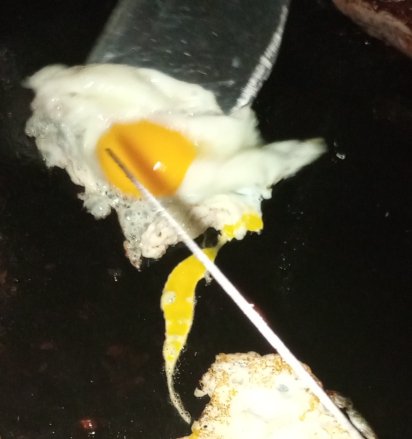 ---
Se calienta el puré de papas, se coloca en una manga pastelera, para que cuando se sirva no solo sea exquisito, también bello, garantizando una buena presentación visual del plato.


The mashed potatoes are heated and placed in a piping bag, so that when served it is not only exquisite, but also beautiful, guaranteeing a good visual presentation of the dish.


Ahora vamos a servir, así que colocamos en plato, la ensalada, el churrasco, el puré de papas y no olvides el huevo encima del gran trozo de carne.


Now we are going to serve, so we place on a plate the salad, the steak, the mashed potatoes and don't forget the egg on top of the big piece of meat.
La Parrilla de Pollo es más sencilla, pero deliciosa, para prepararla tomamos el trozo de la pechuga de pollo y lo cortamos en cuadros, lo sazonamos, para luego saltearlos en la plancha, dorarlos.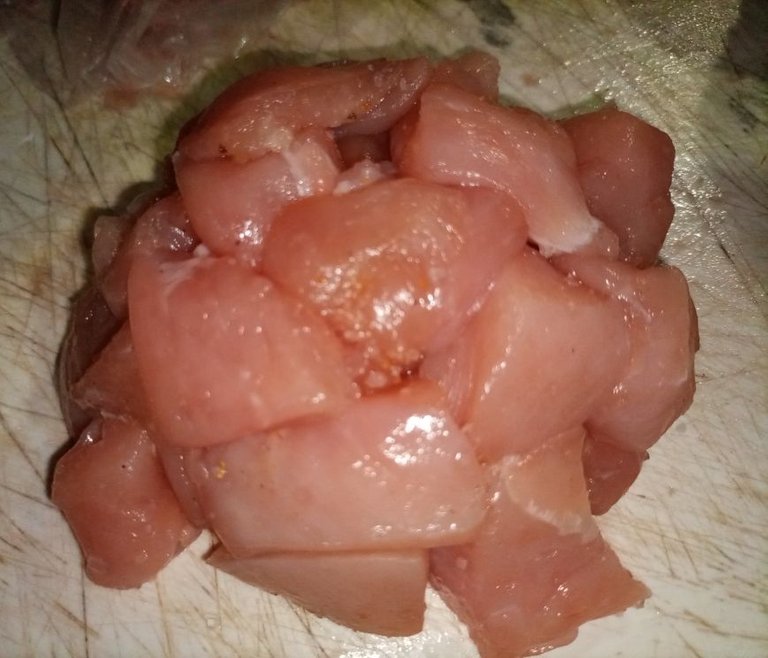 The Chicken Grill is simpler, but delicious, to prepare it we take a piece of chicken breast and cut it into squares, season it, and then sauté it on the grill, browning it.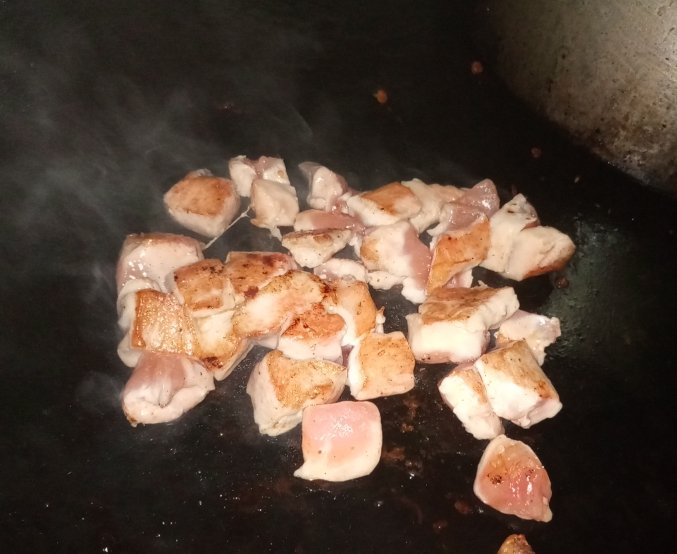 ---
Ya podemos emplatar porque está parrilla va acompañada de papas fritas y ensalada.
Now we can serve it on the plate because this grill is accompanied by french fries and salad.
---


La entrada fue una ensalada al César y también se colocaron unos panes al ajillo, lo cual quiero destacar que fueron elaborados ambos por Juan, el hijo de Don Pedro Sánchez Mirabal y mi gran Amiga Bekin Aparicio.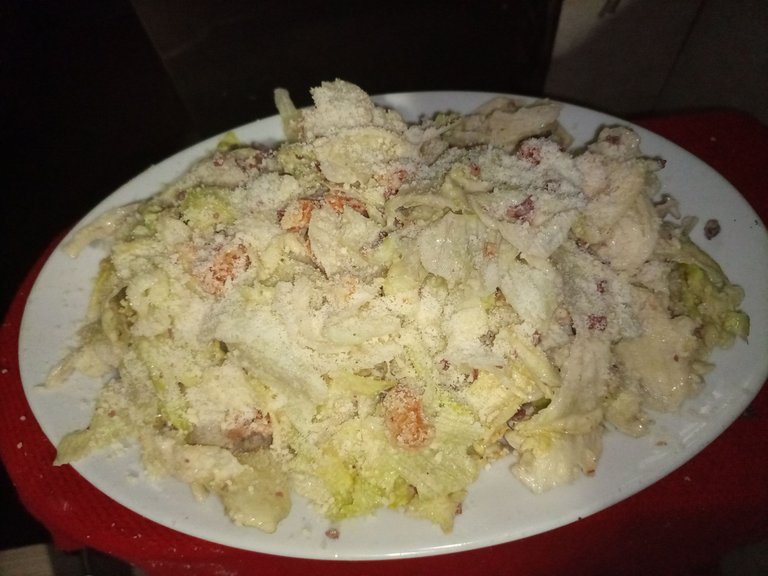 The starter was a Caesar salad and there were also some garlic breads, which I want to point out were both prepared by Juan, the son of Don Pedro Sanchez Mirabal and my great friend Bekin Aparicio.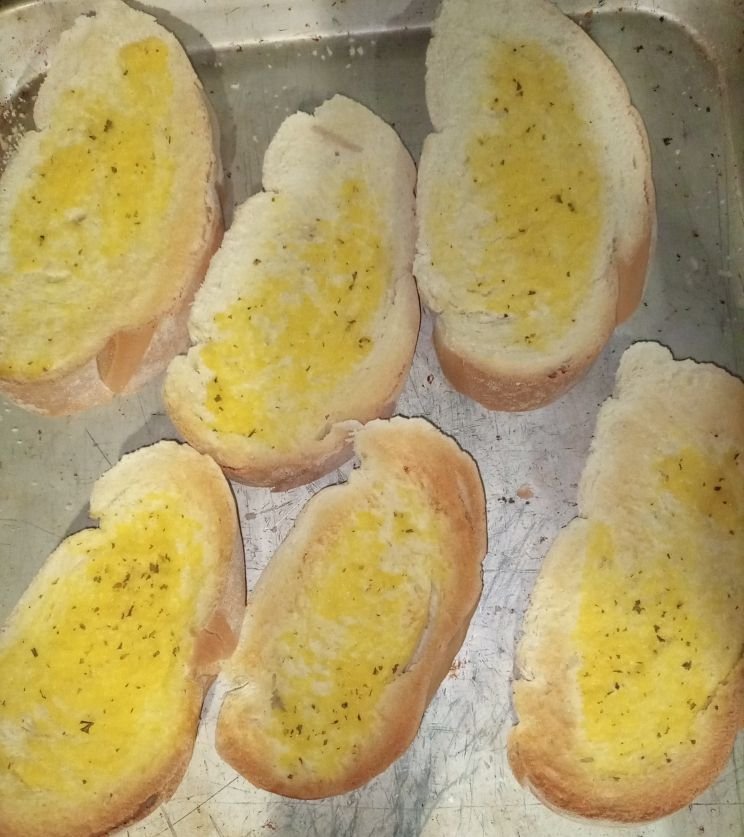 ---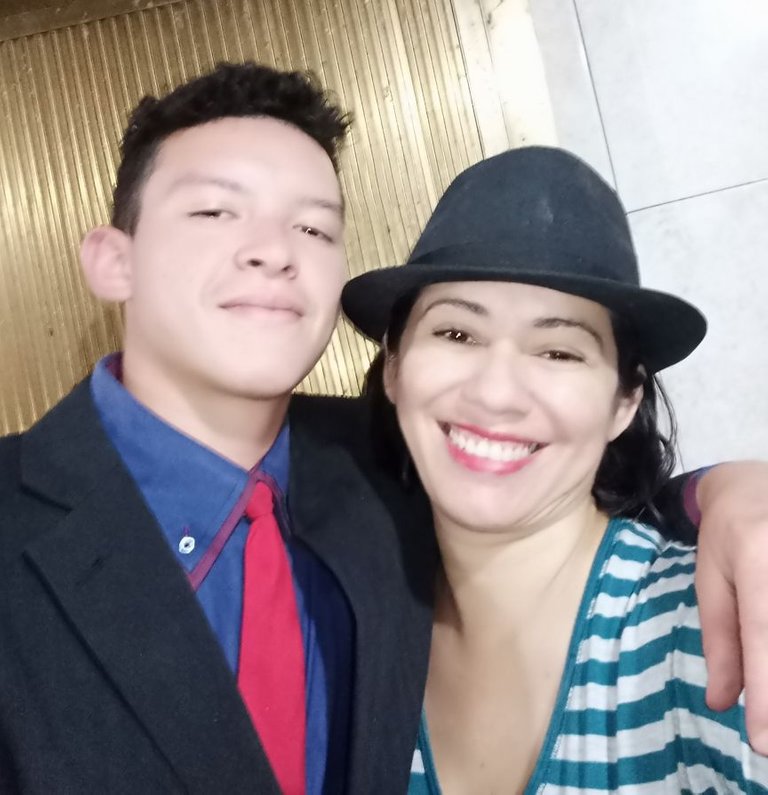 Los clientes de esta noche son atendidos de la mano del mismo Don Pedro, demostrando que es un gran anfitrión y amigo de cada uno de sus clientes.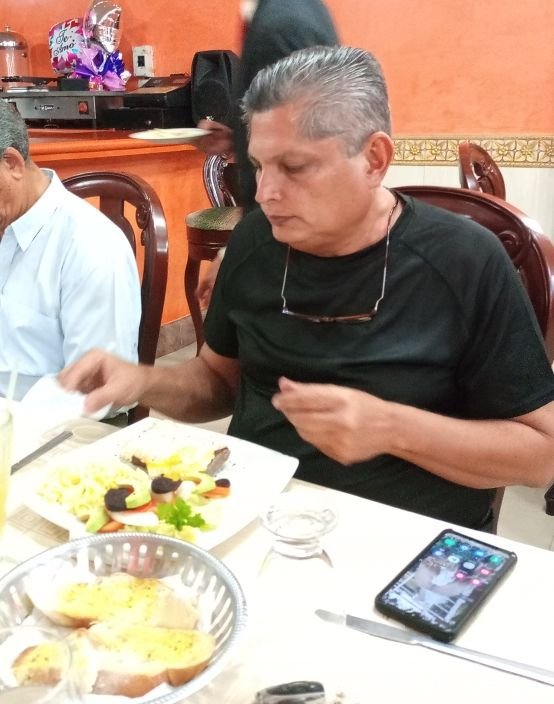 Tonight's customers are served by Don Pedro himself, demonstrating that he is a great host and friend to each of his customers.
---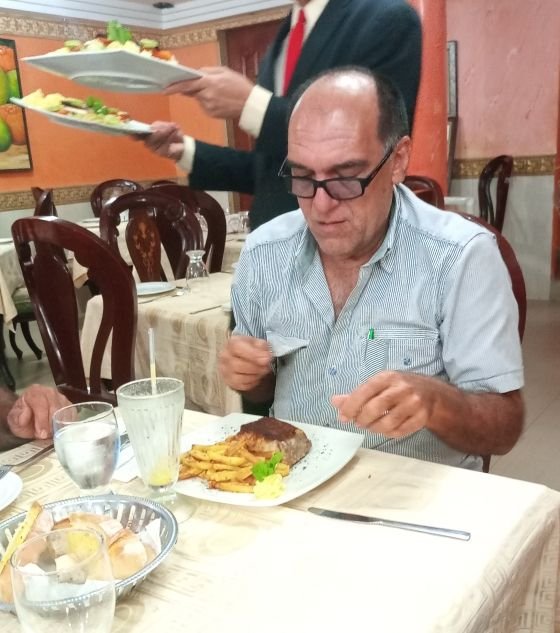 Así fue como terminó la visita a este Restaurant por este día, dónde aprendí de la alta cocina, un buen sazón y la mejor de la compañía, pidiendo que me dejen abiertas las oportunidades de regresar, porque serán muchos las preparaciones que seguiremos compartiendo con todos ustedes.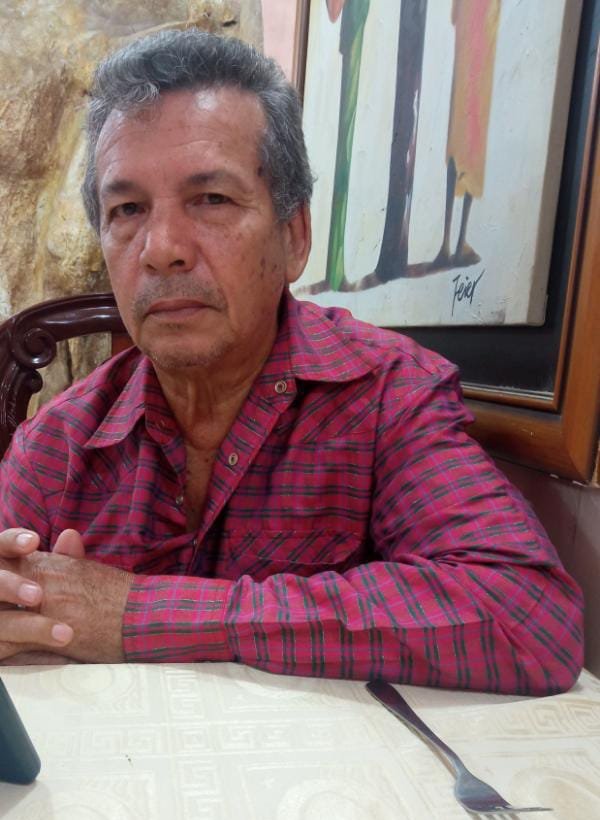 This is how the visit to this Restaurant ended for the day, where I learned about haute cuisine, good seasoning and the best of the company, asking that you leave me open the opportunities to return, because there will be many preparations that we will continue to share with you all.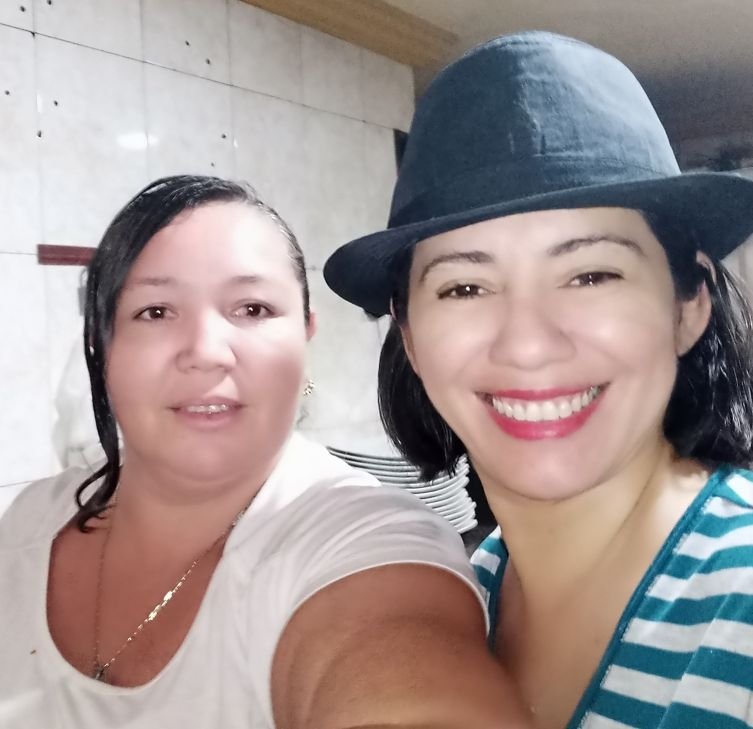 No quiero dejar de nombrar el equipo especializado que está en la cocina, el cual trabaja de manera armoniosa, con los mesoneros, personal administrativo y la familia por el éxito de este nuevo proyecto gourmet.
I do not want to forget to mention the specialized team in the kitchen, which works harmoniously with the waiters, administrative staff and the family for the success of this new gourmet project.
---


Estas fotos son propias, tomadas con mi teléfono Tecno Camón 17, especialmente para la comunidad Foodies Bee Hive, hasta la próxima publicación, es importante añadir el uso de la app Canvas para editar la portada y el banner, como traductor use Deepl.
These photos are my own, taken with my phone Tecno Camón 17, especially for the Foodies Bee Hive community, until the next publication, it is important to add the use of the Canvas app to edit the cover and the banner, as a translator use Deepl.
---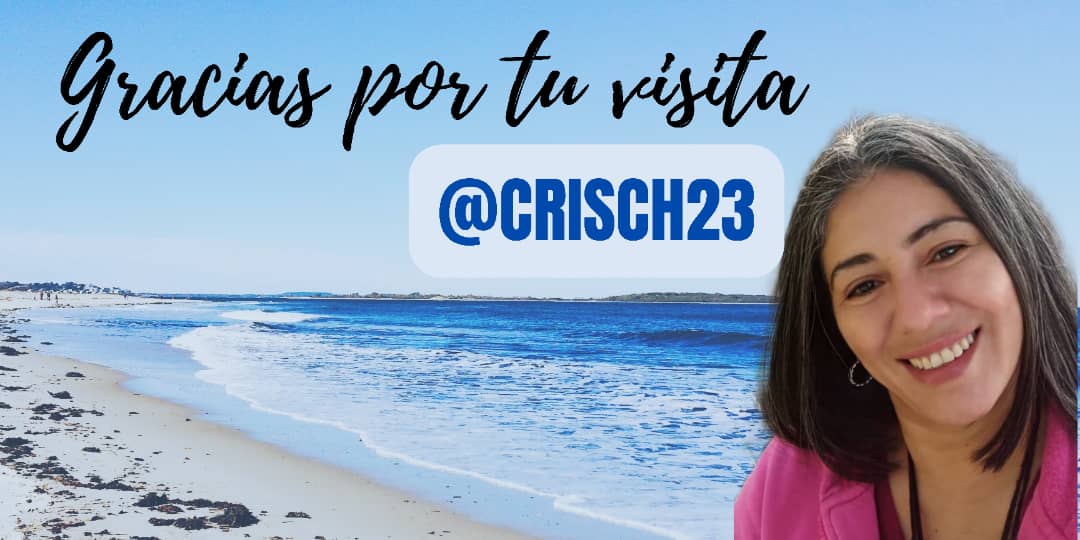 </
---
---