Mobile MiniGames | 1 Million Crypton Goal Reached & Plan Going Forward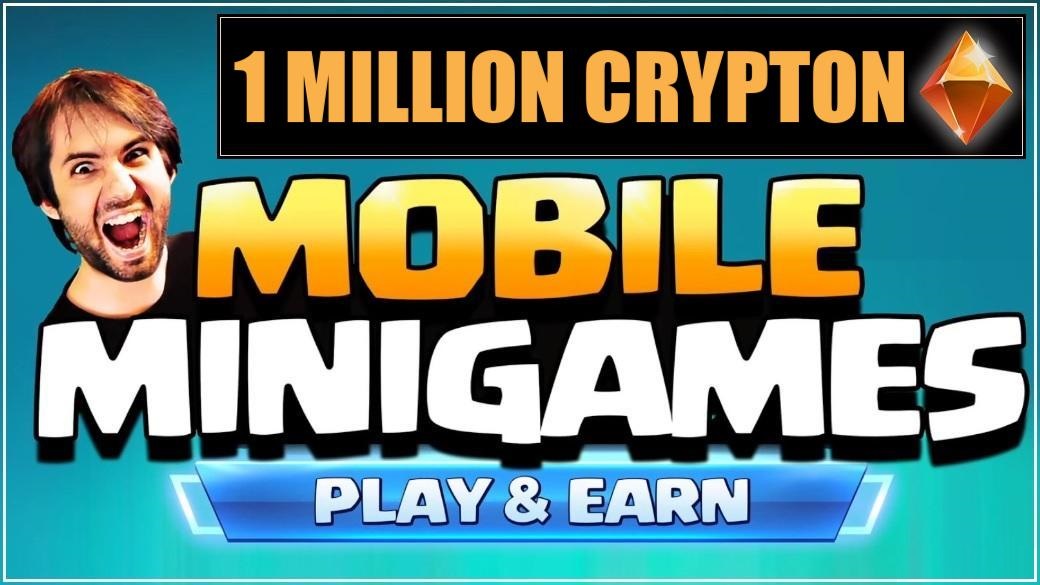 I continue to play Mobile MiniGames (previously known as Clash Of Streamers) getting myself in the best position to earn anticipating on all that is yet to come.
---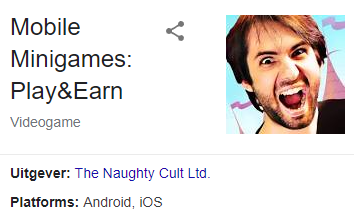 While the rebrand is still in progress, I will already use the new name in all of my posts going forward. I also plan on making updated Guides as many things have changed since I wrote the initial ones. I pretty much continue to share exactly what I believe is the best way to go about Mobile
MiniGames
similar to how I have been doing this for
Splinterlands
quite accurately these past 3+ years. So far,
this has been my playbook for getting myself in an optimal position to over time get great returns:
---
Buying & Holding PRPS Early (Link): this is a long-term bet on the project and the game doing well with tokenomics that are designed to slowly but surely go up over time without crazy volatility and steady yearly dividends that come from what the game is earning. So far this has been an ok investment especially during this bear market.
Play Daily Since Launch: It only takes around 5 to 10 minutes playing the game daily to get most progress and that is what I have been doing without skipping a single day since the launch which now got my account near level 170.
Buying Crazy Deals (Link): Games like this always start out way too generous and deals like the Yearly Golden Boost / Insanity Boosts giving 5 free Sale Points / TTTT Voucher with 5$ account level boost & Exclusive skins / ... by now all did get nerfed while players that bought them keeping the benefits. There are still more nerfs to come most likely as the game is still way too Free2Play-Friendly.
Maxing Out the Spellbook for Passive Crypton Generation: This cost around 200k Crypton but is well worth it as it has been generating passive crypton daily now up to 1300+ daily recently. This also gave a lot of progress in the game.
Accumulating Exclusive Skins(Link): They are generally worth a lot more now with the Furamingo pet skins nowadays already bought for 9.99$ each going on average for 60k Crypton which nowaday would cost around 80$ to get.
Building my Community (Link) offering a win-win deal to players who join helping them to grow and learn while giving a nice Crypton cashback on purchases and a promise of a Free Land Sub Plot (Link)
Export 2 Legacy Pet NFTs (Link) that will count for the PRPS Burn Wall going forward and will most likely produce Passive Crypton
Accumulating 1 Million Crypton: This in order to be able to buy a Full Plot of Crypto Land once the expansion releases.
All these things were done with an eye on the long run and no expectations of short-term profit-taking. I wrote about how to do well in Solid Play2Earn Games that are not designed as short-term Pump & Dump schemes in my post Guide On How To Get Rich With Crypto Play2Eanr Gaming and the advantage on Getting a Pre-Nerf Advantage in the past
---
Playbook for New Players
I would say it's by no means too late to get started even though some of the best deals in the game got nerfed already. The game is still way too friendly for Free2Play players and most of the Play2Earn content including a PvP mode that will give out part of the Crypton Reward Pool to all active players without it demanding more than 5-15 minutes each day. This is how to do it with minimal spending...
Install The Game on Mobile by scanning the QR code which will automatically get you in my community taking part in the win-win deal. (you can always switch communities at any given time)

Unlock All Buildings / MiniGames playing the Tutorial which at first might be a bit overwhelming but I urge to give the game at least a week as it takes some time to really click. If after that, you conclude that the game isn't for you, just uninstall and move on. Also make sure to connect at least 1 Social Media platform in the game (preferably Twitch) as that will save your progress and get you out of rare trust account level.
Get the 10$ Golden Boost which is still the best deal in the game giving players 25 Sale Points allowing them to forever buy the Golden Boost or to instead each month get a 100$ deal for free or to use it to buy one of the exclusive skins.
Learn & Progress as the game itself has got a big amount of dept to it which takes a while to grasp. This is hard to do on your own and guides are needed. They can be found in the game itself on each of the buildings and I'm also always helping out community members to porogress faster.
Wait for Crypto Land & Competitive PvP Expansions as these are the things that will allow you to earn. I will have 100 Sub-Plots for my community so everyone who is somewhat serious about the game will be able to get one at minimum requirements and no extra cost.
---
Reaching 1 Million Crypton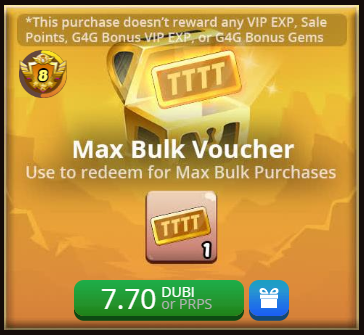 It is not all too easy to get crypton in the game when you are willing to just pay for it. This is about to change but it's still unclear what the actual price will be. Right now, the best way is to buy TTTT Vouchers on the G4G Store which cost 7.7 PRPS each and can be sold in the game to players for somewhere around 55k-60k Crypton. With PRPS trading at a big discount (5$) compared to what it can be used for in the store (13$), I saw now as the best opportunity to lock in my 1 Million Crypton which will be needed for a Crypto Land Plot. A lot will depend on how long it will take for the expansion to go live (it is expected by the end of July but most likely it will take longer) and how much the price of PRPS gets closer to the actual value.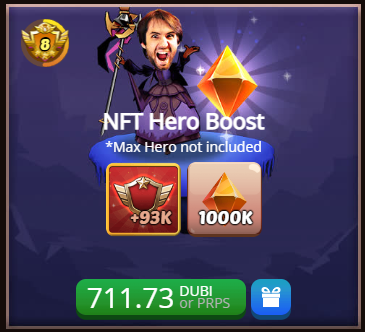 I do expect that the price that can be bought for in the game itself will be a lot higher given the fact that the deal in the game to get 1M Crypton to help players export a max-level hero costs a whopping 712 Crypton which equals 3560$ at the current PRPS discount price.
---
I cost-averaged my way into Crypton these past months tracking my buys most recently. This show that the average price to reach 1M Crypton this way is somewhere around 700$ (there also is a 4% cashback in DUBI for each purchase)
** Purhcases TTTT Vocuher
05/06/2022 7.7 PRPS (45$) -> 58710 Crypton
05/06/2022 7.7 PRPS (43$) -> 58900 Crypton
06/06/2022 7.7 PRPS (44$) -> 58900 Crypton
10/06/2022 7.7 PRPS (46$) -> 61370 Crypton
13/06/2022 7.7 PRPS (45$) -> 60420 Crypton
14/06/2022 7.7 PRPS (45$) -> 58170 Crypton
14/06/2022 7.7 PRPS (45$) -> 61275 Crypton
16/06/2022 7.7 PRPS (43$) -> 61275 Crypton
21/06/2022 7.7 PRPS (42$) -> 55101 Crypton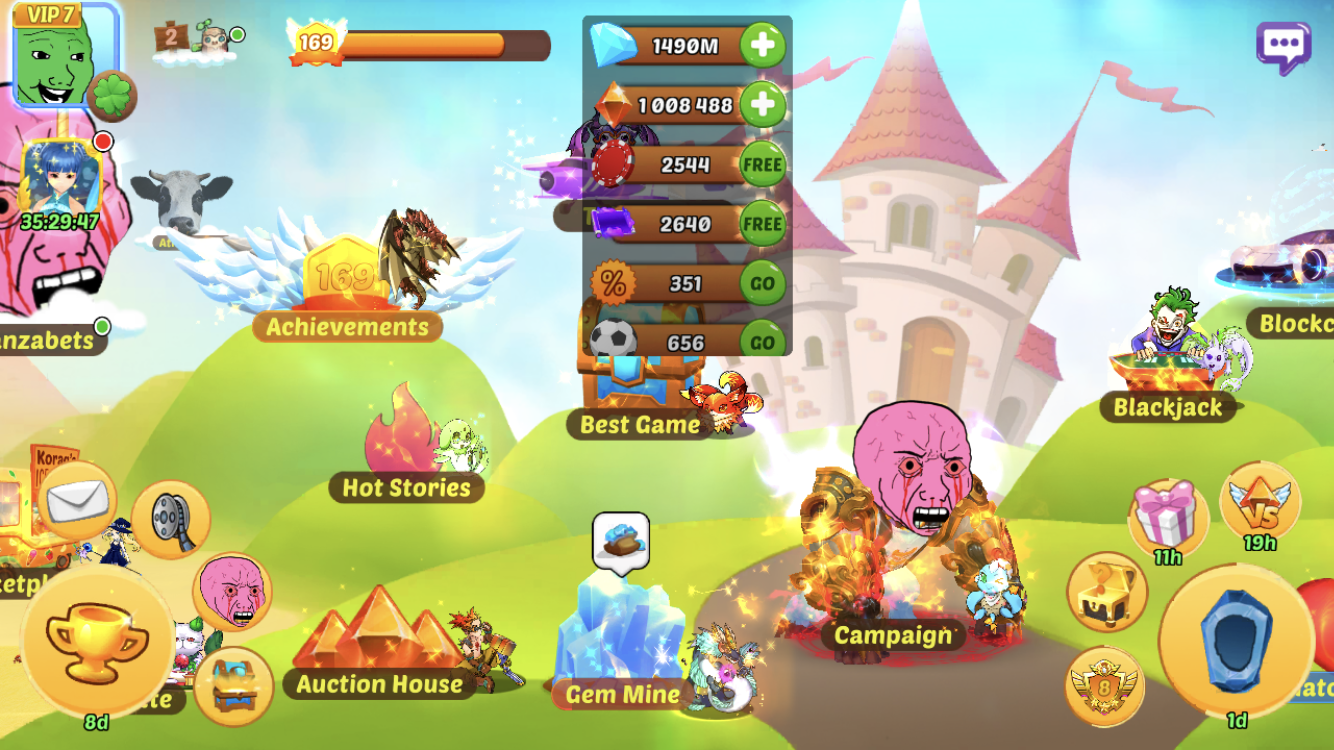 ---
Plans Going Forward
After spending money to do purchases in the G4G store initially getting the Yearly Golden Boost, the 50k Crypton Drop Boost, TTT Vouchers to use on max bulk deals getting exclusive skins along with building skins and the Account Level boosts which has me stacked with Sale Points. I am now after getting the 1 Million Crypton done spending for a while. My plan now is to use Crypton earnings that I get from the Spellbook, Selling Pet Skins I earn Daily, & Deals I buy with Sale Points I earn on older exclusive hero skins, Building Sking, & Pet Skins in the Auction house.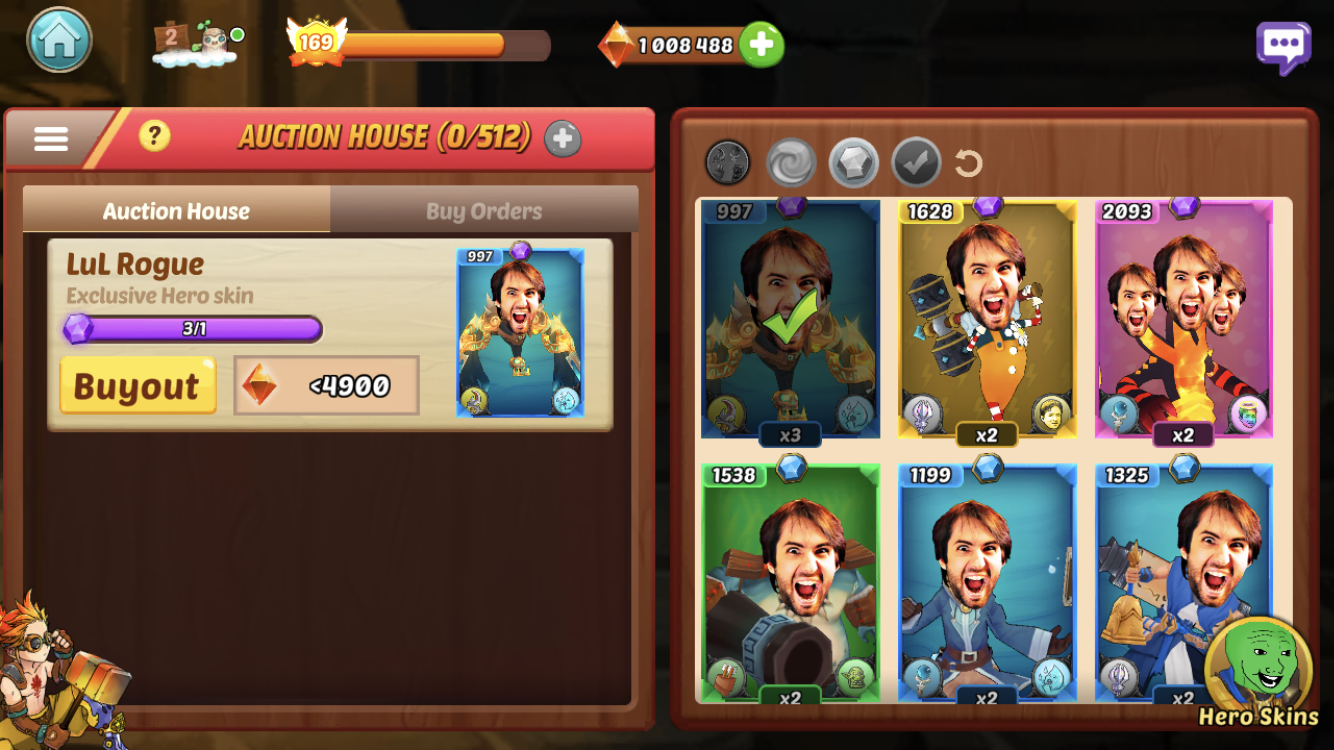 From what I understand (not 100% sure if this is correct), the way exclusive skins will work is that they will give an increased passive Crypton generation on exported NFTs. The older the exclusive skins are, the more they will generate meaning it's favorable to buy and hold. It basically gives the developers money now that they can use to grow the game and which they won't instantly have to give back as many players will buy them to hold and sell for more later. The increased returns is their reward for doing so.
On top of this, each exclusive skin is only available for a week which gives they a limited print. There is a collectible aspect to them especially if the game ends up succeeding with millions of players. While I'm generally not into wanting purely cosmetic stuff, I do kind of feel an urge to get the Exclusive building skin of the Campaign Tower with the Flying Castle which looks quite cool.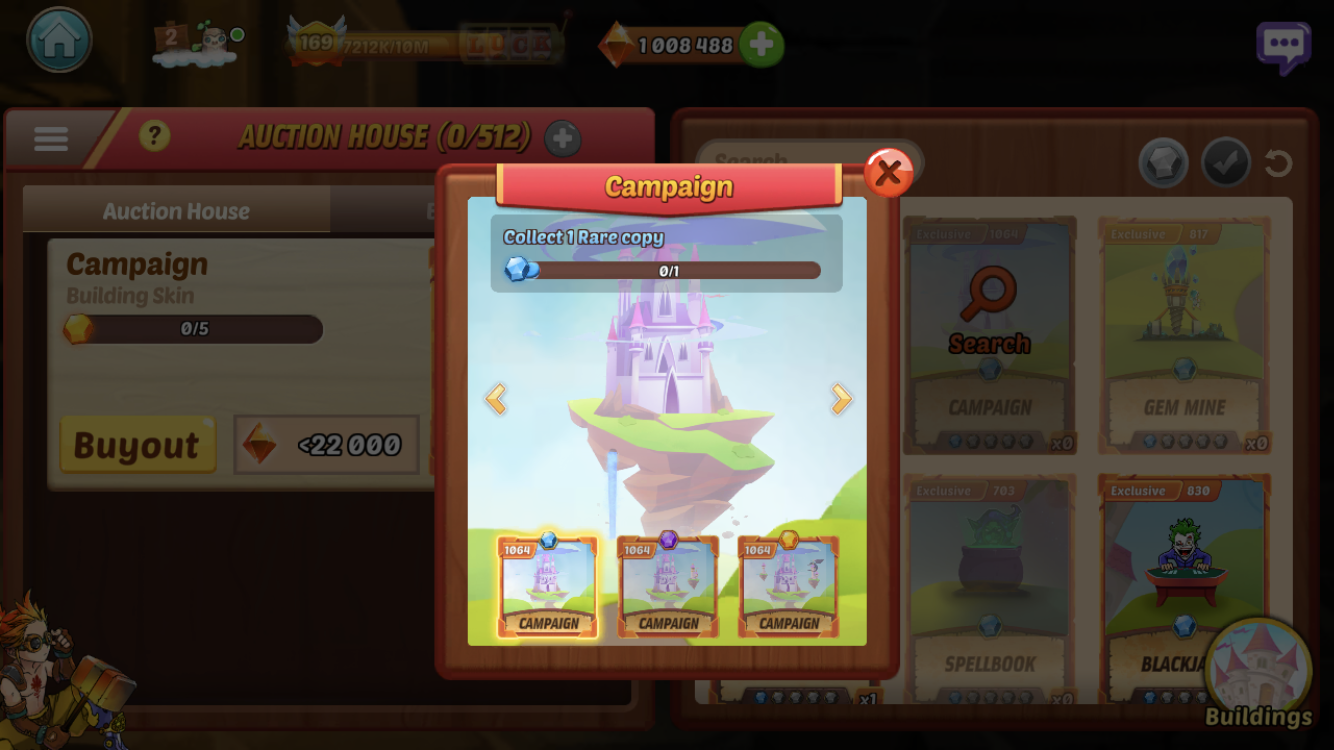 So I do believe the exclusive skins especially the older more rare ones are right now really cheap and they will end up going for more later down the line. So I will try to earn as much Crypton as I can on top of the 1 Million that I accumulated and buy up as many of these skins as I can all while keeping track of which one I bought and how much Crypton I paid for. This way I will see later down the line how good (or bad) of a deal they turned out to be!
---
Conclusion
I continue to go along with accumulation plan into Mobile Mini Games to get the most possible Early adopters advantage. I reached my goal of having enough Crypton Saved up to buy a Crypto Land Plot even though it will take months before it is released. from here on out, I will start buying up old exclusive skins. It by no means is too late to get into this game as we are still very early with Competitive PvP that will bring direct earnings as yet to come along with the big land expansion. The game is Fully Free2Play and I can recommend everyone to at least download the game and try it out themselves...
---
More Info & Guides For Clash Of Streamers (some things might be outdated already)
---
Play2Earn Games I'm Currently Playing...
Posted Using LeoFinance Beta
---
---