GambleFi Portfolio | Taking Profit On RLB Pump!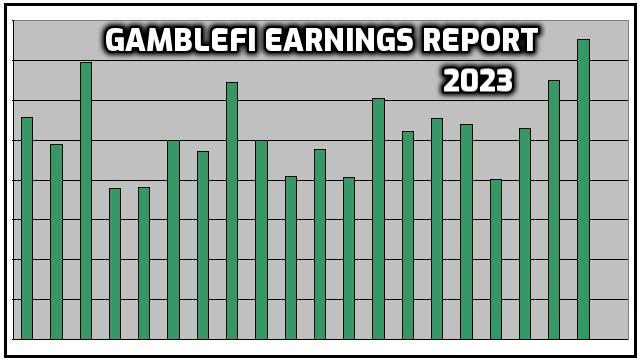 I am keeping close track of my Gambling Dapp Portfolio that includes SBET (Sportbet.one), BFG (Betfury.io), RLB (Rollbit.com), & now also some OPENBET (Openbetai.io) with regular updates on how exactly they are doing showing what can be expected for those interested...
It was a pretty good week in the GambleFi Space setting a personal new yearly high in weekly Dividends at 375.77$. This should increase more the coming months as I accumulated more OPENBET which had disappointing Dividends last month. At the same time, the risk factor remains very high so it's not unthinkable for something bad to happen to make me lose money and see the earned dividends go down. Overall I'm still quite optimistic on the GambleFi space which has some of the best sources on Real Yield.
It was a solid week again for Sportbet as there is still 1 whale who has 10x the volume of the 2nd biggest player on the platform. This was great for the dividends but at the same time, this makes them very questionable and dependent. It also doesn't really put the dividends much higher than usual.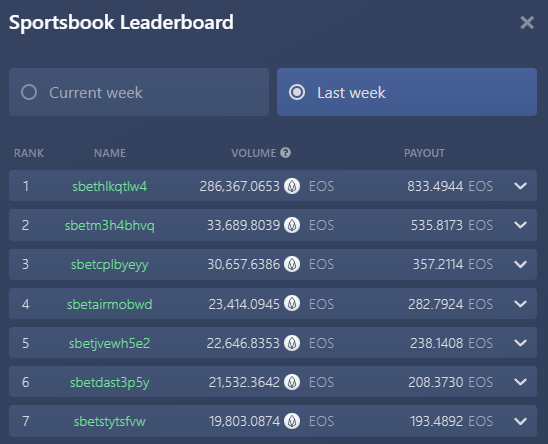 The funds inside of the sportbet1bet account also recovered after the hack a couple of weeks ago.

This said, looking at the long run of over 170 Weeks now, the dividends have been very stable and reliable while the price of SBET and the number of weekly users are stable both during the bull and the bear market.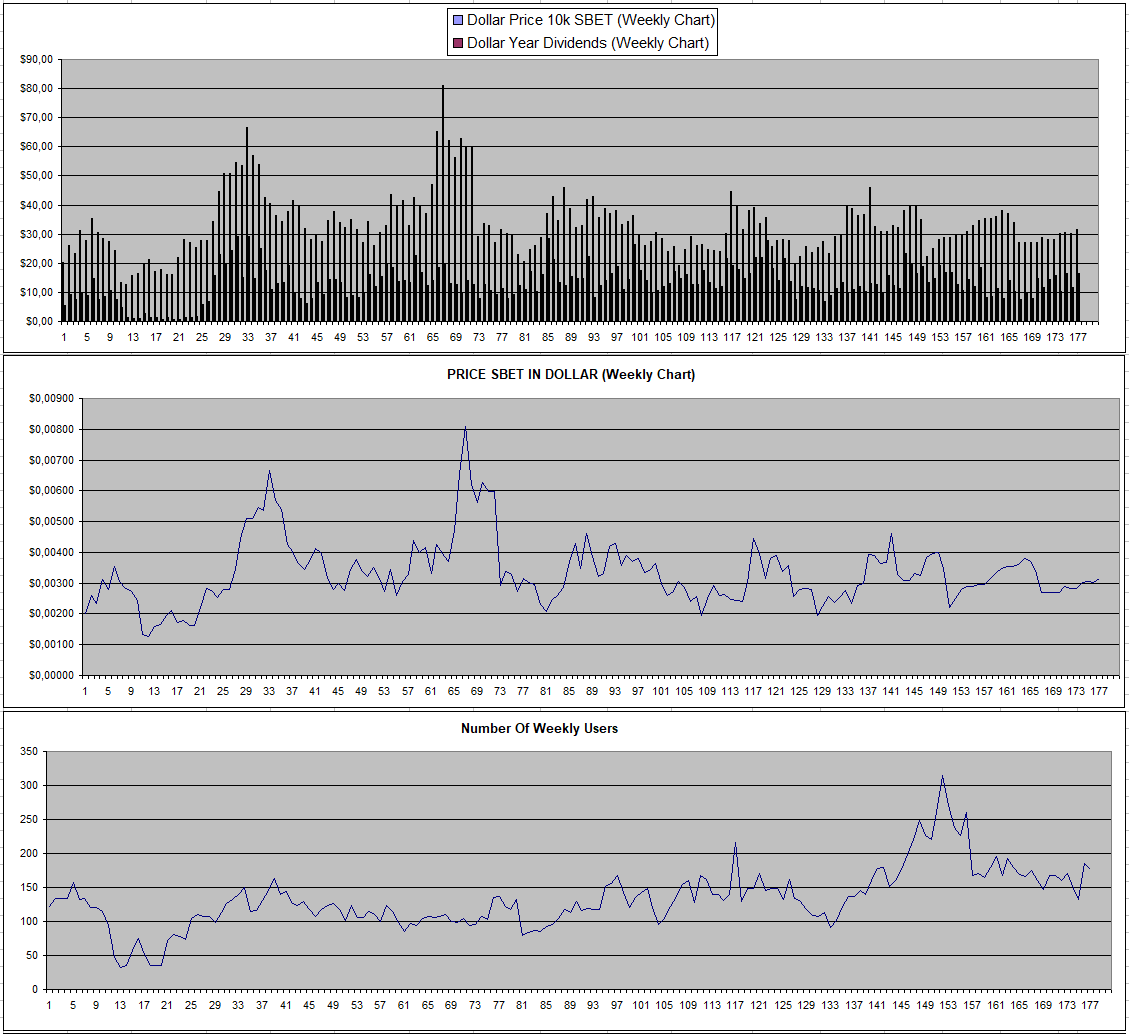 Right now, I'm glad with my current bag but also that I reduced the exposure from 8M to 6M SBET and will keep it there.
---
This is now my 8th week tracking Openbet which on a weekly basis doesn't do so much as the dividends are paid out monthly. I do however also track the price and the number of OPENBET holders which has been on a non-stop downtrend.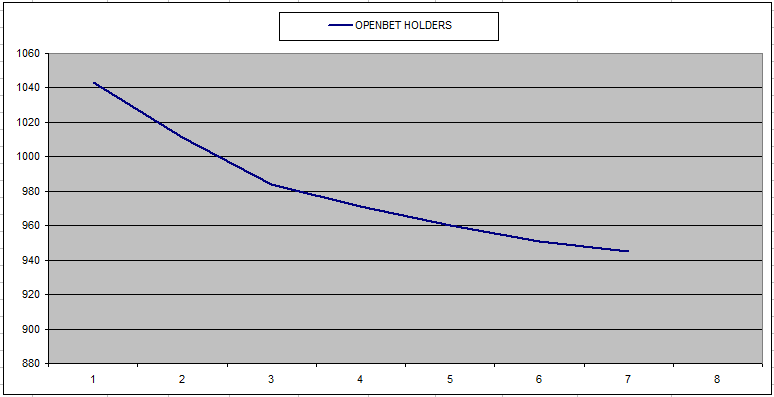 So the initial hype around the token which made it pump is gone but it does look like the price has stabilized, and bottomed with little to no real movement in the last 10 Days.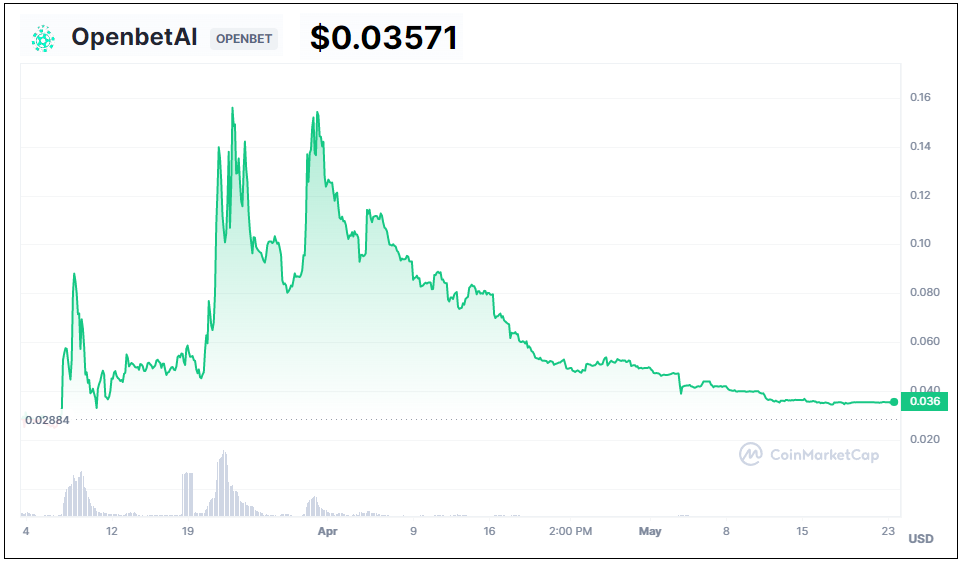 I did re-invest some of the Gamblind Dapp Earnings into buying more OPENBET and now hold 300k of it trying to keep myself from buying more as I want to keep the risk within a somewhat acceptable range. There hasn't been any major news or updates but I did manage to try out the 100 USDO free airdrop playing some slots for fee with a small (very small) chance to earn 100$. I already lost all of it while not even having reached 10% of the rollover requirements so you basically need crazy luck and I assume that very few players that they onboard because of the bonus reach the point where they actually get 100$. If anything I see that as a good thing and a smart cheap marketing strategy to have more crypto people connect their metamask to the site and try it out.

| Date | Hold | Total Invested | Current Value | Tot Dividends | % recovered | Total |
| --- | --- | --- | --- | --- | --- | --- |
| 24/04/2023 | 201k | 15669$ | 9400$ | 54.5$ | 0.35% | -6215$ |
| 02/05/2023 | 201k | 15669$ | 8975$ | 54.5$ | 0.35% | -6640$ |
| 09/05/2023 | 259k | 18145$ | 9865$ | 54.5$ | 0.21% | -8280$ |
| 16/05/2023 | 273k | 18675$ | 9363$ | 530.98$ | 2.84% | -8781$ |
| 23/05/2023 | 300k | 19727$ | 10177$ | 530.98$ | 2.69% | -9019$ |
I'm still a long way off to get even as I started to by during the pump which crashed all the way down. Right now for me, it's mainly a patience game hoping the devs don't screw everyone over in some way or another and for the casino to actually make a profit so Dividends keep being paid out. So far this is the data that I have on the dividends based on what I guess was the snapshot (in the 1st month)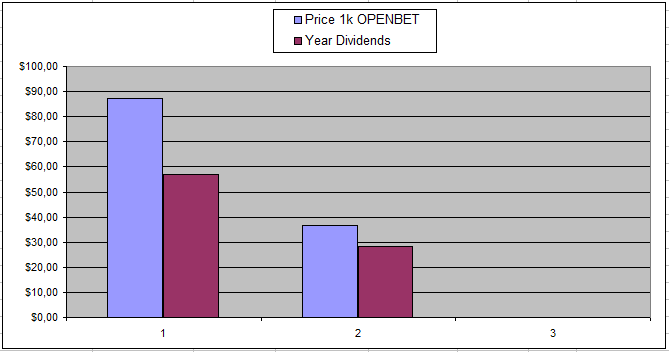 ---
Rollbit.com (RLB) & Rollbot/Sportsbot NFTs
Rollbit and the RLB token had quite a big pump as a feature was added to the site where you can easily convert RLB to Dollars and back also allowing players to easily put their tokens inside a liquidity pool to earn yield from the trading fees (at the risk of impermanent loss).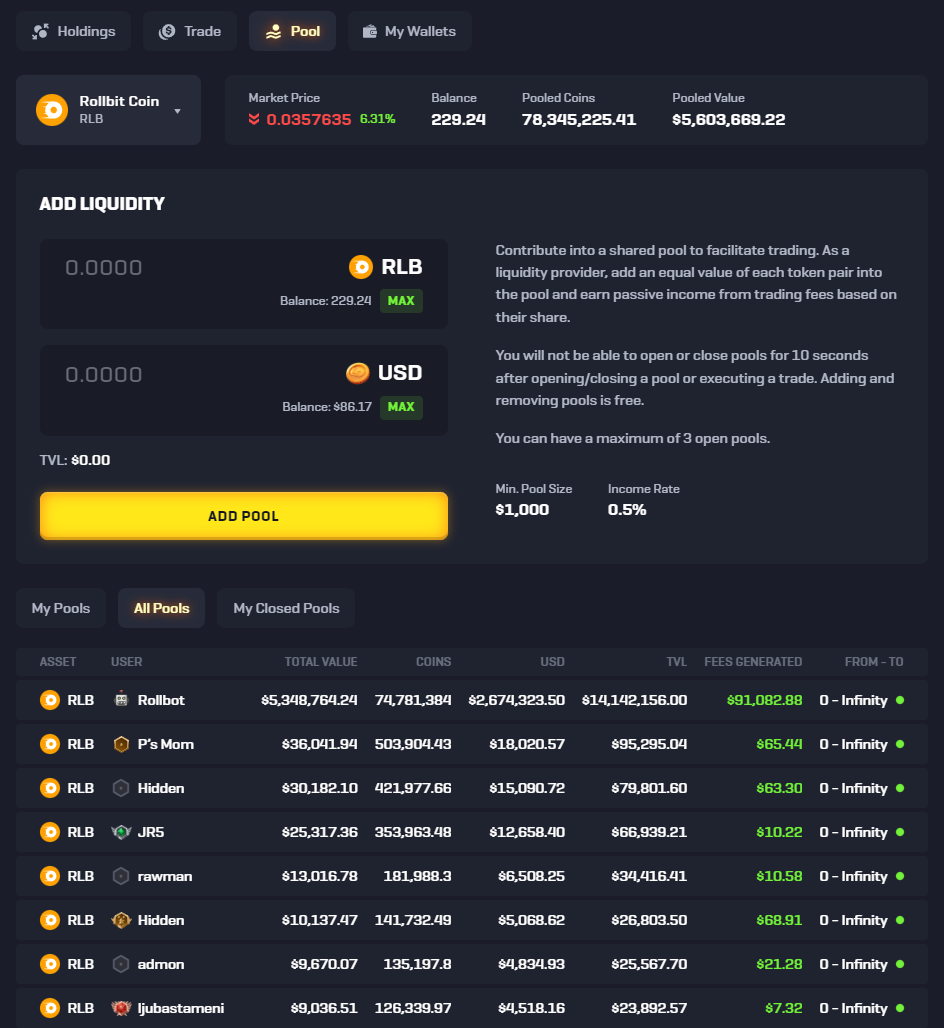 I assume this was one of the things along with the increasing lottery payouts to make the price go up a lot from 0.018$ just 2 weeks ago up to 0.40$+ at some point. I did take profit on the 2k+ RLB that I had in my wallet there which I generated from my Staked NFTs at around 0.036$-0.038$. I also cashed out some $ earnings from betting activity to help me fund the extra OPENBET I bought.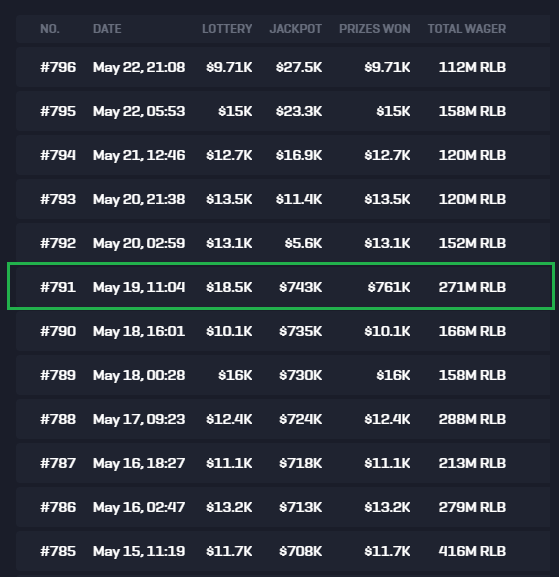 It also looks like someone hit the Full 743k Lottery which made those funds fully reset. This also now makes it less attractive to play the lottery meaning less RLB will gets stakes, and less will be burned and less will be earned by NFT holders. So if anything, I would not be surprised to see the price of RLB and NFTs go down again the coming weeks.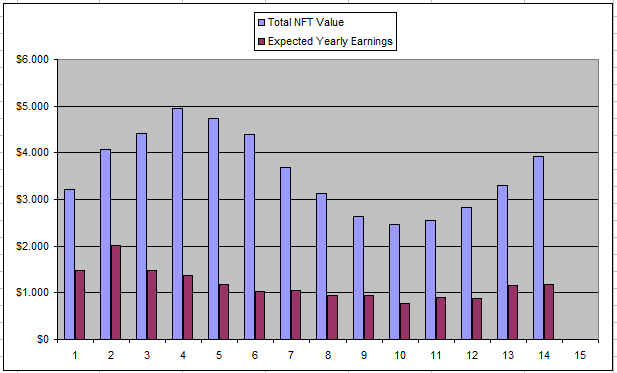 Rollbit remains a solid casino and now has an improved site with the RLB trading available. I don't really see the prices of tokens or NFT's as cheap though or this platform as something to 'get rich of potentially' (unlike Openbet) and I just keep what I have while taking profit on my earnings there.
---
Betfury Dividends continue to go a bit lower again but they are still higher compared to the lows that were set 21+ weeks ago.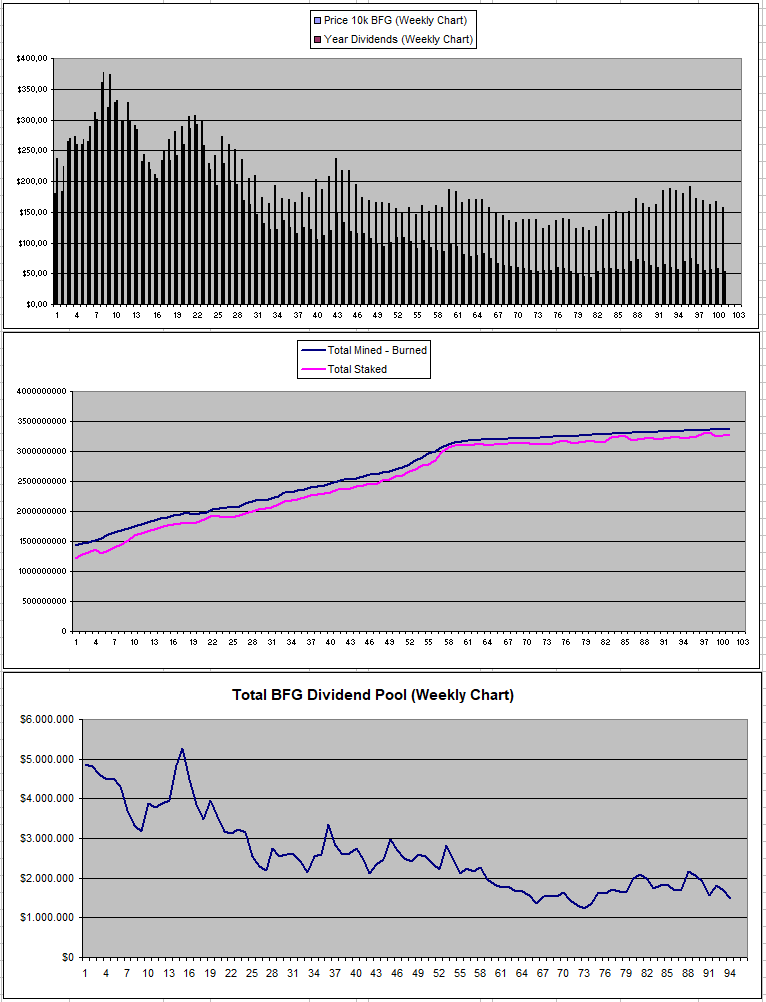 ---
APY Based on Current Price and Dividends from the last 7 days
All these numbers are based on prices of Monday
Note: Token prices going up or down have a major influence on the actual returns going forward either amplifying them if they go up or destroying them when the price would dip. These are my personal numbers and RLB varies based on the trait of the Rollbot NFTs you own.
---
Personal Gambling Dapp Portfolio
So a total of 375.77$ collected in dividend payouts last week and this during what remains a bear market is not bad. I hope this will increase toward 500$ going forward paying off the risk I took in the OPENBET investment which I right now see as the best Risk/Reward Play. I'm currently holding 6M SBET | 480k BFG | 3911$ worth of Rollbot NFTs | 300k OPENBET. I'm still looking to diversify with other good gambling dapps that pay the losses or fees from the gambler to those holding a token. Anyone that has tips on this, please leave a comment below...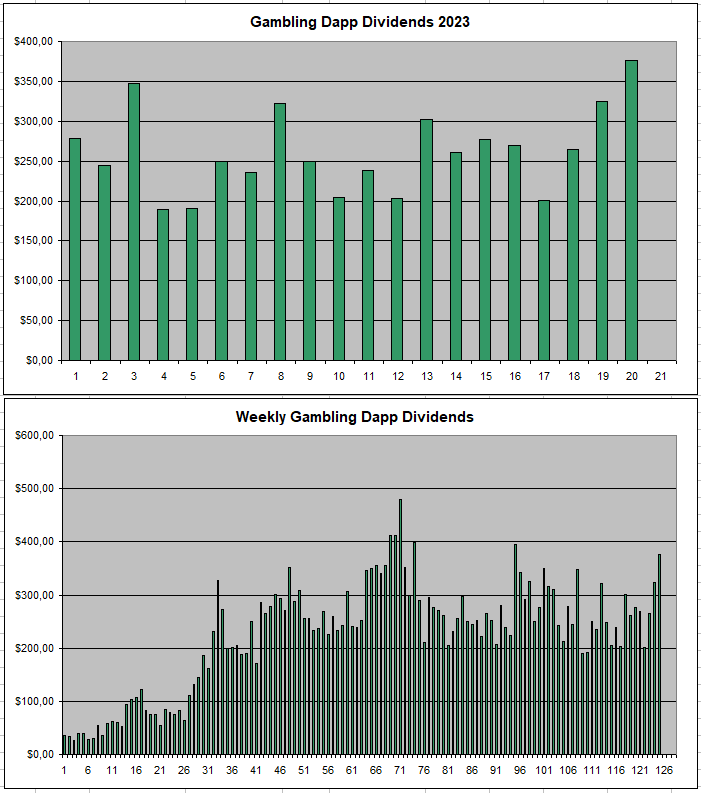 ---
I'm already looking forward to what next week will bring and will continue to looks for potentially a 5th GambleFi platform to invest in.
---
Crypto & Blockchain-Based Bookies and Exchanges that I'm personally using as they allow anonymous betting with no KYC or personal restrictions...
---
---
---