PANZER IV | Handmade with recycled materials / Hecho a mano con materiales de reciclaje
≛ 𝙿𝙰𝙽𝚉𝙴𝚁 𝙸𝚅 ≛
ᴮʸ ᶜᵒⁿⁿᵒʳ ᴿᵘˢˢᵒ
✪✪✪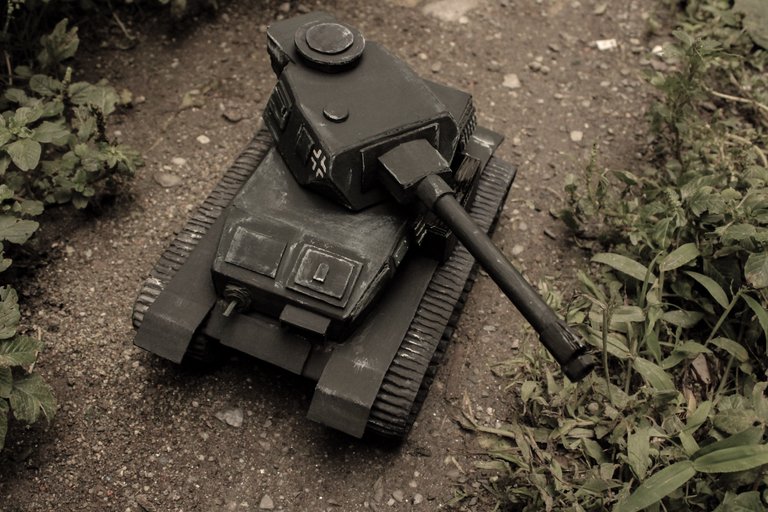 ---
≛𝚃𝚑𝚎 𝙿𝚕𝚊𝚗𝚜 | 𝙻𝚘𝚜 𝙿𝚕𝚊𝚗𝚘𝚜 ≛
The drawing is a representation of the final objective, only with a couple of reference measurements, however it is not very detailed, being my first attempt I made a couple of mistakes that I hope to correct in the construction of the following elements, I made a view diagonally where the track gears were shown, and there is a reference to the gun turret having to rotate, to achieve this I attached the turret to a plastic tube from an old small tripod that was damaged, and in addition to building a channel where it crossed, I attached a small "box" to the bottom so that this system would be fixed and in this way the turret could rotate without problems.
✪✪✪✪✪
El dibujo es una representación del objetivo final, solo con un par de medidas de referencia, sin embargo no es algo muy detallado, al ser mi primer intento cometí un par de errores que espero corregir en la construcción de los siguientes elementos, hice una vista en diagonal donde se mostraban los engranajes de las orugas, y se hace referencia a que la torreta del cañón debía girar, para lograr esto uní la torreta a un tubo de plástico de un viejo trípode pequeño que estaba dañado, y además de construir un canal donde este atravesaba, por la parte de abajo adherí una pequeña "caja" para que este sistema quedara fijo y de esta forma la torreta podía girar sin problemas.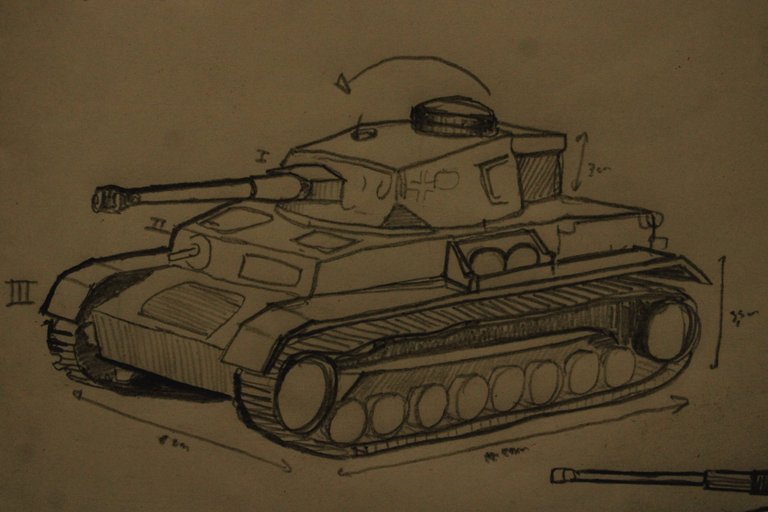 ●▬▬▬▬๑۩۩๑▬▬▬▬▬●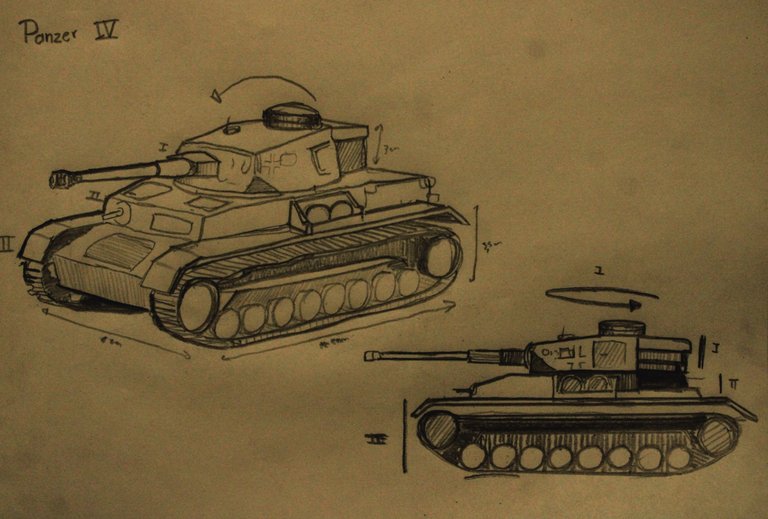 ●▬▬▬▬๑۩۩๑▬▬▬▬▬●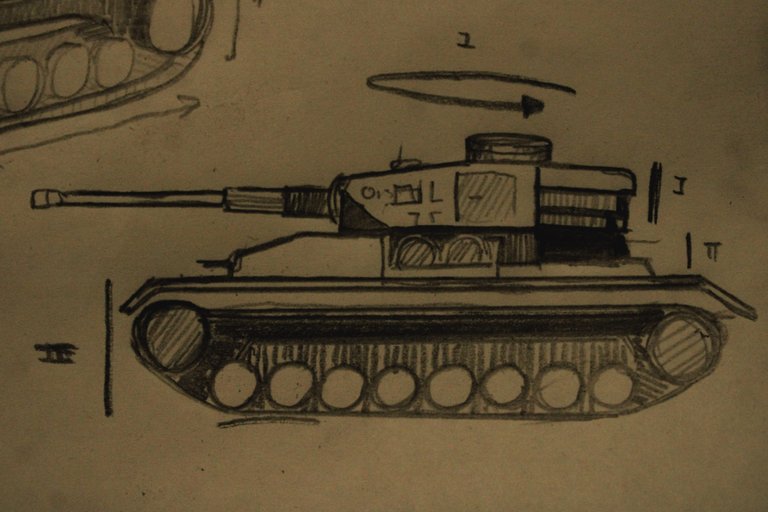 The turret system is quite rudimentary as you can see in the drawing, the turret was then the part of the tank that took me the most time, however this system allows the turret to rotate 360º.
This is a prototype, the first of several miniature war elements that I want to build, always with recycled material, because we are in a totally critical moment in history where any help, no matter how small, is welcome.
✪✪✪
El sistema de la torreta es bastante rudimentario como se ve en el dibujo, fue la torreta entonces la parte del tanque que mas tiempo me llevó, sin embargo este sistema permite a la torreta girar 360º.
Este es un prototipo , el primero de varios elementos bélicos en miniatura que quiero construir, siempre con material de reciclaje, pues estamos en un momento de la historia totalmente crítico donde cualquier ayuda por mas mínima que resulte, es bienvenida.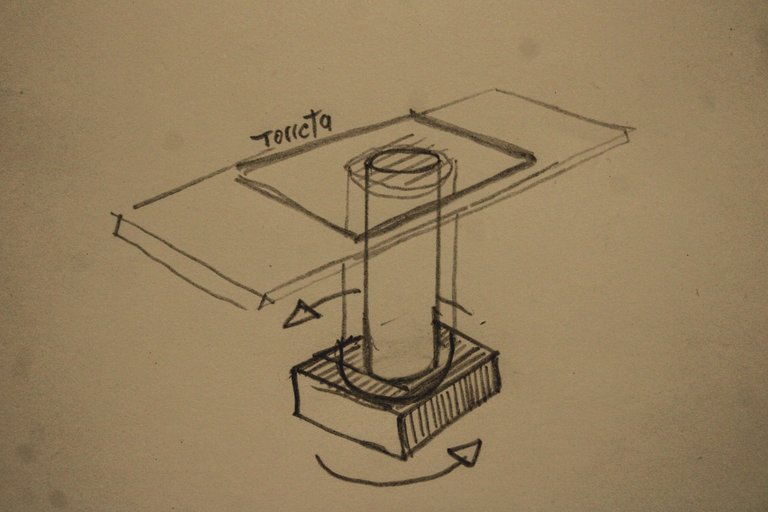 ●▬▬▬▬๑۩۩๑▬▬▬▬▬●

---
≛ 𝚃𝚑𝚎 𝙿𝚛𝚘𝚌𝚎𝚜𝚜 | 𝙴𝚕 𝙿𝚛𝚘𝚌𝚎𝚜𝚘 ≛
This is a miniature model of a Panzer IV used in World War II by the German armed forces, a key element in the Blitzkrieg (Lightning War) and one of the most powerful and advanced war tanks of its time.
I built it without using a pattern, I just made a couple of small sketches to use as guides, it was a bit of an impromptu thing. The base material was the box of my camera tripod, which took up unnecessary space and instead of throwing it away I preferred to put it to good use, and what better way to build it? Blessed are the hands that build! then google some photos of the tank, especially real photos from the time where these elements were used to have a more realistic view.
✪✪✪
Este es un modelo en miniatura de un Panzer IV usado en la Segunda Guerra Mundial por las fuerzas armadas alemanas, elemento clave en la Blitzkrieg (Guerra Relámpago) y uno de los tanques de guerra mas potentes y avanzados de su época.
Lo construí sin usar un patrón, solo hice un par de pequeños bocetos para usarlos como guías, fue algo un poco improvisado. El material base fue la caja de el trípode de mi cámara, el cual ocupaba espacio innecesario y en lugar de botarlo preferí darle un buen uso, ¿y qué mejor que construir? ¡benditas sean las manos que construyen! busque entonces en google algunas fotos del tanque, sobre todo fotografías reales de la época donde estos elementos fueron usados para tener una visión un poco mas realista.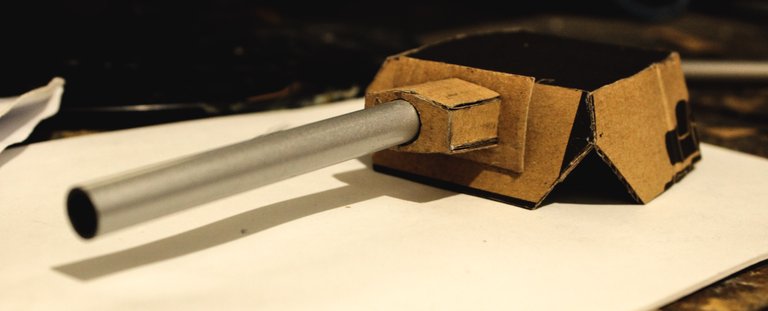 ●▬▬▬▬๑۩۩๑▬▬▬▬▬●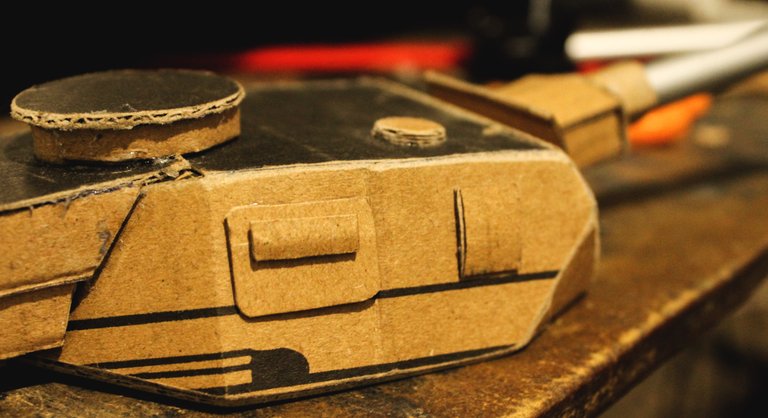 ●▬▬▬▬๑۩۩๑▬▬▬▬▬●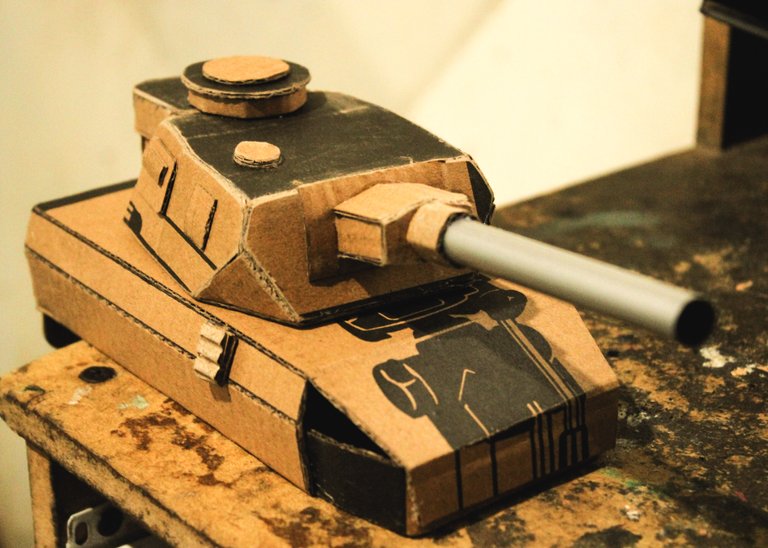 ●▬▬▬▬๑۩۩๑▬▬▬▬▬●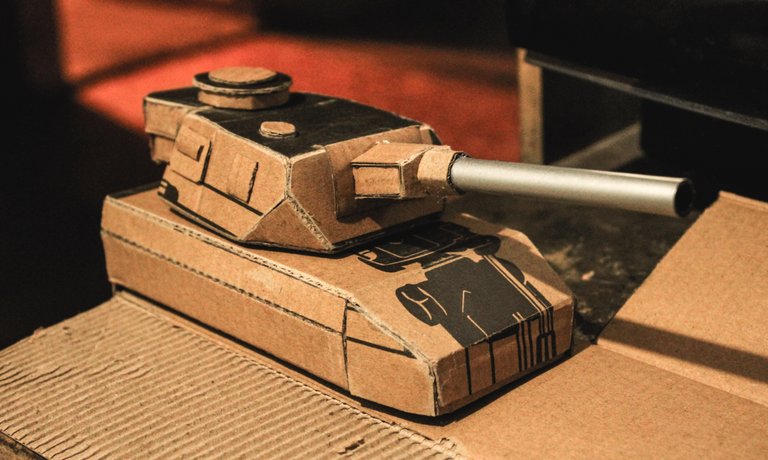 ●▬▬▬▬๑۩۩๑▬▬▬▬▬●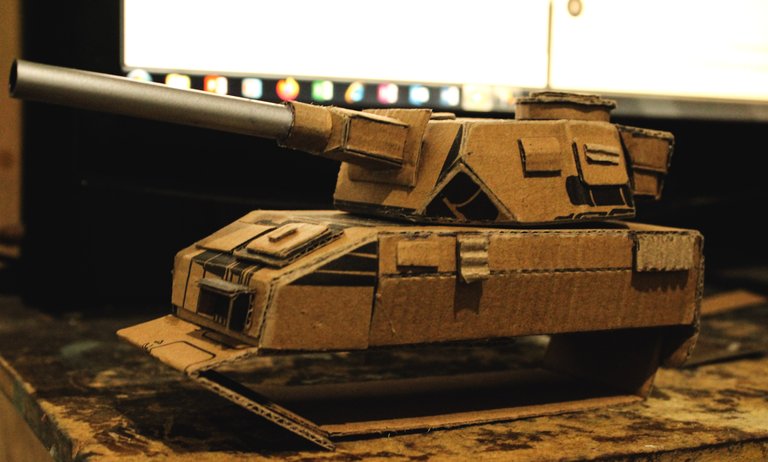 ●▬▬▬▬๑۩۩๑▬▬▬▬▬●
The caterpillars look quite complex, however, it was a fairly simple piece, I only removed one of the sides of the cardboard and exposed the internal part which is rough, I adhered it in the opposite way with silicone to a slightly thicker cardboard, also with the exposed rough part and then I made a kind of chain, later I gave shape to the interior elements, the wheels and the whole part in charge of the movement of the tank.
✪✪✪
Las orugas se ven bastante complejas sin embargo fue una pieza bastante sencilla, solo retiré una de las caras del cartón y dejé expuesta la parte interna la cual es rugosa, la adherí de forma opuesta con silicón a un cartón un poco mas grueso también con la parte rugosa expuesta y luego hice una especie de cadena, posteriormente le dí forma a los elementos interiores, las ruedas y toda la parte encargada del desplazamiento del tanque.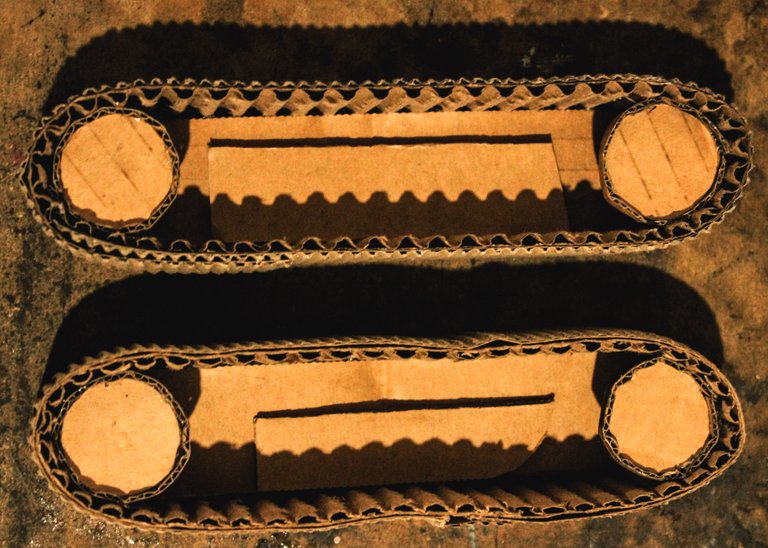 ●▬▬▬▬๑۩۩๑▬▬▬▬▬●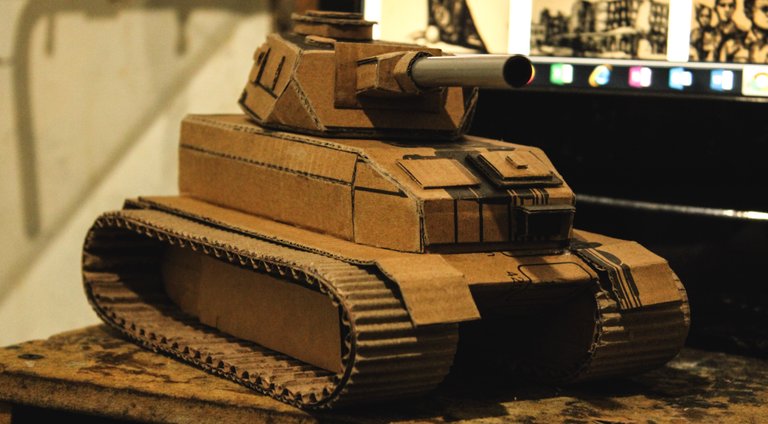 ●▬▬▬▬๑۩۩๑▬▬▬▬▬●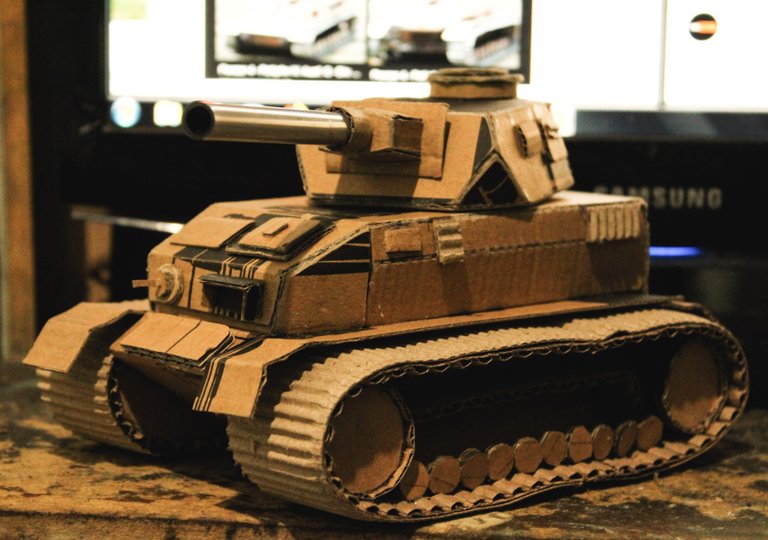 ●▬▬▬▬๑۩۩๑▬▬▬▬▬●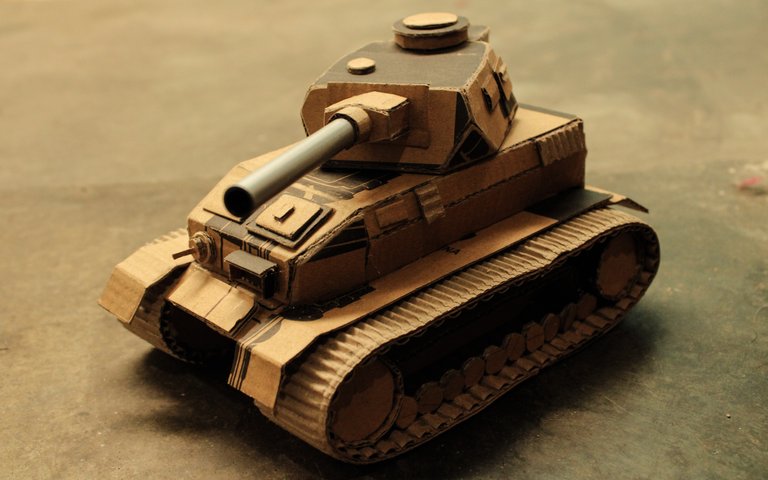 ---
𝙿𝚊𝚒𝚗𝚝𝚒𝚗𝚐 | 𝙻𝚊 𝙿𝚒𝚗𝚝𝚞𝚛𝚊
The painting was a bit more complicated, I used a bit of acrylic that I had unused, because the truth is I don't know how to paint very well with this type of paint, I started with the caterpillars with a gray base and then I darkened with a mixture of gray , ocher and white, and I gave it a kind of "aged" with a sponge using the color white.
The color of the tank was darker than I expected due to the color mixture, however I think that dark color gives it a quite elegant touch. Finally, with a fine-tipped brush I gave a couple of details such as the number and the symbol of the army, in addition to using a sponge to give a worn effect on the entire surface of the tank.
✪✪✪
La pintura fue un poco mas complicada, usé un poco de acrílico que tenía sin usar, pues la verdad no se como pintar muy bien con este tipo de pintura, inicié por las orugas con una base gris y luego fui oscureciendo con una mezcla entre gris, ocre y blanco, y le dí una especie de "envejecido" con una esponja usando el color blanco.
El color del tanque quedó mas oscuro de lo que esperaba debido a la mezcla de color, sin embargo me parece que ese color oscuro le da un toque bastante elegante. Por último, con un pincel de punta fina le dí un par de detalles como el numero y el símbolo del ejército, además de usar una esponja para dar un efecto de desgaste en toda la superficie del tanque.
---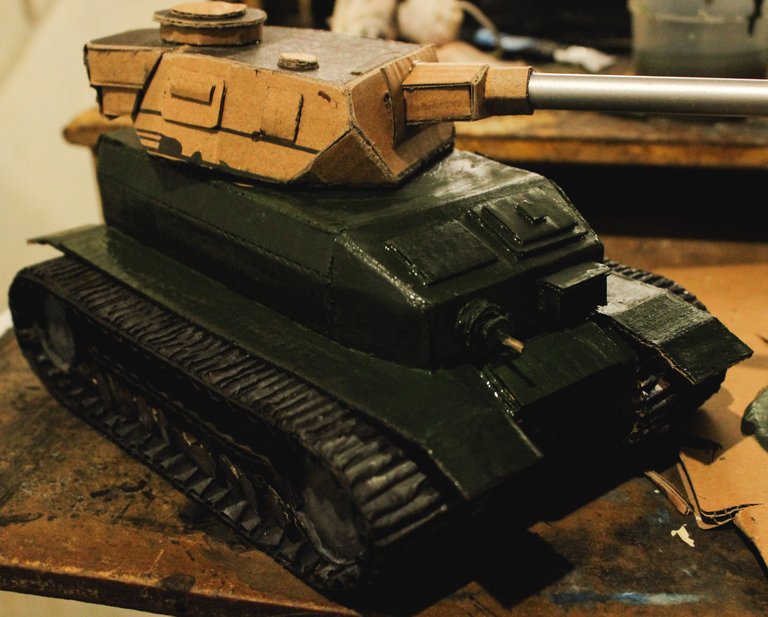 ●▬▬▬▬๑۩۩๑▬▬▬▬▬●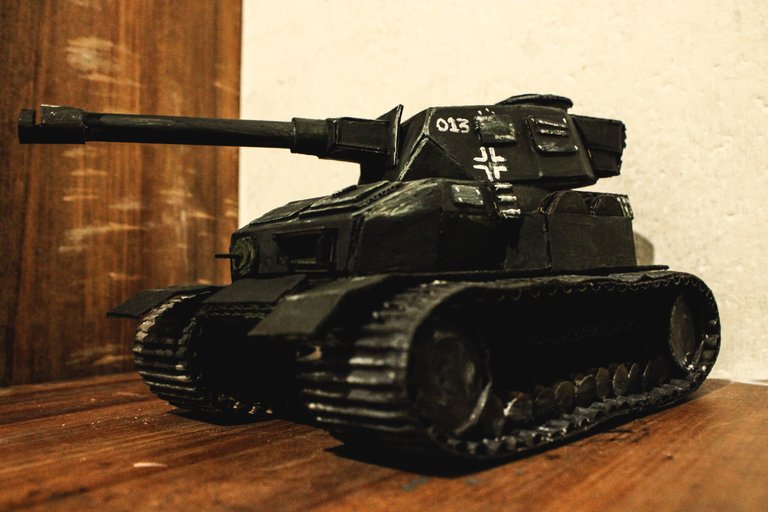 ---
≛ 𝙿𝙰𝙽𝚉𝙴𝚁 𝙸𝚅 ≛
ᴮʸ ᶜᵒⁿⁿᵒʳ ᴿᵘˢˢᵒ
✪✪✪
Camera Canon EOS 2000D (T7) | Lens EFS 18mm - 55mm
Finally, these photographs are taken in a natural space seeking to give it a bit of atmosphere and realism, just as if it were in an outdoor setting in full combat.
It is really quite simple to take certain things that bother us and discard them, however, it is much more useful to prove to ourselves that we are capable of doing incredible things with things that we considered garbage, this applied to life can teach us not to give up so quickly , to connect with our people and our environment in a deeper way without considering them or ourselves as "disposable" elements, because, with some effort, many things that seem to have no future, can mysteriously blossom into something truly wonderful, but For that, the first thing we must do is believe that it is possible!
✪✪✪✪✪
Para finalizar, estas fotografías son tomadas en un espacio natural buscando darle un poco de atmósfera y realismo, tal y como si se encontrara en un escenario exterior en pleno combate.
Es realmente bastante sencillo tomar ciertas cosas que nos estorban y desecharlas, sin embargo, es bastante mas útil probarnos a nosotros mismos que somos capaces de hacer cosas increíbles con cosas que considerabamos basura, esto aplicándose a la vida nos puede enseñar a no rendirnos tan rápido, a conectar con nuestra gente y nuestro entorno de forma mas profunda sin considerarlos ni considerarnos a nosotros mismos como elementos "desechables", pues, con algo de esfuerzo, muchas cosas que parecen no tener futuro, misteriosamente pueden florecer en algo realmente maravilloso, pero para eso ¡lo primero que debemos hacer es creer que es posible!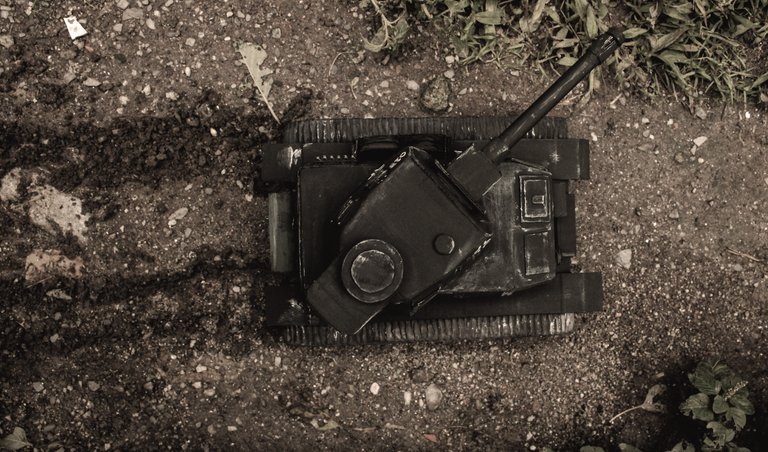 ●▬▬▬▬๑۩۩๑▬▬▬▬▬●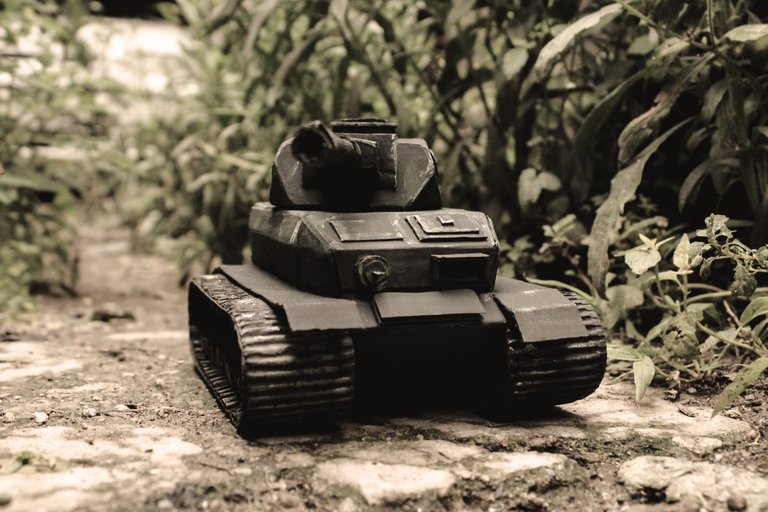 ●▬▬▬▬๑۩۩๑▬▬▬▬▬●


●▬▬▬▬๑۩۩๑▬▬▬▬▬●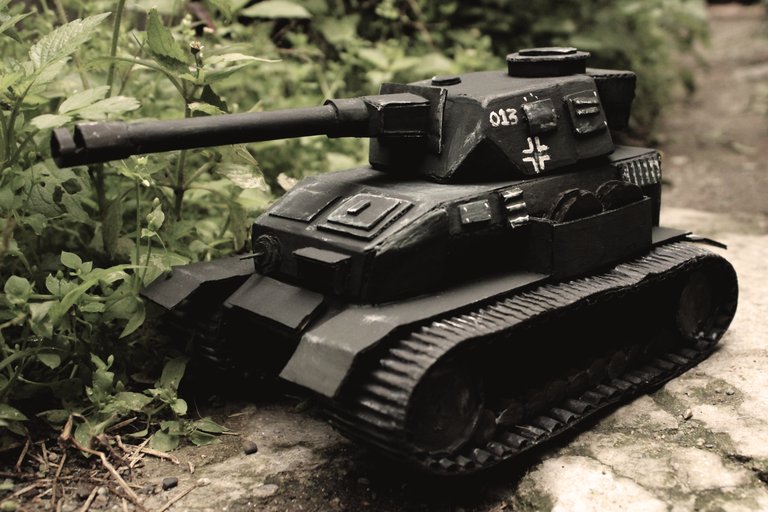 ●▬▬▬▬๑۩۩๑▬▬▬▬▬●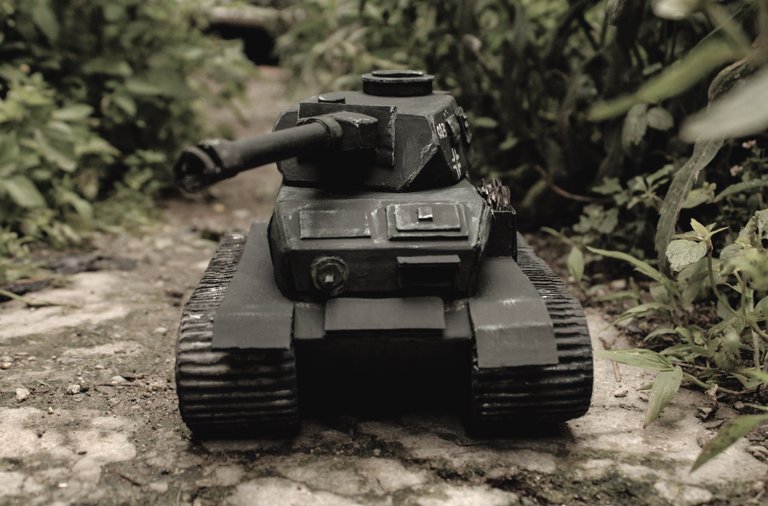 ●▬▬▬▬๑۩۩๑▬▬▬▬▬●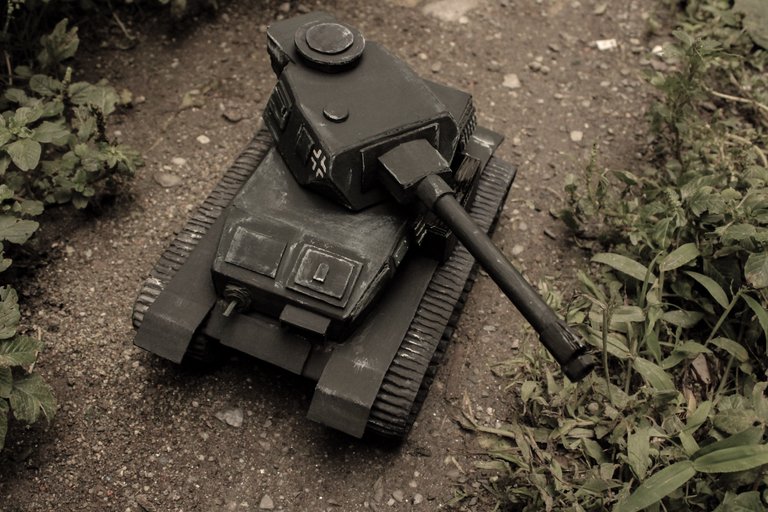 ⚖
●▬▬▬▬๑۩۩๑▬▬▬▬▬●
✭
𝑵𝒐 𝒐𝒍𝒗𝒊𝒅𝒆𝒔 𝒅𝒆𝒋𝒂𝒓 𝒖𝒏 𝑼𝒑𝒗𝒐𝒕𝒆 𝒚 𝒔𝒆𝒈𝒖𝒊𝒓𝒎𝒆 𝒔𝒊 𝒒𝒖𝒊𝒆𝒓𝒆𝒔 𝒗𝒆𝒓 𝒎𝒂𝒔 𝒕𝒓𝒂𝒃𝒂𝒋𝒐𝒔 𝒂𝒔í.
𝑫𝒐𝒏'𝒕 𝒇𝒐𝒓𝒈𝒆𝒕 𝒕𝒐 𝒍𝒆𝒂𝒗𝒆 𝒂𝒏 𝑼𝒑𝒗𝒐𝒕𝒆 𝒂𝒏𝒅 𝒇𝒐𝒍𝒍𝒐𝒘 𝒎𝒆 𝒊𝒇 𝒚𝒐𝒖 𝒘𝒂𝒏𝒕 𝒕𝒐 𝒔𝒆𝒆 𝒎𝒐𝒓𝒆 𝒘𝒐𝒓𝒌𝒔 𝒍𝒊𝒌𝒆 𝒕𝒉𝒂𝒕
---
---