Doctor Who - UNIT: Dominion Review
My wordpress: https://comparestorereviewsdw.wordpress.com/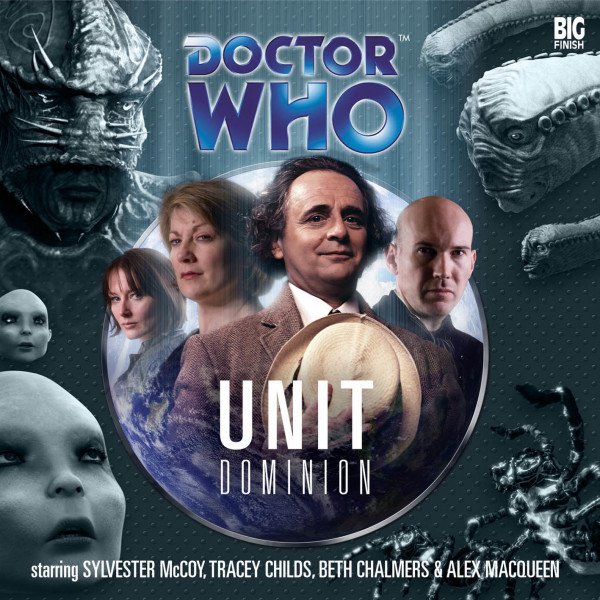 UNIT: Dominion is a 4-part box set consisting of just a single story. I believe this is the only time Big Finish have used this format and it's an interesting format! UNIT: Dominion feels like a classic who story in its length (4 hours!), but also has some new who influences (particularly the music, it's rather grand and Murray Gold-esque). Either way, the most exciting thing about this story is its scale. It's a massive story, and has a lot going on! It's a 7/Raine/Klein/UNIT/Alex MacQueen 'Doctor' story and as a result feels pretty damn epic. The threats are also really unique, various strange extra-dimensional alien species that allow for a lot of creativity, and the monsters here have some of the best monster sounds I've heard in Doctor Who. There's some really chilling sound design.
Alex Macqueen is the obvious highlight of this story, his charisma is off the charts, and I'm glad this story focuses so much on him interacting with Klein, UNIT, and later, 7. Klein is fantastic here too, her story carrying on from the aftermath of The Architects of History, and Tracey Childs continues to play her really damn well. My biggest problem with this story lies with 7 and Raine in parts 1 and 2. They kind of hang about not doing too much, especially in part 2, and considering that this is my first story with Raine, I don't really care about her, so I don't find her material very interesting.
Overall though, UNIT: Dominion is a very impressive story in its scale and format, that I think is let down slightly because of this ambition. Still, well worth a listen, especially for the introduction of Alex MacQueen to the Doctor Who universe!
8/10
---
---