Vineyard Fun
Hi fellow Weekenders,
The other day Siena and I stumbled upon an awesome vineyard!

Vineyard Fun
One of the things that I really love about our life right now is all of the awesome exploring that we've been doing! We recently spent some time in a portion of New Hampshire and were looking for something to do while we had a few hours to kill. We decided to look and see if there were any vineyards around and we found some but one seemed to stick out more than others. Thankfully we stuck with the one we did! It ended up being an awesome experience for sure!
When we got there, it was a bit dreary. Thankfully this was only day one, we ended up going there a few days in a row lol. We went there looking for something to do that was inside since the day was a bit cloudy and looked like it was going to rain. We had found this place and it was nice that we could hang out inside or outside. We chose inside for the first day and it was a nice experience, got to enjoy chatting with the staff while sipping on a little vino and eating some bread. Win if you ask me!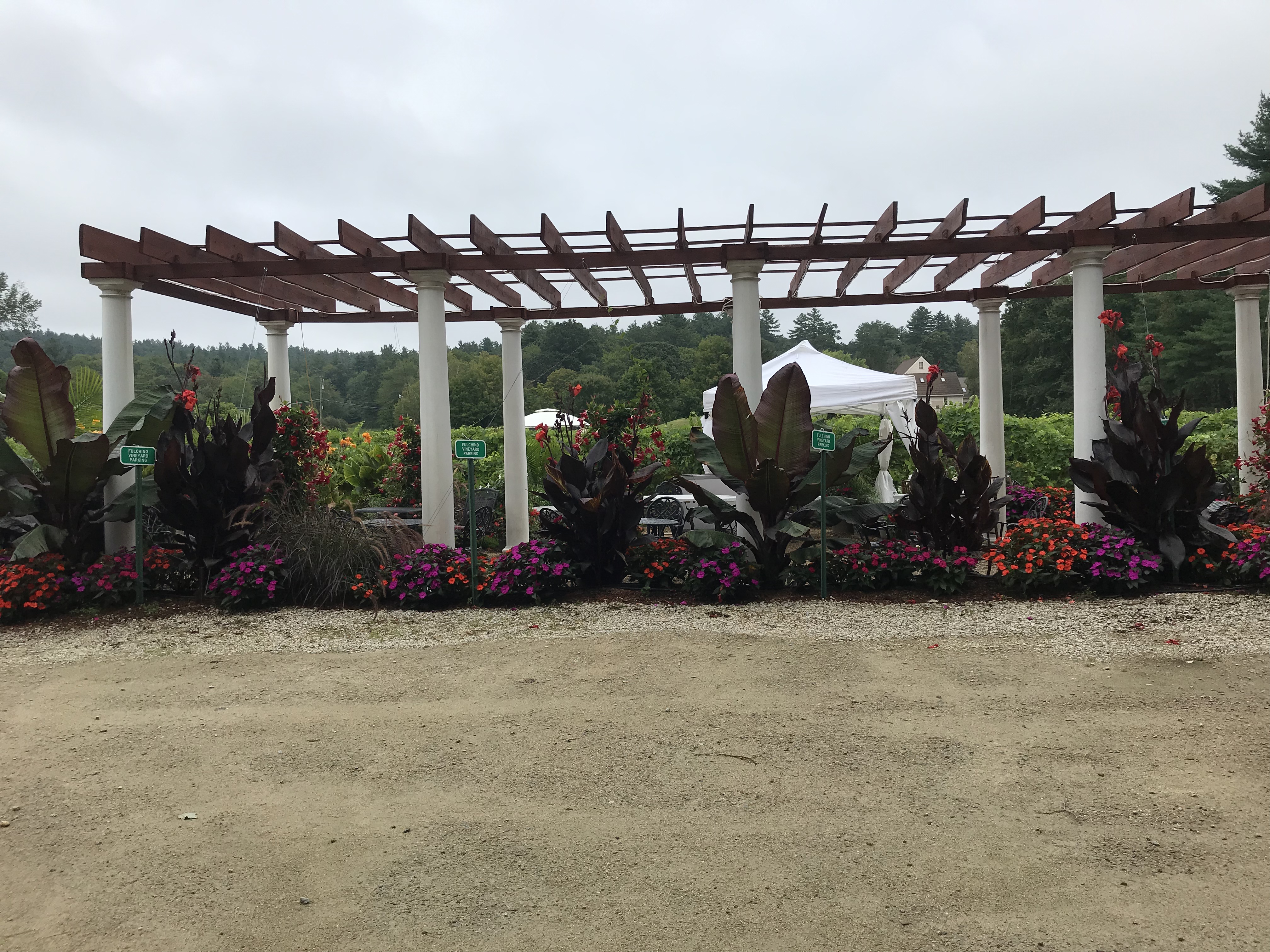 The grounds were very nice and relaxing. I love being able to sit next to the fields and see the vineyard, flowers and nature overall. There were lots of really nice flowers all over the place.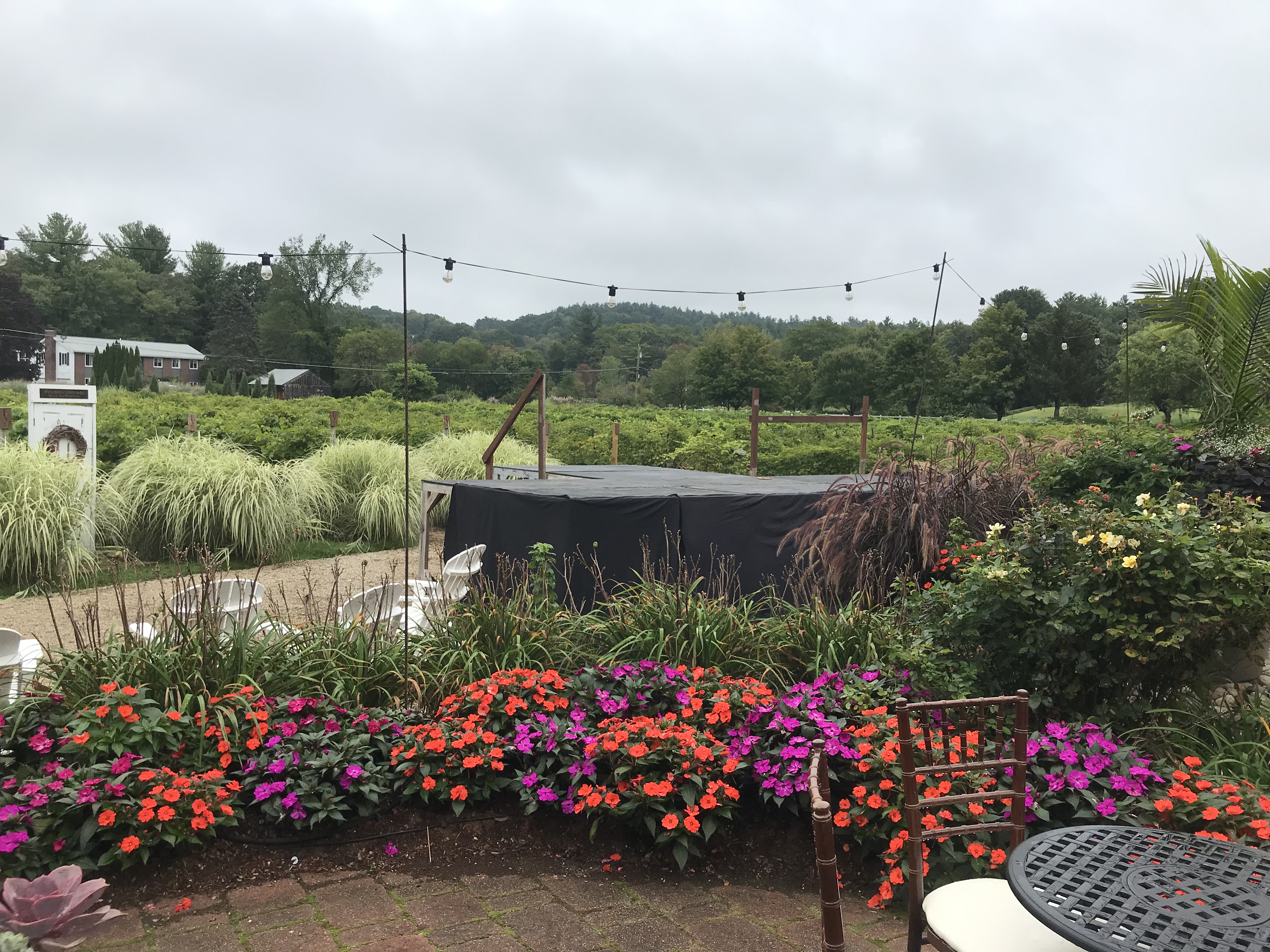 The building looked like it was quintessential Italy, if you ask me! The white stucco is very Tuscany from what I remember when my wife and I were there years ago. I'm glad that the building was a good size as well, some places have very small buildings and it makes it a little snug to hang out in there and enjoy some drinks and talk. This place was very big!
The next day that we got there was a much different story! It was a beautiful day, barely any clouds and the temperature was perfect for hanging out in the vineyard.
The real reason we were there was to help them harvest the grapes! It felt really cool to get the opportunity to do this! I don't know if our family did this in the past, not everyone in Italy is into harvesting grapes but I think at least part of my family was. I remember being a kid and visiting my aunts house where she had her own trellis of grapes above the table and we would mostly eat them but they used to harvest them and make some homemade wine out of it! Getting the chance to help this small family vineyard was awesome.
Who doesn't love a good tool, anyways? It makes sense that they would have invented a tool to help pick grapes but if you don't do it before, you'd never know! The tool was great because all you needed to do was put the gap between the blades on the stem of the grapes and it cut it right off. Really handy! The best part was that the tool was danger-free for adults since it was far too small to fit any fingers in there. It was a little close for the little man but not enough to be worried.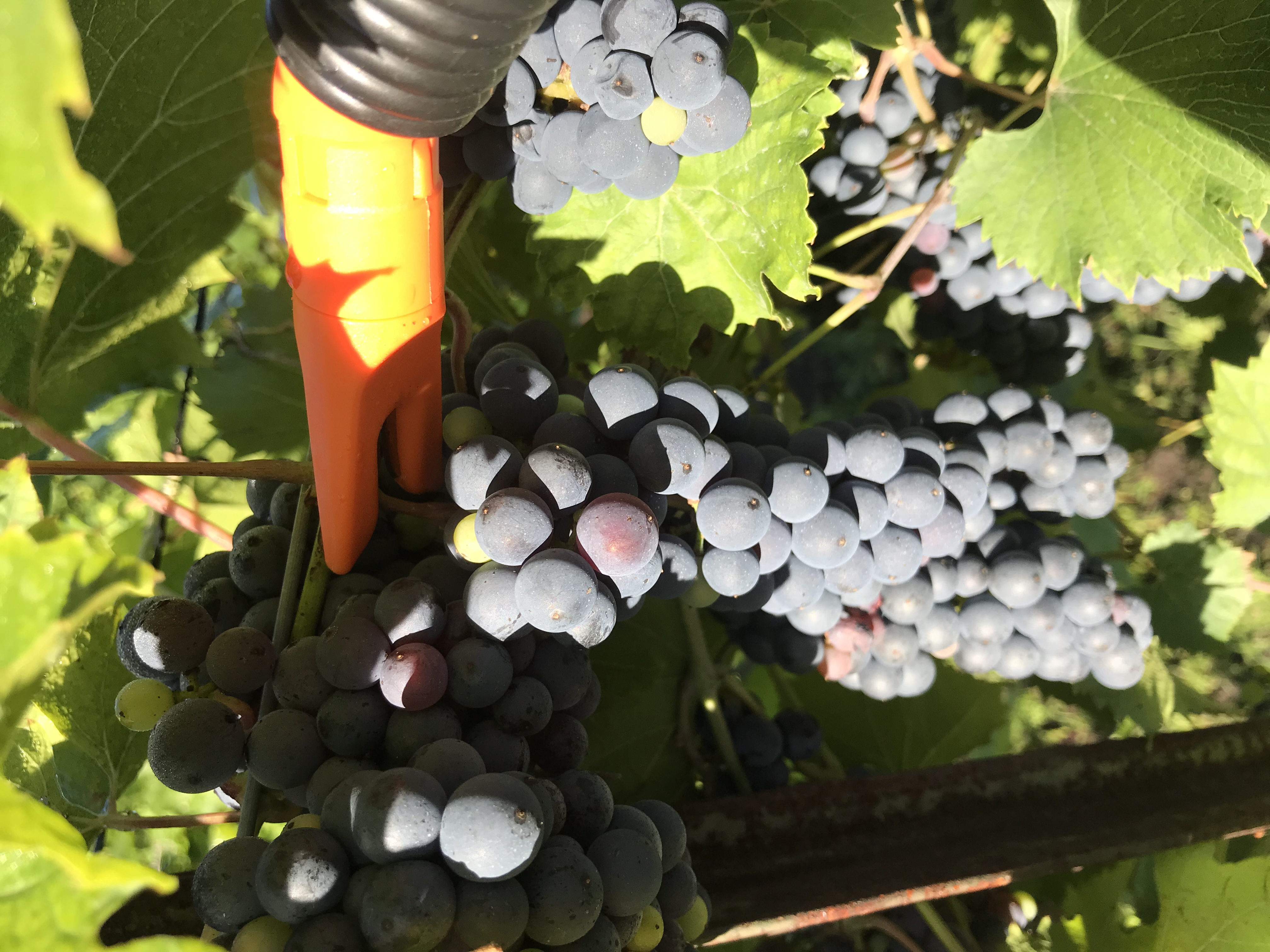 The first day I was there we picked 3,400 pounds of grapes! It was insane! We had a bunch of volunteers but we really rocked it. It was a lot of fun seeing these giant barrels get full of grapes!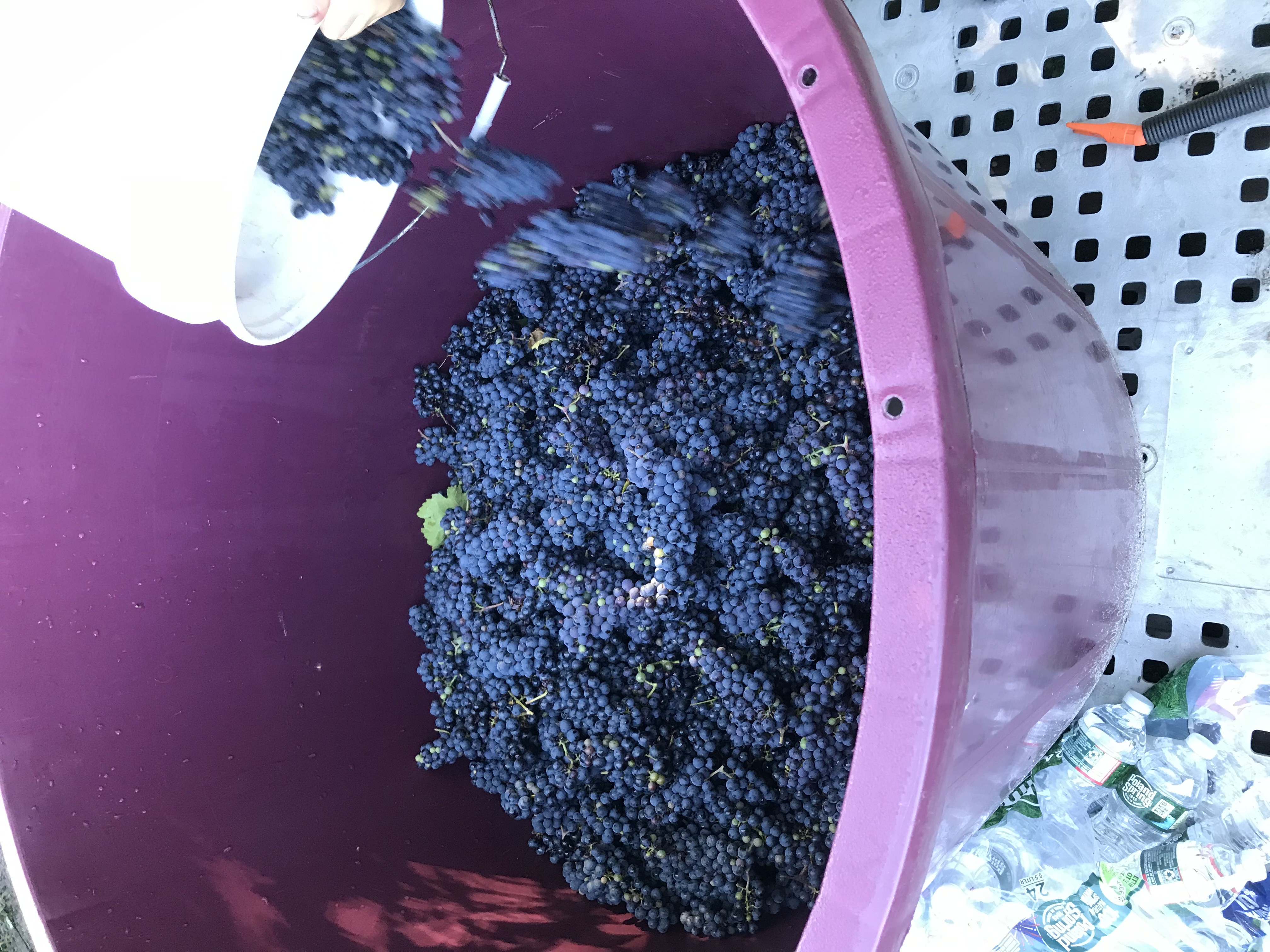 It wouldn't be a day out in the vineyard without the family. The little man wasn't going to miss out on this one! He was helping and actually picked three five gallon buckets himself! It was fantastic. The owner and everyone with us was saying that he was such a fantastic helper!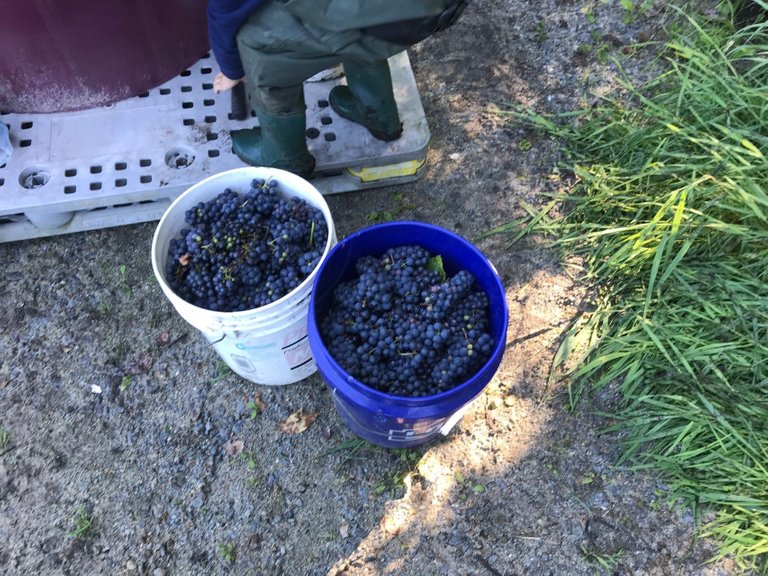 One of the full bins that we finished and he drove away on the tractor. About 1,500 pounds per bin!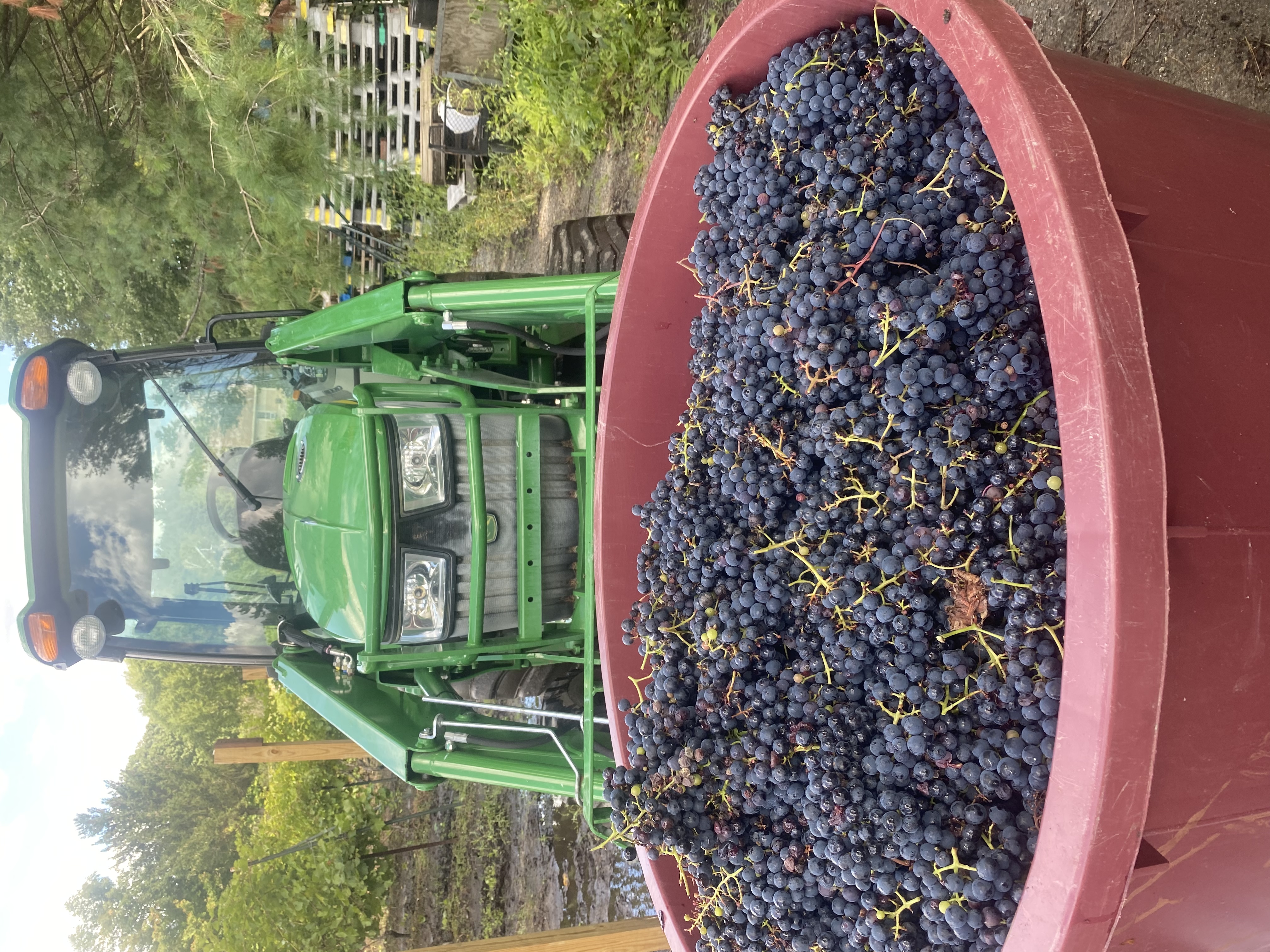 The day was a little muddy! Thankfully the owner warned everyone and we all wore rain boots or, in my case, waders lol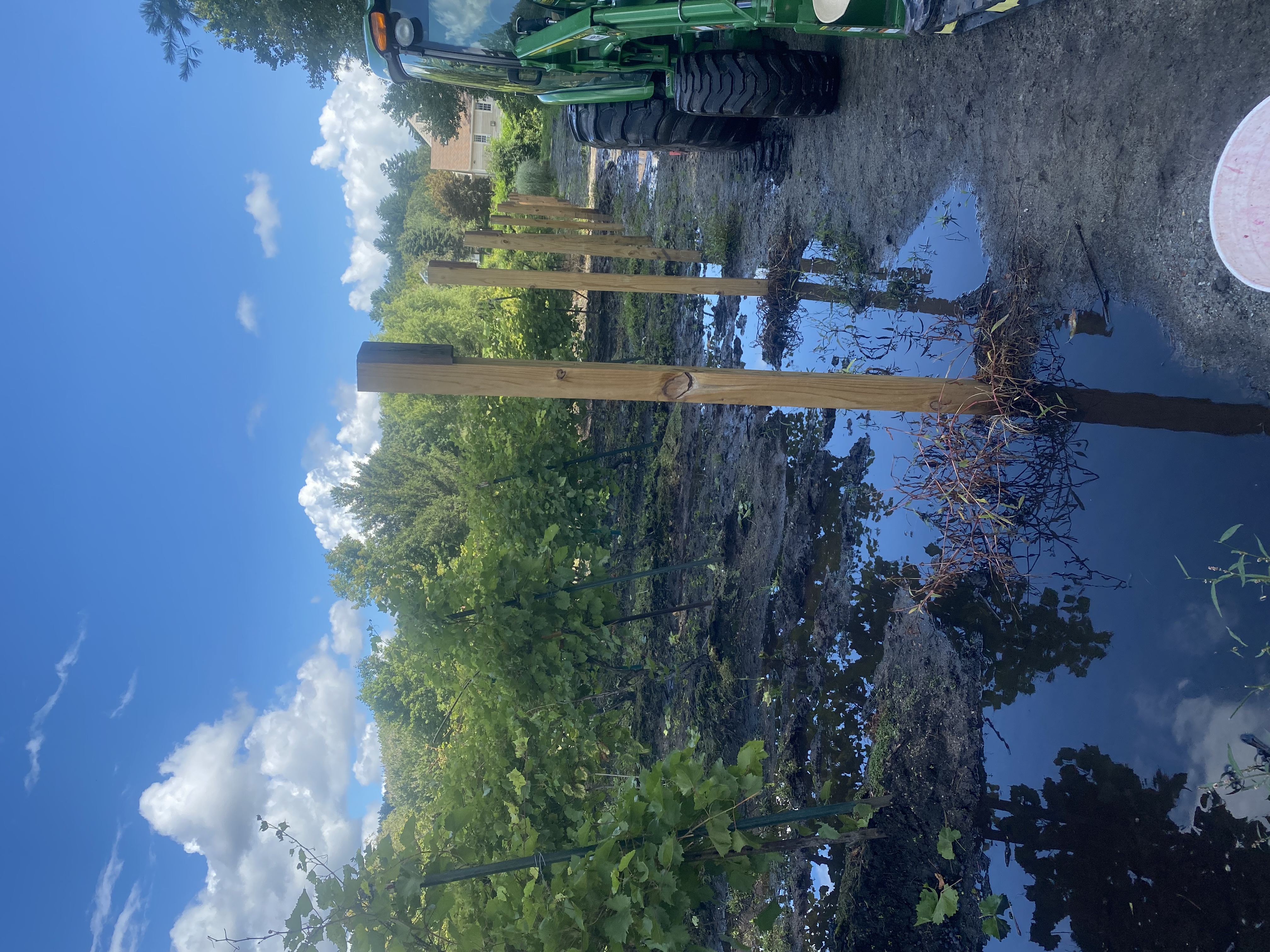 What was cool to learn was that unlike many other vineyards, the owner doesn't cut the leaves. He leaves them on there so that the grapes are hidden. He says that the vineyards that cut their leaves back to make it easier to pick have to then worry about the birds! They have to net everything so that the birds can't come down and eat all the grapes. It's a little more work to move the leaves to find everything but it's a lot better because he doesn't have to spray anything and he doesn't have to net the plants. He does keep an eye on the occasional deer or even a bear coming by to take some snacks but they don't take as much as a flock of birds would.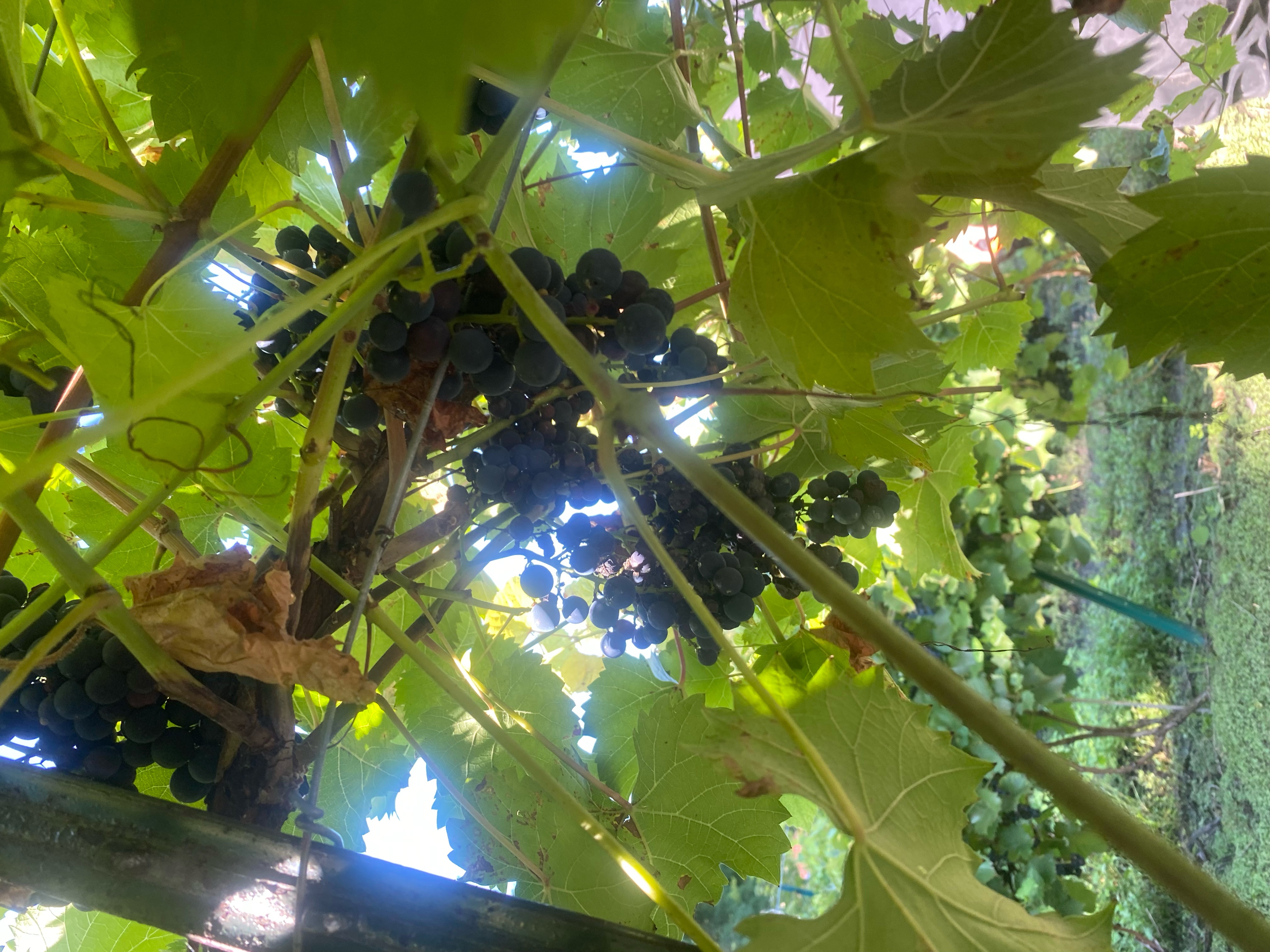 The place inside is quite beautiful! It's a wonderful, family-run business that has some pretty awesome success. They have been in business for over 10 years, I haven't asked him when he started the vineyard but he's got bottles that he is now selling, that were bottled in 2010!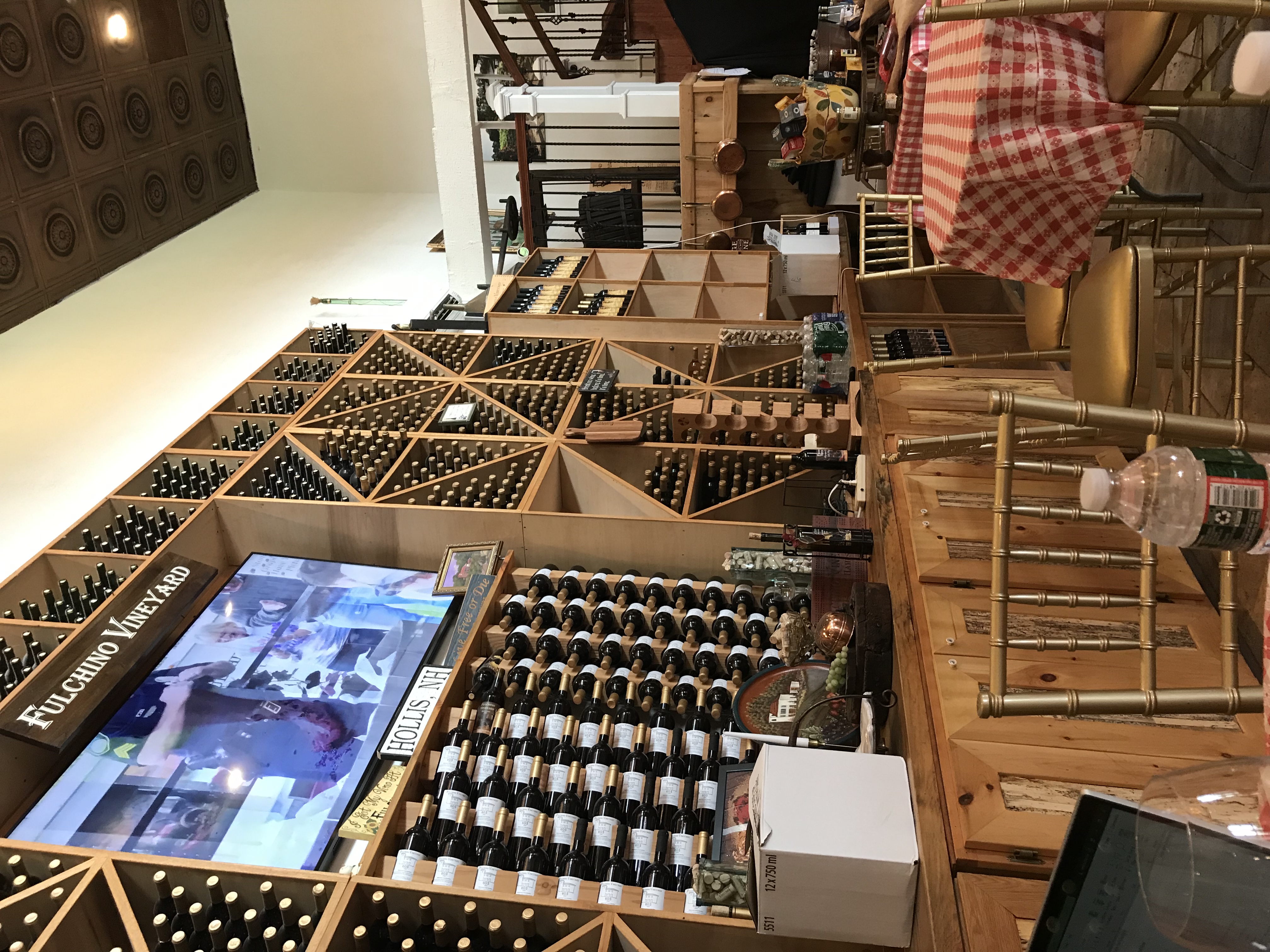 Overall it was such a wonderful experience! The people were awesome, very friendly staff and welcoming. We read some pretty tough reviews online about the place but decided to give it the benefit of the doubt and give it a shot anyways. We are very glad that we did! We've made a few friends there and they know us by name now, especially our son! Everyone loves him lol
Have you done something like this, helping pick grapes at a local vineyard? Let me know! It's so much fun!

Connect with me!
Do you want to get paid, in crypto, for searching the internet? Try using and signing up for Presearch to earn some great crypto! I've currently got 2,470 PRE tokens, with a market value of $59.28. It doesn't sound like a lot but when you search using sites like Google you get paid $0! Join Presearch to break Google's stranglehold on the internet searches. If you'd like to sign up, use my referral link!
https://www.presearch.org/signup?rid=513043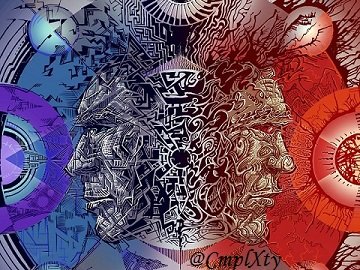 Image sources
---
---