Shadow Selfie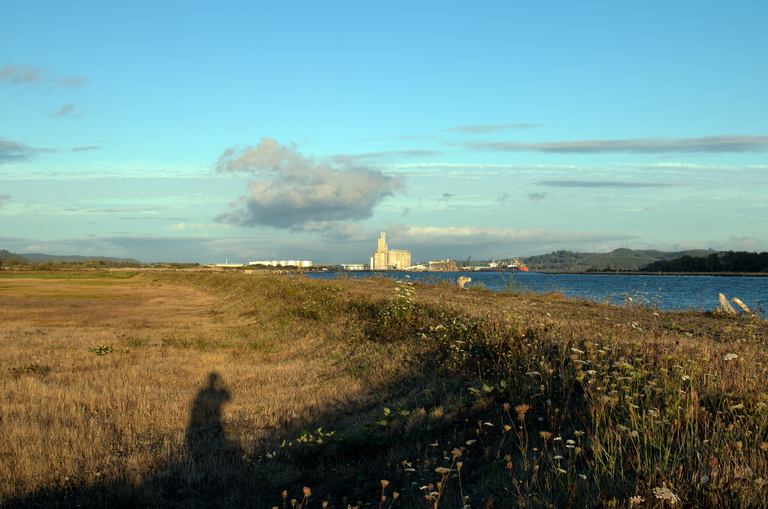 Port of Grays Harbor
Hoquiam, Wash.
---
This area along the bay in Hoquiam is my go-to spot for photography. Probably 90 percent of the photos I've shared are from this location; what's new is that I usually walk down to the water to snap. I've rarely shared views from the path that runs atop the riprap around the 40 acres of vacant land known as Dog Marsh.
This area is Hoquiam's unofficial dog park. The 'marsh' in the nickname comes from the standing water that collects on the land during our long, winter rainy season; then (especially during the migration seasons) you can find flocks of geese and ducks resting here, and the dogs love splashing through the water to chase them.
When the land firms up during our dry season, they mow it off, as you can see here.
In the distance you can see the Port of Grays Harbor loading facility. The tall white towers are for agricultural products. They transport grain from the Midwest here by rail and then ship it off to, presumably, Asia. On the right the splash of red is an ocean liner at dock. That it's just a dot in this photo gives you a sense of the scope of this space.
Can you believe how blue the water is? That's what struck me most when I went for my walk yesterday evening; I'm glad it turned out in the photo. That's one of the most fascinating aspects of the place: the water looks different every single day.
Now that I see my shadow, I sort of wish I had posed, instead of just capturing me taking a pic. I could have figured out how to make a walking figure, I think, while still taking the photo.
Next time.
---
---