Dredging the Harbor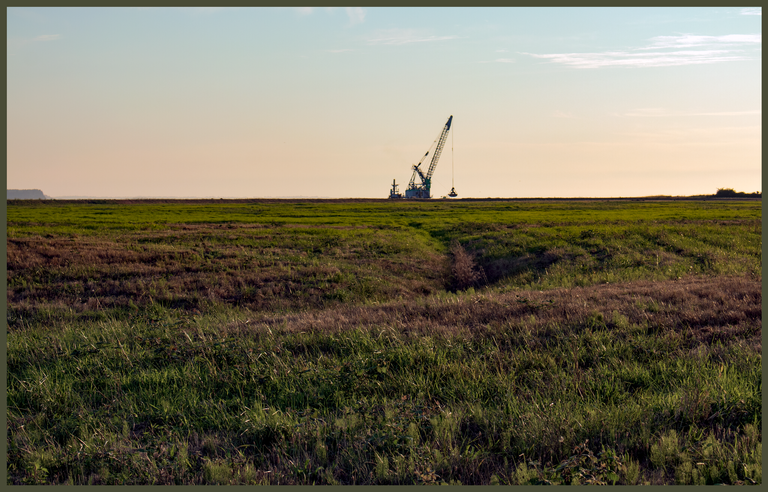 A dredge offloading muck from the bay Tuesday evening in Hoquiam, Wash.
---
Tuesday we had a perfect summer evening in Hoquiam, with temperatures hanging on in the 70s after 7 p.m. It was impossible (insane, really) to stay cooped up inside on the computer.
I'm plenty crazy when circumstances call for it. But the only things keeping me involved with the shiny things on the internet instead of enjoying the wonder outdoors were inertia and habit. It wasn't too hard to break free for a walk with the camera.
Down by the bay, the dredge operator seemed to be putting his day to rest by unloading the collected silt and muck onto the shore. I took several photos closer to the water, but the dredge was positioned on the other side of a tidal inlet, so the only angle available is the one you see here, which shows the backend of the dredge. And I wasn't close enough to see the material being dropped or anything; that was obscured by the brush along the shore.
This view seemed interesting because of the leading lines, the way the ditch points to the dredge and the dredge points to the wisp of white cloud in the sky. I also like the hues in the sky, which seem to tell us that it's evening, near sunset.
It was a good photo to practice processing with. I used two graduated filters, one to bring out the clouds and another to adjust the shadows and color in the grass. I also learned how to add a matte for the border, which seemed to make it pop a little more.
I feel like the compositional elements and the color are all there, if not rendered perfectly. I would definitely call this a good practice photo, a good chance to work with these elements, even if the result isn't award winning or anything.
Practice makes perfect, endeavor to persevere ... all that stuff.
Have a great day everyone!
---
---