Tree of Peace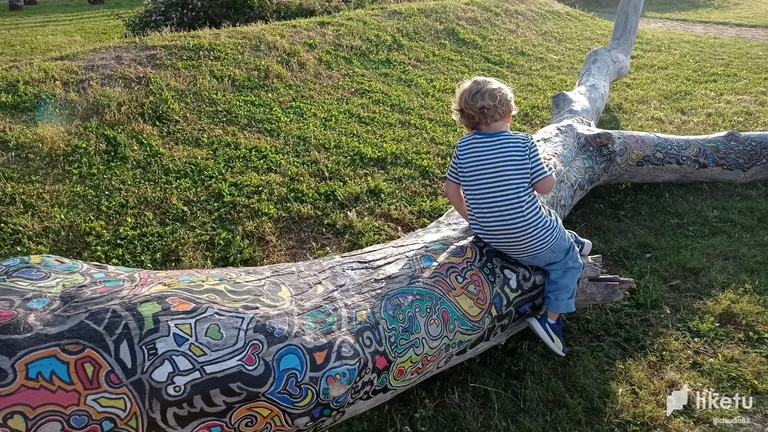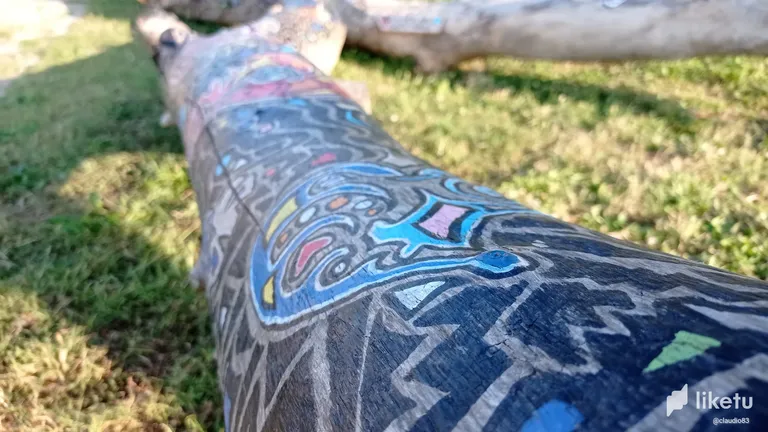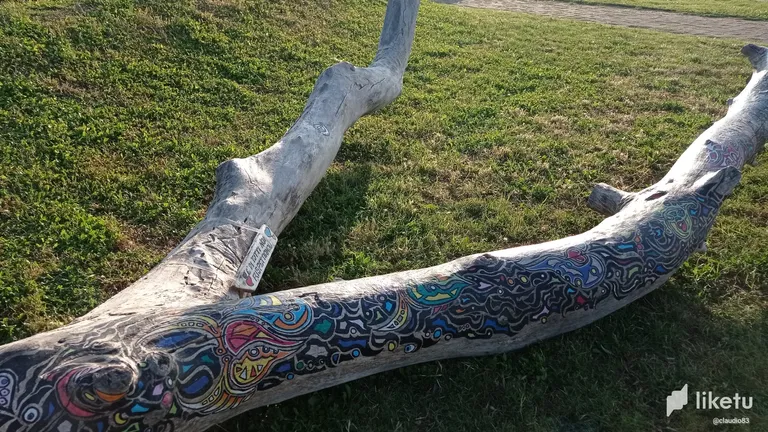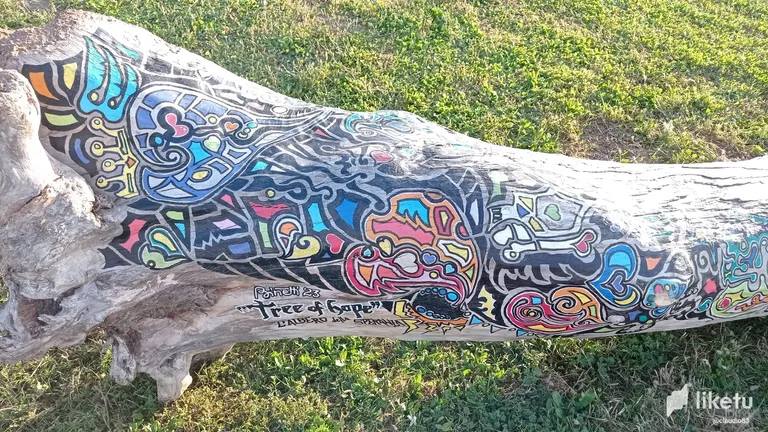 Walking along the seashore of Bari, in an area far from the city but well connected by means of transport and by cycle or pedestrian paths, there is an incredible coast, an evening meeting place for many young people and families. In fact, here there are many games for children and kiosks that offer drinks and food for all customers. I also saw a kiosk that sold really tasty sandwiches with meat and the music constantly invades every space around us.
I was really impressed by a tree that probably fell a while ago nearby and was used as a canvas to paint a series of colorful designs and symbols that indicate peace ☮️. We know well how much peace is needed in the world right now, war zones are ever more numerous and the population suffers from this state of constant unease and danger.
Thus, a lifeless tree was chosen as a symbol of peace, everything makes sense, nothing is lost even after death. My son was immediately attracted by the colors and symbols that fill the entire surface of the tree, he even climbed up to take a closer look at the colours.
It is an attraction that does not leave passers-by indifferent, everyone approaches to observe the tree, someone whispers prayers, others admire in silence.
A symbol of the city district.
ITA
Passeggiando lungo la rova marina di Bari, in una zona lontana dalla città ma ben collegata sia da mezzi che da piste ciclabili o pedonali, vi è una costiera incredibile, ritrovo serale di molti ragazzi e famiglie. Qui ci sono infatti molte giochi per i bambini e chioschi che offrono drink e food per tutti i clienti. Ho visto anche un chiosco che vendeva panini con la carne davvero appetibili e la musica invade costantemente ogni spazio attorno a noi.
Mi ha davvero molto impressionato un albero, probabilmente caduto tempo fa nelle vicinanze e che è stato utilizzato come tela per dipingere una serie di disegni e simboli colorati che indicano la pace ☮️. Sappiamo bene quanto in questo momento nel mondo ci sia bisogno di pace, le zone di guerra sono sempre più numerose e la popolazione soffre di questo stato di d'inquietudine e pericolo costante.
Così, un albero senza vita è stato scelto come simbolo di pace, tutto ha un senso, niente è perduto anche dopo la morte. Mio figlio è stato subìto attratto dai colori e simboli che riempiono tutta la superficie dell'albero, ci è anche salito per osservare più da vicino i colori.
È un'attrazione che non lascia indifferenti i passanti, tutti si avvicinano per osservare l'albero, qualcuno sussurra preghiere, altri ammirano in silenzio.
Un simbolo del quartiere della citta
---
For the best experience view this post on Liketu
---
---