Hi, my name is Red!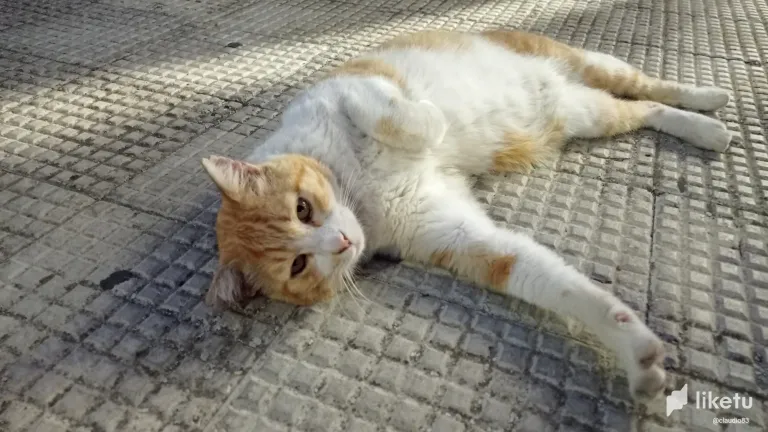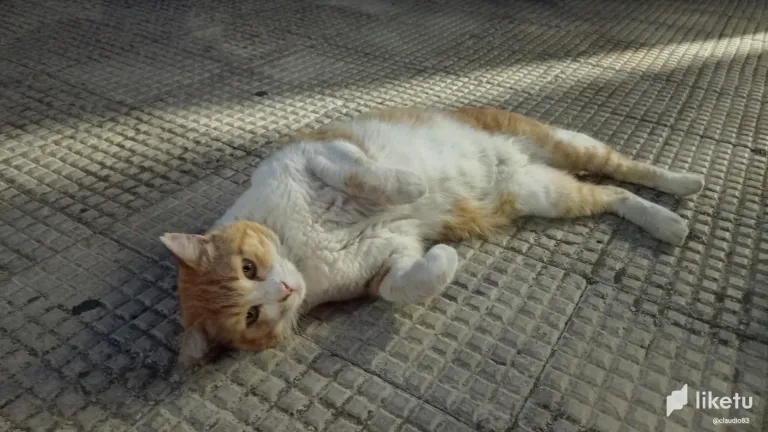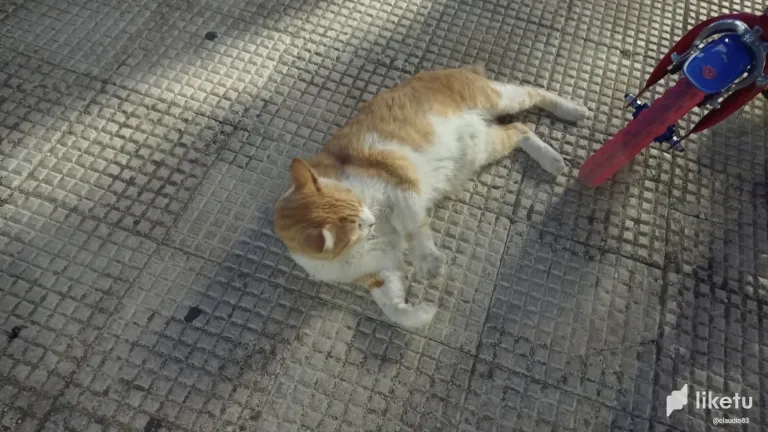 Meet Red, a stray cat who is now pampered by all of us in the neighborhood, a large and listless animal, a bit like all cats, who spends most of his time outside at the pet shop, waiting for some good meals .
Red is a very affectionate cat, every time he sees my son he chases him, especially when he goes to nursery in the morning, always in our neighborhood. He is a bit like the cat of all of us, and Red obviously, as an opportunistic cat, makes the best of situations. He is a very cuddly animal, he always purrs at those who come near, and meows in search of some caresses. But only for a short time, in fact after a few too many caresses he pushes his hand away with his paw.
This evening, while my son was on his bike, Red came to visit us and my son immediately took the opportunity to have some cuddles. I like this beautiful relationship, in fact he tells me every now and then that he would like a small cat but I still have the fear that he might stress him a little too much. We know how children are, they confuse animals with toys.
But sooner or later, I will give a cat to my family, my wife is in love with these animals, I like them too, but I'm a bit afraid of bringing it into the house, I fear a little too much damage is already enough for my son).
Our Red is beautiful though!
ITA
Vi presento Red, un gatto randagio che oramai è coccolato da tutti noi del quartiere, un grosso e svogliato animale, un po' come tutti i gatti, che trascorre gran parte del suo tempo fuori al negozio degli animali, in attesa di qualche buon pasto.
Red è un gatto molto affettuoso, ogni volta che vede mio figlio lo insegue, soprattutto quando la mattina va all'asilo, sempre nel nostro quartiere. È un po' il gatto di tutti noi, e Red ovviamente, da gatto opportunista, coglie il meglio delle situazioni. È un animale molto coccolone, fa sempre le fusa a chi si avvicina, e miagola in cerca di qualche carezza. Ma solo un per poco tempo, infatti dopo qualche carezza di troppo allontana la mano con la zampa.
Stasera, mentre mio figlio era in bici, Red ci è venuto a trovare e subito mio figlio ne ha approfittato per qualche coccola. Mi piace questo bel rapporto, anzi lui mi dice ogni tanto che vorrebbe un gatto piccolino ma ho ancora il timore che possa stressarlo un po' troppo. Si sa come sono fatti i bambini, confondono gli animali con giocattoli.
Ma prima o poi, regalerò un gatto alla mia famiglia, mia moglie è innamorata di questi animali, anche a me piacciono, ma ho un po' il timore di portarlo in casa, io temo qualche danno di troppo è sufficiente già mio figlio).
Bello però il nostro Red
---
For the best experience view this post on Liketu
---
---