A small but precious silver gramophone
If you are a collector of silver objects or simply a lover of objects, you should know that there are an infinity of handcrafted objects with truly incredible details. My grandfather was a collector and I found many objects in a box like this wonderful silver gramophone, very small in size: 7 cm in height, 2.5 in width and depth.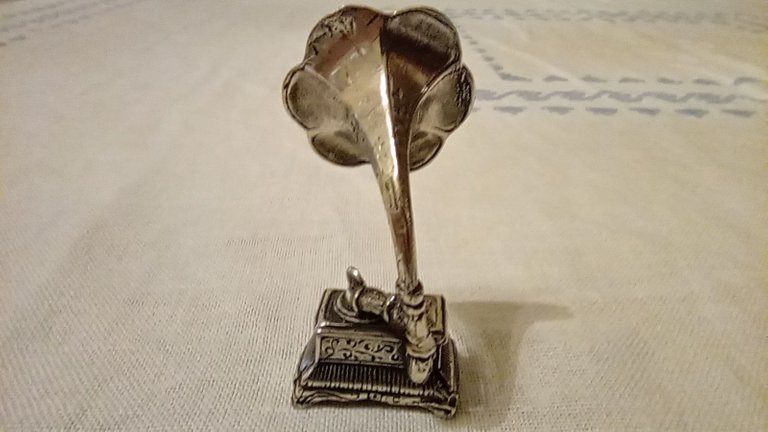 ---
Silver objects have always attracted a large number of collectors and these objects dating back to the middle of the last century are always in great demand on the market. I'm not sure if they all belonged to the same author, but my grandfather always told me that there were a couple of local artisans who created these little masterpieces and their fame always attracted a certain number of collectors and lovers of little creations.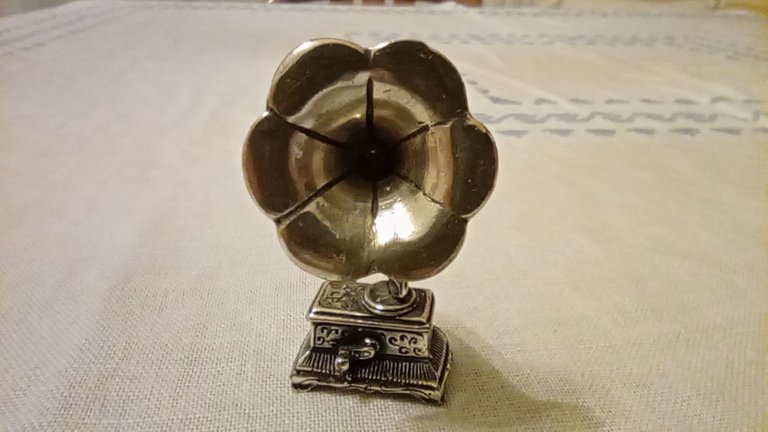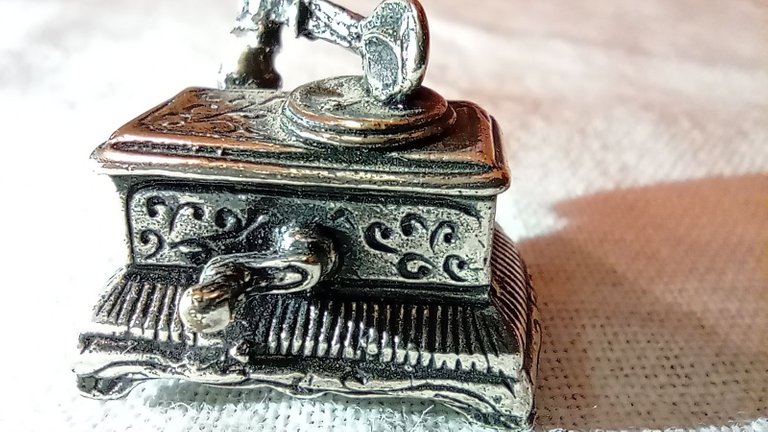 The gramophone is an instrument capable of mechanically reproducing sound, invented by Emile Berliner in 1887. The gramophone exploited the recordings present on a record (called phonograph record). It was much more successful than the phonograph, of which it is usually considered an improvement; sometimes, moreover, the two terms are used interchangeably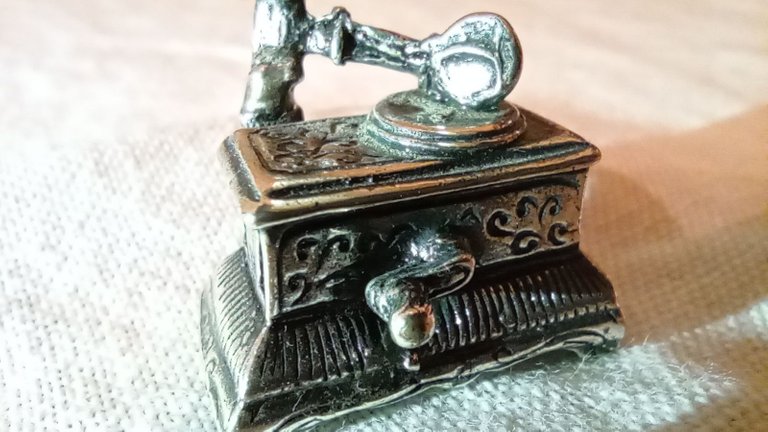 ---
Particularly interesting and finely reproduced is the base of the gramophone, with truly realistic details and faithful reproduction of the original model. A gem that any music lover should own.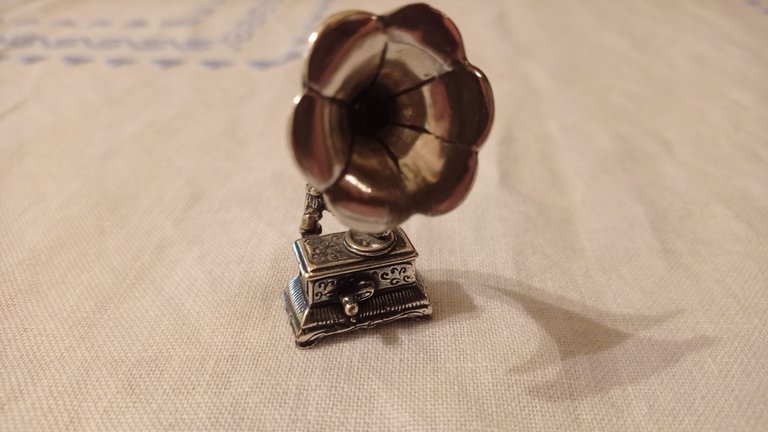 The value itself is certainly not high, it is a small object, it weighs about 200 grams, and I'm not sure it's a unique model, as I don't have any certification in this regard. It's perhaps even likely that my grandfather kept all the papers, but I haven't found anything useful at the moment. I will update you if there is any news.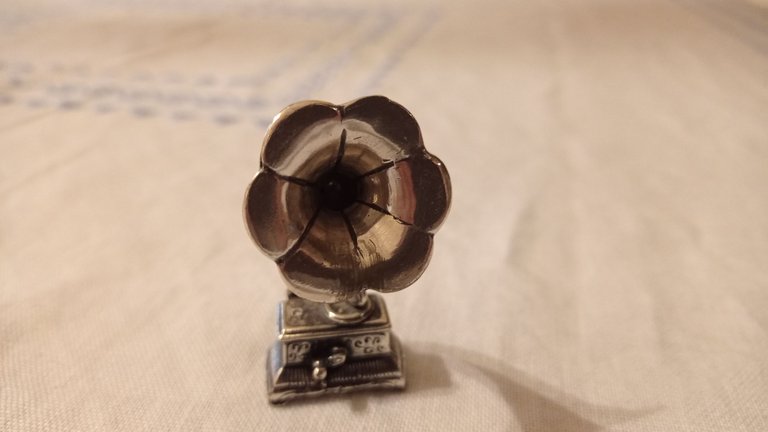 ---
Together with the other objects found, I admit that it is difficult to sell them because they are really too nice and well made. Even if the economic value is minimal, I will continue to keep the gramophone as part of my small collection.
Thanks for reading my post, if you liked it feel free to vote and reblog to share it with the Hive community

ITA
Se sei un collezionista di oggetti d'argento o semplicemente un amante di oggettistica, dovresti sapere che ci sono un'infinità di oggetti lavorati a mano con dettagli davvero incredibili. Mio nonno era un collezionista ed ho trovato in una scatola molto oggetti come questo meraviglioso grammofono d'argento, di dimensioni molto ridotte: 7 cm di altezza, 2,5 di larghezza e profondità.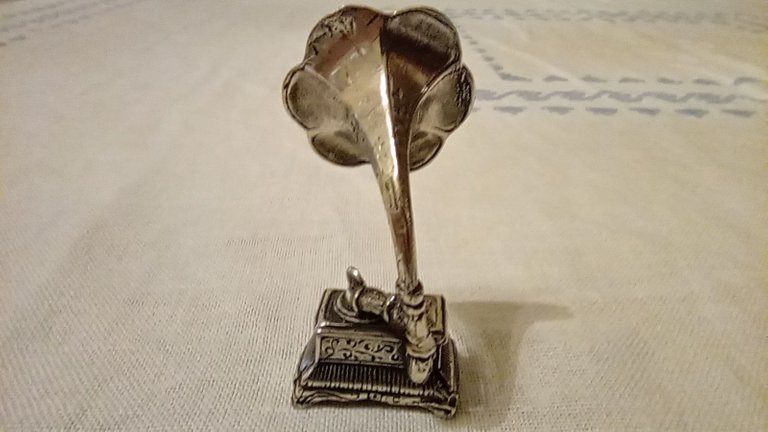 ---
L'oggettistica in argento attira da sempre un gran numero di collezionisti e questi oggetti risalenti alle metà del secolo scorso sono sempre molto richiesti sul mercato. Non sono certo che appartenessero tutti allo stesso autore, ma mia nonno mi ha sempre detto che c'erano un paio di artigiani locali che creavano questi piccoli capolavori e la loro fama richiamava sempre un certo numero di collezionisti e amanti di piccole creazioni.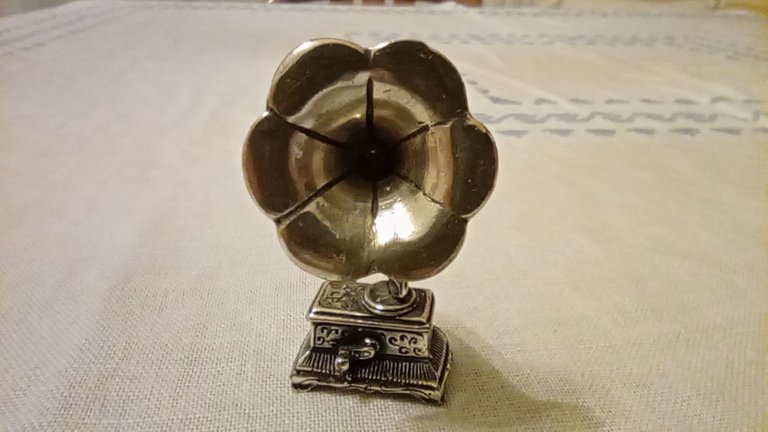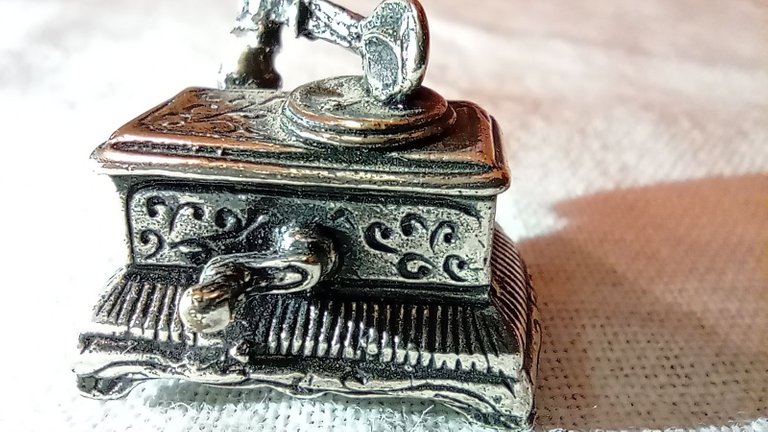 Il grammofono è uno strumento in grado di riprodurre meccanicamente il suono, inventato da Emile Berliner nel 1887. Il grammofono sfruttava le incisioni presenti su un disco (detto disco fonografico). Riscosse un successo decisamente maggiore del fonografo, di cui è solitamente considerato un perfezionamento; talvolta, inoltre, i due termini sono usati interscambiabilmente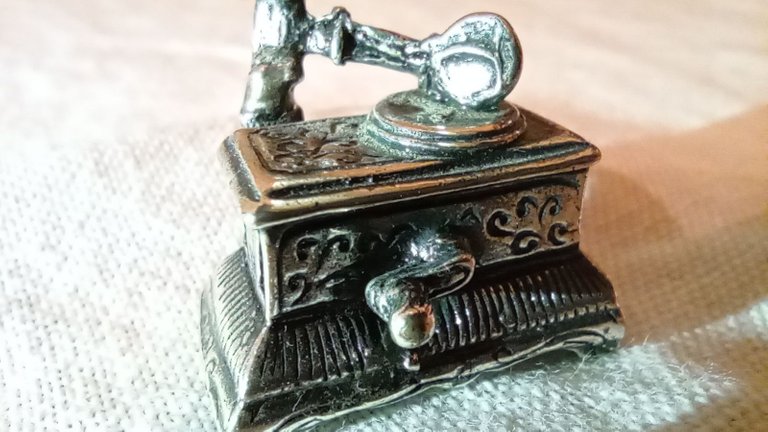 ---
Particolarmente interessante e finemente riprodotto è la base del grammofono, con dettagli davvero realistici e di fedele riproduzione del modello originale. Una chicca che qualsiasi amante della musica dovrebbe possedere.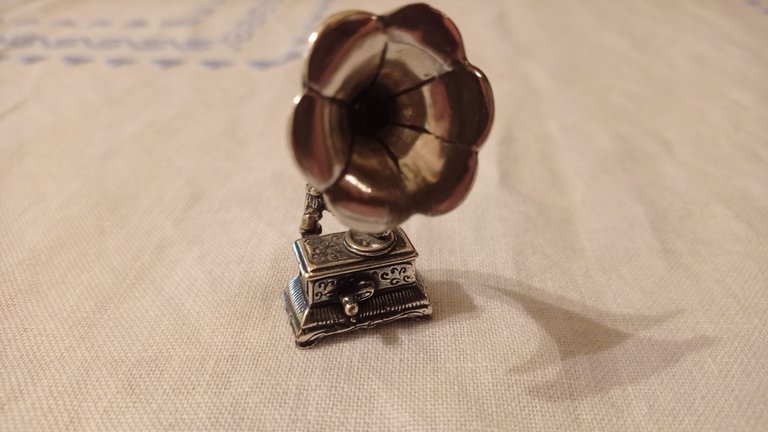 Il valore in sé non è certamente elevato, si tratta di un oggetto di piccole dimensioni, pesa circa 200 grammi, e non sono certo che sia un modello unico, non possedendo alcuna certificazione in merito. È forse anche probabile che mio nonno conservasse tutte le carte, ma al momento non ho trovato nulla di utile. Vi aggiornerò qualora ci fossero novità.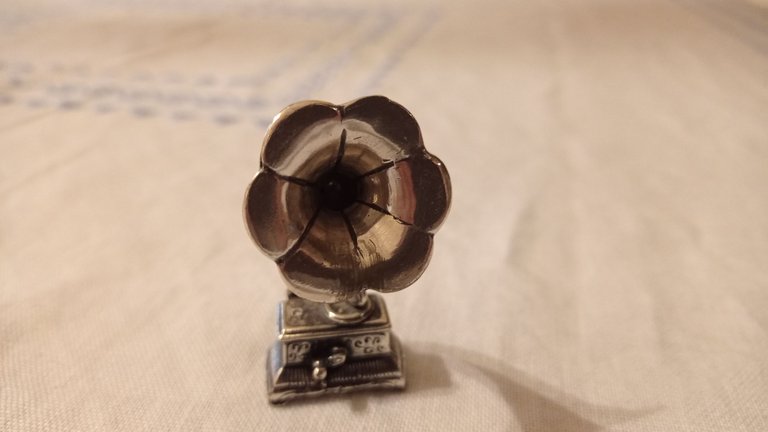 ---
Assieme agli altri oggetti ritrovati, ammetto che è difficile venderli perché sono davvero troppo simpatici e ben fatti. Anche se il valore economico è minimo, continuerò a conservare il grammofono come pezzo della mia picco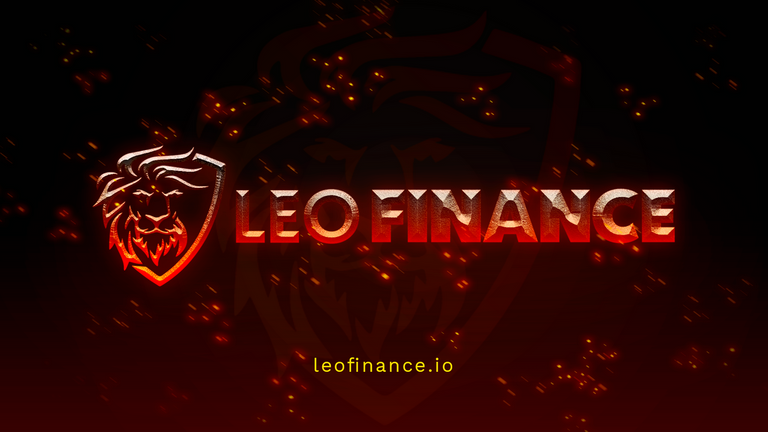 Thanks for reading my post, if you liked it feel free to vote and reblog to share it with the Hive community

Posted Using LeoFinance Beta
---
---