Extraction: Beyond Accomplishing the Mission [ENG/ESP]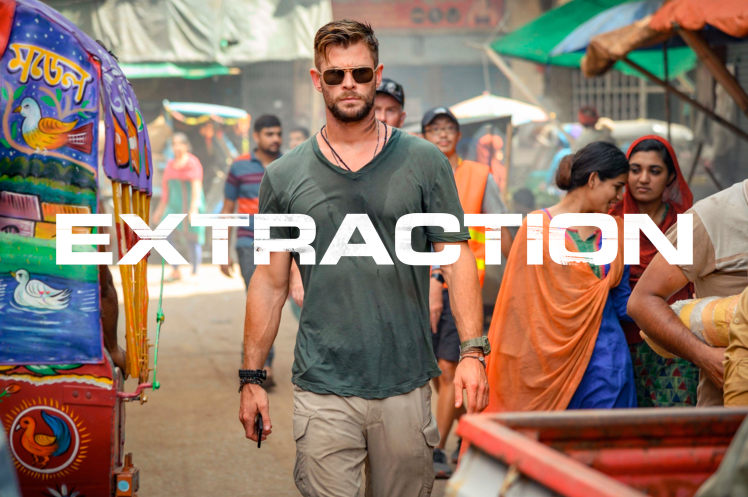 Source | logo | Image edited in Adobe Photoshop
I had planned to watch Extraction part 2 but as I had not yet seen the first one I decided to go in order, so I went to see Chris assuming the role of Tyler, a mercenary who receives an important mission, which is to rescue a young man who was kidnapped and taken away from his family, but this young man is not just anyone but the son of an international criminal (capo) who has been imprisoned.
As is normal in criminal life, enemies are forged along the way and this man who does not know the whereabouts of his son has a rival in the same business, his name is Amir Asif who plans to get money for the ransom, you can quickly see his power and influence as he moves the Bangladeshi government in India, where all the action takes place.
After the kidnapping the film stops being boring and becomes a matter of not blinking to not miss the action, at this point I want to give my particular opinion as I have seen countless films of this type, some good and some not so good, and although I am not a lover of the genre I can not deny that I am entertained, but sometimes there are scenes that are so lying that make the action loses its luster. I recognize that it is not easy to stay at the limit of the threshold between realism and fantasy but in this installment the skills of the mercenary Tyler are very high as well as his recovery after the fights.
This may be striking but in my mind I could not stop thinking about "Rambo" or "Macgiver the Bold", he must have died in countless scenes but he came out of them in an inexplicable way, what I found very well done despite the bloody images was the approach that some scenes had, you could clearly see what was happening, whether cuts or shots, elements that give much vividness in this type of film.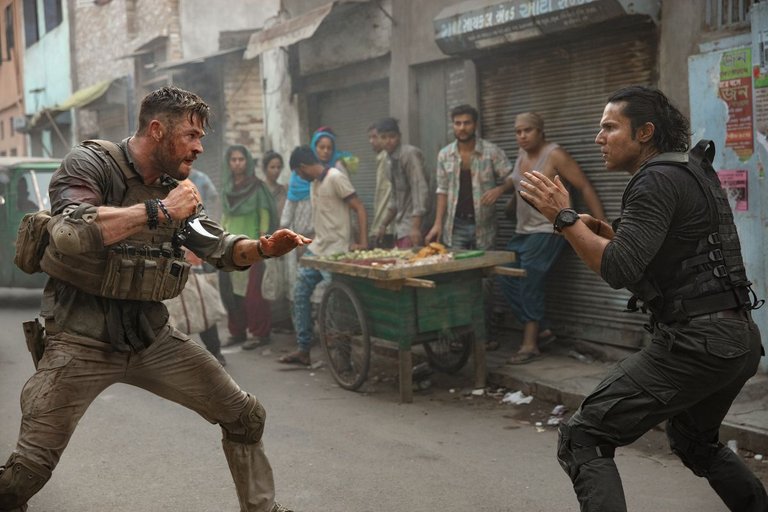 Source
I liked the setting quite a lot, you could appreciate the culture of the country of India both in the streets and in the people, it also caused me some fun but it was a well cared detail when Tyler fights with knives in front of Saju, I mean the people watching the fight, I imagine that if it was in any other country possibly they would have placed some people recording it as it happens in many parts nowadays.
Hooda's performance as Saju for me was the best of all, he played the role in an excellent way, I must confess that this character Saju was well developed, he is a bodyguard of the kidnapped child but he is also a father, and after giving the bad news to his boss comes the worst threat of his life, so he must do everything possible to bring the child back or his own son will die. What would you do as a father in a situation of such complexity?
Another aspect that called my attention powerfully was the poverty of the children and how many of them started to work for Amir, were moments like "City of God" that movie from 2002 that exposed the reality of the youth in Brazil. Sometimes we may think that such situations are alien to our reality or that they do not exist but how wrong we are, they are truths that perhaps are omitted today but there are children in the world that their "innocence" has been taken away from them for countless reasons and in this film they show it very well.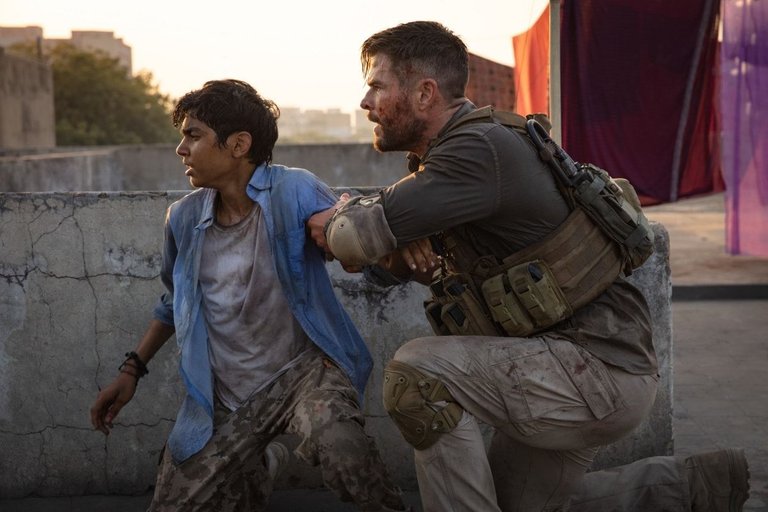 Source
Final impressions
I have decided to watch the second part, maybe it will be about the same as the first one or possibly we will see a better development in the main character, in the first half not much was said about his background, just a few scenes of a child or maybe when he was, I hope that in the second installment they show a little more.
I was struck by how Tyler gets attached to the young man he is trying to rescue, so much so that he rejected the reward of 10 million dollars for his head, this contradicts the code of mercenaries as they are people who sell themselves to the highest bidder, but he preferred to defend him even from an old friend in order to preserve his life, this aspect was certainly interesting to me.
Finally and to conclude, in this part I also liked how the young man after killing to survive faces the moment, with tears in his eyes and pain for what happened only longs to return home, which shows a degree of kindness in the midst of what he did. Overall it is a film that can really entertain but at the same time shows nuances of wanting to communicate something more in the midst of all the action and blood spilled.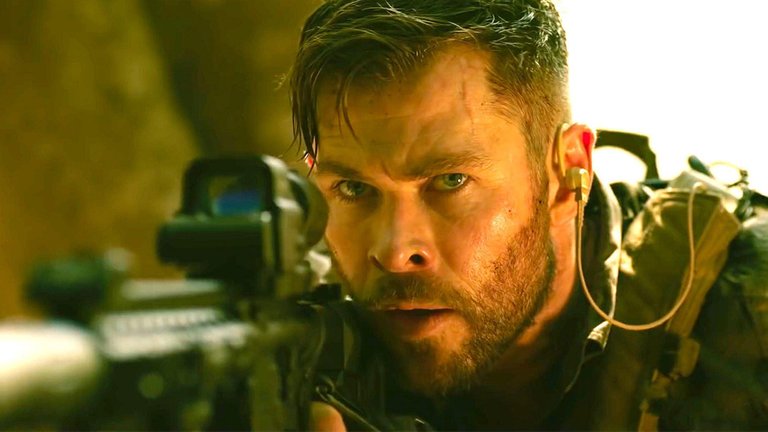 Source
Thanks for reading
---
Español
---
Extraction: Mas allá de cumplir con la misión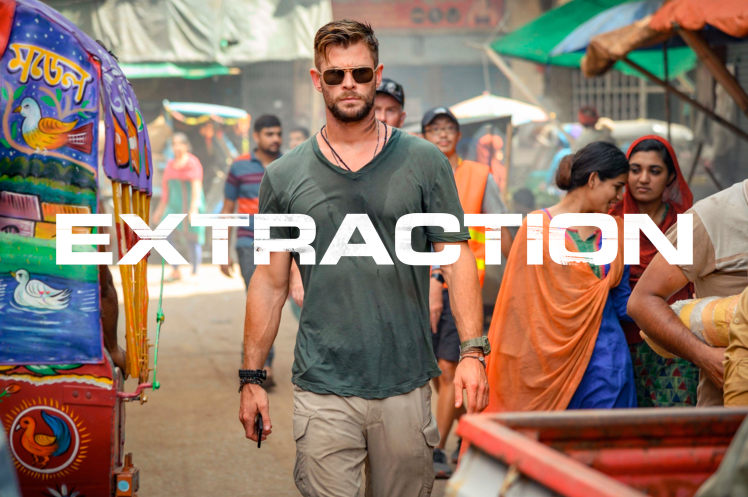 Source | logo | Imagen editada en Adobe Photoshop
Tenía pensado ver Extraction parte 2 pero como aún no había visto la primera decidí ir por orden, así que me dedique a ver a Chris asumiendo el rol de Tyler, un mercenario que recibe una misión importante, la cual es rescatar a un joven que fue secuestrado y alejado de su familia, pero este joven no es cualquier persona sino el hijo de un criminal internacional (capo) que ha sido encarcelado.
Como es normal en la vida criminal, los enemigos se forjan en el camino y este hombre quien no sabe el paradero de su hijo tiene un rival en el mismo negocio, su nombre es Amir Asif el cual planea sacarle dinero por el rescate, rápidamente se puede ver su poder e influencia pues mueve al gobierno Bangladés en la India, lugar donde se desarrolla toda la acción.
Luego del secuestro la película deja de ser aburrida y se vuelve un asunto de no pestañear para no perderse la acción, en este punto quiero dar mi opinión particular ya que he visto incontables películas de este tipo, algunas buenas y otras no tanto, y aunque no soy amante del género no puedo negar que me entretienen, pero a veces hay escenas que son tan mentirosas que hacen que la acción pierda su brillo. Reconozco que no es fácil mantenerse al límite del umbral entre el realismo y la fantasía pero en esta entrega las habilidades del mercenario Tyler están muy elevadas así como su recuperación luego de los combates.
Esto quizás pueda ser llamativo pero en mi mente no podía dejar de pensar en "Rambo" o en "Macgiver el audaz", debió morir en incontables escenas pero salía de ellas de una forma inexplicable, lo que si me pareció muy bien hecho a pesar de las imágenes sangrientas fue el acercamiento que tuvieron algunas escenas, se podía ver claramente lo que sucedía, fueran cortes o disparos, elementos que dan mucha vistosidad en este tipo de películas.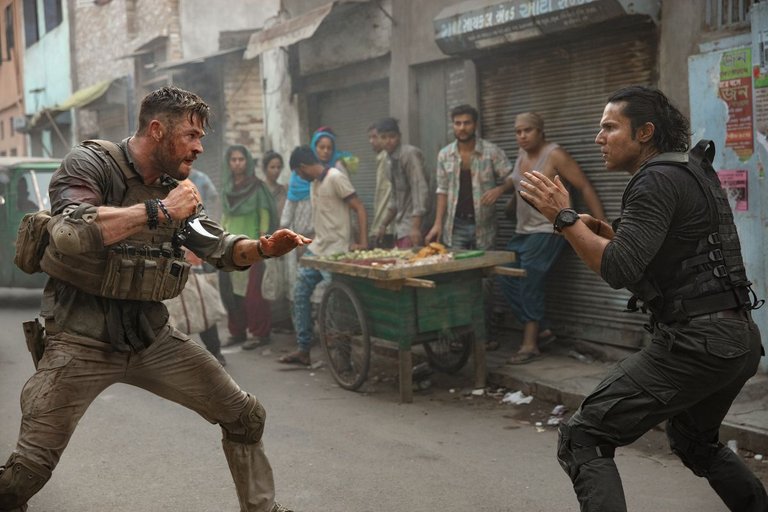 Source
La ambientación me gusto bastante, se pudo apreciar la cultura del país de la India tanto en las calles como en las personas, también me causo algo de gracia pero fue un detalle bien cuidado cuando Tyler pelea con cuchillos frente a Sajú, me refiero a las personas viendo el combate, me imagino que si fuera en algún otro país posiblemente habrían colocado a algunas personas grabándolo como ocurre en muchas partes actualmente.
La actuación de Hooda como Sajú para mí fue la mejor de todas, interpreto el papel de una manera excelente, debo confesar que este personaje Sajú fue bien desarrollado, es un guardaespaldas del niño secuestrado pero también es padre de familia, y luego de dar la mala noticia a su jefe viene la peor amenaza de su vida, por lo que debe hacer todo lo posible para traer al niño de vuelta sino su propio hijo morirá. ¿Qué harías tú como padre en una situación de tal complejidad?
Otro aspecto que llamo mi atención poderosamente fue la pobreza de los niños y como muchos de ellos comenzaron a trabajar para Amir, fueron momentos tipo "ciudad de dios" aquella película del 2002 que expuso la realidad de la juventud en Brasil. A veces podemos pensar que este tipo de situaciones son ajenas a nuestra realidad o que no existen pero cuan equivocados estamos, son verdades que quizás son omitidas al día de hoy pero hay niños en el mundo que su "inocencia" les ha sido arrebatada por infinidad de razones y en esta película lo demuestran muy bien.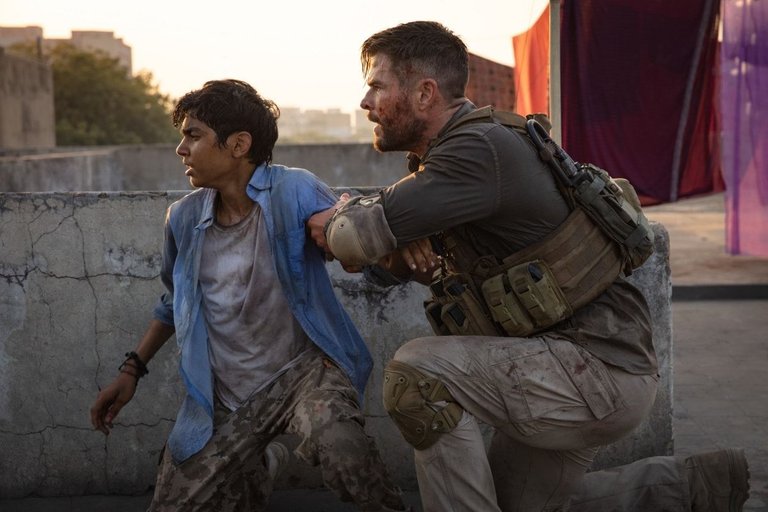 Source
Impresiones finales
He decidido ver la segunda parte, quizás trate de lo mismo que la primera o posiblemente veamos un mejor desarrollo en el personaje principal, en la primera mitad no se habló mucho de su trasfondo, solo unas escenas de un niño o quizás el cuándo lo era, espero que en la segunda entrega muestren un poco más.
Me llamo la atención como Tyler se encariña por decirlo de una manera con el joven a quien intenta rescatar, tanto que rechazo la recompensa de 10 millones de dólares por su cabeza, esto contradice el código de los mercenarios ya que son personas que se venden al mejor postor, pero él prefirió defenderlo aun de un viejo amigo con tal de preservarle la vida, este aspecto me pareció sin duda interesante.
Por último y para concluir, en esta parte también me gusto como el joven luego de matar para sobrevivir afronta el momento, con lágrimas en los ojos y dolor por lo sucedido solo anhela volver a casa, lo cual muestra un grado de bondad en medio de lo que hizo. En líneas generales es una película que puede entretener realmente pero a su vez muestra matices de querer comunicar algo más en medio de toda la acción y sangre desparramada.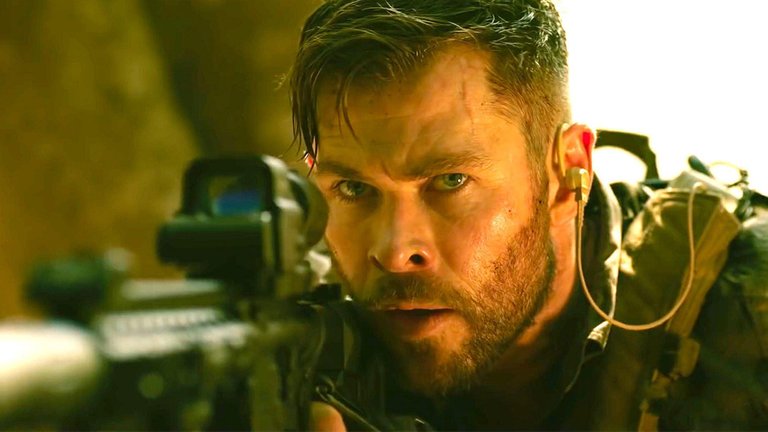 Source
Gracias por leer
---
---