The Love Story Between Cookie and Mimo ❤️
Hello Pet Lovers Fams! 🤗
Today i want to share about the Love Story Between Cookie and Mimo which has a romantic and unique story. First i will introduce my cat named Cookie and Mimo is my cousin's Persian cat 🐱❤️🐱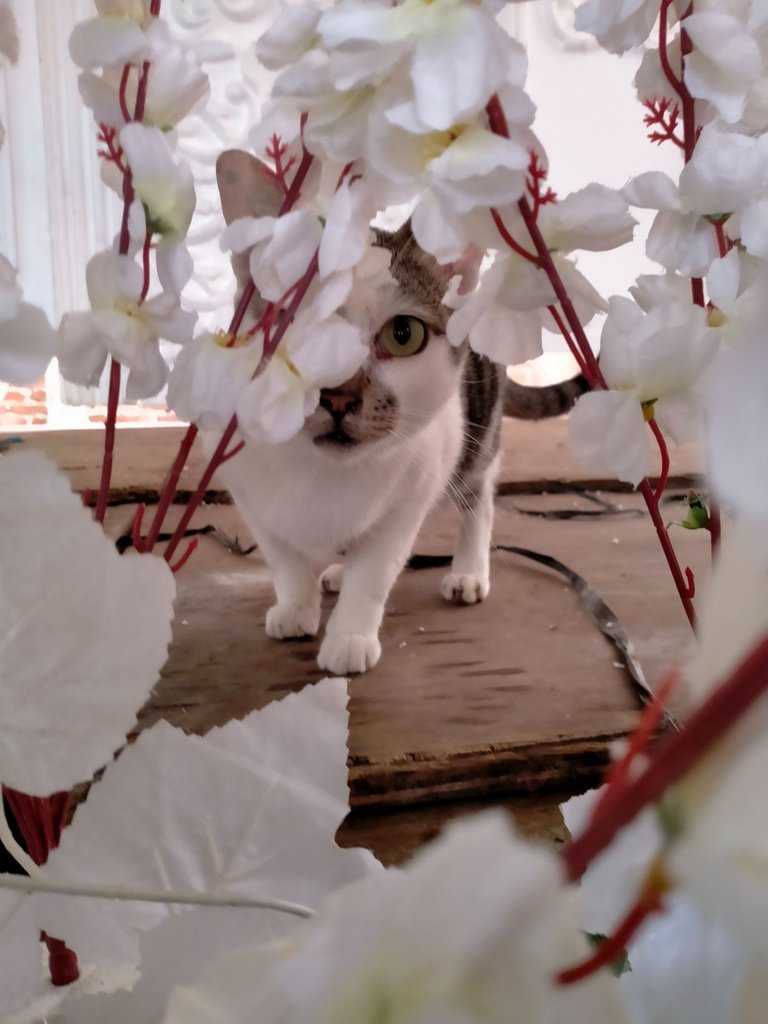 Cookie was the first cat i ever owned and i took care of from a kitten to an adult cat, this reminds me of how fast time goes by when i found him abandoned in the field near my house so i adopted him and take care him until now. Cookie are very cute and cuddly cats with everyone and love to have someone pet them gently so that they feel comfortable.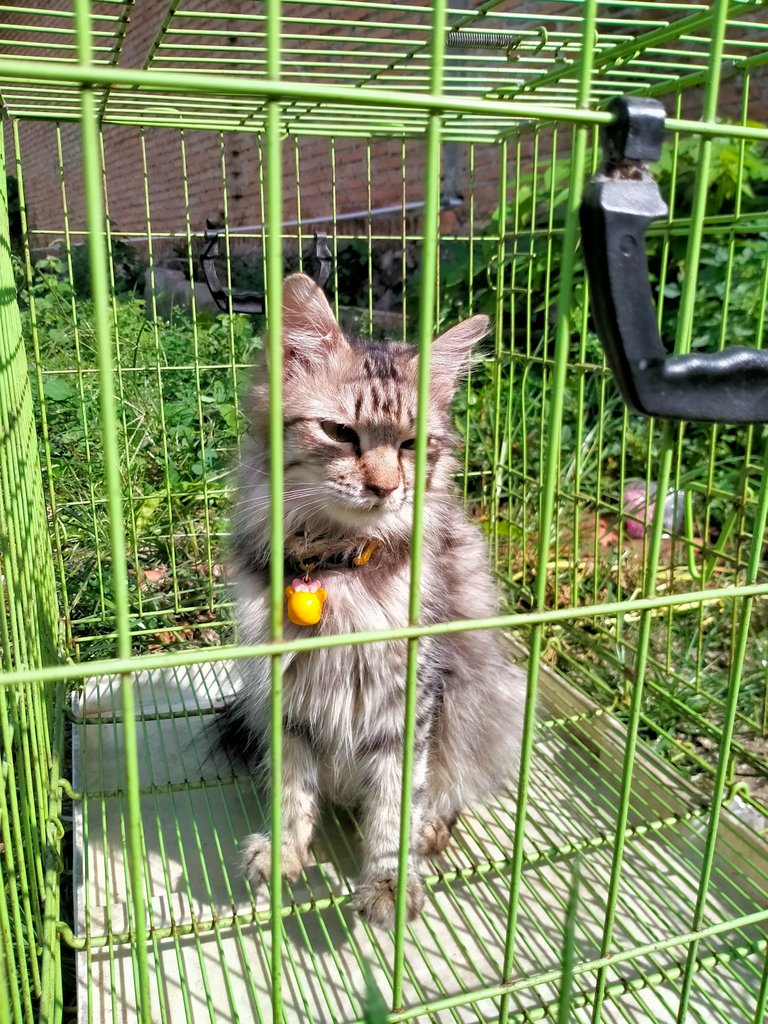 While this one's name is Mimo which is a female persian cat belonging to my cousin, she looks very sweet and adorable but she has a shy nature so that sometimes if unknown people approach her she will run away and only obey her owner and the people around her.
Cookie and Mimo have known each other for a long time and often play together because my cousin's house is right next to my house so Cookie often visit at my cousin's house to play and approach Mimo.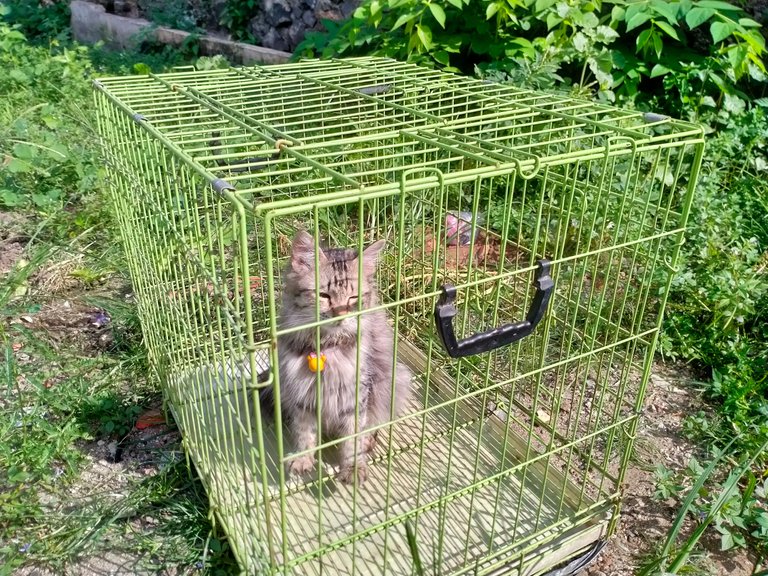 Today Mimo was entrusted to me because my cousin was going out of town for a few days, so i took the initiative to bathe Mimo and dry her for a while in the yard so that all the wet fur dries quickly. Mimo is an obedient cat and doesn't fuss when bathed because i also often play with Mimo.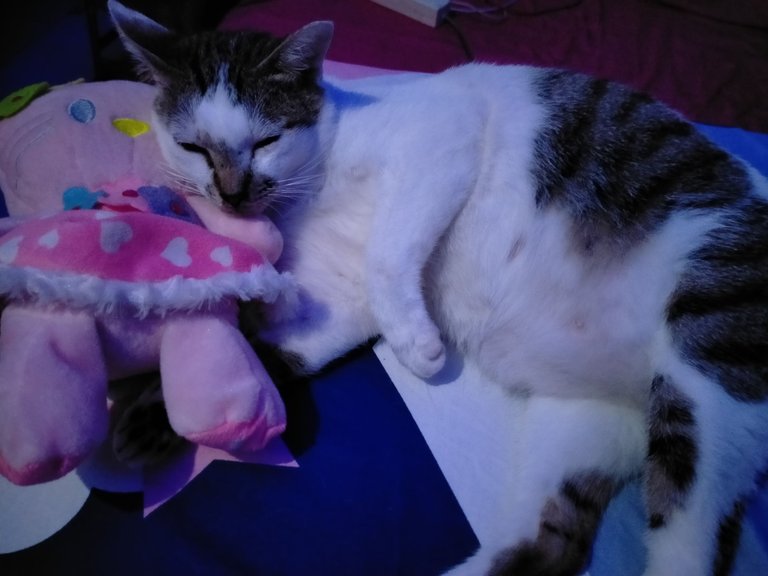 When Mimo came, Cookie didn't know that Mimo was at home because this cute fat guy was sleeping in my room as usual so he didn't realize that the cat he likes was at home for a few days and i didn't feel good to wake him up because his sleep was very comfortable. I'm sure Cookie would be very happy if Mimo was home for a few days.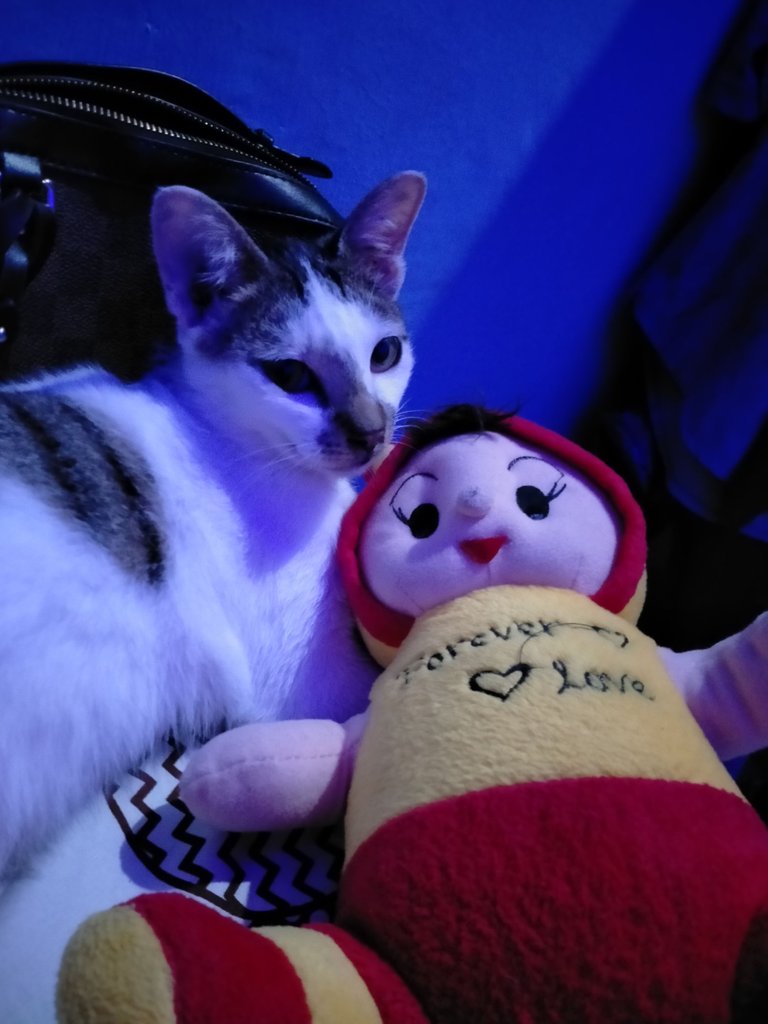 Some time later Cookie woke up from his sleep and was still in bed with his favorite doll while sleeping, i also don't know why Cookie likes sleeping with dolls and a small pillow on my bed maybe because the material is made of cotton and soft so the cat really likes and feels comfortable there. He woke up hearing the sound of another cat and then Cookie started getting out of bed to look for the cat's voice.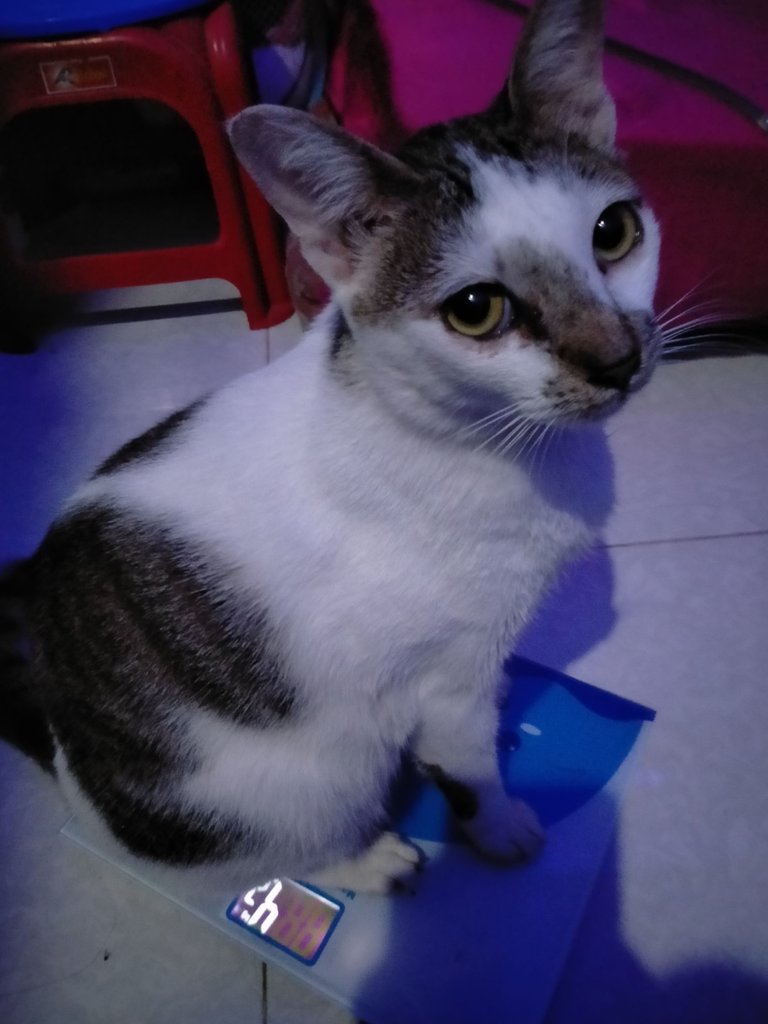 Cookie looked in every corner of the room but she couldn't find the cat that was meowing earlier and a funny thing happened that made me laugh out loud, Cookie sitting on a weight scale and we can see his weight reached 4.2kg and how this cute fat guy grew up nice and adorable 😆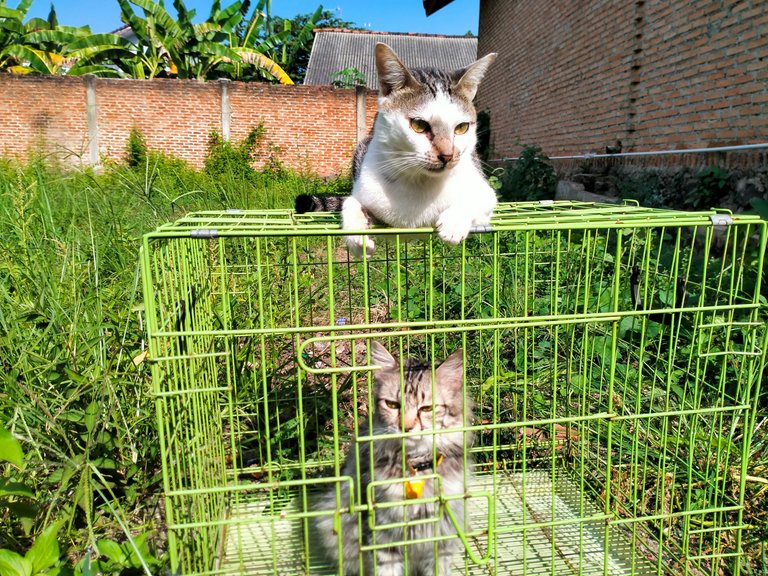 After a while Cookie realized there was a cat outside and immediately walked towards it, finally he knew that it was Mimo and immediately ran happily towards Mimo. You can see how sweet Cookie is to Mimo in the photo above, they both seem to be enjoying the atmosphere and they all look so cute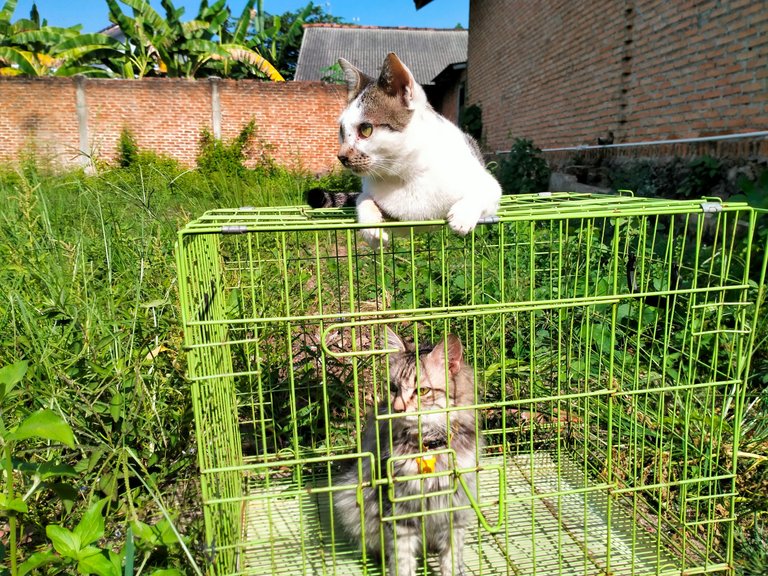 Cookie looks very happy to meet Mimo and Cookie is very loyal to accompany Mimo to sunbathe and even saw another cat who wanted to approach Cookie swiftly as if she did not accept Mimo being approached by another male cat except herself.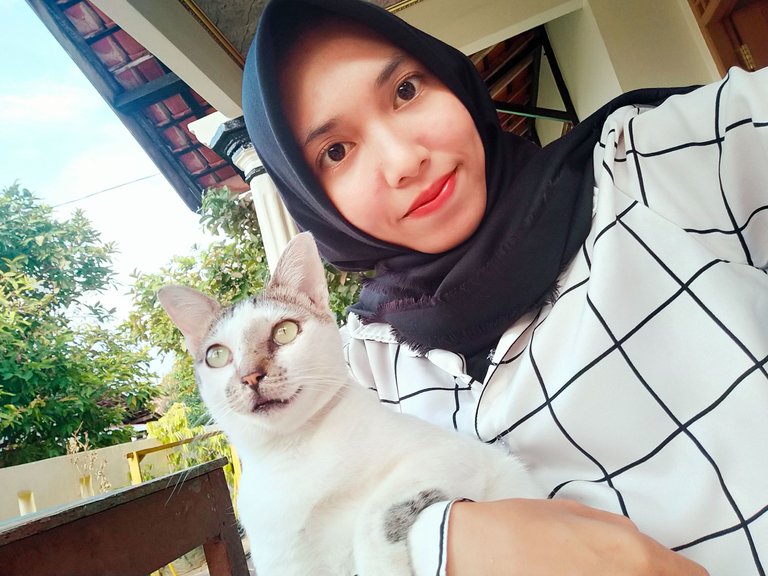 Well that's a love story between Cookie and Mimo, then i really plan to breed Cookie with Mimo and hopefully get a new family, a cute and adorable kitten 🐱
Thank you for those of you who have visited my article, i hope you will like my stories and experiences in the article. In addition, i will be very happy if you provide feedback on my articles and let's be friends with each other in this Hive Platform. See you in my next post guys 😄
---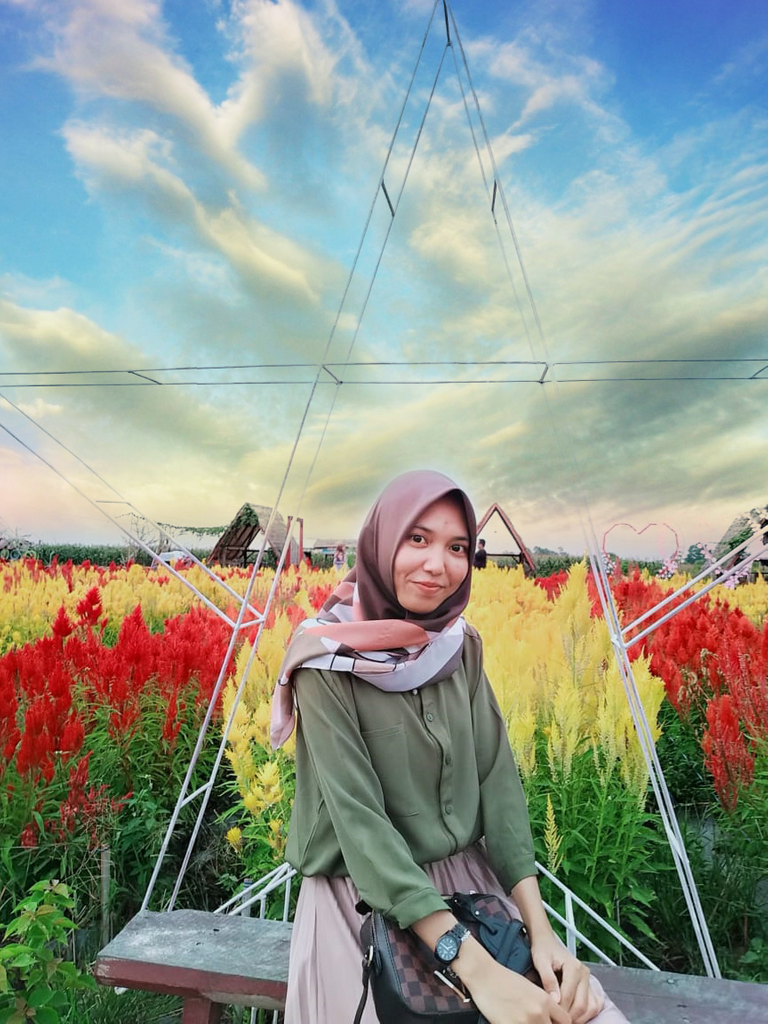 Who is Cita Amanda?
Cita Amanda is a person who has a profession as a medical laboratory analyzer and works in a hospital in Lampung. I'm 24 years old, My hobbies are writing, blogging, cooking, culinary, traveling, photography and learning about cryptocurrencies. Having a high dedication to learn something new, share experiences and contribute to the community. I want to build relationships and have friends on the Hive Blockchain, so don't hesitate and let's be friends 😉
If you like her content, don't forget to upvote and leave feedback to show some love. You can also reblog if you want too, because it means a lot for me
Thanks 🤗
---
---