Thirty Years: Three Things That Shaped My Life
I have made so many promises to join the fun in this community, but always missed out due to my own bad habit of managing my schedule. This time, I will surely do as I said by joining this amazing community even. If you want to know more, Red This. Thanks to @fionasfavourites and @lizelle who always encourage me to be active and contribute to the community.
---
First | 1991-2001
I still remember the second day of January 1991, when I went to school with a new uniform as a result of Aceh's Government special status. Our School is one of the schools in Aceh that will implement the sharia law, started with the girls wearing hijab/jilbab/headcover, long skirts, and long shirts. That was 2 years later I finished high school and leave my hometown to went study in the capital city of the Province. I didn't behave like a normal girl in the era though. I wore a headcover, tried my best to do all obligations as a Muslim but it didn't stop me to explore the wonderful world of living in a multicultural community. I joined the student movement in the 1998 Reformation movement which led me to a decision. I didn't finish my study at the university, I decided that in 1999 after my father retired from his duty as a civil servant. He has 9 children to be fed up and send to school to, my youngest sister was only 5 at that time. I told my parents that I dropped out of my study and will do my best to be independent. My friends encouraged me to be a radio reporter/announcer (2000) based on my experience in the student movement group and vertical conflict between the Acehnese Liberation front and the government of Indonesia (1976-2005). My first reportage was about the tribunal of soldiers who were accused of genocide in Beutong Ateuh, Aceh Jaya.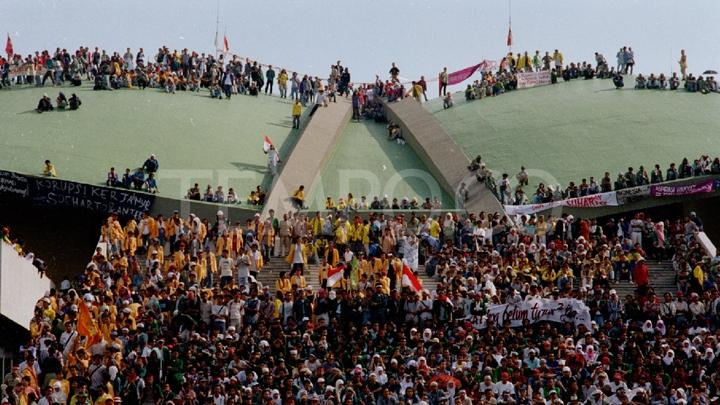 source: The student occupied The House of representative Republic Of Indonesia in Jakarta during the Reformation Movement 1998 which ended the 30 years of New Order Era. I wasn't there, I have my own activity in Aceh and couldn't find any photo, lol. This occasion was started with the Monetary crisis in 1997 which affected my study too.
---
Second | 2001-2011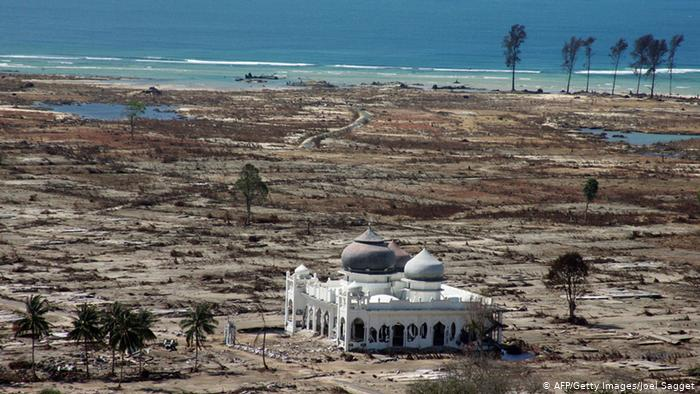 source: this is the Lampuuk Beach in Aceh Besar in 2004. 12 years later, My wedding party was conducted at that beach.
---
I was having a good time as a radio journalist and announcer, no matter how bad the situation was at that time, we're on martial law in 2002, but I kept doing my job traveling around several districts to collect information about radio stations for the association. Many of my friends in the student group were fled from the city to other cities in Java and abroad because they become the target of the military and intelligence operations. But I stayed, and start to work in Non-Government Organisation whilst continued being a radio announcer. Then, Tsunami wiped it all in 2004.

I was supposed to stay at my cousin's house on Saturday but decided to sleep at my new office (Aceh Ecotourism Foundation), I have an on-air schedule on Sunday at 11. am. It was a cold morning, on December 26th, 2004. I went back to sleep after the dawn prayer and it's the coldest day in my life that I couldn't sleep well. 7 O'clock that morning, the earth is shaking so hard, the computer that I use to work on almost fell onto me (I slept between the wall and my table). I run out of the building and saw many people on the street watching the earth-shaking for a few minutes. it stopped and shaking again over and over for about 15-20 minutes. I tried to get some more sleep but I couldn't. So I went washing my clothes and get prepared to go to the radio station around 9.30. a few hundred meters away after leaving the office on foot. I heard people crying and some of them were hurts and naked. At an intersection, I spotted my fellow announcer who was on duty that morning, shaking and crying (My Belated good friend Adam, who had passed away in 2018) looked traumatized. I gave him a bottle of water which I brought some in my bag packs as if I know what the use of it was. Talked to him and ask him to go to a safe place near the mountain in the west part of the city. I left after I saw him hop onto the military truck, shaking. Long story short, I saw dead bodies, humans and animals, crying kids, naked people with mud all over their bodies, the bleeding man running like crazy, soldiers evacuate dead bodies and save people, stinky smell of the mud, trees fell across the street, debris mixed with muds, the used to be beautiful park now full of muds, the beautiful great mosque standstill with many panic people laying on the floors, what a disaster. I told myself that I have to save the living soul and not leaving the city no matter what.
That's not a hard decision to make, I believe that my parents understand me the most. Mom was coming with her big family (her sisters, cousins in a big truck full of raw food and stoves, that truck belongs to my cousin) on Wednesday, we lost at least 4 cousins and 4 nieces in the disaster (including the one who lived where I was supposed to stay that night), failed to ask me to go back home with her because she saw what I did with my fellow volunteers who came on Monday. I continued working as a radio reporter, program manager at the NGO, and finally a freelance interpreter for fellow journalists from all over the world. My broken English is quite useful at that time, lol. I can speak Bahasa Indonesia, English, and My mother language, Aceh. (too bad I have no time to learn my father's language, Mandailing/Batak at all)
Tsunami changed me and many of my friends, colleague and the citizens of Banda Aceh, Aceh Barat, Lhokseumawe, Aceh Jaya and Aceh Besar. it changed the way I see life and being grateful for whatever I have right now. I become more aware of natural disasters, learn how to raise awareness of early warning systems, disaster mitigation, and information distribution. 6 years later, in 2010 I face another big occasion in my life. Found my other half and was involved in a traffic accident. Broke my left shoulder bone. It stopped me from being too active for a year, but it didn't stop me for continue to work as an activist. I quit working at the radio station.
Third | 2011 - 2021
I started my new job as a radio station manager in West Aceh by the beginning of 2011, but I failed to accomplished the mission assigned to me by the owner, so I went back to Banda Aceh and it made my Friends from the Local NGO's network happy. They assigned me to join the selection process to be a commissioner of the Public Information Commission of Aceh for the working period 2012-2016. I passed all the tests and for 4 years I became a kinda judge for Information disputes between the public and the public institution.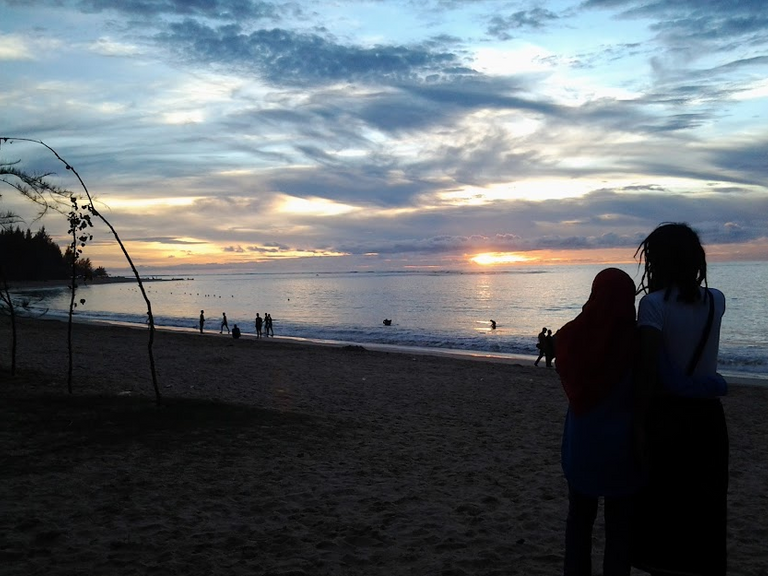 The same beach after 12 years, on my wedding day in 2016
---
After being in a long-distance relationship with my other half for 7 years, we got married in January 2016. I refused to join the tests for the second period in The Aceh Information Commission, I said I have enough and it's time for retirement. I left my hometown and moved out to My Hubby's place in South Tangerang and be a full-time housewife. 2018, I joined steemit and met many amazing and kind people in much wonderful community like
@pifc
(Pay it Forward Community) was running by the belated
@wolfhart
, the missing
@lynncoyle
, organized by
@thedarkhorse
. From that community, I know
@abh12345
with his Engagement League which drew me to Newbieresteemdays and Newbiegames.
@headchange
is the one who is responsible for dragging me here and there till I joined
@teampossible
and then my days with steemmonsters aka splinterlands were so gorgeous to forget. After playing for 3 years, in 2021 I finally see that the time I have spent in the last 3 years with everyone in Team Possible is so precious.
2021, I joined the Silverbloggers community, being a discord support staff for splinterlands. How has this shaped my life? I'm optimistic that I can fulfill my last obligation as a Muslim by playing splinterlands. I keep myself being a happy and kind one by learning from the community. In my 46 years old, I never imagine that I can have my own crypto wallet and earnings from a game. Mecca/Mekkah is not that far far away anymore.
Goodness! This must be the longest posts I ever wrote, lol
---
---