New Splinterlands NFTs!!!, NFT Mining, Farming, $NEFTY mining, & more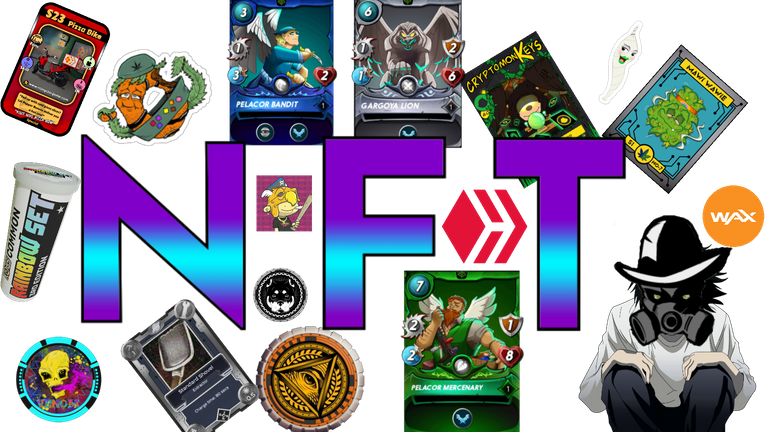 New Splinterlands NFTs, New Alien worlds functionality, New Upland Functionality combined with new crypto MonKey play to earn mechanism.
So much to go over I cant describe it all but before that a recap on how I got here but new functionality on every service mentioned through out.
NFTs are popular at the moment so much so its easy to swept up in all the hype. Its Particularly difficult to discern with NFTs as the market is entirely subjective. I'm in no way a financial advisor and this does not constitute financial advice. The following are simply more tricks I have used in my NFT resale side hustle.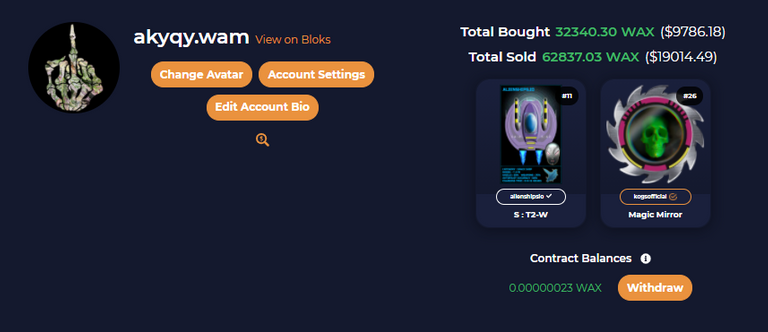 Above are my WAX sales figures alone, below some Splinterlands stats.



The majority of my focus is on packs and DeFi based NFTs, NFTs with utility value things like that. Rarely will I make exceptions & buy NFTs with purely subjective value.
When I say Utility Value this means the NFT is valued for its for its ability to be utilized. Utilization may mean a game, staking, DeFi, whitelisting, Token mining, Token airdrops, Or a burn blend use case.
In other words if the NFTs appeal is purely through the markets subjective opinion it represents a greater risk.


The only instances I vary from that formula are either my own interests in a project or the NFT project is going to become increasingly rare.
On by one today Ill go through some of the projects I have done the best with & currently utilize.
Hash Kings
More an update, but this NFT colection & game could be extremely profitable should you play the game correctly.
If your new or just dont completely understand Hash Kings please consult their guide below.
https://hashkings-2.gitbook.io/getting-started/
My current update is I smoked enough joints to level up my farmer in game. Doing this has allowed me to upgrade level 1 Water towers to level 2.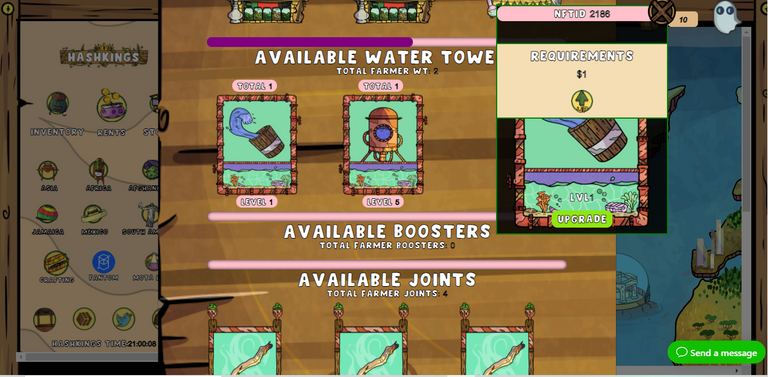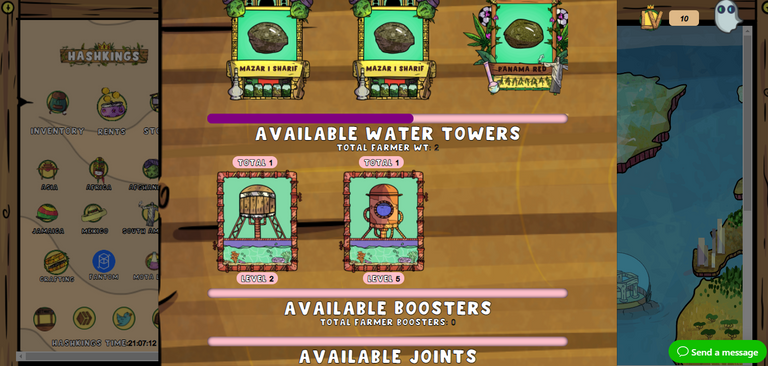 The water tower NFT generates the Hash Kings crypto HKWATER a HIVE alt.
HKWATER is combined with a land plot NFT and a seed NFT that corresponds to said land plot. Seed NFTs through another example of crypto game integration get generated by staking MOTA.
MOTA another HIVE alt is generated by growing and harvesting a plant producing BUDS. BUDS are then burned in the MOTA pool thus generating MOTA.
Hash Kings has a fluid nature in it Crypto and NFT integration a good sign when talking NFT investment potential.
Splinterlands
New cards launched today for reward chests gained by playing daily challenges.
https://ecency.com/splinterlands/@splinterlands/announcing-21-new-reward-cards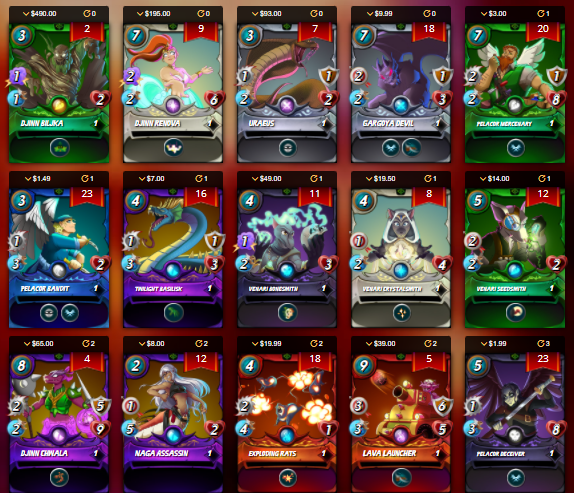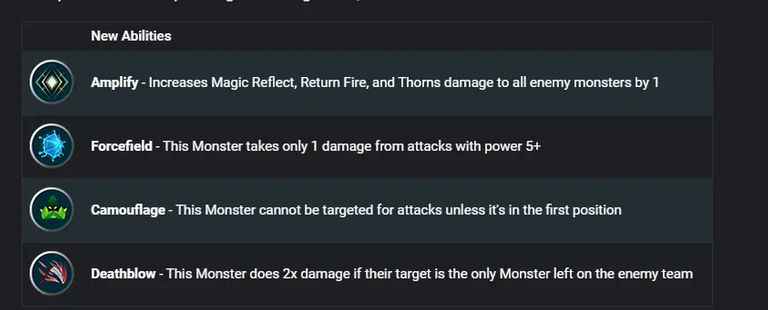 Featuring new abilities OMG!!
According to the official post quote
"Now that there will be a new set of reward cards with higher print limits available as loot chest rewards, we will also be able to adjust the percentages for the different types of rewards. Once the new Reward cards are released the loot chest reward percentages will be updated as follows:
Reward Card - 50%
DEC - 25%
Potion - 25%"
Now we have a up to date ratio on the Reward chest stats.
A set of 21 new Reward edition cards have been completed and are scheduled to be released on Monday, September 13th, 2021.
Other news shouldn't be much longer until I do a gladius case unboxing. The end of this upcoming brawl I should have enough Merits to purchase one.
Talk about a NFT colection that checks all the boxes, Splinterlands is my heavy lifter, the NFT colection which has made me probably the most over all.



A play to earn game possessing rentals, a active crypto airdrop, staking, & packs literally there isn't much to ask for with this colection it doesn't already have.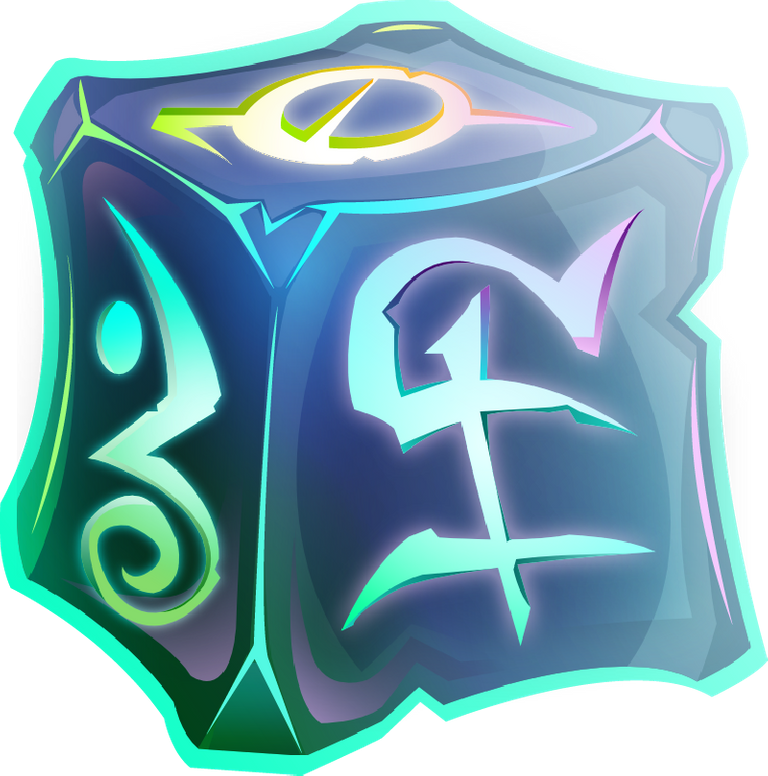 Lets do something crazy and open a pack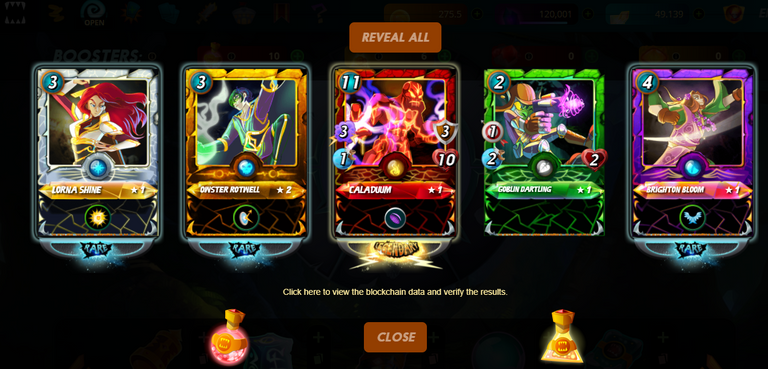 Damn save the best for last huh
While I'm on the subject of Splinterlands let me point out something important I recently noticed regarding the SPS airdrop.



They have had the liquidity pools active a while now on Hive By adding DEC & the SPS I earn every day to the liquidity pool I effectively double the DEC airdrop points awarded.
By earn every day I mean SPS but you can and I do earn DEC by playing the game.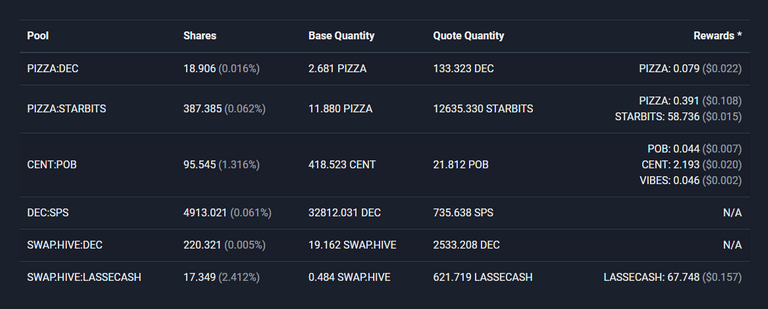 Utilizing this pool shown below



I took 32,800 DEC & 735 SPS added them to the Diesel pool located on Tribal Dex shown above link below.
https://tribaldex.com/dieselpools/pools
Doing so has effectively doubled my DEC airdrop points each day I have done so.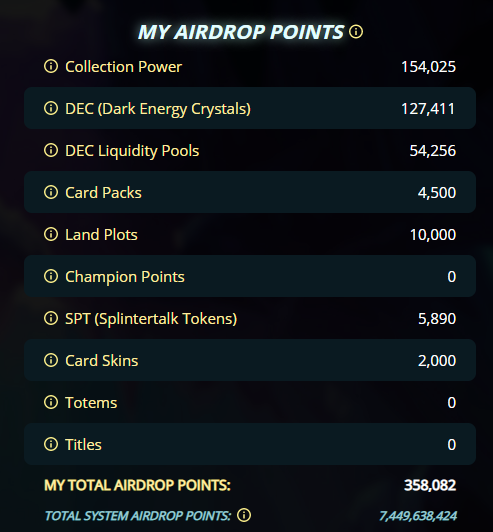 This is the last snap shot but if I'm correct tomorrows should be 65,000 Airdrop points for 32,800 DEC which effectively doubled the airdrop points.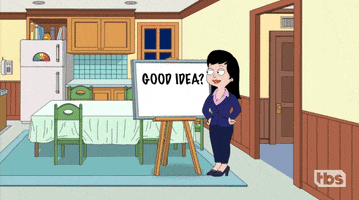 Dont risk money you cant afford to loose, I report on these experiments because I can afford to risk the money. Besides this money was profit to begin with so I'm in a different boat then new users.
If your sensing a theme yet your not wrong most collections I shoot for have Crypto and NFT integrated in to the core of the game or NFT colection.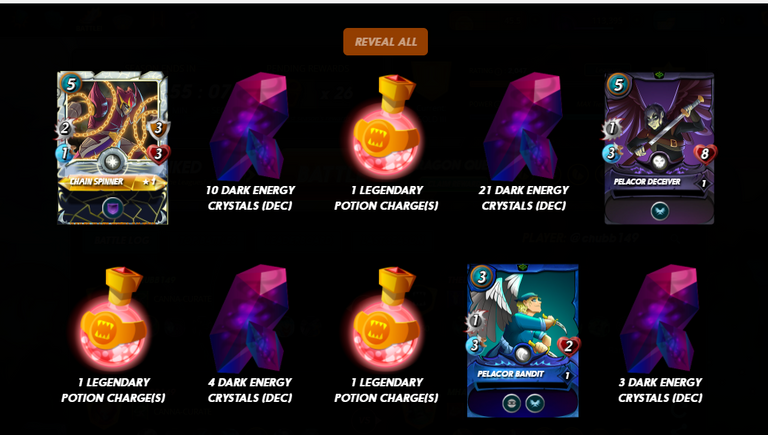 Splinterlands New NFTs are Awsome & todays airdrop has some for the lucky reader.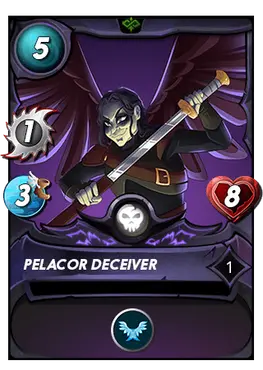 KOGs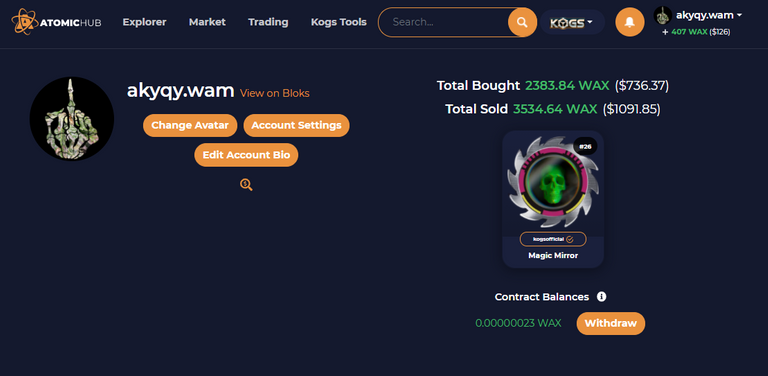 Above are my NFT sale stats for the KOGs WAX NFT colection, KOGs is a great NFT colection with many functions but up until recently did not resell well.
The recent boom is due to colection completion starting as well as their play to earn game finalizing the beta stages without payment.
Despite their colection not selling for around 5 months I'm still in the green on sales.
Impressive to be sure but I have not been resting, This colection while not selling well on the secondary market has launched several new packs all of which I bought and opened.
Doing so I have amassed around 550 KOGs NFTs and given away around 100 to lucky readers including packs.
Now the KOGs colection has colection completion active, to produce TUBEs once produced TUBEs of KOGs can be staked.
While not active now colection Staking is the next step causing a further price increase.
Knowing how a NFT collections Staking and subsequent reasons driving demand is a must for investing in NFTs. If its an unknown research further I read so many white papers and build schema you wouldn't believe the actual total.
Since KOGs already had staking both on their own platform and partners such as Rplanet, & their Play to earn game soon goes public its been a long road but worth the wait.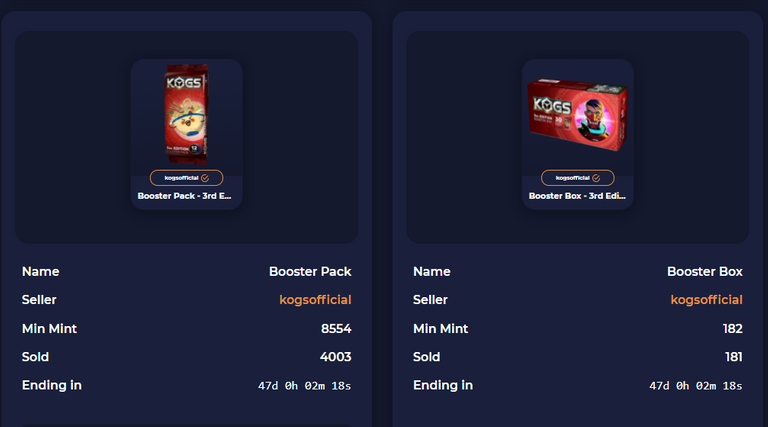 Packs of KOGs are still on sale here
https://kogs.atomichub.io/drops/kogsofficial
I have a sense for these kind of things within this colection I sense great potential.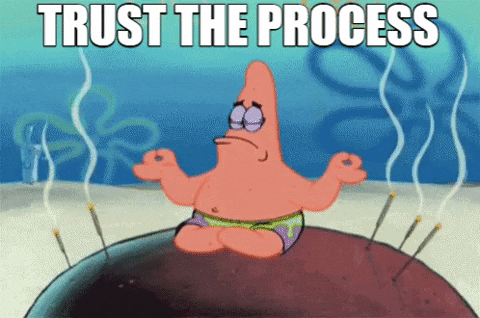 Rising Star
This play to earn game has their NFT colection on WAX, HIVE, Polygon, & BSC. If that where not enough they strive at user involvement & the game is entirely free.
Wow their list of positives just keeps going as secondary project involvement is fairly normal for them right now they have.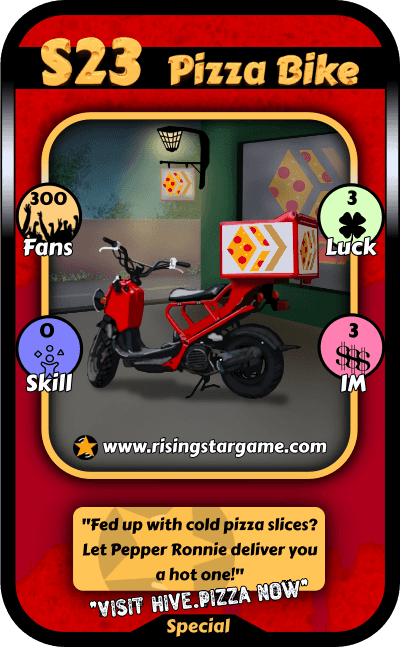 Obviously a Nod to the crypto tip bot & service here on Hive PIZZA.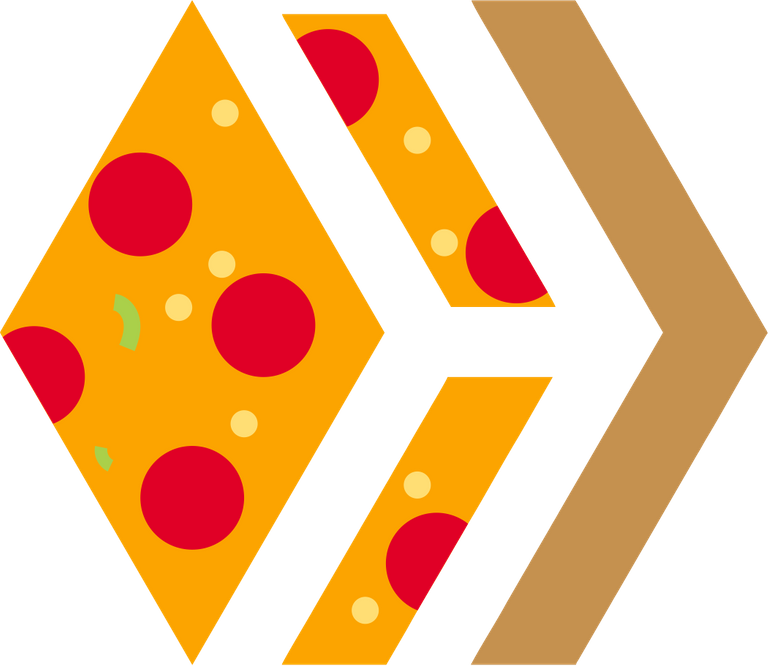 https://www.hive.pizza/
They work well with independent artists giving them a means by which to easily tokenize their music.



I strongly recommend rising star players utilize the PIZZA STARBITS diesel pool while rewards are active.
https://tribaldex.com/dieselpools/pools
Their secondary token ever growing NFT colection cross platform and a free play to earn game what's not to like.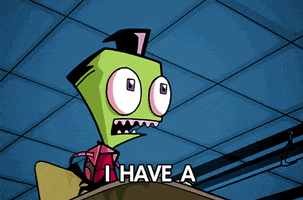 So if you have a mighty need to start your rise to stardom please consider using my referral below.
https://www.risingstargame.com?referrer=chubb149
Something you may not know
Do you know what Blockchain Heroes, Upland, and Splinterlands have in common?
https://bcheroes.com/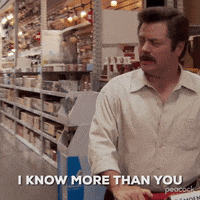 Block chain heroes has done tribute colection to both Upland and Splinterlands. Both of which have repaid the favor by featuring their brand or colection with in their own game.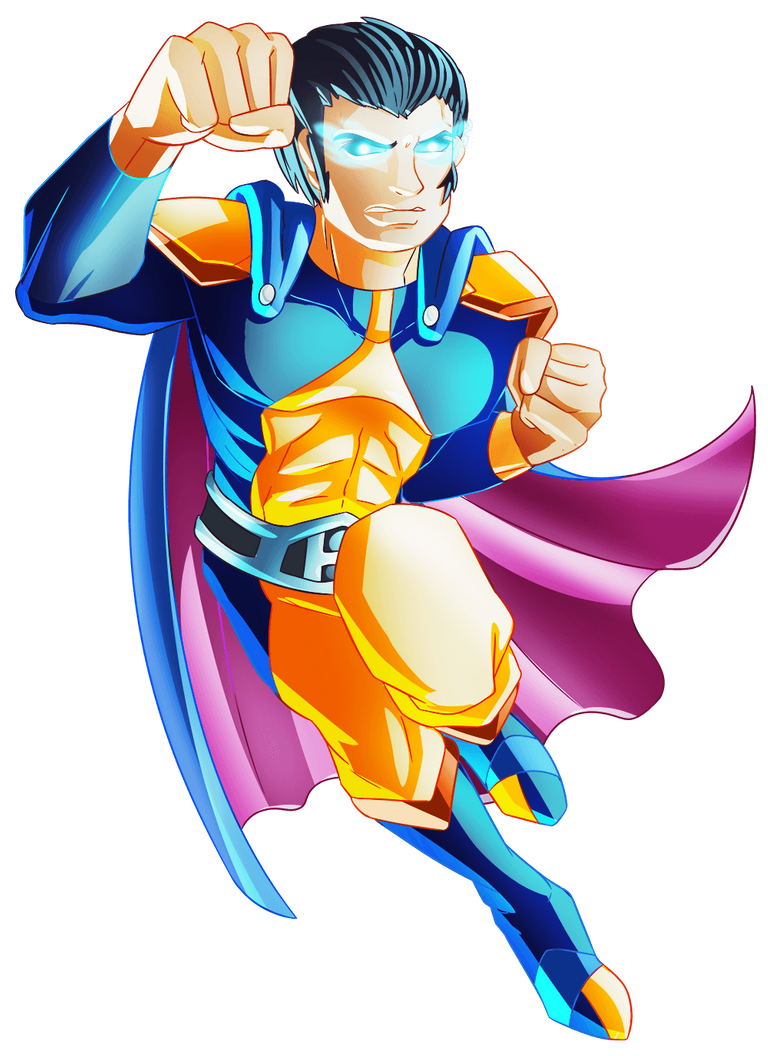 Any one but me read the Lore in Splinterlands, because this image above is of the Splinterlands character.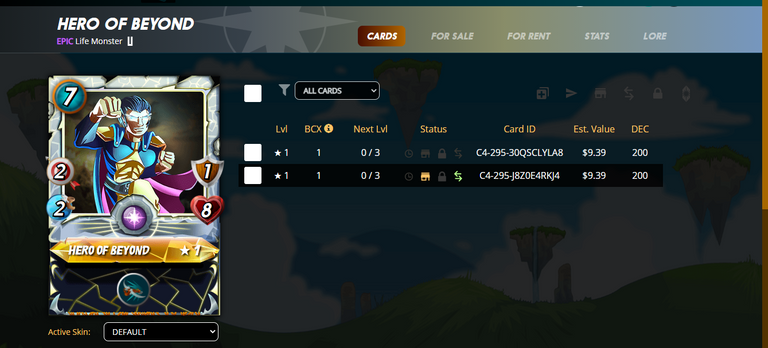 Quote from the lore
"The Hero of Beyond was created as a collaboration with Blockchain Heroes, an ongoing set of collectible trading cards. Learn more at bcheroes.com."
Yeah Upland even allows for the Block chain hero Upland cross over colection to be uploaded to their meta verse.
So that's probably something you didn't know Blockchain Hero though dead in the water has some powerful NFT collections doing cross overs with them.
What worries me with this colection their last packs did great then nothing from them in the last 6 months which is odd. May still surprise me but for now these cross overs seem out of place.
NFT Staking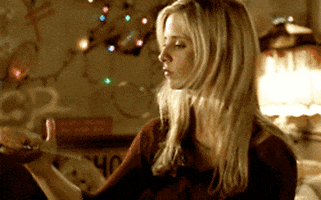 Yeah Staking again the majority of the time I focus on Green Rabbit.



https://greenrabbitgame.io/
or Rplanet



https://rplanet.io/
Even KOGs eventually will be my focus when talking Staking NFTs, but for today ill focus on Dcity.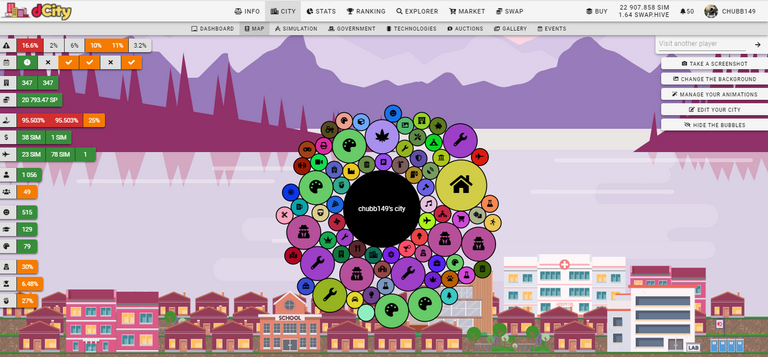 Though staking isn't necessarily the same, a Dcity build when done correctly functions in a similar fashion.
I bring up Dcity as I feel those that herd of it dont mess with it as it seems complex and their right its a little difficult and certainly not free.
Though when even done incorrectly like my build so long as it functions slightly can be profitable over a prolonged duration.



What I like the most about it is daily automated payouts



Though got to say most consistent is



More financial SIM then a game you run your own custom build or city there is no right or wrong answer making this game fun for me at least.
https://dcity.io/info
Alien Worlds
Containing staking DeFi, Staking system governance, NFT mining + staking, TLM existing on both the WAX + BSC blockchains.
Its a NFT colection and game I avoid talking about but its not an NFT colection / game to ignore.
Why I'm bringing it up today is a odd NFT cross colection burn I found, as well as an odd Mining NFT.
I found these on Cait a new NFT market accepting WAX ALTs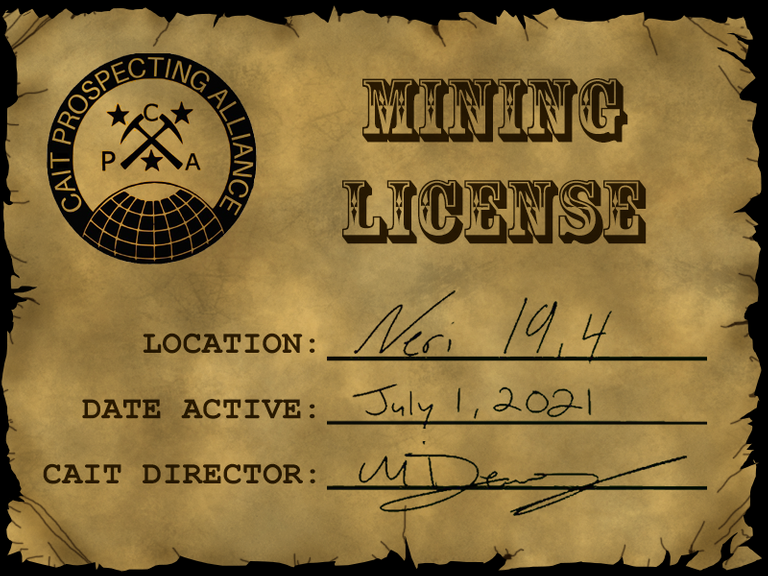 Cool right this is likely taking advantage of land plot ownership and planetary governance on Alien Worlds. Not that I have gotten an NFT yet but I haven't tried all that much.
For those unaware the Crypto Monkey colection has both a farming mechanism / a mining mechanism that handles their NFT production & distribution.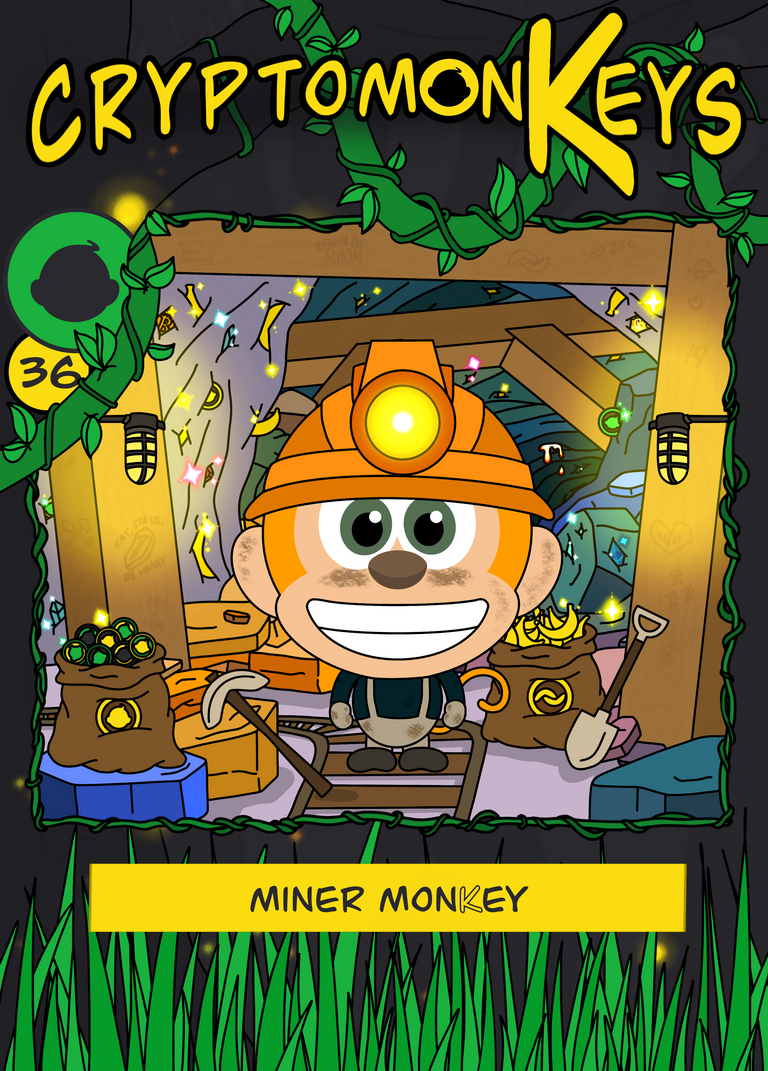 Now the mining mechanism is handled via alien worlds on a certain specified land plot on the specified planet.
Mining at those exact coordinates gives users a chance of mining a crypto Monkey NFT.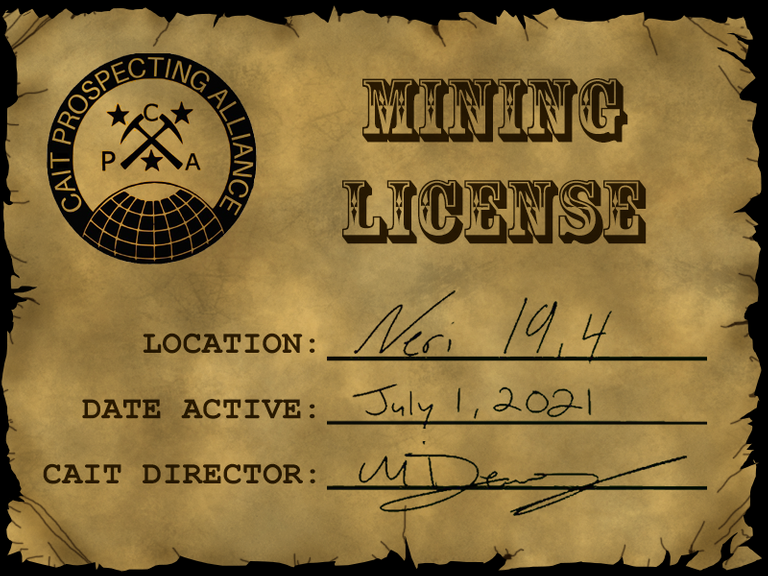 It stands to reason this Cait NFT functions in a similar fashion. Odd cross colection involvement does not end here I found these as well.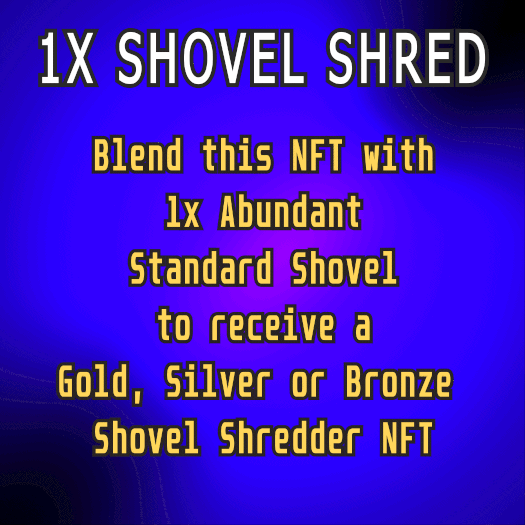 Very odd as this is one of the first cross colection Burn use cases I have encountered.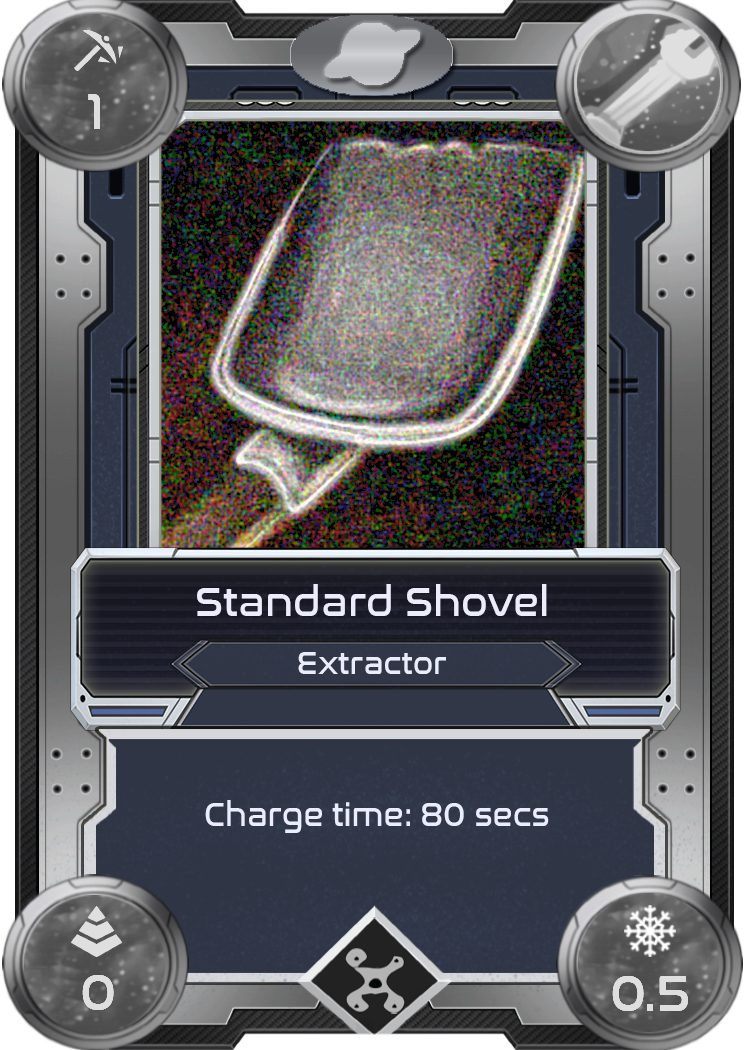 combined with this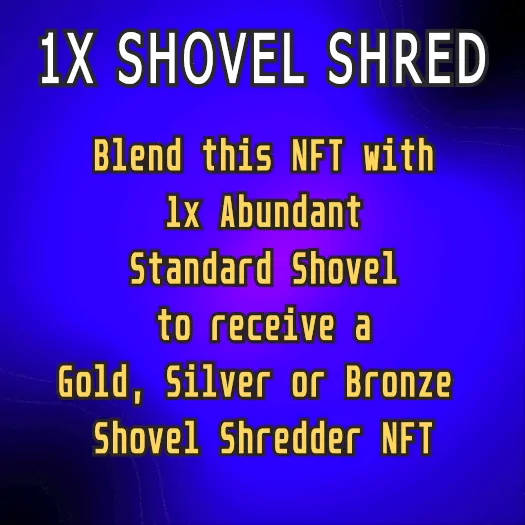 got me this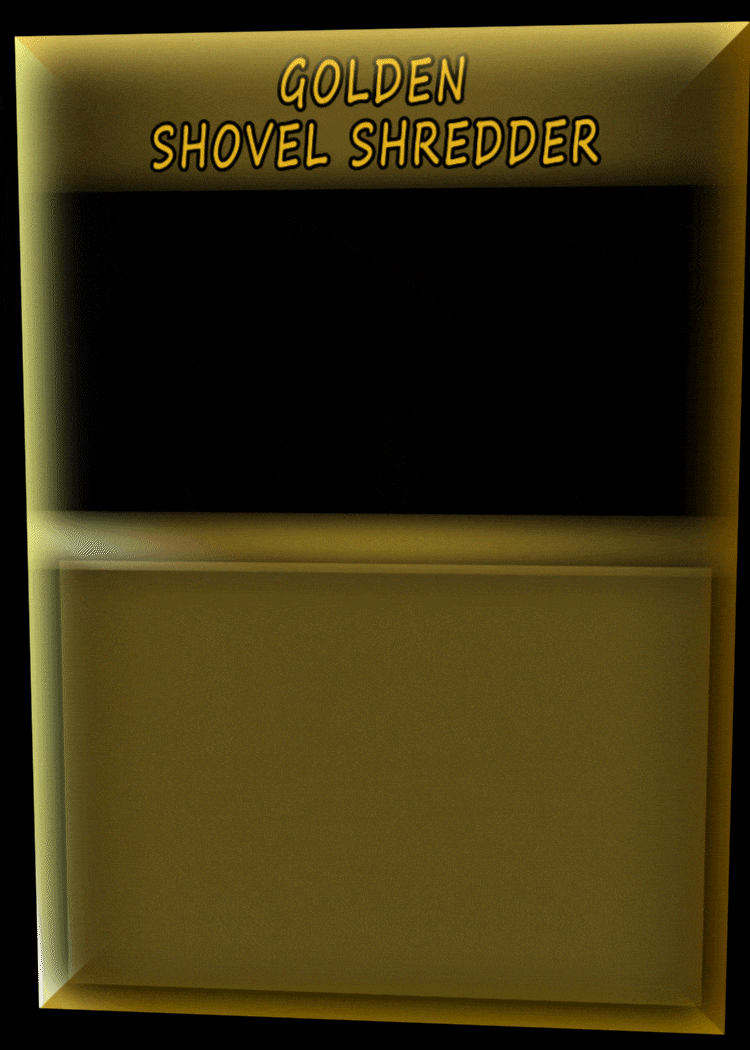 Odd but neat you blend them through Nefty Blocks the following link contains the necessary NFTs if some one wants to try it out.
https://wax.atomichub.io/trading/link/340039?key=5JLkNZDEqQrL1gAuWqoa5Mf4y5Ha1dVJrgXbnHGBGTxdVmPgbCo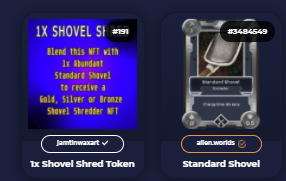 Crypto MonKeys
This is a BANANO ecosystem project on the WAX blockchain, though largely ignored by the market. The Crypto MonKeys NFT colection is executed quite well.
What I mean is their method of distribution is an art form in its function, The NFT colection prior to the newest update was Mineable via the Alien Worlds game or obtained via other NFT ownership in the same colection.
Previously with the Crypto MonKey colection you could only mine via Alien Worlds or Farm via NFT ownership from the crypto Monkey colection. What you are mining or farming for where other Crypto Monkey NFTs.
Just recently they rewrote the rule book on what NFTs can and cant do yet again. By introducing the new method of NFT distribution via Upland integration.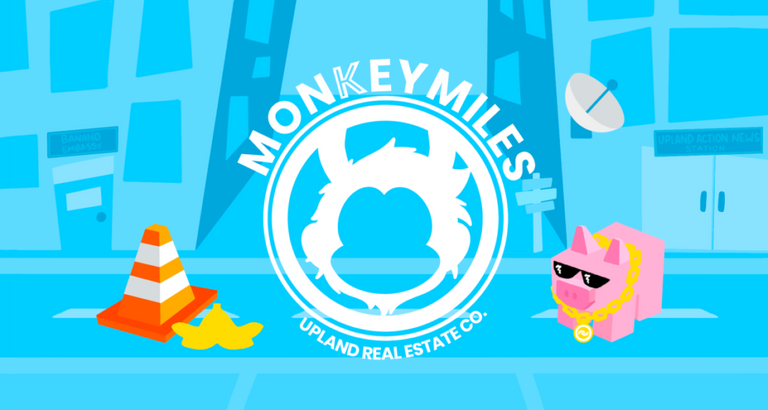 This is game changing in more ways then one it marks the first separate WAX NFT colection involved with upland.
https://www.cryptomonkeys.cc/monkeymiles/
If you not on Upland please utilize the Womplay method I describe in the free NFT section later in this write up. This will make you the most over all then sign up for the monkey Miles through upland thus linking 3 NFT generating projects for free.
https://www.uplandcomics.com/nft-mining
$NEFTY Liquidity Mining?
What in the h3ll does that mean (Liquidity mining) according to the Nefty Block white paper $NEFTY liquidity mining is quote.
"To incentivize active use of the Nefty Blocks platform, we introduce a liquidity mining program. Every Wednesday, 150,000 $NEFTY tokens will be distributed to people who have interacted with the Nefty Blocks platform during the previous week. The Liquidity Mining tokens will be initially distributed as follows:●50% to Buyers●50% to Sellers."
This is really important because staking $NEFTY & paying in $NEFTY increases you Liquidity mining rewards on Nefty Blocks.
https://neftyblocks.com/
Also launching and selling NFTs that week would qualify you the user to Liquidity mining rewards. This is great as it not only incentivizes NFT production but purchase as well so its a good thing to give new collections a shot.
$NEFTY is a WAX alt which can be exchanged for WAX or other WAX alts here.
https://wax.alcor.exchange/swap?output=WAX-eosio.token&input=NEFTY-token.nefty


So independent NFT producers or buyers should definitely get into this ($NEFTY liquidity mining).


Crypto Monkeys as well as, green rabbit, alien ships, & to many collections to name are made through Nefty blocks. Many of the featured collections I do unboxings of launch through Nefty blocks still do NFT drops on Nefty blocks. This will now pay me back in the form of $NEFTY liquidity mining. I'm assuming it will make it less of a deficit on bad NFT colection purchases.
I staked 1000 $NEFTY making my account level 1 Ill do some tests to see the pay out level.
NFT 101
Struggling to communicate what the crypto industry is / does can be a common issue, explaining the specifics can be next to impossible. This video puts NFTs in a simplistic & understandable context.

Crypto industry takes all types it truly does let this 12 year old genius teach you a thing or two about NFTs.
Free NFTs
Not the airdrop here that's either above or below this section as todays article contains 2 Airdrop urls. This section is going to show you a few services with free NFTs.
First sorta common sense one is the services on Hive offering NFTs Rising star completely free NFTs / crypto just hit level 20 to cash out.
https://www.risingstargame.com?referrer=chubb149
Or post to any of the blogs with NFTs here on Hive
https://splintertalk.io/
https://www.lassecash.com/nfts/
Memes easy
https://www.hiveme.me/nfts/
https://www.palnet.io/nfts/
Posting to any of those will eventually get you enough site crypto to buy NFTs from their tribes white listed producers.
Free WAX alt and NFT blockchain game
https://alienworlds.io/
It requires CPU on WAX which can be a pain but to get 24 hour rentals of CPU really isn't that pricey you can rent CPU for 2-3 WAX for 24 hours here.
https://caittoken.io/account/cpu/



They give you a site token for renting as well called STEAK 🥩 1 WAX = 1000 STEAK 🥩.
STEAK 🥩 as well as many other WAX alts given out at the Cait faucet can be used at their NFT auctions or Market.
https://caittoken.io/account/faucet/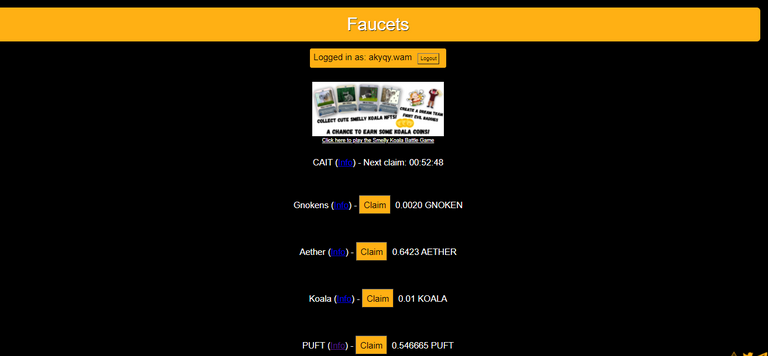 The faucet pays out instantly to your WAX wallet & you can utilize the Faucets crypto to purchase NFTs on their connected NFT market. Effectively making their NFTs free Via faucet claims, packs and Music NFTs can be bought this way classy NFTs.
Thunder Token TT
Free to generate by claiming once a week Thunder Token has its own blockchain & NFT market called capture club.
https://mining.thundercore.com/referCode?referralCode=WMONVM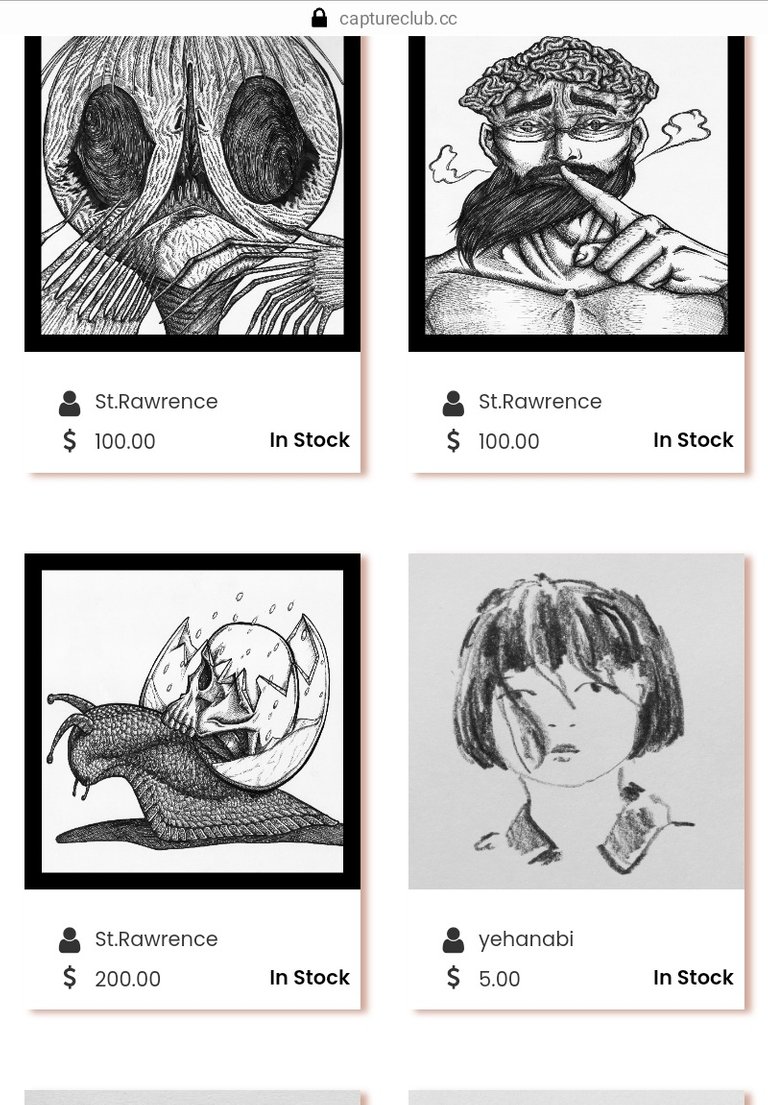 EOS
Going with a combo move here give Womplay a shot once your signed up for Womplay, play Upland through Womplay. Both of these together will earn you double the free crypto & NFTs at the same time.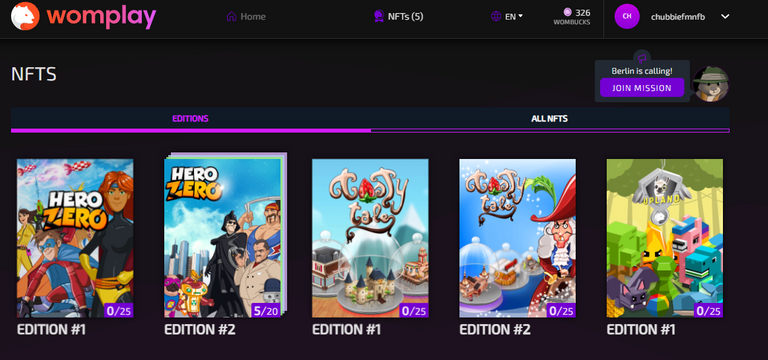 https://womplay.io/?ref=EDHNQLM
I wish I had known about this before starting Upland as both give free EOS NFTs and crypto at the same time while playing upland through womplay. Add in the Monkey Miles mentioned earlier and that's 3 NFT collections you can earn for free this way.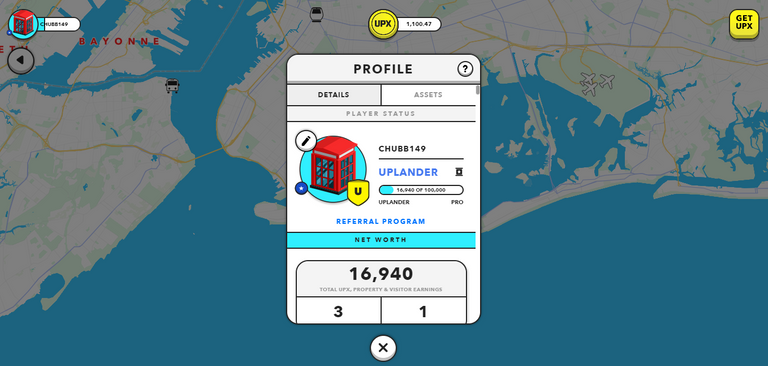 That's 5 separate services to get free NFTs, on 4 different blockchains every single 1 is free.
Normally you have to pay something & In this case it would be your time making it free sorta. You dont spend money but a few of those can take some time & effort but they are all effectively free.
Be patient
I did not make all my money on NFTs over night it took time effort it wasn't easy but worth it. That's why I stress that you research any NFT colection your interested in purchasing. Not any thing can be considered a guarantee hinge your bet get as much as possible for free.
Sounds ridiculous but most of my NFT portfolio started with posting here on Hive & playing its play to earn games. Now my NFT portfolio totals at around $15,000 USD that's not courting profit.
This is why I give out so many airdrops paying it forward, It took and still does take effort concentration and so much reading.
I honestly haven't done all that well but I didn't start with much, many have done considerably better though is my point.
Do what you want but my free time is spent researching & immersing myself in the market.
Hash bots

A Nice NFT colection made by one of our fellow Hive users with several blockchains integrated with this colection on which you can purchase Hash bots.
One of which is right here on Hive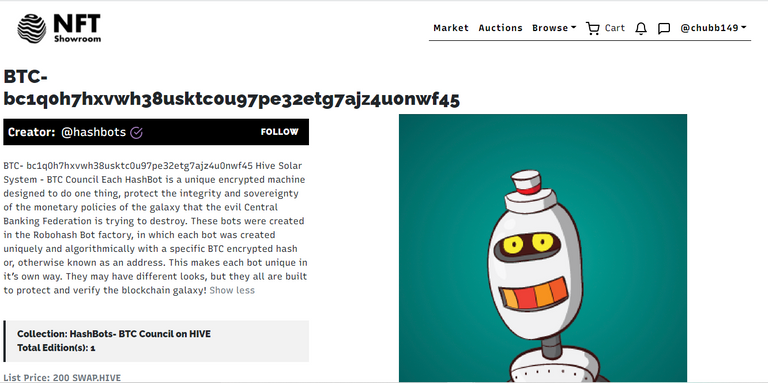 Also supported on BSC
https://hashbots.net/nft-collection/hashbots-binance-solar-system/
As well as polygon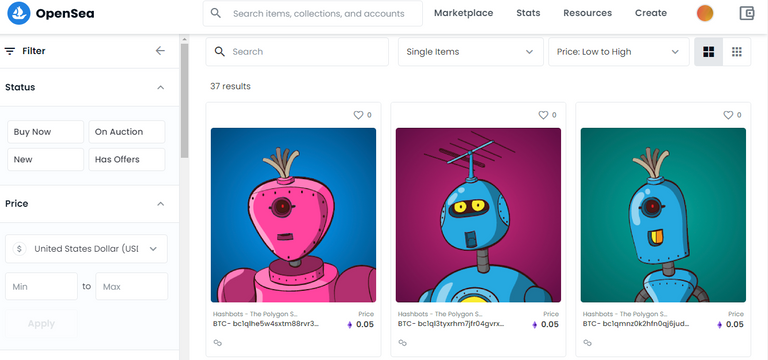 https://opensea.io/collection/hashbots-the-polygon-solar-system
Kind of upset to realize WAX white listing was a no go this colection is Awsome https://peakd.com/@hashbots The whitelisting crap with WAX is so unfair, & I have no Idea why this would be denied. I get my stuff as its marijuana representation.
Ge the full story on Hash bots here
https://hashbots.net/
or the Hive blog
https://ecency.com/@hashbots
Hive list White listing
I have some issues with my browser so meta mask for the moment is off the table. However assuming that there is going to be a secondary whitelisting for Hive list NFTs on HIVE best believe ill be signing up.
Anyone looking to make NFTs on polygon or BSC variation of the Hivelist NFT market whitelisting costs $5 & is available now here.
https://hivelist.io/nft-marketplace/
Triger a Tip bot get a NFT
Given the rise of popularity of my NFT airdrops & Since there are a few forms of Hive crypto which you can trigger a bot to distribute via a command.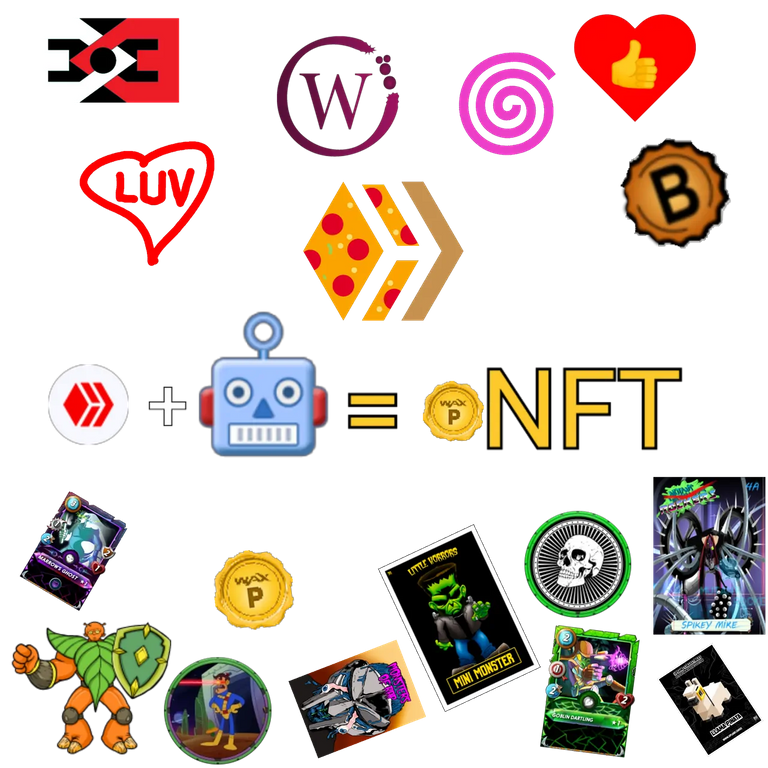 Why not do a secondary airdrop for those that want to participate simply trigger one of the (Tip bot HIVE alts) In the comments followed by your WAX wallet address.
Once I'm aware you have done so I will send a verified NFT for every coin triggered.



A list of some of the HIVE alts with this function.
BEER
WINE
HYPNO
LUV
ENGAGE
PIZZA
ALIVE
For any 1 of these received I will send 1 NFT to the specified WAX address. No limits trigger as many as you want Ill send a NFT for each.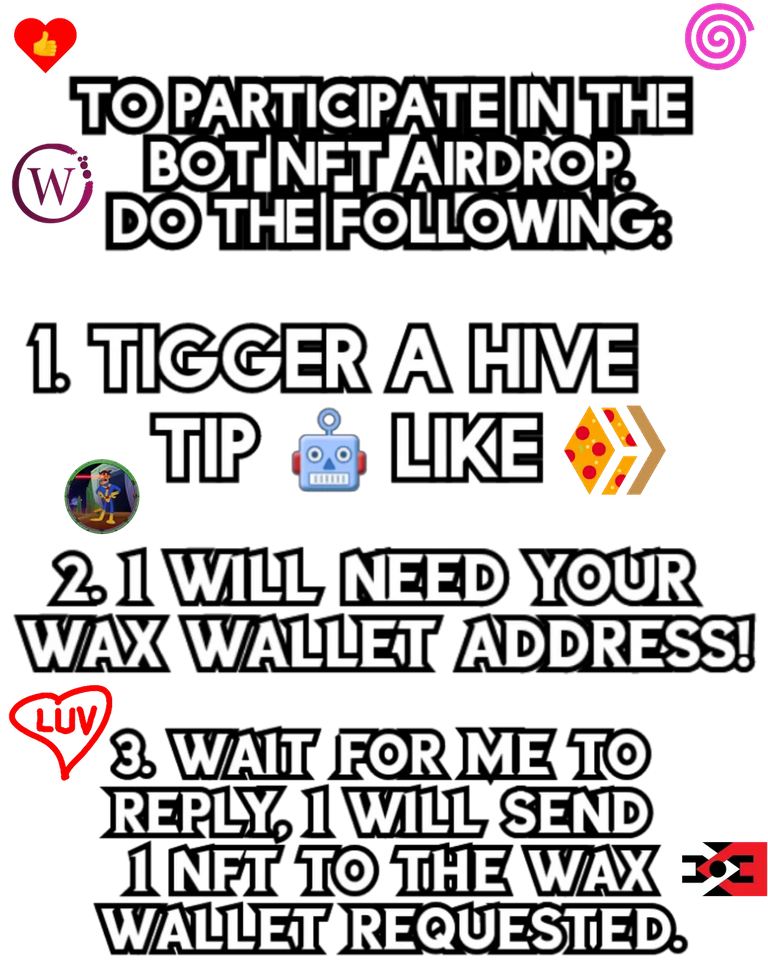 It may take a while but I will respond once the NFT(s) are sent to verify I have done so.
Air drop URL
In every post I airdrop WAX NFTs via a URL which can be claimed by the first lucky reader to click it, after its claimed once the link will no longer be active. If your the lucky reader that claims the airdrop please let other readers know in the comments it helps.
https://wax.atomichub.io/trading/link/340840?key=5K8NnAKUBsf4s2g9yqrH89pV4KV6NyfyBfPnbYfum4THiPo7xoi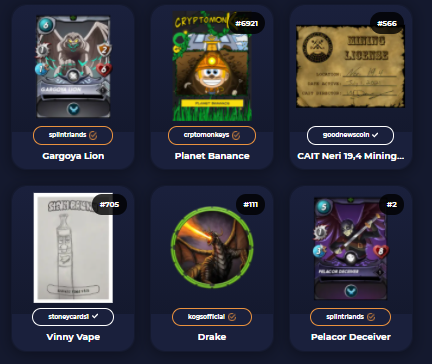 For certain this is the first ever airdrop with those splinterlands NFTs.
Dont forget if your the lucky reader to let the other readers know in the comments it helps. Also If you have any comments or questions about todays write up let me know in the comments.
When my posts do well airdrops get better so please re blog, like, comment, and subscribe to get more large airdrops just like this one.
Perhaps your interested in purchasing any of my NFTs from my ever expanding collection you may do so here.
My stock constantly rotates so it changes daily
https://wax.atomichub.io/explorer/account/akyqy.wam
Free WAX game play to earn
https://prospectors.io?waxref=akyqy.wam
https://rplanet.io/
https://collect.social/referral?r=akyqy.wam
BSC ALT tipping Social media platform
https://www.torum.com/signup?referral_code=chubb149



https://www.risingstargame.com/?referrer=chubb149
https://www.cryptobrewmaster.io/game/invite?ref=3d5efa435682425384e9aeb6236ab07e&code=AlphaBonus
https://splinterlands.com/?ref=chubb149
https://www.hashkings.app/login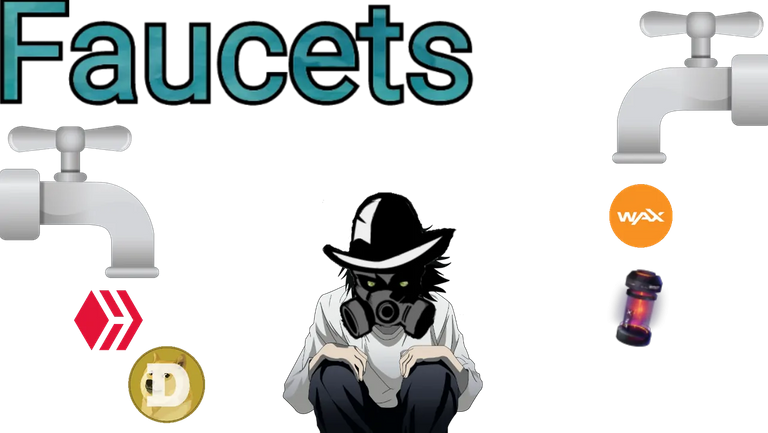 Hive direct payout
https://giftgiver.site/faucet
WAX alt direct pay out
https://caittoken.io/account/faucet/
WAX & HIVE indirect pay out
https://coinfaucet.net/?ref=4e6a49344d54673d
Play to earn BTC ETH DOGE
https://rollercoin.com/?r=k3801qv5
DOGE + ZEC
https://pipeflare.io/r/2nh2
Also a news article on NFTs & a Metaverse
https://cryptopotato.com/tether-co-founder-says-theres-money-in-nfts-for-metaverse/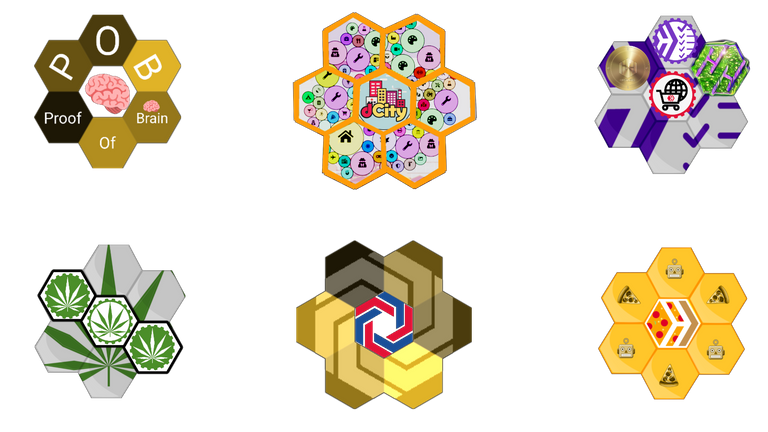 Above are my designs thus far for my Hive thrive NFT colection strictly designs thus far but I need to fine tune this before approaching the respective project devs.
There are many facets of Hive that dont get enough attention and this is what I hope to accomplish with this NFT colection.
I need permission from the respective owners of the tribes and services depicted before I start the process of whitelisting. Best part of this colection if possible it will get white listed because there is literally nothing like it.
---
---