Hashkings, NFD game, & other Cannabis NFTs / play to earns + 6 NFTs airdrop.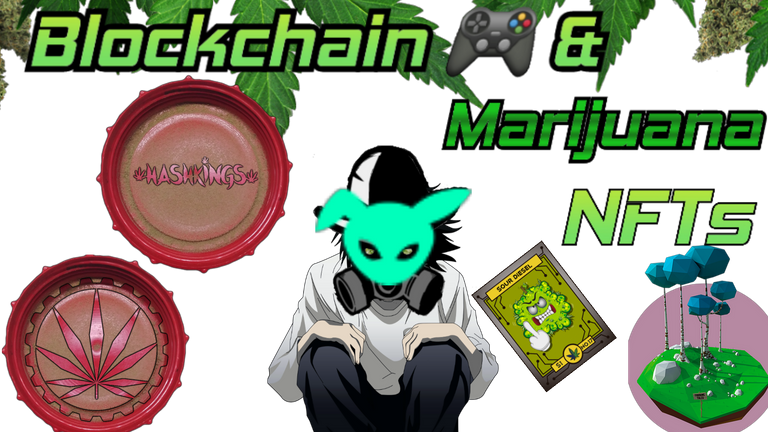 A Cannabis NFT based game may seem like a silly fad something inconsequential & NFTs only valued as a gimmick. That's simply not the case any more a few names in the industry have made strides with cannabis NFT legitimacy.
Farmers Tale & Hash Kings two names in the NFT world that have some connections to cannabis.
Minor factoid drop about cannabis, Hemp & cannabis are the same plant the THC content determines the legal definition for hemp, but its still cannabis.
So if I call hemp cannabis forgive me as its the same plant just legally different.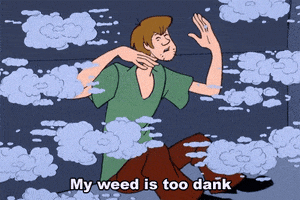 Weedcash Notice to normal readers
If not already obvious todays post is one of my Weedcash posts, so while I will do a write up on blockchain games / NFTs the topic / post will involve cannabis.
Canna curate Splinterlands guild
What do stoners have to do with Splinterlands, that's easy I'm in a Splinterlands guild known as canna curate.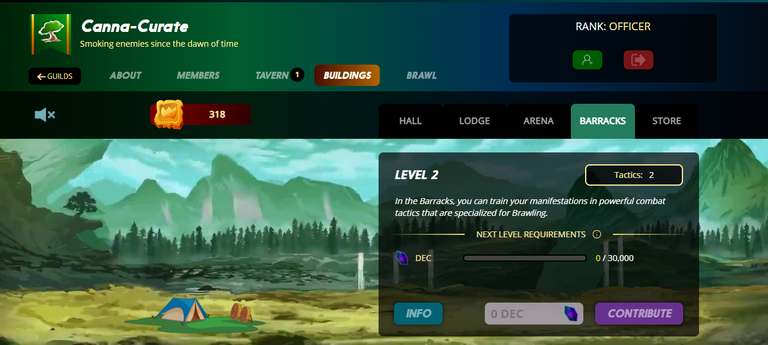 I got our guild started on the store for the Gladiator Splinterlands cards paying for the first part myself. Our guild has worked hard together since then & now we have a functional guild store & now Level 2 guild barracks.


This is something to celebrate as now guild brawls we can use gladiators. The guilds buildings each come with a set of advantages the Barracks helps us in the guild brawl matches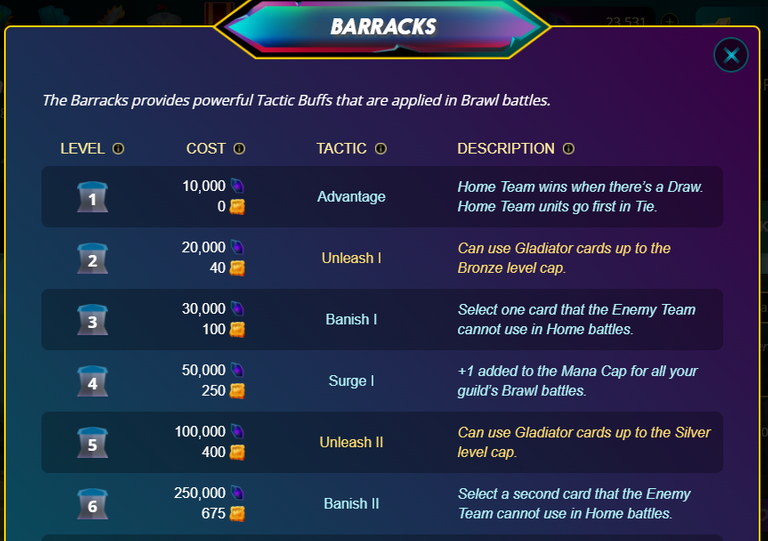 Sorry Splinterlands I'm not trying to associate your game with cannabis but our guild is based around it.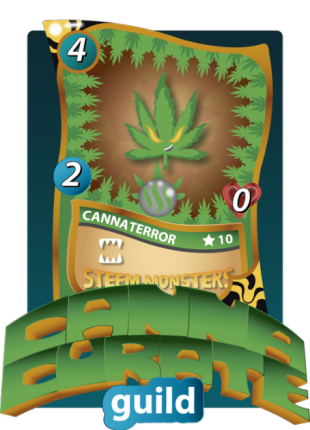 This card would be so cool, but the image is no less cool (get high get high scores).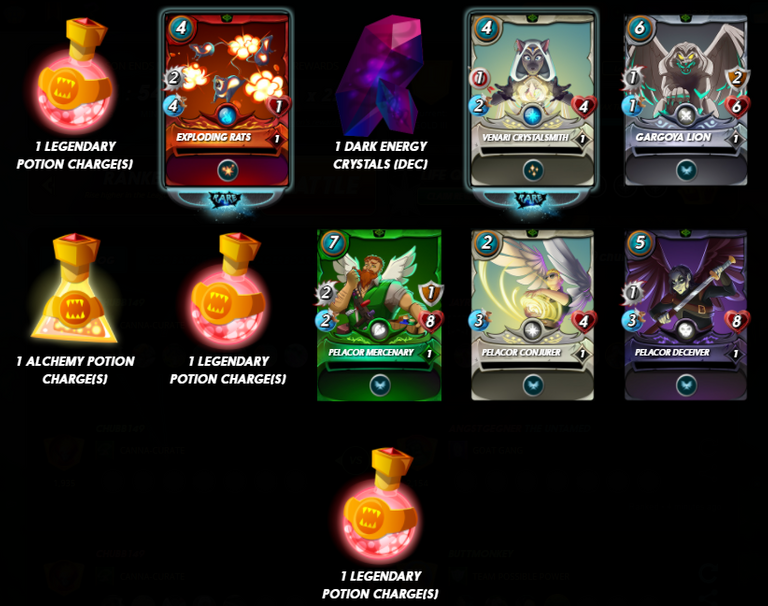 My daily challenge reward above & I got enough vouchers for a pack purchase below.



My NFT portfolio is spread out so the vouchers have taken me a while, but I did get enough for one presale pack purchase.


Farming Tales
Normally nothing big in the world of NFTs is flying the cannabis flag but this has changed. Farming Tales is one such play to earn / NFT colection.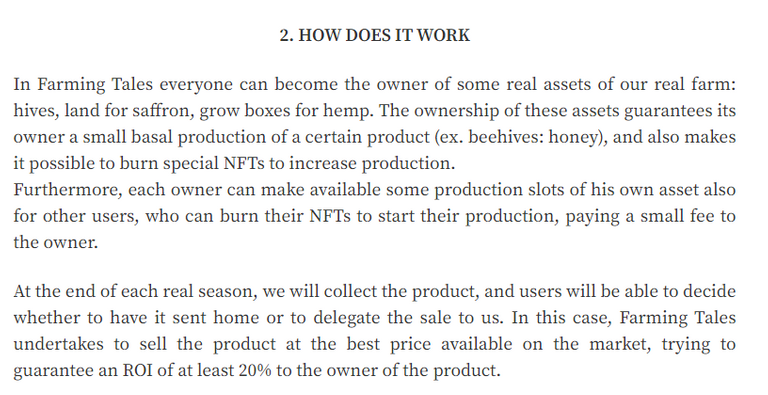 Grow Boxes of Hemp corresponding to real Hemp production & sale IRL.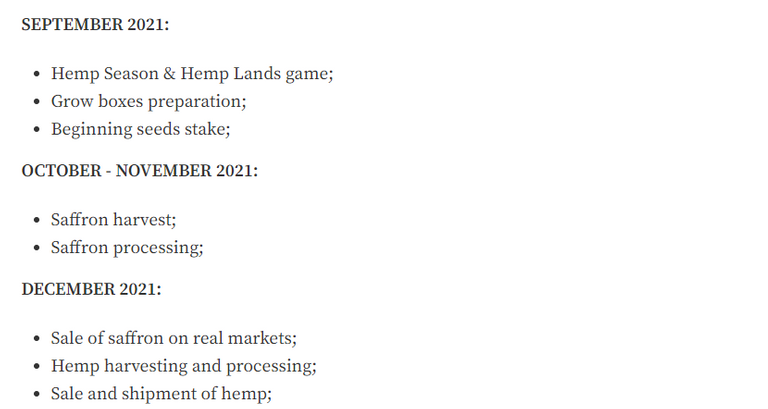 Farming tales is a big advancement in the world of both agriculture & NFTs. The hemp production & resale reminds me of the Cryptocurrency (Hemp coin) Hemp coin went out of business years ago.
Hemp coin & Farming Tales are not connected but they both deal in hemp production ROI.
I know that this is a strictly agricultural sense, but it wasn't to long ago where agricultural hemp was considered taboo.
Shows that NFTs and play to earn are helping to advance the narrative that weed Hemp isn't evil.
Hashkings
Another Huge name in Hive Gaming & NFTs is Hashkings which has a new sale going on right now.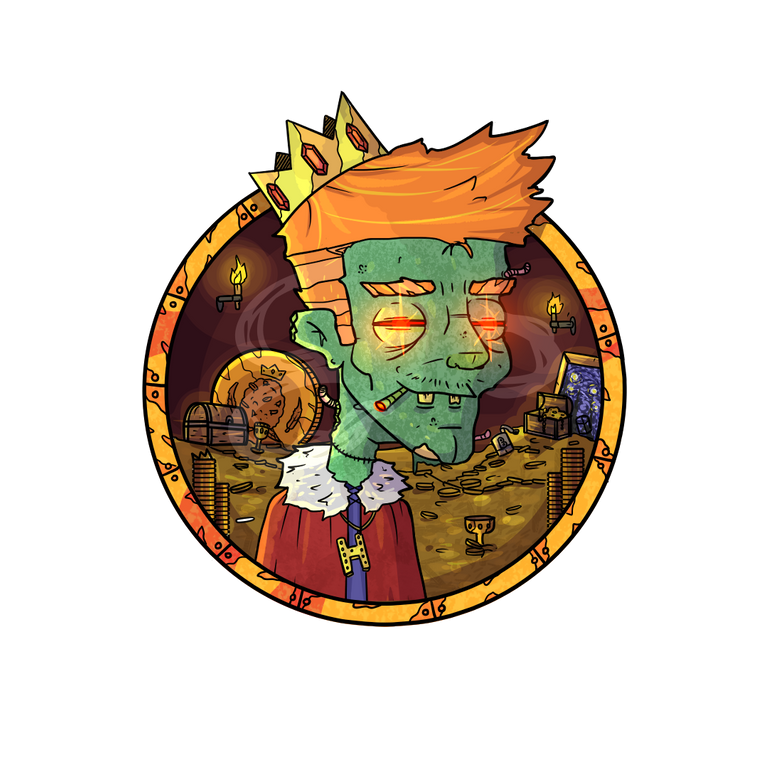 The image above is the form of crypto I got when purchasing HK avatar packs.



They accept many HIVE alts for payment like PIZZA, DEC, BUDS, HIVE, SPS, & many more. The cost was $2 a pack truly reasonable for NFTs tied to a game.



I cant open the pack yet, but give play to earn game dev teams a break this is more difficult job then you likely know.
This is why I pick projects that are diamonds in the rough, may take some work on their end but when the teams committed you get there.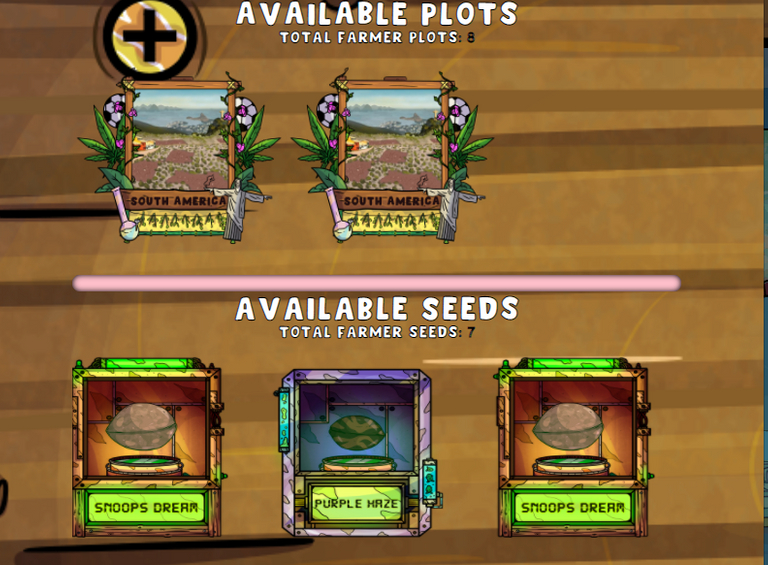 Still no gorilla glue no.4 seeds but these new seed NFTs & new seed distribution mechanics where to me a slam dunk.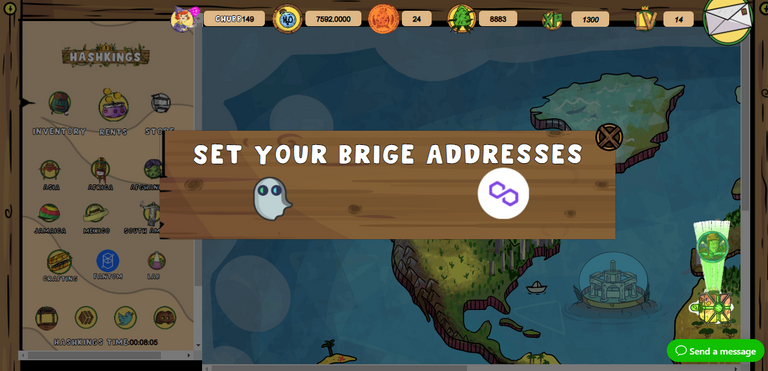 New bridges new seed distribution & HK raids on the horizon, Personally I have been stocking up on plots MOTA & BUDS for a while now. This game I have a feeling will be big it has all the pieces needed for greatness.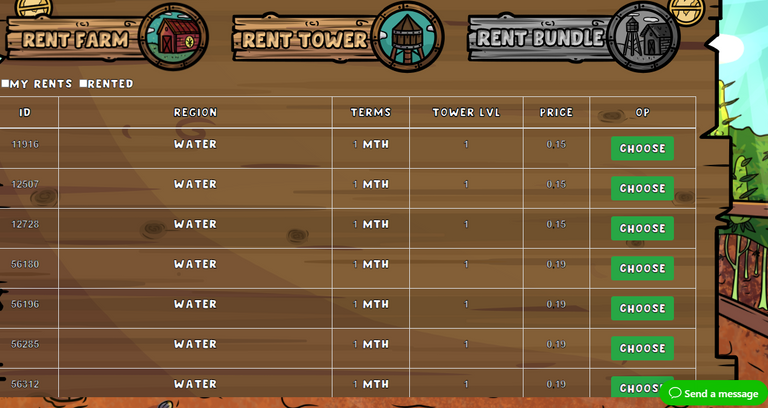 Like NFT rentals, burn / blend use cases, NFT Rarity + cross chain compatibility with asperations to add more & more blockchains to that list.
These are all things I look for with play to earn a committed team + social media presence will inevitably be the deciding factor & the Hash Kings team is already all over that.



On occasion ill throw some info about WAX on some NFT projects I'm interested in HIIVE posts. As an NFT vendor I'm fairly knowledgeable when WAX is concerned especially.



https://peakd.com/@hashkings Though the staff or person running this account are for sure busy they responded. That's awesome I'm not trying to bug them just share info its easy to get blinders on for other blockchains I'm as guilty there as anyone.
Would love to see a NFT portal on WAX it takes a good amount of effort to accomplish this but Hashkings response shows me they are headed in that direction.
So dont forget to hit up the hash kings avatar pack sale going on now.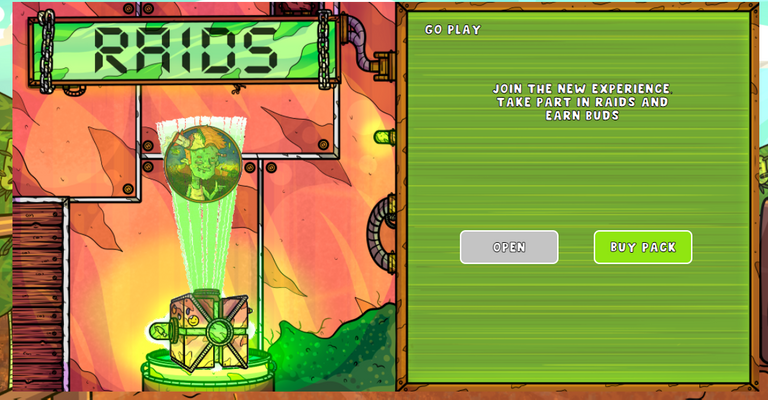 Cannabis NFTs to beat the band
When I first joined WAX & HIVE cannabis NFTS where either a novelty or unheard of.
Now there are 5 major WAX NFT collections 3 of which are connected to games & of course Hashkings on HIVE.
Weedcash was where all my pot Pipe dreams began & the industry has become much more accepting of cannabis since then.
Drug DeFi
Yeah 2 things that should not be mixed getting high & DeFi, though banking & bong rips tend to loose money for you or others. There are 2 weed related play to earn games with their crypto involved in WAX DeFI on BLUdec.
https://bludac.io/



This WAX DeFi is a breakthrough in our industry & almost no one has heard of it BLUdec.



A little difficult to use but I figured it out high so anyone has a good chance of getting it with past DeFi or yield farming experience.
The two of the many WAX alt cryptos I highlighted for today are KENN & SHELL which are both tied to stoner NFT collections or games.
Stoner NFT collections or games as in they are made by stoners, Green Rabbit the play to earn is made by a cali dispensary owner.
https://greenrabbitgame.io/
KENN is tied to the WAX NFT collect to earn project
https://wax.atomichub.io/explorer/collection/kennbosakgif
https://neftyblocks.com/c/kennbosakgif
One of the best WAX NFT DeFi projects in my opinion https://brobros420.com/ This is the WAX project connected to KENN & the Kenn Bosak gif WAX NFTs.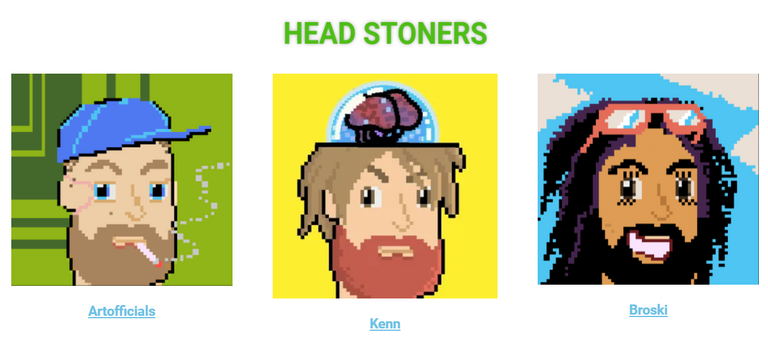 Keif Art
So while I was smoking kief the other day I thought of doing this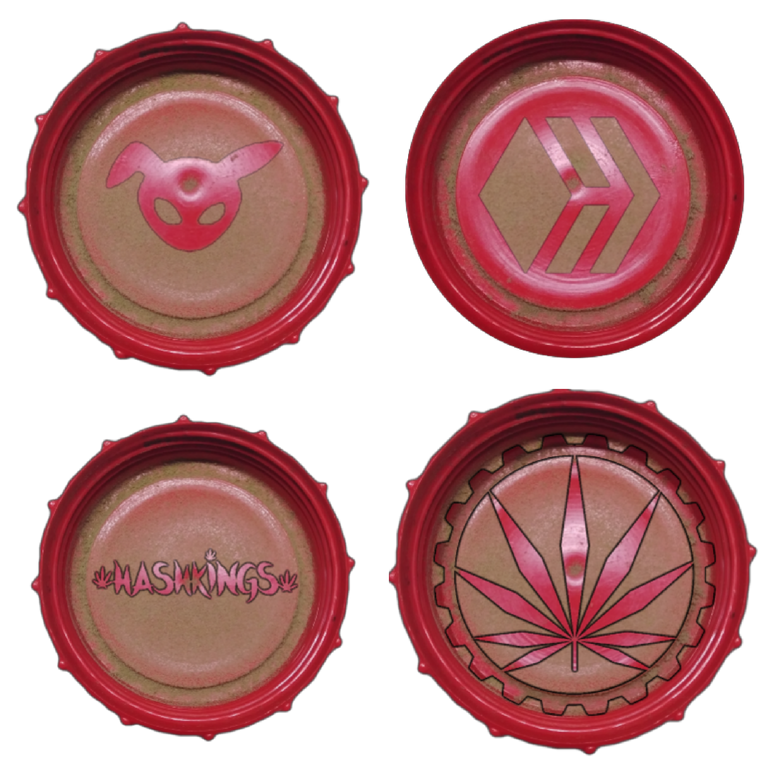 That's marijuana kief (pollen) with WEED symbol from the Weedcsh logo, Hashkings logo, Hives HIVE logo, & green rabbit.
Not to toot my own horn but I think they turned out fantastic for a random stoner thought.


The HIVE one was a rush job & I did the WEED one first so there are a few errors. However they turned out better then expected, I'm going to mess with this same idea & different cannabis / concentrates.
Originally I started doing NFTs because I like turning drugs into art, like a sculpture made of guns it starts a conversation. Usually starting with (why) followed by (the hell)...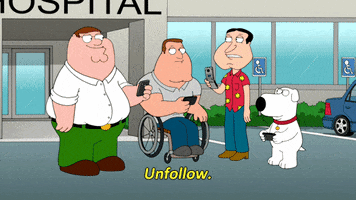 Corny jokes & weed art aside...
Non Fung Drugs
Not an NFT name you recognize? Good let me learn you a thing or two, not the NFT project I would have bet on but this NFT colection (Non Fung Drugs) has been around for months on WAX.
In NFT time a month is like a decade so to see these guys on top Nefty Blocks sales was a surprise.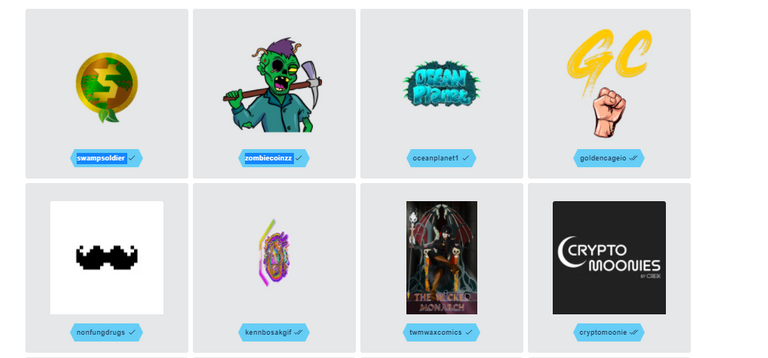 Their pack NFT drop got them to top 8 NFT collections & of course the packs sold out. Though I did get one Non Fung Drugs pack of NFTs for an unboxing just for you readers & my own curiosity.
https://neftyblocks.com/c/nonfungdrugs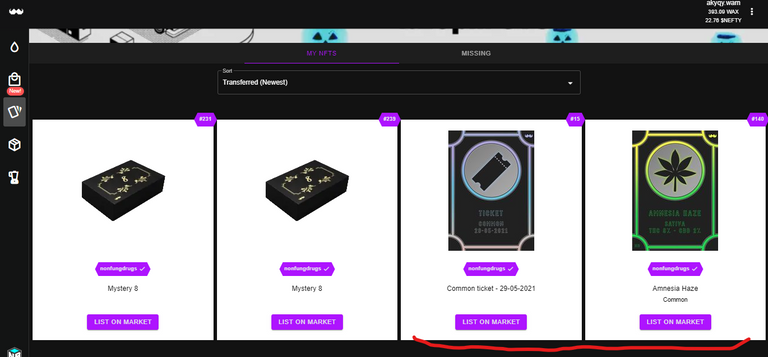 See the underlined NFTs on the left I bought them in July that's a long wait.
https://non-fungible-d.io/#
A game attached I told you these NFTs sold out, well the market doesn't buy something useless that quick. Lets see what I got in a pack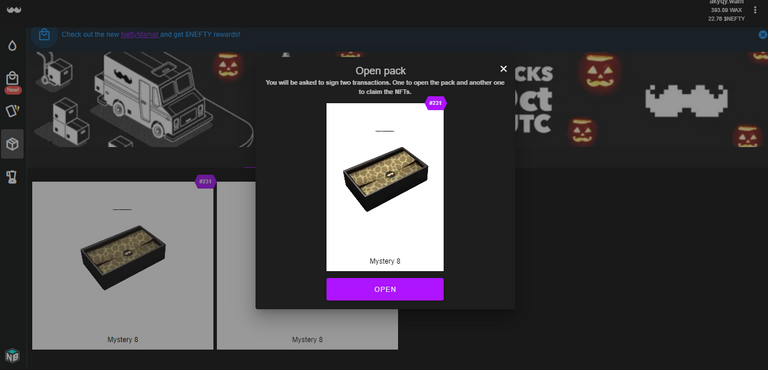 Not my Lucy day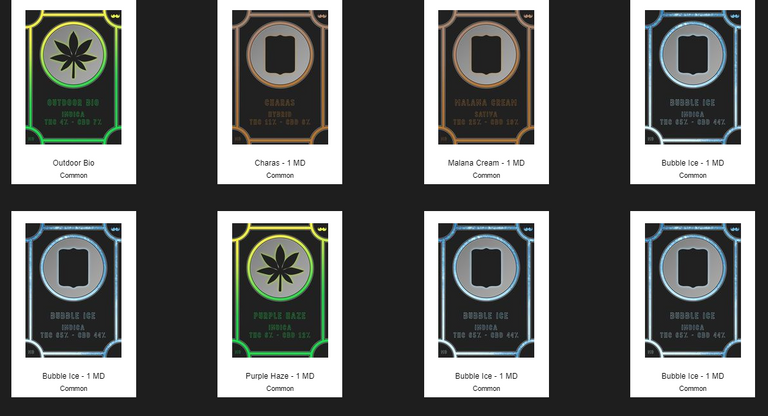 I get enough of those so this isn't the worst thing to happen just all common NFTs lets see what I can do with these NFTs on the NFD website / game.
First you always check the colection on Nefty Blocks for a blend use case for the NFTs.
https://neftyblocks.com/c/nonfungdrugs/blends/293228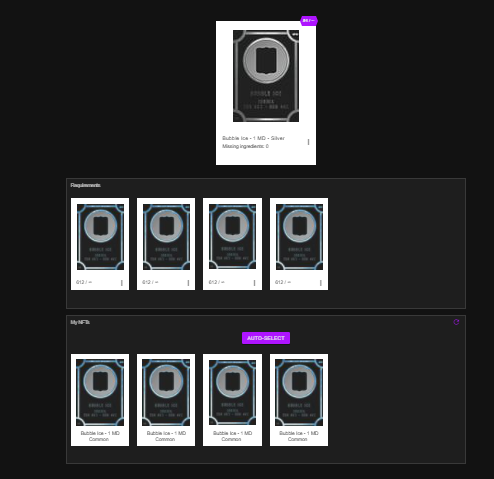 Got all the parts to blend for this one awesome.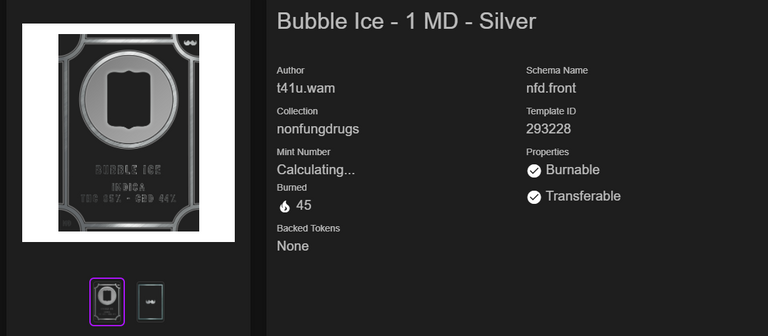 See I keep an eye on NFT collections like Non Fung Drugs (NFD), because cannabis works so well with a burn blend use case its not even funny.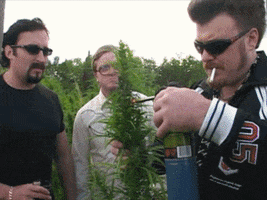 The NFD Vault
The NFD vault appears to be the first part of the game / NFT colection active, but its a big step site integrated with WAX wallets this is well done.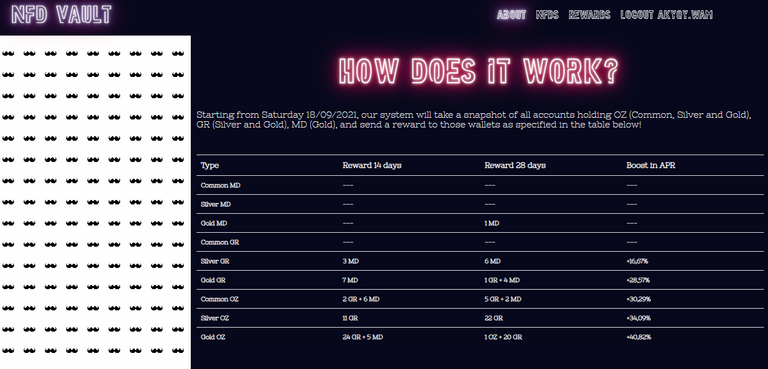 NFD DeFi Drugs & investing man I got to say reality & I agree much more lately.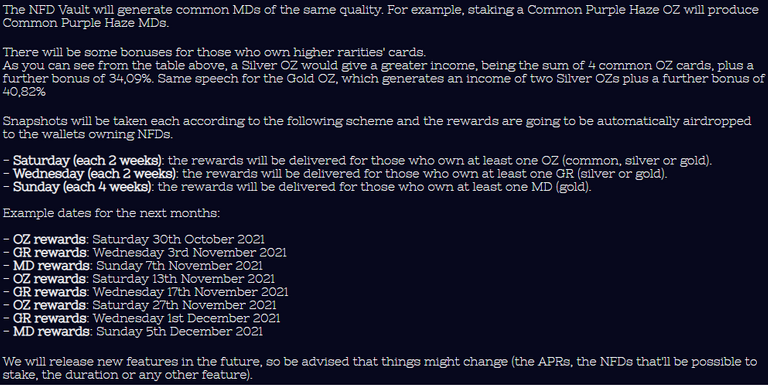 Though ill look into the NFD colection much further probably buy or open another pack or 2. Just the vault appears active but they seam to have much more coming in the near future.
Like NFTs Like Drugs try NFD Non Fung Drugs site below.
http://non-fungible-d.com/
Gnocity
Though only making weed references in the NFT colection like a Mary j Gnome NFT & so on. To me Gnomes is a weed NFT colection & Gnocity a weed play to earn game.
While the colection has weed references its not the focus of the play to earn game Gnocity, its actually a fairly similar game to Splinterlands.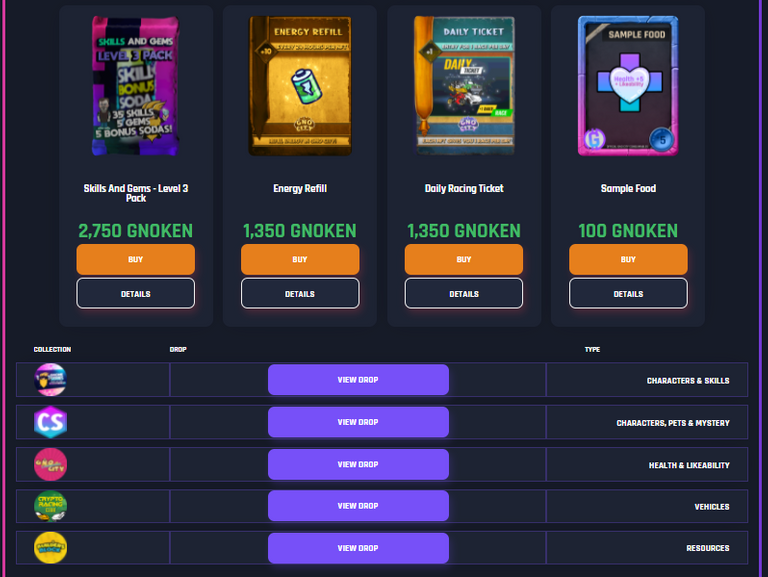 Gnocity Devs have been hard at work the updates feel almost daily, see the market now has a link to all current drops of connected NFT collections.



GNOKEN the games WAX alt is earned by setting a line up & keeping them fed. You can play matches where you attack & utilize CPU or just keep your team fed & wait for someone to attack you.
Either way you win the match they pay you GNOKEN, just checking in & feeding your team can be minimal time spent 5 mins a day.
There are like 4 NFT pack drops right now but 2 ill go over are the Resources Build NFT packs & the mystery pack.
https://neftyblocks.com/c/buildersbloc/drops/60698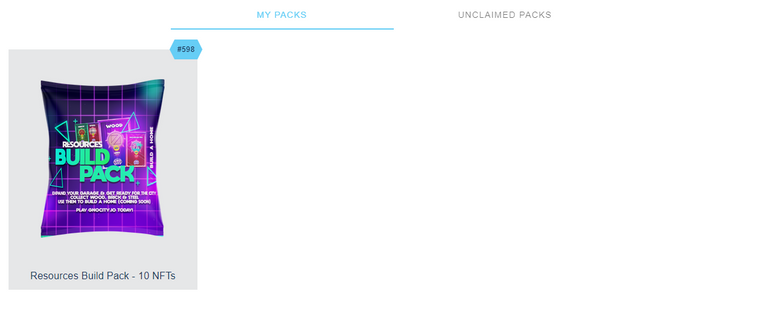 Gnocity will eventually have a property based NFT metaverse attached to the game. The Resources Build Pack just launched 4 days ago appears to be a part of that.
Here is opening the Resource Build pack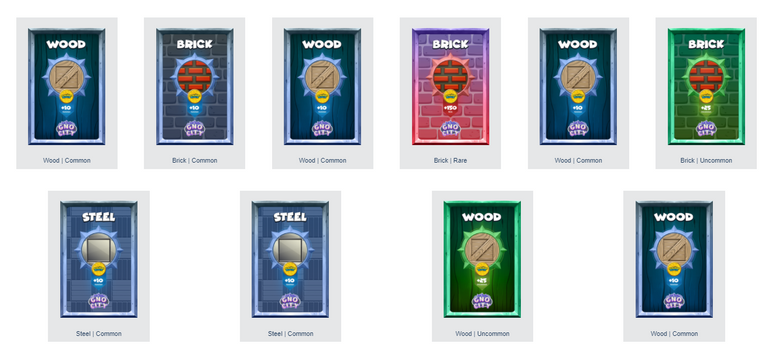 Cool but I cant use them yet, so well be revisiting this eventually, Now for the mystery pack. I have done well with these before they just launched some more packs.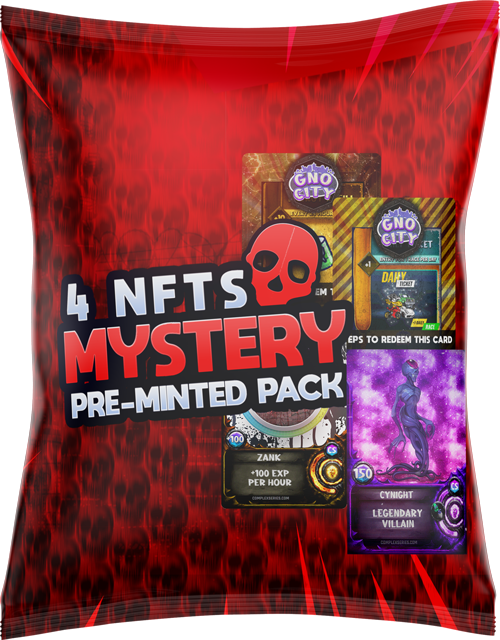 I spent $15 this is what the market is paying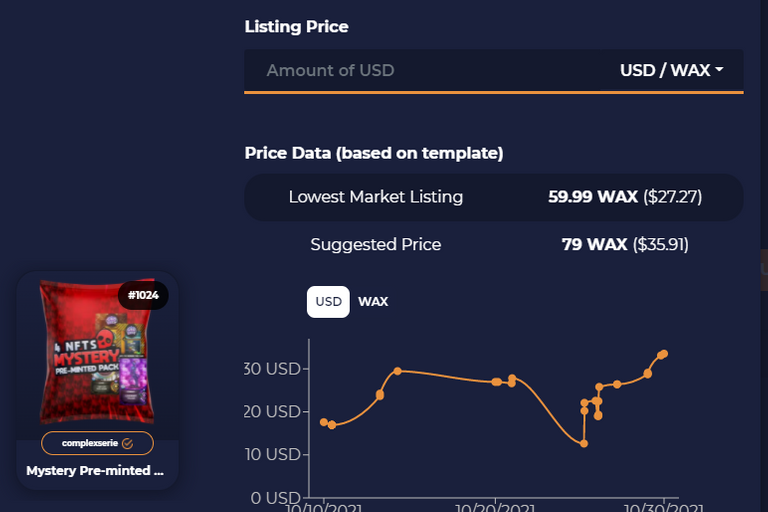 While the sale is still active you can rip the rest of the market off by buying here.
https://neftyblocks.com/c/complexserie/drops/62403
Buy in $NEFTY & you get even more profits with $NEFTY mining / cash back.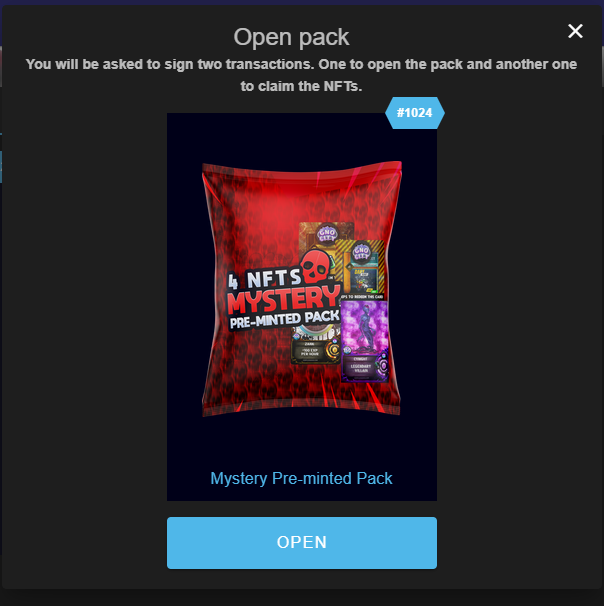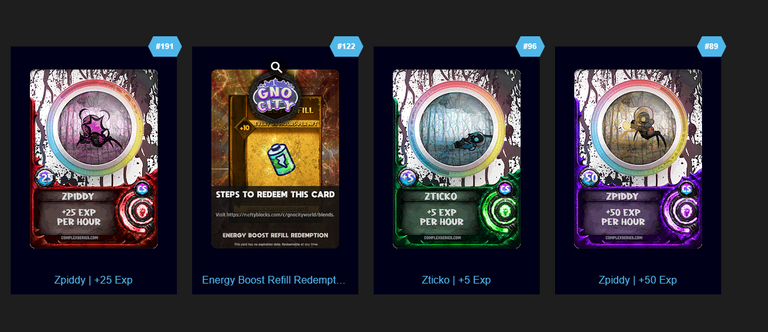 Got lucky this time you may not see how lucky yet let me help clarify.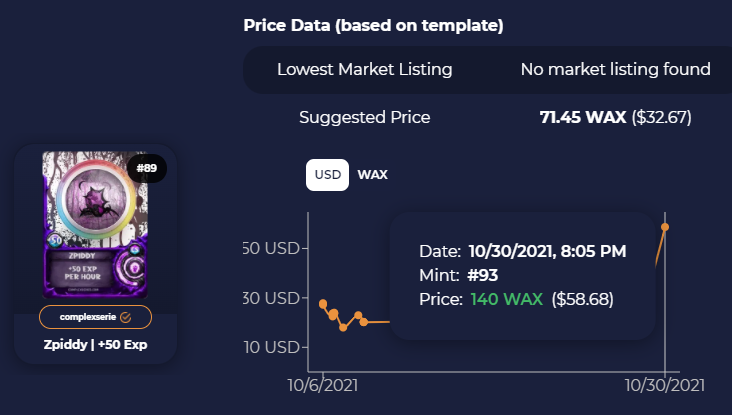 So pack cost $15 this 1 NFT of 4 has sold for $58 & currently there are none listed So I can name a price more or less.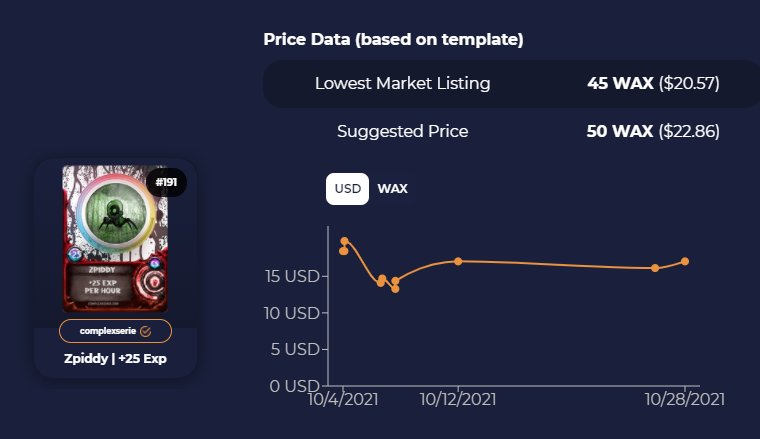 This 1 can be sold for around $20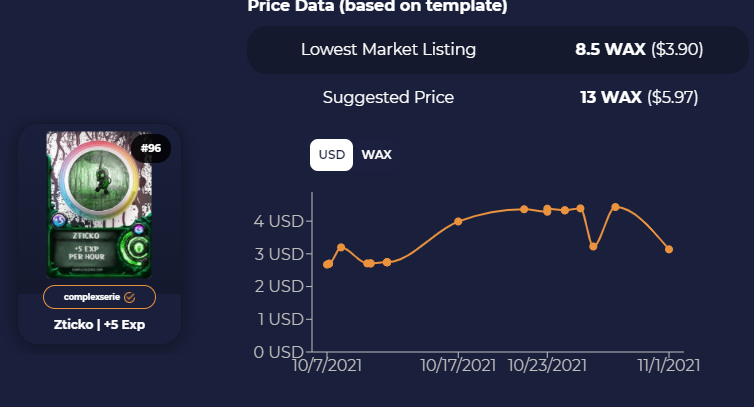 So basically I got 6x the cost of the 4 pack on 3 NFTs awesome, what makes these so valuable.
The short answer is these Pet NFTs generate XP by staking them on Gnocity.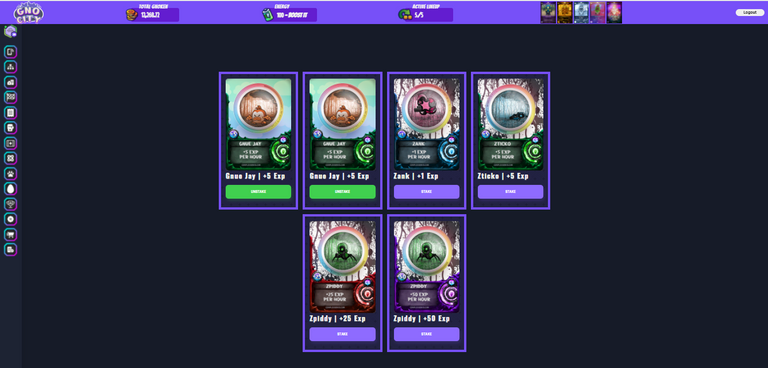 XP + GNOME = Higher Card lvl, & thus Higher value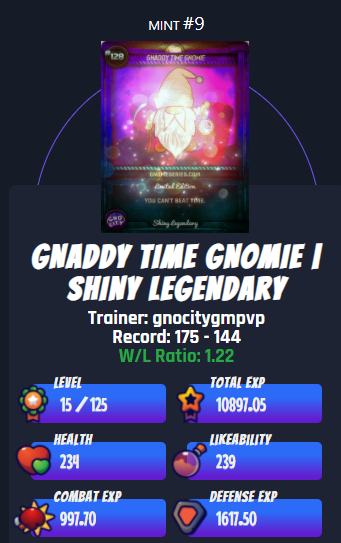 Like Splinterlands a high level legendary is worth so much money, Legendary Gold card leveled up is worth thousands.
Unlike Splinterlands the assets gain XP / Level the old fashion way by playing the game. Not that there are any flaws with Splinterlands model in fact Splinterlands is better.
I will toss a Gnocity Pet into todays airdrops good luck Readers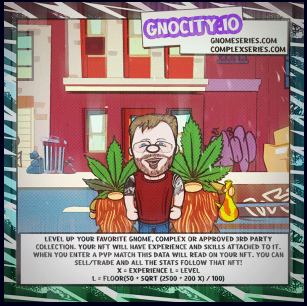 Stoner not a stoner doesnt matter you should get into Gnocity Like many of the other NFT collections with play to earn I highlight I see big things in their future but the NFTs are cheap for now...



Won all that GNOKEN playing & now food can be bought with GNOKEN, its good time to start playing.
https://www.gnocity.io/
Crypto Buds & Green Rabbit
Finally 2 quick updates Green Rabbit & Cryptobuds. Green Rabbit a play to earn WAX NFT colection, & Cryptobuds a completion use case WAX NFT colection.
These collections are both a WIP Work In Progress, Green Rabbit started off strong but has hit a lul as we await new game updates. Cryptobuds a shocking upstart with continual NFT launches & a loyal following.
Green Rabbit
Verry little to add here just the new NFTs where added to the in game store & their crypto (SHELL) Shellinium is on BLUdec.
https://greenrabbitgame.io/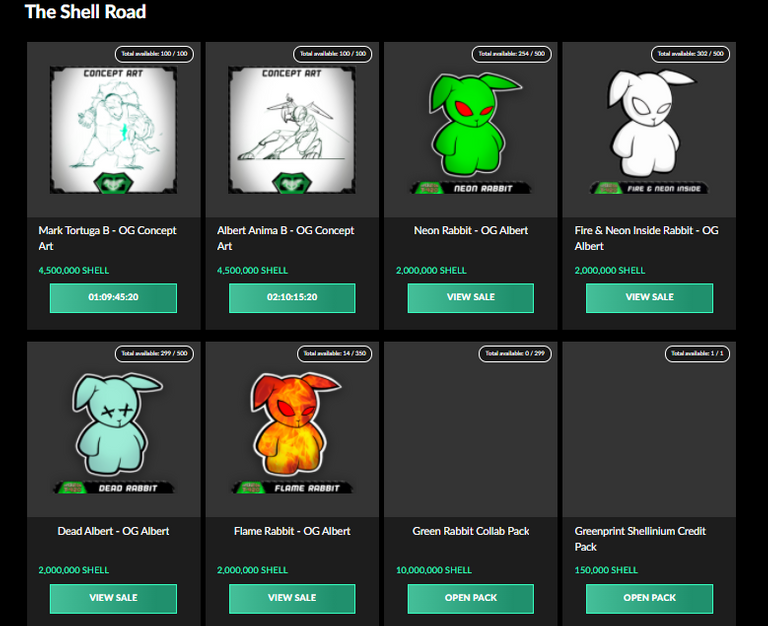 Market named the SHELL road if you know, you know I'm not explaining why that's funny.


Been staking that SHELL & Using it on BLUdec if & when I feel like it.



https://bludac.io/
So now the SHELL I stack earns BLU as well, got to love Drug DeFi.



Make about $1 USD a day using yield farms with my crap alts on BLUdec. I costs $20 to get a NFT BLUdec white listing pass but its more then worth it in my opinion for Yield Farms on WAX alts with no gas fees.
https://neftyblocks.com/c/bludac
If you got $20 in WAX to toss at something & you currently have a bunch of WAX alts like AETHER, SHELL, PGL, TLM, $NEFTY, CAIT, or a few others. Give BLUdec a shot I'm making 45 BLU & I use nothing but crap alts for BLU yield farm Pairings.
Go so far to say its WAXs next big thing BLUdec has a crap name but great & truly needed service yield farms on WAX alts.
https://bludac.io/
Cryptobuds
Got off topic with Green Rabbit but Cryptobuds will be simple I hope lets give it a once over.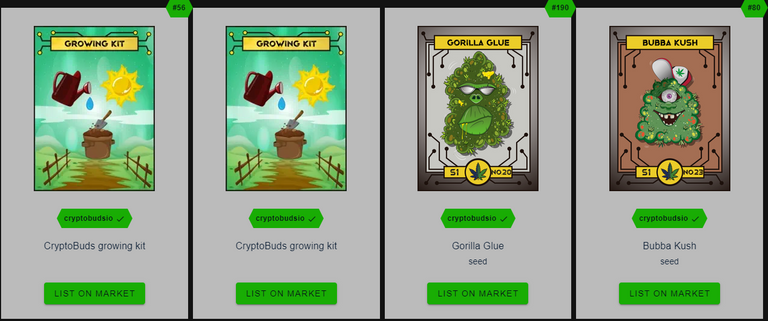 Crap new NFT colection mechanics buckle up we will be here a min.
Cryptobuds is noteworthy because the NFT colection had a massive success with the completion use case Grower Card NFTs.


Perhaps not something the creator thought would happen but the colection blew up over night.
2 things happen when this occurs panic followed by silence or they reroll the earnings into the NFT colection & come back stronger then ever.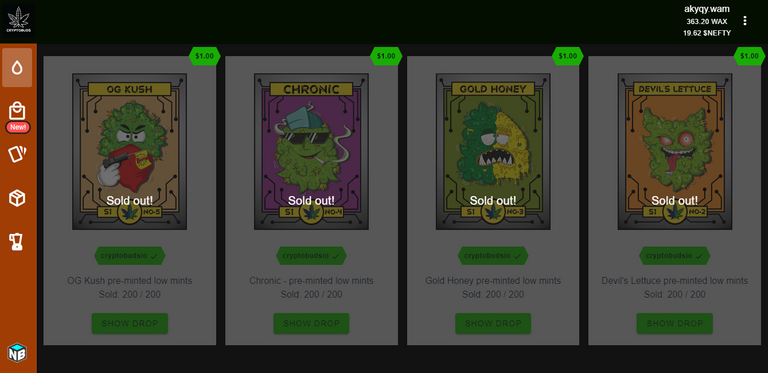 I keep up with / airdrop these NFTs as they only produce 200 of each so by keeping up to date with the launches I make $$$ selling sold out NFTs.
https://neftyblocks.com/c/cryptobudsio
Buying on Nefty Blocks mines $NEFTY so its a bit cheaper then $1 for me to buy. I have to check their discord to see how the new NFTs work sounds like next weedcash post material.
Dont know what they do yet but ill airdrop one of their new NFTs probably going to be worth much more then the market price.


$5 market price its part of their Super Burn Blend use case, Included in the airdrop(s) good luck readers.
Blend standard cryptobuds NFTs get a super cryptobuds NFT so If you got some of these from me you may want to check the resale price you may be lucky if not now keep an eye on them it should spike soon.
Weedcash
Anyone new to HIVE reading this come check out weedcash if your a fan of cannabis / crypto.
https://weedcash.network/@chubb149
WEED is the crypto on weedcash a EOSIO alt WEED has some solid mechanics to it not just another HIVE alt.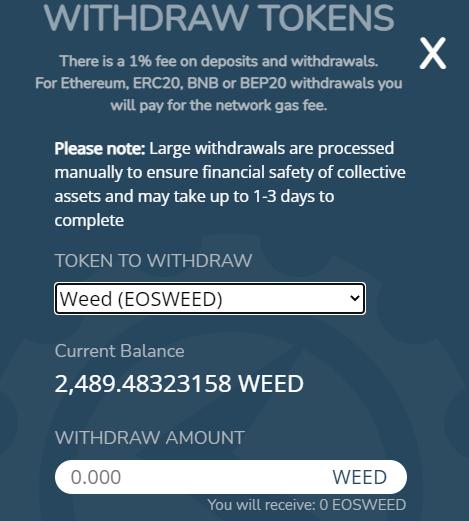 One of the few tribes on HIVE with a crypto WEED you can withdraw from your HIVE engine wallet. WEED can be earned by posting or interacting with weedcash posts Dcity NFTs & Mining coins WEEDM / WEEDMM.
You can stake, delegate, trade, or spend WEED at the weedcash store.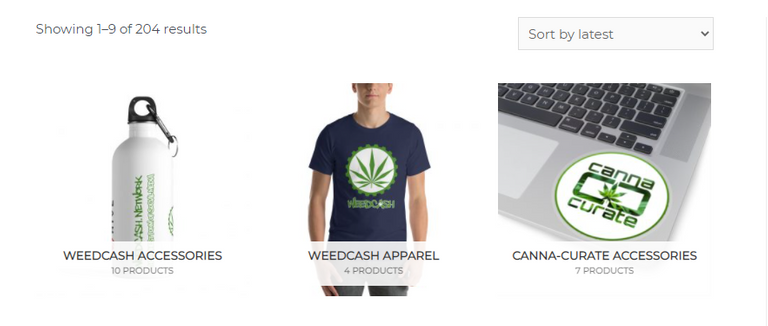 https://weedcash.store/
Staking WEED can give you discount codes at the store.
If your a stoner into crypto join HIVE if your not yet a member referral link for peakd a HIVE tribe(same as HIVE).
https://peakd.com/register?ref=chubb149
Once you figure out how HIVE works stop by weedcash post about your cannabis or cannabis related content for free WEED. Post about getting stoned & buy pipes or hempflower with the WEED you earn weedcash a truly great service.
https://weedcash.store/
Weedcash gave me my start when I was broke, now I get to give NFTs away just for fun, really I owe it all to weedcash, Splinterlands, & HIVE.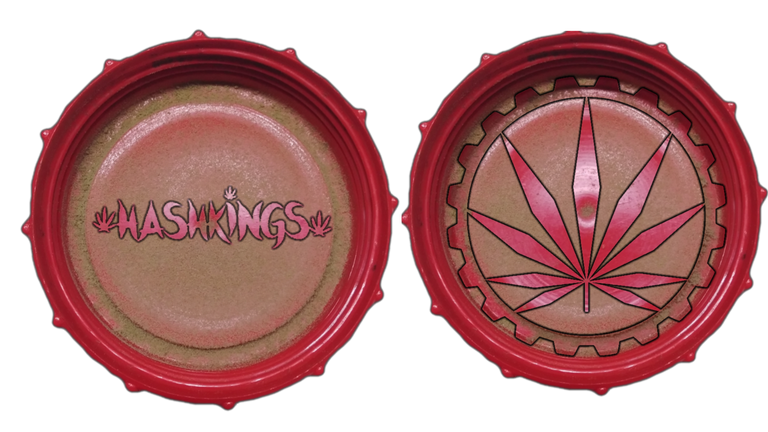 Changed my life in a year, thanks weedcash, feel free to use the keif logo.


Fairly proud of that Highdea (Idea while high Highdea)
What I'm smoking
Those unaware I do the what im smoking section in my weedcash posts to show exactly what I was smoking when I wrote this.
Serving both as a joke & a warning to consider the source, I literally smoke weed 365 days a year (actually recorded it this year). Cannabis is legal for me to buy & consume where I live.
The what I'm smoking section also ties the post to cannabis meaning I can give some of the weedcash users a chance at the NFT airdrops.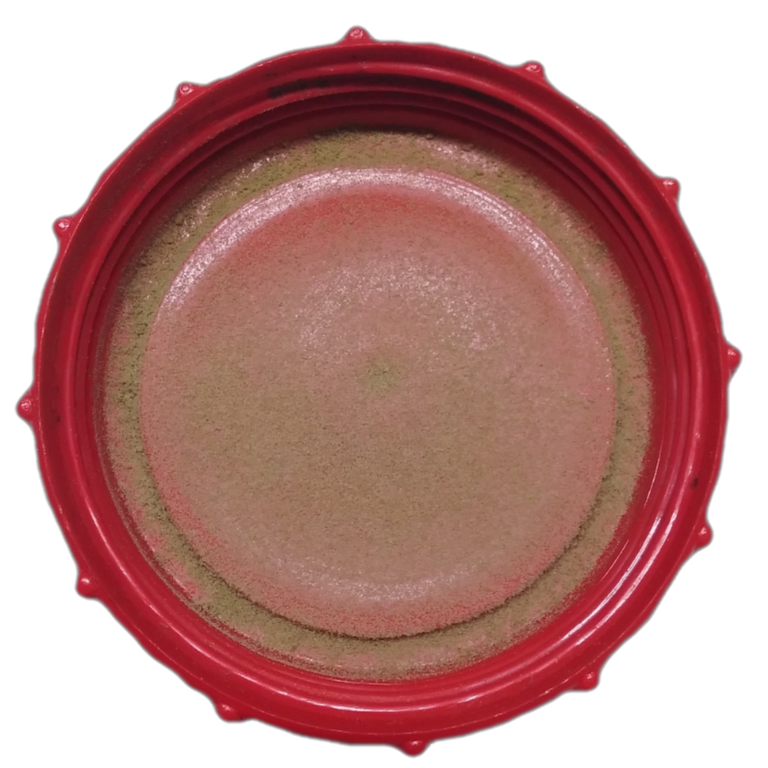 What I'm smoking today around 6 different strains kief 👆 with gorilla Thai stick, a Gorilla Glue Chocolate Thai stick hybrid.
Oh and edibles I made last time when I'm looking to panic + pass out. My edibles are way to strong for a gorilla tranquilizer just right for my tolerance.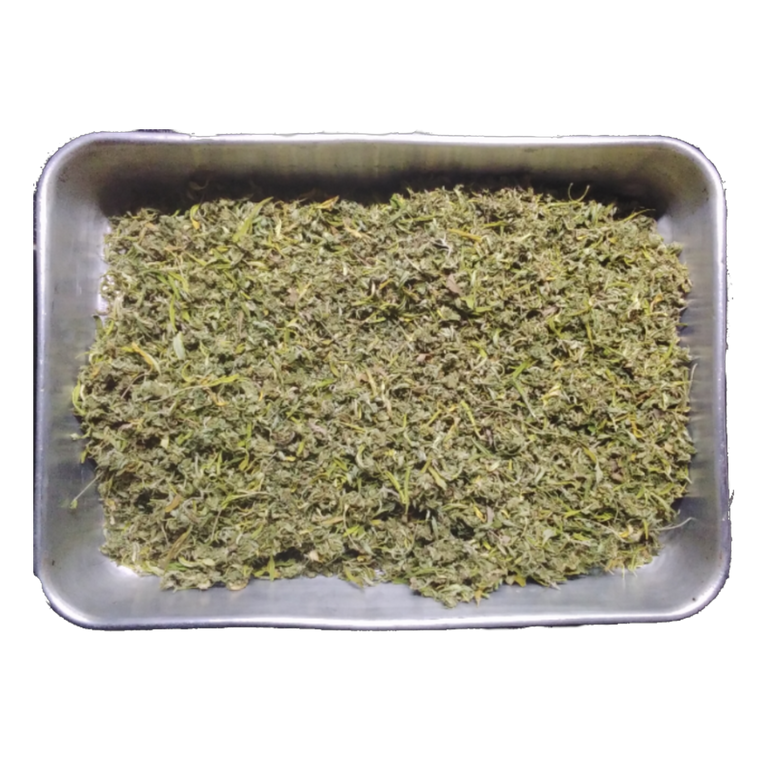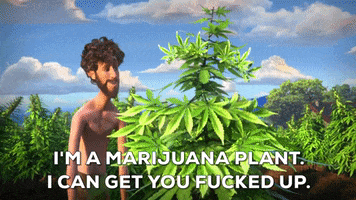 Airdrop(s) How to
Two Airdrops Go out per post First to Hive then to PublishOx later that day. Making these airdrops random has helped to keep everything fair literally any reader can win. Airdrops like this are affordable as well making the revenue from posts go even further.
That's why I keep publishing staggered & the same goes for the secondary airdrop Ill put the URL of the second airdrop PublishOx posts in the comments of the Hive posts. Ill tweet about every post.
https://twitter.com/Brandon36907436
https://www.publish0x.com/@Chubbie149
This will all start with the normal Hive post with airdrop & shortly after PublishOx has the same post with a second airdrop check twitter for a quick reference.
Airdrop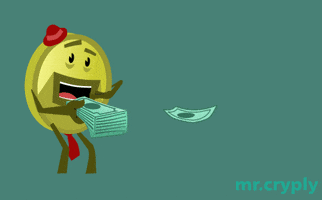 One of 2 WAX NFT airdrops, containing 6 NFTs each posted first to Hive then shortly after a second one goes on my post to Publish OX.
You can find updates here & ill try to post the second URL from PublishOx in the comments.
https://www.publish0x.com/@Chubbie149
https://twitter.com/Brandon36907436
WAX NFT URL Airdrop
Cryptobuds NFT, A pet NFT for Gnocity, & 4 other WAX NFTs, at least $10 in WAX NFTs all together enjoy.
https://wax.atomichub.io/trading/link/483679?key=5J2irJhetoxNvHfXeiBeUVid7oNZzdBw9joRoz8gyFkn5ZUoW6E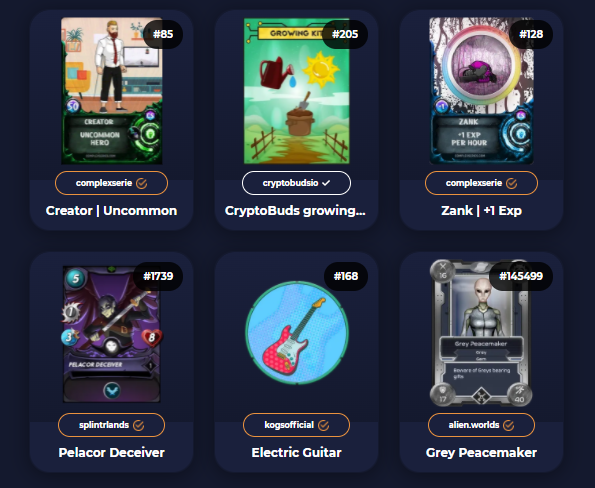 Everything needed to play Gnocity included & every NFTs connected to a play to earn game, If your the lucky reader please let other readers know via comments it helps.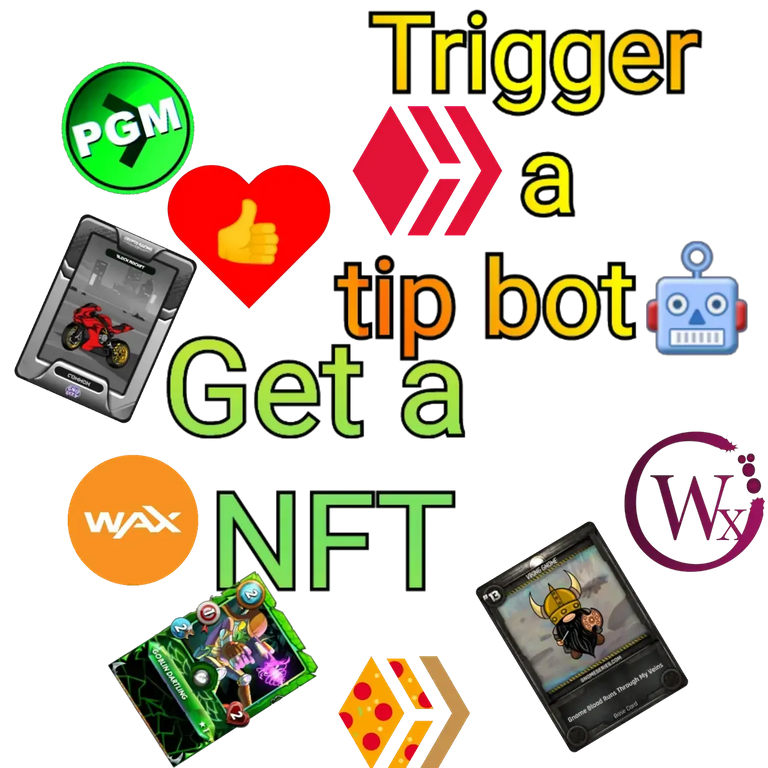 Trigger a Hive tip bot any hive tip bot comment your WAX address get an NFT.
Social Media Second airdrop link PublishOx
Hive profile
@chubb149
Hive referral
https://peakd.com/register?ref=chubb149
NFT airdrops after Hive
https://www.publish0x.com/@Chubbie149
Join publish Ox
https://www.publish0x.com/?a=4QbYRK0dzq
Twitter
https://twitter.com/Brandon36907436
I accept donations if you feel like supporting more fantastic airdrops & ok posts. You can share / upvote via HIVE or PublishOx.
Donate WAX NFTs or Crypto here:
akyqy.wam
or here
https://wax.atomichub.io/explorer/account/akyqy.wam
My Twitter is linked to both Mask Network & Brave content creators, so you can also donate MASK or BAT to my twitter.
https://twitter.com/Brandon36907436
Under no obligation to do so it simply goes to increase the Airdrops & Possible future NFT give away events.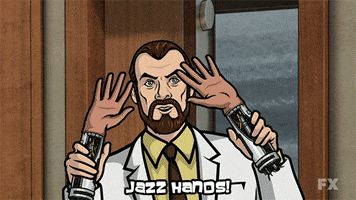 200 HIVE followers going to have to make the next airdrop special thank you all.
WAX NFT / DeFI News


Zombie Coin miner number 2 of Nefty Blocks top NFT collections drops new citizens & tools November 27th needed for whitelisting.
https://neftyblocks.com/c/zombiecoinzz



Hot wheels drops WAX NFTs on the 16th
https://wdny.io/hotwheels-s1/



Give away active this weak in celebration of the blockchain gaming boom.
https://go.wax.io/Gaming-Week
Finally a few WAX DeFi options now.



https://tribaldex.com/dieselpools/pools
That one 👆 is on HIVE & these 👇 are all WAX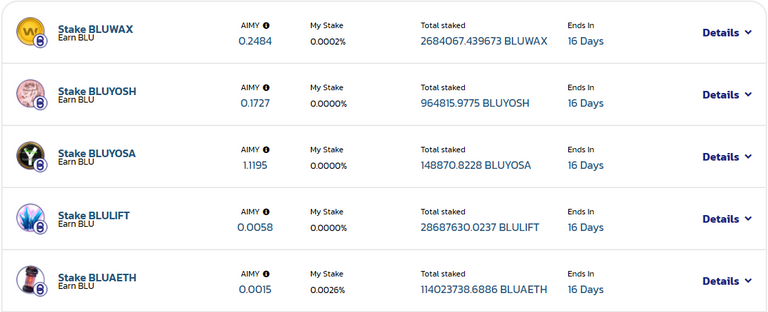 https://bludac.io/
BLUdac requires a $20 access pass NFT 👇 to utilize the Yield Farms
https://neftyblocks.com/c/bludac
Quick tips
Cait no hassle crypto airdrops



Testing Cait for a while now, it works no snags not only is cait a faucet but it runs most WAX DeFi.
https://caittoken.io/



Sign one transaction with Cait on the register page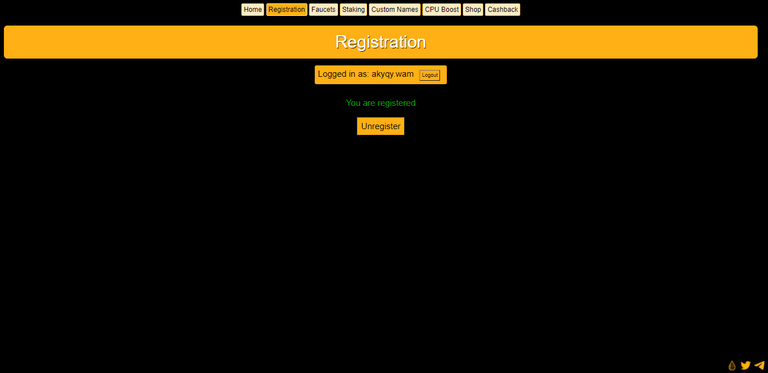 It will from then on at random give you WAX alts for being registered. Taking place in airdrops most of the time publicly announced, but you dont even need to know they are happening it just shows up in your WAX wallet.



If you already registered to Cait check your wallet you might have BLUX the latest airdrop.
https://wax.alcor.exchange/wallet
You have to register just 1 time from then on your in every Cait airdrop.
https://caittoken.io/account/registration/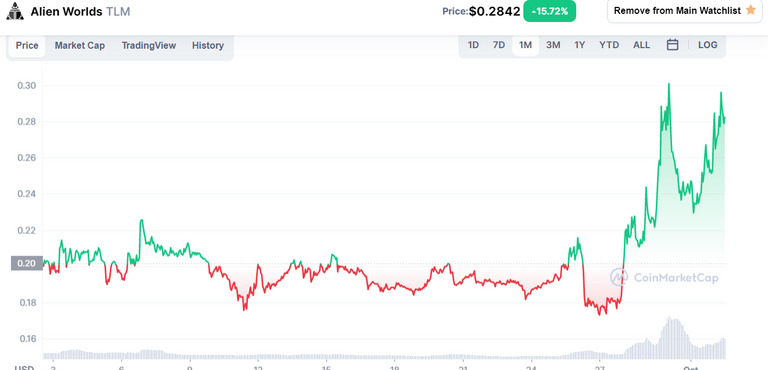 I called this out constantly in my posts TLM to the moon for sure


Called RFOX & SHIB as well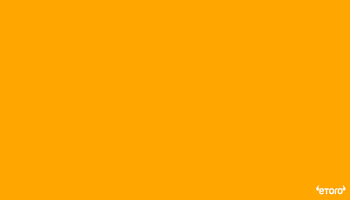 When it comes to subjective blockchain markets I pick some winners.
Here's brand new info the WAX market hasten caught yet, this Dapp was added to WAX cloud wallet interface last evening



https://whenstaking.com/
I was messing around with their staking system & discovered a NFT colection dead in the water can be staked there.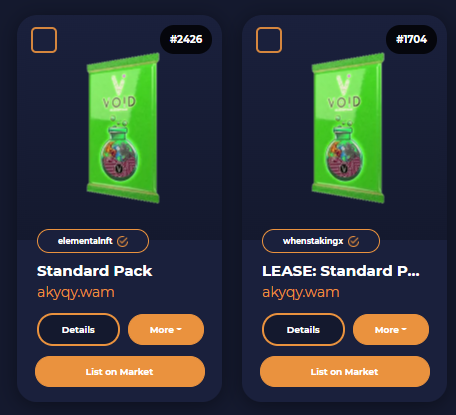 While the When Staking NFT colection is $40 minimum price for stakeable NFTs these sell for $10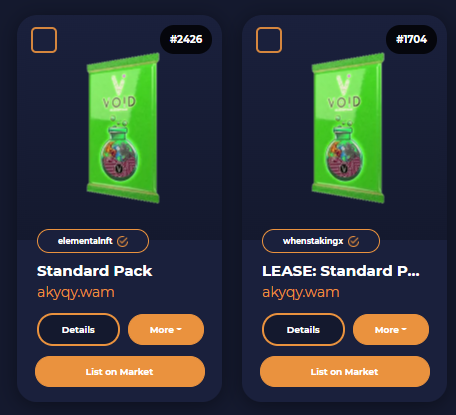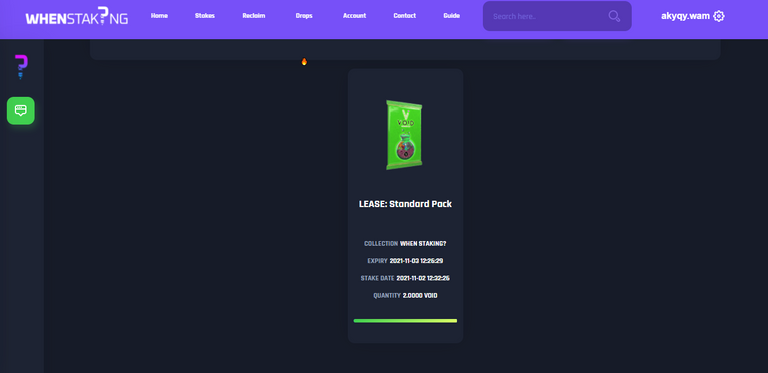 Their guide doesn't mention this, I only found out because I have so many NFTs some where in my inventory there where NFTs in that other colection.
https://wax.atomichub.io/market?collection_name=elementalnft&order=desc&sort=created&symbol=WAX
This takes you right to the market where the Elementalnft colection is listed for sale.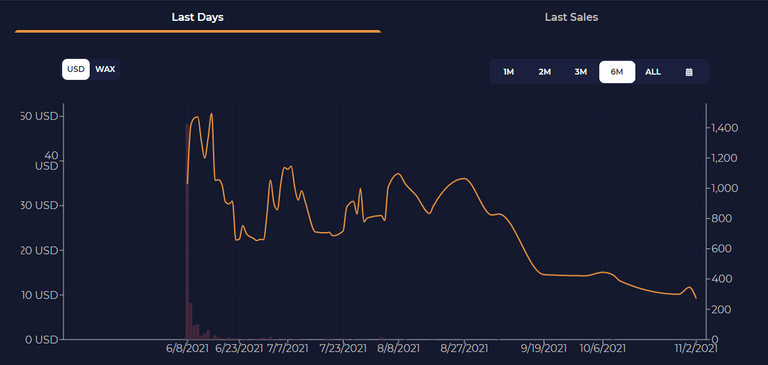 This is the lowest price ever on the colection connected to the well performing Dapp https://whenstaking.com/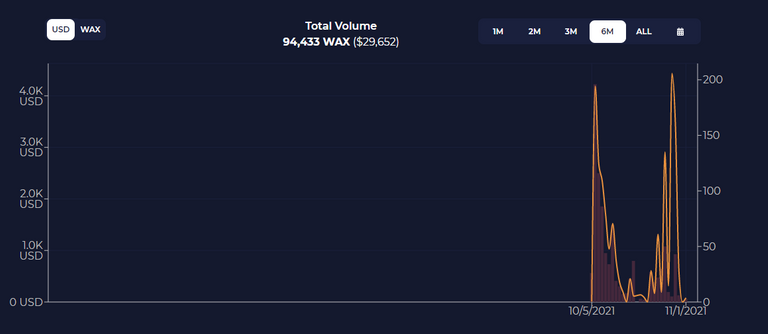 This is the When staking colection brand new & this pairing of the elementalnft colection for staking is likely unknown by anyone public yet.
https://wax.atomichub.io/market?collection_name=elementalnft&order=desc&sort=created&symbol=WAX
I'm staking the pack specifically I'm unsure if the cheaper assets work but the packs are $10.
Cant say for certain but I know I'm picking up a few packs incase I can flip them at a profit, but they stake for now win win.



This is a When Staking pack I bought it for $70 flipped it for $100 now the minimum price on the When Staking NFT packs.
Anyone that wants to participate in when staking has to pay $50 or utilize Void Elemental NFT packs which the markets isn't yet aware of this post will be the first ever about this.
https://wax.atomichub.io/explorer/collection/elementalnft
Again the colection can be found in the URL above 🤑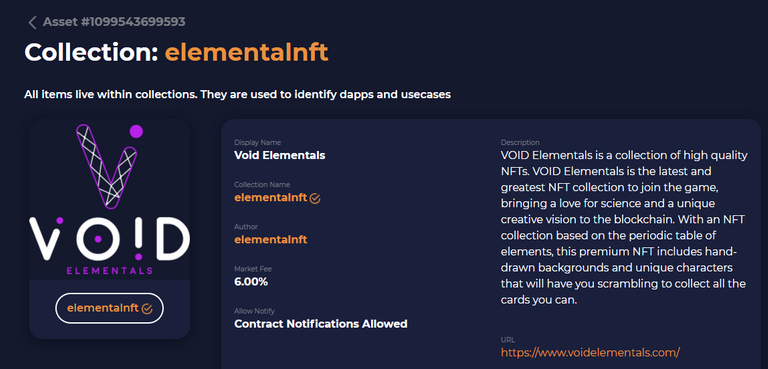 Reactors $2 work also just tested it, you dont have to stake for VOID but when the market figures out their connected to (when staking) you may want to own a few packs or reactors.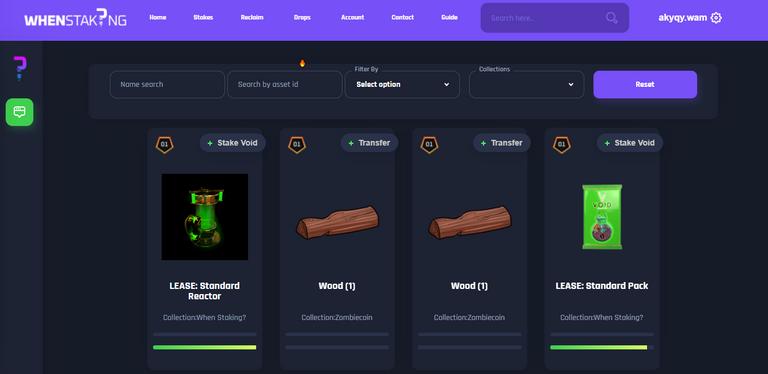 https://wax.atomichub.io/explorer/collection/elementalnft
Literally the first person to share this 👆 NFT info!!!
---
---